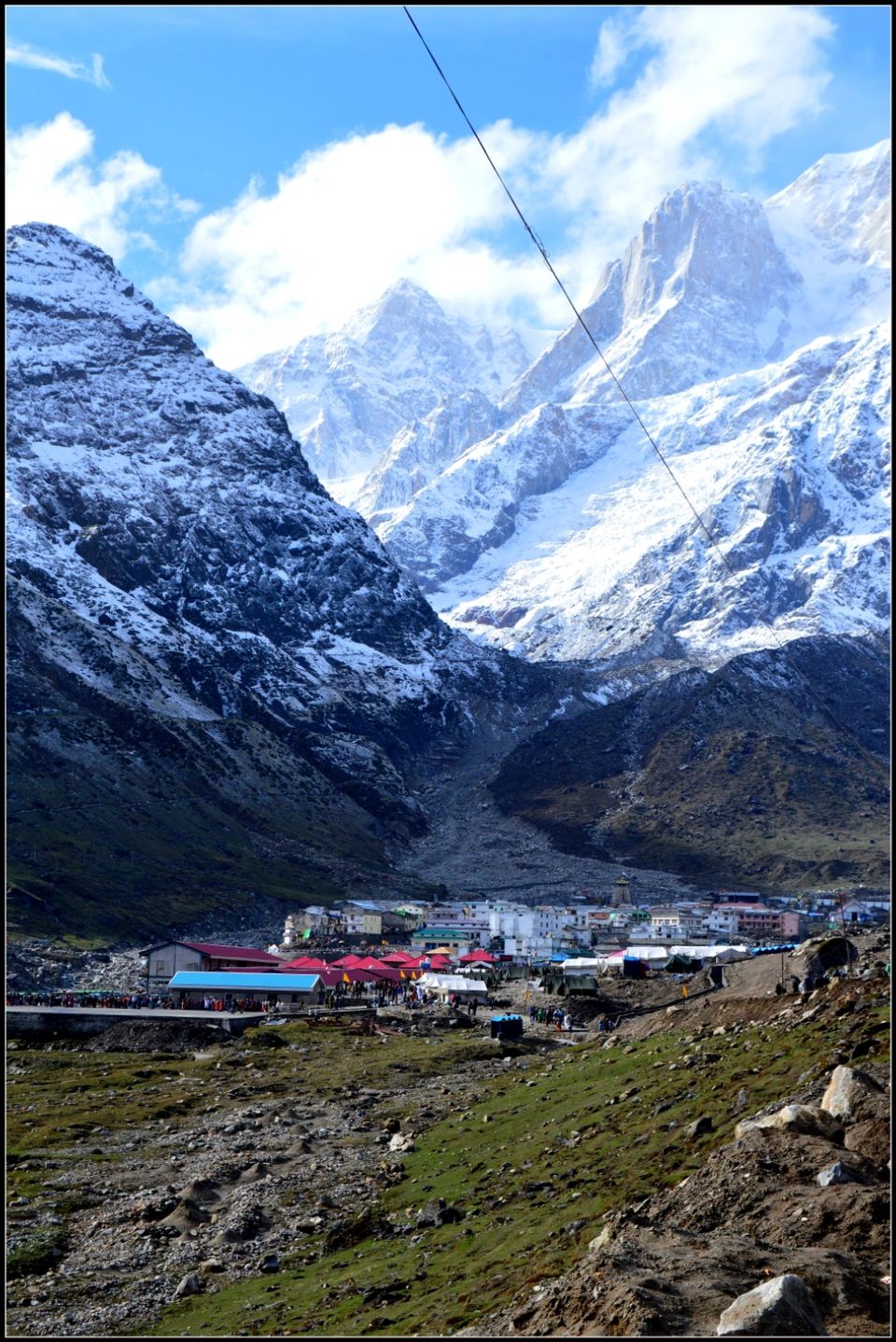 So it was quite an evening at the feet of mighty Himalayas. Snow covered mountain peaks,cold breeze and the warmth of the sanctum of lord Shiva. I was there, just lost in a labyrinth of eternal tranquility, thinking about nothing but the internal happiness, It was the spell of that place which had allured not only me but each and every person reach there. It was so exquisite that even with closed eyes I could felt the essence of its charm.The music of chants and bells was so canorous that its melody had made me feel like there was no one else but me and a mellifluous voice, resonating and calling my name.Perhaps that's why it's been called Abode of Lord Shiva.
It all started with a trip to the place where I have spent three precious years during my high studies and a place which is closest to my heart, The Dehradun Town. The town as congenial as it was six years ago, when I first arrived there, the aura as alluring as it was on that crepuscule when I fallen in love with this city and olfaction as flavoured as it was when I lived here, but the irony is this time I have just seen its colours instead of touching them, felt its zeal instead of living it and smell its fragrance instead of breathing it and moved forward to the Tehri, a Himalayan town on the banks of river Bhagirathi(The great Ganges). I wanted to stay there in Dehradun for a while so that I could have recalled the beautiful memories of mine attached with its each street but my hard luck I just waved it passing by. There is a lot I want to write about the Town of Dehradun but I think this time it's not about Dehradun but the Mountains, so let's move forward towards The Mountains.
For few years I was away from the mountains and finally when I saw their first glimpse, after an age literally,the feeling was phenomenal, I just felt like I was home after a long journey. I concluded that Ruskin Bond was correct when he said "Once you have lived with mountains, there is no escape, you belongs to them".
Crossing the valley of Mandakini, river with captivating green waters and then a steep climb of 18kms long path, with beautiful waterfalls, colorful forests and finally walking through Bugyal meadows we have reached the high lands of Kedarnath at 1600hrs. Rain was playing with us through out the journey but we kept climbing although resting for a while when drizzle was becoming downpour. There were small camps at Bhim bali, Raambaada and Lamcholi. After 1630hrs sun started shining from no where.Petrichor, Apricity and Ataraxia at same time and then I have got the first clear view of Beautiful mountain ranges of one of the Gangotri group of peaks which were Kedarnath and Kedarnath Dome standing splendidly just in front of me and I have realised it is the moment I was waiting for years with a childhood desire that someday I am going to touch The Great Himalayas. They say "Climb the mountains and get their good tidings. Nature's peace will flow into you as sunshine flows into trees. The winds will blow their own freshness into you, and the storms their energy, while cares will drop away from you like the leaves of Autumn."
I have visited the sanctum of sanctorum at the dusk and felt that ethereal vibe, may be it was because of such an enthralling ambiance or may be it is true that Gods lives there, that it was actually the kind of place that for me, where else gods will live on Earth ?
I have spent a night there and at 0200hrs snow started falling,till dawn it was already 1.5ft thick snow layer on ground and then we were instructed to descend down towards vally as weather was getting worst, I have took the final glance at the place,all white, and said Goodbye.There was a hiraeth when I was coming back back but I was bringing a part of the Kedarnath with me,which will be here in my heart Pour-toujours.