My heart was broken and I was weeping.
Now, this must be the most random start of a travelogue that you must've been reading. The thing is, I was homesick. It had been 8 months since the start of term at college in Pune and I hadn't visited home.
Home is the charming beautiful city of Dehradun.
So.. I finally agreed to bunk college for a couple of weeks and planned a trip with my friend Ashwin and sister Shruti to Chopta Tungnath.
In the month of February.
I hope you get what I did there. Snowwww!! :D
So. Background check done.
Now we move to
Day 1
07/02/15
Our first stop was to be at Mumbai from where we were to catch the train to Delhi.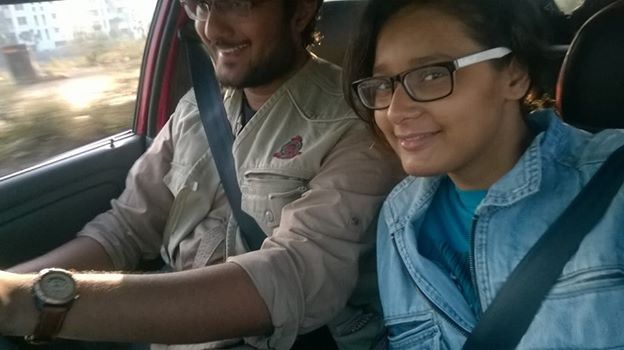 Yaayy!!! The adventure begins!
We left for Mumbai at 8 and reached there by 12 and dropped off Ashwin's car to his dad. We all had an amazingly heavy and tasty lunch with his dad and set off to the Mumbai Central Station by cab.
Now Mumbai is a place that interests me immensely. Mumbai for me is this huuuge vast space which grows in all directions. It's amazing to see the people just running. And in that collective rush of this city which millions of people call home; the dream city, there are a billion stories. The people have stories, buildings from chawls to skyscrapers have stories. The sea has stories, and so does the food. "It's chaos, it's maniacal. It has so much energy. You enter it and you feel the need to do something, the need to go forward." Says Ashwin, my gyaani partner. But it is true. The city pushes you forward. It may break you in the process if you dont have the strength to take it, but those who pull through leave the rest behind. Lost in those brilliant images, running in front of my eyes through the cab window, we reached the Mumbai Central Station. We met Shruti di there and exchanged greetings. After an hour and a half of wait, we boarded our train August Kranti Express at 5.40 and left for the city of hearts, Delhi.
The train journey was a pleasant one. Hospitable railway staff served us food and drinks (soft ofcourse) every couple of hours and we happily munched our way while sharing stories and theories with each other.
Day 2
08/02/15
Next day we woke up to nice coffee and bread omelet breakfast and finally got off the train at Hazrat Nizamuddin junction at around 11. We got out of the station and the familiar roar of taxi drivers, auto rickshaw drivers, coolies, hotel representatives; all auctioning their service, hit our ears. We were led to a taxi by a Sardarji and after a lot of disapprovals and negotiations over taxi rates and union fees and us getting out of the taxi and back, we finally decided on 500rs fare for him to drop us to Kashmiri gate ISBT.
That was a hilarious and fun ride. Sardarji was in full angst of Honey Singh and Mika and how they were awaaras who used to roam 'vella' everywhere :P Sardarji was also apparently a Punjabi dancer. A serious one. And had done a lot many shows back at home in Punjab. Amidst complaining about the sudden heat in Delhi that day that caused him to sweat inside his thermal innner, and being disturbed with the news that we guys havent watched P.K. , he dropped us laughing and amused at ISBT.
We caught the U.P. Volvo bus to Dehradun and were on our way by 12.45 pm.
Our traffic jacked bus ride was made not much but bearable by the stunts of our bus driver who seemed to not give a damn about road traffic rules or situations. Racing political rally cars to off-roading through a forest at night; he took it on.
The journey lasted for 9 long hours due to several traffic jams along the way. But we reached Dehradun at last and the chill of the winter greeted us. And my dad and brother too. After a delicious dinner from Doon Durbar (It's an awesome place to hog for tagda non vegetarian fans. Do check their food out), we got home and soon retired for the night.
Day 3
09/02/15
Shopping day! After the blissful encounter with the Dehradun shopping prices, Ashwin and Shruti both over excited, raided the army supply shops in Paltan Bazaar and emerged victorious with bags full with boots, jackets, sleeping bags, and other cool stuff.
We spent the evening in Barrista Cafe, English Book Depot.
Yes, it's a book shop inside a coffee shop. And its lovely.
The smell of your favourite coffee combined with the new book that you just bought from the large variety that EBD offers is just the perfect leisure time you can have for your bookworm self.
We finished final packing by night and set our alarms for 4 am for the next day. And then we sank into our blankets for the rest of the night.
Day 4
10/2/15
Packed up and loaded we left Doon at 6 am to witness the most amazing sunrise behind the mountains of Rishikesh studded with a necklace of emerald-green waters of Ganga shining to the touch of the first sun rays.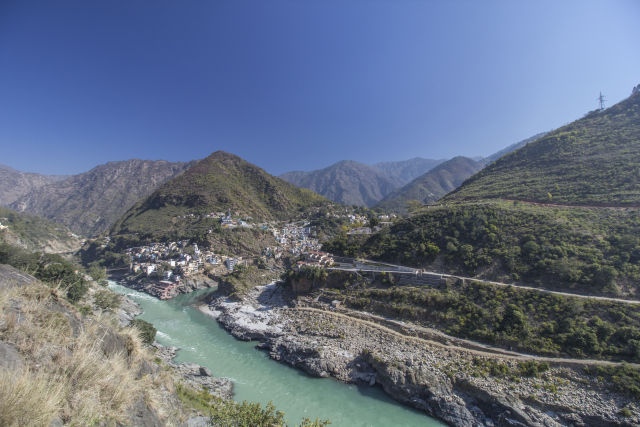 The beautiful sangam (meet) of Alaknanda and Bhagirathi rivers to form the mighty Ganga river at Devprayag, Uttarakhand.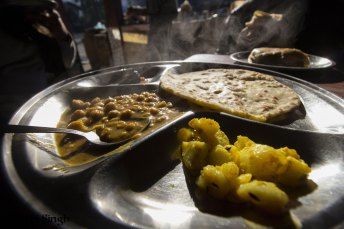 Aloo paratha
Breakfast presented itself in the form of Bun Omelet and Aloo parathas, hot and delicious prepared by a dhaba-wala at Byaas.
We passed through the towns of Srinagar, Rudraprayag and Ukhimath on our way. Srinagar is the second education hub of Uttarakhand after Dehradun. Variety of colleges, government and private can be seen around the town.
We also witnessed the restoration work going on after the Kedarnath floods. Buildings sunk into the ground till their first floors, the levels of river rising due to deposition of ruins and silt. Dad told us that more than 500 buses and more cars are beneath the ruins now. More than 10,000 people died. It sent chills through me to think of the scene that might have been there.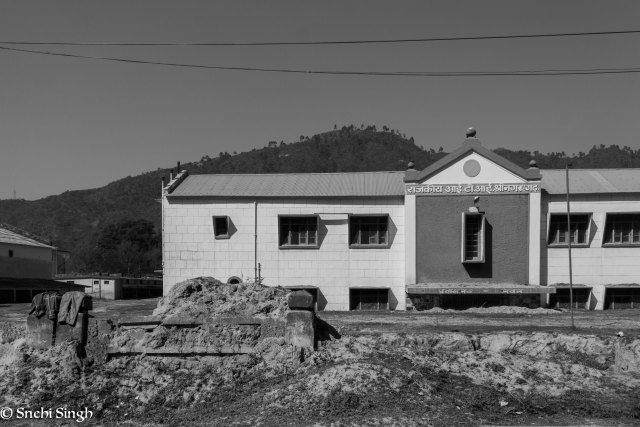 The ITI building in Srinagar that sank in the 2013 Kedarnath Floods.
We saw the 'Dhari Devi' Temple around which the controversy happened. The dam had to be built so the temple was relocated against the warnings of the local villagers that the goddess protects the mountains and if she's removed from her position, calamity will strike.
And it did.
Call it coincidence or fate, it was powerful enough to bring the temple back to its base position with a bigger and a better temple!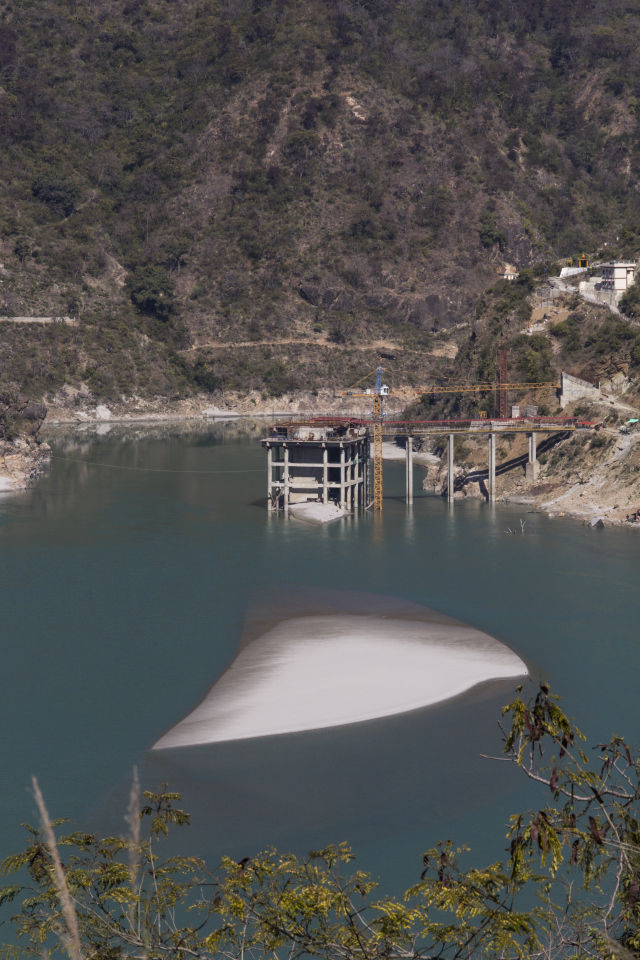 Temple of Dhari Devi, being reconstructed.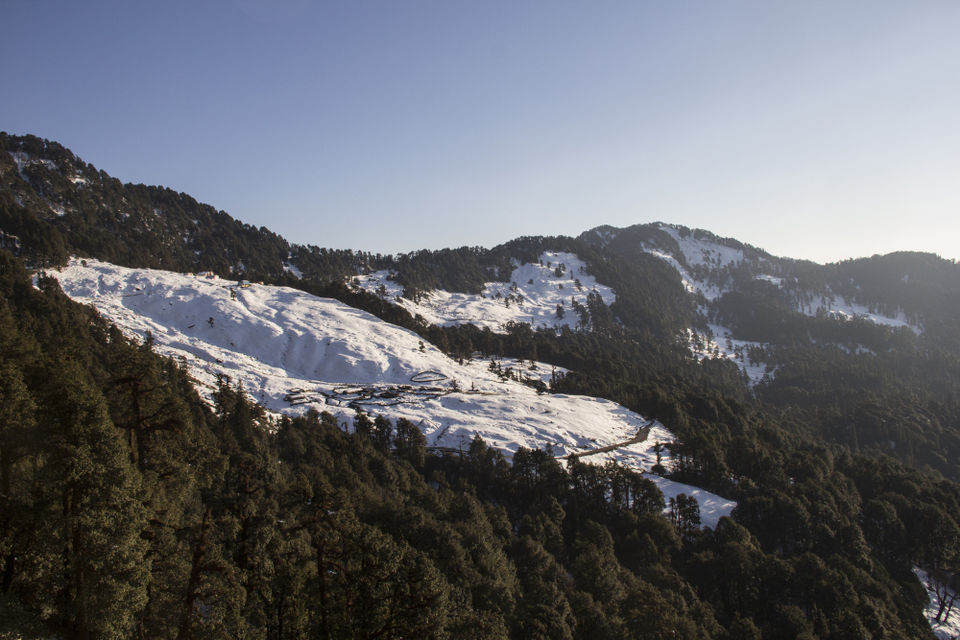 Chopta, from a distance. The roads are open all year now and behold a lovely sight in the evenings and mornings.
As we spotted the snow covered peaks, our excitement started building up. By the time we were about 10-15 kms away from chota, the road started becoming more slippery, with more snow on its banks. The way however was open, thanks to the new decision of the Uttarakhand Government to make the Char-Dham Yatra and all other tourist attraction open all year round to promote Winter Tourism. The sight had us astounded. The fresh air smelled so delicious and sweet. And the cold breeze was a relief from the heat that the rest of India was struggling with.
We reached Chopta by 5 pm and the temperature there was quite freezing. My dad, who has visited the place about 5 years ago was surprised to see the hotel open and the restaurant ready to serve. According to him, that time there was nothing here except snow and a guy with one room open for accidental relief. You can check out his post here.)
After we had played enough in the snow and had our tummy filled with food hot and tasty, we set up our sleeping bags under the additional cover of thick blankets on the bed to pass out for the night.
Day 5
11/02/15
Eating breakfast and packing and getting ready took a lot of time in the morning, resulting in our departure for our foot trek to Tungnath temple at 10.30 AM.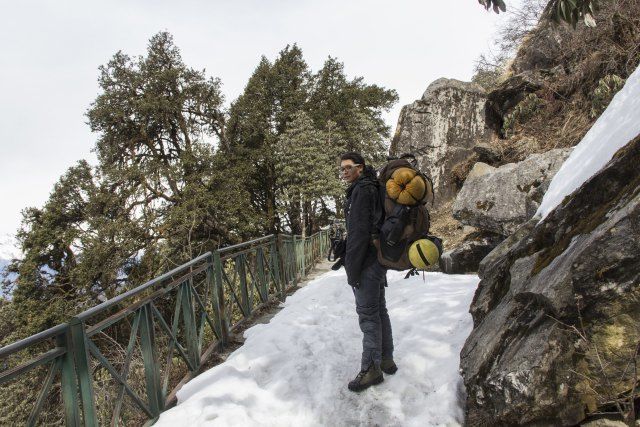 Me, climbing up the trek.
As we got acclimatised to the breathing pace and high altitude, we started picking up speed, but since each of us had minimum 20-30 kgs of luggage each, it was rather slow. We had planned to camp at Tungnath overnight so we had to carry a lot of weight with us.
Note: Camping at Tungnath trek during off-season is not allowed due to safety reasons and permissions have to be acquired from the forest department if you're planning to do so.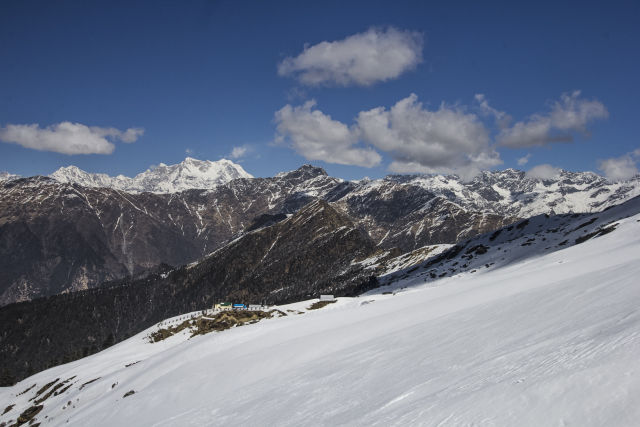 Chaukhamba Peak as seen from Tungnath Range
The view was astounding as the snow sparkled and shone into our eyes in the afternoon sun like a million tiny stars dropped down on earth. It was breathtaking. Like, literally. Serene and quiet, one could listen to ourselves; struggling with our breaths, listening to our heart beat, feeling the warmth of the exhaustion, the chill of the wind on our faces.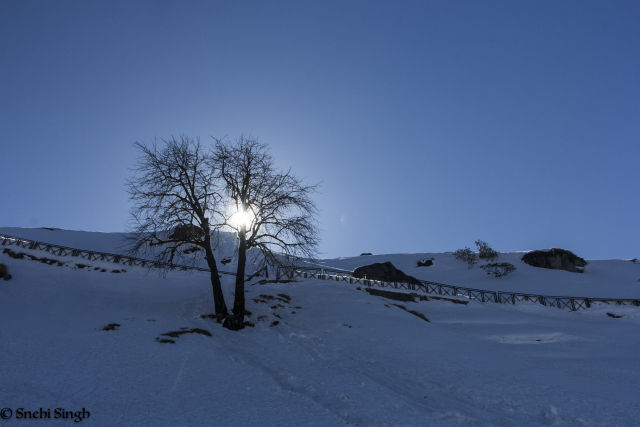 Beautiful views dominate your visual experience.
But there was a minor (to put it subtly) glitch in the way. Ashwin, who unfortunately did not have the right shoes for the activity, slipped and fell to the ground, cramping his leg extremely bad. And I, with my nil experience of snow and trekking fell along. So my dad and my sister went ahead and found a small hut on the way and decided to camp there for the day as we were in no way capable of going forward. It was about 1.30 PM and we had covered only 1 and a 1/2 kms.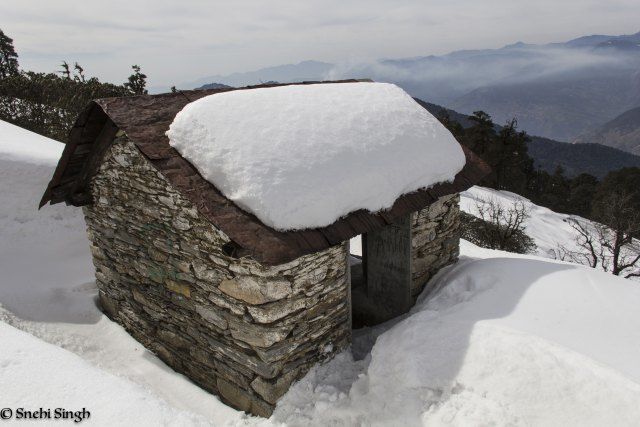 The small hut was our camp base for the night.
This was a particularly fun experience for me. We cleared out all the snow from the floor of the hut and put on dad's mini gas stove that he keeps for such times. Since we had no water there, the obvious solution was adopted.
We filled our stomachs with aloo paranthas that were packed from the hotel and Knorr soups and Coffee for the evening. Setting up the tent beside the hut was a task since there was a direct drop just 2 ft away from the hut. Soon, everything was set up and we were up chatting till midnight while we recorded some time lapses and then drifted off to sound sleep on the cold hard ground.
Day 6
12/02/15
Next morning, it was decided that Ashwin should return back to the hotel as his cramps were not getting any better and he was extreme pain. So he took what was not needed and headed for the downward trek. On his way, he had his own share of adventures, mis-adventures and fun moments which I will save for later right now.
That left us three: Me, my dad and my sister to go forward on the trek. I had recovered from my fall last night and was in a decent shape. We set off again by 10-10:30 AM and tried to be as fast as possible. I had to take a lot of breaks as the climb got steeper and altitude got higher. My dad however, was quite fast and full of energy, owing to his various expeditions and treks on snow and ice before.
As we climbed up, the view got better and better and I had a difficult time trying to take all that in in one glimpse. The world stretched 360o around me. It was a pure experience. No words could describe my elation.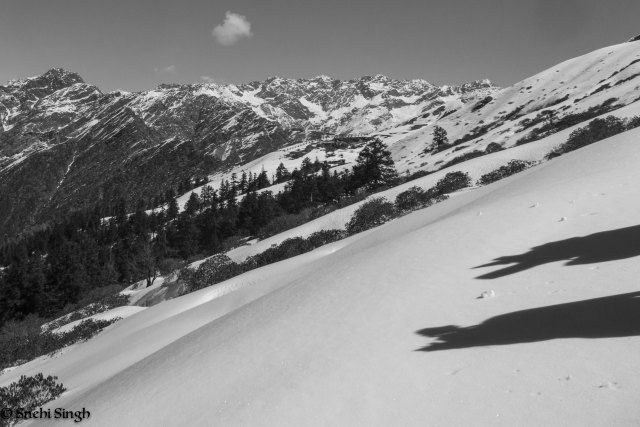 The mountains got us mesmerised.
Tungnath is the highest Shiva temple in the world and is one of the five and the highest Panch Kedar temples. Located at an altitude of 3,680 m (12,073 ft), and just below the peak of Chandrashila, Tungnath temple is the highest Hindu shrine dedicated to Lord Shiva. The temple is believed to be 1000 years old and is the second in the pecking order of the Panch Kedars. It has a rich legend linked to the Pandavas, heroes of the Mahabharata epic.It was around 2 PM that we spotted the Tungnath temple watching us from above, empty and tranquil. It took us all our strength and courage to walk that last climb to the temple. We were utterly exhausted and completely drained and thirsty.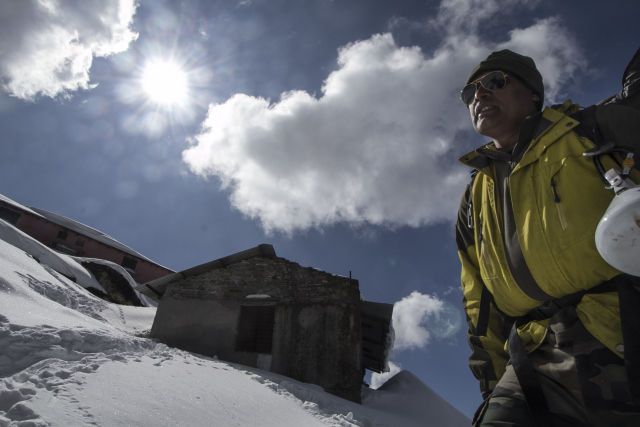 Portrait of my dad at the base of the Tungnath temple.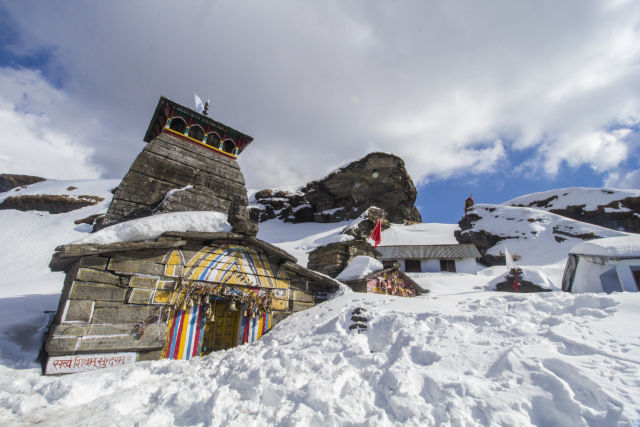 Tungnath Temple
But all for forgotten when we set foot at the temple. That place was just EPIC. It was peace you couldn't imagine still existed in the world that is running 27×7. It was desolate, but not unhappy. It was a bright and cheerful day.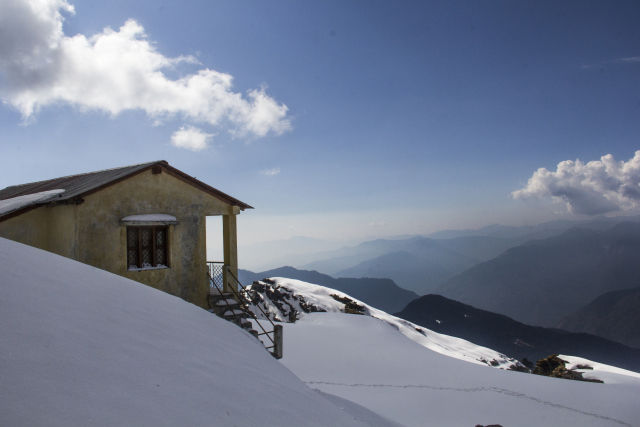 View opposite Tungnath temple.
We took off for the downward descend at about 3.30 PM after taking enough photographs to try and capture the essence of what it was.
We soon realised the new difficulty that we were to face all our way back : the melting snow. Harsh late afternoon light brought with itself warmth that melted the snow and made it slippery. It became a task in itself to avoid falling. But as we learn from bruises and mistakes, I learnt how to walk on snow and balance oneself, how to arrange our luggage and clothing and a few other things about my craft as a photographer.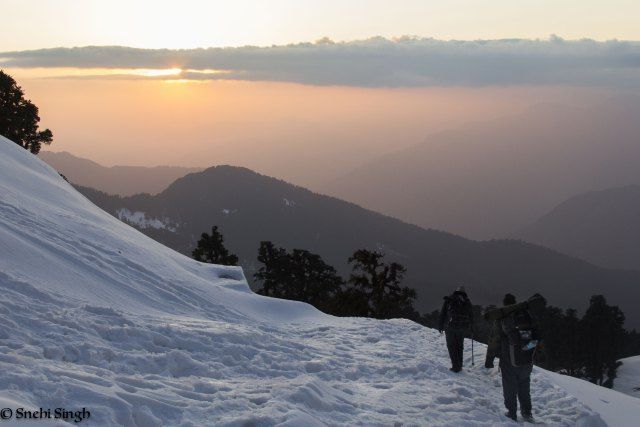 As the sun painted the mountain gold.
We spotted the hotel from a distance of about a kilometer away by 5 something; the sun was a bright orange in the evening sky and it had painted the snow gold. It was stunning! It was as if we were standing on a mountain of gold and it was shining in its full glory. By the time we reached the hotel, my legs were shaking visibly intolerably and my strength was on its last. That night, the food tasted delicious like no other time, the bed was soft like no other kind and the sleep was pure like no other love.
Day 7
13/02/15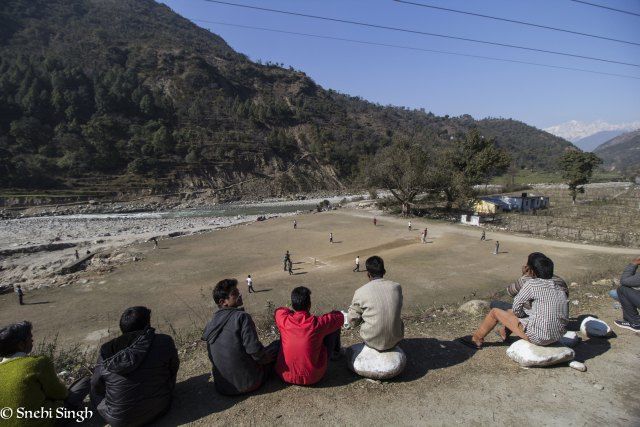 Village cricket at a village in Uttarakhand.
We left Chopta by around 10-11 AM and drove slowly, enjoying the views retreating behind us. We stopped at a village to watch the cricket match going on with live commentary and proper kits. It was the most entertaining game of cricket I ever saw in action! XD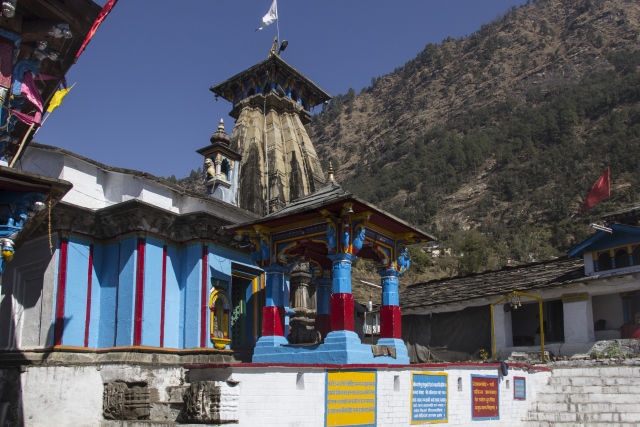 Omkareshwar Temple, Ukhimath.
We also stopped by the Omkareshwar Temple in Ukhimath. During the winters, the idols from Kedarnath temple, and Madhyamaheshwar are brought to Ukhimath and worshipped there for six months.
We reached back to Dehradun by 8PM due to a little delay on the way due to bad roads after Byaas. I met my mom and shared with her all the exciting bits and parts of our journey, showed her some pictures and after a hearty home-cooked meal, went to sleep with dreams of the mountains far away.
This trip was first published on https://watchherworld.wordpress.com/.