We are 4 engineering students who decided to go to mussoorie to watch snowfall .
Firstly we choose Mussoorie instead of Shimla or any other popular hillstation because one of us lived in Dehradun , so saving on one day of hotel charges .
Secondly Mussoorie since hotels and restaurants are cheaper than any other (college students are always on budget ).
Reached Dehradun and stayed at a friend's plac
So we completed our classes for the day and left for Ambala railway station. From there we caught a passenger train to Saharanpur from there we took a bus to Dehradun.
Reached Dehradun late in the evening, and stayed at a friends house because we planned going to mussoorie on next day evening because that's what the weather forecast showed the snowfall will take place (because who doesn't love snowfall ). So we reached his place , had a great dinner , slept well .
Next morning after a great breakfast we left for Mussoorie in a taxi around 9 in the morning in an hour or so we reached Mussoorie its just 35 km from Doon.
We all got so excited when we saw snow on the sides of the roads because apparently it snowed last night . Surprising thing was it was 21 degrees Celsius and the snow wasn't melting.
We got out of our taxi and all four of us headed in different directions scouting for a good hotel with decent view and reasonable tariff and we ended up finding a family room in Hotel Himalayan Club for around ₹2.5k a night without breakfast. We checked in and started looking for something to eat nearby .
Later went to Lovely Omelette had to wait about half an hour beacuse it a pretty famous place , the omelette was lovely like the name .
In the evening walked around on mall road had some maggie beause that's a custom , you've have to have maggie in a hillstation .Did some shopping for friends and family.
we had an awesome dinner at the place Aap Kaa Ahaar Restaurant both vegan and non vegan was great and reasonable too , we four of us had our tummies full in about ₹ 800-900 .
I spent the night star gazing while the rest dozed off .
I slept around 1:30 since it was too cold the mercury dipped below -1. Woke up at 5 and woke the rest of them because we planned to go to Lal Tibba which was a 6 km hike/walk from our hotel and being the lazy ass we are it would take 1.5 hrs to reach there not because we are slow walkers but because it was pretty steep and black ice was all over the place .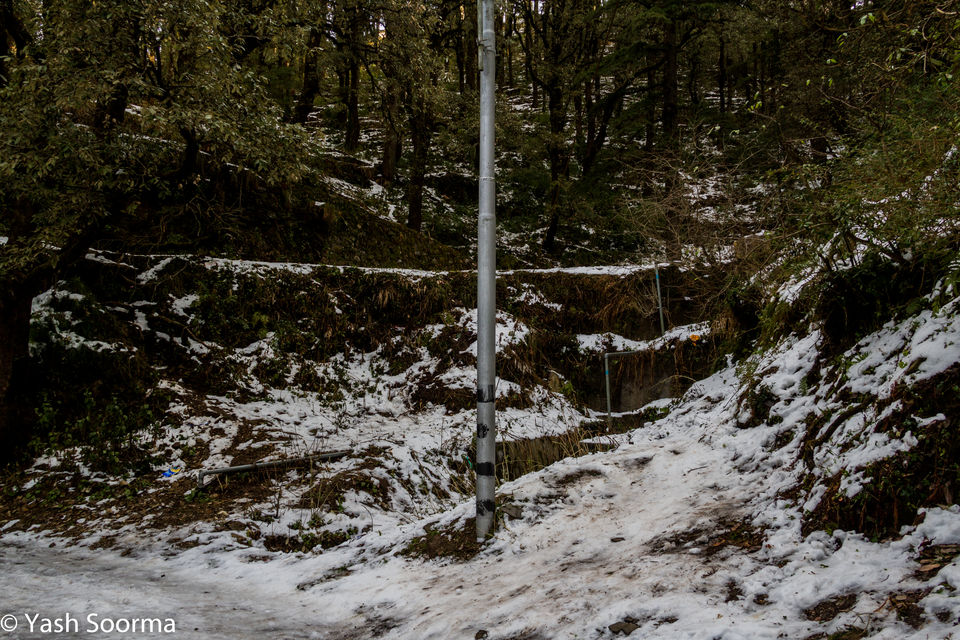 We reached the place at 6:50 and the sunrise was at 7:02 , the view was phenomenal , we racked up the stairs , the place was owned by some individual and he charged us ₹50 per person to go up to the roof and enjoy the view and click pictures as long as we want , he was a little fussy that the place opens at 8 but somehow we convinced him to open it early.
Being a photographer I clicked a truck load of pictures .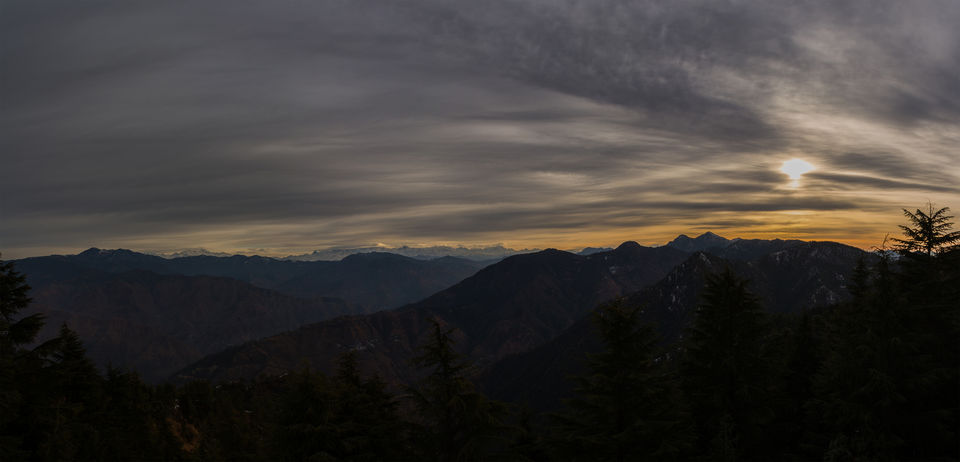 (You can find more photos at my Instagram @soorma_yash)
we did a great breakfast at Chaar Dukan which is literally a place with four shops two on each side of the road on the way to Laal Tibba.
We returned back to our hotel and completed our sleep. woke up at 11 or so took a quick bath and checked out of the hotel . asked the receptionist if we could keep our luggage there till we went out and had our breakfast and did our last minute shopping (yes guys do that). he agreed.
we went to the same restaurant we ate last night Aap Kaa Ahaar Restaurant , had paranthas and Coffee/ Tea. meanwhile we called the cab to take us back down . porter loaded the luggage we reached and soon left for Dehradun sightseeing.
Firstly we went to see F.R.I. which is actually a institute but famous for its movie shoots and symmetrical hallways .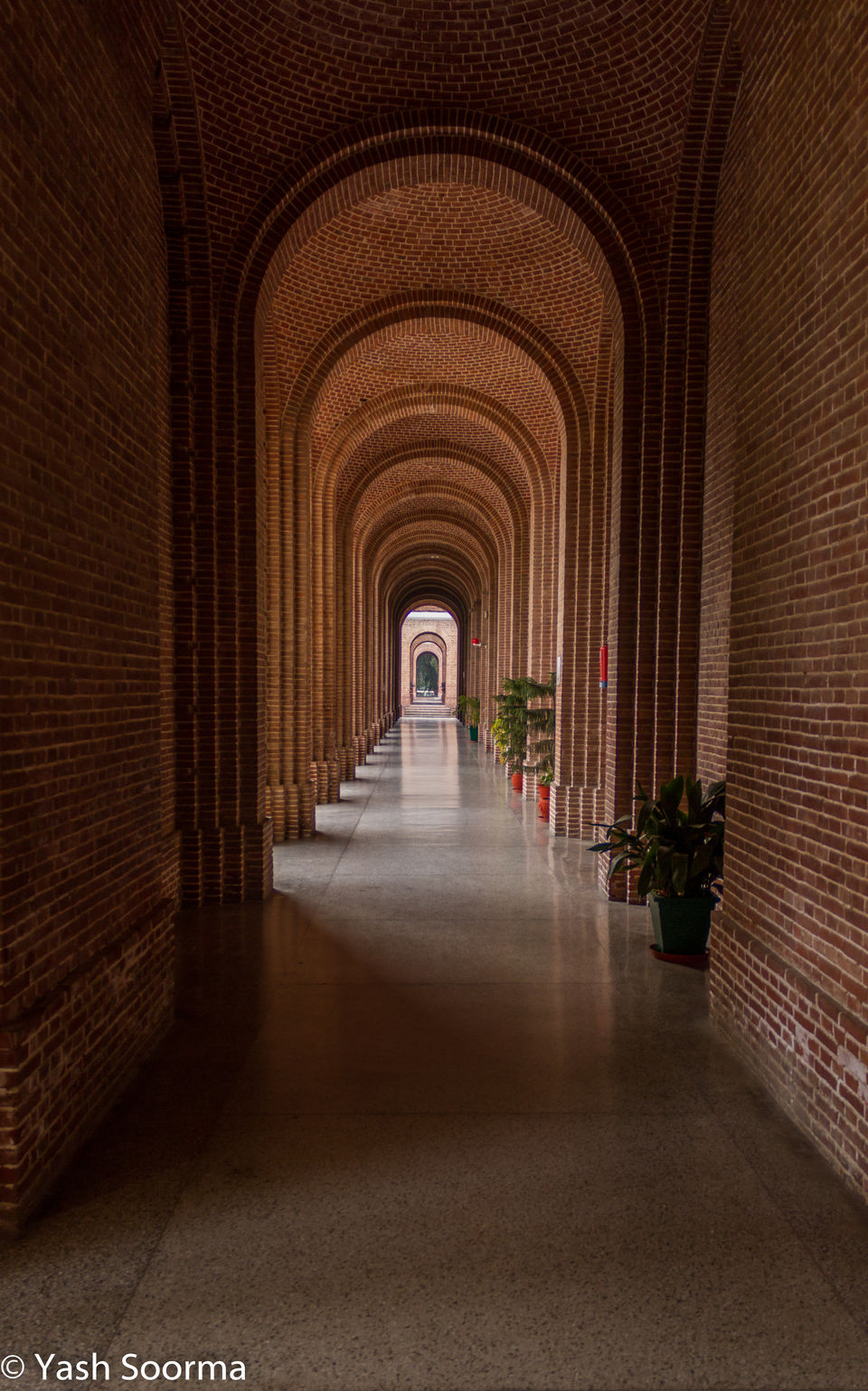 We unknowingly spent so much time there that it was almost time for our train back to college .
So that was my trip to Mussoorie ,we didn't see any snowfall and was a small one but was definitely a lot fun.
All in all we spent 8500 all inclusive of food and travel .
Frequent searches leading to this page:-
best places near dehradun, dehradun travel places, places to see in dehradun in one day, places to go near dehradun, tourist places near dehradun within 200 kms