I travel to find the reason why do I travel.
In order to collect the memories, we started our journey to Dyara Bugyal from my hometown Barkot. Most of the travellers start their trek from Barshu village and ends at Raithal village. But we started our trek from Raithal village.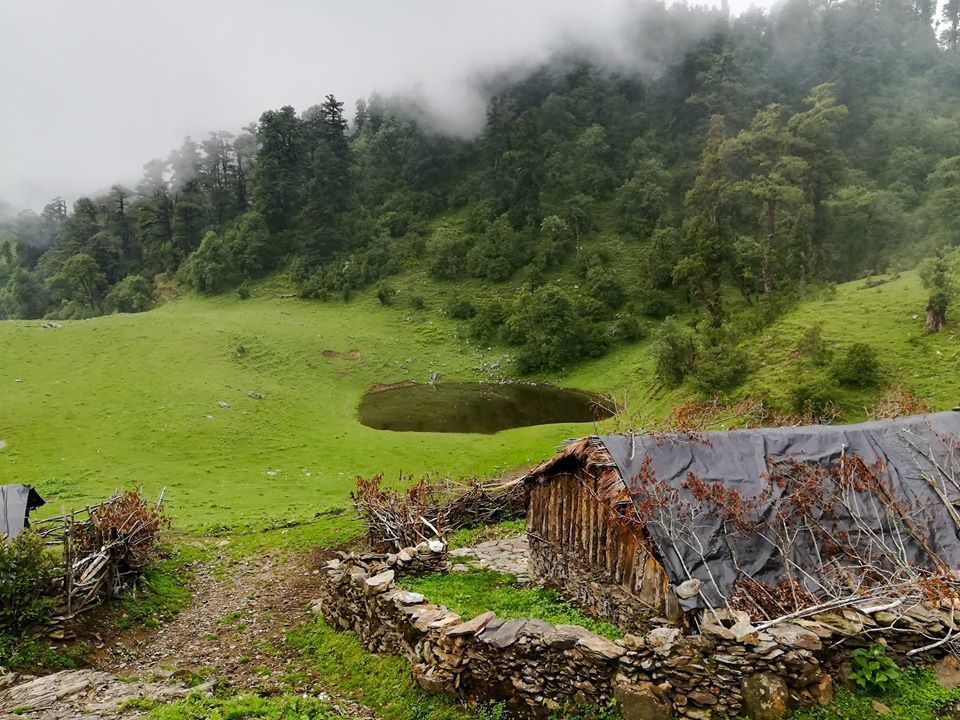 It was the end week of June and greenery was all around which makes the view of nature even more beautiful. As we were moving forward clouds were getting closer to us. After the breathtaking 5kms climb, crossing dense forests and long green fields, we reached Goi village, where we actually feel like we are inside the cloud, Fogg was so dense even flash lite of our mobile phone couldn't help us. So we decided to halt until the way become visible. And after trekking 3kms from Goi we finally reached the place where wi-fi and mobile signals were weak, no noise of the horns and vehicle, no human interference.
A long green meadow situated at 10,000-12,000 feet altitude Dayara Bugyal is considered as one of the most beautiful meadows of India. Also, the hike is breathtaking, 8kms of steep climb made it a little bit difficult but when you will reach Dyara you will find worth it. Dyara Bugyal is an ideal trek for beginners.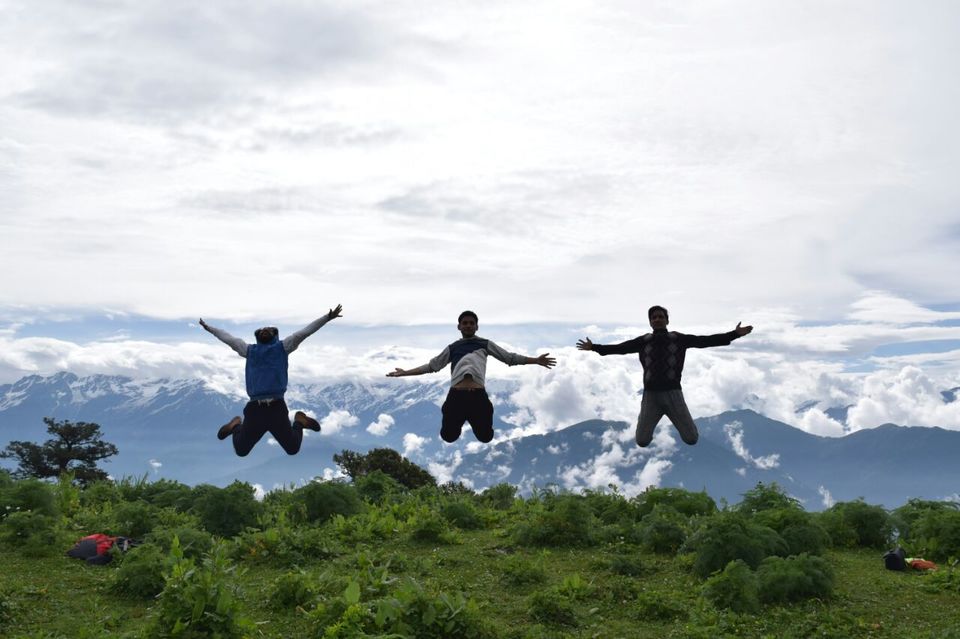 Next day morning the chirping of birds(the real one, not twitter) woke us up, we were surrounded by the mighty Himalayan peaks(Srikanth, Rudregaira, Gangotri I, II & III, Jaonli, Draupadi ka Danda I & II, Black peak, Bandarpunch and many other unnamed peaks) from three sides and on the fourth side as far as we can see, the long field of green grass was visible. Bakaria top is the highest point of Dyara Bugyal. We started our trek to Bakaria top early in the morning around 6 am by the time of breakfast we were back to the camps. Sunrise view from Bakaria top was the best part of the trek. The place was so peaceful that we can easily hear the sound of wind blowing.
"Peace also has its own sound which can only be heard in the peace."
The chirping of birds was way more peaceful than the sound of the horn. The view of unfolding long green meadow and all mighty peaks of Himalaya was very relaxing for the traveller's eye. After having breakfast we started our journey back to Raithal village. There was a beautiful small lake at Goi village which we couldn't see while trekking to Dyara because of dense fog or we could say cloud. Dyara is a perfect weekend trip for travellers. and from travellers eye, we can say its a perfect weekend trek to get a restart, you don't need any extra trekking skills to reach Dyara which make it suitable for the beginners.
How to reach Dyara Bugyal-
Dyara Bugyal is situated at an altitude of 10,000-12,000 ft in Uttarkashi district of Uttarakhand.
In Dehradun, you will get the busses of Uttarakhand roadways from Bus stand near railway station for Uttarkashi, and you can also take the private company bus which you will get from the Parade ground. You could also take a taxi from the parade ground. It will take 6-7 hours to reach Uttarkashi. From Uttarkashi, you have to take a local taxi to Barshu/Raithal village. It will not take a long time to reach Raithal. Raithal is just 40kms from Uttarkashi. To reach Dyara Bugyal from Raithal you have to trek for 8kms with steep chase climb with most amazing views.
Best time to visit Dyara Bugyal-
Monsoon season is best if you are planning for Dyara Bugyal trek. Because at that time greenery will be all around, and you will get the best view of green Dyara meadow.
So what are you waiting for? You are not born to just pay bills and die. Go out love yourself, do whatever you want, go on treks, try new things, be uncomfortable, and take a break from Words way of life, find some peace. Because when you see the sun rising behind the mountains, when you listen to the sounds of birds in the morning then you will feel .....yes today is Good morning .......after a long walk with nature and some amazing views when you will go to sleep you will feel that .......Tonight gonna be a good night ......so feel free ....because you can do anything and you can go anywhere .........