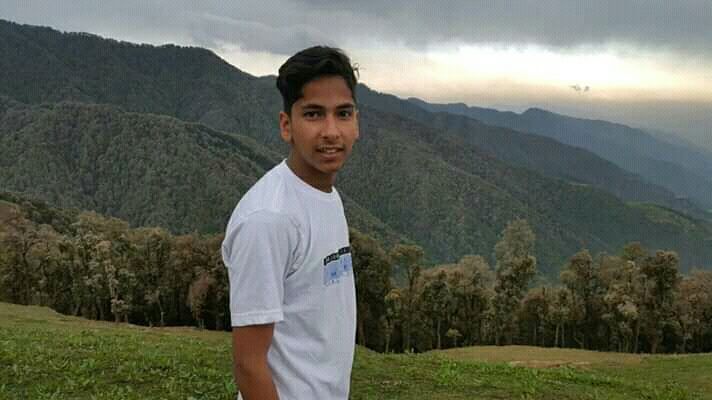 We finished our exams of board and decided to do a short trek which would relax us. So we searched the treks and get to know about Naagtibba. A place near Dehradun in tehri gharwal. So we asked our family and started to organize our trek.
On 6th April at 7am we get a shared cab from clock tower dehradun .We drived 102km from Dehradun to pantwari it's was an amazing experience for us to travel in mountains. For travelling from dehradun to pantwari we gone through mussoorie, santura Mandir, kempty fall, Yamuna bridge , Nainbhag and then finally stopped at pantwari at 11 am . We did our breakfast in pantwari and purchased some snacks to enjoy in our trek . We meet our trek organiser and he introduced us with the other group and the guide. We started our trek at 11:45 am. Now we have to trek 8km to
Reach our base camp at kathyana (hope the spelling and name is correct 😅) as we started to climb the natural beauty started to explore it self. After walking approx 5km there was a kinda hotel named goatvillage where you can have food and book rooms it's a type of small resort. We went through it and it was very well maintained and designed according to gharwali culture. Then we headed towards our base camp the climate changed suddenly and start raining slowly. Now the beauty and excitement was on a another level. We put on our raincoat and in 2½ hrs me and my friend reached to base camp while our group was little lazy so they were little late.the rain stopped and climate was now little cold. There was a uncle who was cutting logs for bonfire we asked him and he showed us our tent. We get in our tents and relaxed for an hour after then they served us snacks and tea . At that point the tea was giving a very fabulous feel. Then we roamed around our base camp and saw beauty of the mountains. We got a very beautiful flower called buransh of red colour. Our trek leader said that we can even eat it and it secrate a juice as well which is very beneficial for health especially for heart patient. Around 6pm we saw sunset which was really amazing and then we were not allowed to leave our base camp without guide at 8 pm we had our dinner which was really delicious.
After dinner we all joined in bonfire where we got introduced properly with all the group. The sky was so beautiful all full of stars. Till 11:30pm we enjoyed the bonfire and then we all went in our tents and slept .The tents were very well maintained and the sleeping bags were also very comfortable. The night there was a thunderstorm but inside the tent we even felt it.
We had our breakfast around 5am in the morning it was the first time in my life to have breakfast so early. At 5:15 we started our trek towards a temple after which the place was named. The trail was so fun and enjoyable as form somewhere it was steep and from some where so curved. We enjoyed every single moment of the trek. The fogg and excitement was not letting us feel tired and we're making us feel that we are in a heaven. In the way there were so many grassgrounds which were amazing we were rolling sliding in it. after trekking 4km we reached to the temple. The temple of lord Nagraja (according to the villagers the temple Came there from any other place by flying in the air) The name nagtibba is named after this temple we visited the temple and worshiped for 10-15 min. Took a short break and had some snacks. Now we have to trek for the summit and now the trail was going to be more hard and steep . We all started to trek enjoying the natural beauty and trees. We got a tree in which you can get in it which was very fun. In the way to summit we got some snow. Some of our group members got very excited as they saw snow first time so it was a memorable moment for them. Now after trekking 3½ km we reached to our summit which was the highest peak in that range . We explored it for an hour and had a cup of tea and snacks. I enjoyed it a lot and if you ate students and wants to get out from studies and all burden you should visit nagtibba as it is short and affordable price. If anyone want I can organize the trek for them. 😊