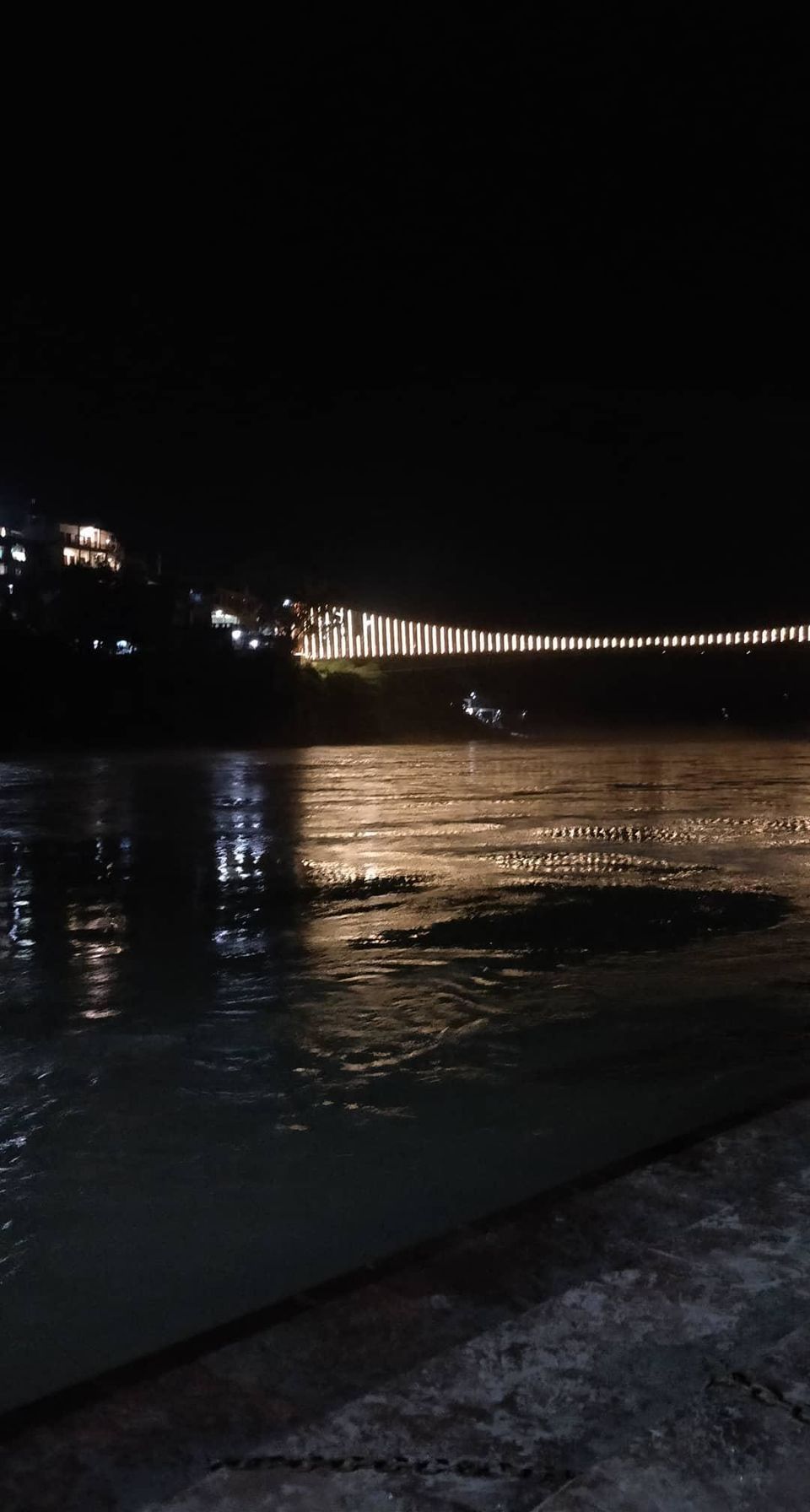 If you are looking for some peaceful and soulful break from your busy life, Rishikesh is one of the best places to visit.
Apart from this city being extremely welcoming towards the Indian tourists (for mostly spiritual reasons), it has accepted and adopted the hippie culture and has become a hub for a lot of international tourists and young travelers.
The city sits on the foothills of the Himalayas and on the banks of the holy Ganga. The city is known for its pilgrimage nature. Most of the pilgrimage in the state of Uttarakhand, be it kedarnath, badrinath, tungnath etc. goes through the route of Rishikesh.
However, ever since the Beatles visited Rishikesh in the 60s, the city has observed a major influx of international tourists. Which, eventually lead to the infrastructural development and uprise of adventure sports in the city.
With time and development, Rishikesh has obtained the title of the 'yoga capital of the world.'
So, I have visited Rishikesh for an awful number of times, on odd hours, a day trip, a long trip, a date, Rishikesh has been my go-to place for celebrations, for peace and whatnot. Rishikesh is like a whole another world for me, it's so hard to describe the aura and feel of this place.
This city is hands-down the easiest and the most comfortable for solo travelers. Although it can be overwhelming at times, if you're well informed and you have done your homework about the place, you are definitely going to have a good time in Rishikesh.
Places to visit in Rishikesh:
1. The Beatles ashram. In the past few years, the Beatles ashram attracted a lot of young tourists. The walls of the ashram are decorated with graffiti and paintings done by the visitors. The ashram is also known by the name of 'maharishi Mahesh yogi ashram.'
2. Triveni ghat. The auspicious Ganga aarti, which is like a daily attraction and festival for Rishikesh can be witnessed at the Triveni Ghat. The maha aarti starts at the time of sunset and it is a treat to the eyes, to just be here for an hour and just watch the pujaris doing what they do with the lit diyas. If you are in Rishikesh, it doesn't matter what else you do, but please do not miss out on the aarti at Triveni ghat. You should also visit the parmarth niketan ashram.
3. Ganga beach. Yes. there's a beach in Rishikesh. It's on a walking distance from the ram jhula and can be accessed very easily. It is one of the most peaceful spots of Rishikesh with the sound of the temples in the background and the sound of the river, together form the perfect music that you want. Although you might want to avoid going to this place during peak hours, say around 12-4 pm, because it gets really crowded and it's not peaceful at that point of time.
4. Ram jhula and laxman jhula. Of course, the most clichéd and known spots of Rishikesh are these two. There are some mythical stories related to the built of these bridges, but let's not get into that. The fact that matters is that, we as travelers and tourists need to be a little more responsible and careful towards certain touristy spots. As of now, the laxman jhula has been shutdown for two-wheelers because it is no more in the condition to bear the weight of such increased traffic. Although, you MUST go for a walk on Laxman jhula after like 10 PM or late night if you can. It gets really windy and nice ;)
5. Neer Garh waterfalls. It's a small trek of around 1km from the main road. Although I haven't been to this place myself, I have been told that it's a gorgeous natural pool of water and a waterfall. It has the cleanest water to take a dip in.
6. Neelkanth Mahadev. The Shiva temple is situated at a distance of around 32 kms from Rishikesh and it is considered to be of very high importance as per the Hindu pilgrims. You'll get a lot of shared taxis to go to this temple, but honestly, I would suggest you rent a moped and just go for a ride because it's so much fun and the road runs parallel to the Ganga and it's just so serene. Stop in between the route, witness the gorgeous bridges and beaches, enjoy the roadside tea and maggi.
Where to eat:
The good thing about Rishikesh is that despite of being in India and despite being a pilgrimage, it offers an impressive amount of international cuisines. Also, I'm not too sure about this, but as per my experience if you want to have good desi food, please go on the sides of ram jhula and for bakery, Chinese, American cuisines please prefer the cafes around Laxman jhula.
My favorite place to sit and eat at are
1. The Ganga beach café
2. The Ganga view café
3. Moksha
4. Freedom café
5. Cakes and bakes bakery
6. German bakery (the one just beside the Laxman jhula)
7. Honey hut
8. The taste kitchen café.
9. And of course the street-food.

Needless to say, the CHOTIWALA serves the best authentic Indian food. Special mention for the breakfast thali (aalu ki sabzi and puri) which is so budget-friendly and sooo tasty.
Where to stay:
Your trip to Rishikesh will largely depend on where you choose to stay, because trust me, you have endless options to choose from. Let's just divide the stays into following categories based on the location.
1. If you're looking forward to staying away from the crowd and noise, I would suggest you look for a stay in the tapovan or shivpuri area.
2. If you're looking forward to exploring the charm and liveliness of the streets of Rishikesh, with no doubt, choose the area surrounding Laxman jhula.
3. If you want to want to live very close to the spirituality and the Ganga ghats, go for a stay at any ashram around the ram jhula.
4. Looking forward to adventure sports? You have a lot of options for camping as well :D
Also, depending on your budget, you have a lot of high-end hotels if you prefer luxury and you also have a number of hostels, bunk stays, and homestays in Rishikesh. I have listed down a few of them for you.
High end stays:
1. The roseate Ganges
2. Antalya
3. Taj Rishikesh resort & spa
4. Neemrana's glasshouse
5. Aloha on the Ganges
Mid-range hotels:
1. Divine Ganga cottage
2. Hotel shiv Vilas
3. Rishikesh grand
4. Rishikesh inn by petals
5. Hotel Kamakshi
Budget stays:
1. Zostel
2. Gostops
3. Moustache
4. Bunk stay
5. Hipostel
How to reach Rishikesh
By road - Rishikesh is easily accessible and well connected through road. You can either drive to Rishikesh yourself or take a bus. There are an ample amount of buses to Rishikesh from Delhi, Dehradun, Chandigarh, etc.
By train - Rishikesh has a railway station but it is not very well connected. Although Rishikesh is well connected with Dehradun and haridwar, so you can either go to Dehradun or Haridwar by train and then take a cab or bus to Rishikesh.
By air - the nearest airport from Rishikesh is the jolly grant airport. It is well connected to major cities.
Other places around Rishikesh:
If you have some extra time, there are other places around Rishikesh that you can easily visit. Here's a list of these places with their distance from Rishikesh-
Haridwar - 23 km
Shivpuri - 19 km
Devprayag - 75 km
Tehri-75 km
Mussoorie-75 km
Dehradun-45 km
TIPS TO REMEMBER:
1. Avoid visiting on weekends because it gets really crowded. If you do visit on weekends, remember to make a prior booking for accommodation.
2. Respect the soul and culture of the city, do not hurt the ambiance with loud music and disturbances. Rishikesh IS NOT A PARTY PLACE.
3. Respect the locals and their privacy. If you want to photograph them, please ask for consent.
4. Do not throw trash in the river or the streets.
5. It's obviously really cold in winter, but it also gets very chilly and windy after late evening, even in the summer season. Make sure you're prepared for it.
6. Rishikesh is an alcohol free zone. RESPECT THAT. But also, mary jane is a popular lady here ;) (no offense though)
7. Be very careful during the night. Avoid going near the water, the water level rises because the gates of tehri dam are opened during the night.
8. Use the natural resources mindfully
9. Do not litter, especially around the beach and the ghats.
10. Be a responsible traveler.
Enjoy :D