You mean Kasauli?
No! She means Kasaul!
Umm, no, the name of the place is Kausani!
And this is somewhat how the conversation went before I convinced two of my friends to come with me to Kausani. Located about 400 km away from Delhi, it takes about 13 to 14 hours to reach Kausani (if you are lucky).
There are no direct buses and one has to make a stop at Haldwani to proceed towards Kausani. Now thankfully there are quite a few options till Kausani including trains and buses. We chose to go by the Volvo bus and in retrospect I think it was a good idea. Not only did we meet two other people travelling to Kausani but I think it was much faster.
We left Delhi at about 9 in the evening and reached Haldwani at 5 am. At Haldwani, there was an option of travelling to Kausani by taxi or taking the local bus (there are no fancy, plush buses from here). From Haldwani, it takes about 4 hours to Kausani but the views are so beautiful that you won't mind the drive.
Every hill station is marked by such gorgeous sights that it's difficult to describe it in words without sounding repetitive. But the drive to Kausani really is remarkably different since from the colour of the mountains to the colours of the skies, everything is so refreshing and glorious, it's difficult to comprehend.
Yes, I know that there are many places in India that are compared to Switzerland BUT even though I have never been to that side of the world, I just know that Kausani comes a close second! The town is just so beautiful and quiet; it'll charm the wits off you. Also, if anyone has told you that there is nothing much to do in Kausani – they are right.
Kausani takes you back to a time that you never knew existed. The town is so slow and laidback, you'd think the sun doesn't want to set. There are no 'things to do' and no 'must-see places', there is just breathtaking beauty as far as your eyes can see. When taking a walk in Kausani, if you happen to admire a mountain range in the distance – do ask a local the name of the mountain range as well as any other details he can give you.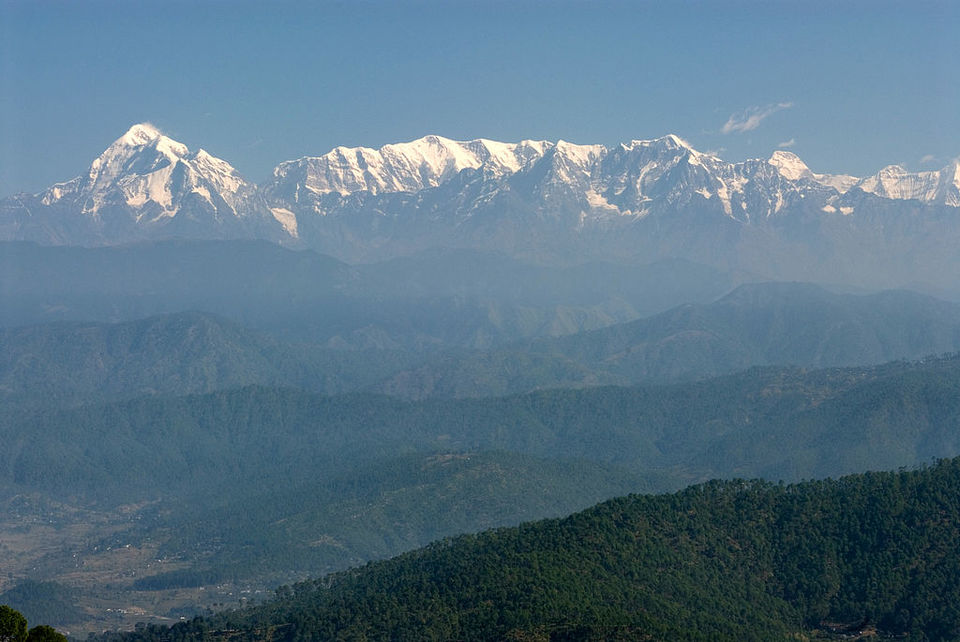 After coming back, I realized just how many prominent mountain ranges I got a glimpse of! Nandakot and Nanda Gunti to name a few! If you are someone who is quite keen to visit popular sightseeing spots, don't miss Rudradhari Falls and Caves. A short 1 km trek will take you to this lovely waterfall next to a temple. This is a popular spot so you may across a number of tourists – the best thing to do would be to find a quiet spot and settle down to enjoy the beauty of this lovely town.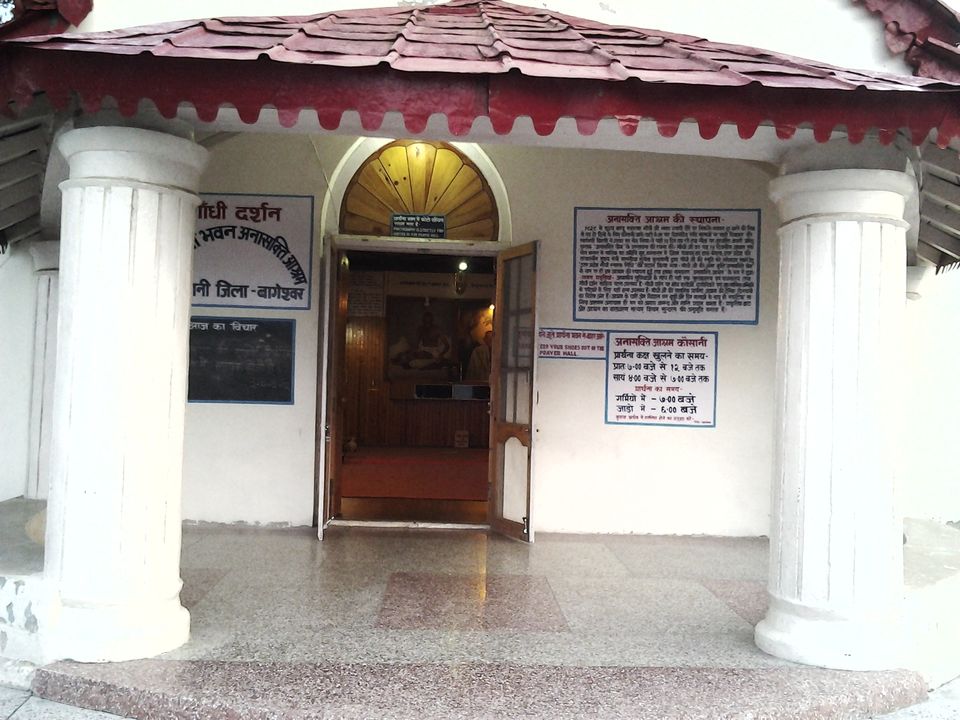 Anashakti Ashram where Gandhi ji spent a few months completing the Anashakti treaty is a great place to visit, if not out of love for the country, then simply because the place offers a new experience. The ashram also houses an enriching library of Mahatam Gandhi's works as well as relevant pictures of significant events. For another enriching experience, you can also visit the Sumitra Nandan Pant Museum built in owner of a great poet, storyteller and novelist. If nothing else, the museum is successful in encouraging and inspiring the artist in you!
Let's make Kausani interesting!
You may feel the title of the post is incorrect and misleading since Kausani sounds like any other hill station and why would anyone travel for 15 hours to visit just another hill station! Well, because Kausani is unlike any place you would have visited and for those who are desperately looking for a break from the mall roads, the bohemian cafes, chants of om shanti om mixed with trance music – this is the place for you.
Kausani is simple, it's quiet, it's peaceful and it really does feel that you are light years away from the rush of the city and the chaos of everyday life. So while you are here, do try these few things that made my experience absolutely splendid!
Stay up all night waiting for the sunrise
Because there is no way that you'll be able to wake up early in the morning. Kausani is quite cold, irrespective of the season you head out in. Your best bet to cover the rising sun is to stay awake under warm quilts, with your camera fully charged and your coffee piping hot. I did it and I would do it again if given an opportunity.
Walk till you come across a tea plantation
And trust me, you will. Kausani offers such mesmerizing sights of tea plantations though I am sure you would have seen much more if you have ever been to other prominent tea plantation areas.
See how many colours of the sky can you capture
Yes, this is a real thing! We did this and you have to see this to believe it (the pictures are way too huge for me to upload and I am way too lazy to edit) BUT come on trust a fellow traveller! The sky changes colour almost every hour and after a while you'd think it's some sort of a trick because I have been to a lot of hill stations but I have never seen so many colours in one frame.
This is well…a little forced. There isn't much of a network in Kausani so forget Facebook, placing a calling takes about 40 minutes before you hear a ring on the other side. You can use phones at your hotel to keep in touch but otherwise your phone will only serve the purpose of a camera. I think this was a blessing in disguise because even though I say I won't upload pictures, I end up covering my entire trip on Instagram. So disconnect, keep it clean and go find your colour!
Places to stay in Kausani
Finding a hotel or a homestay in a small place like Kausani can be difficult and also quite easy depending on the kind of person you are! There are tons of homestays for those who are looking for a laidback holiday and also stunning rental homes/rooms for those who want a taste of the mountain life.
Though a little far from Kausani, Himalaya Darshan Resort is everything you want! Set amidst cascading mountains, the views from the hotel are picture perfect and their hospitality makes it even more special. Heading out for sightseeing will be a hassle since you won't feel like leaving the warmth of the resort!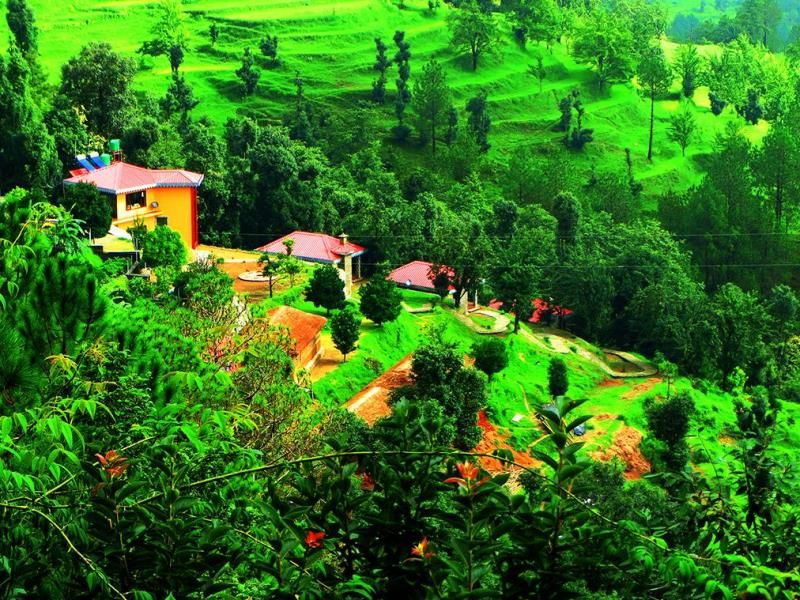 This beautiful homestay in Kausani is as charming as it is welcoming. The bungalow is located overlooking a cliff and is surrounded by majestic mountains on all sides. The homestay offers all three meals, activities, personalised tours and such a knowledgeable host to accompany you, that exploring Kausani will be a treat!
If you are looking for a peaceful, no-hassle stay option in Kausani, this one is a steal. Located at a convenient distance from the city center, commuting from and to the hotel will not be too much of a trouble. The rooms are spacious, welcoming and offer you splendid views of the valley irrespective of where you stay!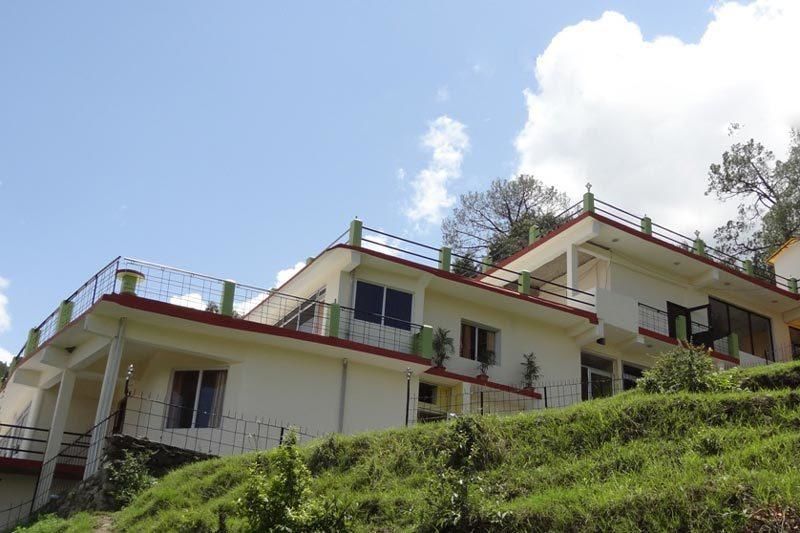 Happy travelling!
Peaceful, quiet and culturally enriching, this is a must-visit in Kausani and the best bit is that it won't take more than an hour or two!
Peaceful and soothing, this is a perfect picnic spot in the midst of flawless beauty!