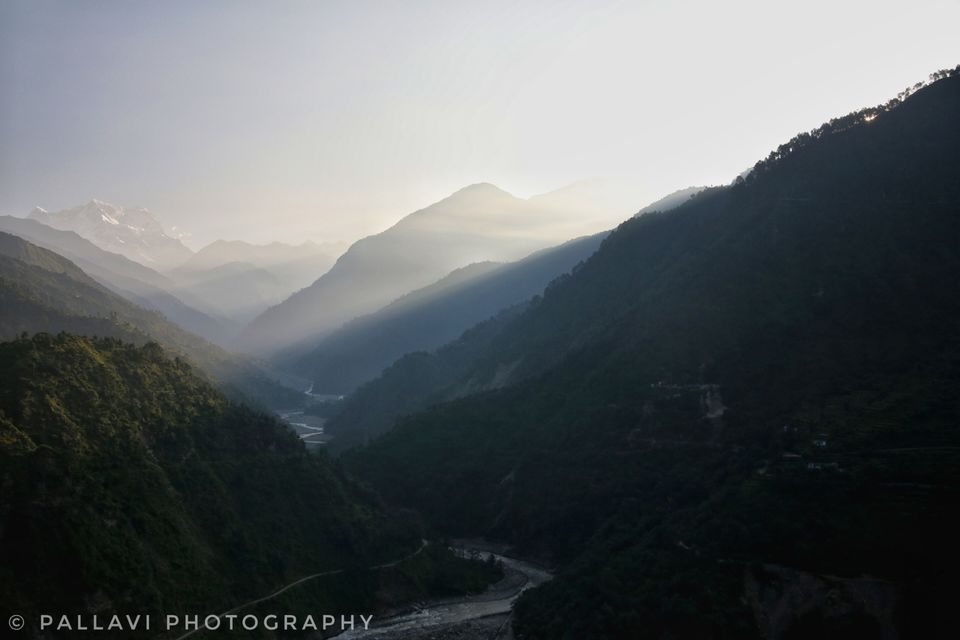 We visited Kedarnath and Badrinath in the September of 2016. We were only two people, so this time instead of taking a private taxi, we decided to travel via public transport (city bus, shared cabs). Char Dham yatra is very much doable (and super cheap!)by Public Transport since many pilgrims visit each year. There are mini city buses which take you to these destinations, and you can get connected/shuttle taxis to reach the base/ base village.
First day we stayed in Rishikesh (the Yoga Capital ;-) ). That evening we visited Parmarth Niketan for Ganga Aarti. Ganga Aarti at Parmath Niketan is a 'must-do' thing when in Rishikesh! Dipping your feet in Ganga will take away all your tiredness, believe me! Its a very soothing feeling.
Next day we took a bus from Rishikesh to Rudraprayag. You can get a bus from both Rishikesh and Haridwar. Frequency of buses is huge from Haridwar. The roads in Uttarakhand are narrow and crazily winding. The valley you see on the side can make one dizzy looking at the depth of it! Nevertheless, the landscapes are breathtaking, lush green and a treat to the eyes! Remember, when you are traveling by public transport, there isn't much scope for photography/well composed photography, as the buses aren't too comfortable. Also there are frequent and sharp bends on the already narrow road, so camera kept hitting the window frame and there was also danger of mobile falling from hands due to not-so-smooth drive. Even though I tried to click as much as possible (holding on to camera/mobile tight, like it was life :D ). You will be surprised (and also scared!) to experience how the 'public-bus' drivers drive on these dangerous roads. They got skills! You gotta admit that. Also it can be bit scary as you see deep valley on one side and almost feel that atleast one wheel is in air while taking a turn! But the drivers are confident, and sometimes drive like they are driving a supercar or F1 race!
Will post the remaining story soon! Till then, take a look at photos!