You can read the full blog here
https://abhisheksura.wordpress.com/2018/05/12/kedarnath-was-not-that-easy/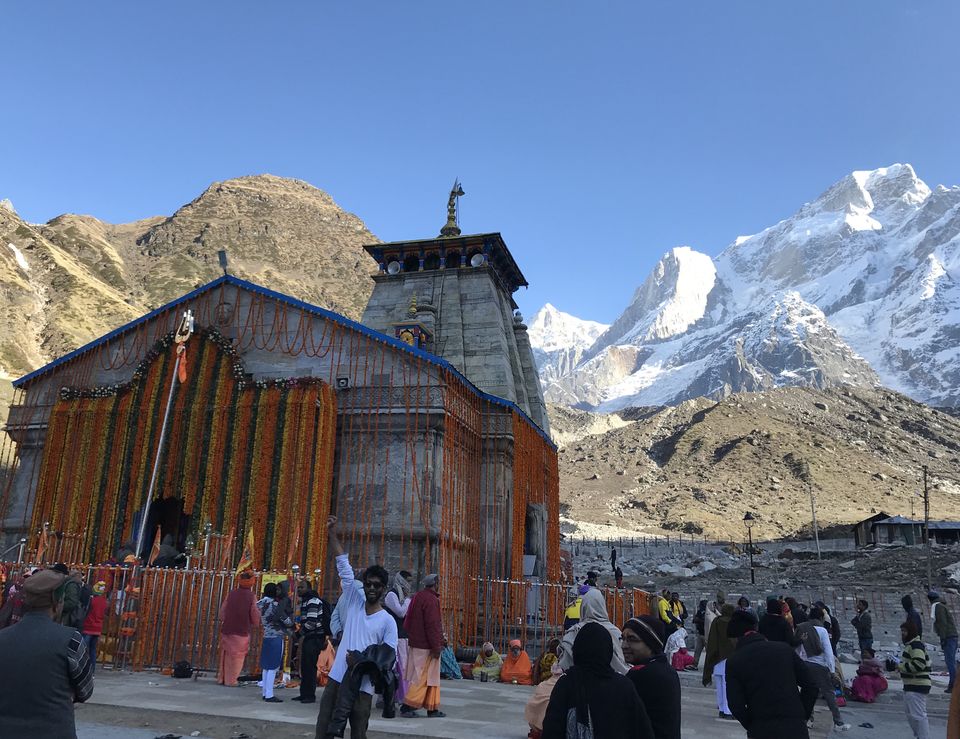 Boarded AP Sampark Kranthi train at 5:15 PM in Kacheguda Railway Station. The next day while at Bhopal in train I saw the bus tickets and now the seats available are only 9. So I booked the bus ticket from Delhi to Guptkashi while I was in train.
Reached Delhi at 7:00 PM and took TMS towards Bus Station
At 9:00 PM boarded the bus to Guptkasi from ISBT, Kashmare Gate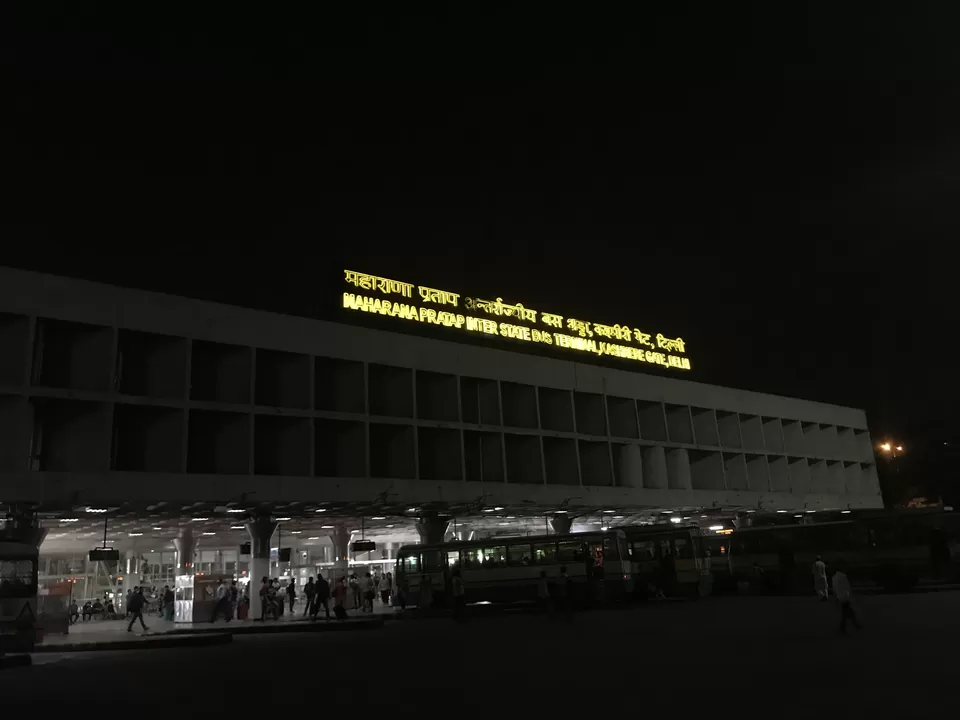 At 3:40 AM the bus reached Rishikesh and stopped for a small break in the early morning and started at 4:00 AM to Guptkasi.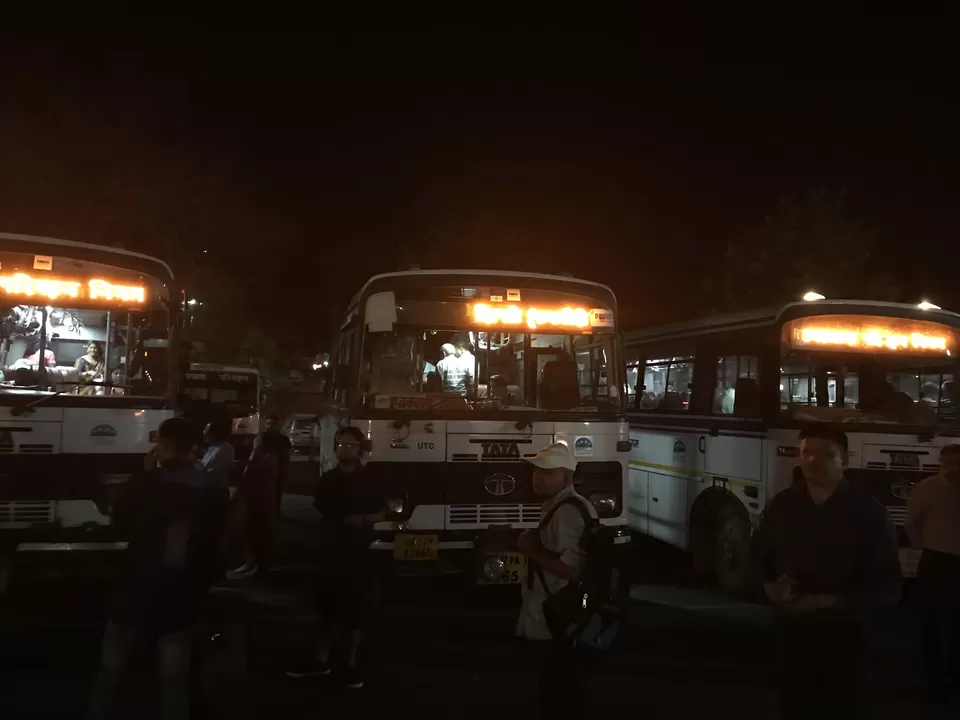 At 10:15 AM the bus reached GuptKashi and i had my darshan of Lord Shiva at GuptKashi and was waiting for the direct jeep or Bus to Gaurikund(the starting point of Kedarnath Trek) but what i got to know is that the private jeeps will go only till Sonprayag and from there other vehicles will go to Gaurikund.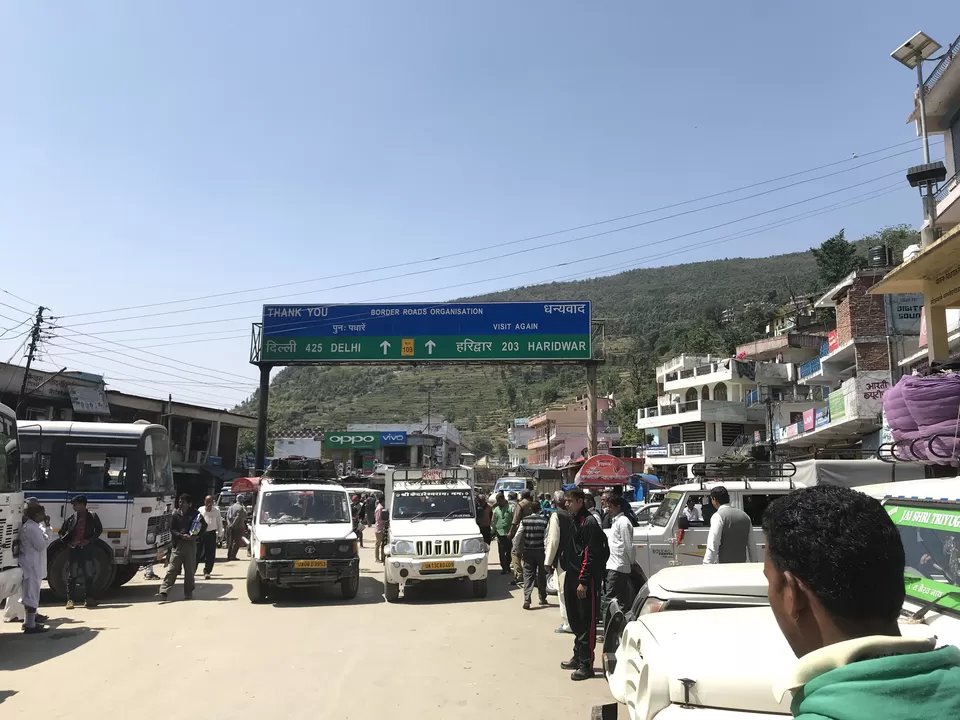 So I got into a jeep at 11:00 AM and reached Sonprayag by 12:10 PM in the afternoon. He took 60 Rs for Guptkashi to Sonprayag. There is a registration counter at Sonprayag, where every tourist has to register before moving further to the trek. If you forget to register at Sonprayag, no need to worry, the registration counters are also available at Gaurikund and then at Kedarnath base camp, 1Km before the Kedarnath temple. What I observed was, the queue to register was less at Sonprayag when compared with Gaurikund and the Kedarnath base camp.
About Kedarnath
Kedarnath can be reached by 16 Kms steep climb from Gaurikund to the temple of Kedarnath and can be done on foot or on ponies or by helicopters. Ponies or horses are available on rent from Gaurikund. I always choose to do some adventure rather than just sit and go. So obviously my choice was to walk/trek. To get the vehicles for Gaurikund, you have to cross the bridge at Sonprayag and from there it is just 10 min of drive for which he takes Rs 20/- per person. While coming in bus from Delhi to Guptkashi I asked someone the temple timings (what is the time till which temple opens in the night). He told around 7:30 PM the temple will be closed. Then my next question to him was how much time will it take to go Kedarnath from Gaurikund. The answer was pretty straight forward and it was "It depends on how speed you walk but usually it takes 4-5 hrs". Then I thought that it is almost 12:45 PM in the afternoon and by the time i reach top it world be 6:00PM in the evening, so once i reach top the darshan will be done today and i can start back descending tomorrow early morning at 5:00AM and reach Badrinath by evening. What actually happened?
Trek
Apr 29th 2018, 12:50 PM - Started from Gaurikund and there were sign boards of still how many kms are pending. Now there is restriction that after 1:30 PM you wont be allowed to start your trek from Gaurikund. The trekking distance is 16Kms from Gaurikund to Kedarnath temple. I started ascending, there is a Gauri temple at the very start of the trek, you can visit that and start. My first stop was after 2Kms when I found a small tea shop.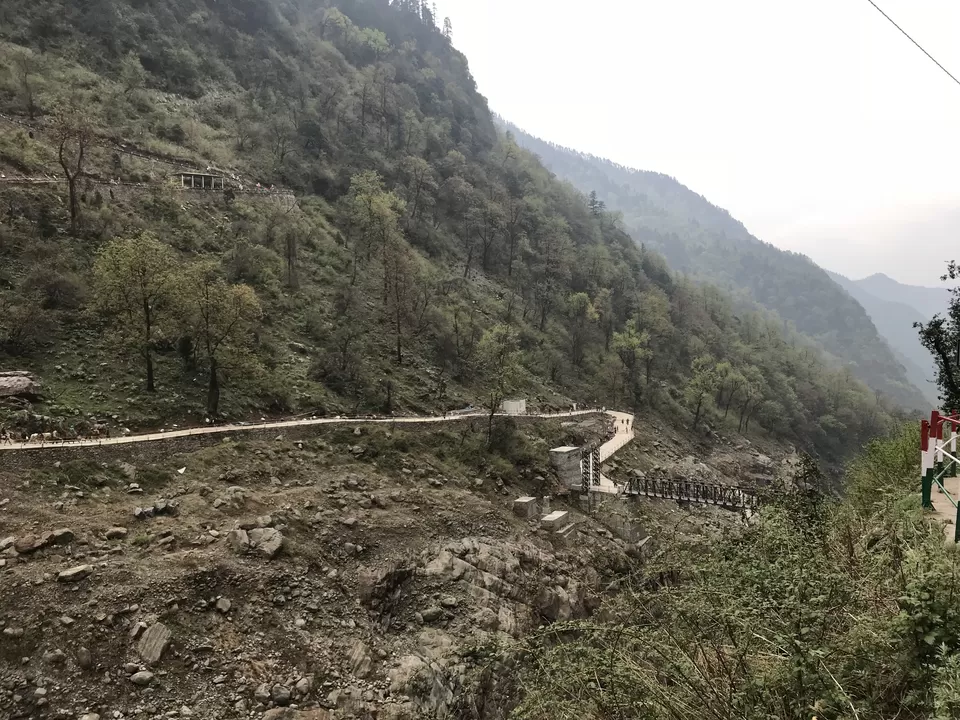 I asked for lime juice & I resumed the trek with fresh energy and at around 3Kms it started raining. I know that if I stop, I wont be able to reach temple on time. So I removed my rain poncho and started, after few meters it was small ice cubes which are falling along with the rain. So I decided to stop under the shelter. Once it stopped raining with ice, I again started.
At 8:30 PM I reached the Kedarnath base camp and got the accommodation in GMVN tents along with 3 others who came from Gurgaon.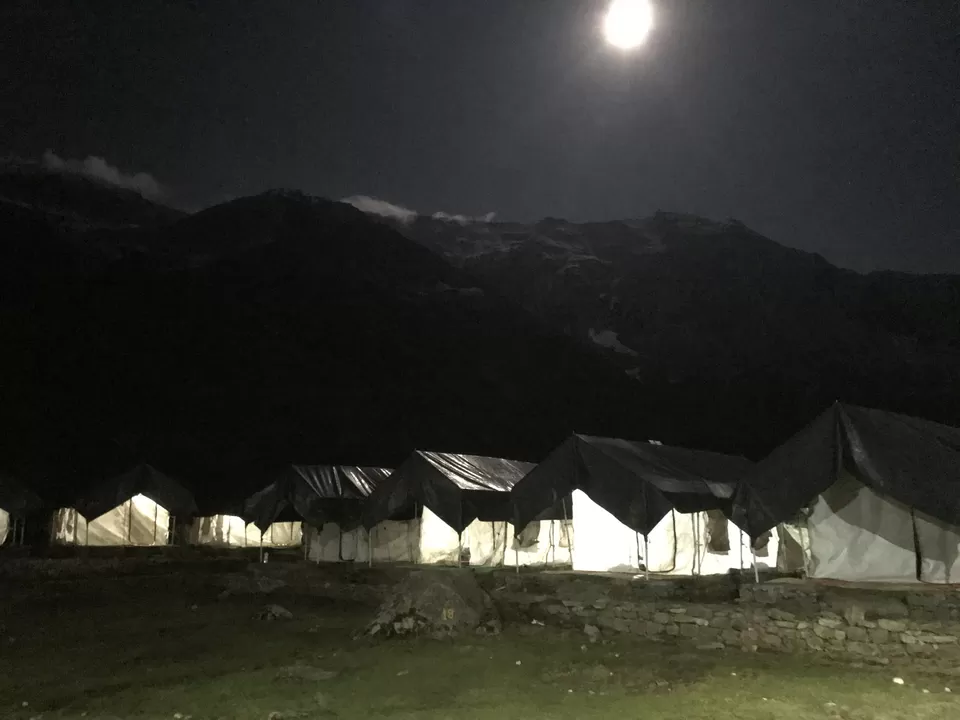 The night was not that easy, our bodies were tired and slept in the sleeping bag and when I got up in the morning at 5:15 AM it was freezing outside, the bags & shoes inside the tents got wet because of the snow. Now I put the slippers on as my shoes were wet and it will be so cool if i wore that walk. The view outside the tent was so amazing with the snow captured mountains all around our tents.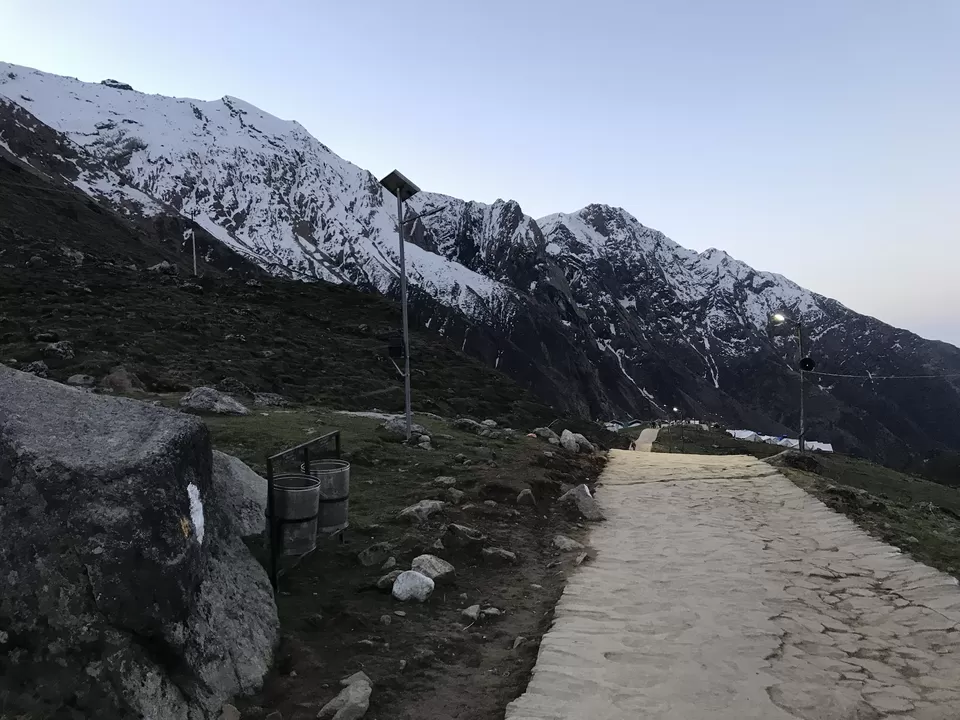 At 5:30 AM we started to the temple which is at 1Km from our tents, as we were reaching the temple the view was getting more and more better and snow capped mountains were so beautiful in the dawn and when the first rays of sun was on those mountains.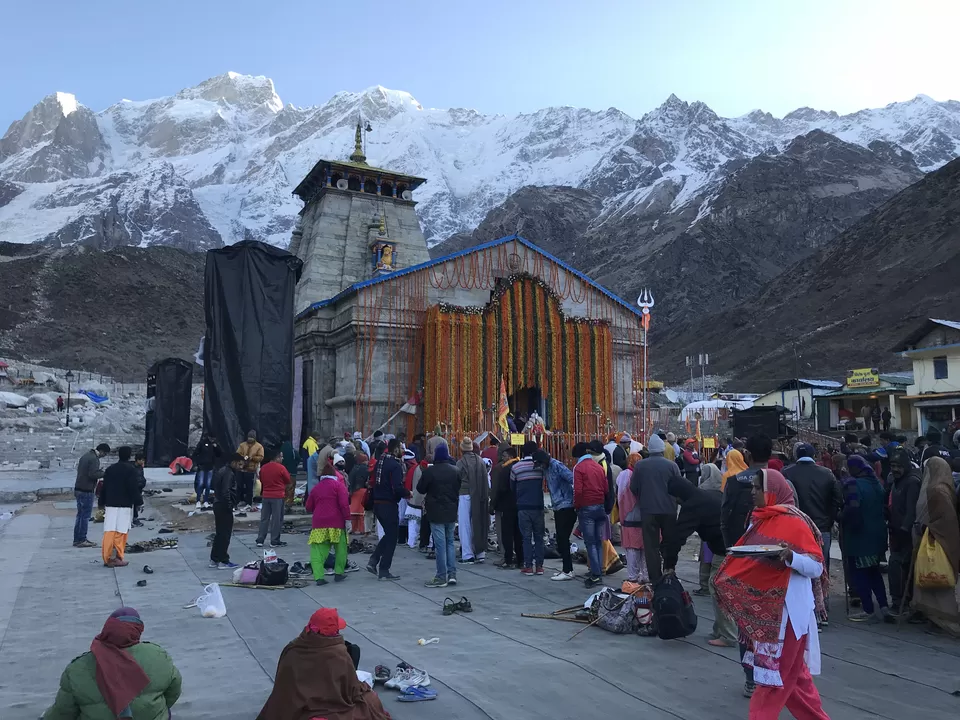 At 7:40 AM we finished our darshan and as soon as we came out of temple, the rocks were so cold that we can't even stand without slippers for 10 sec. We were loosing our sense in our feet & we ran for our slippers. Then we explored the temple backside where there was rock which made this temple survived back in 2013 floods & then started back to tents.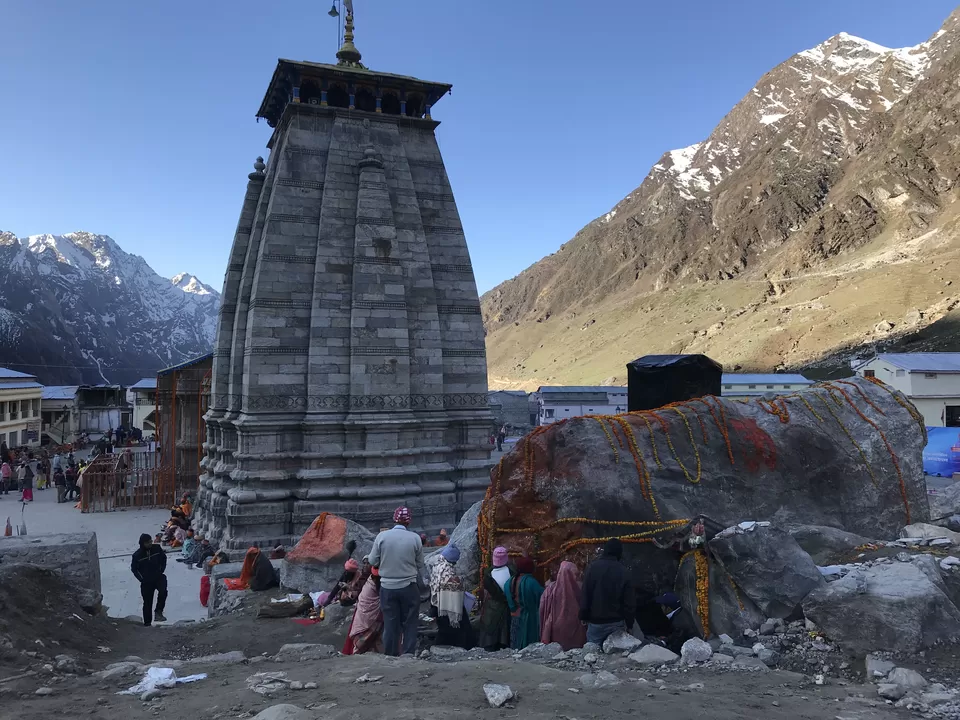 Apr 30th 2018, 09:00 AM - Started descending from the Kedarnath Base Camp thinking that we can do it in 3-4hrs and can reach base camp by 12:30 PM in the afternoon as it will be easy to descend. With the pace we started we completed 4Kms in 1Hr.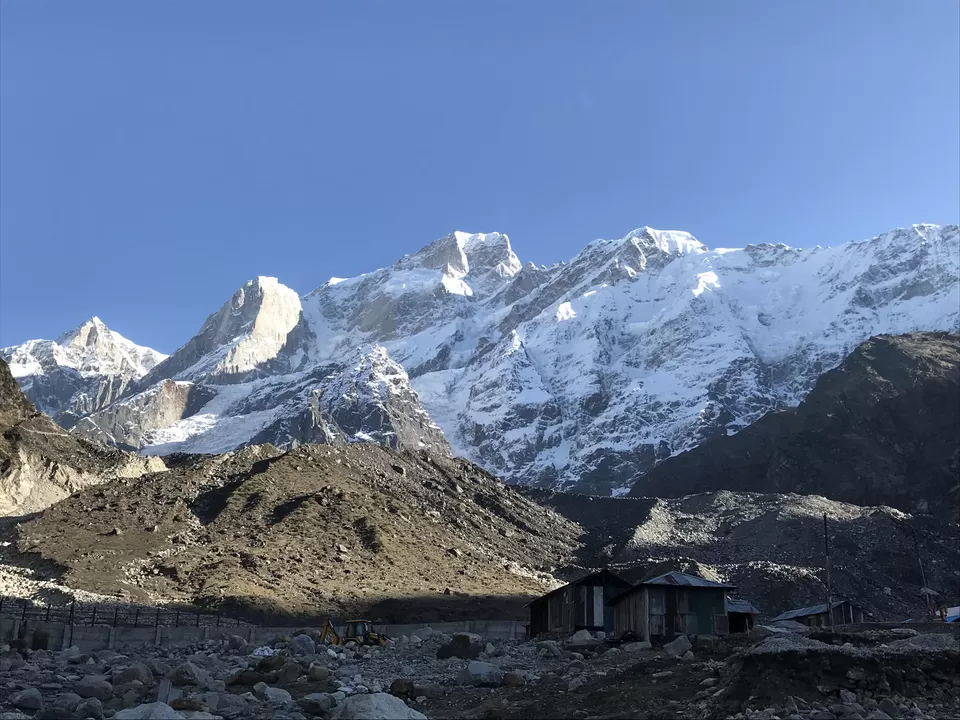 Now, came the breakfast time as I didn't ate in the morning at the temple, stopped at some point after that 4Kms and I ate maggie and my fellow trekker named Vinoth(the one with whom I shared the tent last night) ordered Parata. At 10:20 AM we started from there after another 2Kms again the same story, we got slowed down with 12Kms to go and for each half Km we were taking the break and now my shoulders were paining a lot than my legs because of the weight. My bag has 75Lts capacity and it was completely filled.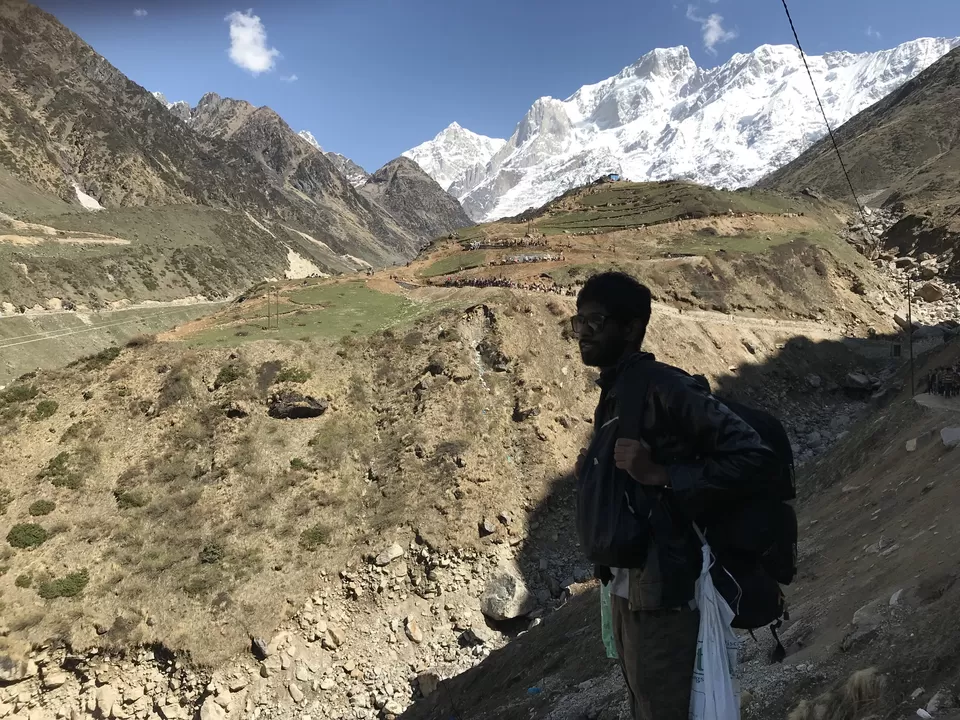 After few minutes, the shoulder pain got worse so what I did was I removed all the clothes from my bag and put in 2 polythene covers and hold it with hand. At every few meteres i used to interchange the covers in my hand. Still the bag is heavy and i was feeling it. So i removed everything in the bag and put those in the covers. We were stopping at every half kilometre and for us the last 4Kms was like so difficult to make it.
At 3:30, we reached Gaurikund and there was a big line for the jeep to Sonprayag. So it took another 30min to get inside this jeep. We thought of doing it in 4hrs but for us it took almost 6 and half hours.
After reaching Sonprayag at 4:30 PM i was enquiring about the buses to Badrinath. Later i found that buses or jeeps wont go in the night in that hilly region and the buses will be starting again the next day morning at 5:00 AM. So i thought that if i can do the maximum journey towards the Badrinath the journey towards the next day morning will be less because i have the train from Delhi to Hyderabad on 3rd May morning 7:25 AM. To catch that train, i have to be there in Haridwar by evening of May 2nd. and I have to start from Badrinath either on May 1st evening or to the maximum extent i should start early morning on May 2nd. Though the distance from Badrinath to Haridwar is just 320 Kms it takes almost 11-12 hrs to do it and the whole journey will be in mountains and there may be possibility of land slides too. There are lot of calculations going in my mind.
So I enquired about the jeeps towards Chamoli first and didn't find them. So I decided to take a jeep to Rudraprayag which is ready and thought of taking another jeep from Rudrapayag to Chamoli. By the time i reached Rudraprayag it was 6:30 PM in the evening and started becoming dark. Then i decided to stay back in Rudraprayag and continue the journey next day morning towards Badrinath. Then i got room at Rs 300/- and finished my dinner and enquired about the buses to Badrinath. So the first bus to Badrinath will be at 5:00 AM and will be right in front of the hotel which I was staying. Then I decided to leave for the first bus in the early morning and slept.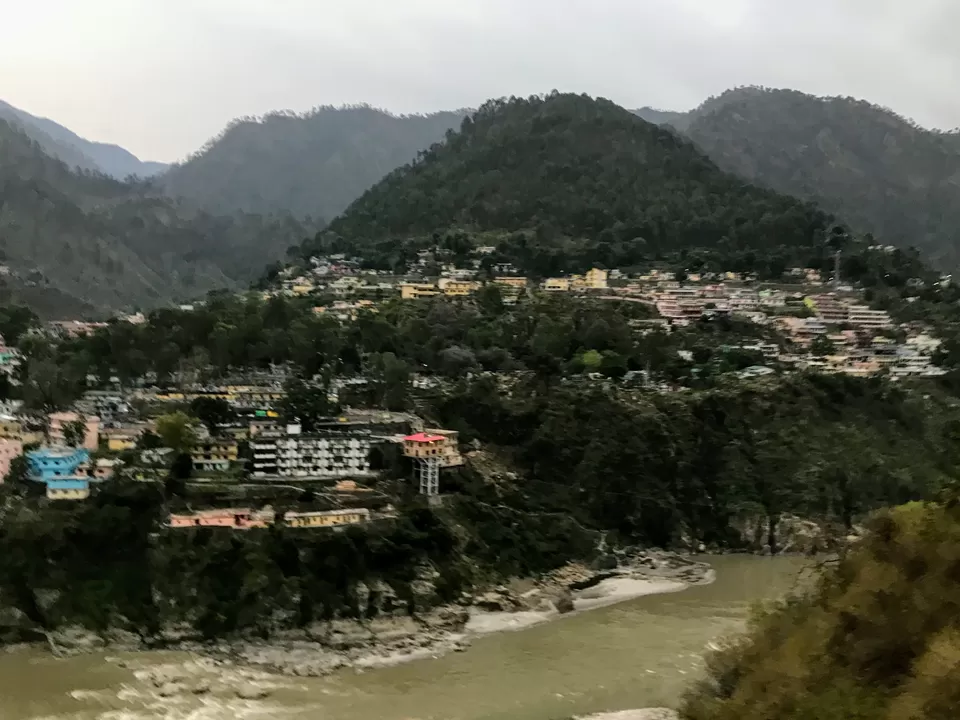 Though the journey towards the Kedarnath was so tiring, its gonna be timeless over the years to come. The energy and positive vibes at temple will make you forget all the worries and today when i remember my journey to Kedarnath, its priceless.
I will continue my journey towards the Badrinath through the lovely landscapes and valleys in the next post.
Follow me on
Instagram :- www.instagram.com/abhishek.sura
Subscribe to my channel for vlogs on
Youtube :- www.youtube.come/sura.abhishek