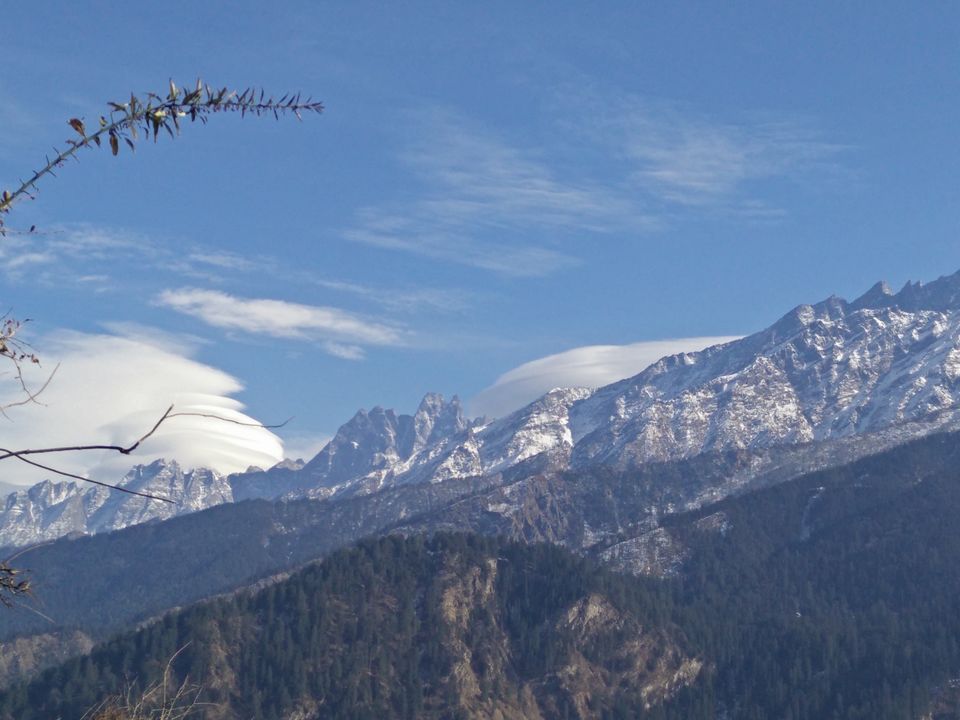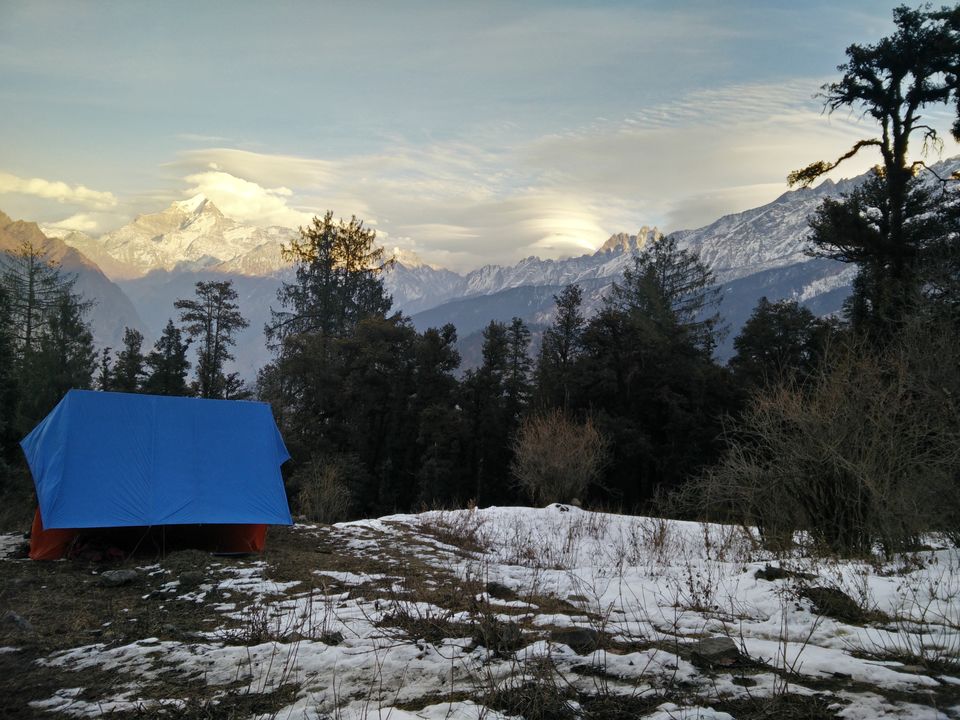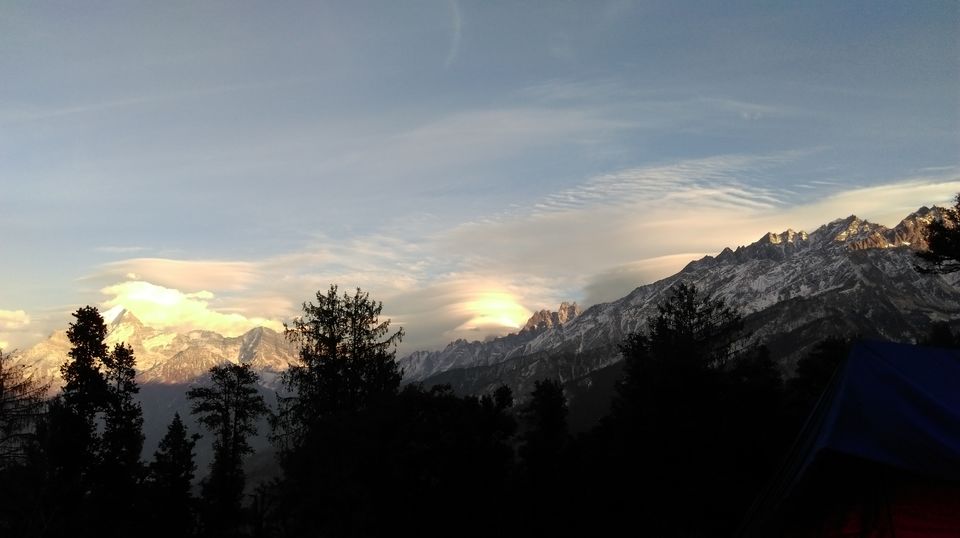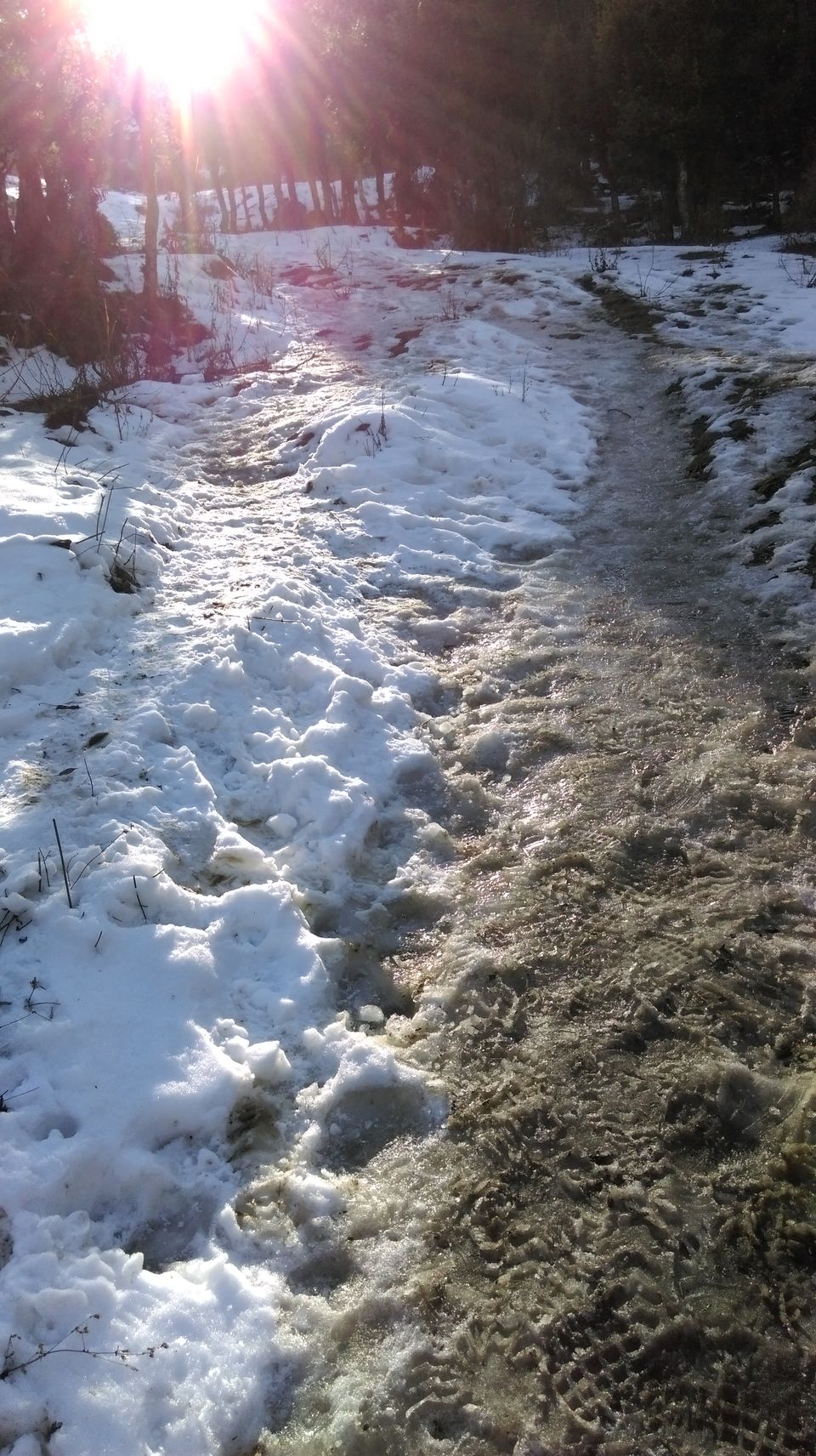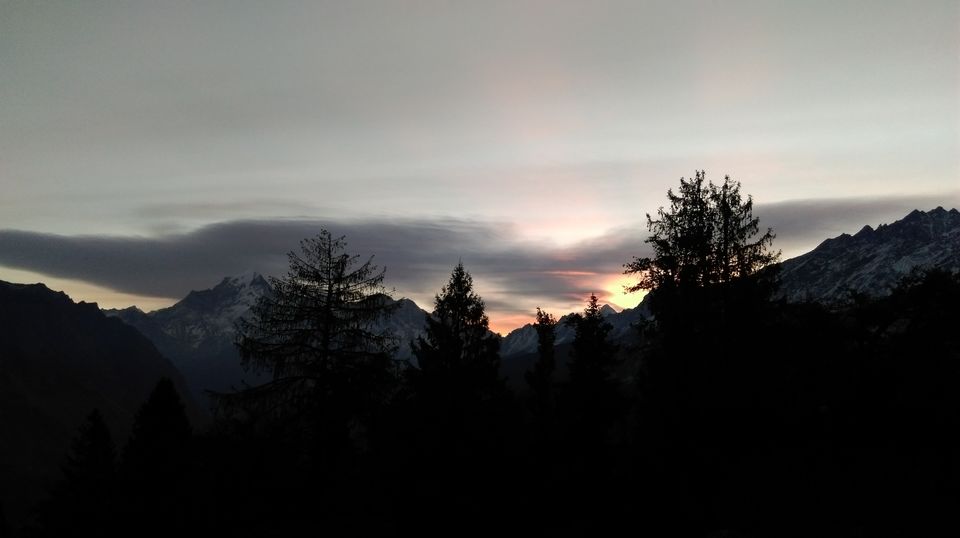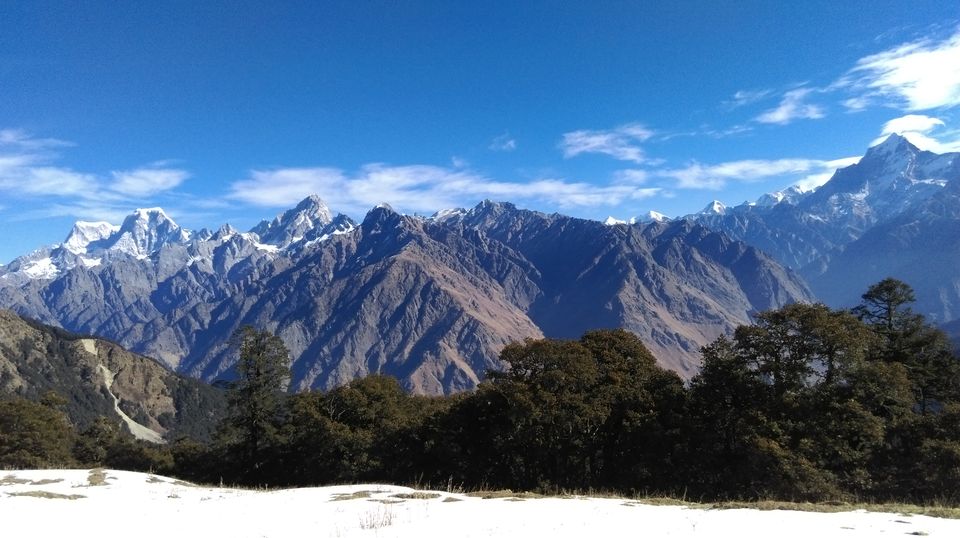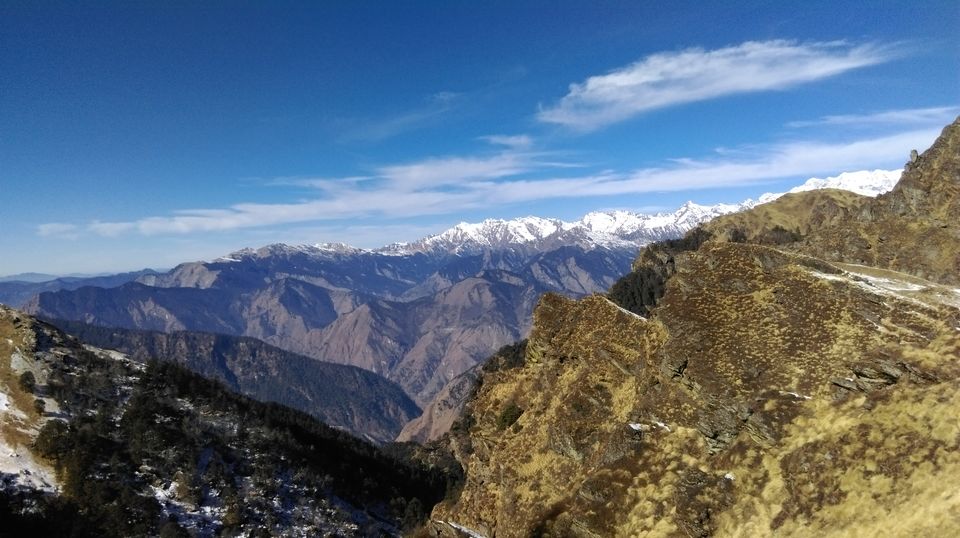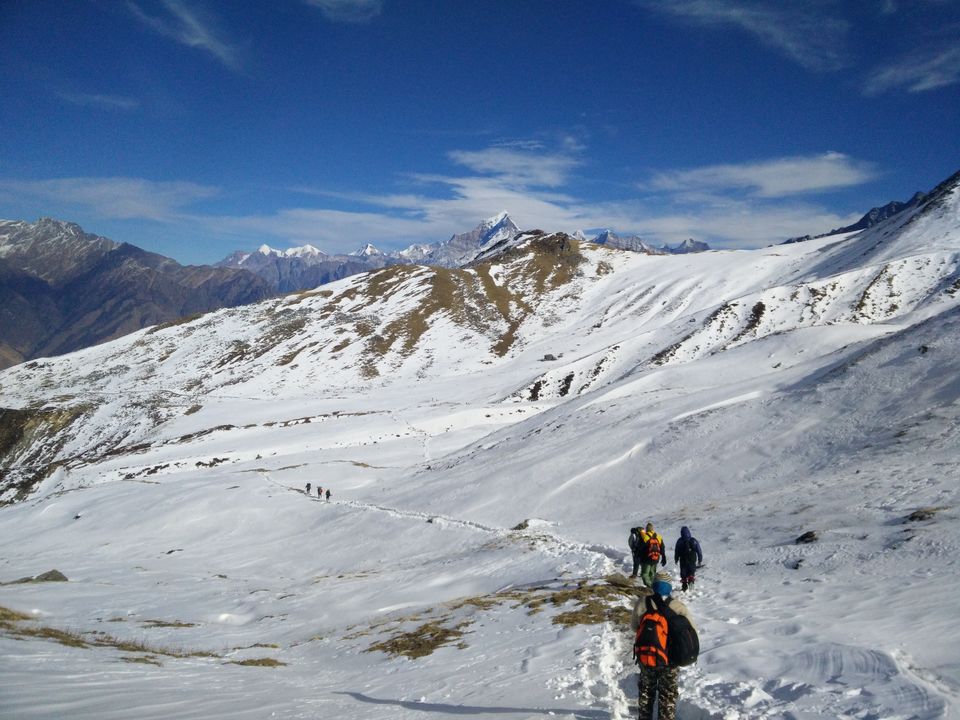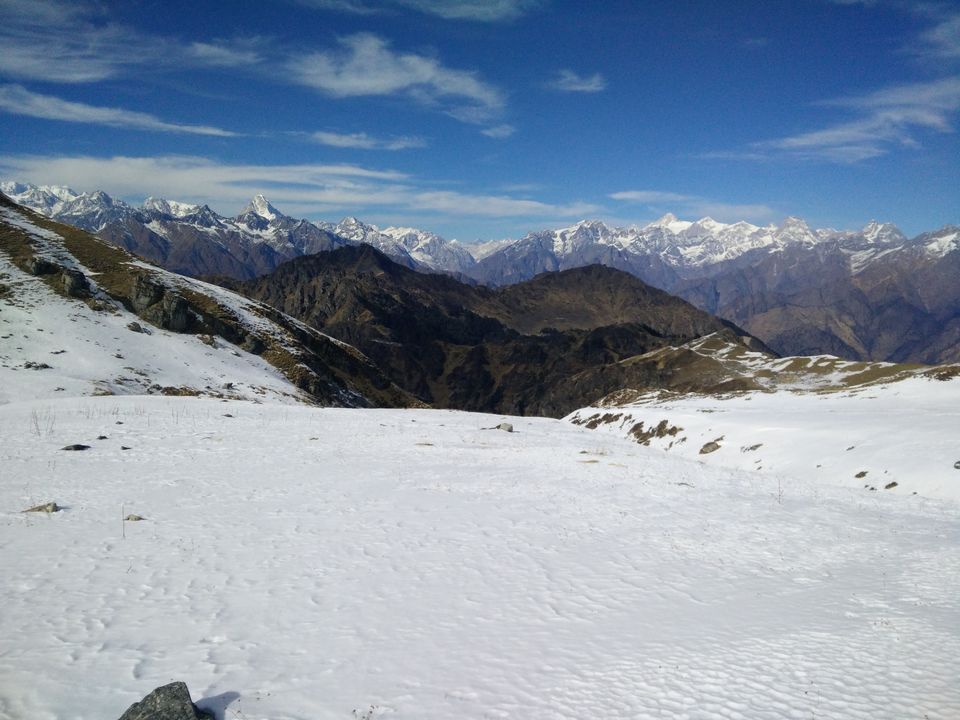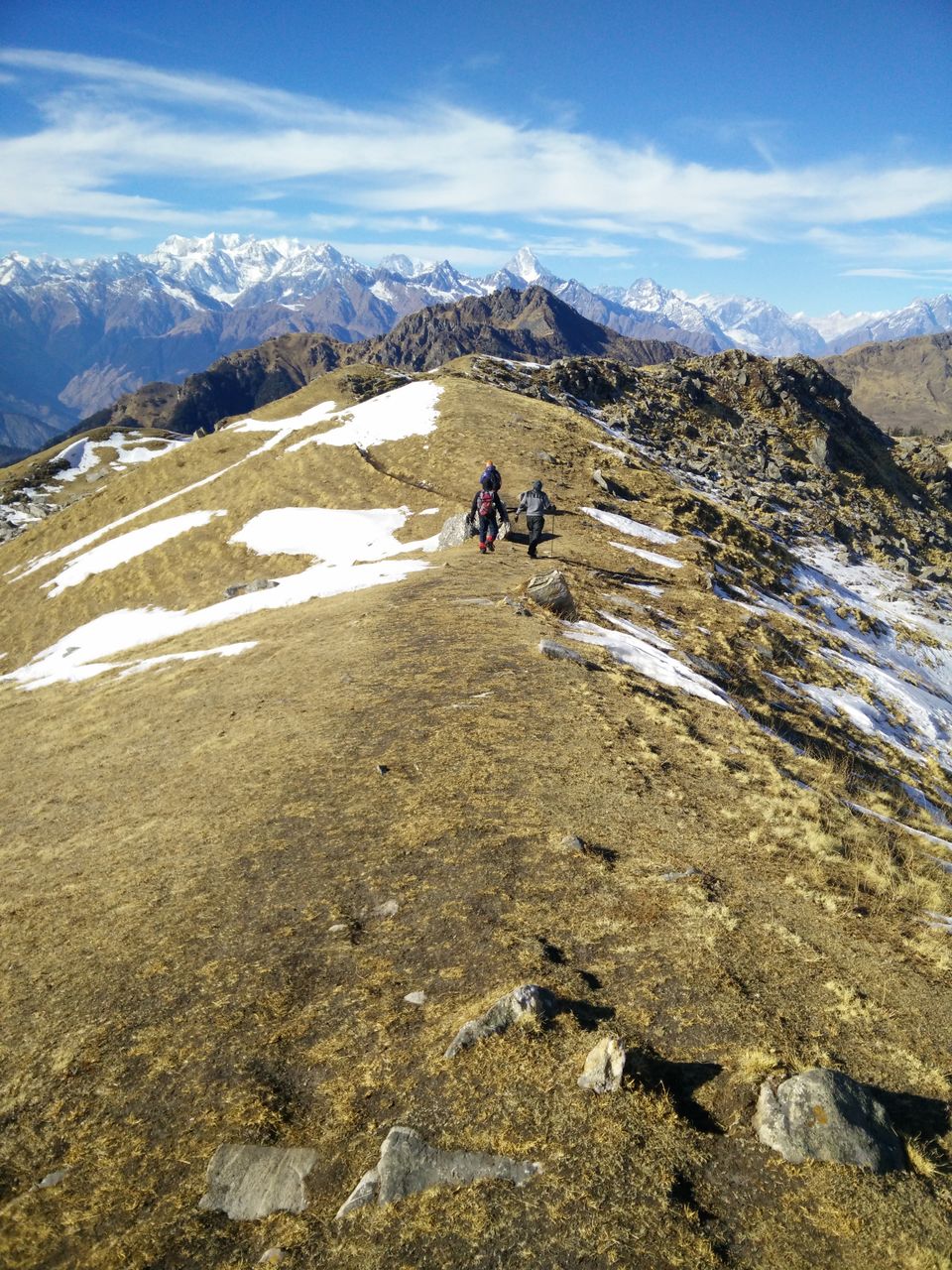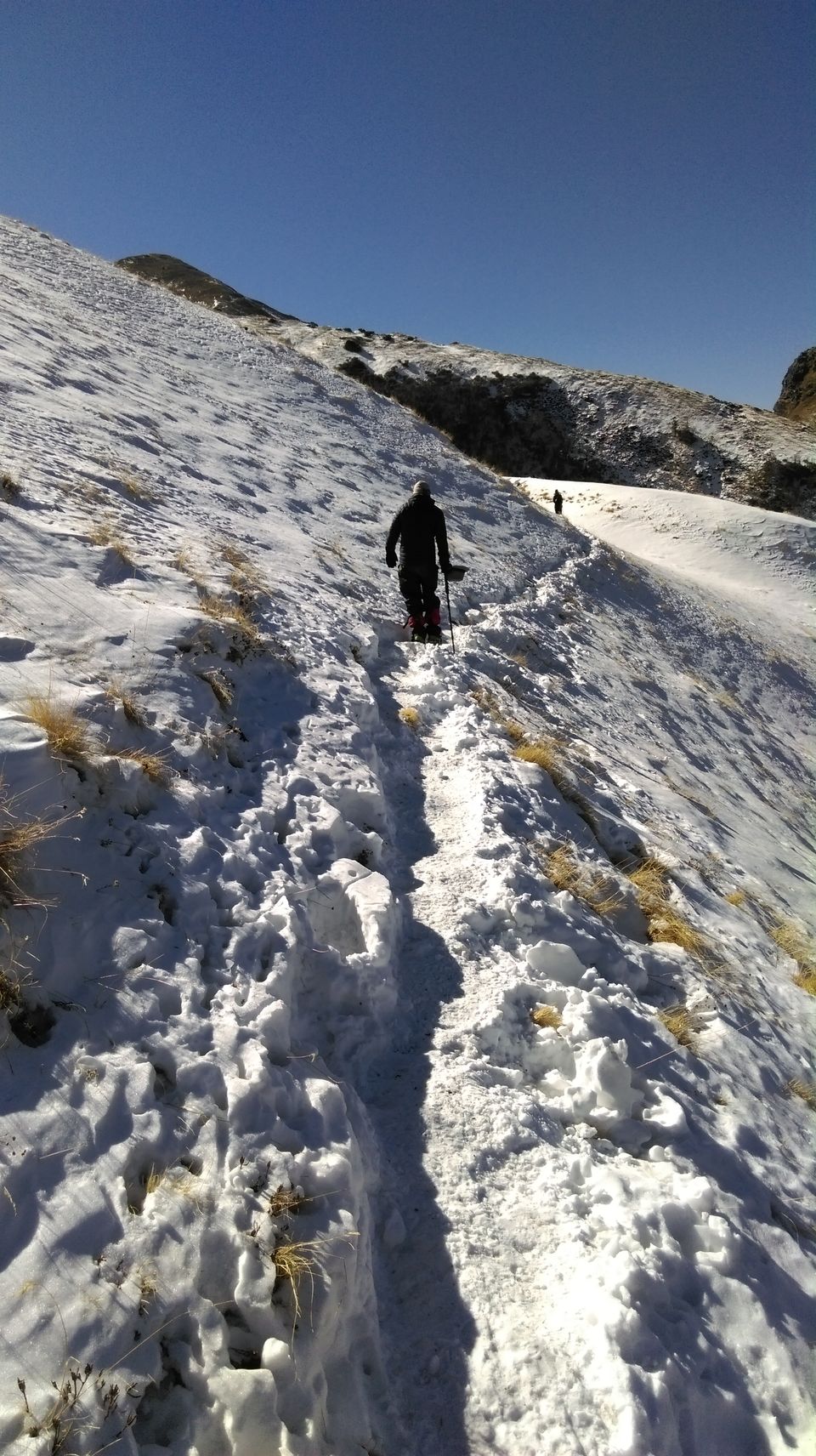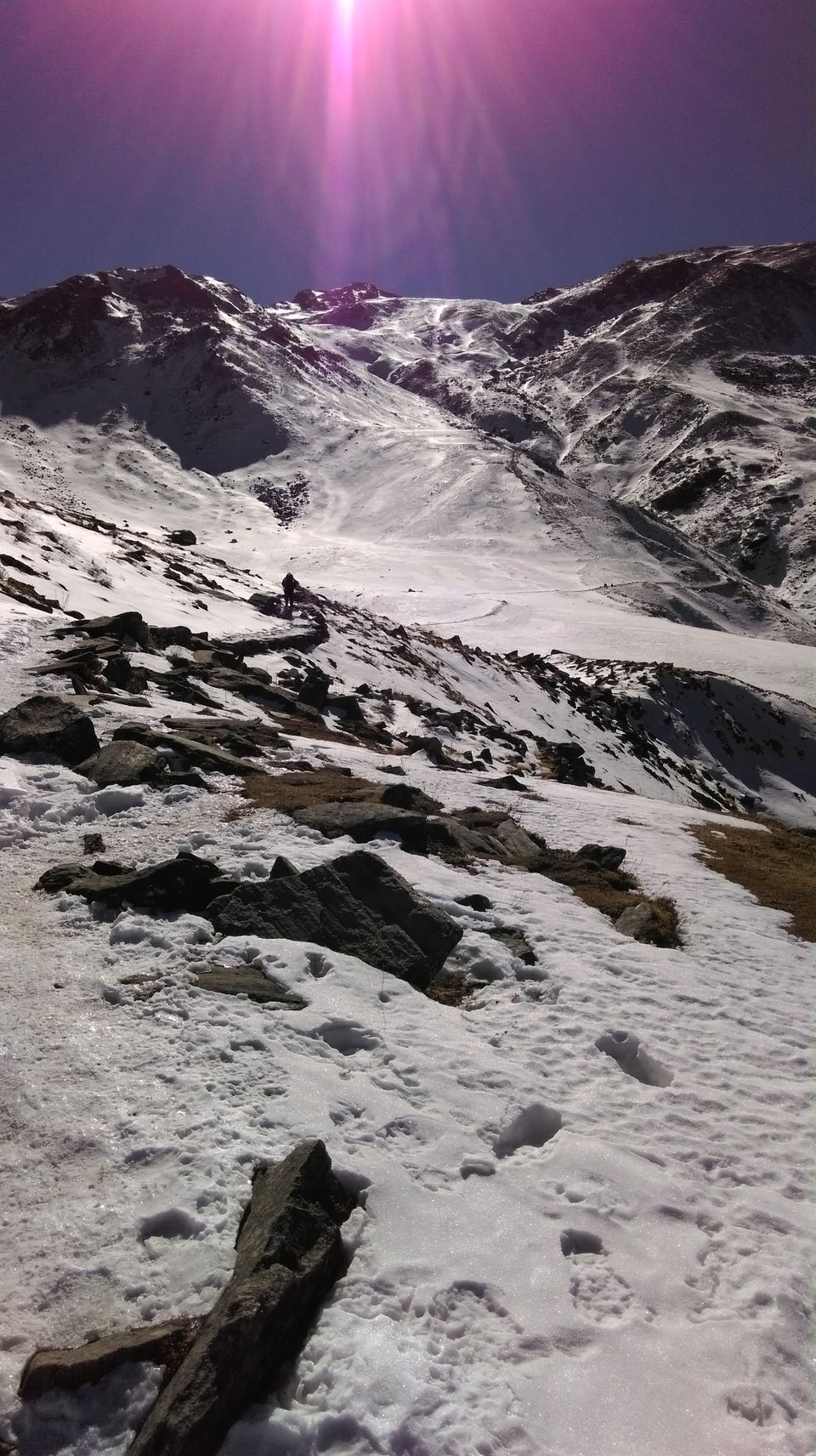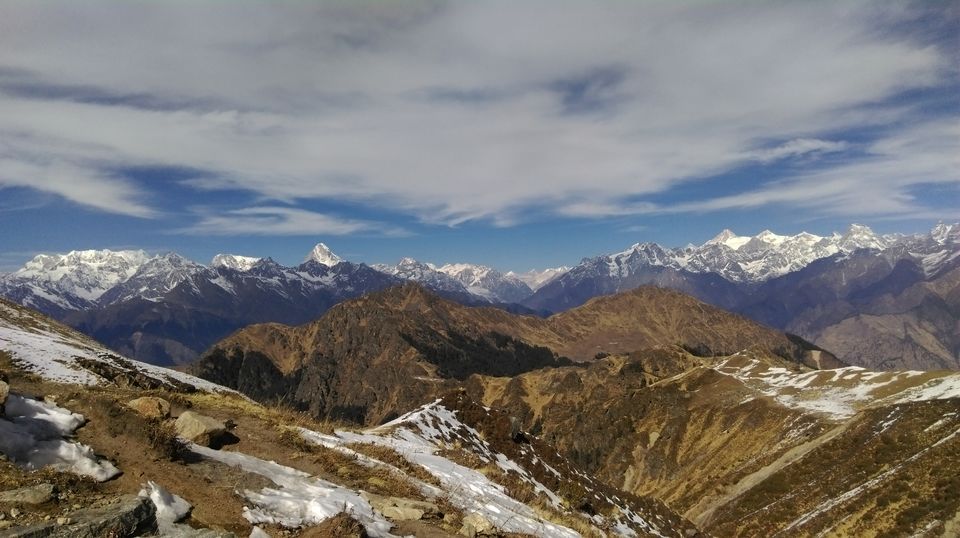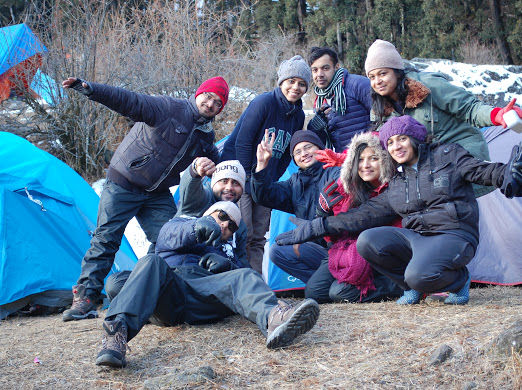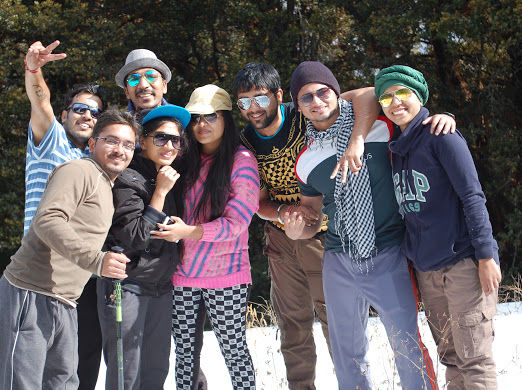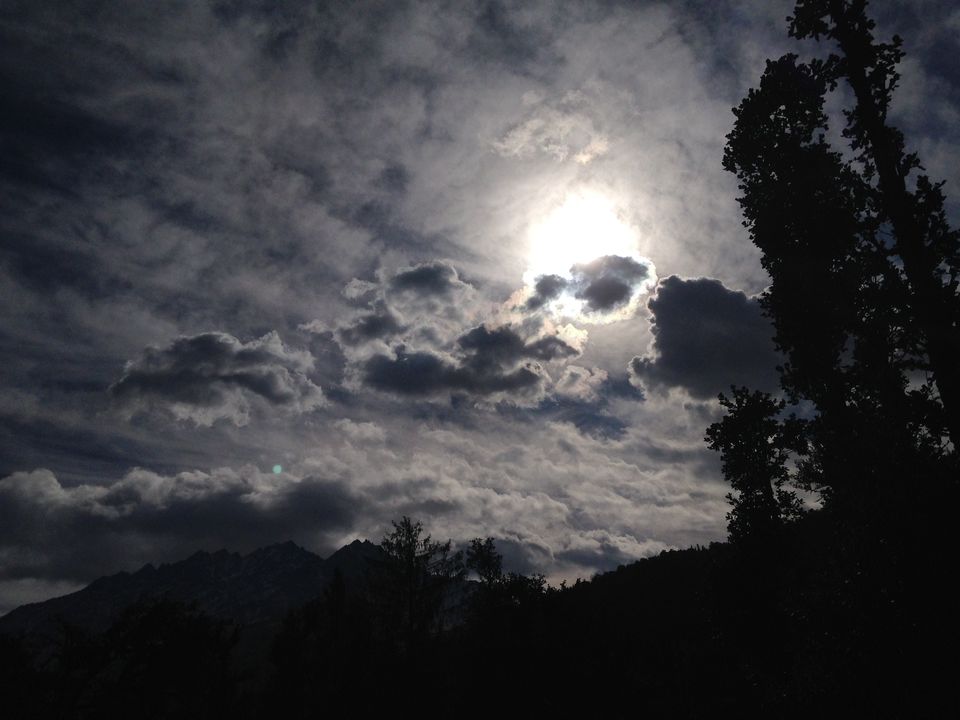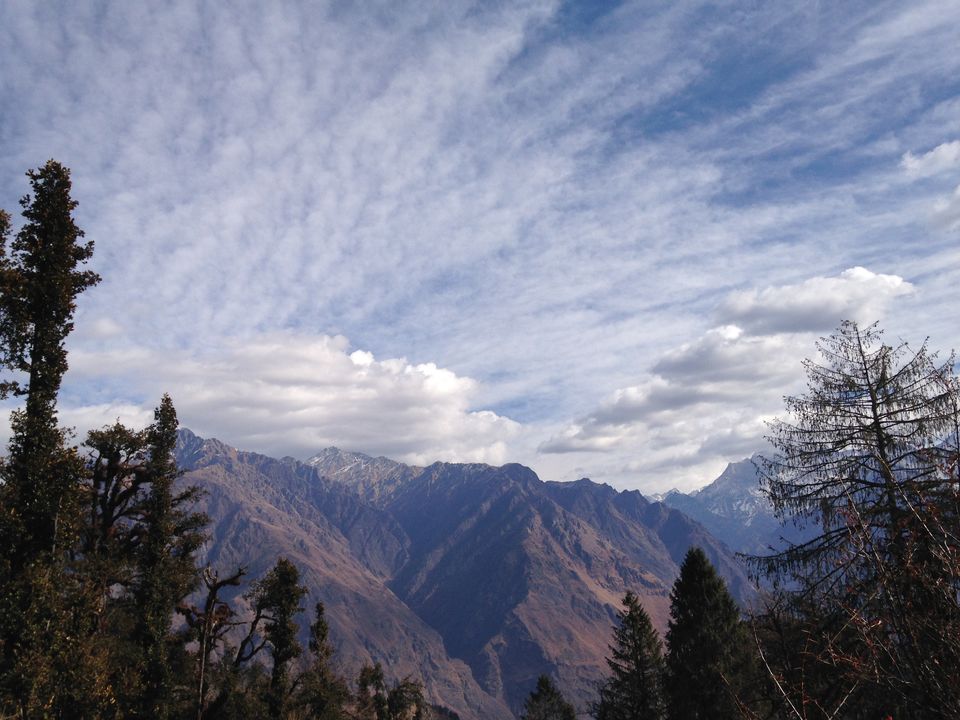 Every mountain top is within reach. All you need to do is have faith in yourself and keep climbing.
DECEMBER 26-31, 2015: KUARI PASS WINTER TREK
My quest for adventure coupled with the passion for exploring new destinations led me to enroll for the winter trek in Uttarakhand, Himachal Pradesh. This trek, popularly known across the country as the Winter Kuari Pass, proved to be a test for physical and mental fitness, enjoyment, amicable acquaintances, gaining a sense of personal achievement, and, of course, getting closer to Mother Nature. The name "Kuari" essentially means doorway and is a Himalayan high mountain pass located in the Garhwal district of Himachal, south of the Tibetan border and on the western rim of the Nanda Devi Sanctuary biosphere reserve. It basically falls in the Chamouli district of Uttarakhand. This famous trek is also known as the Lord Curzon trail, named after the former British Viceroy of India - Lord Curzon).
Day 1: There are daily overnight trains from Delhi to Haridwar. Trekkers/trekking groups try and reach Haridwar early morning as that is the main assembly point from where the trek coordinators take over and ensure that everyone has arrived. Appropriate transport is provided (bus, tempo traveler, jeeps) depending on the number of people who have registered for the trek and then begins the 10-11 h long journey from Haridwar to Joshimath. As we drive through Rishikesh and gain altitude, one gets the feeling that something dramatic is about to happen soon. You may not necessarily be the protagonist, but I can assure you will definitely be part of all the action and reaction - you heard me, right! I am referring to high-altitude sickness, which in most cases is accompanied by vomiting, headaches, frequent pit stops, and well! more puking. I'm not being rude or judgmental here as this is common in the mountains and could happen to anybody. As far as my bus journey was concerned, I accidentally boarded the wrong bus with a couple of trekking groups who were traveling together from Mumbai and Delhi. There were close to 20-25 folks in this bus. I was actually wondering where my group was, but luckily when we halted for breakfast around 10:00 AM, one of the trek coordinators approached me and asked me to trade places with another individual on another bus. On inquiring further, I understood that the group through which I had registered was aboard that bus and I was the only person missing - like I always say, adventure never leaves me alone.
When traveling in the mountains, it's best to not stuff yourself; however, you can't afford to miss out on the hot paranthas from "pahadiyon Ka tawa," "aloo/chole ki sabji," and masala "chai." In my opinion, if you miss this opportunity, it is considered as "pahadi khane ki tauheen." I had one aloo parantha and some sabji - just enough to get me through the next 3-4 hour uphill drive. The rest of the drive was normal with 2 more stops, one for lunch and the other for evening tea.
During this long and somewhat tiring journey, one can see the confluence of the Bhagirathi and Alaknanda rivers at Devprayag; both these rivers form the great Ganges. The distant mountain ranges are a treat to watch at sundown and you can try and capture the beauty from either your camera or better still, in thy mind - the latter will have the landscapes captured far better, I bet!
Just as I thought the evening couldn't get any better, I received a very "pleasant" surprise at around 7:30 PM when the bus reached Joshimath. For some reason, all of us got off the bus (possibly to stretch our joints and catch some fresh air). What followed was utter chaos and we were left to wonder where we would eventually be staying for the night. There seemed to be some miscommunication amongst the trekking coordinators onsite and to make things worse, our trek leader was unavailable and had conveniently handed our responsibility to another coordinator. We were furious and some of us felt we made the biggest mistake of our lives by registering via this trekking group. After about 45 mins-1 h of shouting, disagreement, and Furore, the bus driver complied with our demands, and was asked by the coordinator to drive us further to Govindghat, approx 25 km from Joshimath. Apparently, our hotel booking was done at Govindghat as the ones at Joshimath was overbooked. This portion of the drive was particularly painful as the roads were narrow and rocky (possibly because of landslides that are common in mountain areas), and as expected, all of us were dead tired and starved. Room arrangements at the hotel were quite good with provision for hot water. Dinner was amazing and lived up to everybody's palette.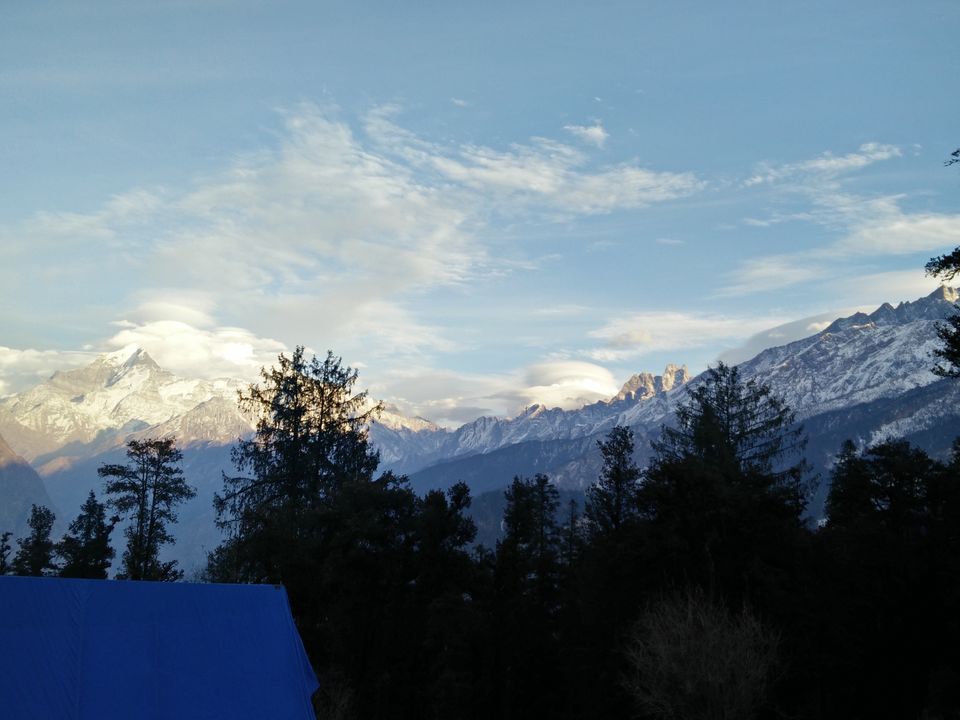 Day 2: After breakfast, we were driven down to Dhak Village - our starting point. Basic instructions about do's and don'ts were provided to us by our trek leader as we were about to begin our ascent to over 2000 m. I trekked for 6-7 km crossing villages, flat grounds and green fields, and some steep climbs to reach the first campsite at Gulling (2600 m). One cannot ignore the sheer beauty of the mountains during the ascent and photograph enthusiasts have their cameras ready for landscape pictures, and of course, selfies and groupfies. Needless to say, I am one amongst them and that can be proved by the number of photographs in my album. I reached our first campsite by 3:30 PM and settled in. It was exciting for me to see our tents being set up from what looked like the center of the valley surrounded by towering snow-capped peaks. I took a panoramic 360 degree view of the mountain ranges and breathed in the fresh thin cold air. Within one hour of our arrival at the campsite, we were given hot tea and biscuits and were told by our trek leader to get ample rest during the night as another day of high altitude walking lay ahead of us. As I stood there sipping on my tea, I continued to gaze at the peaks, some over 7000 m (Dunagiri) and remained awestruck by the mesmerizing beauty that surrounded me. Mountains definitely have their own charm. Temperatures began to plummet as it was almost dusk. When in the mountains, it's advisable to discover ways for the body to acclimatize to the weather and prepare for the upcoming high-altitude walks. With this theoretical perspective, I decided to walk around the camp to keep myself warm and adapt to my surroundings. Most of my companions resigned to their tents and layered themselves appropriately to fend off the cold. I joined them an hour later following which we got to talking and knowing each other better. Our group ended the night on a high by playing a game of dumbcharades and having a sumptuous dinner.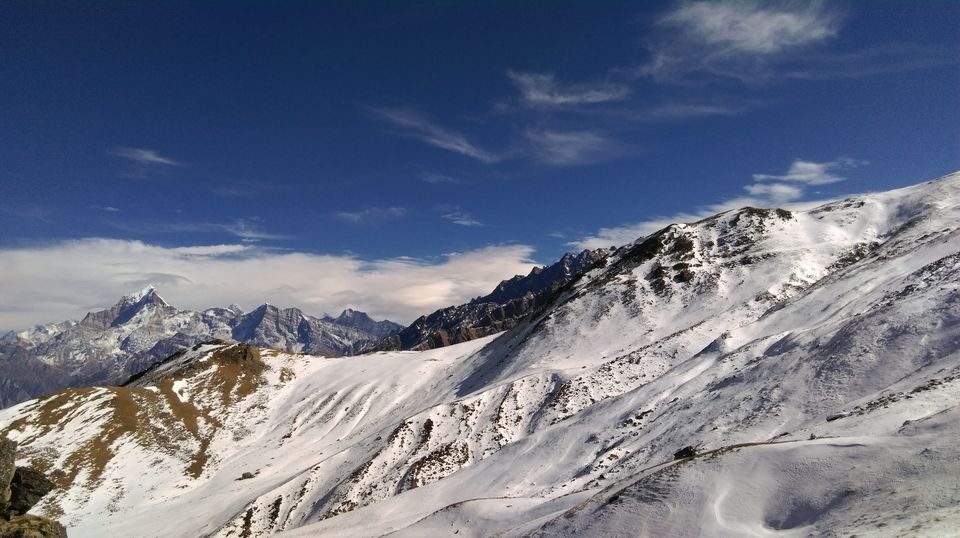 Day 3: This was the shortest trekking day as I climbed from 2600 m-3000 m to reach the second campsite, Bhurtal. Along the way, I stopped for 30-40 minutes to have snow fights and take group pictures in various poses. Snow does excite everybody and for a few moments, everyone forgot about the fatigue that they experienced to reach there. The ascent to Bhurtal was mainly through densely populated rhododendron forests with puddles of snow everywhere. Before I knew it, I reached the second campsite. This was meant to be my base for the next 2 nights. It was around 12:30 PM when I reached there and we were served lunch (Chinese pulav). The second campsite was larger compared to the first, and if I'm not mistaken, those flat grounds are termed "bugyals" or meadows in the mountains. Approximately 70% of the surroundings were covered in snow and tents were set up for the different groups; mine was right at the edge of the "bugyal" and I was fortunate to have a perfect spot for a campfire for the night. I helped my group-mates in gathering sticks for the same. The second half of my day was spent in trekking to Bhurtal lake. This lake was half frozen and provided the much needed eerie feeling as it was located in the dense forest, where the sun's rays hardly reached. Moreover, it was already 4:30 PM and the temperatures started to decline. After this short hike, I returned to my campsite and was served hot vegetable soup followed by an early dinner, after which our group sat by the campfire and had some fun. Some of the guides joined us by the fire and shared mountain stories as we heard them with utmost attention. As I saw the moon rise from above the distant peaks, the starry night lit up and Oh! what a spectacular sight it was! I wished I had the necessary means to capture that imagery, but then again, the scene is still so clearly etched in my mind that I wouldn't ever dare forget it. Having to bid adieu to yet another eventful day, I tucked myself into my sleeping bag and dozed off.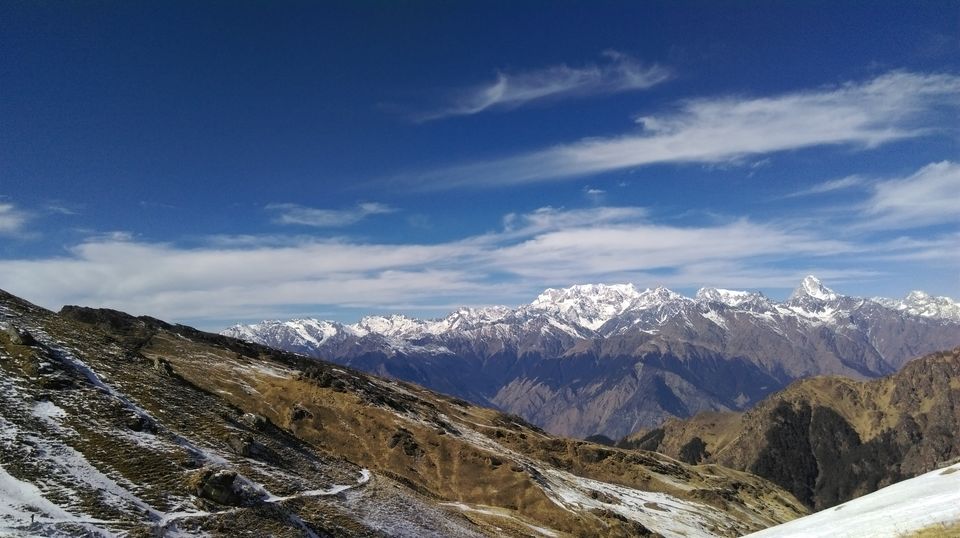 Day 4: The longest trek (~8 km either way) in 6-8 inches of snow through forests, mountain ridges, and snowed-in meadows were the main highlights of today. There was only one "lakshya" in everyone's mind - to make it to the Kuari top situated at an altitude of 3640 m. I started my uphill journey at 8:15 AM and was determined and confident of reaching the top by noon. The journey wasn't easy as we seldom got the chance to walk on even grounds; the winding paths, sharp turns, and added weight of the clamp-ons under my shoes summed up the thrill (and possibly chill) quotient. I took a short break at one point from where several peaks including Dunagiri (7066 m), Lampak 1, 2, and 3 (~6100 m), Hathi-Ghoda (6727 m), and Bandarpooch (6316 m) could be viewed. Finally, I made it to the top by 12:40 PM, and standing there at a height of 3640 m, I wanted to shout out loud and let the world know about my achievement. Trust me! The feeling cannot be described in words and one needs to be physically present at that very point to experience what it feels like to be on top of the world. It changes your entire perspective of life as such and makes you earnestly respect the real beauty of Mother Nature. There is wonder in whatever you see. I spent an hour there, had my packed lunch, clicked some "victory" pictures, and got prepared for my descent. The weird and partly dangerous quotient about mountain weather is that it's completely unpredictable. During my descent, the winds changed course, which made it slightly difficult to walk. The idea was to cross the mountain ranges with minimal stops along the way and reach the forests. Another wonderful experience!
Day 5: The last day of my adventure - I started my descent from the second campsite post breakfast around 10:00 AM and reached Dhak Village by 2:30 PM. At 12:30 PM, some of us happily engaged ourselves with the village kids to play a game of cricket. We were defeated on 3 occasions; nonetheless, it was great fun and the village kids loved our company.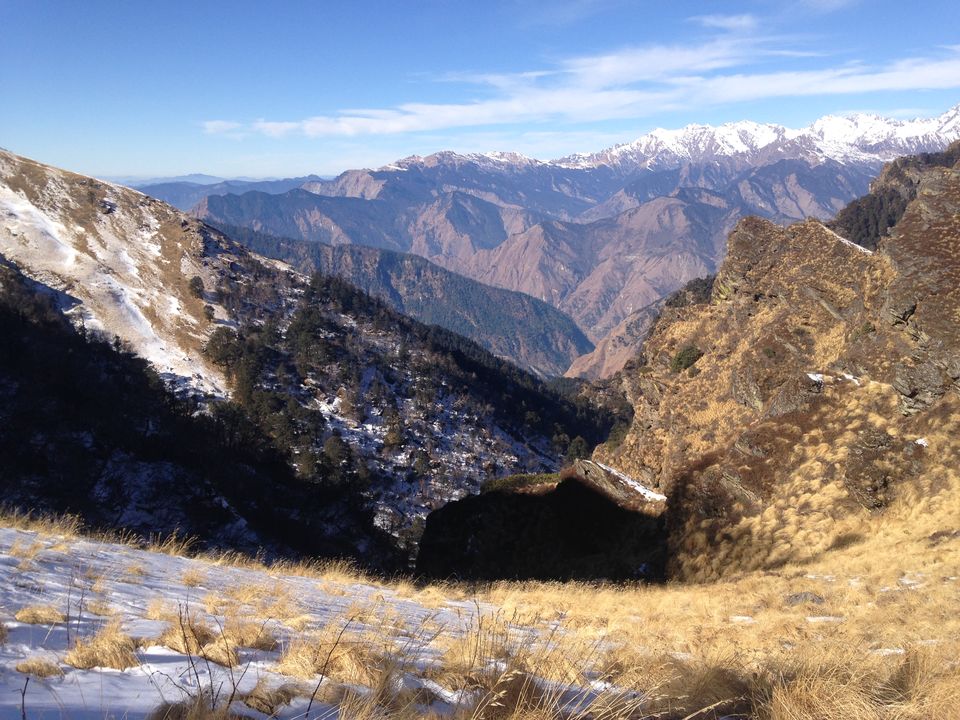 Back in the city, I look back at these days and cherish each and every moment. I found peace in the challenges that I faced in this journey, made new friends, and took back several memories to last a lifetime. Mountains have their own way of charming people and one needs to climb one to believe it.
"Kuari" essentially means doorway and is a Himalayan high mountain pass located in the Garhwal district of Himachal, south of the Tibetan border and on the western rim of the Nanda Devi Sanctuary biosphere reserve. It basically falls in the Chamouli district of Uttarakhand. This famous trek is also known as the Lord Curzon trail, named after the former British Viceroy of India - Lord Curzon)