It was a spur of the moment decision. I had an extended holiday and needed a break desperately. So, I and my boyfriend googled the nearest places from Delhi one can visit. A number of options sprung up but we had to consider a couple of factors. The travelling time should be minimal as we wanted to spend as much time as possible in roaming and the availability of transport mode.
The Planning: We zeroed in on Mussoorie as it is only a six to seven hours drive from Delhi. So, we booked the tickets through Paytm (around 700 INR) and hotel room through Oyo (around 1500 INR) and started for the trip day after. It was the month of October. We packed our stuff and went to R.K Ashram Metro station from where we were to board the bus. There were some girl groups too who booked tickets for the same bus. After reaching somewhere near Kashmere Gate, we were shifted to a smaller bus. The girls were not given the seats they booked and naturally, a hue and cry occurred. Luckily, us being a couple got seats together. We didn't have dinner but we were so excited that we didn't feel hungry. This was our third trip together but we were as excited as it were our first.
The Journey: The journey took only six hours and we reached Mussoorie in the wee hours. A taxi took us from the bus stand to the mall road and dropped us just before no entry. We reached our hotel after ten minutes walk. It was hidden just behind the mall road and was as snug as I could have hoped for. The room was on the first floor and the view from the balcony was mesmerising. Exhausted from the overnight trip, we immediately fell asleep.We woke up around 11 and my boyfriend was already up and taking selfies. The quiet solitude seeped inside me and my mind was washed with a calmness that I hadn't experienced for a long time. The breath of fresh air can really upgrade your mood. We dressed and left the hotel to have breakfast.
The Exploration: The mall road is full of cute cafes and bakeries. You can take your pick from Chinese, Tibetan, Indian to all sorts of cuisine. We went to a Tibetan restaurant that was just around the corner. The Momos Restaurant serves amazing Chinese and Tibetan food. We ordered hot and sour soup and chicken momos and the verdict is 4.5/5. The ambience was great as the interior was done in Tibetan relics and wall hangings. The washroom was on the second floor and when I went to use it, it turned out to be quite a surprise. Part of the wall was not brick and mortar but a large chunk of the hill.
Having done a google research the previous day, we decided to cover at least two tourist spots. Mussoorie is at a height of 2006 m and you won't probably believe me but the mall road is so narrow that you can literally feel being on the edge of the hill. Fog covered the road so much that we couldn't see beyond 5 feet distance. The air was chilly and there was no sunlight. Some tourists were cycling on the narrow lanes and so we decided to enquire about a two-wheeler. If you want to hire a two wheeler, you should do it in the morning because apparently the vehicles are rented for a whole day.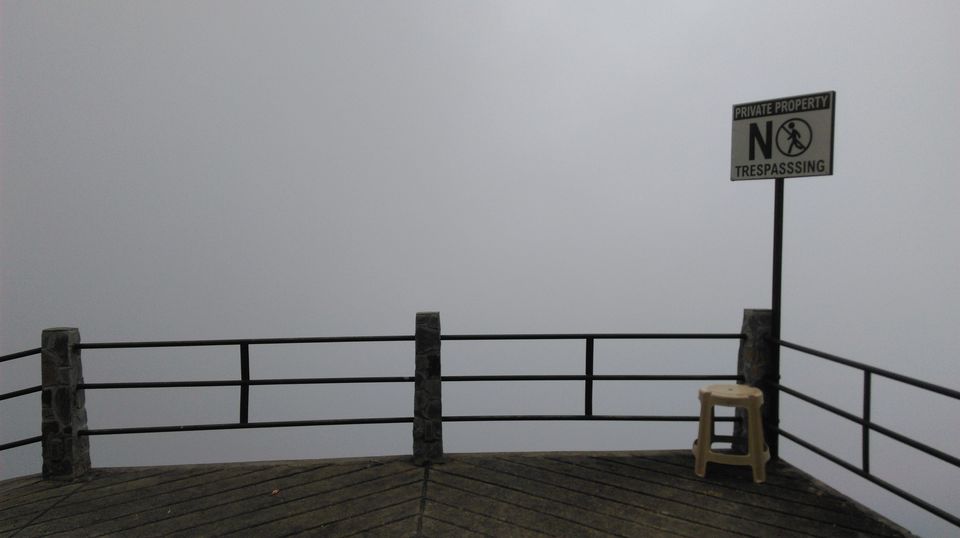 We decided on a rickshaw ride to the Company Garden. It is a half an hour ride by rickshaw and due to the up and down terrain, one of the riders have to get down very often and walk beside the rickshaw. I, being the girl, of course, didn't walk. We reached the garden around 3 p.m. The garden was well maintained with beautiful flowers blooming all over the place. The place was swarming with tourists and it was difficult to take pictures. We spent an hour in the garden and happily clicked some pictures like tourists. There was still some time before darkness set in. So, we decided to cross off Camel's Back Road from the list too. It was another half an hour rickshaw ride from Mall road. Having read so much about this place, I had great expectations but it turned out to be a hoax. On reaching the point, I was so disappointed to find only a telescope and a guide who was more than eager to show us two points on the top of the hill that looked like a camel ( Now who knows if it was real or if someone had arranged it to look like a camel) for 100 bucks. The rickshaw guy took 500 rupees from us for the whole trip. We paid and went to a vehicle rent shop where we booked a scooty for next day. There is only one such shop located near the HDFC bank on the mall road and it is run by a set of twins.
We started our day early next day as we had only that day left. We took the scooty from the shop and went to Lal Tibba using GPS solely for directions. I must admit that the directions were not accurate and so we took help of locals. It is in Landour town within a distance of 5.5 km. It was part of the same hoax as the Camel's Back Road. You reach a point where there is a telescope to look at a hill far away. The only thing I will recommend for the trip to the Lal Tibba was the scenery. I swear I saw a hillside blooming with different varieties of minuscule flowers like nature's garden.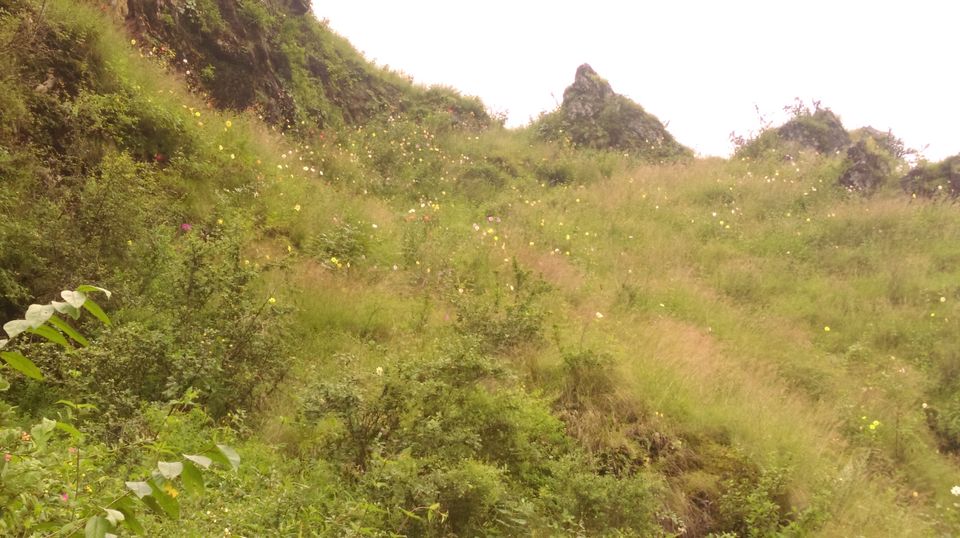 We returned to the Momos restaurant and tried their shabalay ( a Tibetan stuffed bread) and it was delectable. There was not much time and so, we did a quick calculation and made our way to Kempty Falls which is also a half an hour ride from Mall road by scooty. The best thing about Mussoorie is a ride on a two-wheeler. The breeze lashing on your face has a soothing effect. The Kempty Falls was about thousand steps underneath the road. Along the stairs, there were small shops selling souvenirs. There was also an arrangement for bathing suits but no changing rooms which mean only men were enjoying. The view of fat men in their trunks enjoying the waterfall was not tasteful though. There was not a single hot bod to ogle at ( boyfriend apart).
There was one last spot we needed to cover and it was the George Everest's House. It was at a higher altitude and the route was no easy task. My boyfriend who has an 8 years experience of riding a bike dropped the scooty on a particularly sharp cut. We both fell but a construction man came and helped us. All I will say is that the view awaiting at the House was worth the difficult route. It was divine on the hill. But I must say that the place was littered with garbage here and there and what's with the declaration of love on someone's house? There was no maintenance of the house. The tourism department can clean it up and turn it into a museum before it deteriorates further. There is a spot in the back where you can see the clouds touching the hill. It was the creme da la creme of Mussoorie's beauty.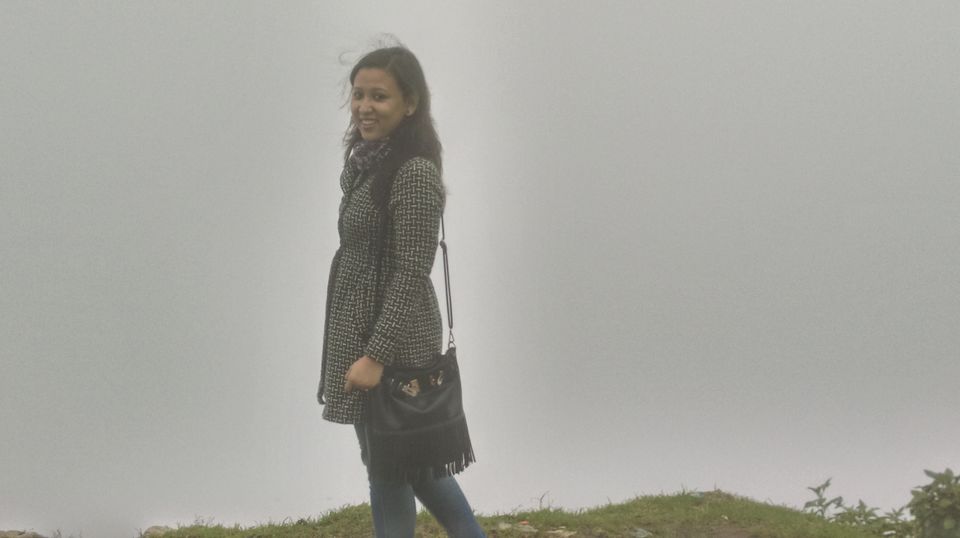 The Return: There is no direct bus from Mussoorie to Delhi. There is a bus service from Mussoorie to Dehradun from where you can take a night super bus to Delhi. But remember that the last bus service is at 6 p.m and the night supers usually take off around 11 from Dehradun. We abandoned the bus plan and instead booked a cab for 1000 bucks from Mussorie to Dehradun. We left the queen of hills at 8 and reached Dehradun at 9. We boarded the night super bus at 11 and it started at 12 and reached us Delhi at 6.
Things to remember in Mussoorie:
1. Police don't let you enter Mall road if you wear helmets during entry. They take you for a tourist and demand a fee. Remove your helmets and drive confidently to avoid paying a fee.
2. The main mode of transport is a two-wheeler. You can take your own car but the best views can be explored with bare eyes on a two wheeler.
3. There is no bus service from Mussoorie to Delhi. So, plan your itinerary in advance. You can take the bus from Mussoorie to Dehradun and take a night super from Dehradun to Delhi.
4. Don't forget to visit the Momos restaurant for amazing food.
5. Cost of the trip was around 5000 INR.