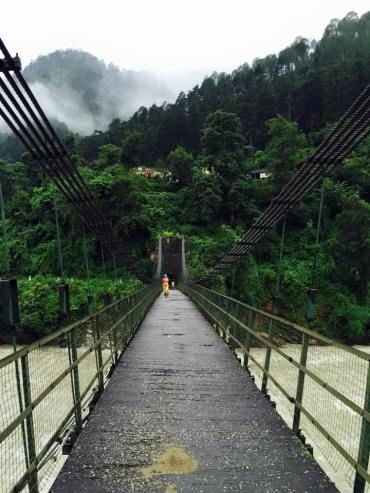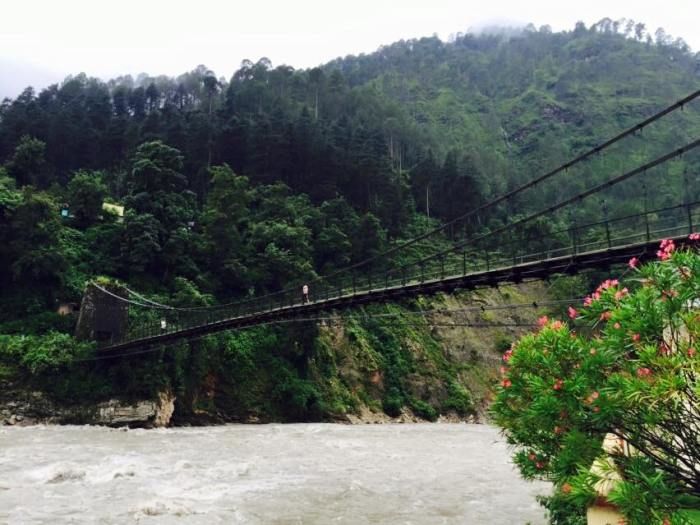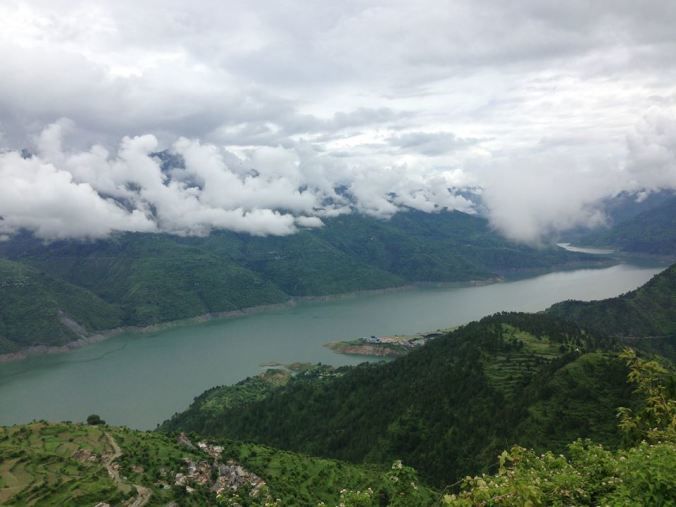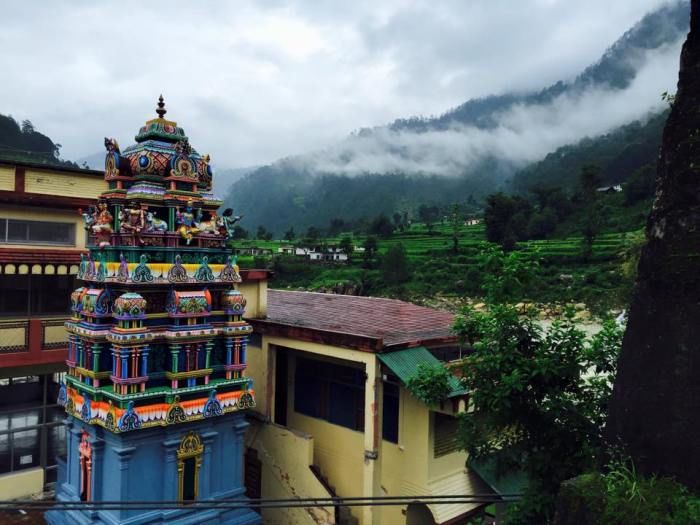 "Aapka gaun bahut sundar hai…" I said smiling.
(Your village is very beautiful)
"Hai na? wohi toh.. pata nahi aap sheher wale kaise rehte ho? Humko toh soch ke hi ajeeb lagta hai ki roz ganga maa ke darshan nahi honge!" she said.
("Yes, how do you city people live? Not seeing Mother Ganga every day is just so awkward!")
Between the gasping for breath and trying to find my foothold, I braved a glance at the old wrinkled face of the lady sprinting and hopping across boulders making her way through the lush fields flaunting its abundant harvest of soybean and paddy. The turbulent Ganges flowed beneath us, roaring, marking its territory. But there was no turbulence on this lady's face. It was calm. It was happy.
I had just met her that morning in the little village of Siror on the banks of Ganges and she had offered to take me uphill to see her fields. This little unassuming village was to be my home for 30 days.
As we stopped for breath, overlooking the gorgeous landscape dotted with clear white waterfalls, I thought of the sequence of events that had led me to this spot.
***
Very often in our lives we take a rash decision that changes the entire course of life. Taking a solo trip to Uttarkashi was one of those. When I boarded my train from Delhi railway station after saying goodbye to my friend, for the first time it dawned on me that I was going to undertake this 12 hour train journey followed by a 6 hour bus ride all on my own… I was going to be Alone.
My mind was filled with apprehensions and possibilities seeded by endless stories of crime patrol and Aaj Tak. I spent the entire train journey clinging on to my bag eyeing every passenger in the train with suspicion and as a potential rapist. Then  I spent another 6 hours on a rickety bus, making its way through narrow foggy roads occasionally flying through tiny water streams, hoping that there is no landslide on the way that would entraps us! Needless to say it was a arduous journey. Once in Uttarkashi, I boarded a taxi for the final conclusive leg of journey. Sivananda Kutir, Netala.
***
"madam aap sivananda ashram ja rahe ho?". (Madam, are you going to Sivananda Ashram)

"haan". Yes.

"Aap thak gaye lagte hain. Par aapke wahan pahunchte hi sari thakan door ho jayegi"proclaimed my taxi driver.
(Don't worry, the moment you reach there, all your tiredness will vanish)
***
I smiled. This was not the first time I had experienced the intense devotion the region has towards the Ganges. She was the solution to every problem from crops failing to SENSEX dropping 100 points. She was the very lifeline of this place.
The unassuming taxi driver was right of course.
The ashram was right on the banks of the river and my room was perched on the river side in a rather precarious way almost floating on the ravaging swirling water beneath.
For many nights thereafter, I lay wide awake in my bed listening to the noisy river flowing right outside my window.
"Has the water level risen?"
"I bet, the river sounds closer and louder than an hour before"
"There was a flood a few years back…maybe this is not the best place to be…"
"Was this the 3rd night? Or maybe 4th?".
My train of thoughts were endless.
There is always a 'chicken little' hiding in all of us for whom the sky is always falling. My apprehensions were driving me to the point of insanity. With nothing else to do, I get up and walk out of my room into the small platform. The sky was exceptionally clear that day and the moon was full. The Ganges was flowing with more gusto than ever before. I walk closer to the edge of the platform and place my hands on the railing. There was no other light in entire place but the moon.  The moonlight reflecting on the river was rendering the river silver ethereal glow. And then suddenly there was complete silence. Something deep my heart had been released. The water of the river swayed, swirled and flowed with all its might, washing away everything in its path.  But somewhere in all this chaos, there was still this unknown divine energy that moved and united everything around me.
This was Ganga – the river that supported life in all towns and villages in her path, the river that generously provided food and water to everyone who came to her refuge without any prejudice, the river that would sometimes be loved and respected as a benevolent mighty goddess and some other times used to dump copious amount of industrial toxins into, and the river who oblivious to all the mistreatment flowed on year after year with same dedication for betterment of her children. The river who was very aptly called 'the mother'. In that one moment the resistance in my heart was erased and it was filled with endless devotion. In that one moment I surrendered.
Devotion is a tricky thing. It is staggeringly difficult to find it. But once you do, it is almost impossible to lose it.  If you have ever been a traveler you would know that every journey in life teaches you something. For me this journey was a journey of discovering love and surrender. It was a journey of knowing that I am always watched over. It was a journey that taught me that there is immense goodness in this world if only we open our eyes and look.
It was a journey that taught me, no matter where we are, we are never truly "Alone".
How to get there
Uttarkashi can be reached by bus or taxi from Rishikesh main bus stop. Any bus that plies to Gangotri passes through this little town.
There are several beautiful hotels and yoga resorts in the town.
Tit bits
If you go in the month of September, the apple harvesting season, you should definitely make your way to Harshil near Gangotri, known for its delicious apples. Plucking an apple from the tree and devouring it right there is the closest mankind can get to divinity