Spending one month in college, I am eagerly waiting for this weekend so that I can took a fresh start for a new month.There were many plans for Chandrashila or Kedarkantha as they are all winter treks, as the weekend comes nearer plans are cancelled, some withdrawn with their so called ugly reasons. These days I am hearing about solo trips which was a great trending topic in these days. After cancelling past plans I decided to go on a solo trip to Rishikesh and my aim is perform bungy jumping there.
It was Republic Day, after watching a parade that day I tried to make my trip itinerary.
Around 3:00 pm I pack my bag and go out for a movie along with my close friend. Around 7:00 pm we left the mall and proceed to our very own way. My friend goes back to college and I headed to Patiala railway station, the weather was very pleasant and wet that evening. Train arrives on station and I headed to Ambala Cantt Railway station. Around 9:00 pm I arrived Ambala and I moved into waiting room and started waiting for my train.
This time I realise that now I am alone, I called up my sister telling her that I am with my roommate because I never want to give tension to my family.
I know that Rishikesh is a dangerous place so my first priority is to come back home safe.
Sleeping on the table on the railway station waiting room, setting up 10-15 alarms in every 5 mins, rounded up my whole body with blanket. It was quite a good sleep. I wake up just 5 min before the arrival of train, I open the NTES app and spotted my train.
"Jab bhi Indian Railways time par chalti hai Khushi k saath dukh bhi hota hai......"
"whenever Indian Railways runs on time, it brings happiness along with sorrow ....."
I get up, packed my bags, rushed towards reservation counter took a ticket of my train, ran towards platform 2 and looked for a coach with space. The train blow it's horn, signal turns yellow and train started to departs.
I used to travel on trains but this time this was a new route to me. I am excited though nervous. When I wake up the weather was quite cold and looking out from the window I found myself in the Himalayas, around 9:00 am I finally reached Rishikesh.
Now I started about thinking what to do now, and the best start of any journey is by drinking a cup of tea. I always ask directions for bunjee jumping spot that is in Mohanchatti village. They headed me to Chandrabhagha bridge where bus stand is situated. While heading to bridge I came across the Ram Jhula, after walking two miles I reached bus stand where I got to know that there is no bus service to Mohanchatti and some advice me to hire taxi from other side of Laxman Jhula. I went to taxi stand and rates are too high, I thought for hiring a bike instead of hiring a taxi, which was a right decision on that time. I hired an Activa from the nearest lender and went right to Mohanchatti.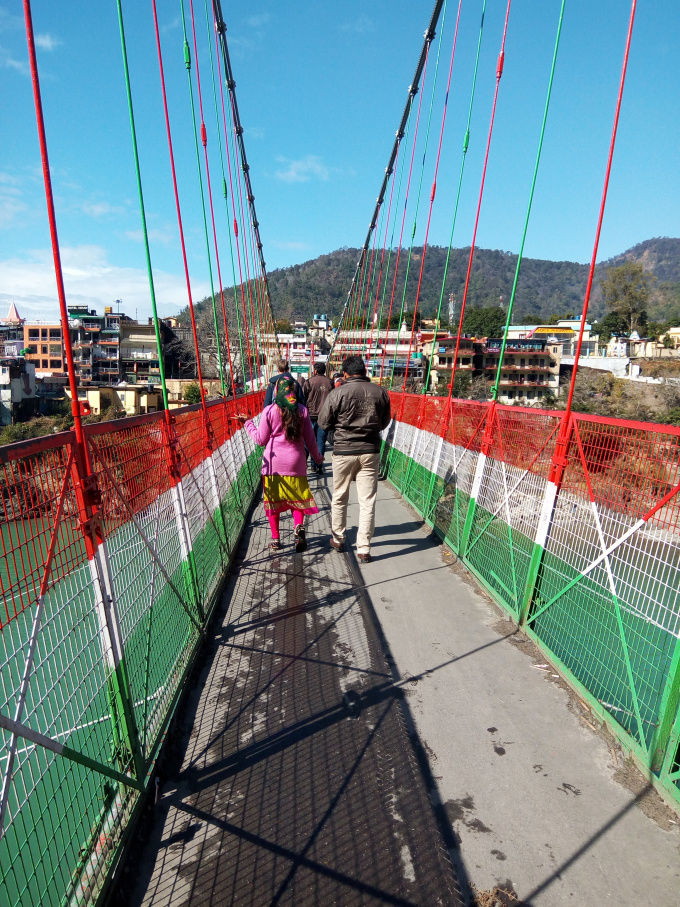 On my way, following navigation there I found a city office in Rishikesh. But they told me the booking of bunjee is full but still there is a chance if I move there right now.
It was a wet afternoon, I start engine of my activa and drive to Mohanchatti, now I am following the directions which was give by bunjee booking office instead of following Google Maps. They told me that there is a diversion for Mohanchatti and a sign board was there to help you, I was riding with such a pleasure along side the Ganga, the road is somewhere broken and is smooth something which was giving a perfect feel of riding.
The road was heading to Neelkanth Temple after enjoying the riding I realise that I am lost the way and found myself on the top of the hill near Neelkanth Temple, I asked locals for Mohanchatti they told that I have to drive back 7-8kms for that diversion. Then on the whole road on which I was riding back I am saying kitna ch***ya hoon main, kya hoga mera... (how foolish I am, what will be my future) and now I decided to make Google Maps true companion, I finally reached that diversion and took the correct path and finally reached Jumpin Heights, Mohanchatti I talked to officials they told me to wait, after waiting for two hours it looks like they are unable to arrange y jump but after requesting them they told me that I have to come on Sunday morning for the jump.
I left the place and headed to Laxman Jhula, asking directions, dropping them , planning about next move and enjoying the ride. My next stop is Triveni Ghat which is famous for Ganga Aarti in the evening.
I reached there before time, click some pics there. Then the worship of Ganges started, enchanting sounds creates an environment of spirituality and everyone there was smiling and enchanting. That is a paradise for everyone from photographers to priests, from a son to his Grandpa. Everyone was thanking the nature and Ganges for taking care of us.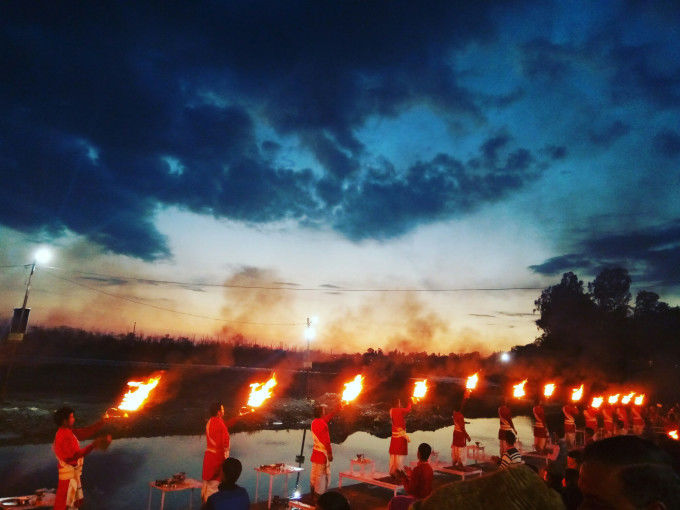 Now I have to search an ideal hotel for a night stay, I searched it on internet but can't find a suitable place. Finally i have to slept on Ghat , under the stars with Babas and priests. I reviewed my day it was a wonderful day and looked like everything is going smooth. Searching on internet I decided my next destination will be Kunjapuri which is famous for its sunrise. A Good Night.
After barely sleeping, I prepared myself for my next destination which is Kunjapuri, famous for its sunrise. I powered up my Activa and a tea, Google help me to find out the timing of sunrise (7:07 am). I started the navigation and headed to Kunjapuri around two hours before.
Kunjapuri lies along the road of Gangotri. The road was dark and quiet, I am the only one there with my phone and scooter. After riding for couples of minutes, I was stopped and investigated by policemen, they recorded my name, mobile number and address, I asked them and they told....
By chance, agar aap wapas Naa aapao....
(In case, if you can`t come back....)
The words are not at all motivating though they took the level of fear to next level. I finally decided to go up. I started driving, my hands are literally frozen and all the horror stories and movies are going through my mind especially that Nun of Conjuring 2. Whenever I have to stop for picking out for navigating from my phone. My engine turned off, lights of scooter turns off and the whole environment go silent and with no light. It brings the biggest fear out of me. Sometimes a car or a bus passes through I followed them for some distance. This was the only good thing on that road.
The road diverges and maps suggested me to move on less travelled path for Kunjapuri. Now this is a stretch of around 5 kms, more lonely than the previous path but the good thing is that the early sunrise light was there.
I finally reached Kunjapuri, all shops are closed there but some Jeeps are parked there which suggested that now I am not alone.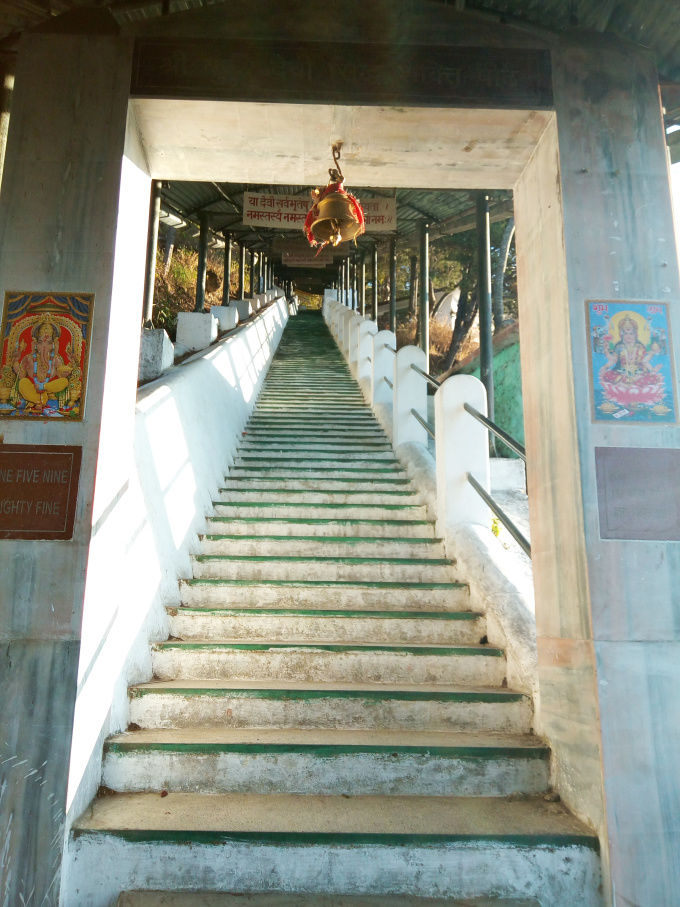 I climb up around 250 stairs for the Kunjapuri Temple. After I reached I saw many people are there.
Everyone were waiting for that perfect sunrise, sharing their stories. The sky turns red and the first rays of the sun directly falls on your eyes. The sun comes up from the Himalayas above the clouds making a perfect sunrise.Everyone wants to capture that stunning and mesmerizing view of that sunrise. That view was giving such a positive energy to all the people who were there. It was a life time experience and I found myself so grateful and thanking god for this life.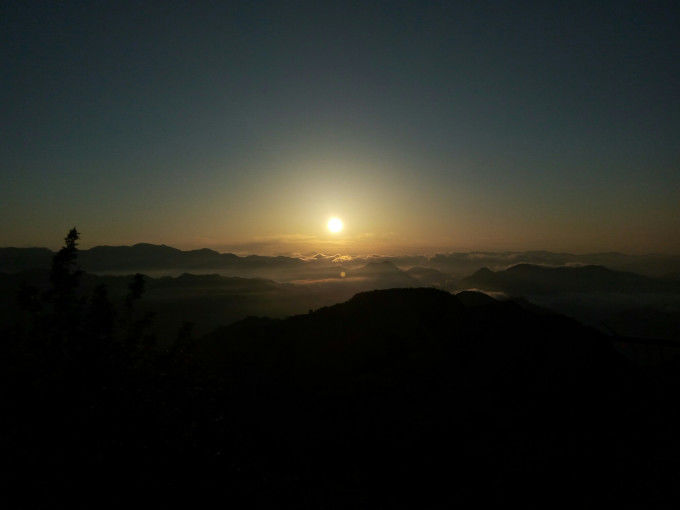 I drink a cup a tea upstairs and descended back to Laxman Jhula, now I am truly enjoying the ride because now I can easily see the road and the scenic beauty.
I have a free day, searching the internet I found a place called Goa beach, which was such a eyes soothing place. I sat on the sand and sometimes on big rocks embracing the nature and mainly Ganges. Here I got to know which Ganges has such a signifance in our lives and why it is holy....which reminds me to take Gangajal for my mother.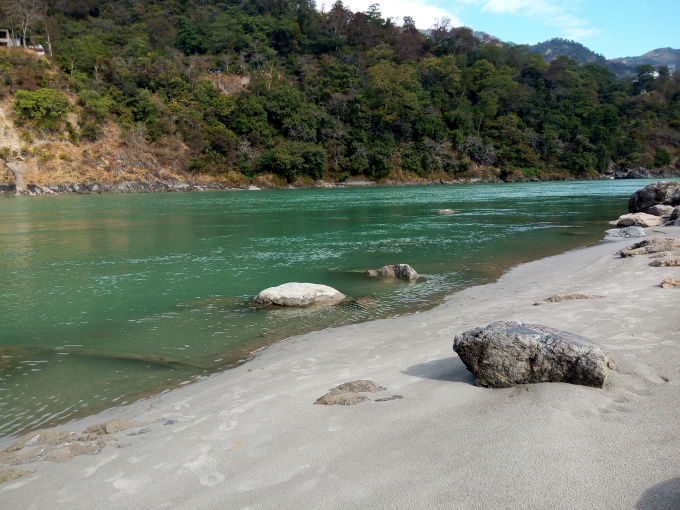 I sat there, thinking about my next place. Many people suggested me to go to Parmath Ashram for Ganga Aarti. I packed up for night and first went to Beatles Ashram but I can't found that way for Ashram. I headed back to Parmath Ashram. It is such a nice place with a beautiful location that is between Himalayas and Ganges.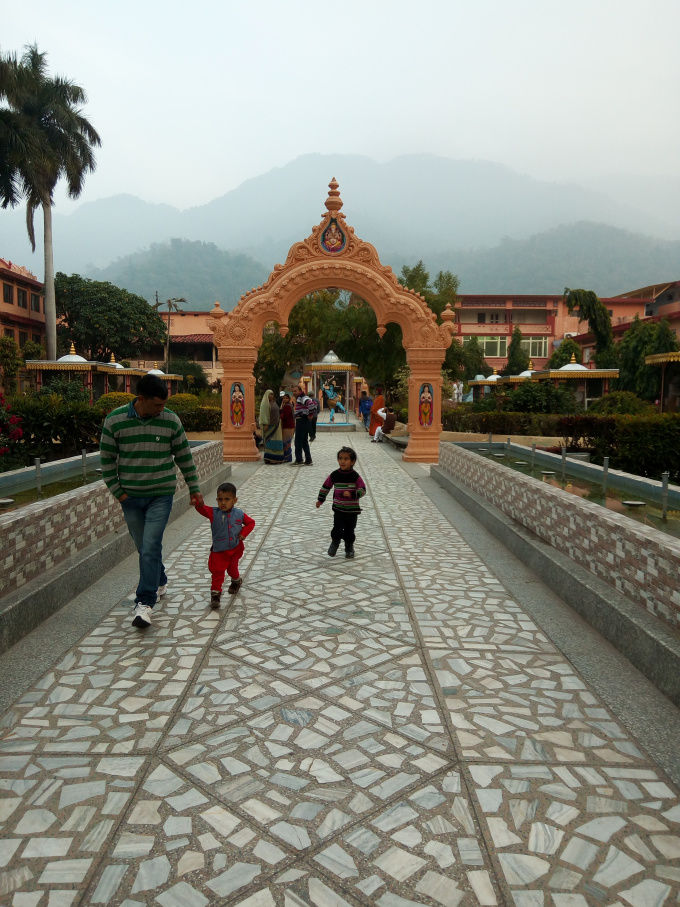 I sat down in the complex in the evening, the sun is going down and the people were coming and gatherings. The sounds of shloks and songs were creating a different view with the Ganges.
I decided to sleep in the Ashram. I made my arrangements and started thinking of entire day. Today I found the fear level of myself and I am so happy that finally I overcome that fear and reached Kunjapuri which was worth. The wind breezes and eyes slowly closes. A Good Night.
This morning, morning hustle-bustle wake me up. It was 6:45 pm and I packed my bag, brushed my teeth and drank a cup of tea in the Ashram canteen. It was my last day of my trip and I had to get back to the Haridwar station by 2:00pm. I drive to Goa beach and sat there for half an hour and again drink a cup of tea there, praising and gazing the Ganges.
I started my scooter, drive through the same road that I had travelled earlier but this time I took the right path and reached Bungee Point-Jumpin Heights on time. After formalities I was sent to that cantilever bridge from which the jump is performed.
There was a guy who tied me with the ropes and ask me "darr lag raha hai.." I shook my head and says No. But he told me that
this jump is all about the overcoming of yours from your fear. If you a fearing that is the right thing....
Now everything gets prepared, I can easily see how high the bridge is... He counts 3..2..1...GO....
I jumped and after a fraction of seconds I realised I actually jumped and I am upside down. I shouted in joy and happiness and I wanted to show so that everyone can hear me, and I am shouting because I had done it..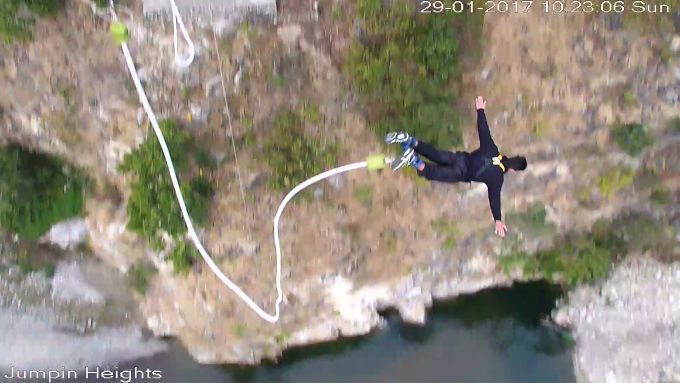 One thing off from my bucket list..Yes..
I went to reception and started my scooter, come to Laxman Jhula. I returned my scooter and tell them my story. I thanked them and took a taxi to Haridwar.
I boarded my train and came back to my hostel.....
This trip taught me many things. I was I in this whole trip, no boundaries are there. I realise how much the nature has given us and how we are destroying it. I only drink Gangajal all over my journey.There are so much in this world to know about rather than the foolish religious fights and it's all depends upon us how we lead our life. Another I knew that everything is happening for a reason suppose if I jumped on a very first there is no chance that I would go to Kunjapuri. I am happy that I will not forget this trip in my lifetime.
I suggest you if you are in Rishikesh I personally recommend you to do these things...
1. See a sunrise in Kunjapuri
2. Bath in Ganges
3. Bungee jumping.
4. Flying Fox (Asia's largest flying fox)
5. Drive a bike or just walk on Laxman or Ram Jhula
6. Rafting (I can't do this because I am alone)
7. Aarti at Triveni Ghat
8. Aarti at Parmath Ashram
9. Visit Beatles Ashram (I can't find the route)
10. Drink tea (I drank about 10 teas daily..)
Thank you..☺☺