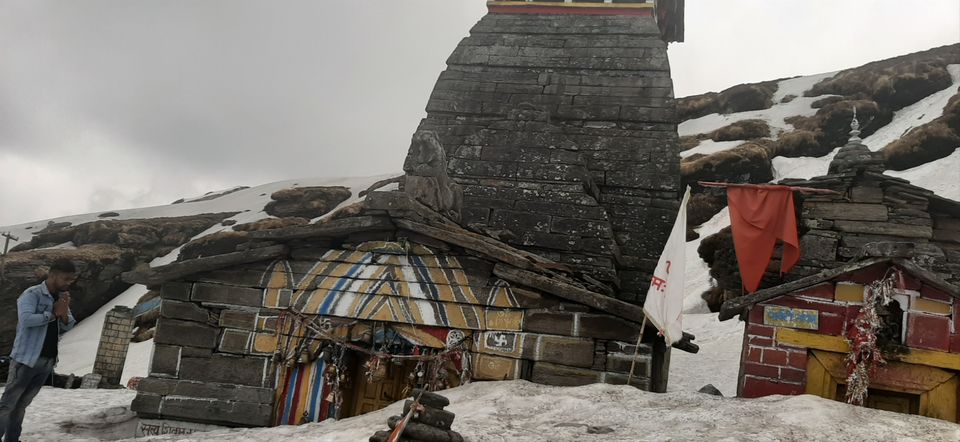 Trip to chopta and Tungnath world highest lord Shiva temple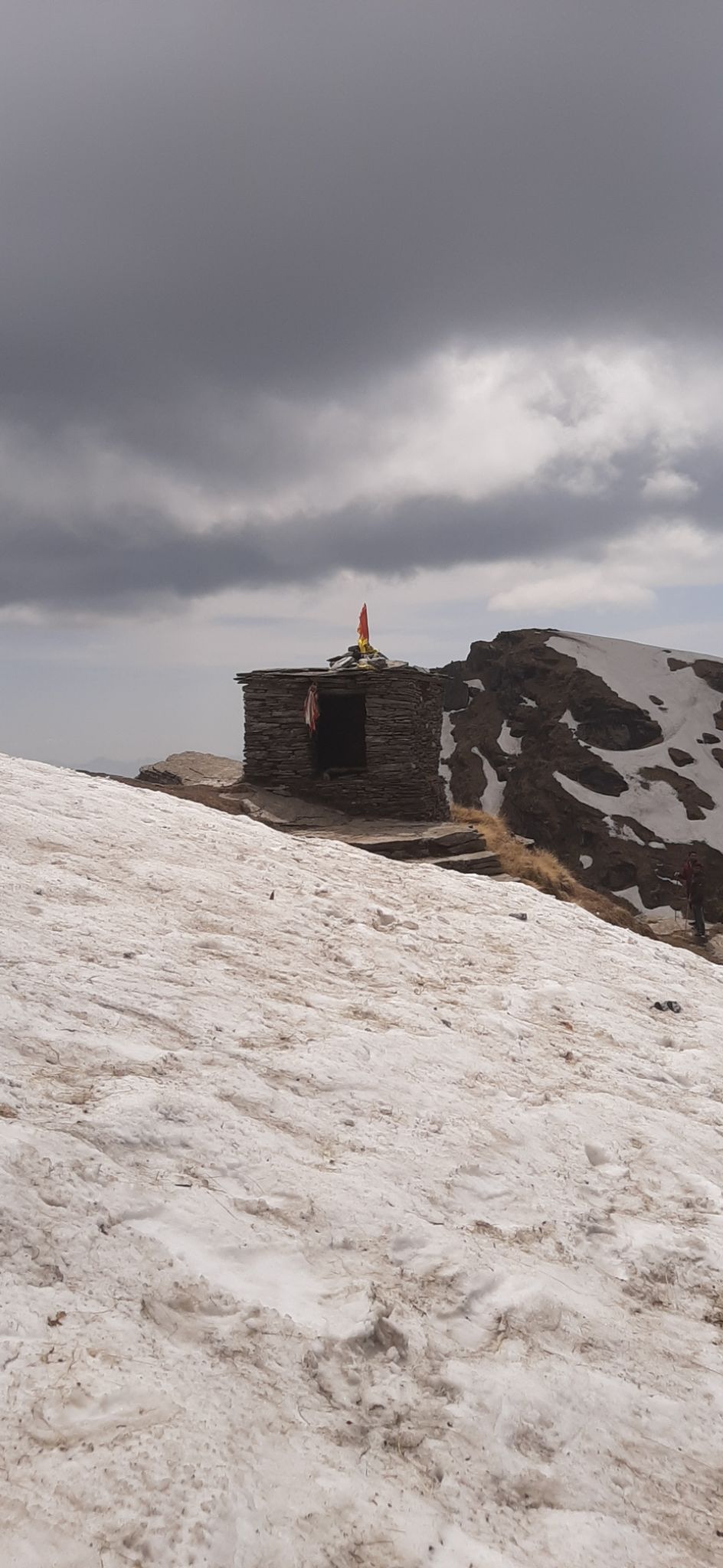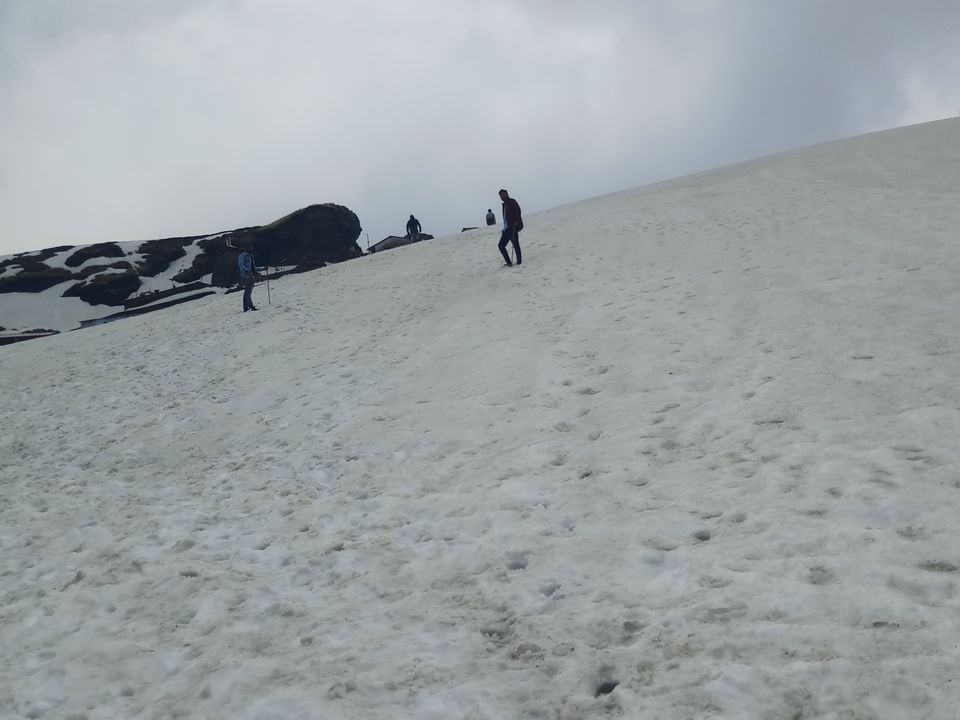 Hi guys , let's start stalking about trip to chopta in very small amount INR 2600..
So, we were four friends on Tuesday night sitting in room and discussing about to go some where then , I scold out on them that let's go chopta and trek to Tungnath ( mai chillaya ki chopta chlte hai bike se or mahadev k mandir bi Tungnath in Indian style .. ) . My friend were ready to go then we only one bike bullet 350🏍🏍🏍🏍🏍🏍🏍🏍🏍🏍🏍🏍 standard then at 11'0 clock we were calling to phone numbers on who rented bike INR 2500 after bargaing we Indians are very smart in bargaing then we fine one of them at night we went to take bike and the bike was bullet classic 350 we were very happy to get that bike ( kyuki vo khte hai naa bullet ka alg hi maja hai pahado mai dosto k sath) at that night still had time 12 '0 clock then my friend told us that we will  off to chopta at 4' o clock but  I know very well to my friends that they will not get up so at 1' o clock I took shower and got a fresh nap of four hours .
And the beautiful morning came Wednesday moring 10" April " 2019 we packed our bag actually we were all boys and living in flat Dehradun study in college Uttranchal university.
All friends throught all woolen clothes to their home so they managed some woolen jackets .
In bag we took our tooth brush, denims, tshirts, shirts and also take four blankets for each of friend and the time was passing and we were getting late so we departure at 6'0 clock and the feeling was very excited.  We filled full tank of our both bikes its take just INR 900 of each After one hour cross Mussoorie and turn to 🎑🎑🎑🎑🎑 🏞🏞🏞🏞Dhanoulti near Dhanoulti we took a tea and fired bread and some cookies and there only just around INR 200 total we spent then ,thereafter, just cross to Dhanoulti there was two road one is going to uttarkashi Gangotri and other one is also going some where we did not know which one we had to choose then there some local fellow whom we asked to go chamba and they helped us to our right route also  my friend was tired to hang tuckshak bag .
Then , I took a elastic rope just 50 rupees to hang  our tuckshak bag behind the bullet very tight and we sit comfortable our other 2 friends also with us just behind us at there we fix our bikes just break and air pressure. We off to Chamba  nearly about 40km from Dhanoulti and there we again take a tea break and maggy and my friend go for🚻🚽🧻 fresh up. At chamba we finding a Indian flag to hang on our bike its look cool with bullet and we did not get I withdraw some money from ATM there is also two road we asked there people and get right direction .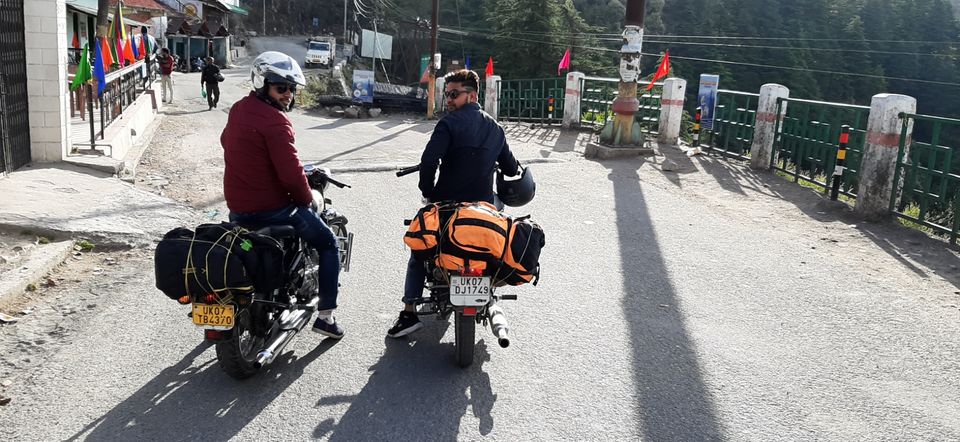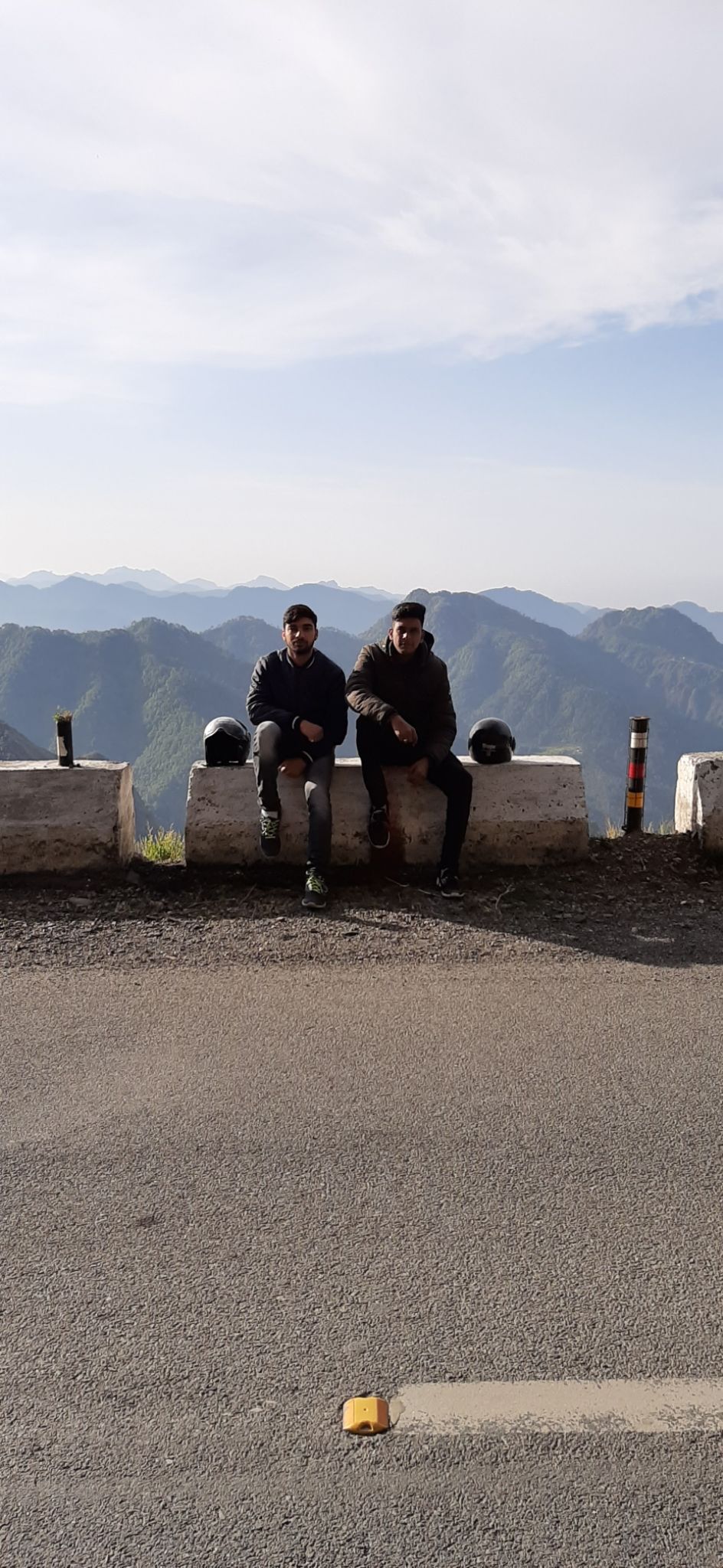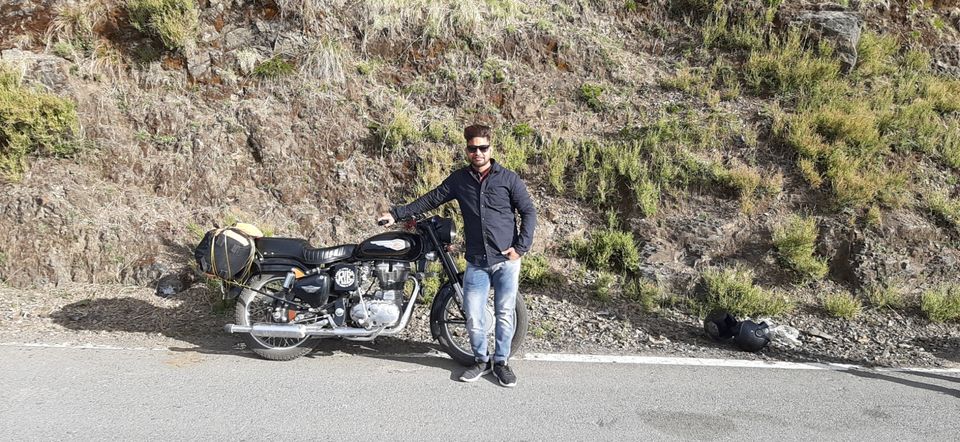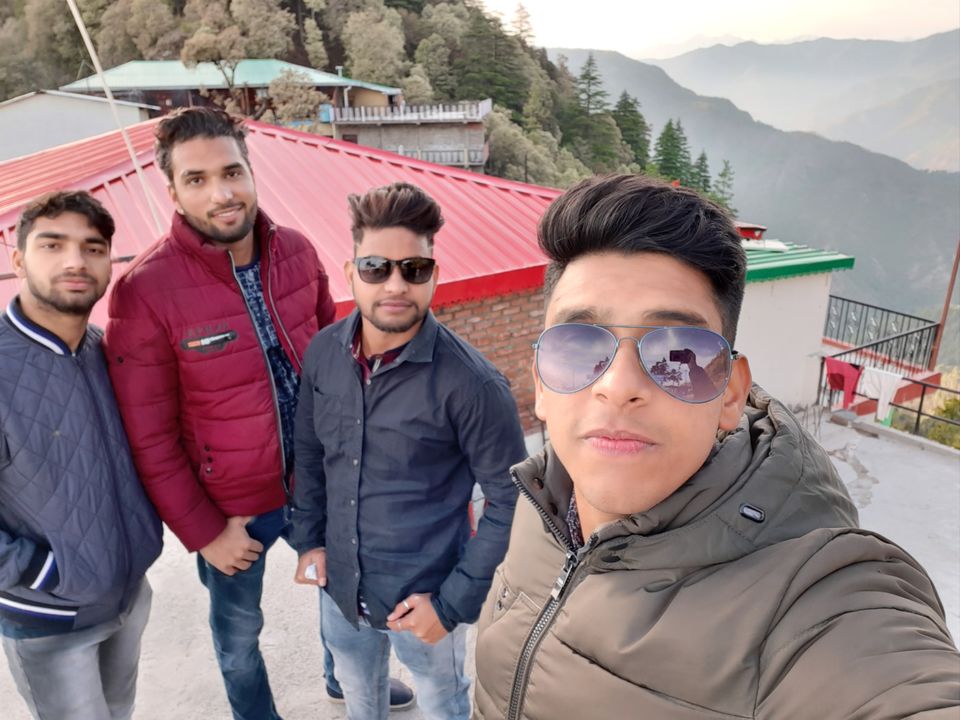 Afterwords, we off to Tehri Dam there were to two ways to cross Tehri area but some one told there you choose to restricted area Tehri and there cross one CISF officers ask that where are you going ? I replied that we are going to chopta so they wondering our bike said go carefully .
Nearly , at 11'o clock am  we reached there . Then there we saw there were  boating some people and we reached towards them .There we ask about fair of motor boating🛥🛥🚤🚤🚤🚤🚤🚤🚤⛴⛴⛴⛴🚤 and water jet attack name were written on board there only two people can sit together in one boat other my two friends sit on  another boat and the fair was boat INR 250 per person . Then we paid INR 1000 for boating .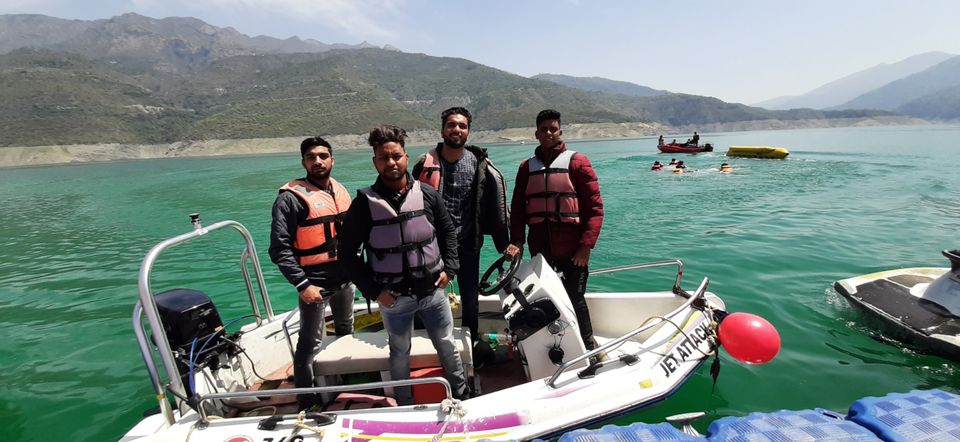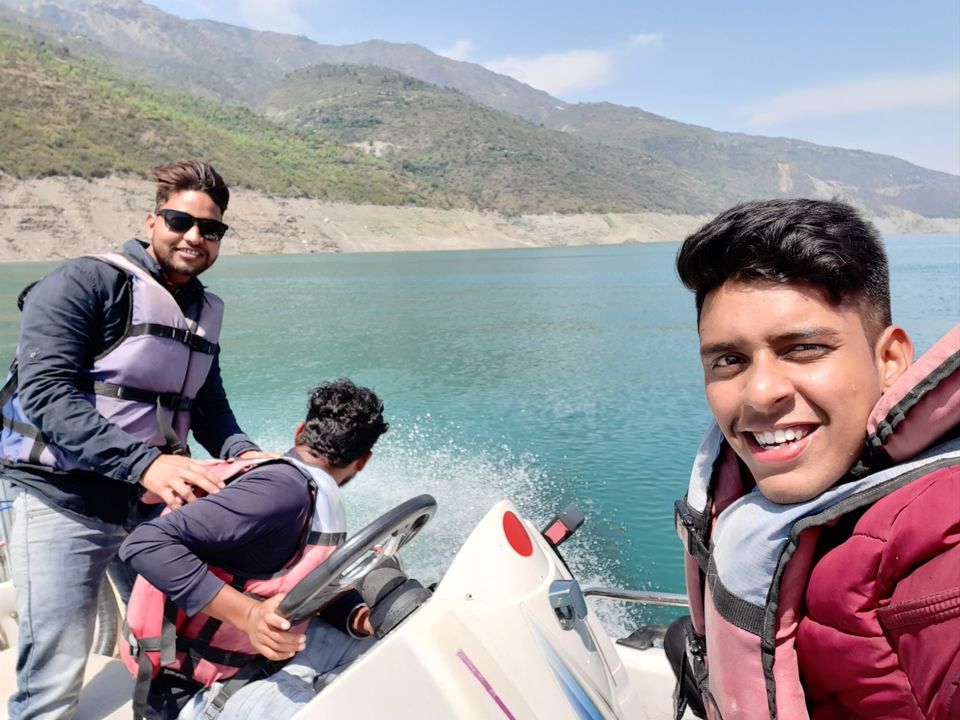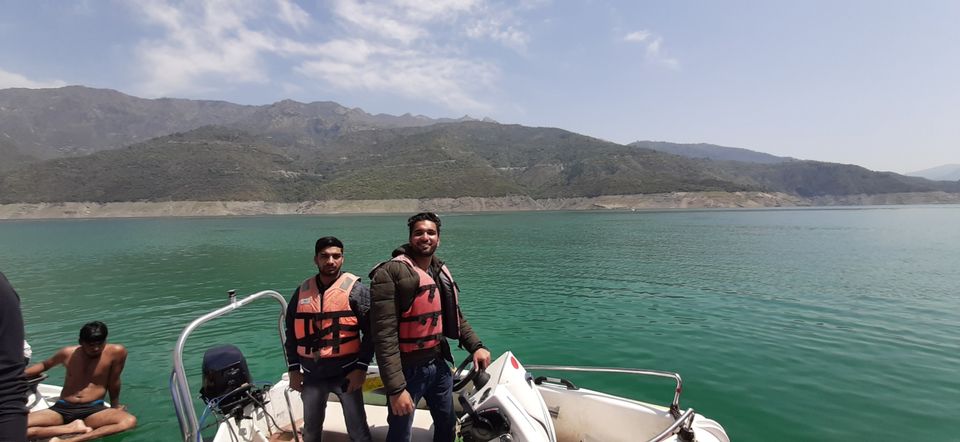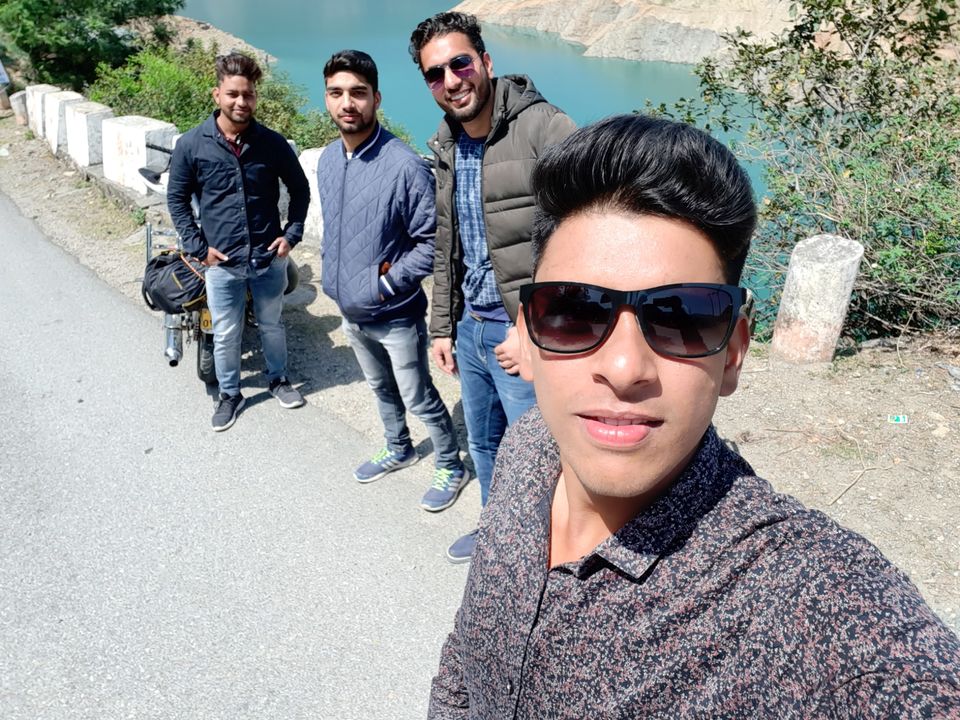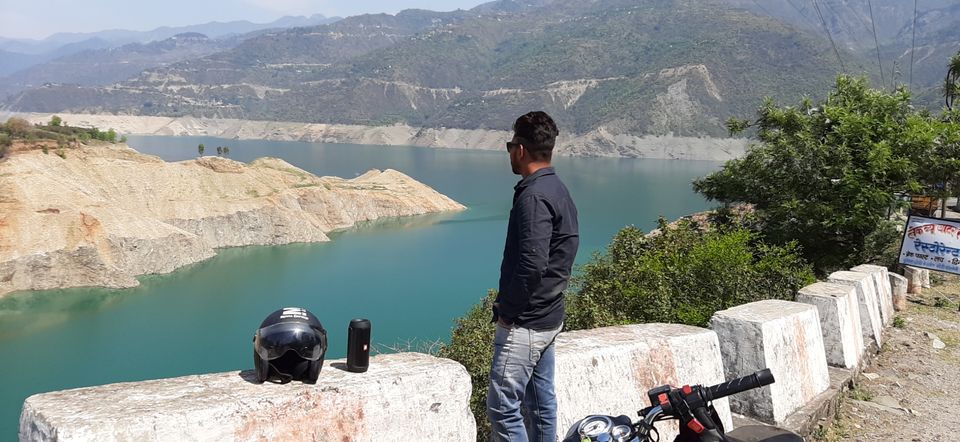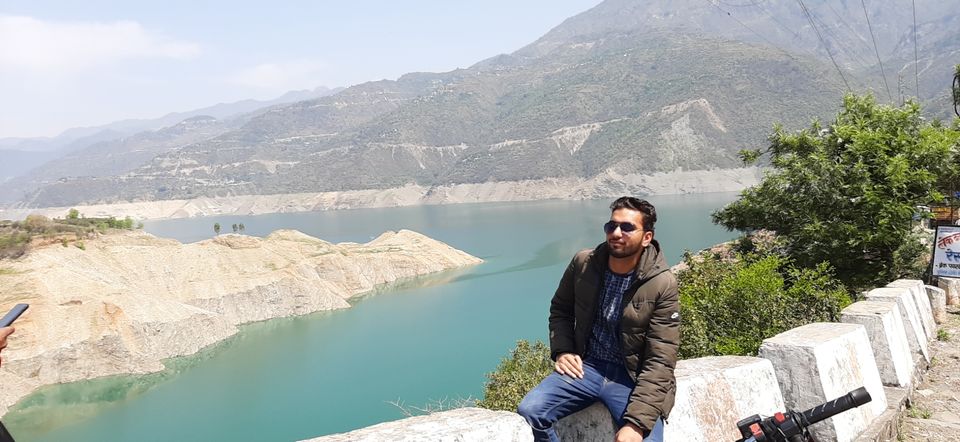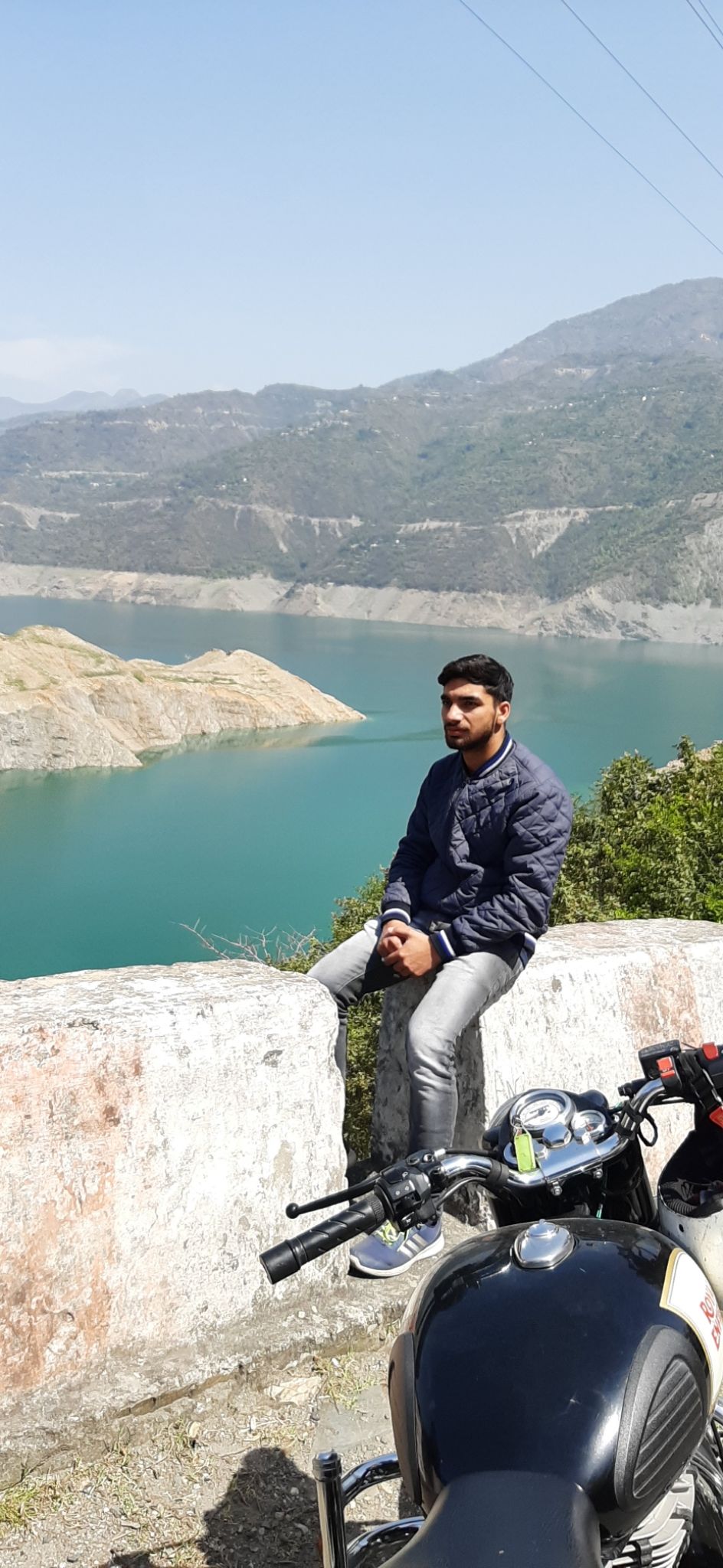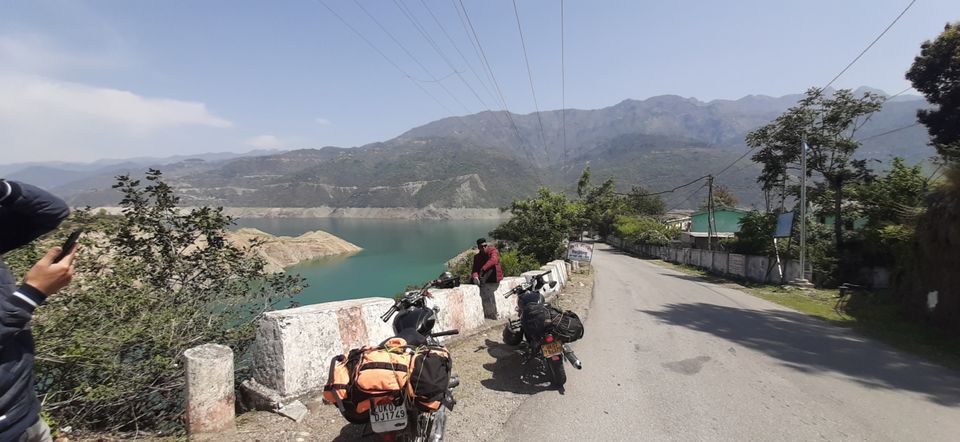 Afterwords, we were feeling excited and mind blowing because we have made life time memories  because we are in our last year last semester of college after college college we were going to different different places .
Then, we off to Shree nagar Uttrakhand there were 2 km bumpy road🛣🛣🛣🛣🛣🛣🛣 there by mistake we took wrong turn then around 10 km then we took right road then we reached Shree nagar and took luch there at a small motel🏩🏩🏩🏩🏩 the food was not good it's very hard to eat there food after luch we  changed our bike partner then we accelerated our bike and finally reached Rudraparyag😍😍😍😍😍 there is sangam of two river Mandakini and river Alaknanda which escape from Kedarnath and Badrinath temple respectively
There we reached find sangam of river 🙏🙏,then, then we parked bike and went to sangam  and according to our Indian culture we greeted 🙏( Parnaam Mata) and on the bank of river Mandakini and Alaknanda we sit and there we feeling refresh and the sangam was illustrating was awesome .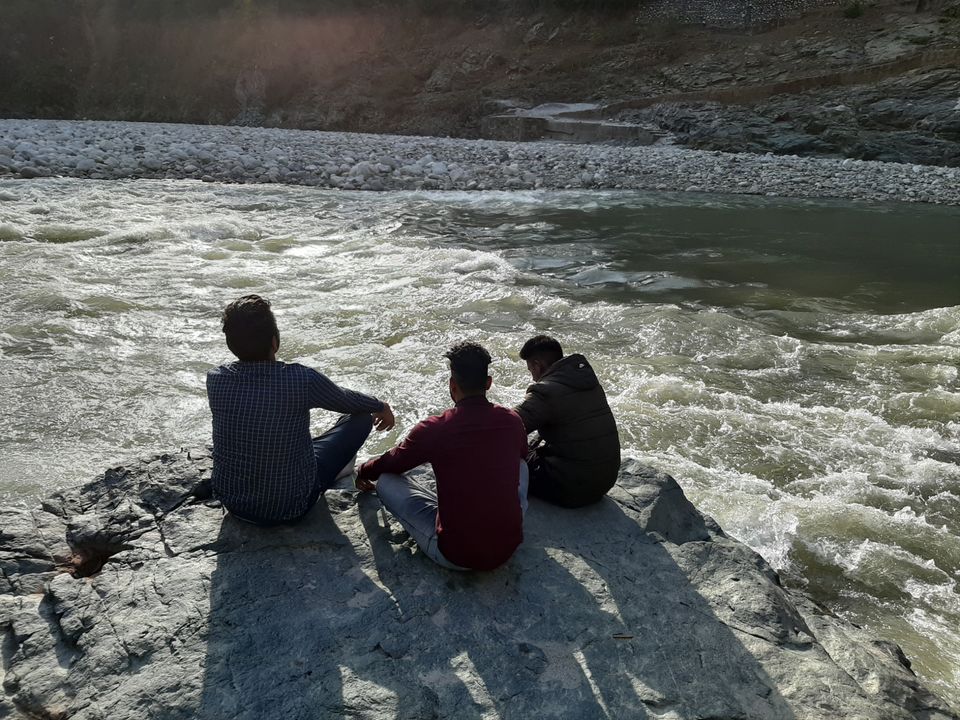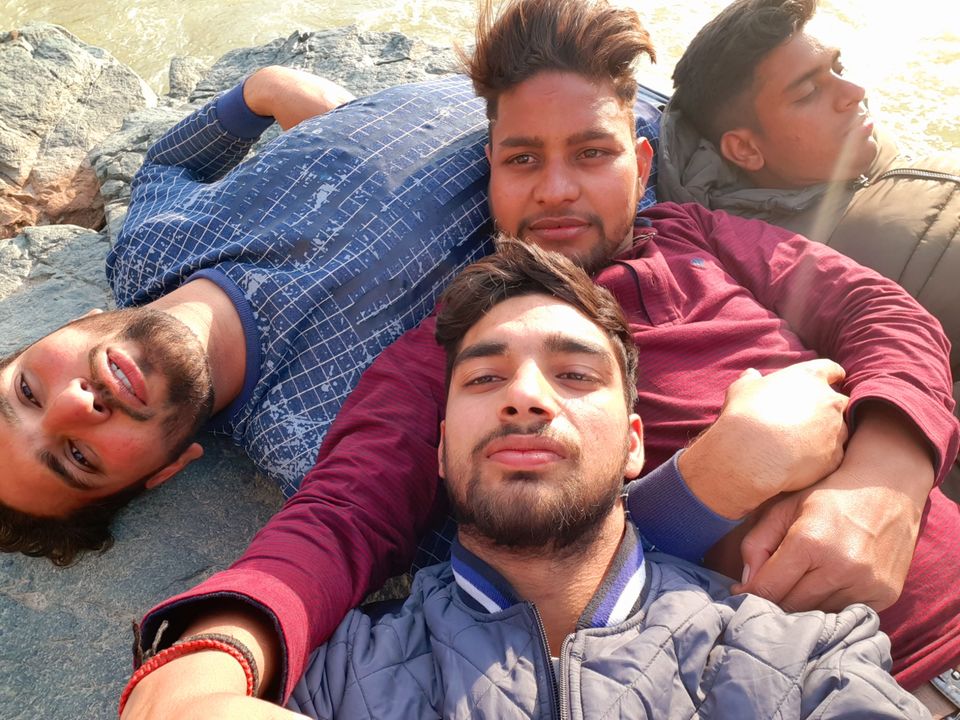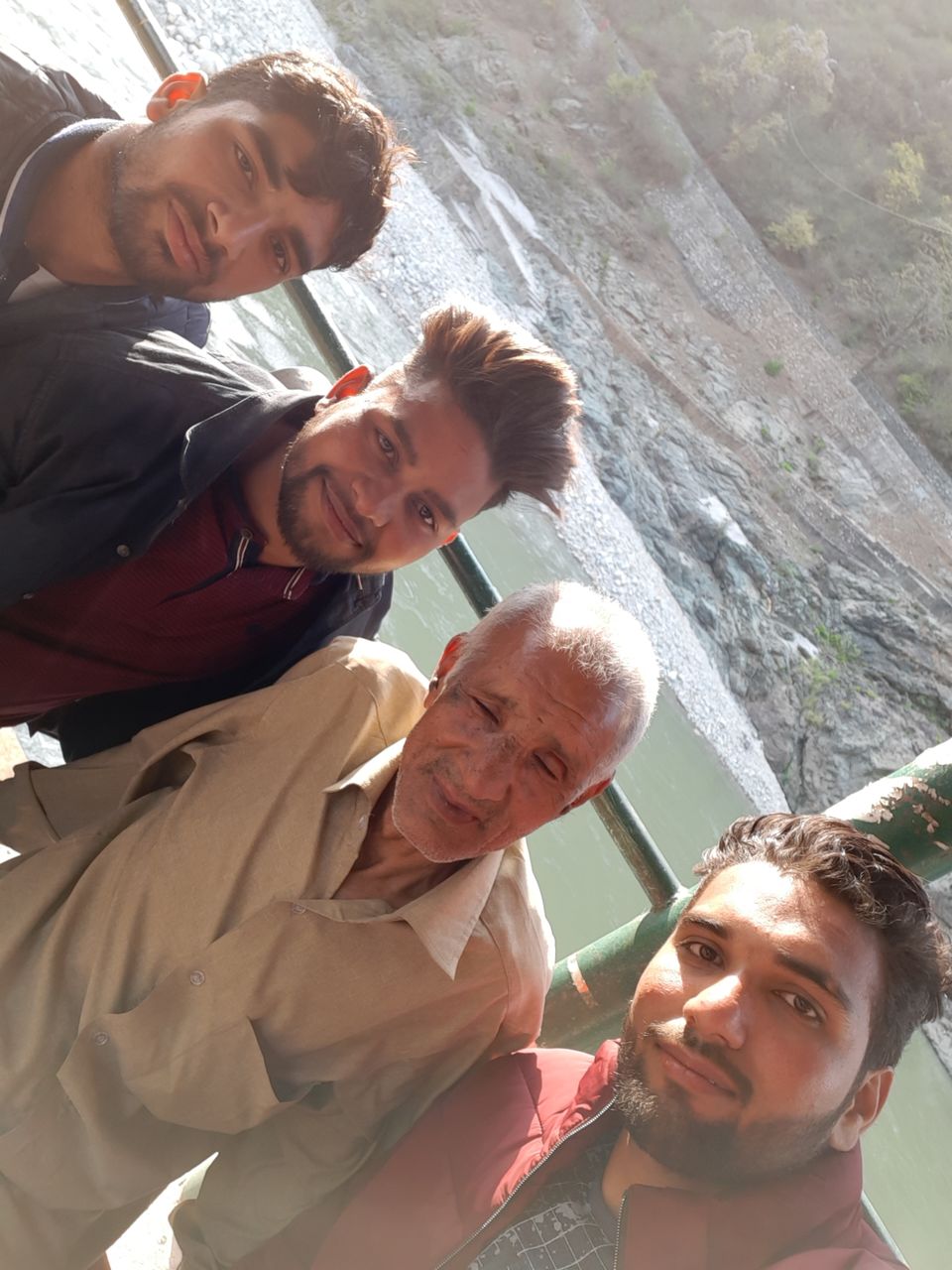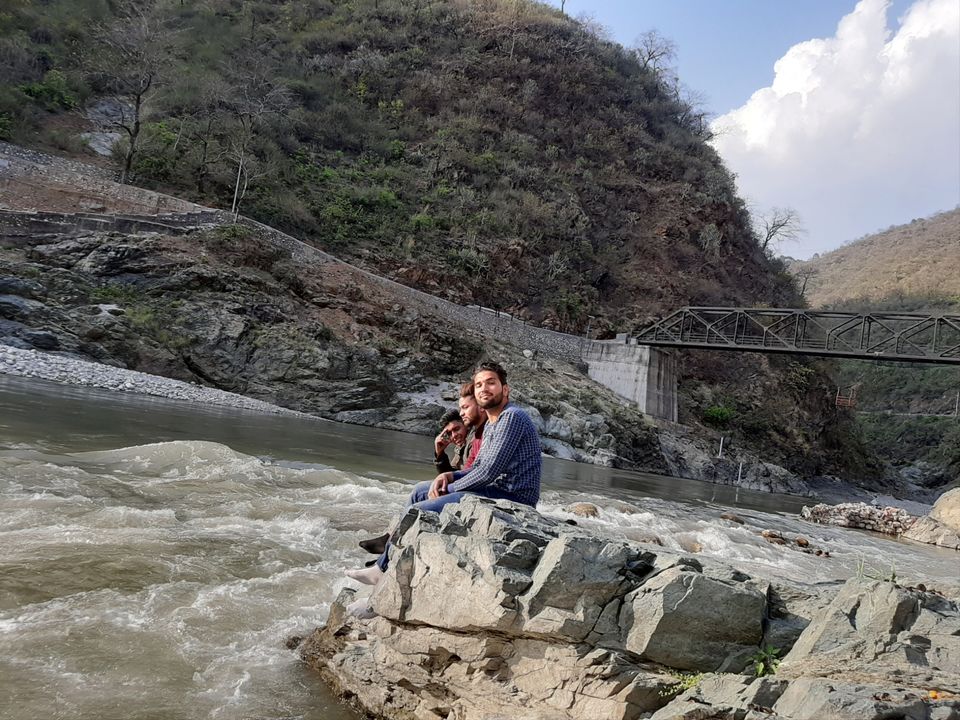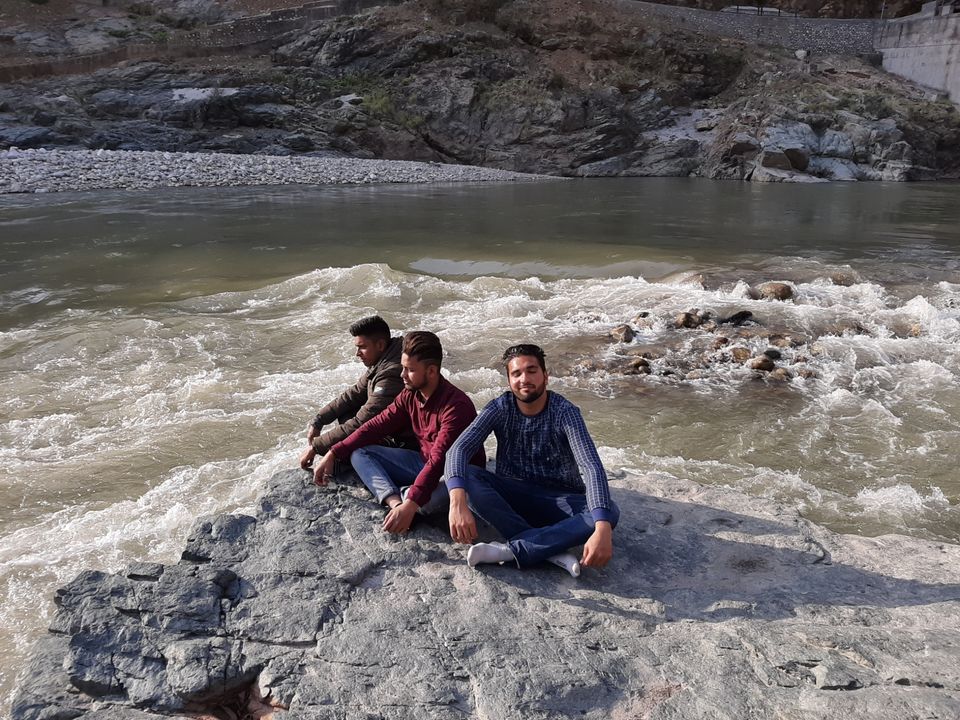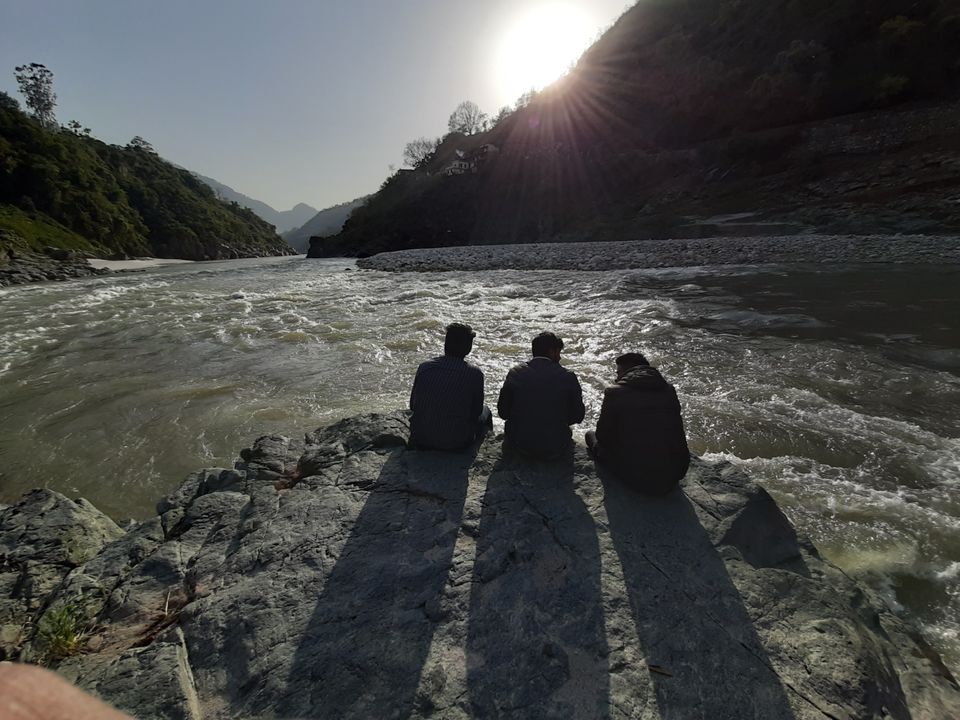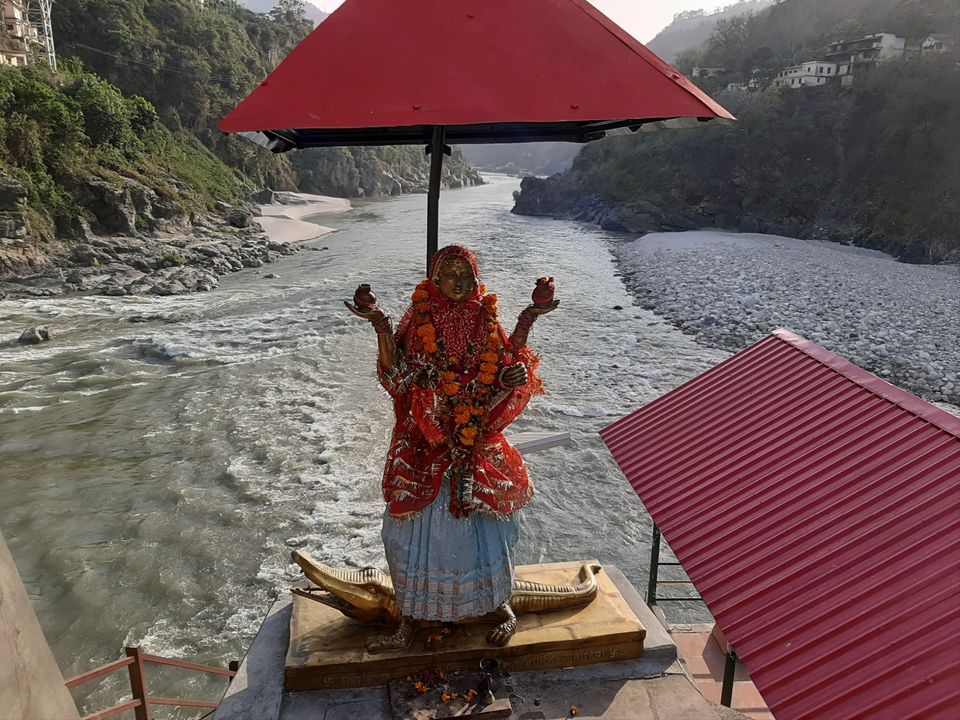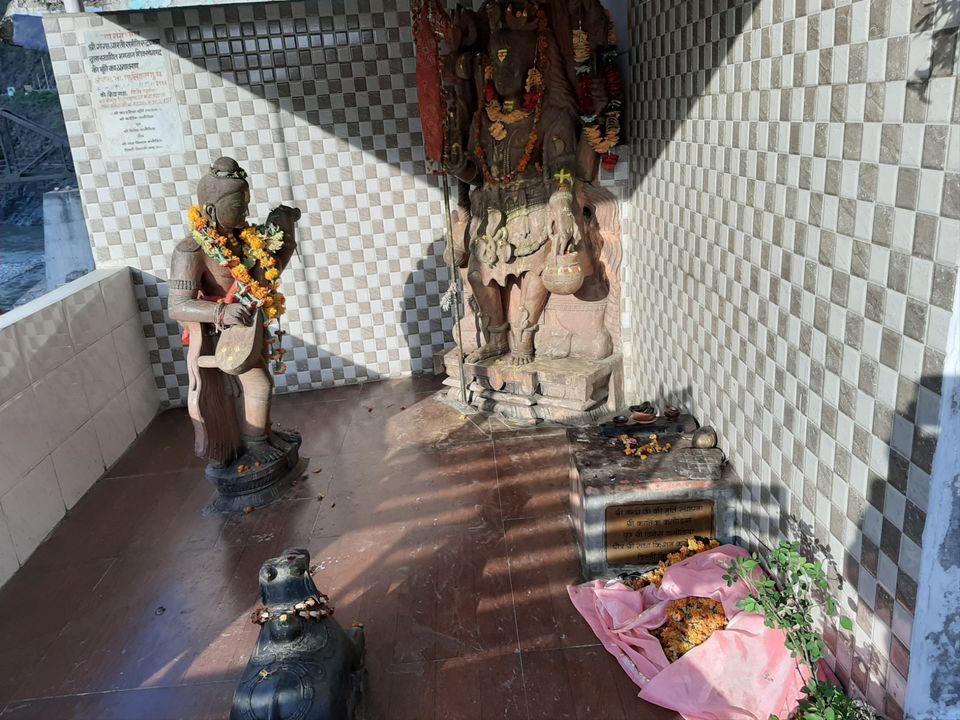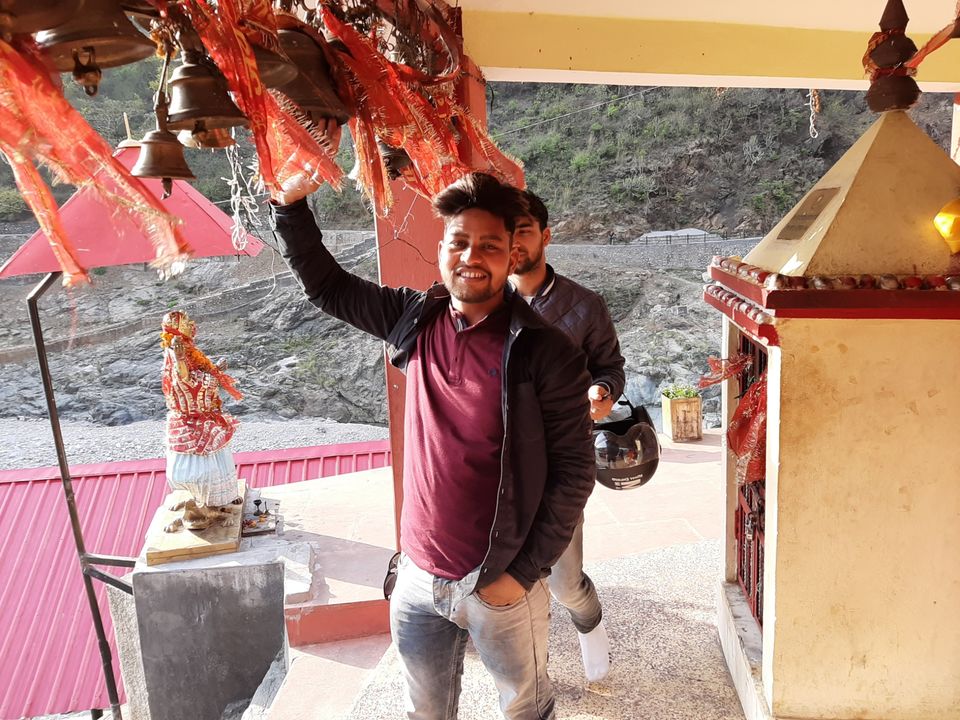 The sun set was going on🏜🌅🌅🌅, at 5:30 we take Kedranath road in mid way the weather's was disturbed and it's was raining there was herky jerky road but on the other hand view was a very awesome in mid way one uncle was scolding stop stop ( beta yha ruk jao barish hori hai road bht Kharab hai ) uncle have their on restaurant ,however, restaurant was not so much ruining because season off , therefore, we stay there atlaest one hour we took a sip of hot tea and cookies and namkin we charged our mobile phone and departure from there the sun was set and its appearing night and black cloud uncle said us that you should stay directly chopta not Ukhimat ( small village ) earlier we had a plan to stay there but after we were going on the road was erratic. There were two route for chopta and there one boy was sitting and said don't take this route on this route at night you can meet wild animals like tiger, bear ,lion etc.🐅🦌🐆🐻
So , we did not take short cut and our face was looking very dirty because of dust on the road.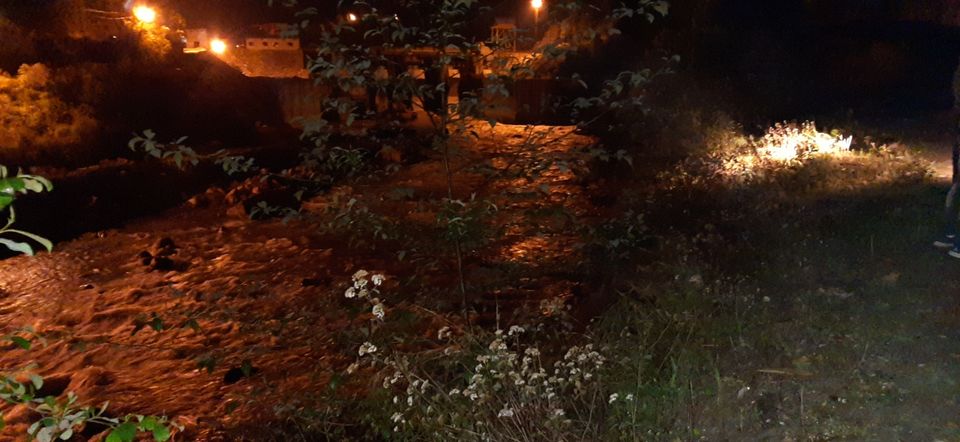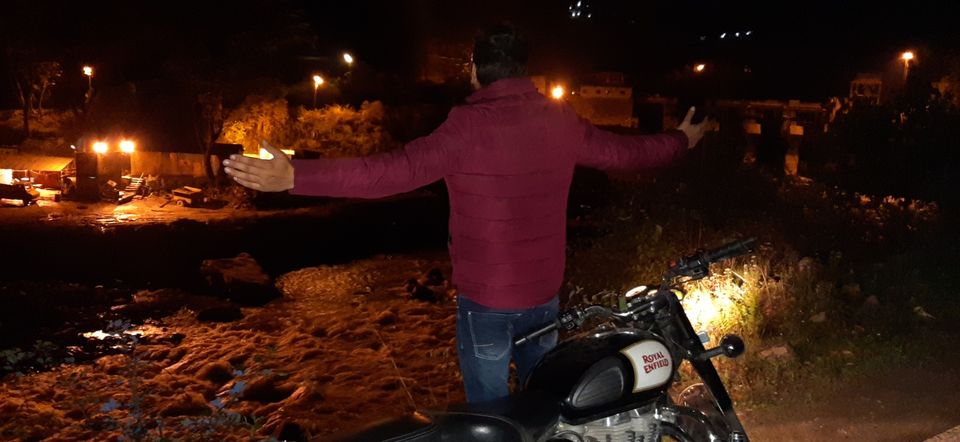 Ffinally, we are very close to chopta in the night road was looking very nice🌼🌷🌼🌷🌷🌷🚵‍♀️🚵‍♂️ ,moreover , we would thinking that in the morning how would be weather and view ?
We have vedio also you can watch...
When we were 12km away from chopta there was a police barrier point and there were also tapri ( tea stall) and there was extremely raining💭💭💭💭💦💦💦💦💦🌦🌧🌧🌧🌧🌧🌧🌧🌧🌧🌧⛈⛈⛈ so I thought that we should stop there otherwise our bag would wet ..
The constable was there and stop us telling us that after 8'o clock pm no one can go so we tells them our story so he talked him senior inspector .
After that, He gave us permission and said there would be village on the mid way panjair there would be one person saddam Singh .
The police man had made call to him and said 4 person are coming there manage the camp and and food at very genuine price .
When we reached near panjair village Saddam Singh stood there and scolding stop stop ( ruko ruko ) .He had identified us because of our bullet bike because the police man had told us about bikes and us .
Then finally , it's time to camping it's my dream to camping with my friends and time had came .
We are away from hustle and bustle life we are under of 5 billion of stars⭐⭐⭐⭐⭐⭐⭐⭐⭐🌟🌟🌟🌟🌟.🌌🌌🌌🌌🌌🎑🎑🎑🎑🎑🎑🎑🎑🎑🎑🌌🌌🌌🌌🌌🌌🌌🌌🌌🌌🌌
Actually , when the owner of camping chopta monal adventure came to meet us and asking INR 1200 per person for camping without food the food was INR 120 per person then we barging and he said he can only INR 2500 but we have only 1450 rupees to collect all our money because there was no online payment system
So finally he managed all in INR 1450 for all we four friend including food and morning tea after barging with them they dealed with us.
That camping night 🌌🌌🌌🌌🌌........🥰🥰🥰🥰 after dinner we start bluetooth speaker we dance .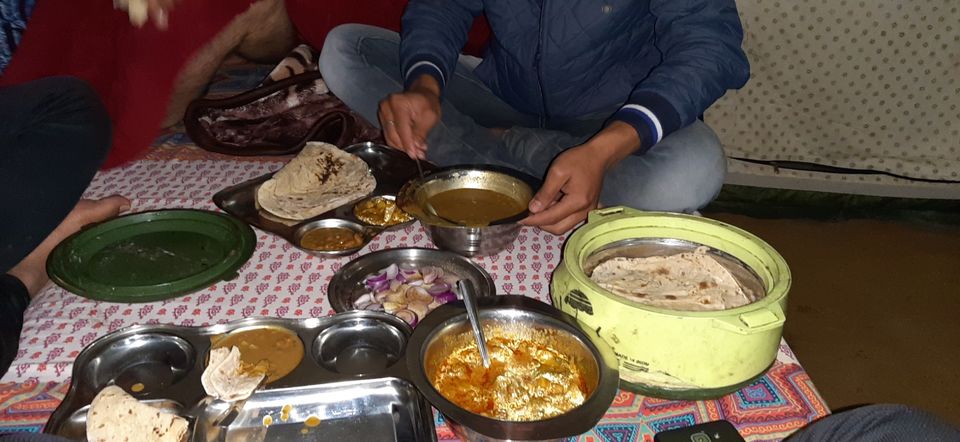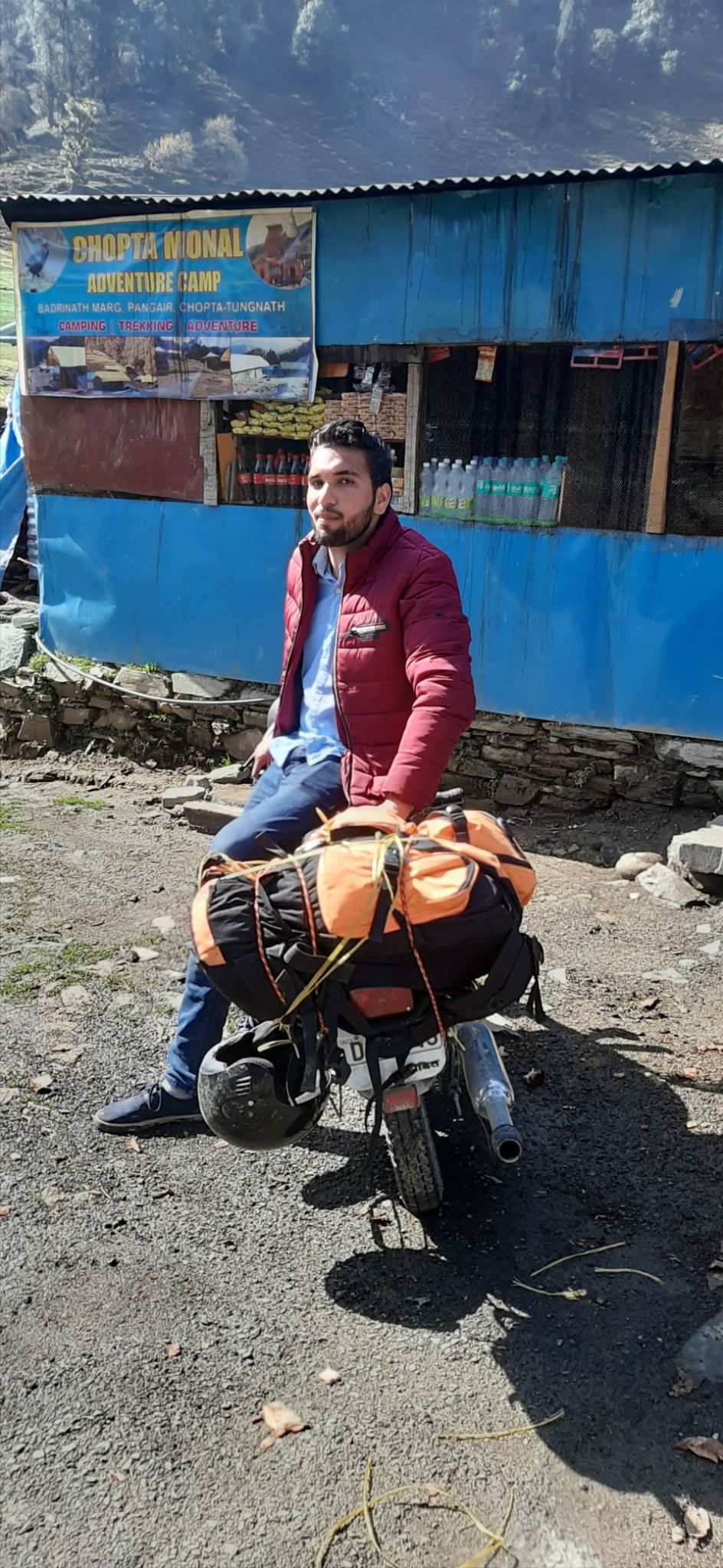 Actually in night they off light of camp because there is no electricity they used solar plate so they did .
After that ,around 12 am we thought bonefire 🔥🔥🔥 should be there was a space near to camp so we found some log woods and collect them and escaped little amount of petrol⛽⛽ from our bike and made bone fire 🔥🔥🔥🔥🔥.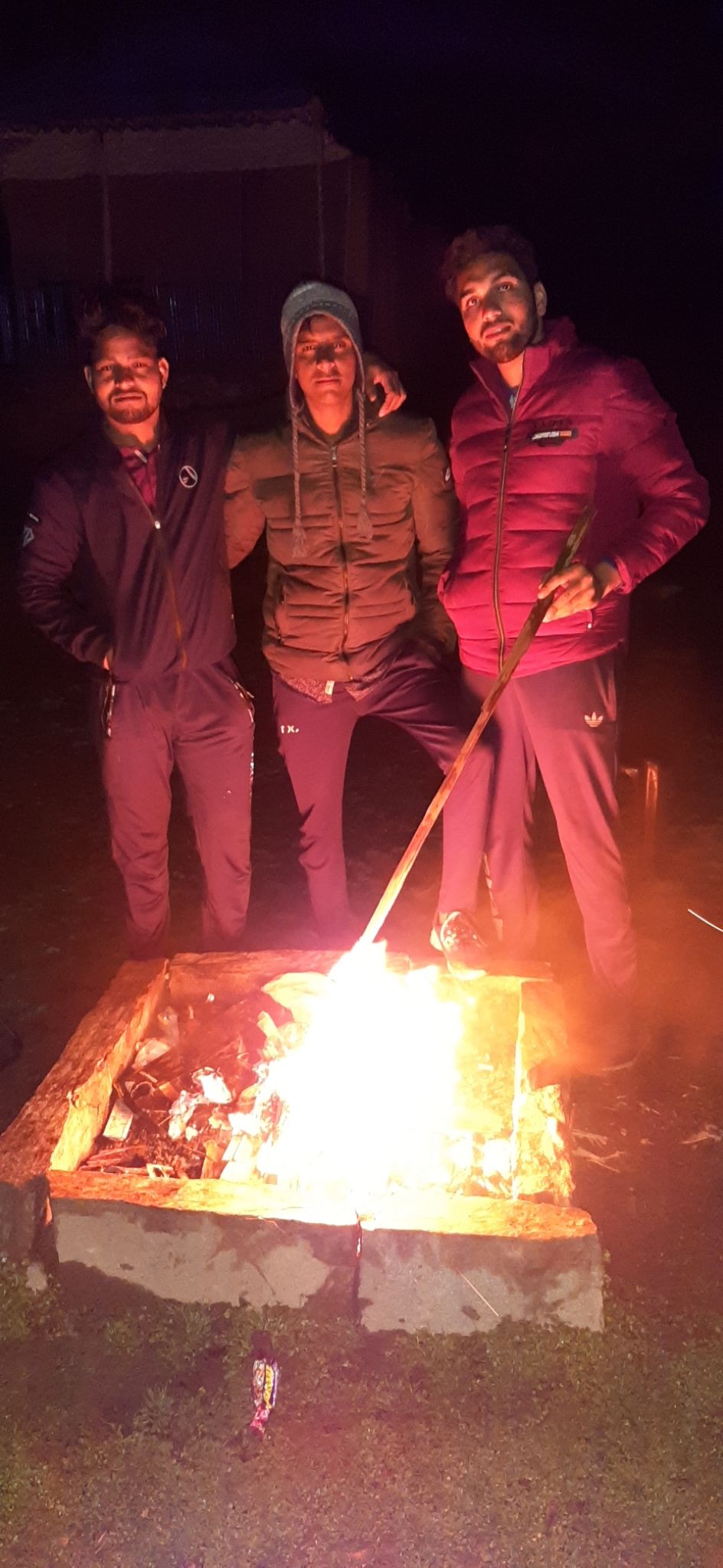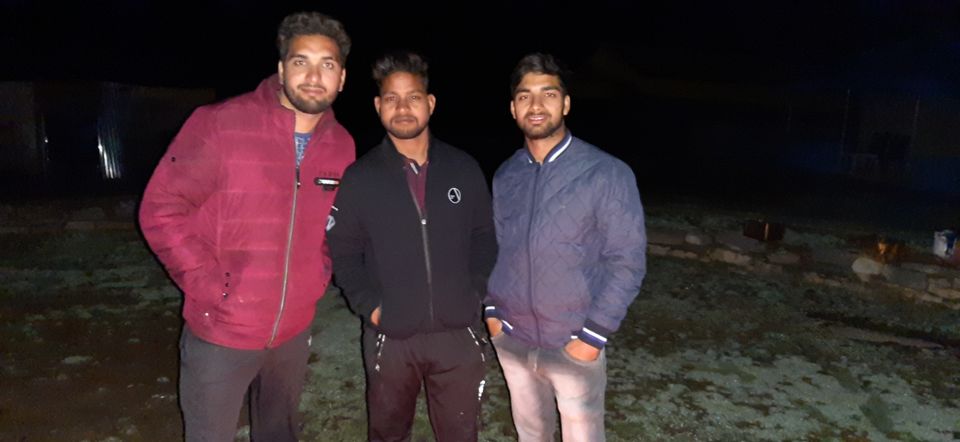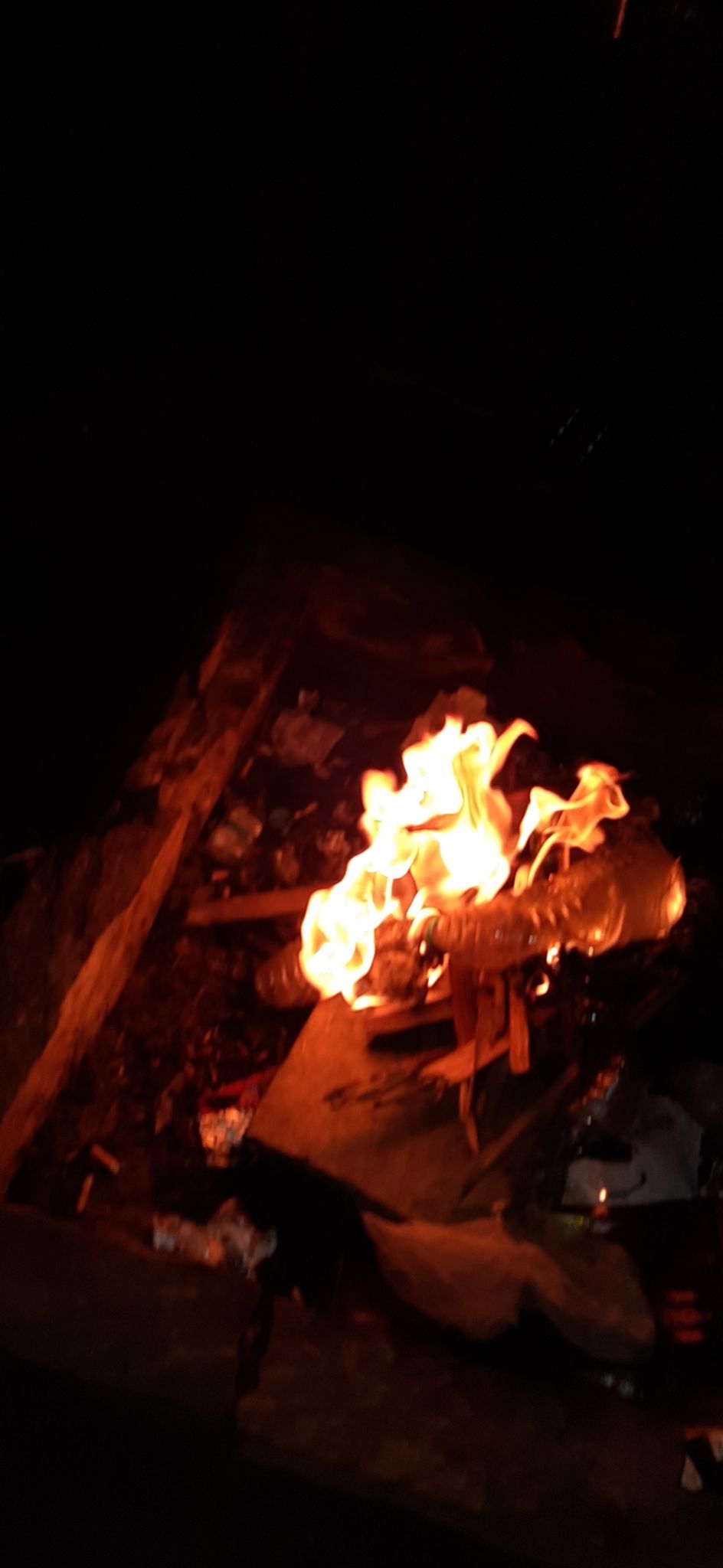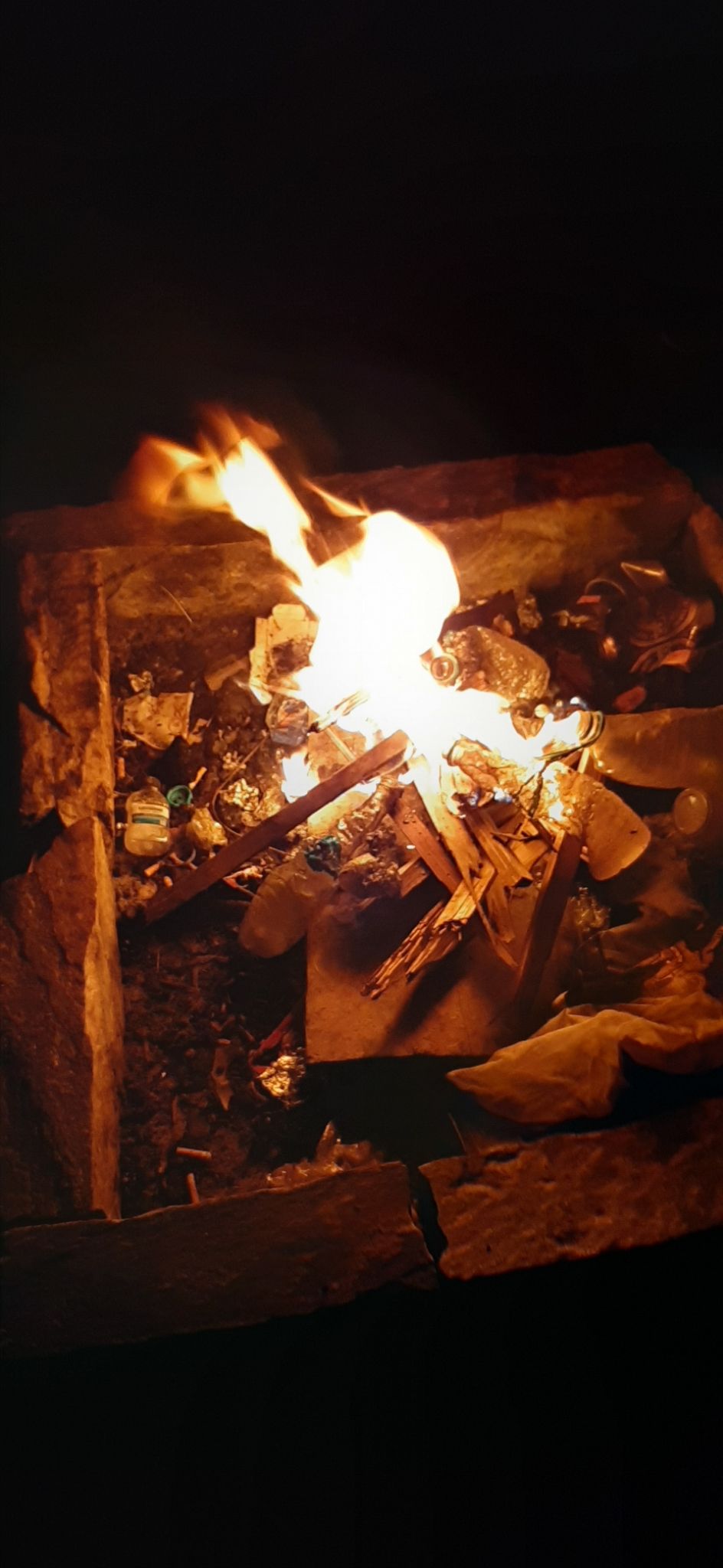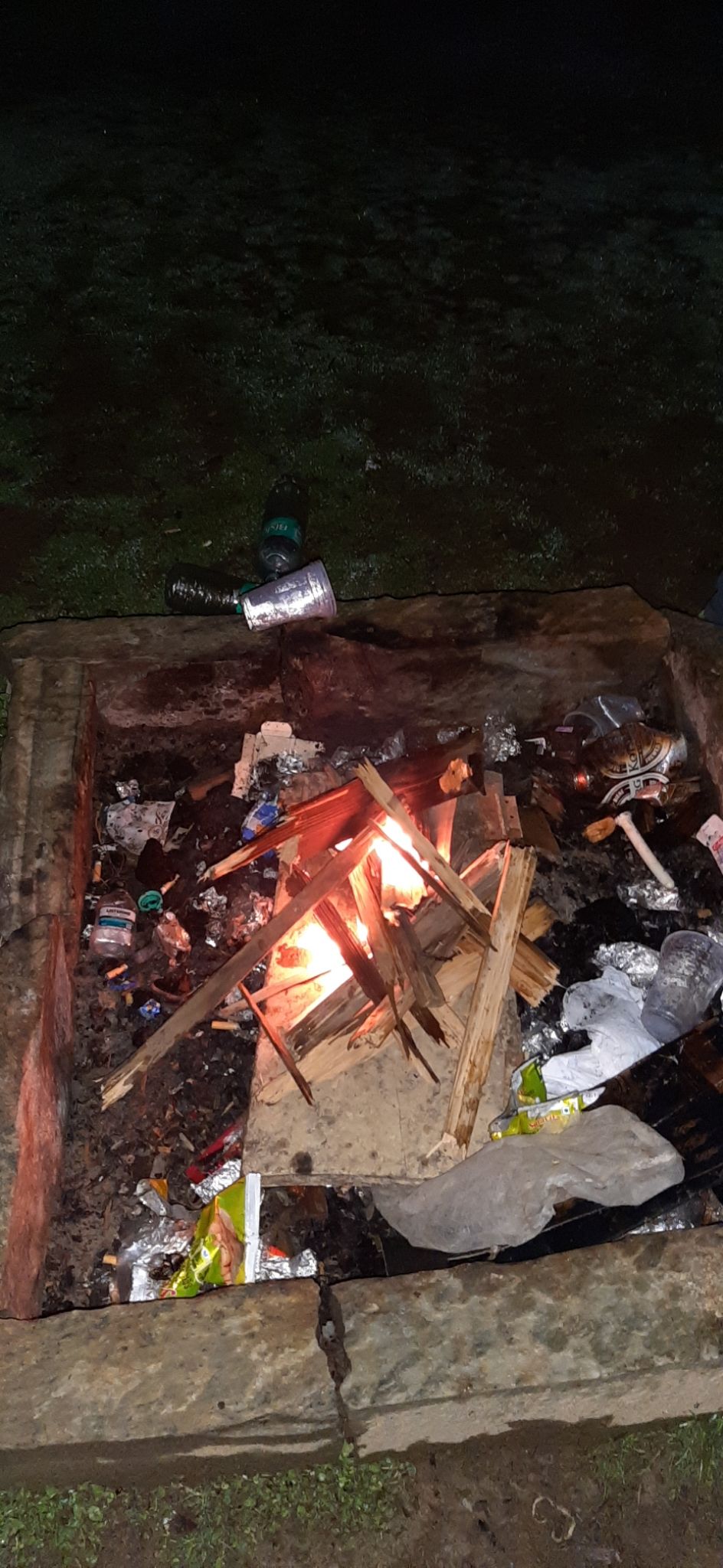 The time was passing and also making memories.
Thursday morning, we were waiting for this morning came from Dehradun to see this elegant view 🎑🎑🎑🎑🎑🌅 the sun is rising and The Tungnath and Kedarnath range and its peak were looking like a gold when sun rays on it ..🗻🗻🗻🗻🗻🗻🏔🏔🏔🏞 then camping owner offer tea and some biscuits and then we clicked some beautiful photo.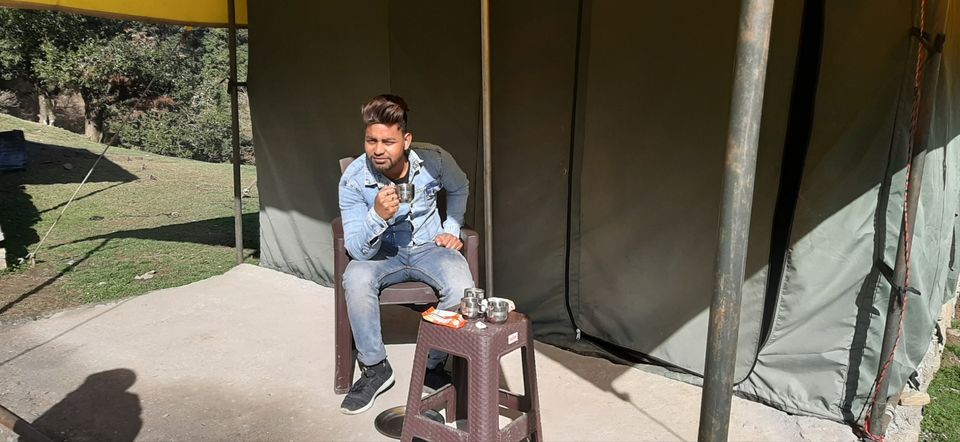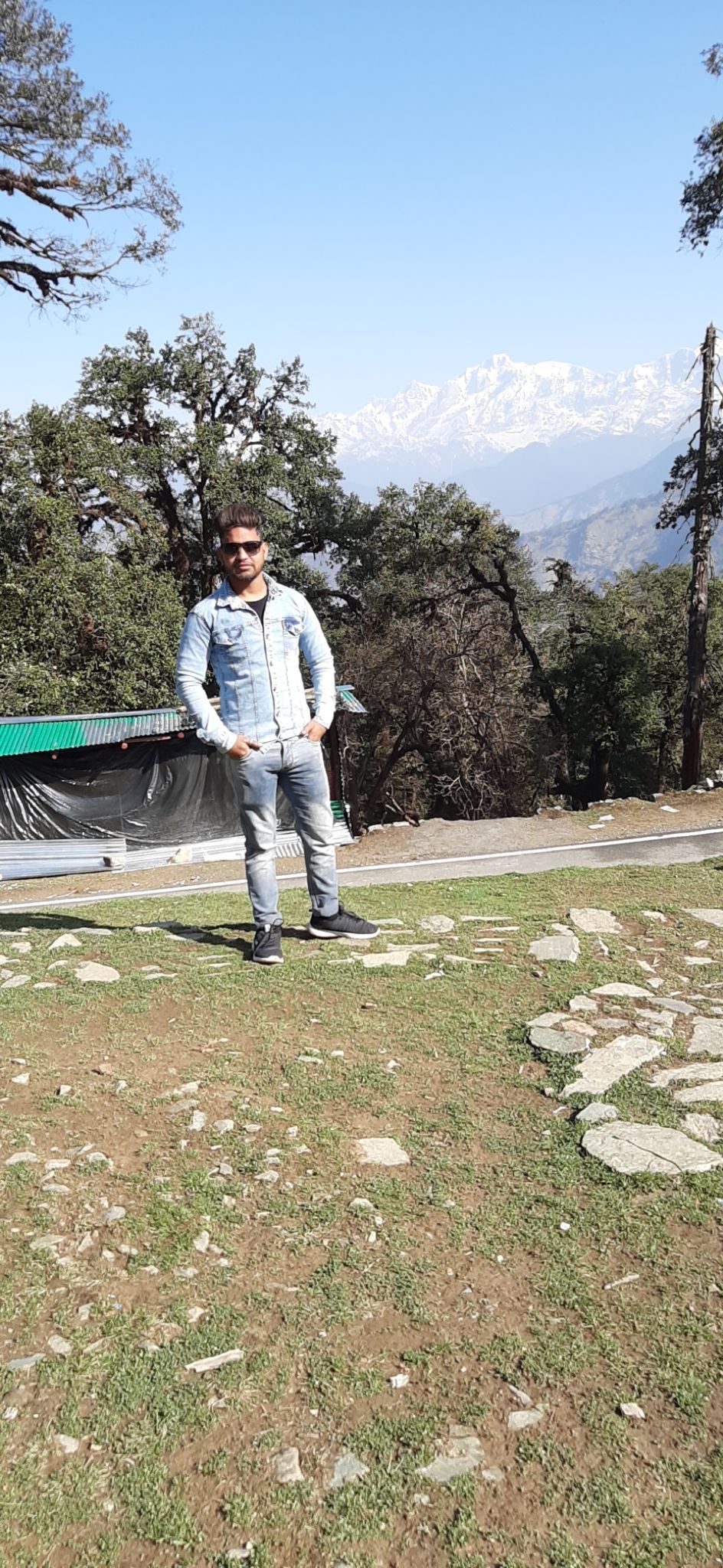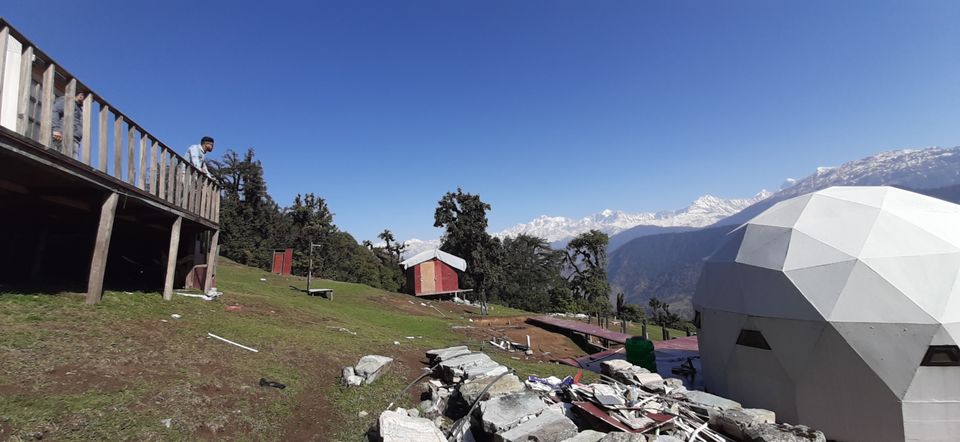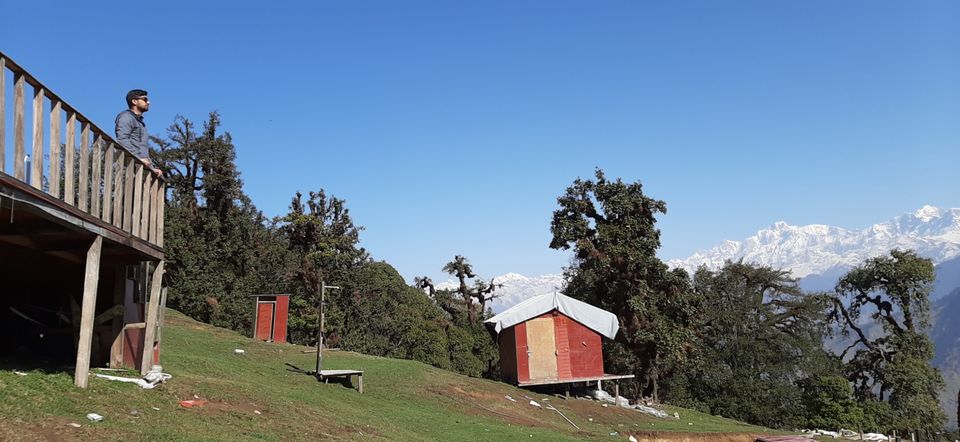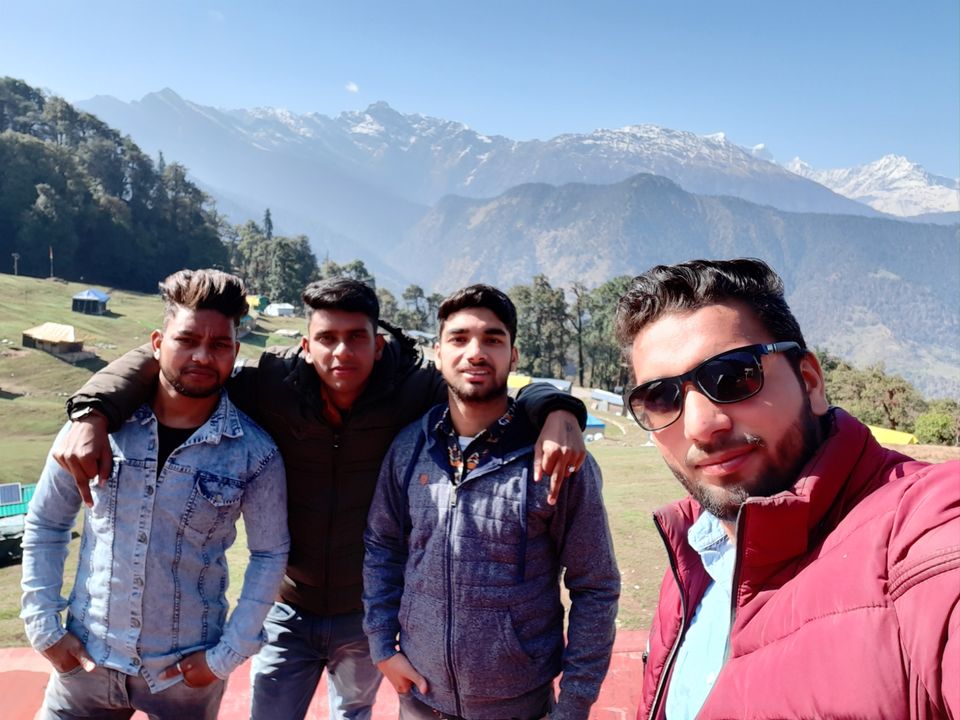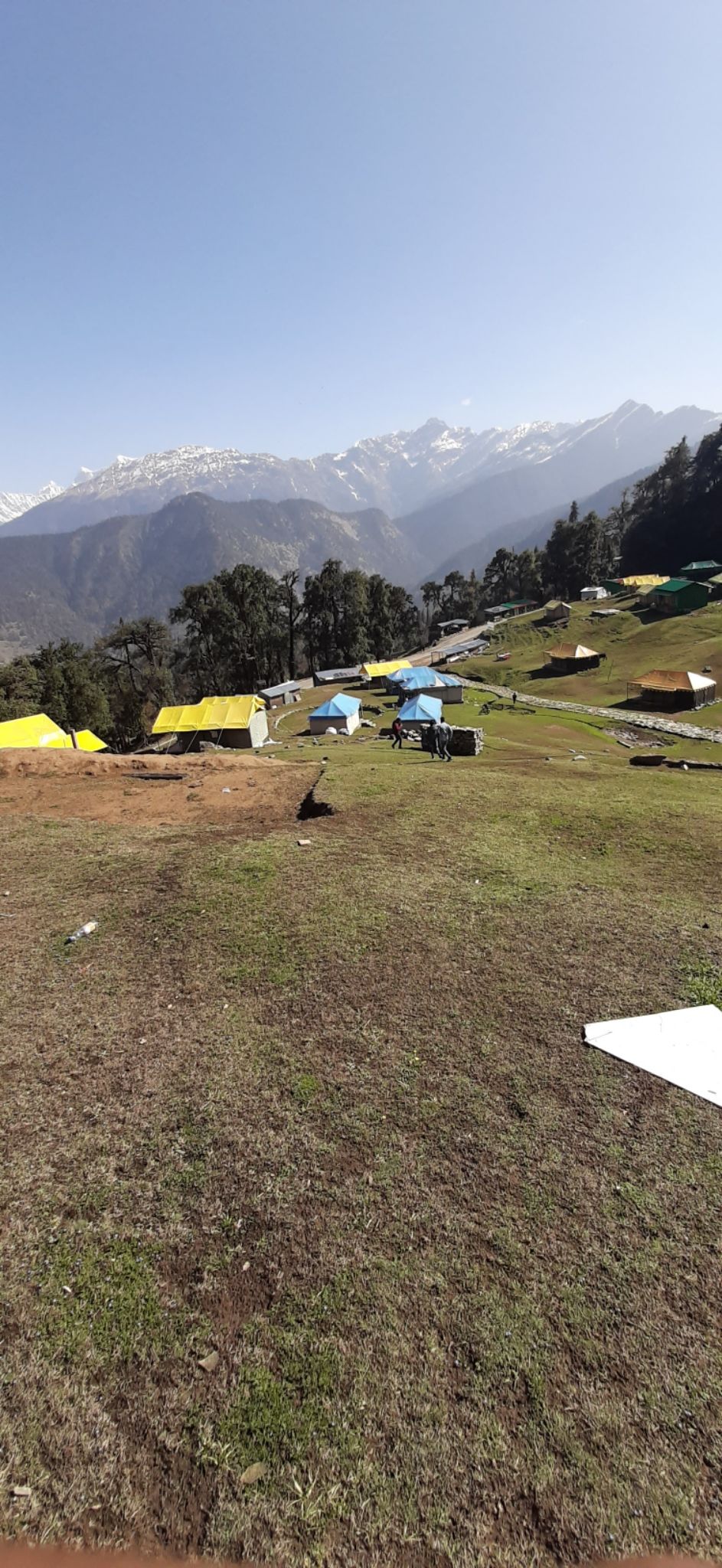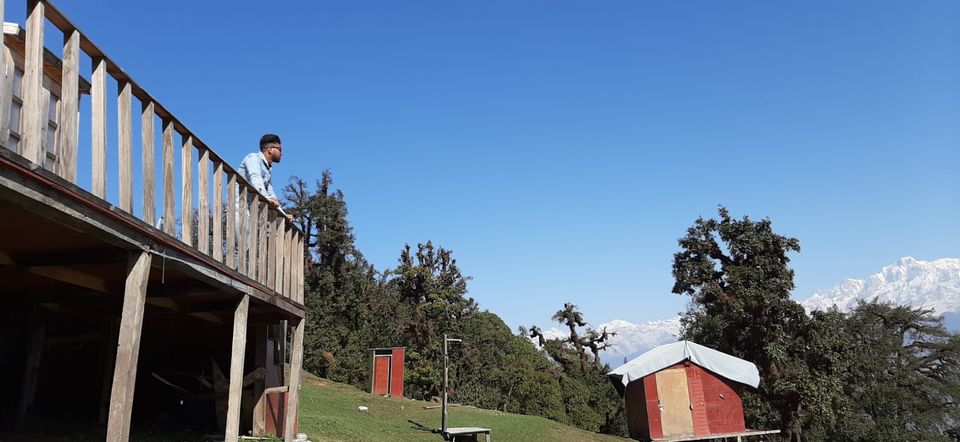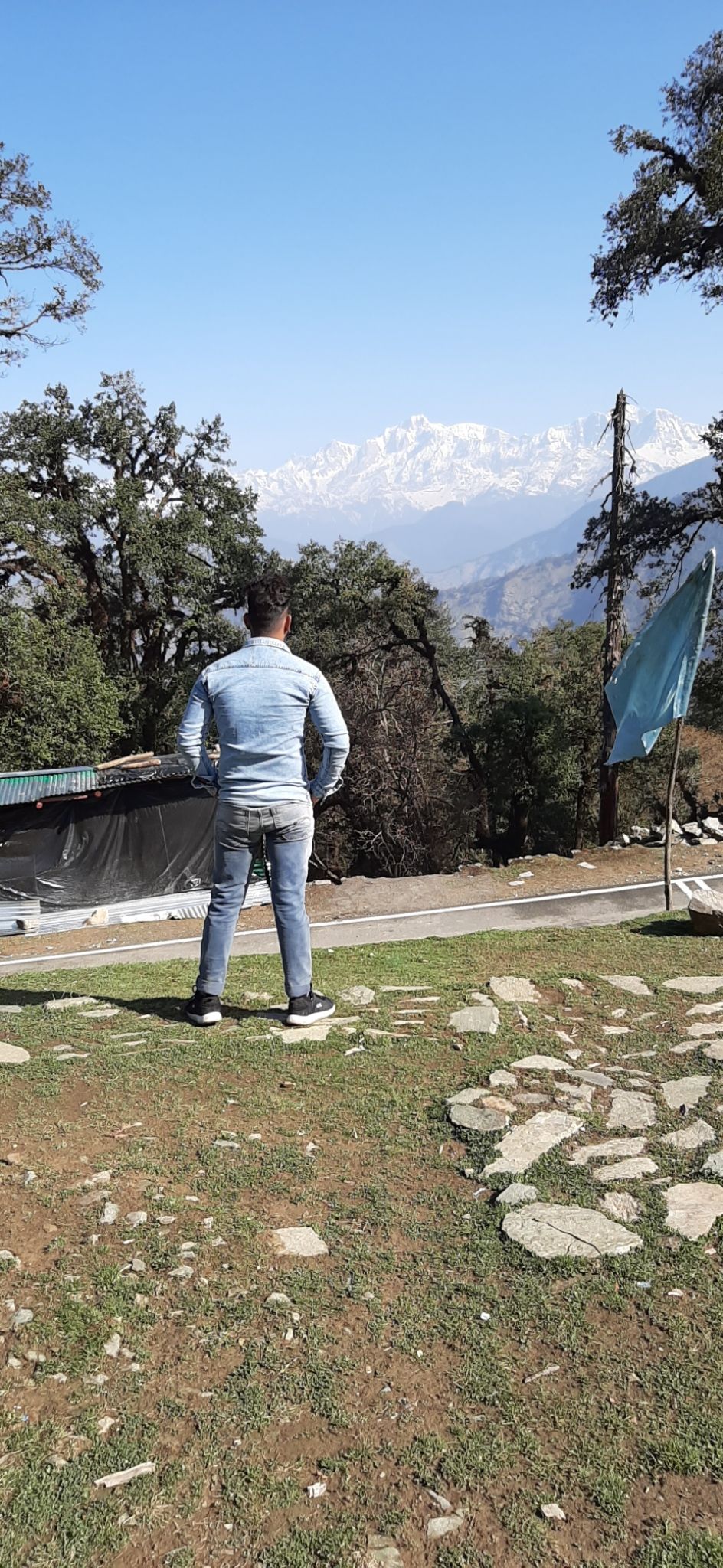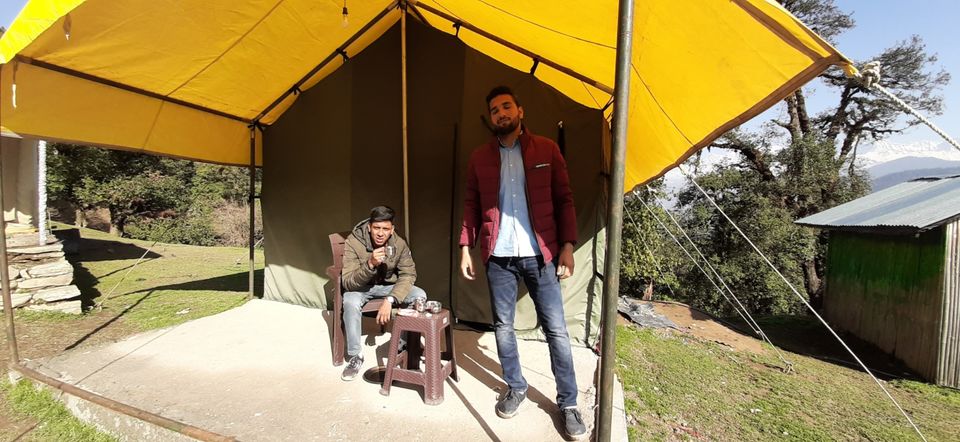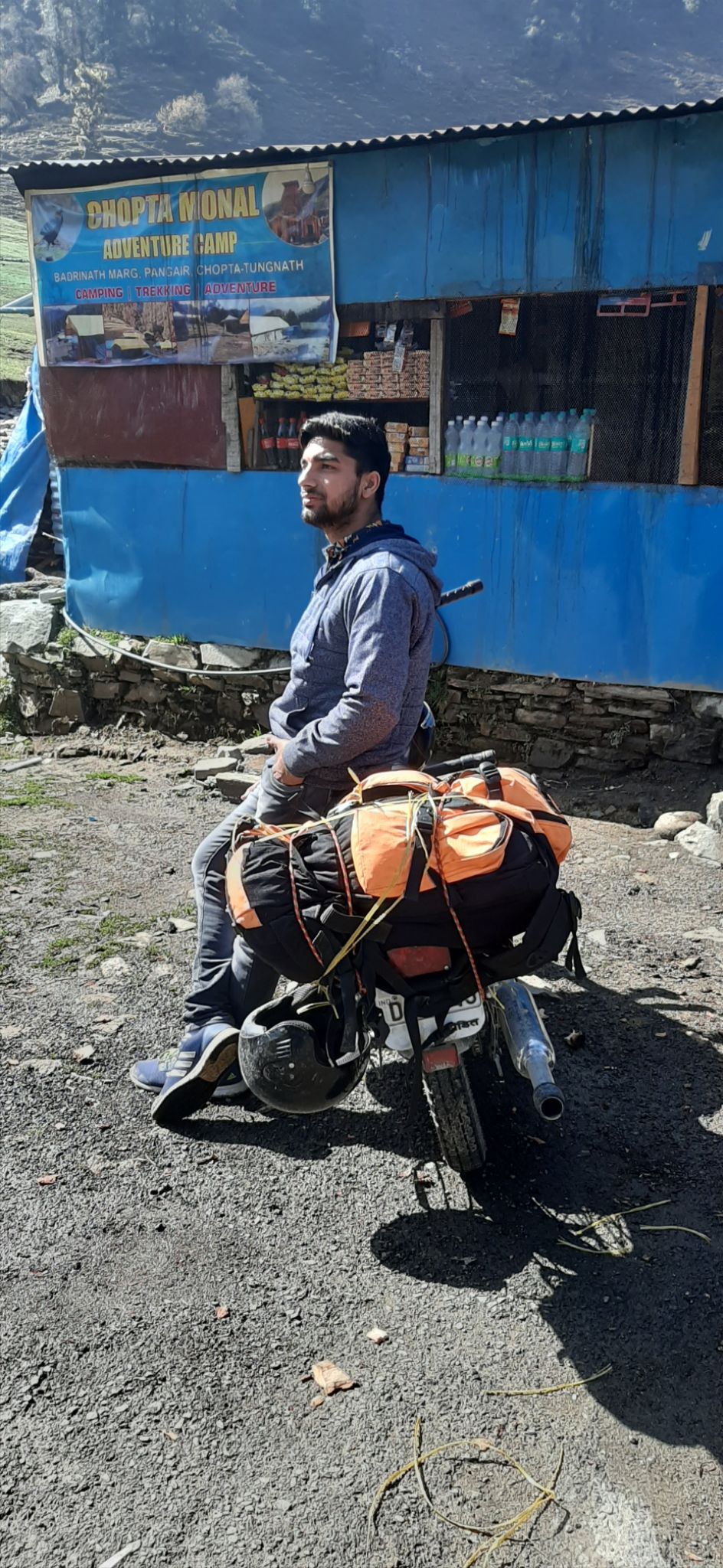 Thereafter , we checked out from there .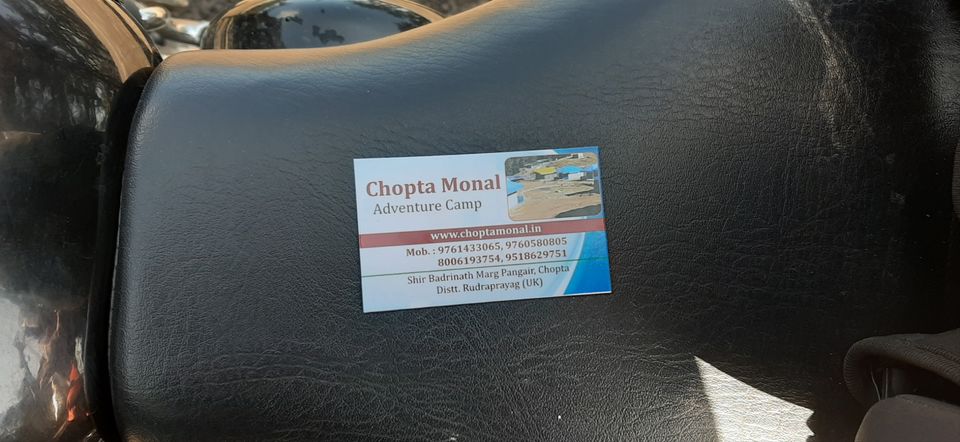 we off to chopta which is only just 6km from our   camp and the overview was mind blowing .
We reached chopta there are tress of flowers one side and other side is mountain ....🌹🌹🌹🌺🌺🌺🌺🌺🌺🌺🌺🌺🌺🌺🌺🌺🌺🌺🌺🌺🗻🏔🏔🏔🏔🏔🏔🏔🏔🏔🏔🏔🏔🏔🏔🏔🏔🏔🏔🏔🏔🏔🏔🏔🏔🏔🏔🏔🏔🏔🏔🏔🏔🏔🏔🏔🏔🏔🏔🏔🏔🏔🏔🏔🏔 .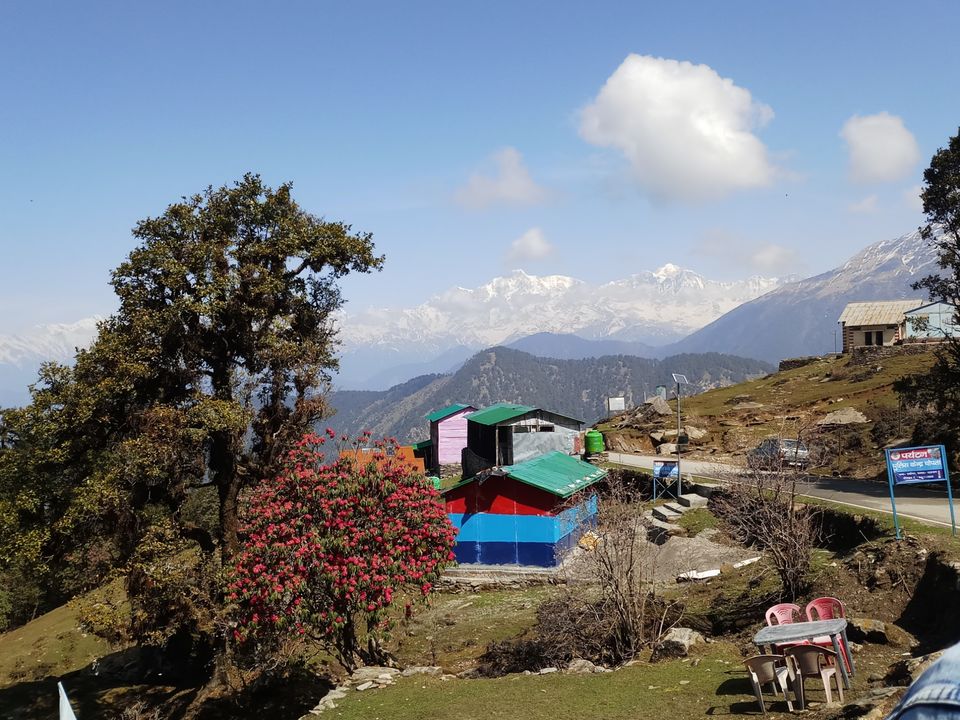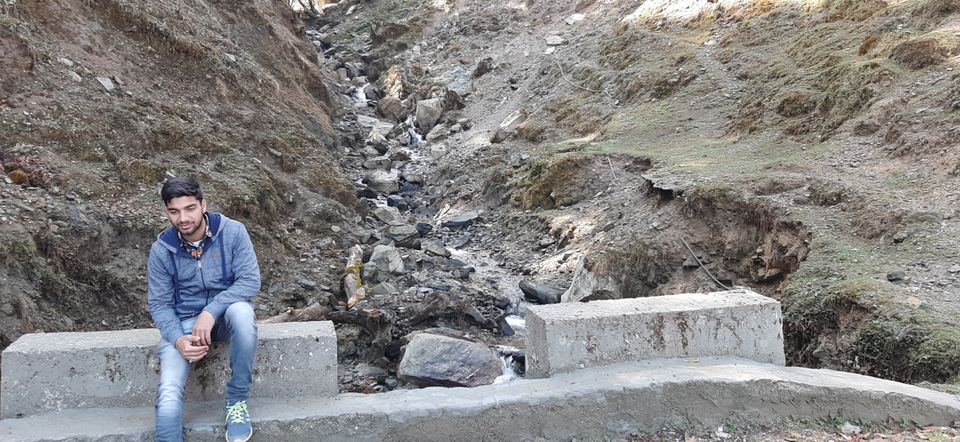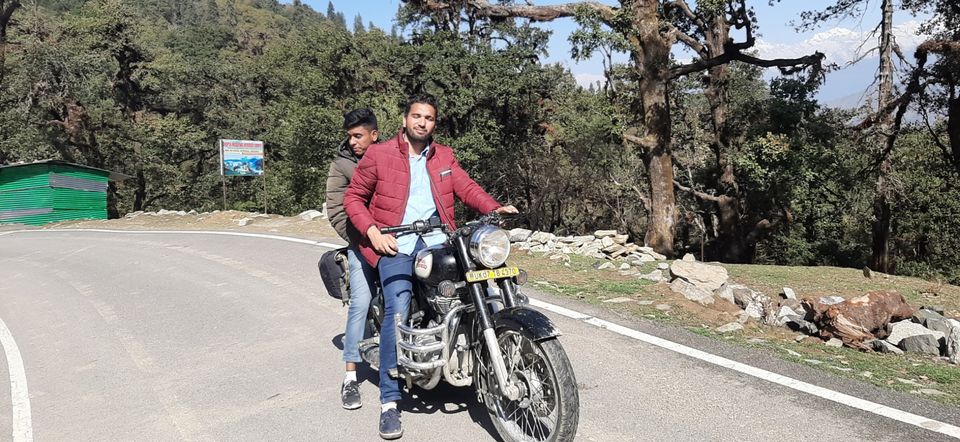 Ffinally we reached chopta there we do not have cash and there was no ATM no online transaction so guys if you in hilly areas so always keep money in cash otherwise you have to suffer .
There was a shop  the name of this shop moks cafe there you can Pay online amout and and you get cash but it charged 10 %  we did because we do not have cash and there was also network problem so finally we took 4 stick on rent INR 20 per stick and also submitted security INR 120 .Then we start our track at 11 am at beginning point of trek there is Forest choki where you have to paid INR 150 per person but we paid only INR 150 for all our friends. Then we start our trek
And in starting 1.5 km km there was clear path and the view was awesome on both side there were flowers and flowers and Himalayas were shining like a gold then after 1.5 km there was no way to go Tungnath mahadev temple there were snow of 4 feet dept and our shoes are sliding but we were  all boys and full of energy we did and help many person in the mid way. The trek was so much difficult because of snow its is also highest attitude lord Shiva temple 🕍🕍🕍🕍.
One person said that you will give up in mid way and I replied to him old man that baba you don't know us we also devotees of Mahadev.( baba app Hume ache se nh jante hum jo ghar se than k ate hai use karke chordte hai ).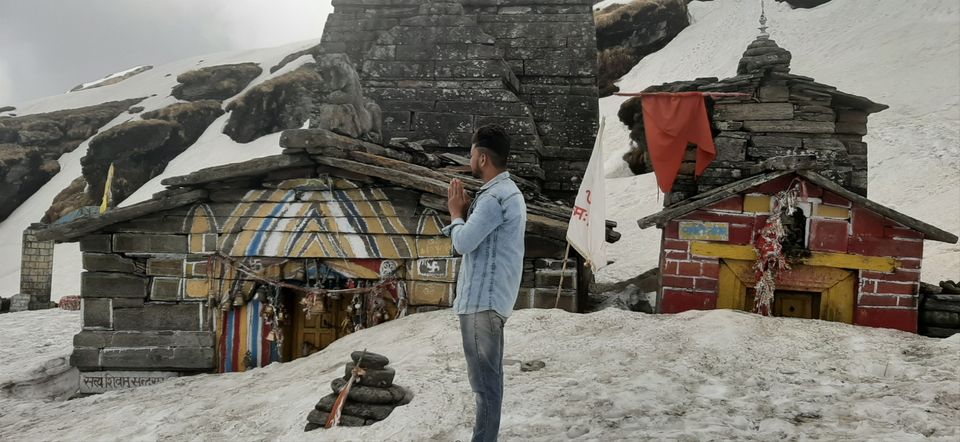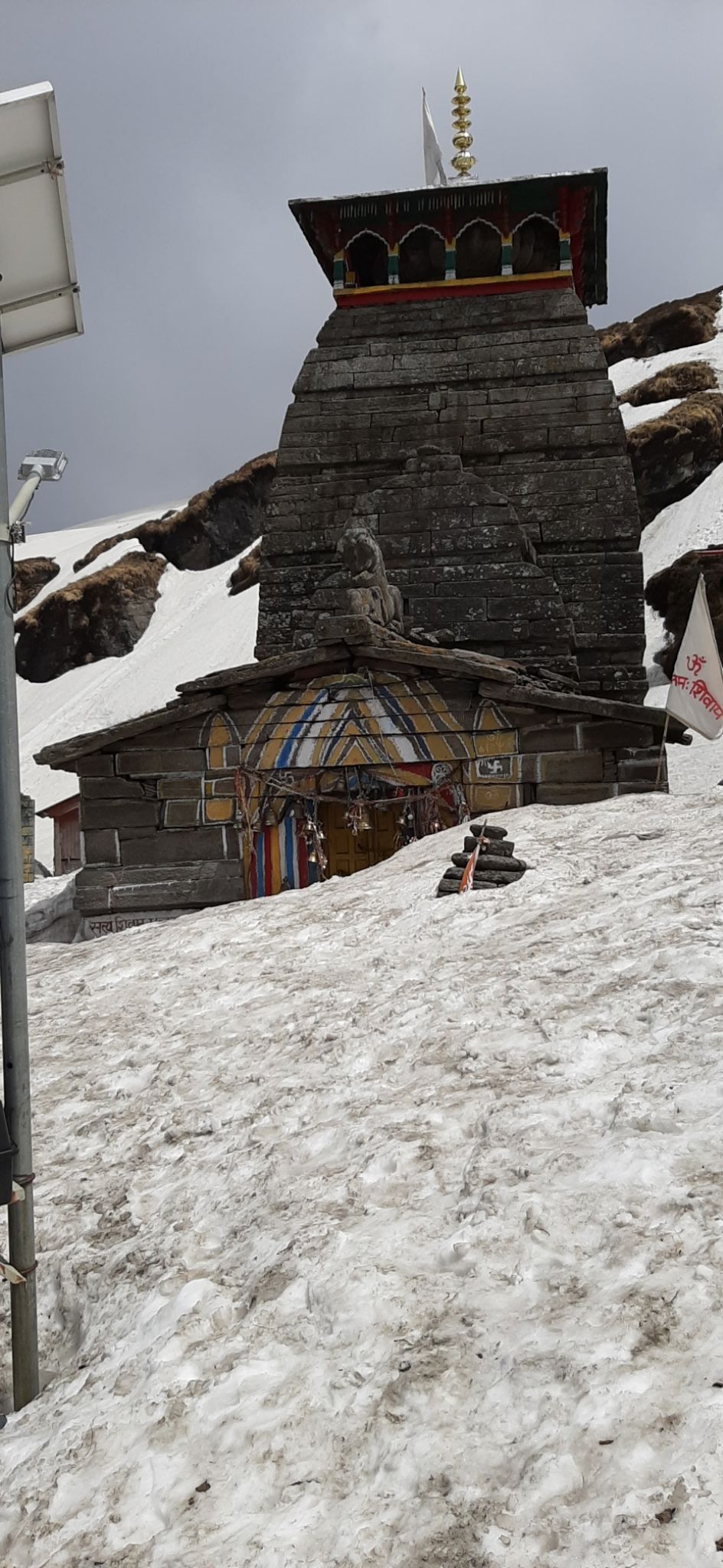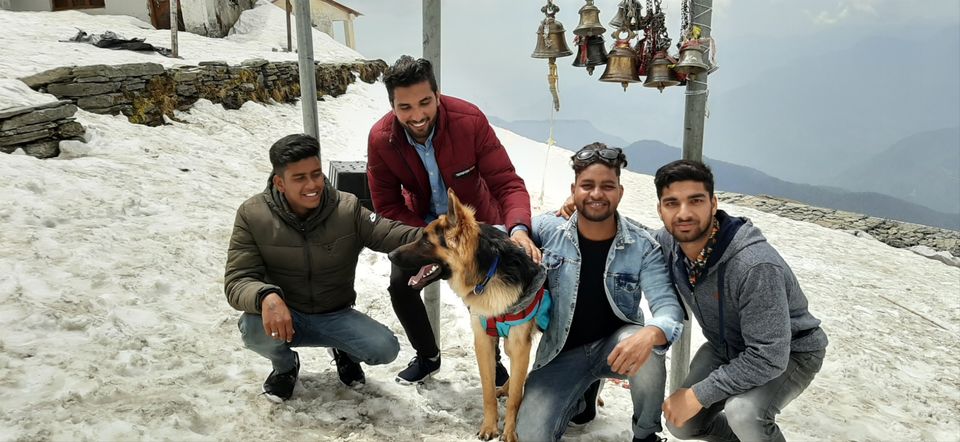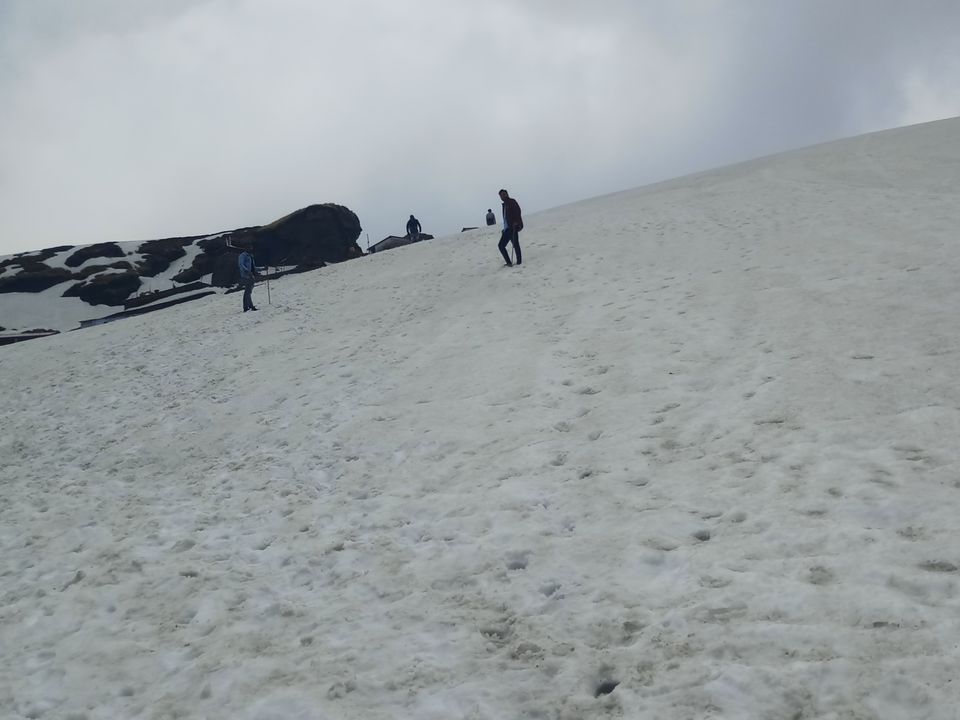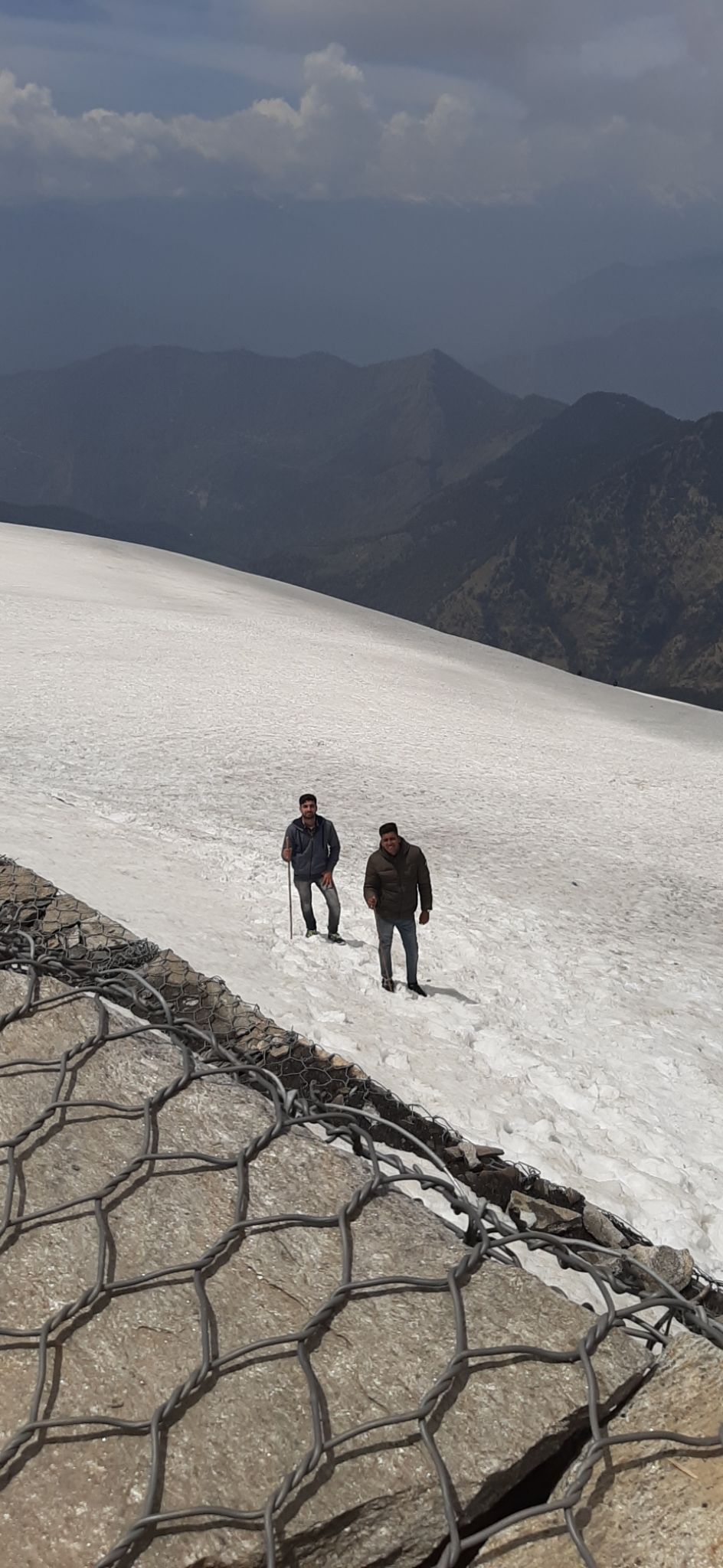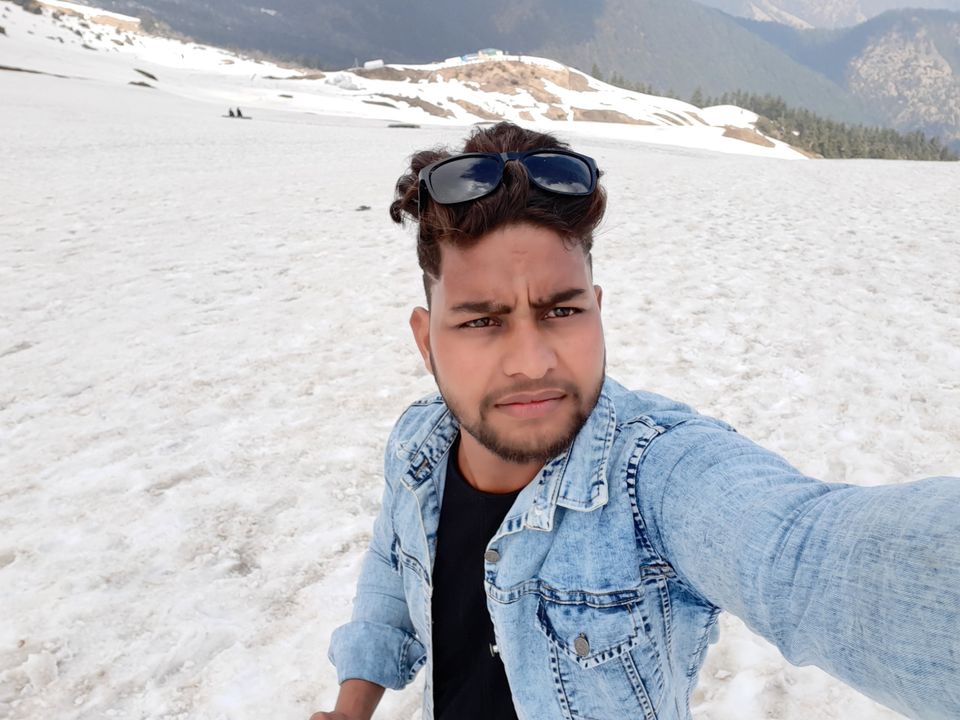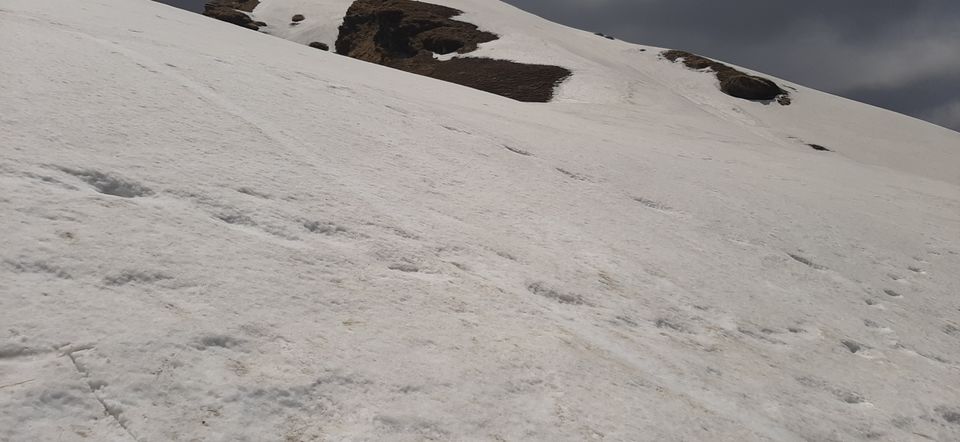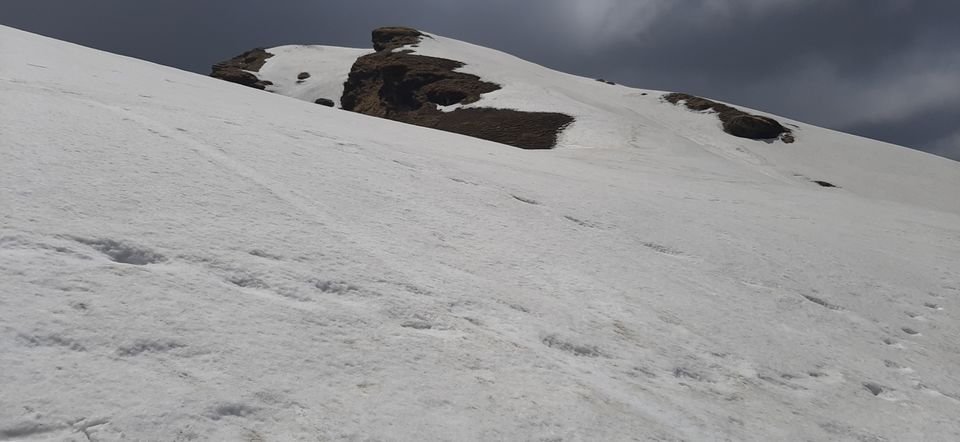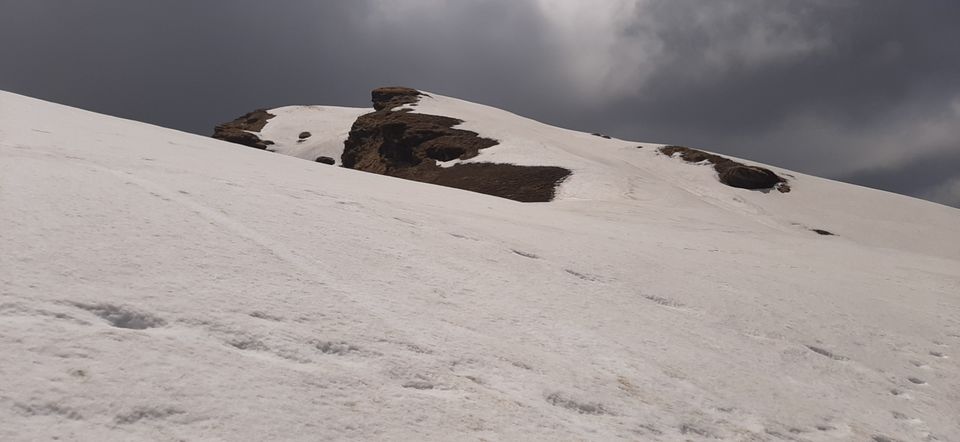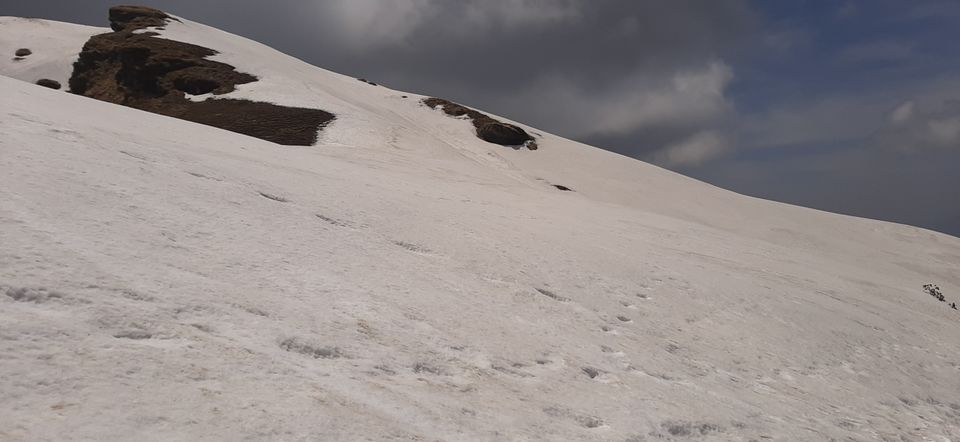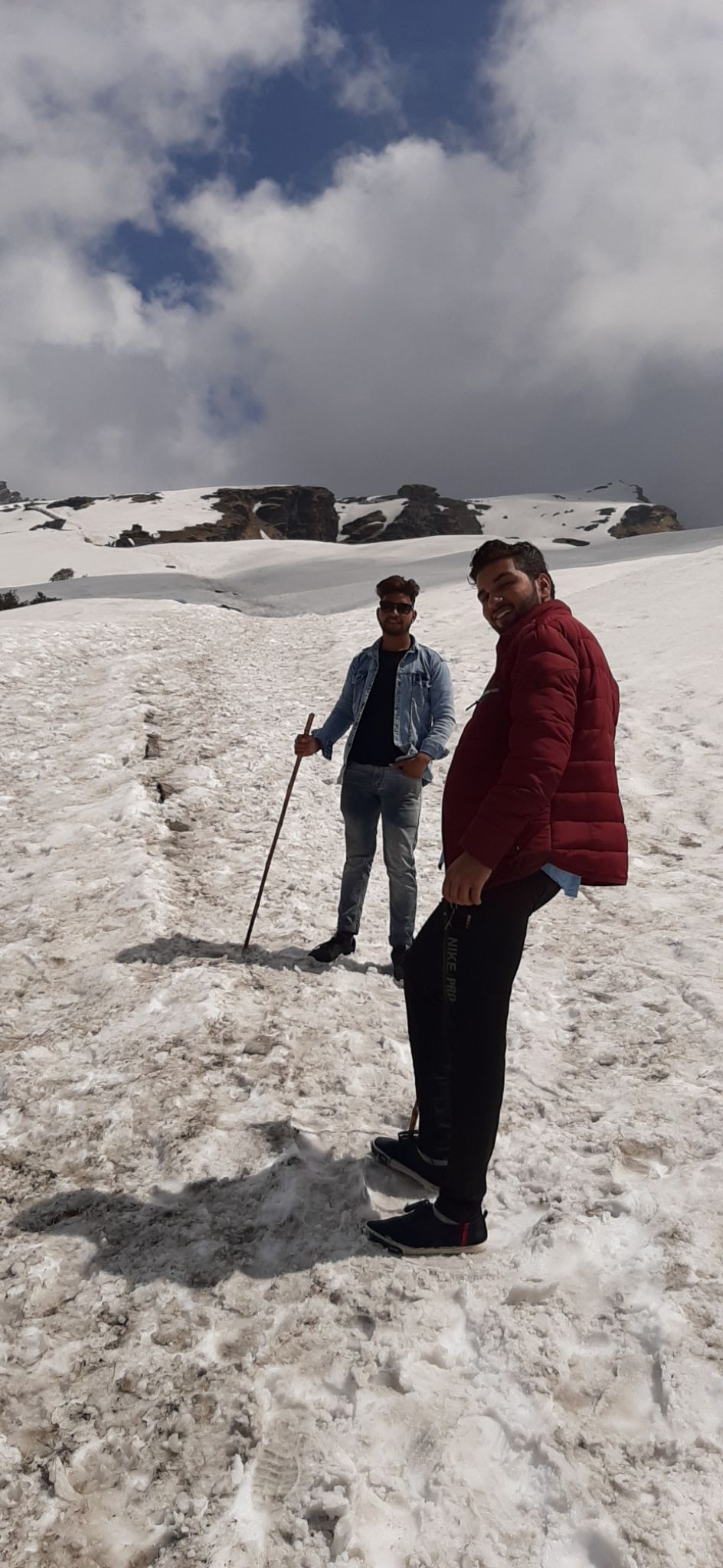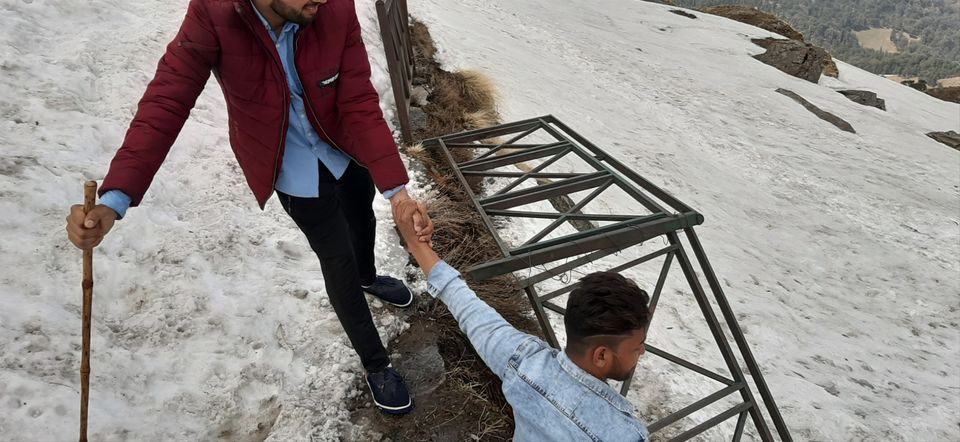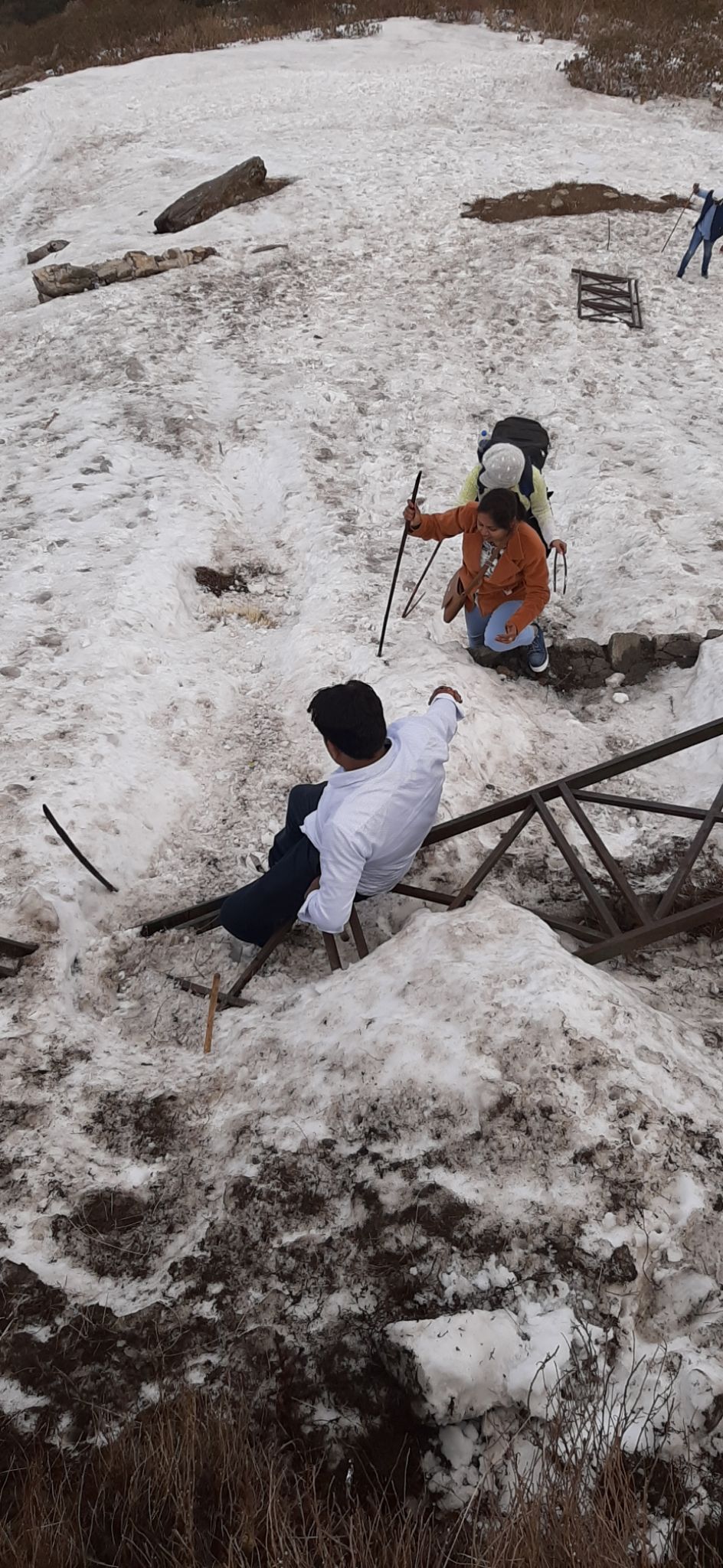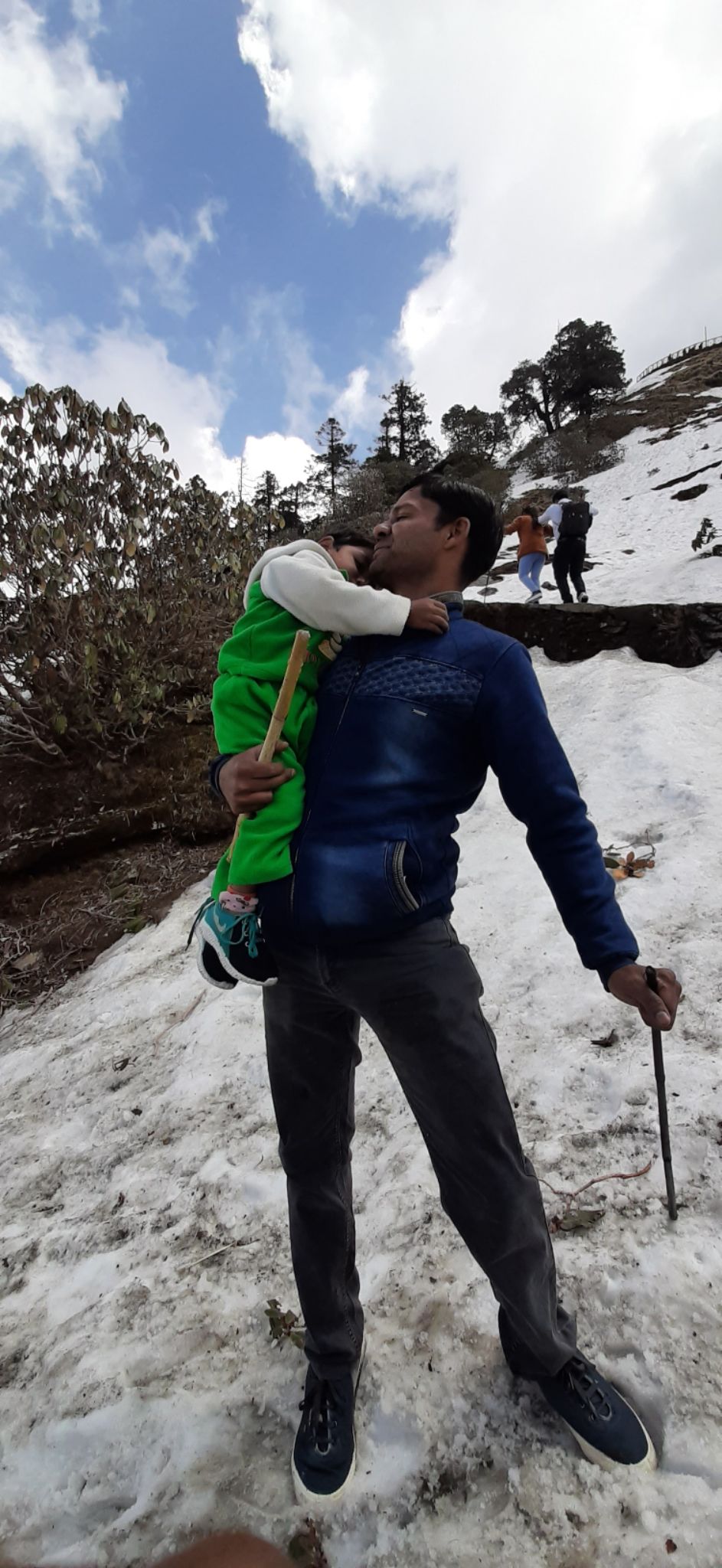 we can also go to chandrashila trek but we do not have time .
The view from temple it was appearing like Switzerland of India ..
Then, I told you that there is no way to climb and  come back then we start sliding and slowly slowly we came  back to chopta .
Then guys we changed and had tea maggy around INR 250 .
There after , we start our bike and reached RUDRAPARYAG filled  petrilol in our bike and because we had to taken our helmet from those motel where we had luch yesterday we left our helmet by mistake then reached Shree nagar at 8 PM then there we had dinner .
Finally 2 or 3 stop from chopta we reached Dehradun 3 am mid night we off to Dehardun at 4 PM from Chopta .
This our journey guys ..... only just around INR 2600 .
Bike consumed petrol just INR 1500 per bike .
I written this article first time so if I did any mistake in this article so sorry please..
My what's up no is 7060708912.
You can vedio at Instagram  Deepak babra
https://www.instagram.com/p/Bw6zjs3lmPEx7h2-bDVZrcd64vmgEheLBUwBrE0/?igshid=osjt5ym07iic
You can see vedio guys also ..... link is given above