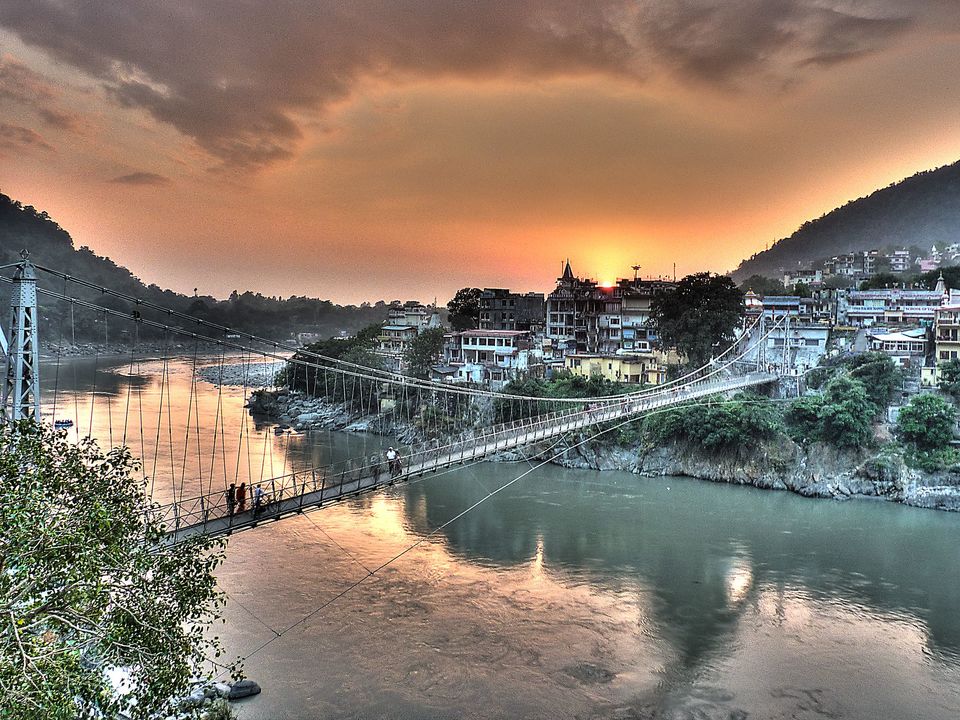 Wanting some adrenalin pumping through our veins, and having explored the most daring adventure sports near us, we decided to go for the all India famous "Bungee Jump" in Rishikesh.
Rishikesh is a good five-hour drive from Delhi. We started at 3 am in the night and reached there around 8:30 am. We quickly checked in to our camp and left for Jumpin Heights. Once you reach the venue, you will be charged an entry ticket of INR 100 per head (don't know what this is for, when you have already paid quite a good amount of INR 3550 per head for the jump.) They give you all the safety guidelines, make you sign a form that if anything happens to you, you are insured :P (don't be scared, the difficult part is yet to come) and ask you to keep all your valuables like mobile phone, wallet, etc in a locker (thankfully this is not chargeable separately.) Once done with all the formalities, you are required to head to the jump point. It is approximately 400 meters down the reception area.
Trust the instructor when (s)he asks you to not look down, especially if you fear heights. We saw many people come back from the jump point. You're standing at a height of 83 meters from the ground, which may not sound like a lot while reading this, but standing there looking down, you'll feel the earth slip from beneath your feet. No matter the confidence or i-have-no-fear-of-heights attitude, the feeling will stay with you till you make the jump. The longer you stand there, waiting for the perfect moment, the lesser is the probability that you'll make the jump. Just go there, look down (only if you want to), count to three and jump. NO THINKING!!
After the jump, you need to do a mini trek of about 15-20 minutes up the hill back to the main reception area. Here, you'll be shown the video of your jump and you can buy the video or printed copy of any screenshot from the video. The whole video costs INR 900 and per photo cost is INR 200.
Note: Make sure to book the activities online in advance, because you may not get the booking directly at the venue. They do only a limited number of jumps in a day. Also, in the rush season (summers), people line up at the reception in the morning as early as 7 am, though it opens only at 9:30 am. So, plan well ahead, or you may have to wait at least 4 - 5 hours in the queue.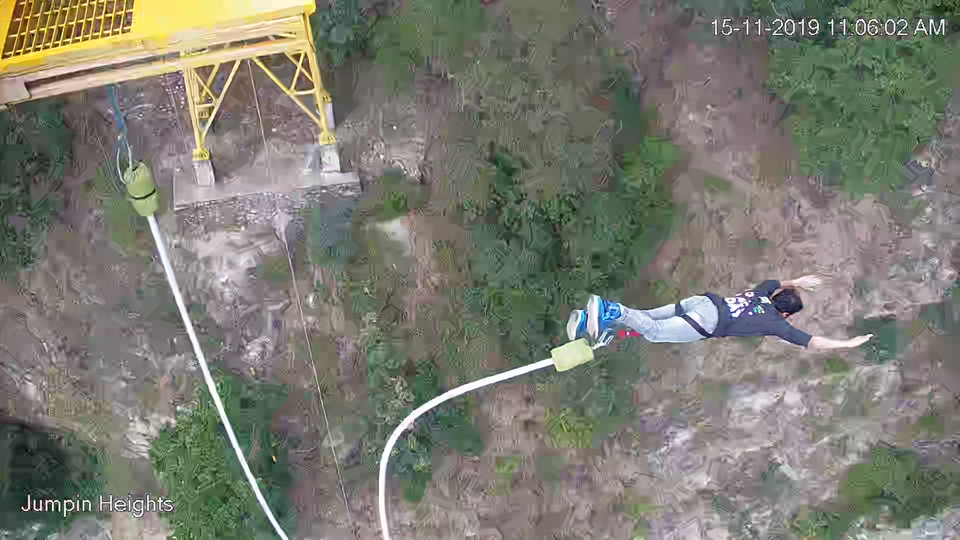 It was around afternoon when we reached back to our camp. We stayed with the White Swiss Resorts (not so much of a resort, but a decent stay for a camp.) No matter the camp/hotel you choose to stay with, make sure to enquire about the parking facilities if you're visiting the place on four wheels as that is a big problem here. Our camp charged us INR 1700 per person for one night's stay. This is inclusive of the river rafting charges that they organize via a registered rafting company. You can choose to do rafting separately as well, which comes up to around INR 800 - 1000 per person.
In the afternoon, we visited Laxman Jhula. Laxman Jhula will be closed soon, for some renovation work that needs to happen. Vehicles have already been stopped from going on the bridge.
The added benefit of staying in the camps is that you get to do bonfire at night in the cold breeze with nice music, and a chance to connect with people visiting the place from all over the globe. Plus, a host of some other activities like volleyball, cricket, etc add on for a good time pass.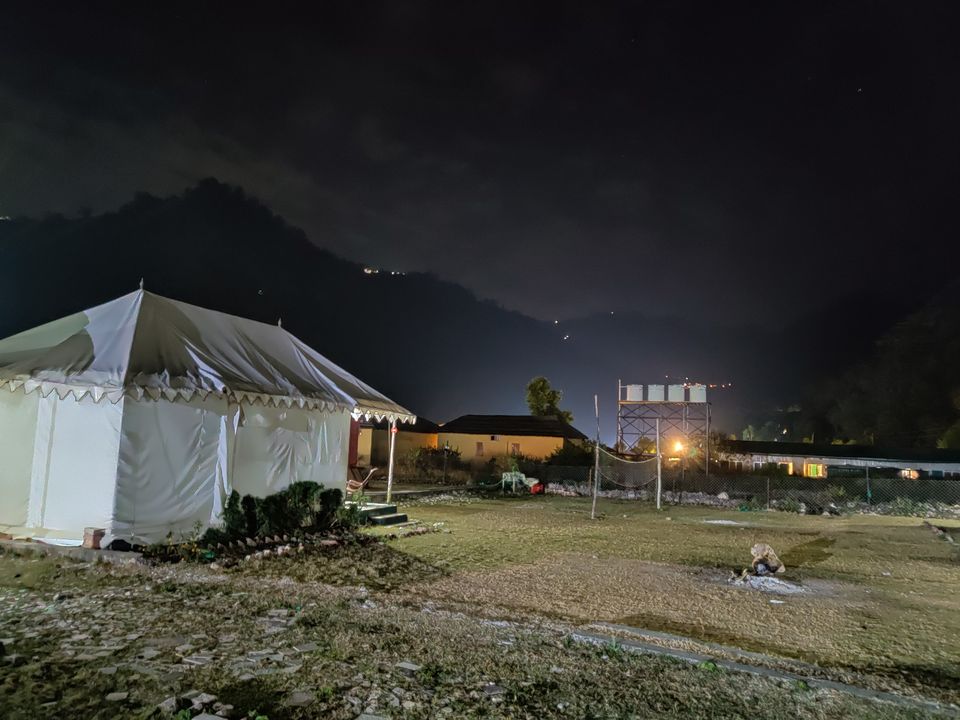 We checked out from the camp the next morning around 9 am and headed straight to our river rafting agency. We had signed up for a 16 km rafting starting in Shivpuri. Once you have signed the necessary forms (yes, the same forms I had mentioned before the bungee jump above), they will take you to the starting point in their vehicle. Once there, you will be taught some basic movements to paddle the raft and what-to-do-when-shit-happens things. You'll go through some tough rapids (strong movement of water) during the journey and may even fall off the raft also. But make sure to not let panic take over. That's when shit happens.
Close to the end, there is a Maggi point, accompanied by a cliff around 10 meters above water level. You may choose to jump off the cliff here (no ropes this time.) Again scary, but a phenomenal experience. Once done with the cliff jumping, have that Maggi and tea here. This will be your "Rafting wali Maggi" moment. They will taste extraordinarily good after all the hard work you put into rafting. The Maggi costs INR 50 per bowl and the tea INR 20 per cup.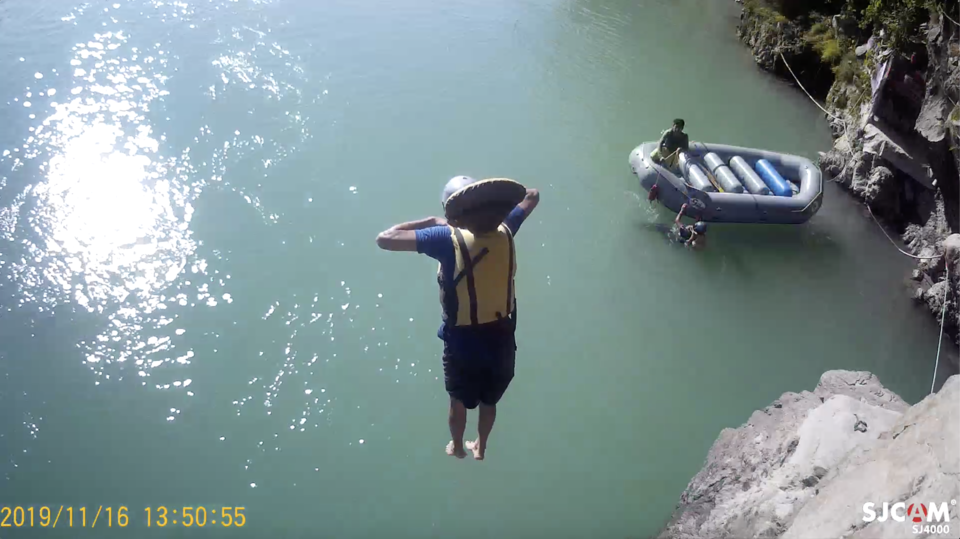 PS: You may feel soreness in your muscles the next day from all the paddling. But that's okay. Some raft guides will take your photos and videos along the way and you will have an option to buy them later after reviewing them.
Done with the Bungee jump and River rafting, we asked ourselves, why stop here! Since we were in Uttarakhand already, we decided to visit Mussoorie and Haridwar on the way :D
I'll write about our experience there in the next part. Stay tuned.