It is not very fashionable these days to travel with your own family, leave alone your cousins. Well, now that I have been a part of one such trip, I definitely know it is the experience of a lifetime. Eight years back I had the privilege of travelling with my entire paternal family( a bunch of 23 people) to one of the most beautiful destinations of India- Uttarakhand
The Char Dham Yatra
We started our journey with the pious city of Haridwar, where all of us met after a very long time. That evening we all went for the aarti on banks of Ganga, saw a huge crowd , lit up lamps and people chanting mantras and sailing diyas across the river. Next morning, we all took dive in the shallow waters of the Ganga (it was like a pool party with your cousins, believe me) and before leaving Haridwar I had the simplest yet the best Indian Thali in my life in a restaurant-like setup called Soni Bhojanalay.
For remainder of the journey, we had hired a bus since it was the only mode of transport that could have carried 23 people across the terrains of Uttarakhand. Our first destination was Yamunotri. As the name suggests it is the source of the river Yamuna where one could visit the respective temple and catch a glimpse of the actual glacier but getting there was a difficult task as buses would go only upto a certain extent. After that it's all beg, borrow, steal. Literally! We needed to stop the local SUVs, push our way through other tourists to get into the car, pay them and then we would finally reach the starting point of the Yamunotri trek- Hanuman Chatti. Imagine how difficult it would have been for 23 people to finally assemble at one place after that ride. From Hanuman Chatti is was a 13 km trek to the temple. While the eldest ones in our family sat on a palki (palanquin), younger ones on pitthu(baskets on the back of sherpas), most of us took a ride on horses and ponies, rest were set on foot. Even though I didn't trek that day, a pony ride is a unique experience altogether, you save your head from hitting the rocks, you have a fear of slipping on wet routes and steep slopes. The route was very scary- mountain ridges on one side and deep trench like feature with river rapids on the other. We somehow made it to the temple and witnessed the beautiful glacier too. On our way back, some of us, who were on foot,got lost (including my own mother) as a thunderstom started and suddenly it all became very dark. It may sound like a movie but that's what happened and after a lot of anxious waiting they finally found their way and we all united again, comforting ourselves with the Maggi provided by the dhaabas nearby.
Further that night, when we finally arrived at Garhwal Tourism guest house at a place named Phool Chatti, a bonfire awaited us in this beautiful dormitory guest house( yeah, that means all cousins together in one room), surrounded by mountains on all 4 sides and a cloudy yet starry ceiling. We all sat together around the bonfire after recalling all our childhood memories for hours, we literally had put our feet almost in the bonfire as it had become numb from all the trekking and chiding cold weather. It really was an unforgettable night.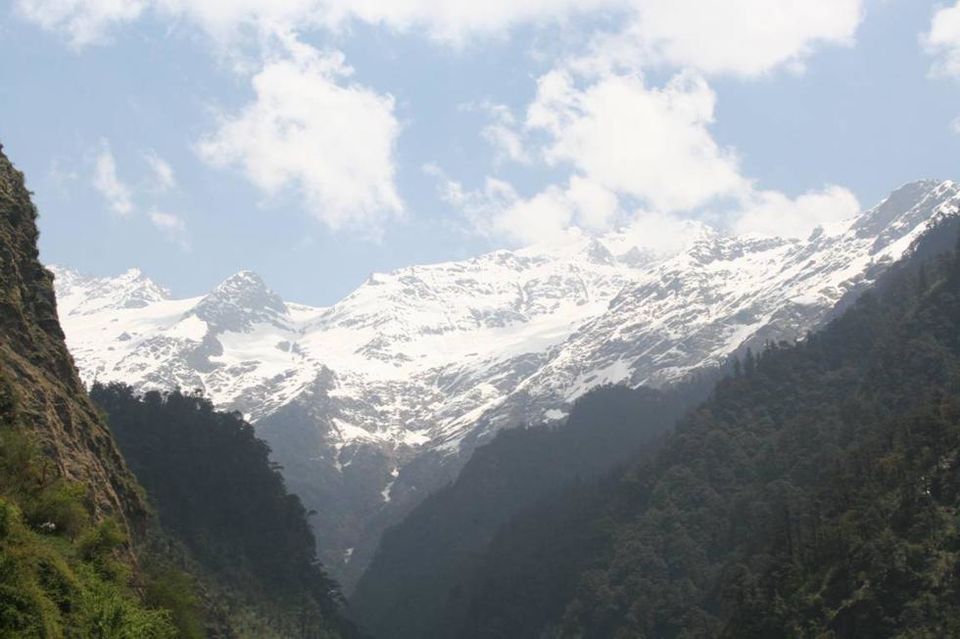 Next destination in our journey was Gangotri, the source of the river Ganga. After our scary yet exhilarating experience in Yamnotri we all were pretty excited, knowing not what awaits us. On our way to Gangotri there were a few night stops which we spent in the Garhwal tourism's guesthouse in towns like Chiniyarisone and Guptkashi but our final night hault before reaching Gangotri was suppose to be in a place called Lanka but it didn't happen. Here's why: While we were heading towards Lanka, it started raining incessantly . There was a jam on the road for a couple of hours and we could see the mountain soil slipping away. But, what finally got us to panic was a landslide which took place just two vehicles ahead of us. All of us were very scared as to what would happen next and then most vehicles behind us took a detour and so did we. Our bus stopped outside a dhaba which we had crossed earlier that day. Since, it would have been a risky idea to stay in the bus all night(owing to the landslide and low temperature), we went to the dhaba. The owner offered us two rooms, which were not more than the size of a small garage. All 23 of us somehow spent the night in those two rooms which did boast of a big old blanket( although, it was completely damp) but didn't own a door. No one actually slept that night. We all were laughing as we could not believe this is happening and trying to shift our focus from the present scenario, we were discussing old stories, but deep inside we were all a little frightened.
Somehow, that night passed. We sat in the bus early morning, finally reached Lanka, had a chance to freshen up but the water was unbelievably cold. After a thrilling experience in the past 24 hours, we reached Gangotri. There, in clean mountain water we washed our legs, soothed our souls(it really was spiritual) as we entered the temple premises. After all that we had been through, reaching Gangotri was totally worth it. It not only looked pure, it felt pure.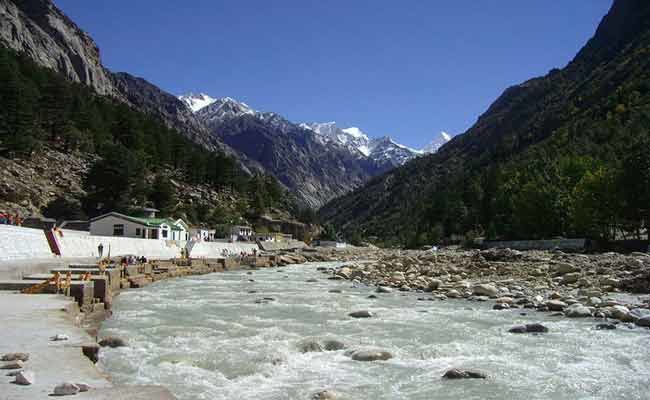 I am not a very religious person nor am I very close to all the family members, but this journey made me realise that in times of trouble, family becomes your biggest support and that Maggi is a life-savior in the mountains. Though, I lost most of the pictures of the journey, the memories still find a place in the heart.
Halfway down but the rest of the 'yatra' awaits...
#himalyas #garwhal #chardham #yamnotri #gangotri #familytrip #takemetohampta #TripotoTakeMeToHampta