All of the ardent Shiva devotees know that Lord Shiva's abodes are one of the most scenic and captivating places of all and almost all are high on the difficulty level to reach.
Having said that Tungnath is the highest of his abodes in the world towering close to 12000 feet. Tungnath is one of the 5 kedars the others being Rudranath, Madhyameshwar, Kalpeshwar and Kedarnath.
The most famous legend of the panch kedar or 5 kedars as we say it is that sage Vyas Rishi advised the Pandavas that since they were culpable of slaying their own relatives (Kauravas, their cousins) during the Mahabharata war or Kurukshetra war, their act could be pardoned only by Lord Shiva. Consequently, the Pandavas went in search of Shiva who was avoiding them since he was convinced of the guilt of Pandavas. In order to keep away from them, Shiva took the form of a bull and went into hiding in an underground safe haven at Guptakashi, where Pandavas chased him. But later Shiva's body in the form of bull's body parts rematerialized at five different locations that represent the "Panch Kedar" where Pandavas built temples of Lord Shiva at each location, to worship and venerate, seeking his pardon and blessings. Each one is identified with a part of his body; Tungnath is identified as the place where the bahu (hands) were seen: hump was seen at Kedarnath; head appeared at Rudranath; his navel and stomach surfaced at Madhyamaheshwar; and his jata (hair or locks) at Kalpeshwar.
If you have not started with your Shiva destinations then this place can be a great start.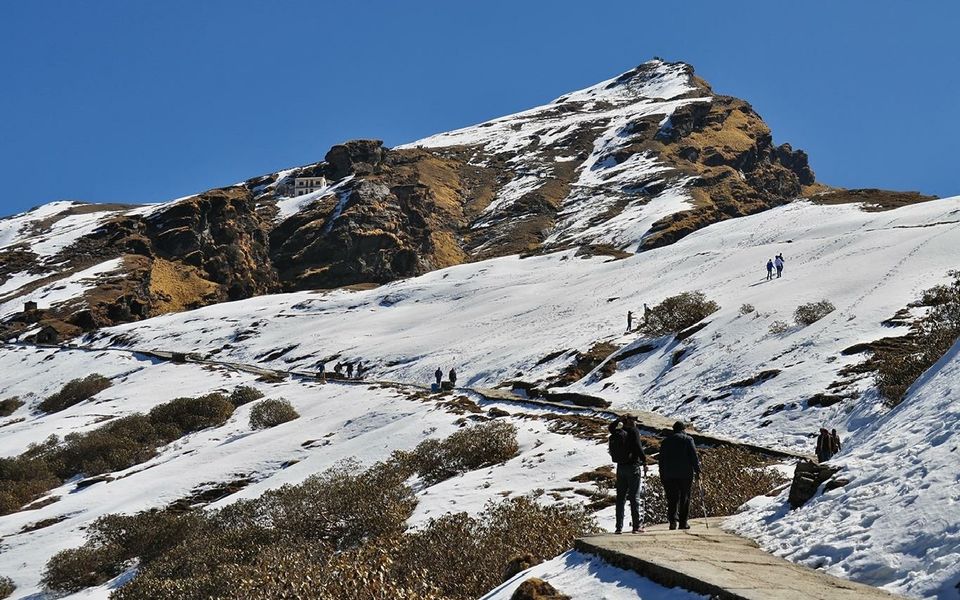 The trek to Tungnath is a meagre 3 km and can be considered to be the easiest of all Shiva abodes. It starts from a place named Chopta. The entire trek is surrounded by beautiful views and scenic mountain tops covered with snow and glistening under the sun giving them a golden like glow.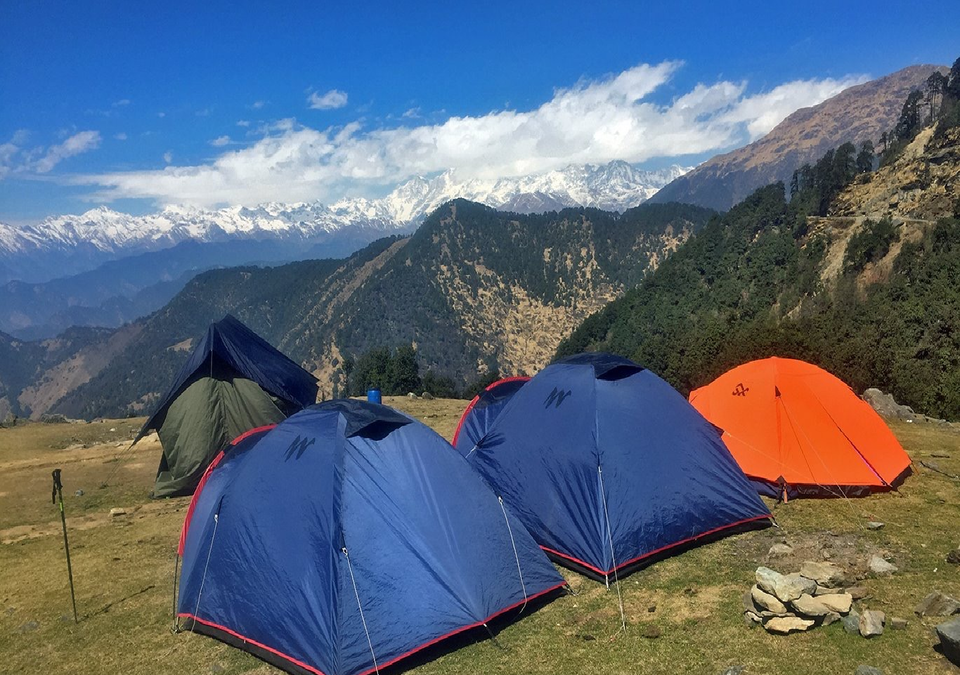 The entire path is beautifully paved with stones and steps and at each corner there are pedestals for the pilgrims to sit, eat, take pictures or just enjoy the view and catch up some lost oxygen.E
The temple itself is made up of stones and is a very basic structure nothing fancy. The temple resembles that at Kedarnath and almost all of the 5 Kedar. The priest will explain you the importance of the place and will perform Pooja for you post which you can enjoy the view and the soak in the positive vibes around which will surely give you a new found energy and zeal.
Once you settle in to the place and the weather you can also trek up till Chandrashilla which is another steep 1 km trek with no paved stone roads or marked directions. In the snow it becomes further difficult as you will have to maintain a balance on the steep ascend so that you do not end up slipping. At many points you may just find enough space to put in a foot and there my friend the skills of our great ancestors The Apes will come in handy so do not shy to use all your limbs to pull yourself up till your destination.
Chandrashilla is at a height of 4000 metres and it is the point wherein you are even above the clouds. The sunrise is not to be missed at Chandrashilla for anything.
Chandrashilla offers you breath-taking views for amazing photography sessions but please be careful while taking selfies as one wrong move can prove fatal.
The entire trek of Tungnath Chandrashilla as it's called can be defined as filled with awesomeness and adventure.