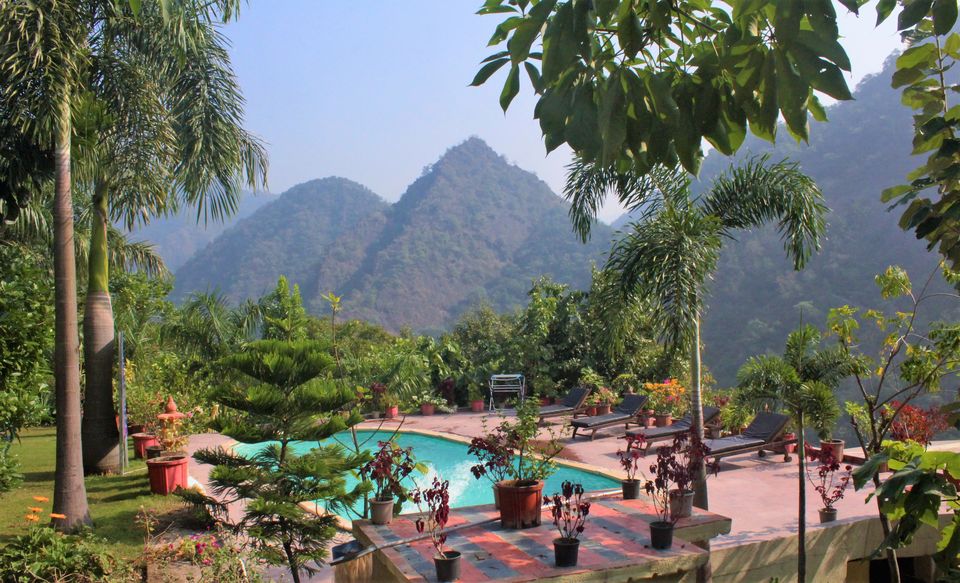 With so many long weekends this year, you cannot afford to waste your time lazing at home! Make good use of the holidays to whisk your family away from the city, and rejuvenate your tired mind in the midst of nature.
If you live in the North, especially in Uttarakhand, you have the majestic Shivalik range of mountains and the Ganga to escape into!
When I had a few days to spare from my corporate job, I caught a flight to Dehradun and headed to Raga on the Ganges in the Tehri Garhwal region of Uttarakhand to relax my senses and remember what it feels like to breathe fresh air and feel the cool waters of India's most loved river. The waters of the Ganges are quite clean up here as they haven't yet been polluted by religious rituals, as is the case further down in Varanasi.
I was at this luxurious hideaway for 2 days, and my stay coincided with my marathon (a 15 kilometer run to be honest) in Rishikesh. I truly am glad that I could return to the comfort of this resort after a long and tiring trail run in the morning. This property is among Amritara's boutique luxury retreats spread across India. One can easily see Amritara's touch in the courteousness of the staff, their uniform, the stationery and the bath products, which remain consistent at all of their hotels.
The Room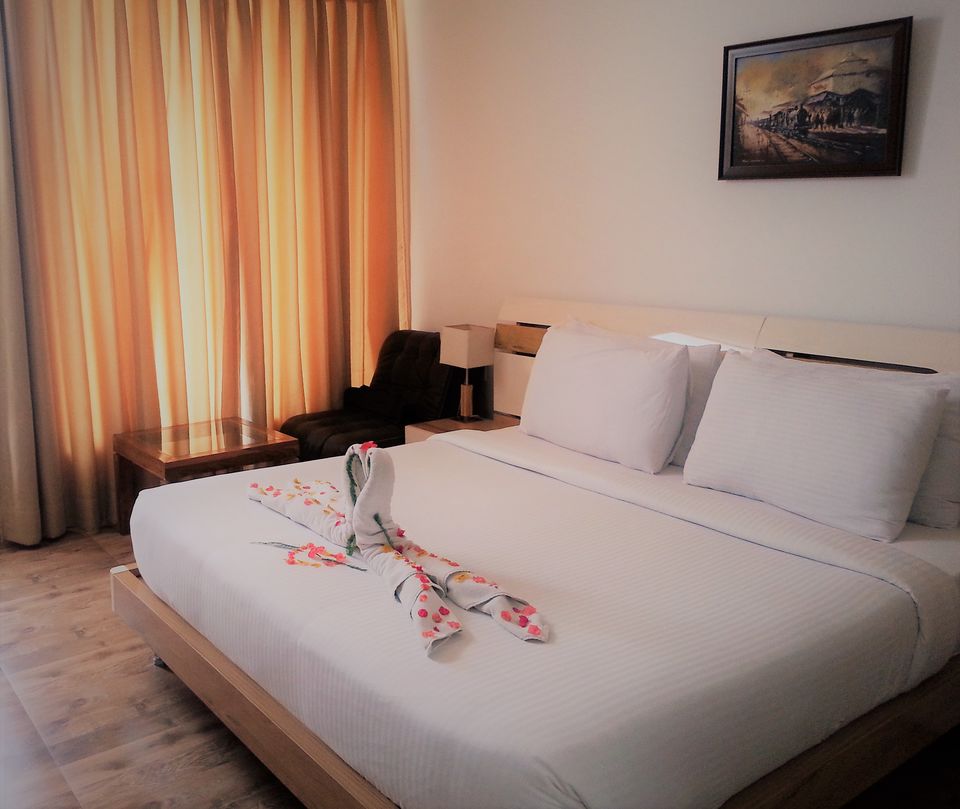 Raga on the Ganges has 3 types of accommodation - standard rooms, log huts and log cottages. The log-rooms are fully done up in wooden logs which make the place appear very cosy. They're also more spacious as compared to the standard rooms. However, there are no more differences in the room types.
There is wooden flooring, French windows and a deck outside each room. The beds have thick mattresses for more comfort, and the closets are stocked with bathrobes.
Sundecks With Panoramic Views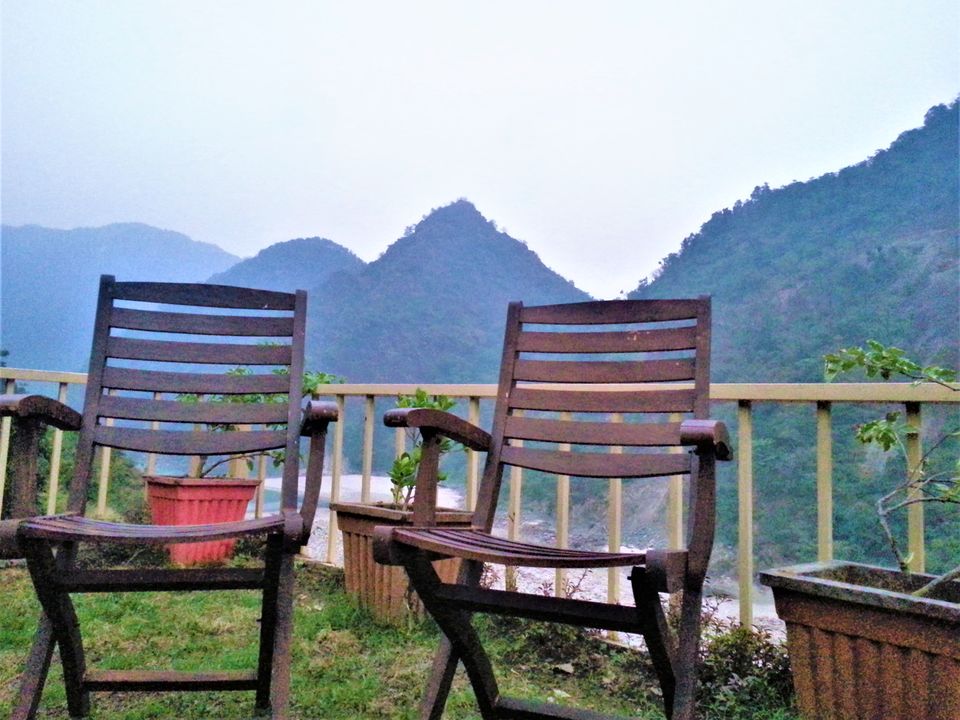 Perhaps the best way to while your time away at such beautiful places is to sit still and take in the splendour of nature. This Amritara resort offers bounteous views of the Outer Himalayas and the valley where the River Ganga flows with its constant burbling sound. Even the sandy banks are visible from up here, where you might catch a few campers setting up their tents.
A Pool With The Waters Of The Ganges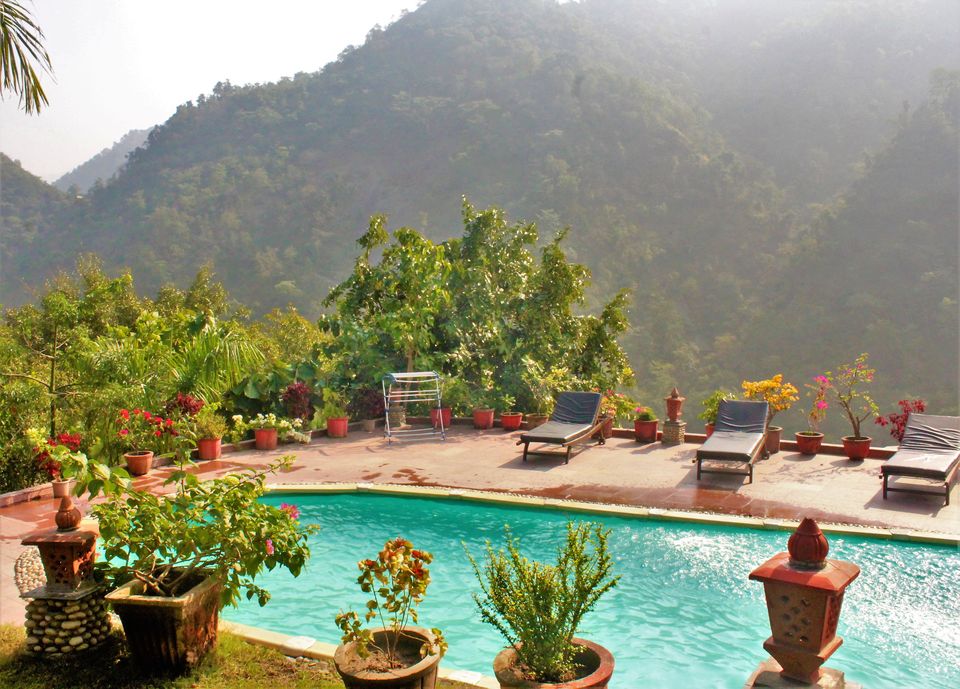 For religious reasons and otherwise, many wish to bathe in the Ganga. When you stay at Raga on the Ganges, you need not go all the way down to the valley to take a dip in the waters which are assumed by many to be holy. This resort pipes up the river's water to the swimming pool! It is not just the pool that gets this unusually coloured water though. The water that flows through your bathroom faucets and shower are also from the Ganges!
The pool proffers some stunning sights of the mountains. There are a few sunbathing beds for those who are not so keen on swimming.
Garhwali Cuisine For The Foodies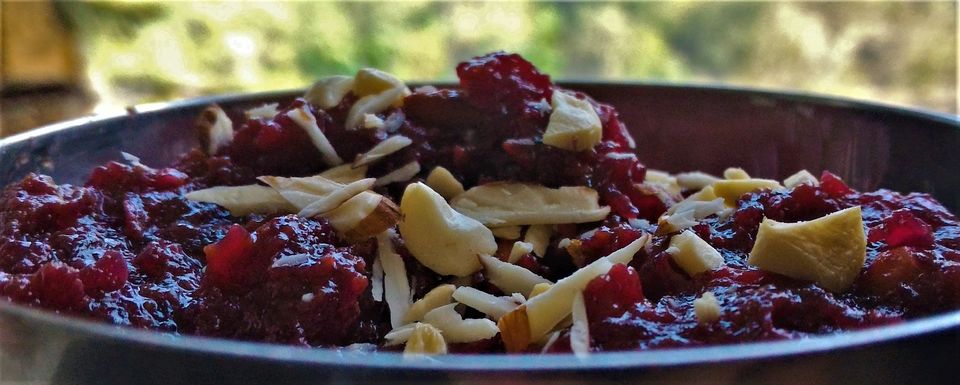 If you regularly read my articles, you'll know what a gourmand I am. During my 2 days at this place, I made the chef prepare new items for every meal. I particularly enjoyed the fresh Garhwali vegetable preparations and the decadent desserts. You should know that alcohol is banned in Rishikesh, owing to its status as a 'holy' city. However, you will be able to drink at this resort because it's situated just outside the borders of Rishikesh - beyond Byasi, in the village of Singthali.
Even if you prefer room service for dinners, I'd suggest that you have your breakfast and lunch at Tarana, if only for the breathtaking views from this glass-walled house-restaurant.
Chai On A Sliding Table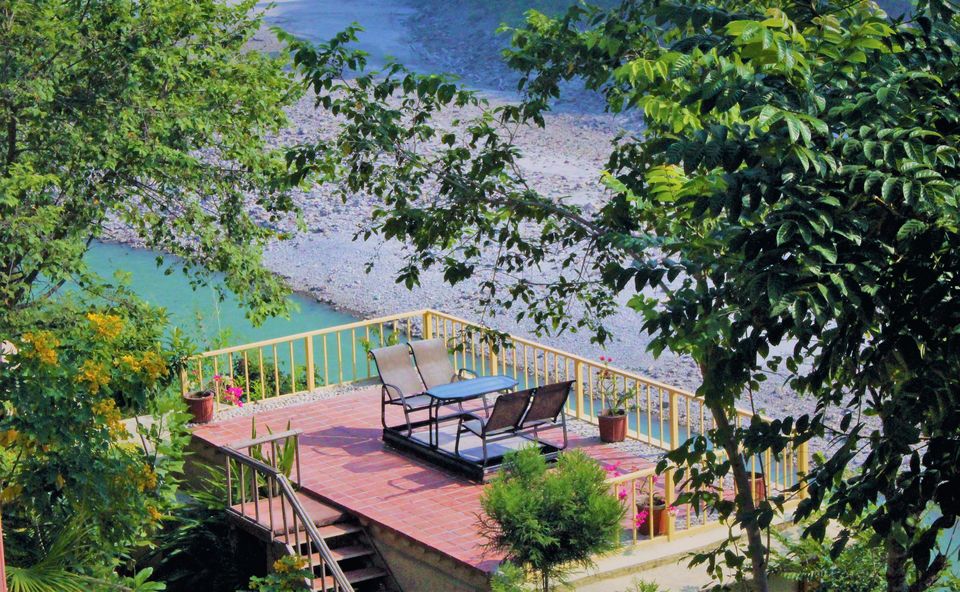 Of the many terraces that Raga on the Ganges has, my favourite is the one with a coffee table and 4 reclining chairs that sit on a sliding surface. I would spend hours sipping coffee and sliding to a view as captivating as it could get. There are still others where it's possible to lay down some mats and do yoga, or those with nets for a game of badminton.
Ayurvedic Spa For Revitalization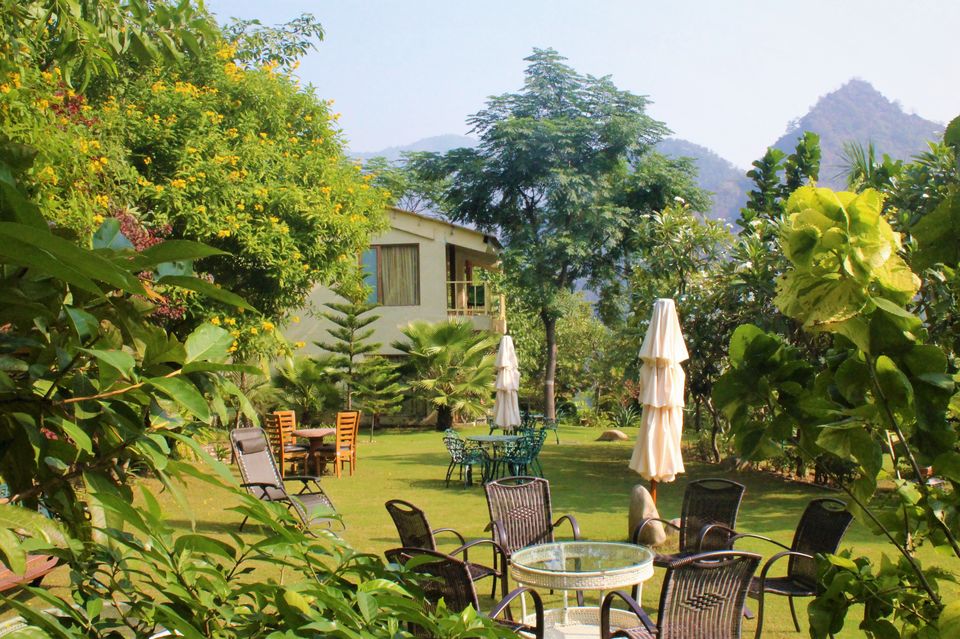 At the Teertha Spa, run by Kairali Ayurveda, you can indulge your body in 5 types of massage therapies, 4 types of body therapies and 2 types of facials. The prices for these treatments range from INR 1250 (for a 30-minute Revival Facial) to INR 3000 (for a 45-minute Exotic Ayurvedic Scrub).
Therapies aside, you can unwind at the Jacuzzi or sauna as you take a steam bath.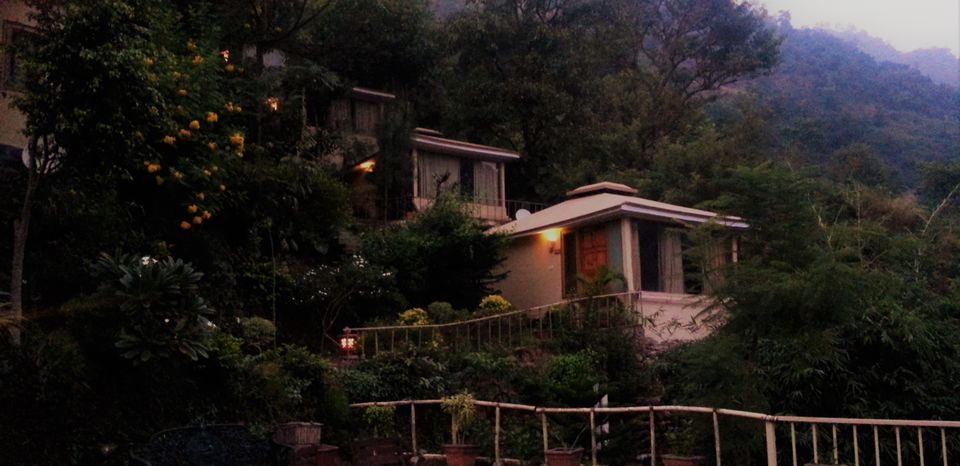 Activities On Your Exotic Getaway
Spa vacations may not be everybody's cup of tea. For the adrenaline junkies, there's Rishikesh's famous white water rafting which takes you through up to 15 rapids ranging from level-1 to level-5 as you negotiate over 19 kilometers of the river. For a slightly milder form of adventure, try canoeing over stiller waters, or rappelling down the vertical rocky surface of a hill. There is plenty to explore in the Himalayas, and mountain biking or hiking are the best ways to do that.
If you have come here just for the Ganga, ask a kind staff member to escort you down to the valley via the exclusive trail on the hillock which holds the resort. Then you can spend your evening sitting by the Ganges.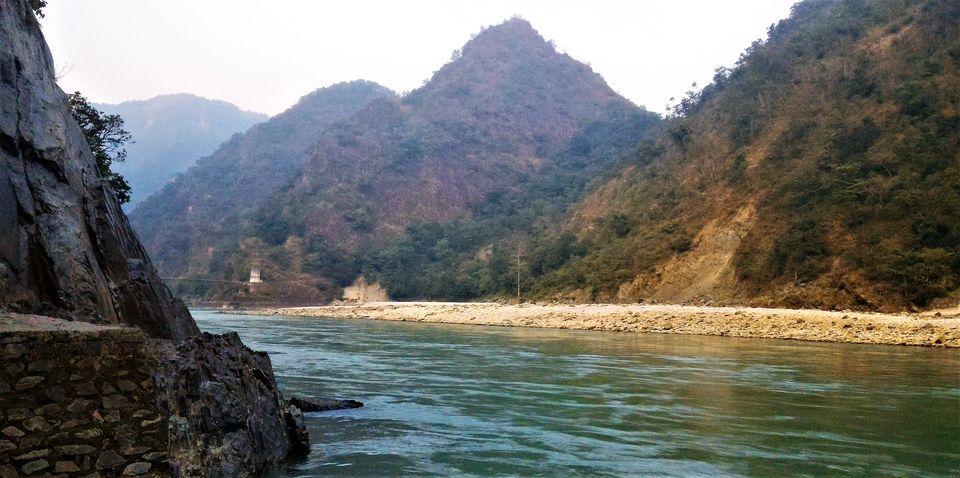 Read about more such unique hideaways on my travel blog - Oindrila Goes Footloose. I also share pictures and poems on Instagram, Twitter and Facebook.
How To Get There
By Air
The resort is 53 kilometers from Dehradun Airport, which is the nearest airport you can fly into. The road journey from there takes about an hour and a half.
By Train
Rishikesh is the closest railway station, about 35 kilometers from Raga on the Ganges, which is 80 minutes by road.
Tariffs
For their continental plan which includes complimentary breakfast and welcome drink, per day rates are as follows as per the room type:-
Standard Rooms:
INR 7,500 + GST
Log Huts & Log Cottages:
INR 9,500 + GST
Frequent Searches Leading To This Page:-
places to visit in uttarakhand in January, auli uttarakhand, solo trip to uttarakhand, uttarakhand in September, offbeat destinations near rishikesh