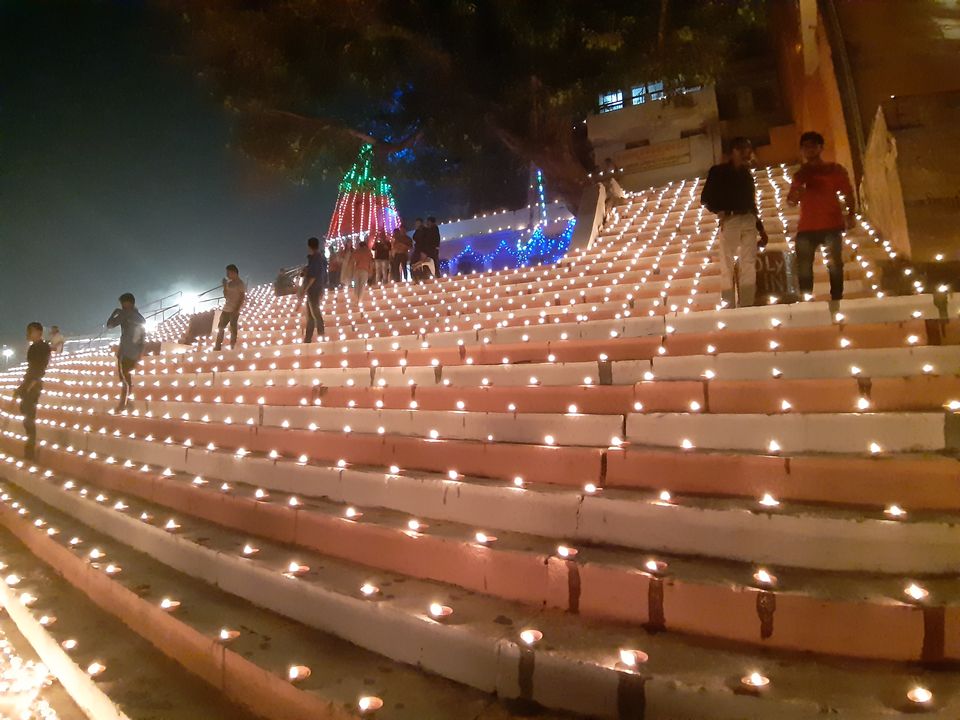 We took a morning intercity bus from Lucknow. It took us an entire day to reach Varanasi (wish we had booked a train). We got off in the middle of nowhere alongside a flyover and got into a rickshaw. Our maps indicated heavy traffic jam on all routes. It took us 45 mins to get to our accommodation at HosteLavie, Varanasi; which on any other day would take us only 8 to 10 mins. The lanes to the hostel were so narrow, that we had to walk for more 10..15 mins. We finally made it to the hostel. It was barely an hour in Benaras and we were loving the narrow lanes.
Today was the festival day, and is considered to be the most auspicious day to take a dip in the ganga on dev deepawali. We realised this when we set out at 4 : 45 a.m. in the morning to attend the very famous ganga aarti. There was already a massive crowd gathered by the ghats. Soon after the aarti we took a boat ride, that took us from the Assi Ghat to the Varuna Ghat. We watched the sun rise, fed the sea gulls, clicked a few mandatory pictures of our boat ride. We observed all activities that were happening along the ghats of Ganga.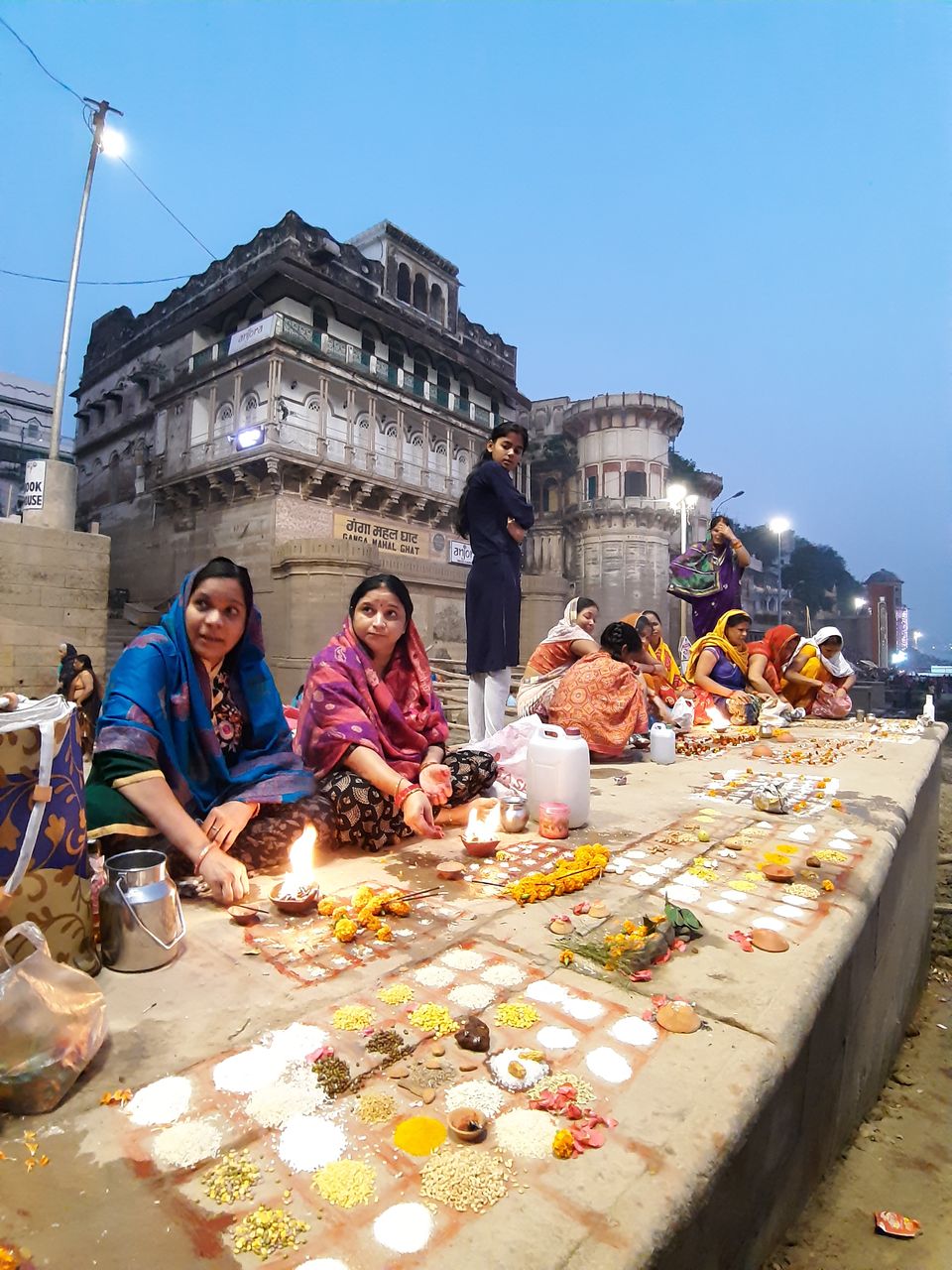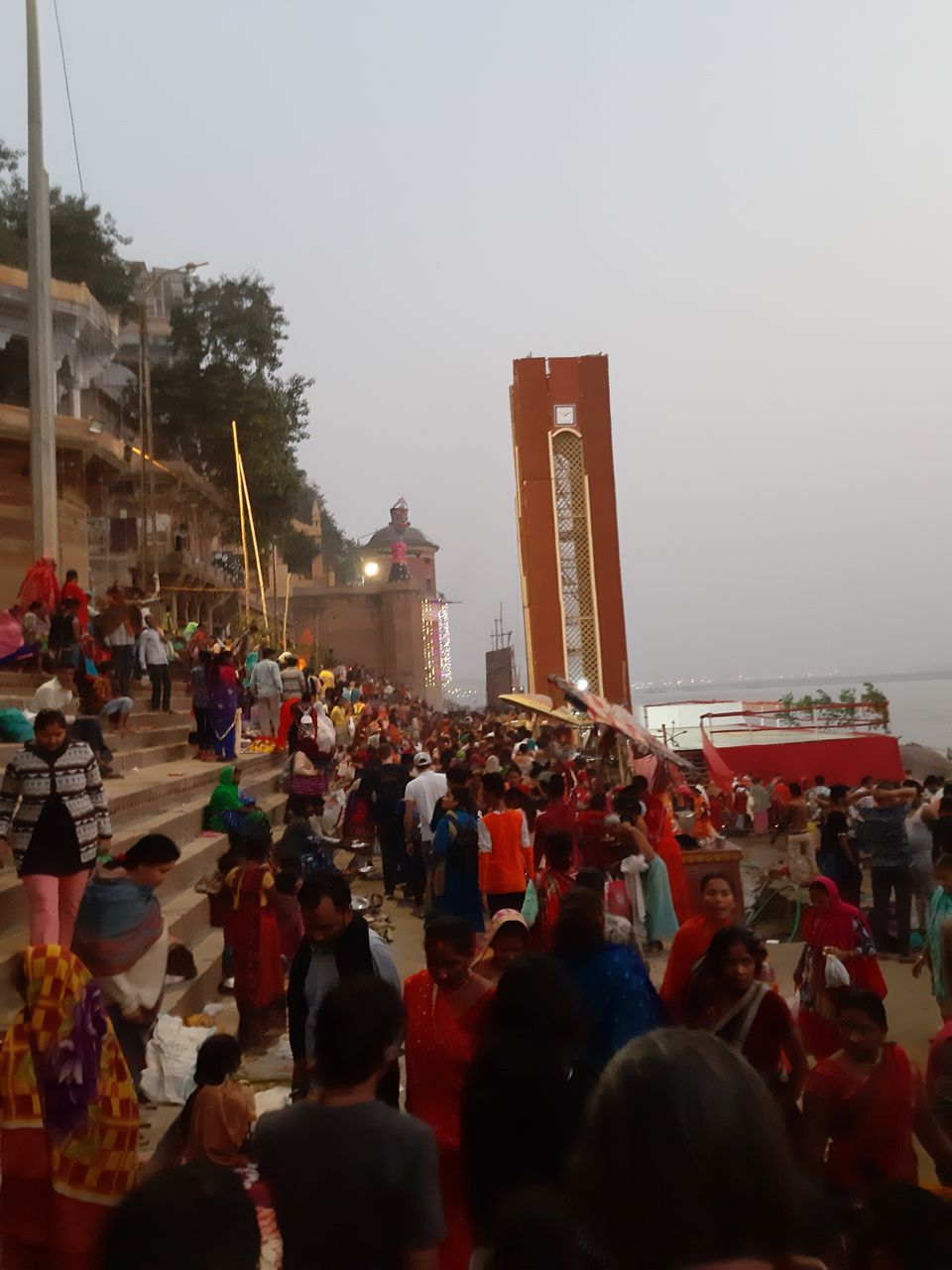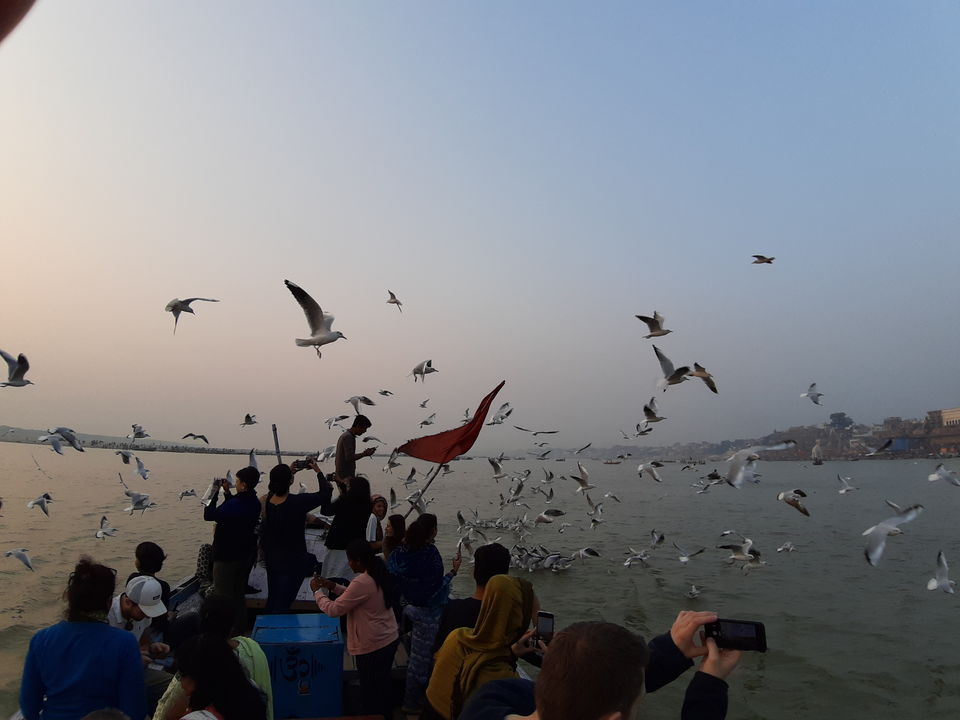 The next day we left a bit early despite of the hangover of our previous days walking. We visited Sarnath and then headed to explore pili kothi. Pili Kothi is a small cluster of weavers, in Benaras. We met Sohail and his brother and they took us to their home and explained the hand loom as well as the power loom to us. Also coding and decoding the graphics into the thread patterns was another kind of rocket science that absolutely skimmed past my mind. We spent quite a lot of time with them understanding it though. The next time we buy a hand loom sari, we surely know what we have paid for, and how many people put their mind and effort into it. Its almost insane. The kind of patience you need to have to weave thread by thread in unimaginable.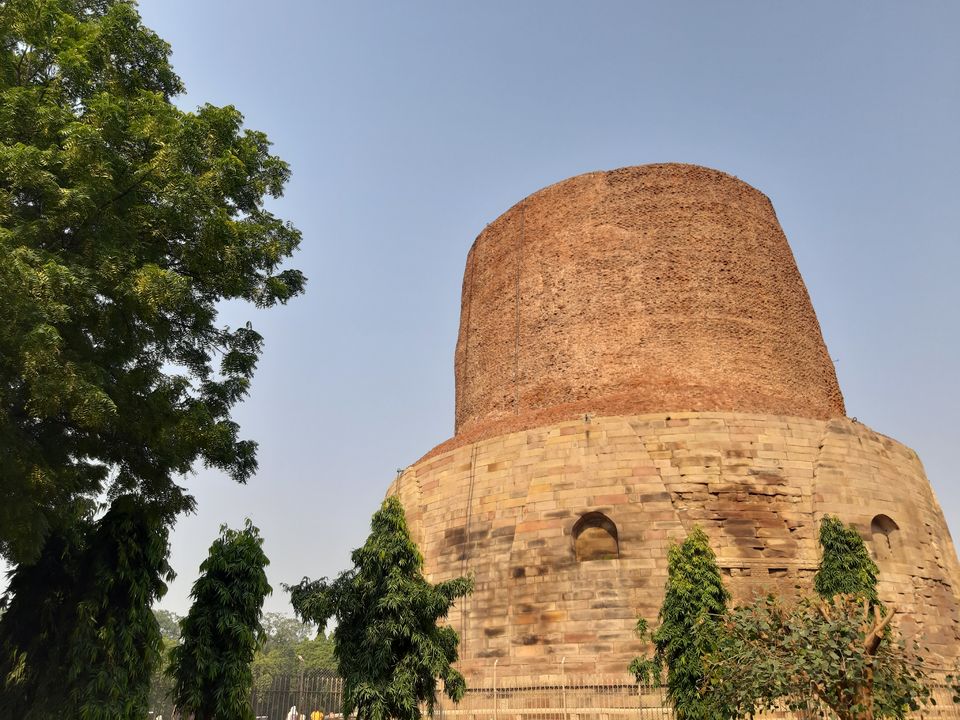 It was something I'd never imagined. Ladies, young girls, old ladies, men, children, literally every family member taking 'that holy dip' into the river. It was a matter of sheer belief. The crowd here was unbelievable, the chaos was beyond what I'd seen on a platform for the Mumbai locals. We began doubting our ability to dodge this crowd in the evening. The boat ride was about an hour and a half long, and the weather was pleasant. It was indeed a very good morning.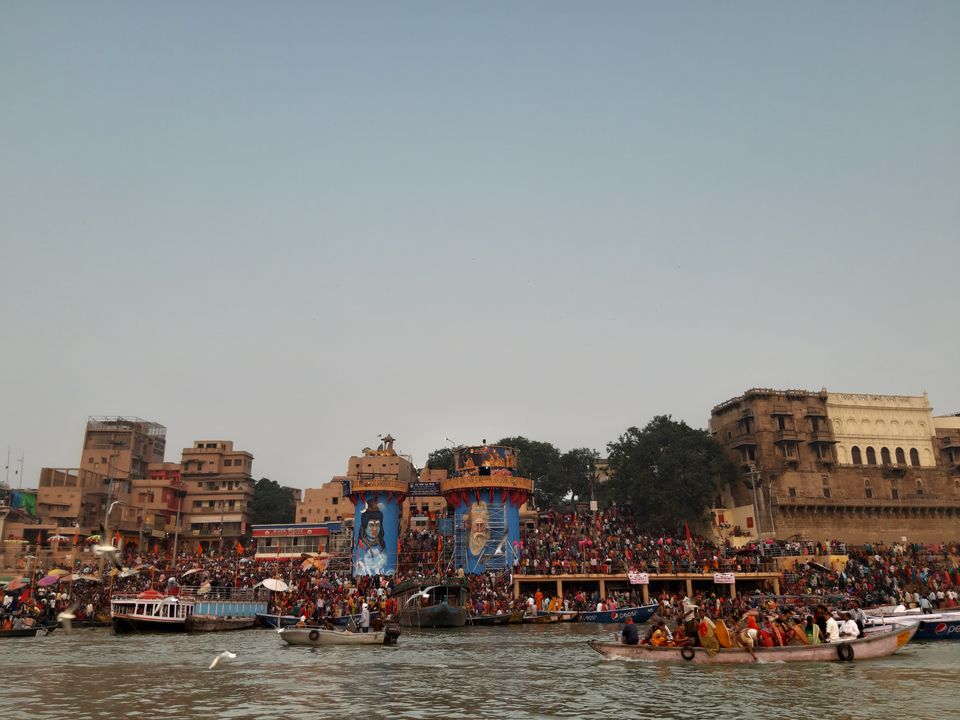 After the boat ride, we walked down some lanes and had the most commonly served breakfast in Varanasi, puri subzi and jalebi and then spent some time at the chai ki tapri, talking to the locals. We kind of lost track of the time. More than half the roads were blocked, rerouted, or jammed. So we walked quite a bit, and got to the Kashi Vishwanath temple. The line was LONG, almost a kilometer long. So we skipped that, and just kept walking. All we did that day was walk aimlessly along the streets, watched the crowd, and realized that no sight seeing is happening whatsoever. We happened to wander towards Manikarnika Ghat while we were searching for Blue Lassi, the next moment we found ourselves dumbstruck, standing at one corner, watching people carry dead bodies down to the Ghat one behind another continuously. There was so much buzz in that lane, everyone chanting 'ram naam satya hai'. It was so unusual, i'd never imagined a sight like this. We then walked down to the Ghodoliya market, had lassi at Blue lassi, chat at Kashi Chaat Bhandar and headed to Shivala Ghat, near our hostel.
The immediate surrounding of our hostel, had some zardozi artisans who worked in their homes, so every time we passed their homes we would peek inside out of curiosity. They showed us their work, the work process, the various techniques. Some of them also embroider these materials for famous fashion boutiques and couture brands.
We headed to the Ghats, to watch the preparations. We sat there from 4:00 pm. We watched them hustle to clean up and organise. By 6:00 everyone had started lighting the lamps at their respective Ghats. We started walking along the ghats once again. We witnessed some funerals too, as the Harishchandra Ghat (i guess). We kept walking, watching each and every step of the ghat being lit, literally LIT. Every ghat had been decorated in different patterns by the residents. Rangolis with diyas and flowers were all over the ghats. The crowd was INSANE. Many tourists opt for the boat ride to watch the ghats from the river, but we wanted to walk through it all. Trust me, its quite a task.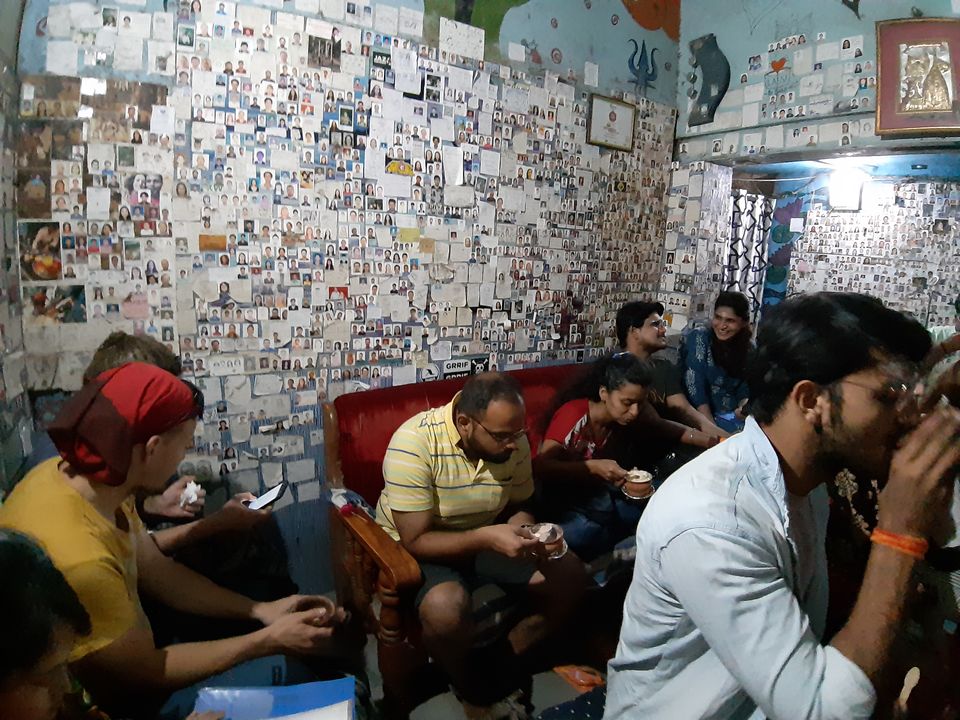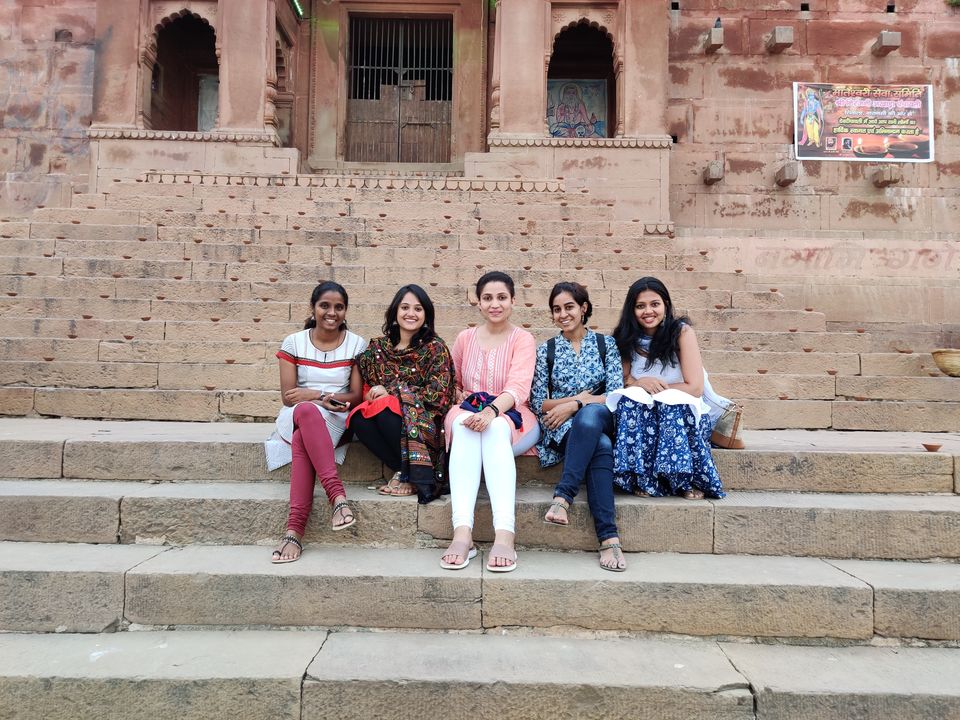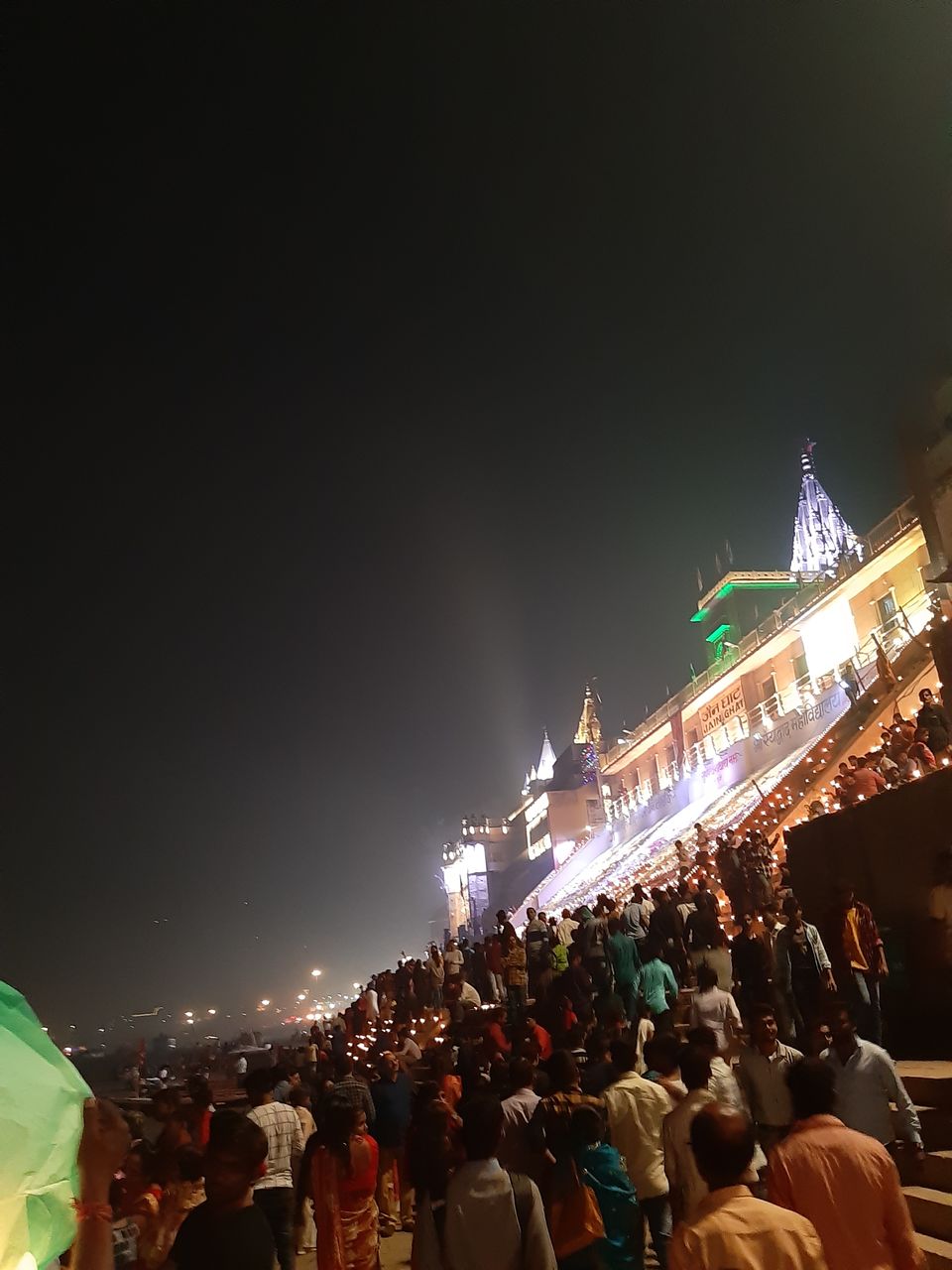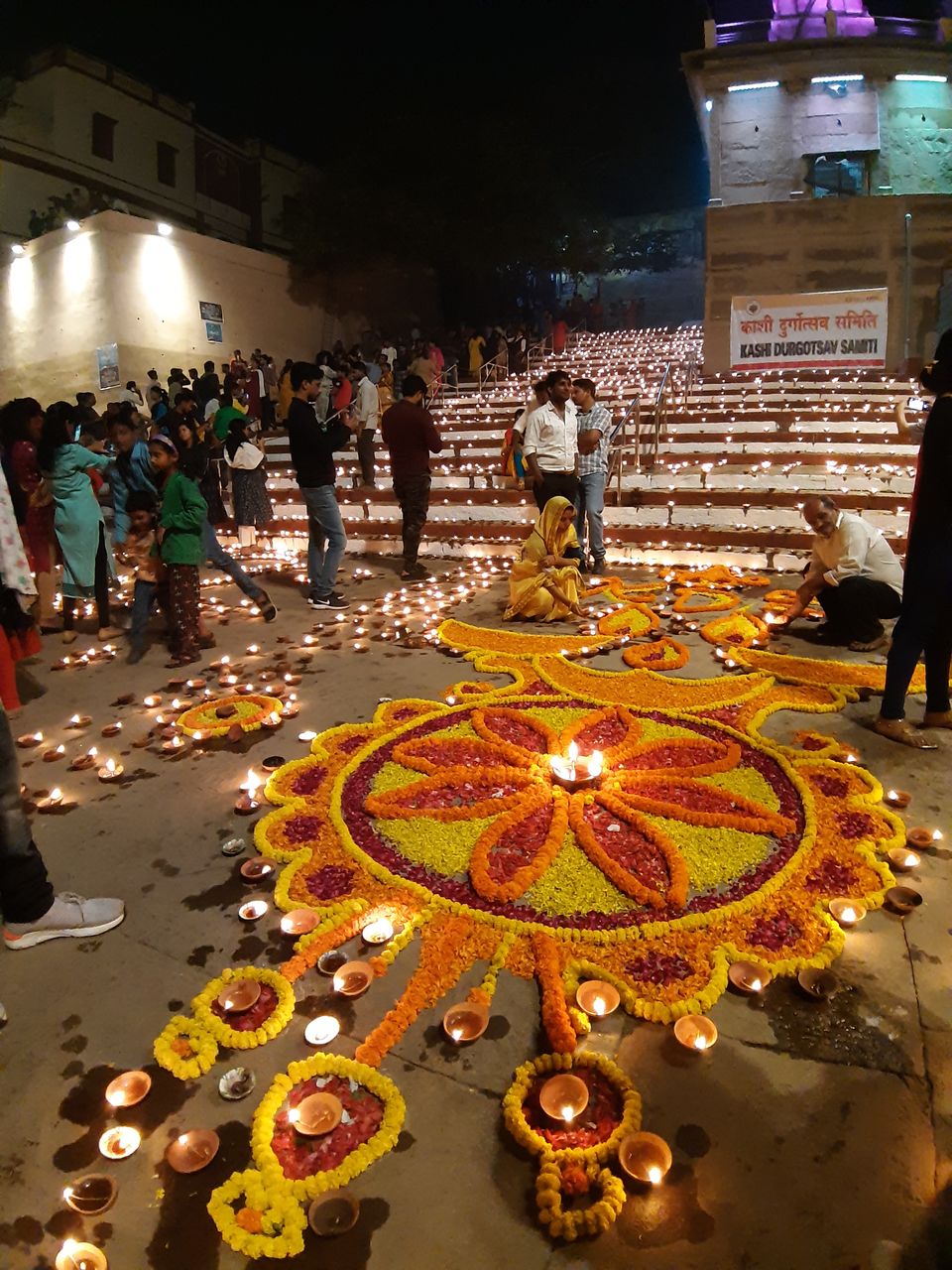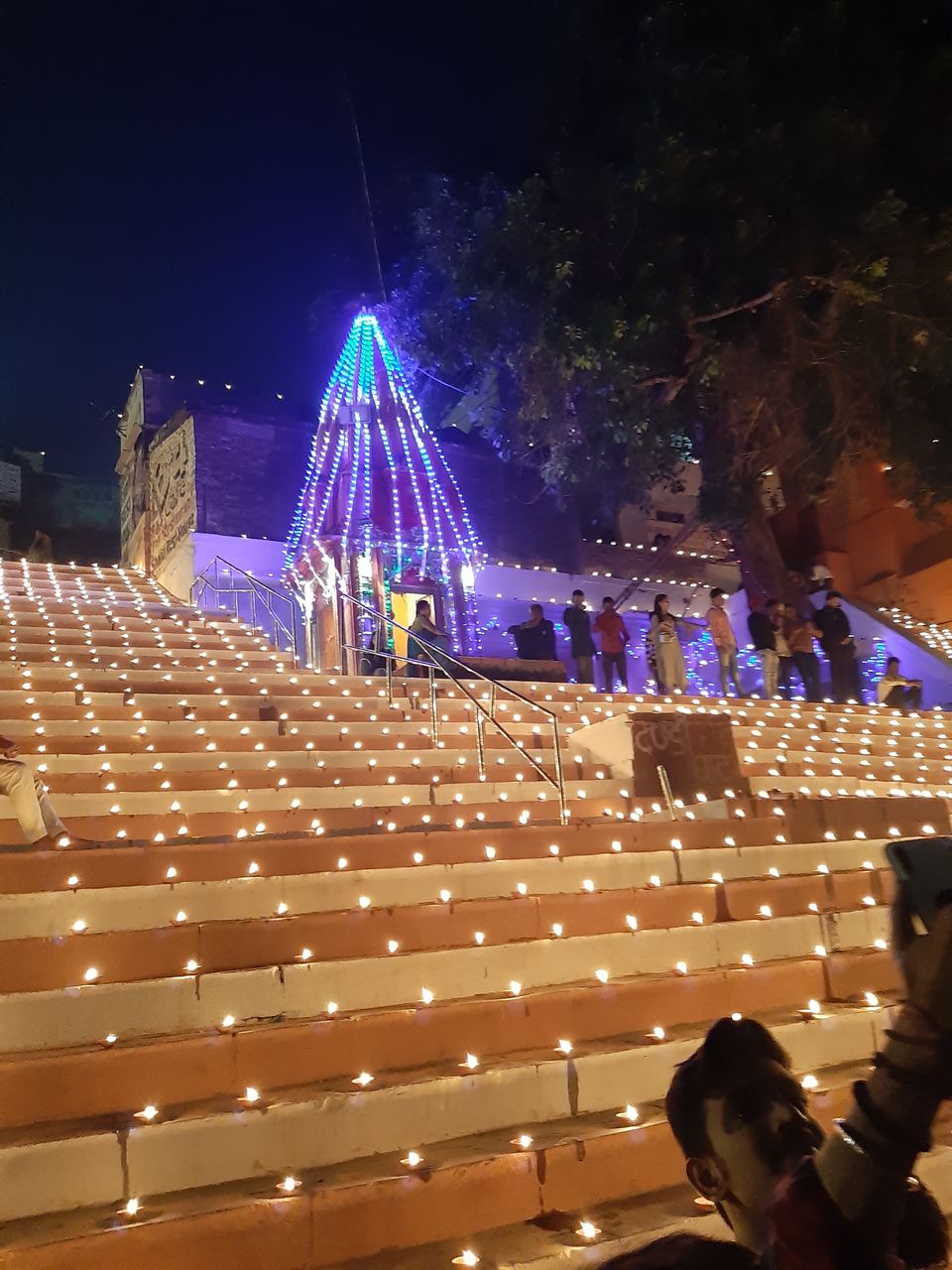 At a point we just wanted to give up. I remember we got caught into a human traffic jam(if i may call it so), and all we could do is hold each others hands tight, guard ourselves from the hands in the crowd, and push people out of the way. At that time, i wanted to come back home. We were all so scared. I just prayed that we were all out of it safe, the legs just fell numb, i just wanted to be home. Very soon they managed the flow of the crowd, those 5 to 7 mins felt like forever.
In the next instant i was happy again, and i wanted to watch the ghats, keep walking all along, and just keep seeing the lamps glitter for as long as i could. Our feet clearly didn't support the idea, nor did our tummies. We headed for dinner, and walked back to the hostel. Everything felt secure again, and the dark dingy narrow lanes didn't intimidate us even one bit. That's what i love about travelling, it puts us into such situations where we learn how vulnerable our emotions can be, and we can really conquer it all and over come the fears and insecurities we breed in our minds. There is no giving up, when you are not in your comfort zone, its really about survival and being secure.
Next thing to explore was Megu's Cafe, that served Japanese food. It was nothing less than a treasure hunt to locate this place, but all that effort was worth it. Honestly, getting lost into the lanes of this city was an absolute bliss, every time we lost our way, we discovered some interesting lanes, and it was a never ending maze. The rest of the evening was spent walking through some more streets, and shopping. We did some endless amount of walking in Benaras.
If you ask me, what sight seeing did i do, almost nothing. But if you ask me how was your experience, i'd say Benaras touches your soul. It is an emotion. Every person here, has a story to tell, every lane has a charm of its own, every time you get lost, you find something new, its never ending. You can never have enough of Benaras. I am definitely going again, but may be an off season this time.
I remember the night we returned from Dev deepavali, i sat out in the verandah, just thinking about how we had made it here and I'd tears rolling down my cheek. While we began planning this trip we were very sure that we wanted boys to accompany us because it was 'Uttar Pradesh'..! one by one all of them dropped out. Somehow we put ourselves together and decided we wouldn't cancel the plan. I'd been eyeing this festival for over 4 years, and we had finally made it here. For me it was a dream come true. It was all so overwhelming. Even now when i look back, the thought of Dev deepawali gives me goosebumps. Sometimes they are happy chills, sometimes they aren't, but trust me its one of my BEST memories that i'll cherish forever. Do give it a try, it surely won't disappoint.