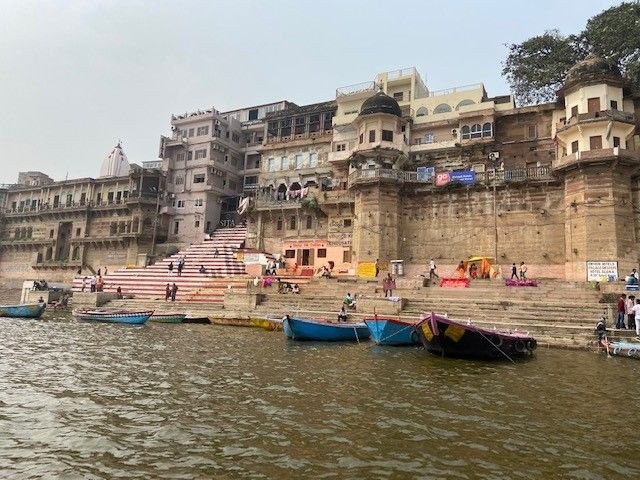 Imagine a city comprising of many intertwined narrow lanes, traffic all around, crowded streets full of people and vehicles, plenty of roadside vendors, some of the famous food joints jam packed and constant attention of the touts. This is the city I experienced when I visited Benaras in February,2020. I was staying in Gadowlia, near Dashawamedh ghat which is the heart of Varanasi.
We started our day by walking towards the Dashawamedh ghat. This ghat, on the banks of river ganga was huge. I was awestruck by the beauty of the site I was experiencing. The gigantic holi river Ganga in the front and many interconnected ghats on the side. There was an air of freshness and purity which compelled us to take a boat ride to explore more and to sink in the atmosphere. Ideally, it is recommended to take a boat ride early morning to witness the beautiful sunrise. Neverthless, the experience of my 1 hour boat ride was phenomenal. It gave tour of all the ghats, legendary structures, one of them being the tilted temple..(Identify the same in the picture below :)). Also we saw Manikarnika ghat, where all the crematory rituals were happening. The boatwala tells you the tales of benaras leading way back to mythology and ancient tradition.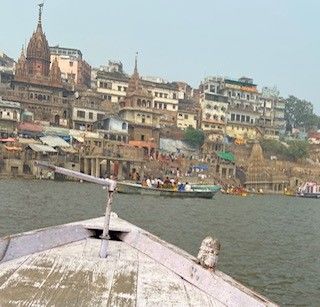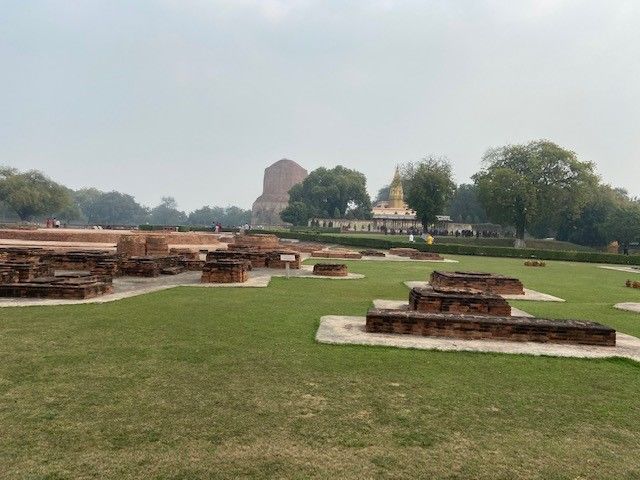 On our second day, we did darshan of the Kashi Vishwanath temple, which is one of the jyotirlingas in India and headed towards the city tour. The city tour in Benaras comprises of thousands of other temples of God, each having its own significance. However, my highlight of the city tour was Sarnath temple which is 10 kms from Benaras. Sarnath is a buddhist pilgrim site. It is known that Lord Buddha, after attaining enlightenment in Bodhgaya, gave his preachings from here. The beauty of the temple, the remains of the old structures from where he preached, the site of people praying in front of the stupa says many stories. Also there's a museum which narrates the unheard tales of Lord Buddha and his work in Sarnath.
On the last day of our trip, we went on a shopping spree. We bought some silk sarees, lehangas and dupattas of benaras which are world famous. The evening stroll on the banks of river Ganga was divine. The evening arti had ended and people were heading out of the ghats, but leaving behind beautiful fragrance of the incense sticks, prayers of people floating in form of diyas, enlightened ghats, cool breeze and peaceful atmosphere. I sat on the ghat and was mesmerised and felt blessed to experience this beautiful site.
Benaras, apart from being the spiritual city, is also known to have one of the best street foods in India. Throughout the trip, we tried to explore all the famous street food joints and indulge our taste buds. Benaras which started as a family spiritual trip, also became a food trip which was an ultimate one. All the famous joints are surrounded around gadowlia and hence were at a walking distance from our hotel. If in Benaras, you ought to try Kachori Sabzi and Jalebi from Ram Bhandar, Palak patta chat, choora matar and tamatar chat from "Dinachat Bhandar", Lassi from "Blue lassi", Litti chokha from "Bati Chokha". Also as you walk down the road, you will find ample no. of mithaiwalas selling "malaiyo" which is quite famous and is similar to "makkhan malai" of lucknow. Also there are other Indian sweets which are unique, different and tasty. If you have a sweet tooth, just visit any Indian sweet shop in benaras and experience an altogether beautiful sweets never tasted before.
All in all, Benaras was a magical experience, never witnessed before. I recommend to stay in gadowlia as the ghats, temple and food joints are at a walking distance, which will help you save on your taxi costs. This spiritual cum food trip ended with lots of memories, connect with inner self, belief in God and an unforgettable food experience. As I sit at home during lockdown, these travel memories are rushing in and am hoping for my next experiential trip to come soon :).
Benaras, also known as "Kashi" or "Varanasi" is a city beyond imagination. This is a city of sacredness, sanctity and purity. A city of beliefs...belief that will absolve you of your misdeeds once bathed in the holi river Ganga, belief that you will go to heaven if you die or get cremated on this holi land.
Situated on the banks of river Ganga, this is one of the oldest cities in the world to visit. Strolling on the ghats of benaras, watching the sunrise from the boat, experiencing the powerful and colourful Ganga arti in the evening are the highlights. Thousands of tourists including foreigners visit this place to experience the city, not found anywhere else and to listen to the tales of benaras...
In the evening, we again headed towards the Dashawamedh ghat to witness the spectacular Ganga Arti. Ganga arti is performed every evening by group of pandits. The way they perform in sync and harmony, with colourful lights, impactful songs, enthusiastic people dancing around is a site not to miss.