"You need not take cameras or any leather material as it is not allowed inside of the Kashi Vishwanath Temple" was the first thing told to me by the reception staff of my hotel whilst going out early morning. I felt bad that despite coming so far from home to experience everything about Varanasi, including the beautiful temples, I wasn't going to have a single photograph of mine of this particular place. But that didn't mean I was going to skip it. No. In any case, I wanted to visit and take blessings.
General Brief
If there is one thing that comes to mind when people talk of Varanasi, Kashi Vishwanath Temple – which is dedicated to Lord Shiva – most probably tops the list. The temple is located on the western side of the holy River Ganges in Varanasi, Uttar Pradesh. Being one of the 12 Jyotirlingas, and this particular Jyotirlinga being the holiest of Shiva Temples, it is highly revered by the Hindu population across the globe. Kashi is another name of Varanasi. Lord Shiva is famously refered to here in Varanasi as Lord Vishwanath or Lord Vishweshwar, meaning the "ruler of the universe". Hence, the name Kashi Vishwanath. As can be seen, the ceiling is all gold-plated and hence, this temple is also called GOLDEN TEMPLE sometimes.
History of Kashi Vishwanath Temple
The temple has been in existence since more than 1,000 years. The first time it was destroyed by the invading Mughals was around 1200 AD and got replaced by mosque (as expected). It was rebuilt in 16th Century & again destroyed by Mughal ruler Aurangzeb. He too again constructed a Mosque and named it Gyanvapi Mosque, which is still here. The current temple was re-constructed in 1776 by Ahilya Bai Holkar, the Holkar Queen of the Malwa Kingdom of Maratha Community and has been here since then. The gold plated ceilings were offered by Maharaja Ranjit Singh around late 1830s.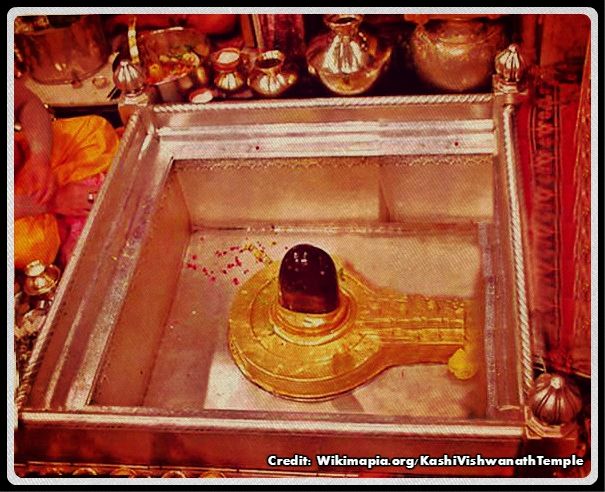 History has it recorded that when Aurangzeb tried to destroy the main sanctum (Shiv Linga), the priests took the Shiv Linga and jumped into the well nearby, called Gyan Vyapi (Wisdom Seeker), to preserve it from getting destroyed. As a result, the well is very much revered by Hindus. When this Jyotirlinga was discovered after decades, even the lamp was burning. I had heard about the water of this well being sacred and tried to drink but the security guards didn't allow me to do so.
In & Around Kashi Vishwanath Temple
I remember taking an Auto from my hotel, located in City Centre (Cantt Area), and him taking me through many narrowest of lanes that made me doubt whether I was heading in the right direction. But yes, this was the real Varanasi I was told. Many years back when Varanasi was still a very small town, people constructed their houses whichever way they liked, for there being no town planning as such. The city grew over a period of time but people still persisted with building their homes adjacent to eachother. Today this results in huge traffic and a lot of honking.
Honking is unbearable in Varanasi and quite a few times, it is without any need.
Besides, don't be surprised when you pass through the narrowest lanes to reach Kashi Vishwanath Temple. There is a heavy security in and around the Temple & the Mosque, for understandable reasons. Visitors flock the Temple all round the year, especially on the occasions of Maha Shivratri. It is said that one should give up atleast one desire (want) after visit to Kashi Vishwanath Temple, to be able to make this visit successful & pious. A visit to this Temple, followed by a bath in the holy river Ganges is considered to be one of the best ways to attain Moksha (Liberation).
There is a age-old practice of performing Aarti 5 times each day, the first Aarti starting from 3.00 am and last Aarti at 10.30 pm. Finally, below is one picture of a Sadhu outside of the Kashi Vishwanath Temple, that I managed to capture and he was all excited to pose with some sombre look.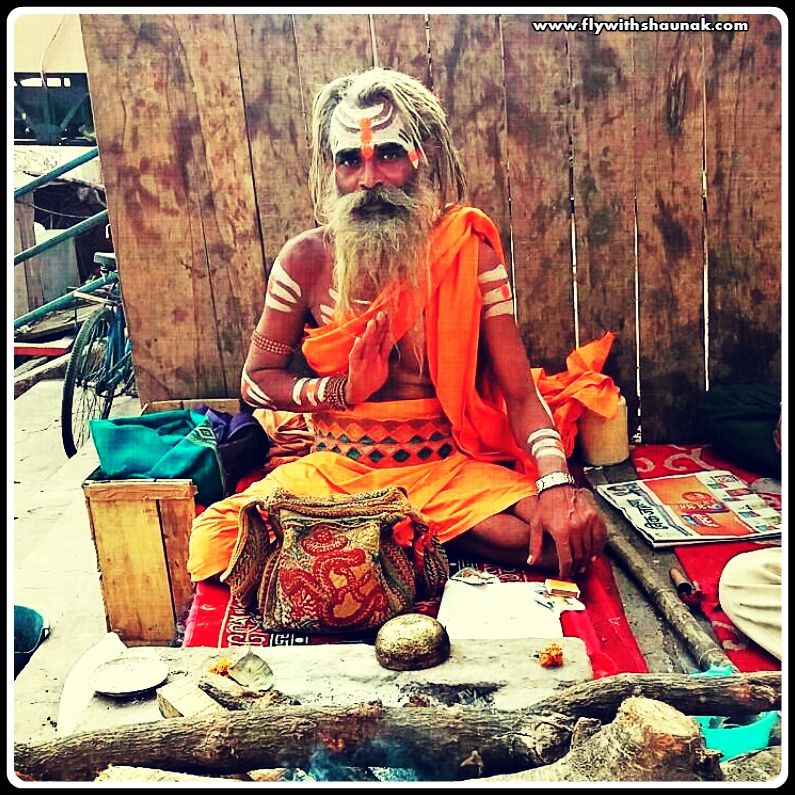 Tirupati Balaji Temple and Kashi Vishwanath Temple both, receive more visitors than the Vatican City and Mecca combined

Points To Note @ Kashi Vishwanath Temple
1) The temple is open from early morning to late evening on all days.
2) The temple is not open to Non Hindus, thereby barring a large number of tourists of other nationalities from experiencing the holiness – which I am hopeful will change someday.
3) You cannot carry mobile, wallets, camera etc and they need to be kept in one of the shops adjoining the temple premises. This shop won't charge money for assigning you a separate locker if you are buying some flowers / garlands etc to be offered to the deity.
Also Read:
6 Things You Will Love To Do In Varanasi
A Religious Visit To The Palitana Temple Town
More information about this whole frame of cosmic reality and "cyclic process of infinity" is wonderfully explained here.
A must visit place in Varanasi, to complete the ritual process as expected under Hindu traditions.
Original article published here: