Banaras, Kashi, Varanasi whatever you call it, they all lead you to the same place on the world map, i.e., the longest living city. Vedic Culture, Ethnic Tribes, Mahabharata, Buddha, Mughals, British, World Wars, riots, Banaras has seen it all, as the archaeological evidences advocate traces of civilization back in 2000 BC. None of this could steal the essence of this city and Banaras is still raw and pure at heart.
With a history so extensive, the million plus population still holds the spark and pride of being a Banarasi because not everyone takes birth here, not everyone gets to live here and not everyone dies here.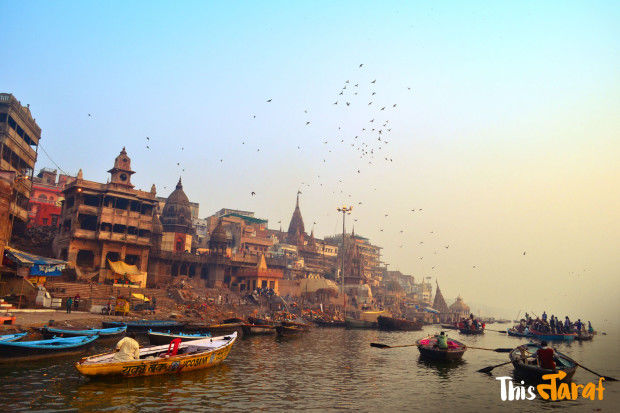 Varanasi would never be a vacation spot or a travel destination for me; it would always be home, away from home. I have spent 13 golden years of my life there and a part of my heart would always be a Banarasi. Even before I start writing, I feel the longing to be there.
Varanasi could be a culture shock to foreign travelers as death is celebrated as much as life. More than travelling, worshiping the Gods and taking dips in the holy water, people (mainly Hindus) wish to die here, as this city is believed to free a human from the vicious circle of birth, death and re-births.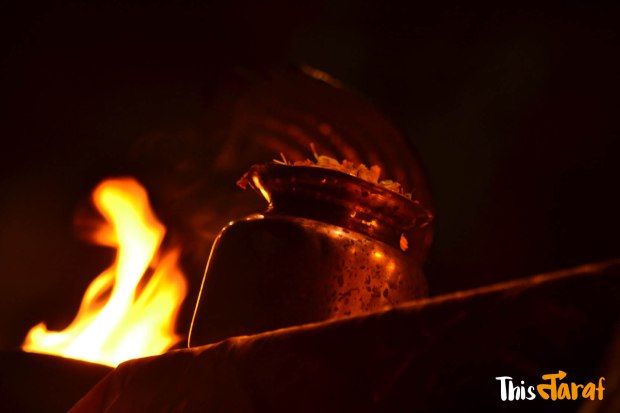 Varanasi enjoys thousands of vacationers and devotees, both domestic and international. Many come here searching for the ancient history of civilisation, Vedic teachings, Yog and the essence of living. Numerous foreign tourists have chosen to stay in Varanasi adopting the simplest way of living and dedicating their lives for the social good. Not many places in the world would have that kind of magnetism.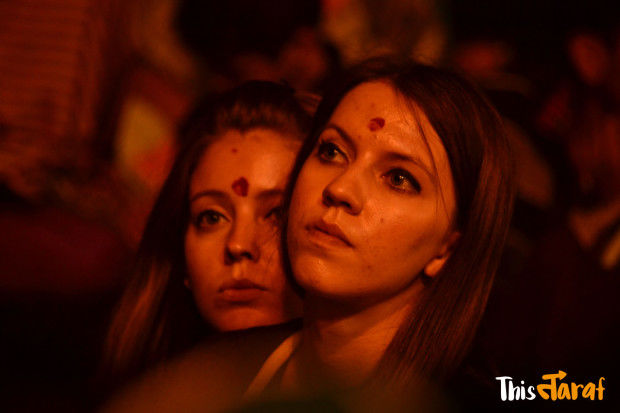 Each and every lane has a story to tell and there would be hardly any person who would know about all the lanes in the city. Forget the stories, no one would know all the lanes either. The city is a maze and sometimes, even the maps are not of much help.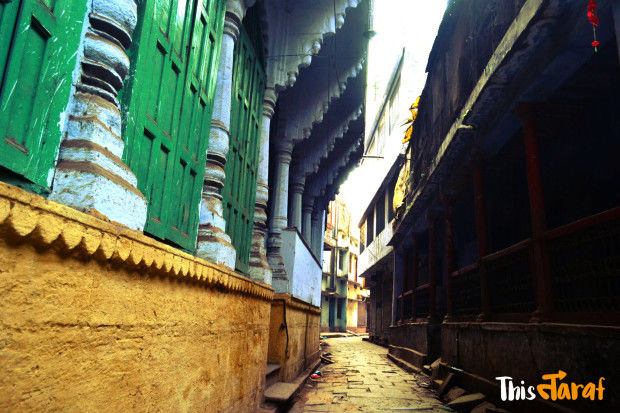 Banaras has been a source of inspiration to writers, musicians, poets, yogis, filmmakers, designers, photographers, historians, archaeologists, travellers and even politicians. There must be something exceptional about this city that abundant films have been shot capturing its beauty, and that our current Prime Minister chose the city as his constituency. I am sure no one can ever forget the song "Khaai k paan Banaras wala" in the desi avatar of Amitabh Bachchan from the film Don. Internationally acclaimed Satyajit Ray films 'Aparajita' and 'Joy Baba Felunath' were shot here.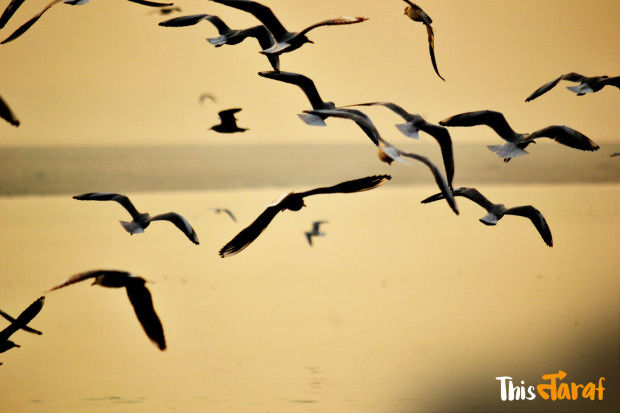 Temples, ghats, chaotic narrow lanes, silk and betel leaves characterise Banaras, the holiest city of India, and it offers the best of all. Did I mention bulls? It is Lord Shiva's city, after all and you will find them in the narrowest lanes too.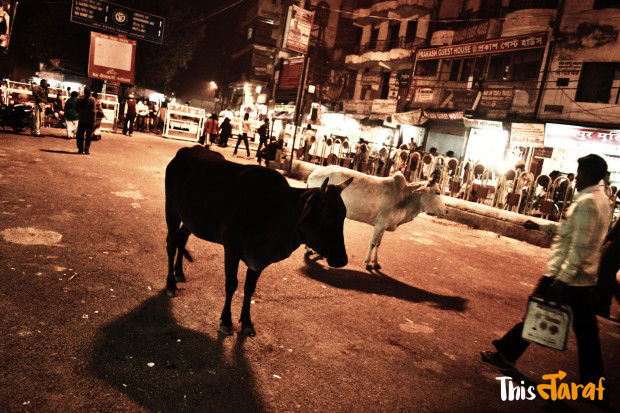 Banaras is also credited with the manufacturing of diesel-electric locomotives and its spare parts, muslin, silks and brocades with gold and silver thread work, carpet weaving, wooden toys, glass bangles, ivory work, perfumes, artistic brass and copper ware and an array of handicrafts. The city is so affluent, that this post might get prolonged, but when you reach the end, you will feel the urge to pack your bags.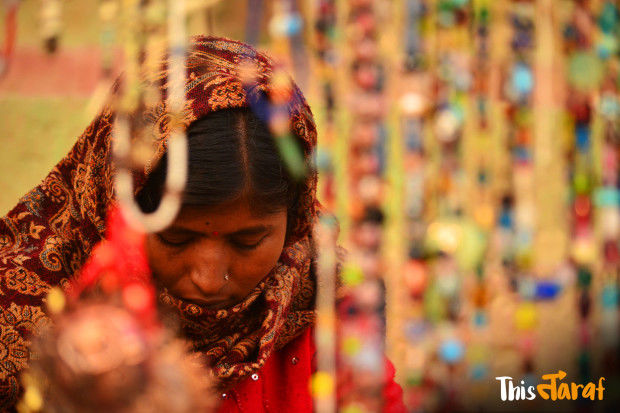 What's in a name.
Varanasi is located on the banks of holy river Ganga and derives it's name from the union of Varuna and Assi, which are the two branches of Ganga on the northern and southern rims of the city. So much has been scripted and said about the myths and facts of this city already; we believe no words could sum up the history and expanse of Varanasi.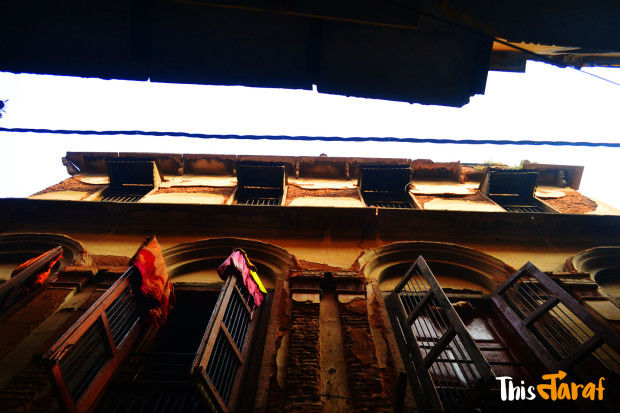 Language.
The primary languages are Hindi and Bhojpuri and the most used word is probably 'Bhaiyaji', which is used to address anybody in common. A little bit of Urdu is prevalent too, probably because of the Lucknow influence.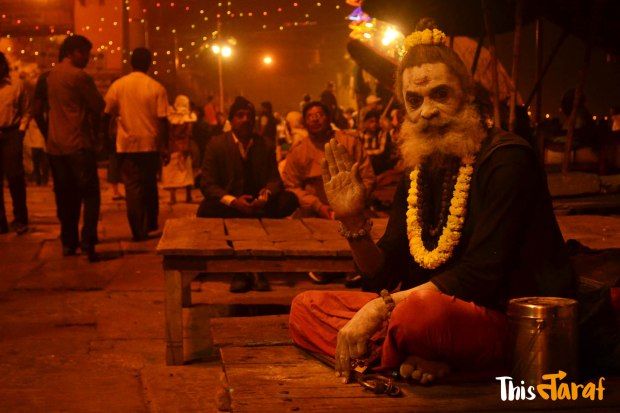 Culture.
I might get banned for writing this, but Banaras is as much Muslim as Hindu. And when I write "City Of Gods", I mean both Shiva and Mohammed. I have childhood memories of receiving Eidi and Sewai on every Eid from my father's Muslim friends and colleagues and sending Diwali gifts to all of them. When both Kashi Vishwanath temple and Gyanvapi mosque can share the same premises, people should not have much to say.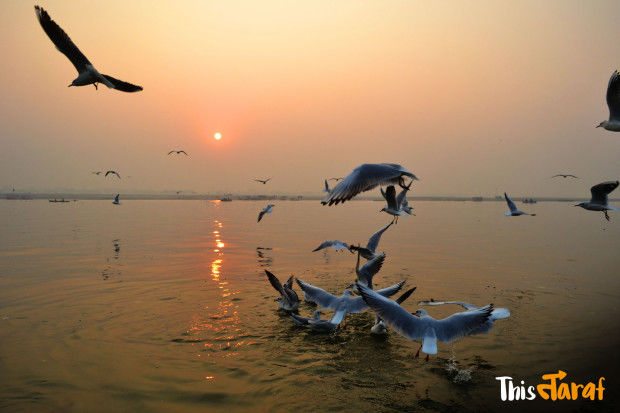 The hub of literature, art and music, there would hardly be any maestro not linked to Varanasi. Renowned writers like Kabir, Tulsidas, Ravidas, instrumentalists like Bismillah Khan, Kishan Maharaj, Ravi Shankar, Vikas Maharaj, singers like Girija Devi, Siddheshwari Devi, dancers like Sitara Devi and art historians like Anand Krishna are connected with Banaras. The Banaras Gharana founded by Ram Sahai dates back to 18th century and has been one of the pioneers of Indian Classical Music.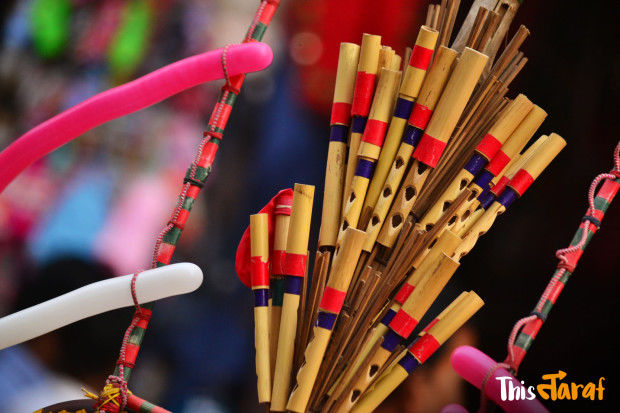 Varanasi is one place, which has always emphasised on the value of education and this post would be incomplete without the mention of the famed Banaras Hindu University. With the credit of being the largest residential university in Asia, with over 35,000 students, this university is on the list of Institutes of National Importance. The campus also houses a beautiful Vishwanath Mandir.
Religious Facts.
There are uncountable temples, mosques and places of religious importance in Varanasi.
Kashi Vishwanath Temple:
Honored as one of the 12 Jyotirlingas, this temple dates back to 15th century. The original temple was re-built, then destroyed and re-built. Mughal Emperor Akbar gave consent to build the original temple, which was later ruined by Aurangazeb and re-built by Ahilya Bai Holkar. Maharaja Ranjit Singh of Indore donated almost a ton of gold to ensure that the towers of the Kashi Vishwanath temple are gold-plated. The idol of Shiva was hidden in a well to guard it from Aurangzeb's demolition. The well still stands there amid the mosque and the temple.54
Gyanvapi Mosque:
The mention of Kashi Vishwanath and Gyanvapi mosque comes hand in hand. Built by Aurangzeb in the heart of the city, the mosque stands on the original site of the temple. The remains of the Hindu temple can be seen on the walls of the mosque. Border Security forces are always present in the premises of mosque and the temple as Varanasi has suffered many riots in the earlier days.
Purono Durga Bari at Bangali Tola:
History suggests that in the year 1767, when after the Durga Puja, men were trying to move the idol for immersion, it did not move. The head of the Mukherjee family dreamt of the Goddess and learnt from her, that she wanted to stay in Varanasi. Since then, the temple is present in the Mujherjee house near present day Madanpura. Chana and jaggery are offered to the Goddess and lighting of candles or incense sticks is not allowed.
Durga Temple:
Constructed in the 18th century by a Bengali Maharani, this red temple is also called as the 'Monkey temple'. The kund (pond) besides the temple was linked to Ganges earlier. It is trusted that the idol had emerged on its own.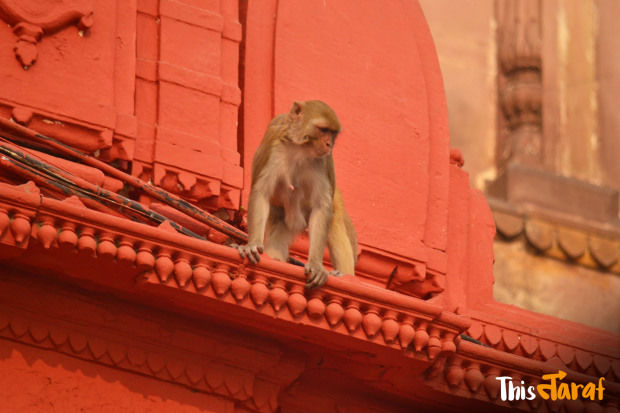 Annapurna Temple:
Standing beside the Kashi Vishwanath temple, this temple worships the Goddess of food (also a form of Goddess Parwati). There is a unique gold idol of the Goddess in the temple, which could only be seen on Annakut Day (usually the day after Diwali). The belief is that whosever opens the door of the temple other than on Annakut day will die. The temple doors are kept open only for three days.
Sankat Mochan Temple:
This temple was established by Sri Tulsidas ji in the southern part of Varanasi city. This temple has the matchless excellence of having Lord Hanuman facing his Lord Rama. Besan Laddoos from this temple are to be savored.
Kaal Bhairav Temple:
Kaal Bhairav is the critical form of Shiva meant to eradicate the sins of the devotees. Believed to be the Kotwal (watchperson) of Varanasi, everyone who wishes to live in Varanasi, needs to take his approval to live in the city. A sacred black thread is given to the devotees in the temple to be worn.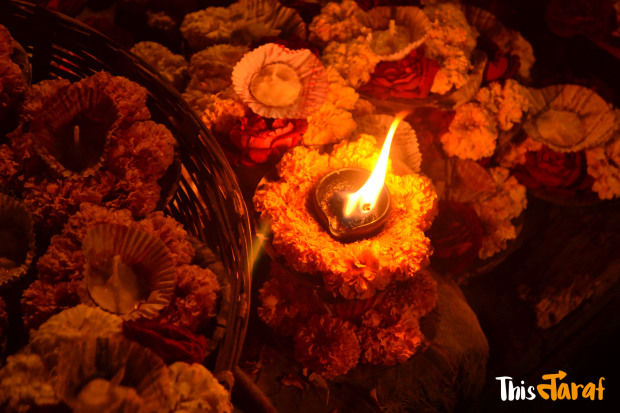 Sarnath:
One of the four most important Buddhist pilgrimages, this is the place where Gautama Buddha preached his first sermon to the disciples in a deer park. Archaeological museum Sarnath is the oldest site museum of Archaeological Survey of India.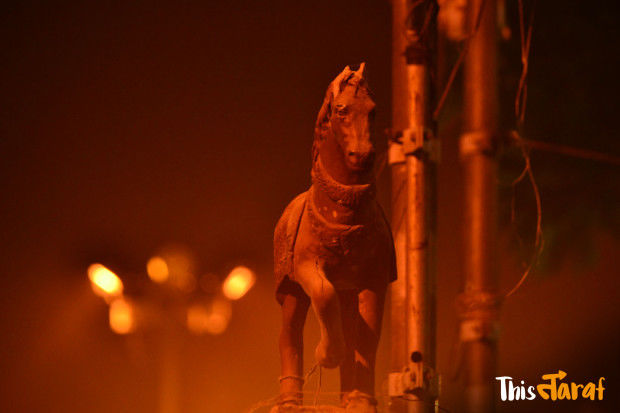 Ghats and their History.
Varanasi would not have been the same, without it's ghats. Ghats are the lifeline of this city and its million plus people. These ghats witness the sunrises and sunsets, the beliefs of the devotees, lives of the locals, swimmers, photography adventures of the photographers, boats sailing across, hawkers and artists, laughter and tears, cremation, floods, slaughter and destruction. But they still stand tall, guarding the city. While the most famous ones are Dashashwamedh, Harishchandra and Manikarnika, we have a list of all the ghats, because each one of them is famous in their own way.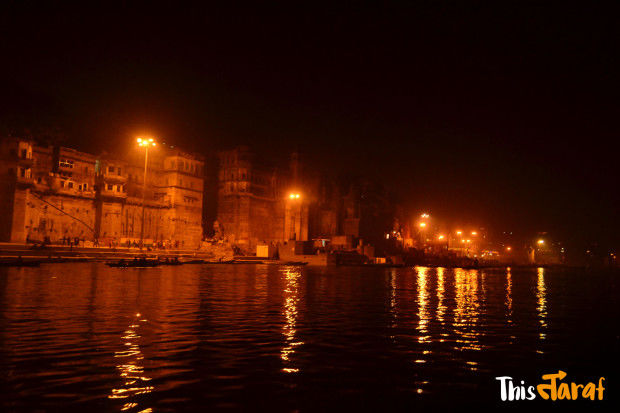 Samne Ghat: Furthermost ghat upstream has a pontoon bridge to cross the river.
Assi Ghat: Located at the confluence of Ganga and Assi, this ghat holds religious importance for the Hindu devotees. The ghat has a number of hotels and eateries for the travellers and boat beings from this ghat.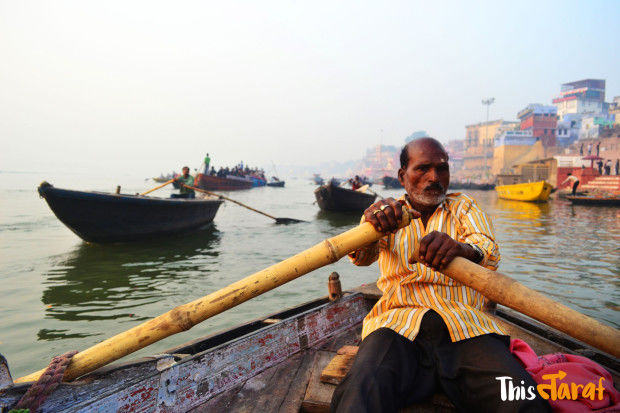 Ganga Mahal Ghat: Made by the Maharaja Banaras in 1830, this is an extended part of Assi ghat. The palatial house is now converted to a guest house.
Rewa Ghat: Another extension to Assi Ghat, a palace was built here by the Maharaja of Rewa in 1879. Ghat is named after his kingdom.
Bhadaini Ghat: Renamed ghat of Lolarka known after the most famous sun shrine Lolarkditya and the sacred tank Lolarka Kund. At the top of the kund exists the 'Lolarkeshwar Linga'.
Tulsi Ghat: Famous after the great poet Tulsidas who wrote Ramcharitmanas. He had a house on this ghat where he lived and died.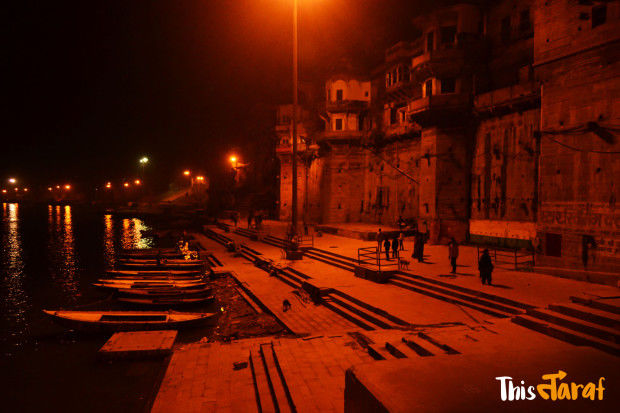 Janki Ghat: This ghat was made pucca by the Queen of Sursund in 1917. It is believed that people in Sursund were devotes of Sita there and hence the name Janki.
Anandamayi Ghat: This ghat is named after Mata Anandamayi, a woman saint. The ghat has an ashram for girls in the same name.
Vachcharaja Ghat: Named after a merchant who paved it, one can see the image of Ganga riding a crocodile in a small shrine.
Jain Ghat: Built by the residents of Jain community, this ghat is an extension to the preceding ghat.
Nishadraj Ghat: The ghat of fishermen, is named after a mythical hero of fishermen from the Ramayana.
Prabhu Ghat: User by washerman to wash clothes, this ghat was built by a Bengali businessman in 20th century.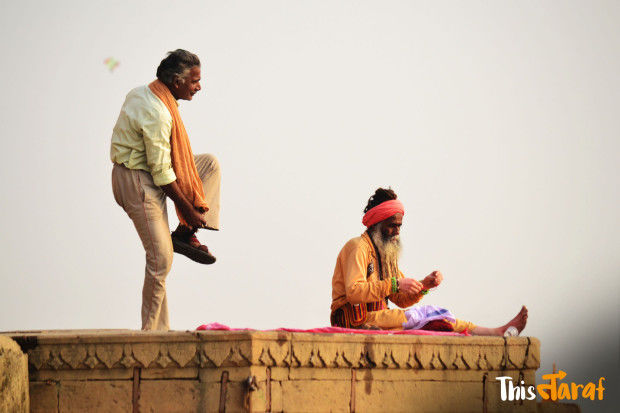 Panchkota Ghat: Now a favourite spot of children to play gulli-danda, this ghat was built by Raja Panchkot of Bengal and has been named after him.
Chet Singh Ghat: This is the place where Maharaja of Banaras, Raja Chet Singh fought the British troops of Warren Hastings.
Niranjani Ghat: This ghat is the home to the wrestlers and Naga sadhus of the Niranjan Akhara, hence the name.
Mahanirvani Ghat: This ghat is the home to Mahanirvani Akhara. It is also a home to the destitute home of Mother Teresa'a Missionaries of Charity.
Shivala Ghat: The Brahmendra math at this ghat is a popular place for the South Indian pilgrims.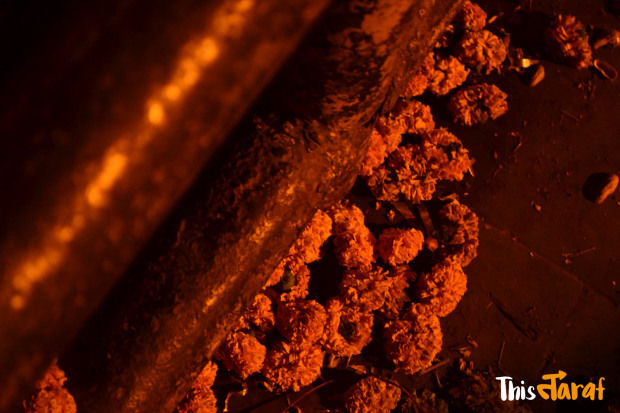 Gularia Ghat: Named after a huge fig tree, this ghat is now famous for cattle bathing.
Dandi Ghat: This ghat derives its name from the Dandi hermit who lives in the neighbourhood.
Hanuman Ghat: This ghat is named after the Hanuman temple built by Tulsidas.
Prachin Hanuman Ghat: This ghat is associated with the bhakti saint Vallabha.
Karnataka Ghat: Built by the Maharaja of Mysore, this ghat houses a Sati shrine.
Harishchandra Ghat: One of the two creamation ghats in Varanasi, this ghat is named after the famous king of Solar dynasty, Raja Harishchandra. He was challenged by the Gods to prove his truthfulness and charity. He lost all his wealth and kingdom and stayed here as a slave with his family.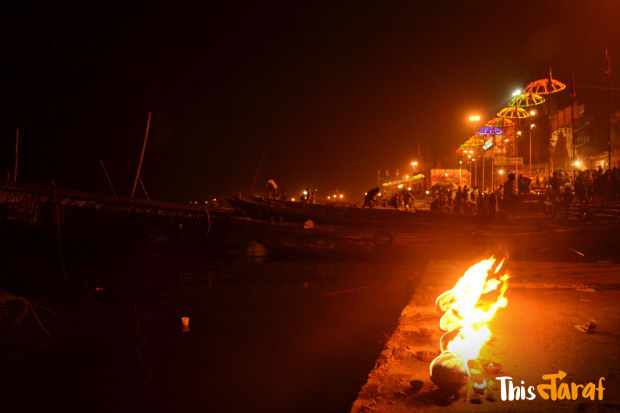 Lali Ghat: This ghat is named after Lali Baba from Bihar.
Prabhu Ghat: Another famous ghat for the washermen, it is one of the few unpaved ghats.
Vijayanagram Ghat: Another favourite of South Indian pilgrims, this ghat was built by the Maharaja of Vijayanagram.
Kedar Ghat: Named after the Shiva's shrine in the Himalayas, this ghat could be easily recognized from the river because of its red and white stripes.
Chauki Ghat: This ghat is known for a giant ficus tree which has a number of stone figures of the Corba snake at its base.
Ksemesvara Ghat: This ghat was earlier known as Nala Ghat because of a drain nearby.
Mansarovar Ghat: Built by Raja Mansingh of Ajmer, this ghat earlier had a replica of the famous Mansarovar Lake.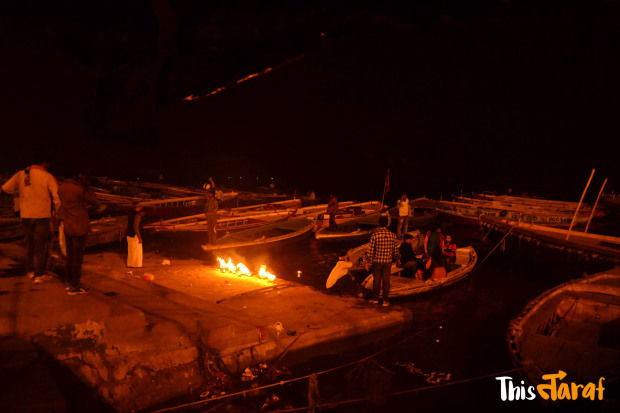 Narad Ghat: This ghat takes its name from the Naradeshwar temple built here in 19th century.
Raja Ghat: This ghat is famous for the cultural activities and boat parties.
Khori Ghat: Famous for its impressive collection of temples.
Pandey Ghat: Named after a famous wrestler Babua Pandey.
Sarveshwar Ghat: This ghat derives its name from the Sarveshwar pilgrim nearby.
Digpatia Ghat: This ghat has a beautiful palace defining the architecture of Bengal.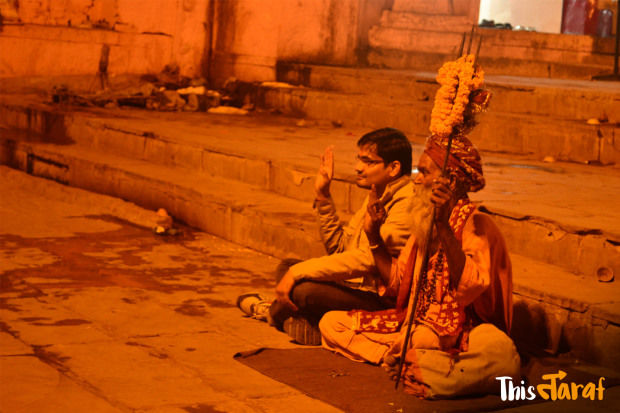 Chausatthi Ghat: This ghat is named after the Chausatthi (64) devi temple above the ghat.
Rana Mahal Ghat: Extension of the preceding ghat, the palace on this ghat is a beautiful example of Rajasthani architecture.
Darbhanga Ghat: This ghat is famous for its Neelkantha Shiva temple.
Munshi Ghat: Named after Sridhar Narayan Munshi who built this ghat in 1812.
Ahilya Bai Ghat: Ahilyabai Holker, who had rebuilt the Vishwanath temple, also built a palace at this ghat. Hence the name.
Shiatala Ghat: Named after the Shitala Mata temple, this ghat is famous for special worship by newly weds.
Dashashwamedh Ghat: The busiest and the most famous of all ghats. This ghat has its name from the 'Ten Horse Sacrifice' yagna. Ganga Aarti at this ghat is a sight to be seen.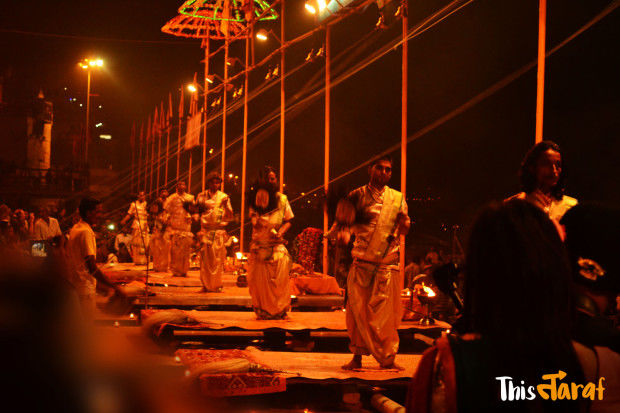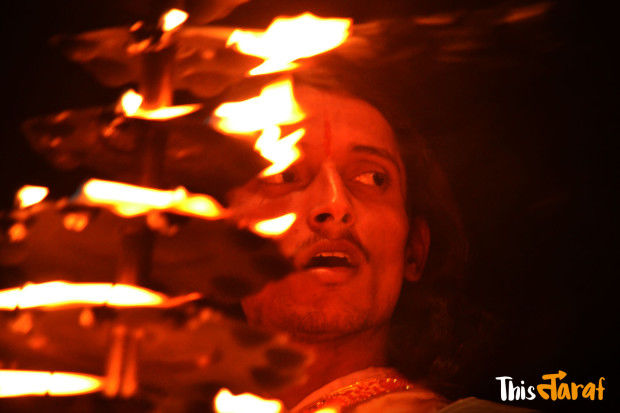 Prayag Ghat: This ghat takes its name from the Sangam of Ganga and Yamuna at Allahabad.
Rajendra Prasad Ghat: This ghat was earlier a landing point for horses after they crossed the river on boats.
Manmandir Ghat: This ghat was built by Raja Sawai Man Singh, Akbar's general and has a huge courtyard.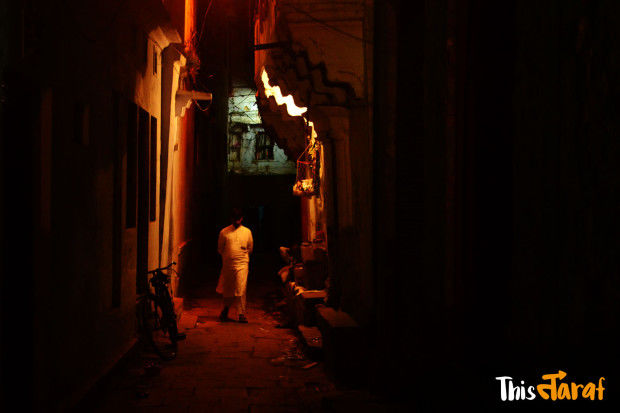 Varahi Ghat: This ghat is named after the Varahi temple.
Tripura Bhairavi Ghat: This ghat is named after the Tripura Bhairavi temple.
Meer Ghat: Built by Mir Rustam Ali in 18th century, this ghat is named after him.
Phuta Ghat: This ghat houses the Vishala Gaj Tirtha.
Nepali Ghat: Frequented by the Nepalese of Varanasi.
Lalita Ghat: Named after the famous Goddess Lalita.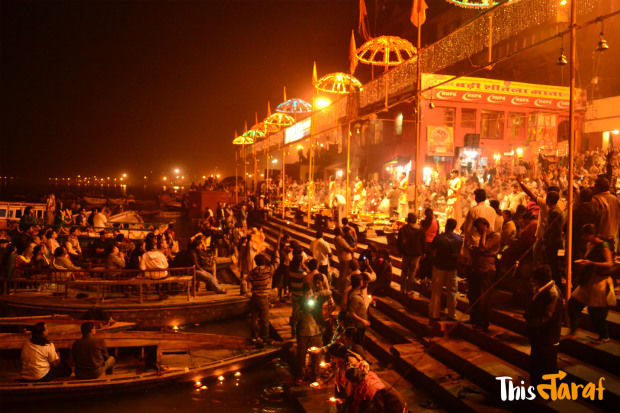 Amroha Ghat: Built in the 19th century, this ghat was earlier known as Raja Rajeshwari Ghat.
Jalasayi Ghat: Derives its name from the ritual of putting a dead body into the water before cremation.
Khirki Ghat: Named after a window from which the attendants can watch the body burn.
Manikarnika Ghat: Manikarnika Ghat or the burning ghat could either be visited or seen from the boats, as it might be difficult for some people to see the on-goings. Dead bodies from the city and nearby areas are cremated here 24 hours.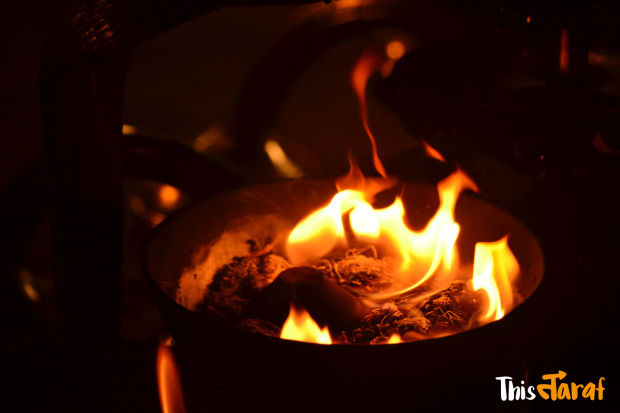 Bajirao Ghat: Built by Bajirao Peshwa in 1735.
Scindia Ghat: This ghat was repaired multiple times by the Scindia dynasty rulers and is named after them.
Sankata Ghat: This ghat has a profusion of temples and named after Sankata Devi.
Ganga Mahal Ghat: Built by the King of Gwalior in 1864.
Bhonsale Ghat: Named after the Maratha king Bhonsale, this ghat has a beautiful Lakshminarayan temple and a majestic palace.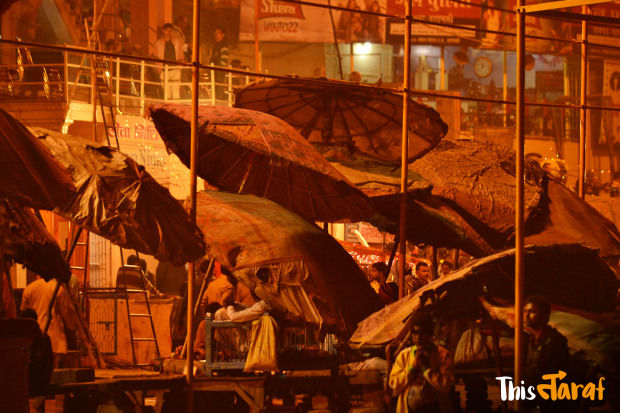 Naya Ghat: Formerly known as Gularia Ghat.
Ganesh Ghat: Named after the Ganesh temple at the ghat.
Mehta Ghat: This ghat took its name from the hospital built by a businessman of Kolkata.
Ram Ghat: Associated with the Rama Tirth, this ghat celebrates the Ram Navmi festival.
Jatar Ghat: This ghat houses a famous Lakshiminarayan temple and was earlier known as Chor Ghat.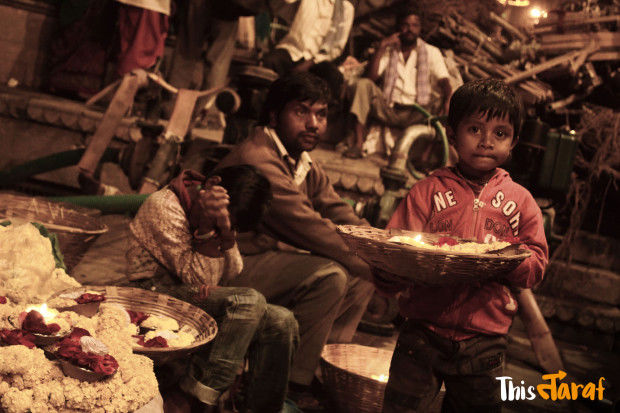 Raja Gwalior Ghat: Extension of the previous ghat, this ghat has three small Shiva shrines.
Mangala Gauri Ghat: Named after the white Goddess, Mangala Gauri.
Beni Madhav Ghat: Named after the Bindu Madhava temple that was demolished by Aurangzeb.
Panch Ganga Ghat: Most sacred of all the ghats, it is believed that five fabled rivers flow into the Ganga here.
Durga Ghat: This ghat is associated with the Brahmacharini Durga Temple.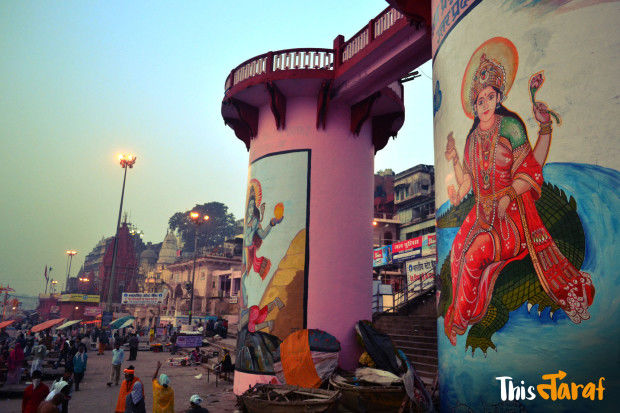 Brahma Ghat: This ghat is named after the temples of Brahma and Brahmesvara.
Bundi Parakota Ghat: This ghat was built by the Raja of Bundi in 16th century, hence the name.
Adi Sitala Ghat: This ghat hosts a festival in the month of March-April and attracts bathers from all over the city.
Lala Ghat: This ghat has a palace, a school, a hostel and a free pilgrim guest house.
Hanuman Garhi Ghat: Named after the site in Ayodhya.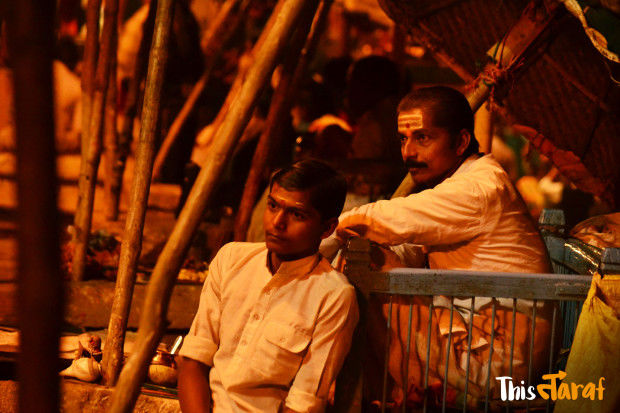 Gai Ghat: This ghat was a place for cattle to drink water from the river in the earlier days.
Badrinarayan Ghat: Earlier known as the Balabhai Ghat, this ghat derived its new name from the Badrinath temple.
Trolichan Ghat: This ghat is named after the famous three-eyed Shiva.
Gola Ghat: This ghat was once a site for ferries but is now only used by washermen.
Nandu Ghat: Named after the shrine of Nandrishwar, this ghat has a small community of basket weavers residing above.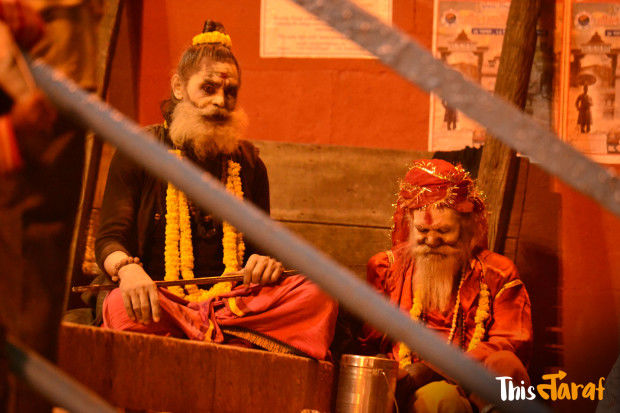 Shukka Ghat: This ghat has an old waterfront which is considered a sacred spot.
Telianala Ghat: Named after the oil presser caste (Telis), as this area was populated by their community earlier.
Prahlad Ghat: Named after Prahlad, the great mythological devotee of Lord Vishnu.
Raj Ghat: This ghat lies next to the Malviya bridge, which was the site of river crossing before the new bridges were built.
Adi Keshava Ghat: This ghat is the oldest and original site of Lord Vishnu in Varanasi.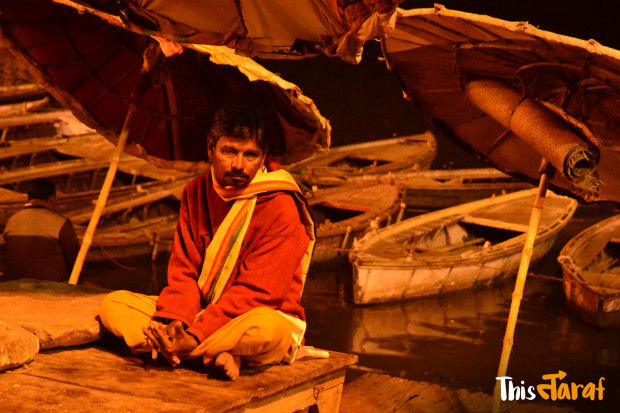 A quick 'What to do'.
See the sunrise at the banks of river Ganga, famously termed as Subah-e-Banaras.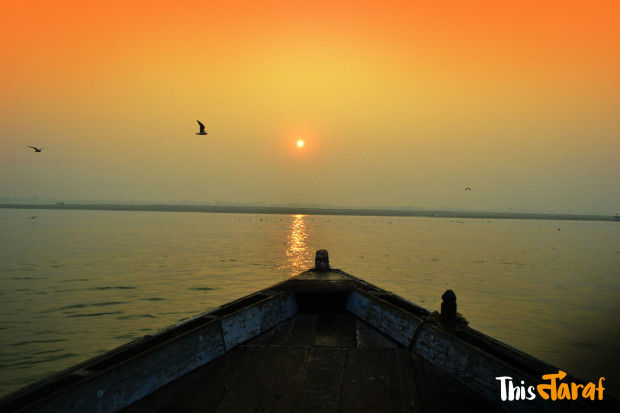 Take a dip in the holy waters as fables suggest that will offer salvation of sins.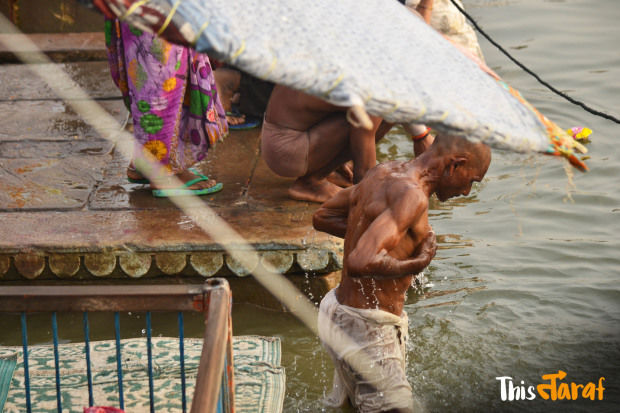 Visit the best temples of the city, as your trip would be incomplete otherwise.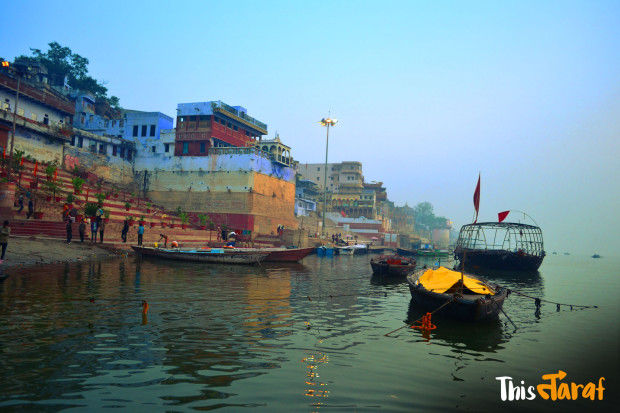 Experience the grand Ganga Aarti at the Dashashwamedh ghat.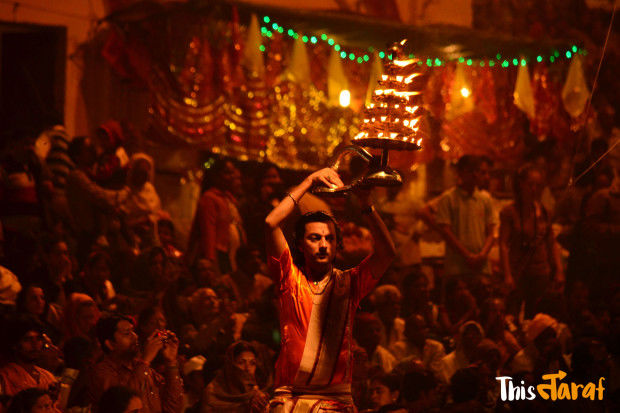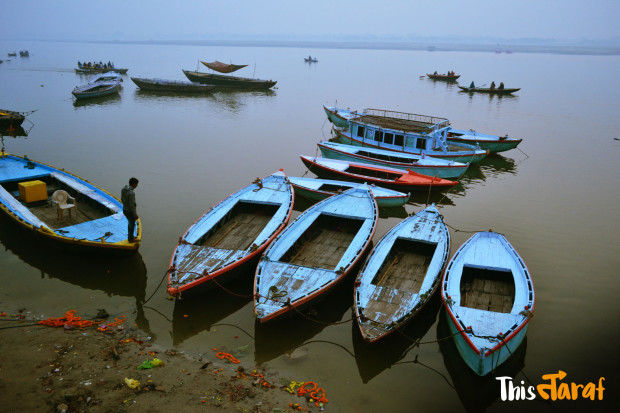 Listen to the soulful flute artists at the ghats.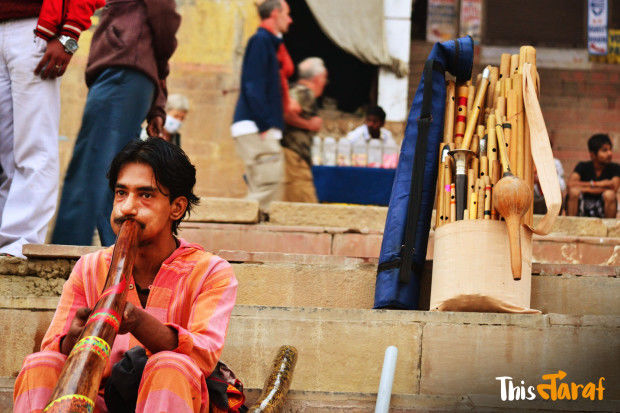 Explore the textile neighbourhoods.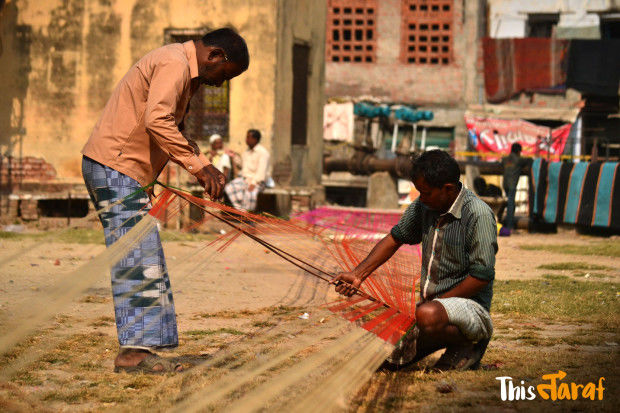 Visit the historical Ramnagar fort. Located on the eastern bank of river Ganga, this sandstone fort was built by Kashi Naresh Raja Balwant Singh.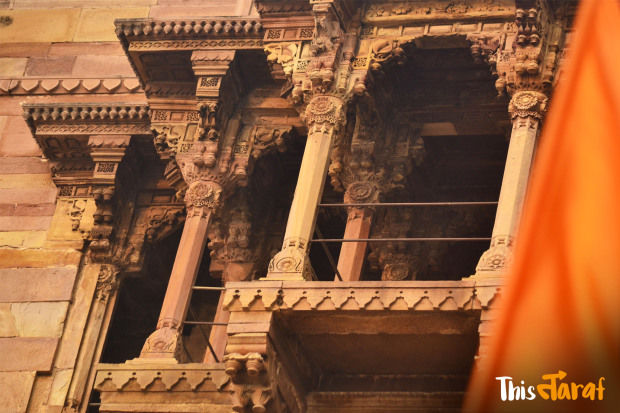 Take a trip to Sarnath.
Shopaholic Alert.
People visit Varanasi for various reasons but whatever the reason be, everyone wants to bring back a souvenir. Shopping in Varanasi can perfectly satisfy the shopaholic in you and enrich your wardrobe with classics.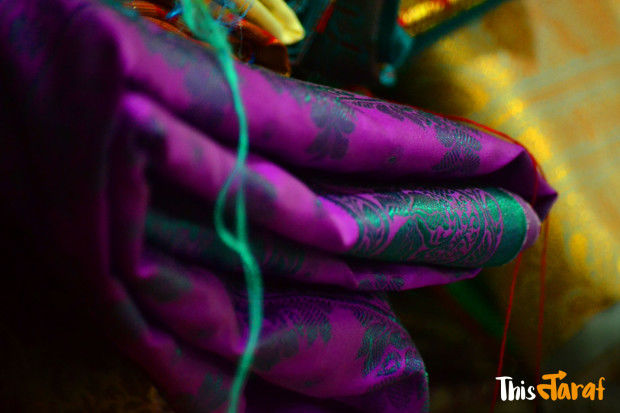 Banarasi Silk Sarees, Gulabi Minakari, Wooden Toys, Shivalingas, Rudrakh Malas, Glass Beads, Stone Carved Curios, Flutes, Ramnami Clothes, Spices, Pickles, Tobacco, Mouth Fresheners, Perfumes, Sweets and utensils are amongst the best buys.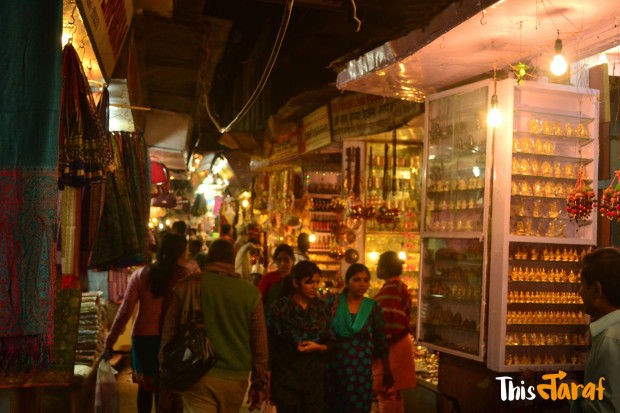 Best places to shop are Vishwanath Gali, Thatheri Bazaar,Chowk and Godowlia.
You can also bring back some water from the holy Ganges and Laal Peda from Rambhandar to savour the sweet tooth for a few more days even after you have left the city.
Eat it all.
Varanasi and food are synonymous. So when you get tired of roaming and shopping, take quick breaks for quick bites. A fusion of several long-standing religious ethnicities, this city offers an array of street food in every flavour known to mankind. We are giving you a complete list of dishes, which tastes best on the streets of Varanasi.
Must eat breakfast – Kachori Sabzi with Jalebi and Kullad Chai
For the drunkards – Lassi and Thandai (with Bhaang)
Satisfy your sweet tooth – Rasgulla, Gulab Jamun, Malaiyo, Boondi, Malai Chenna Roll, Peda
Fried – Mirchi Pakoda, Samosa, Palak Pakoda
Tangy Flavors – Tamatar Chat, Aloo Tikki, Gol Gappa
Regional Specialties – Litti Chokha, Chura Matar
End it with – the world-famous Banarasi Paan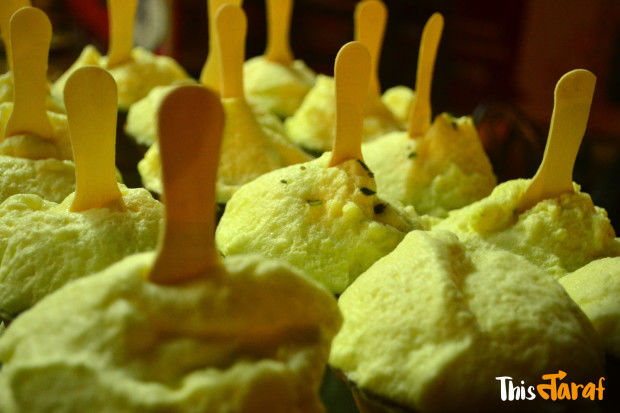 Varanasi has always been a hotspot for international travellers and that is one reason why this city has an array of delightful bakeries. ' Bread of Life' and 'Brown Bread Bakery' is amongst the oldest and most famous.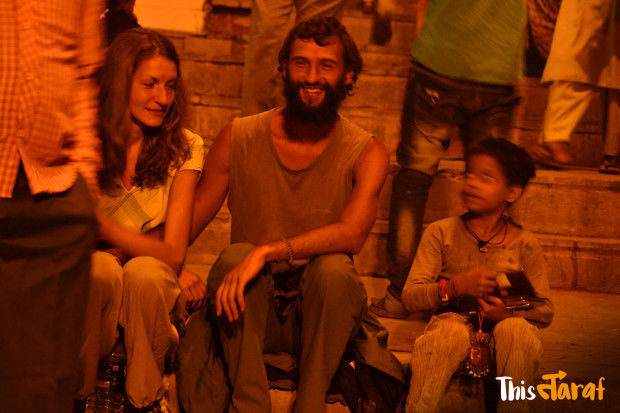 Festivals.
All the festivals from all religious beliefs are celebrated in Varanasi with equal affection. But there are two festivals, which deserve special mention. First is Mahashivarati. Being Lord Shiva's abode, it is said that each pebble in Kashi has Shiva in it and this festival is celebrated with huge pomp and show.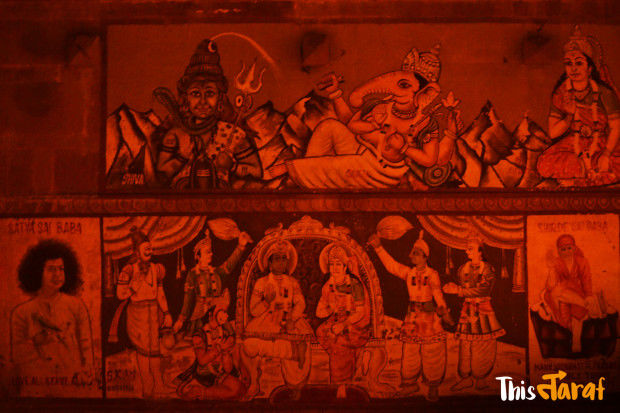 Second festival is Ganga Mahotsav and Dev Deepawali, which are celebrated after Diwali and are specific to Varanasi. Ganga Mahotsav is a 5-day fiesta celebrated every year to honor the divine river. It will commence from November 3rd, this year.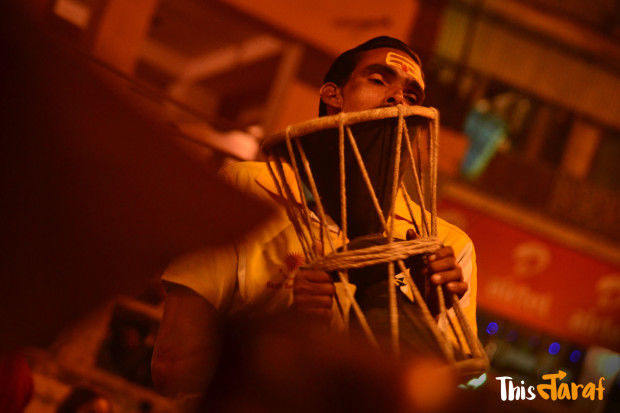 Visitors gather during this time, to witness the presentations of classical Indian dance and music, country boat race, handicraft fair, sculpture displays and martial arts as maestros perform at the celebration.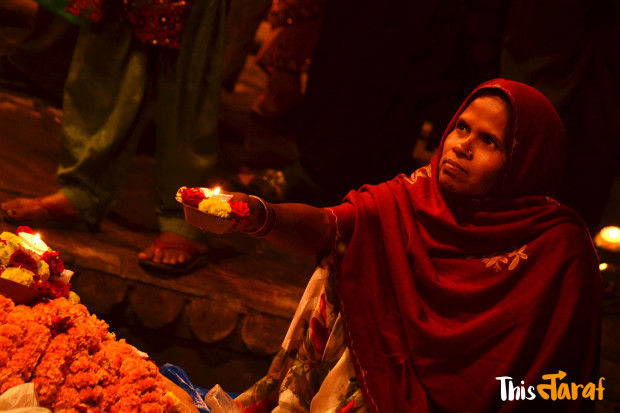 The last day of the festival coincides with Dev Deepawali (light festival of the Gods), and the ghats on the holy Ganges are lit up with more than a million earthen lamps and fireworks lighten the entire city. The sight has to be seen; to be believed.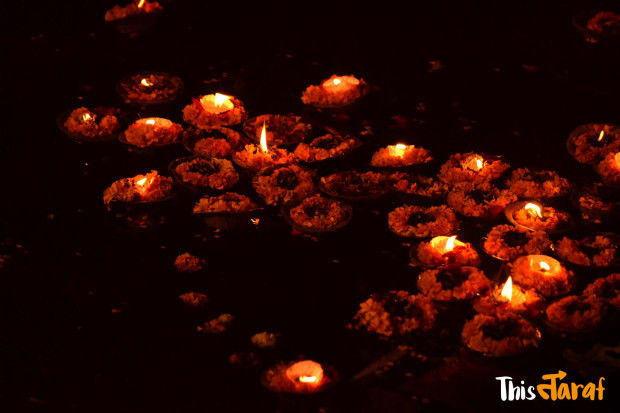 Best Time. November – March.
Varanasi experiences extreme weather conditions, marked by super hot summers and chilly winters. The best time to visit is in winters, as the temperature ranges from 5 to 15 degree Celsius.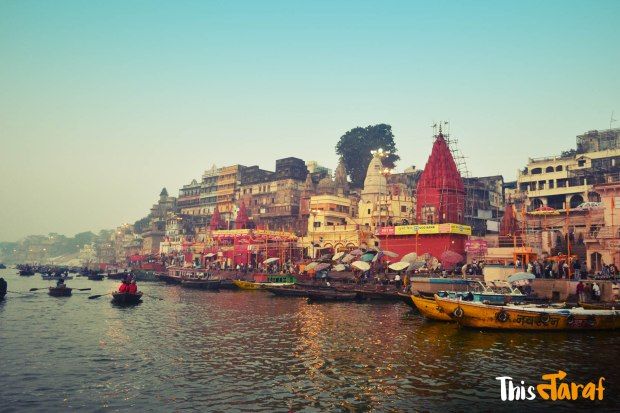 How to Reach.
By Air
Lal Bahadur Shastri International Airport is well linked to some of the major cities in India like Delhi, Mumbai and Kolkata. International tourists can avail connecting flights from Delhi or Mumbai.
By Rail
The Varanasi railway station is connected to major cities of India via rail. Taxis could be hired from the railway station.
By Road
Varanasi has a wide network of road that connects it to major cities of Uttar Pradesh and neighbouring states. State-run buses, private taxis and self-driven cars are the easy options to reach.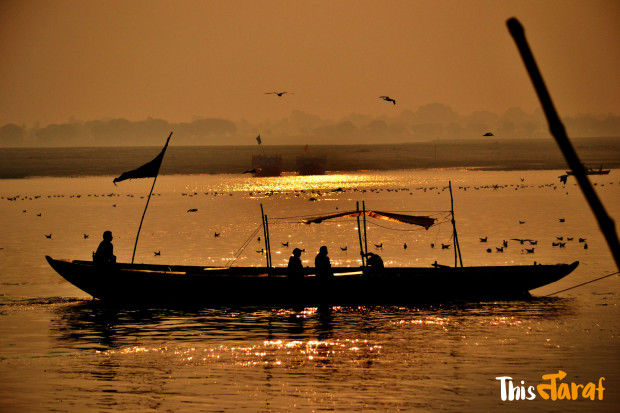 Banaras is not just any other city; it is an experience in itself!