Along with imbibing the characteristic scenic beauty of God's own country, Wayanad boasts of a diverse natural landscape. Lush green forests led us to Wayanad as we drove through the Muthanga Wildlife Sanctuary. The landscape slowly changed to accommodate the magnificent Western Ghats and then finally to vast expanses of tea estates. We could only gaze in admiration at the greenery that welcomed us to our weekend vacation in Wayanad. With Wayanad being a district (There is no Wayanad town), and offering a lot of activities and sightseeing options and the sights scattered inside a 50 km radius, it boils down to picking up the things that you would enjoy doing the most. So let me help you with that :)
Recommended Driving Routes from Bangalore
Route 1 (Recommended by frequent travelers): Bangalore -> Mysore -> Gundlupet -> Muthanga Wildlife Sanctuary -> Wayanad
We chose this route. After crossing Gundlupet, the flower and vegetable farms on either side of the highway present a pleasing view. The drive on the green canopied road through the beautiful Muthanga Wildlife Sanctuary was extremely relaxing. In this route, you enter Wayanad through Sultan Bathery town.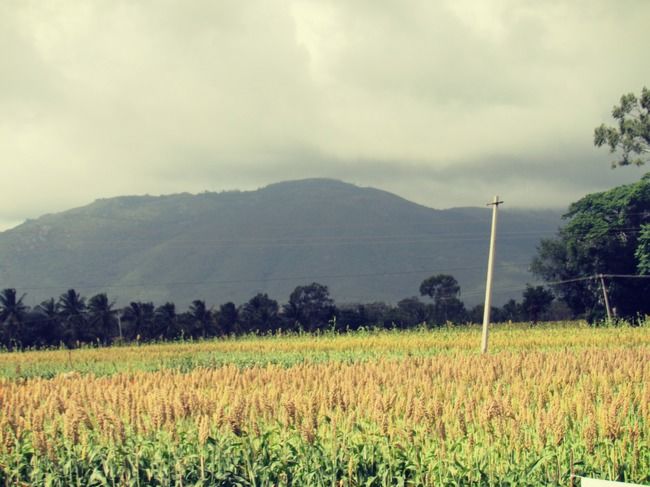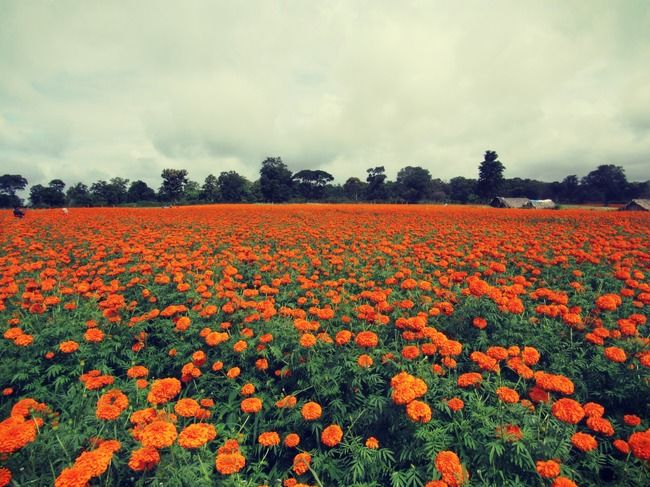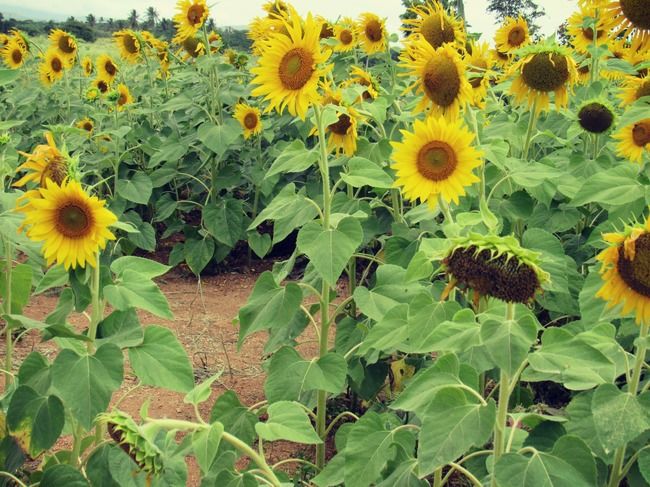 Route 2: Bangalore -> Srirangapattana -> Hunsur -> Nagarhole -> Manthavadi -> Wayanad
A little more in distance and passing through more dense forests, this route makes sense if you intend to visit Nagarhole. You enter Wayanad from the north in this route and reach Kalpetta town.
There are few other routes as well if you are planning to make a detour at Coorg or want to visit Bandipur. However, the above two routes are the shortest and better options if only Wayanad is on your mind.
Where to Stay?

Kalpetta and Sultan Bathery are two towns in Wayanad district which offer multiple stay options in the form of resorts, budget hotels and homestays. With a lot of sightseeing options lying around Kalpetta, it is a very popular stay option. A little further down south from Kalpetta is the pretty region called Vythiri.
Popularized by the Vythiri Village Resort (Listed as one of the top things to be done in Wayanad by most travel sites), the region provides with a number of viable stay options amidst the prolific tea estates.
The stay options in Wayanad suit every kind of traveler with budget hotels, budget homestays, beautiful homestays located within coffee or tea estates and luxurious resorts. The travel sites like Goibibo provide the homestay options also. During my search for booking a nice, cosy place, I came across this website for the homestays in Wayanad. We chose to stay in the Upavan Resort in Vythiri. It has a small tea estate surrounding it and had comfortable rooms with gorgeous views of the estate and the mountains.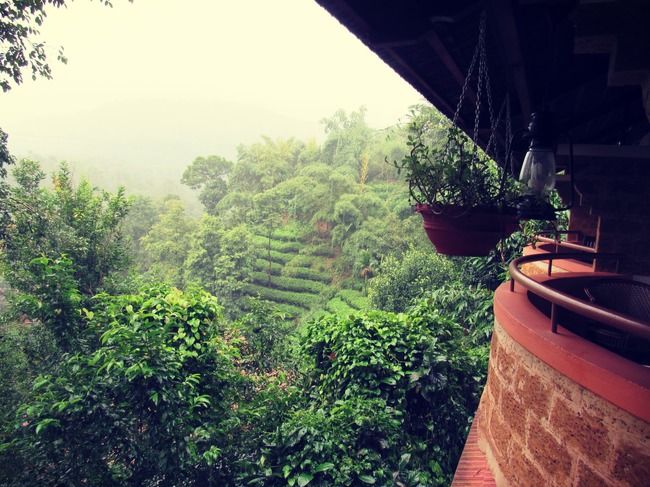 Activities & Sightseeing
Wayanad has a plethora of activities to offer ranging from trekking, kayaking to wildlife safaris. You can choose according to the level of physical exertion you are willing to take. We could do only a few due to time constraint and it being a rainy period.
Trekking: Wayanad boasts of numerous nature trails for trekking and hiking. The Chembra peak is the most popular and is supposed to be a very beautiful trekking experience. Unfortunately, the time we were visiting there were intermittent rains throughout the day and hence, we decided to avoid trekking. However, this post discusses about some of the popular trekking trails in Wayanad. You would be able to find other trails in whichever part of Wayanad you are staying.
Hiking up to Edakkal Caves: Situated around 16 kms from Sultan Bathery, the Edakkal Caves are replete with pictorial etchings on the walls of the caves and date back to 6,000BC. To reach the caves, you have to trek up the Ambukuthi Hills for 45 mins-60 mins. The route, though steep, provides amazing views of the forests and coffee plantations. There are guides available inside the caves too.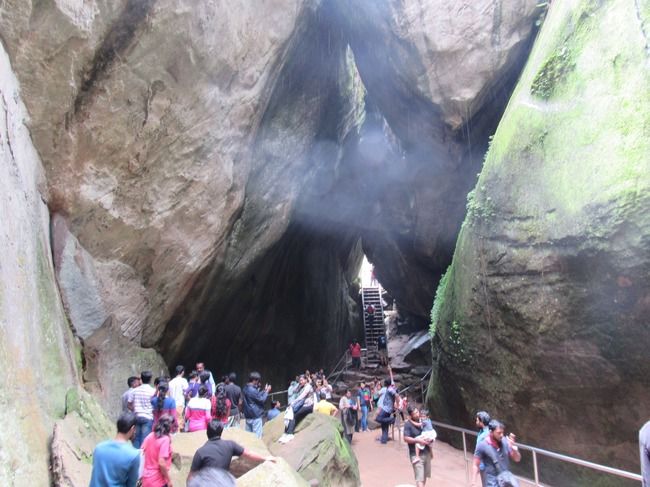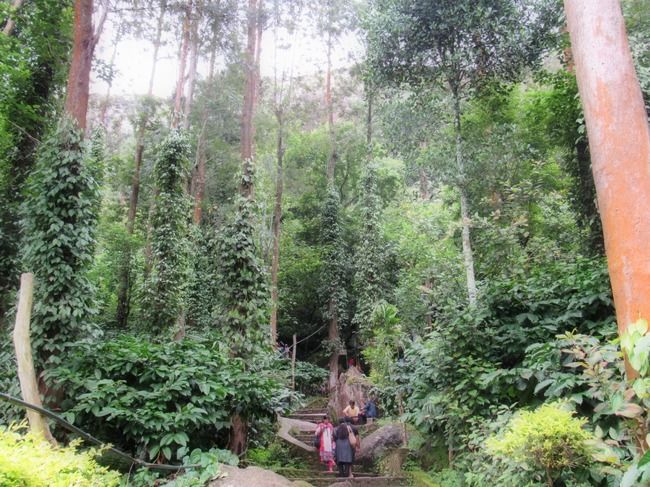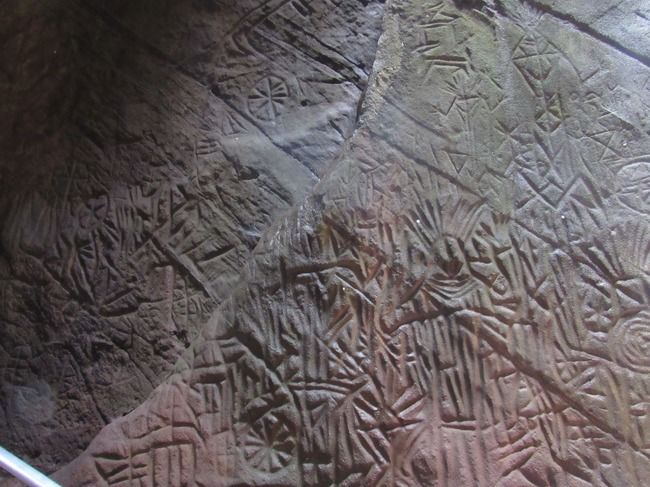 Kuruvadweep Island: Reading through experiences of travelers, I had put it on my no. 1 in the sightseeing list. Its a small group of uninhabited islets on the Kabini river. You would be taken across on bamboo rafts and the islands are rich in flora and fauna. But to our dismay, we found out that the place is not open during rainy seasons. We called and confirmed with the Tourist Department before going and hence, were saved from a futile visit. But, check out all other information about the island here.
Kayaking & Adventure sports on Karlad lake: It's a small, well maintained lake which offers adventure sports like rock climbing, zip lining and kayaking. We did kayaking and it was fun. The surrounding views from the lake is very pretty. Not too crowded as the other tourist spots and hence its a good place to relax and have some peaceful time.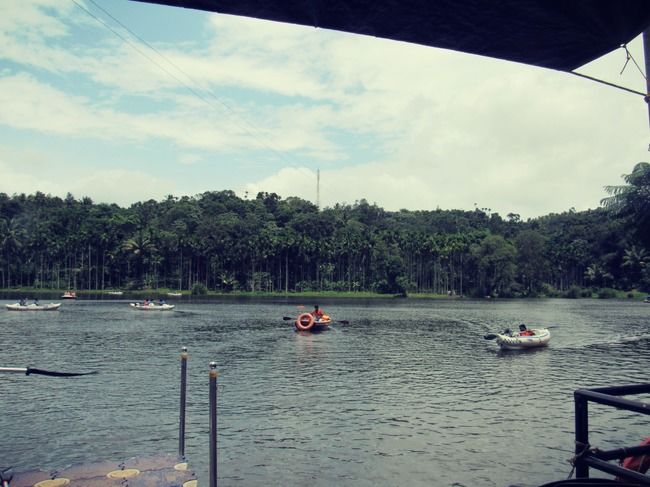 Boating and beautiful views at Banasura Sagar Dam: Banasura Sagar Dam offers mesmerizing views of the surrounding mountains. You can go for boating in the lake. The road to the site is quite narrow, and the time we were visiting there was a big traffic jam. With the rains and the traffic congestion, we decided to turn back. Maybe on my next trip then!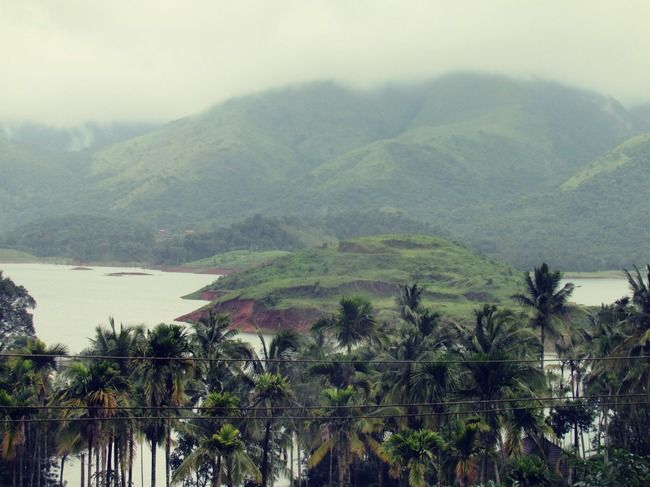 Pookode Lake: With a children's park adjacent to it, Pookode lake also offers boating facilities. There is a path built around the lake, perfect for a leisurely stroll. The road leading to the lake is very narrow and there is huge problem of traffic jams. Its better to not take your vehicle up to the lake, rather keep it some distance away.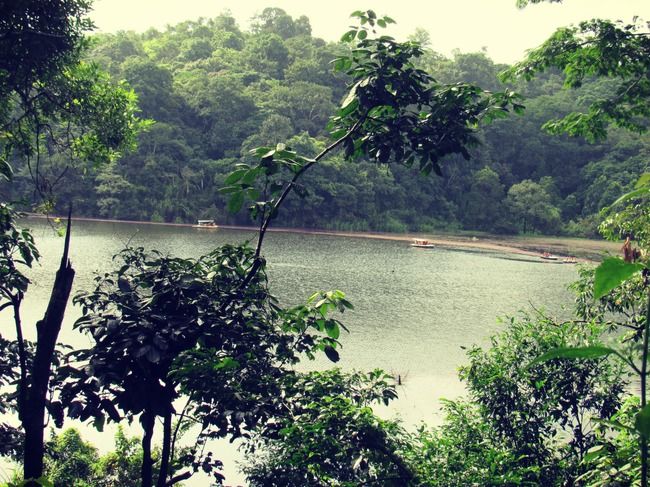 Waterfalls: Wayanad has a number of waterfalls. Among them, we got to know that Soochipara falls and Meenmutty falls are quite famous. Both of these waterfalls also involve a bit of trekking down to reach the falls. We had decided to give the falls a miss due to weather conditions and lack of time.
Sunset from the Lakkidi View Point: The Lakkidi View Point is actually situated on the highway that goes down further to join Kozhikode. It gives a view of the Western ghats and the winding roads reaching up towards Wayanad from Kozhikode. Its best visited around sunset. A lot of vehicles would be whizzing past you on the highway, so it depends how long you would want to stay there.
Tea Estates: Wayanad is endowed with such beautiful vegetation but the lush-green tea estates steal the show. As you drive around in Vythiri and Meppadi areas, you would come across vast expanses of tea estates. Most of these can be easily accessed.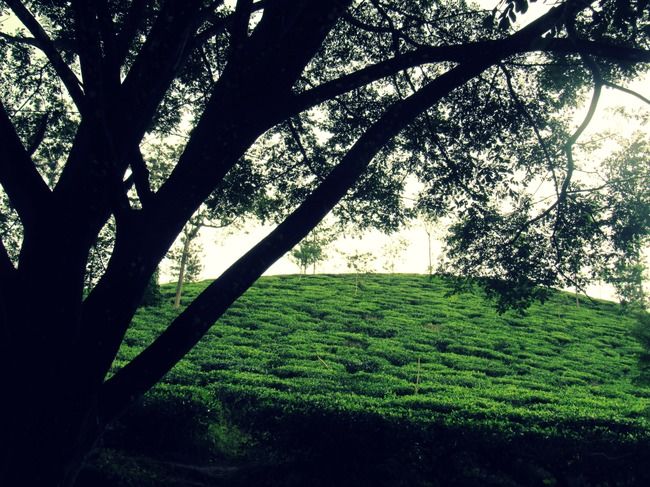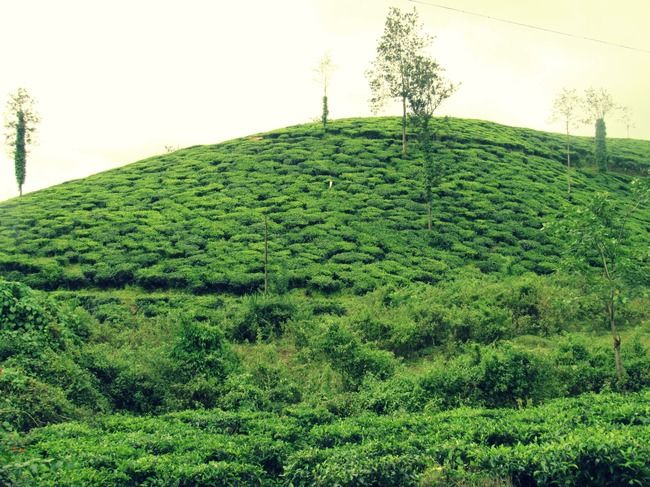 Wildlife Safari: The Muthanga Wildlife Safari timings are from 7-9 am and 3-5 pm. If you are driving from Bangalore to Wayanad, it falls on the way and hence, can be easily incorporated into your plan.
History, any one? The Wayanad Heritage Museum (12 kms from Sultan Bathery) has a great archaeological collection from around the area. Claiming to be one of the largest and best archaeological museums in the state, it showcases various arts and artifacts from different periods and dynasties.
Here's a tourist map that we got from our resort, which made our planning a bit easier.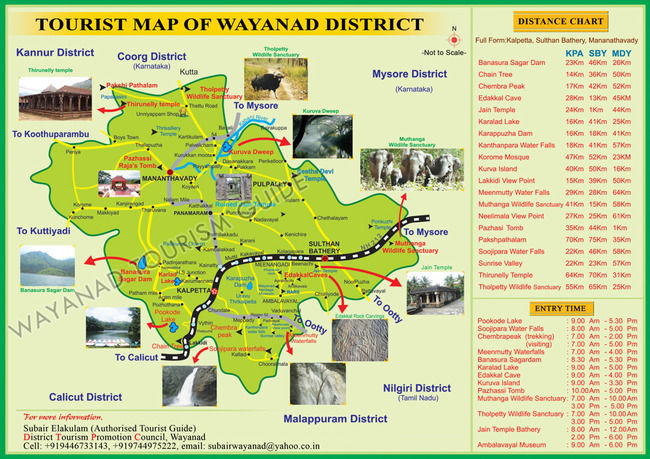 Food
We were not very lucky in experimenting with a lot of authentic Kerala cuisine during this short stay, as we ended up having our breakfasts and dinners at the resort. They have buffets, which can be best summarized as a touristy gimmicks. Also, most of the hotels and resorts around the area were serving the same. But, the gastronomic highlight of our entire trip was the food at 1980's : A Nostalgic Restaurant. A homely setting, traditional Kerala vegetarian thali served in banana leaves, with spicy, heavenly fish-fry and a beef curry that my friend swears by – it was Food to fall in love with. Situated near Kalpetta, the place also has a tea and coffee stall and its walls are adorned with all the film stars who have visited the place. I would definitely recommend this place to everyone who is visiting Wayanad.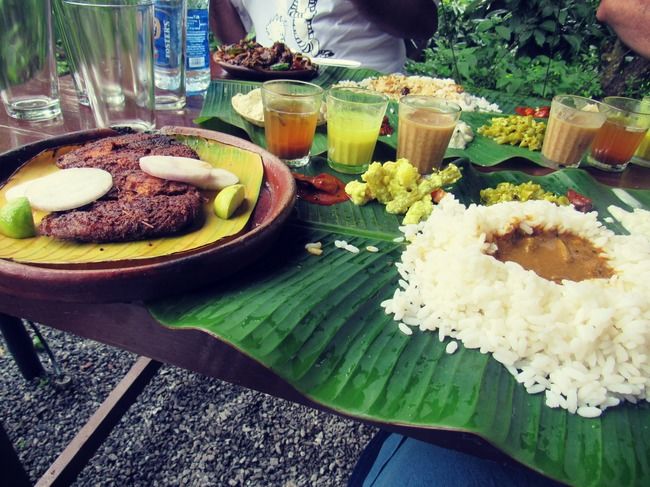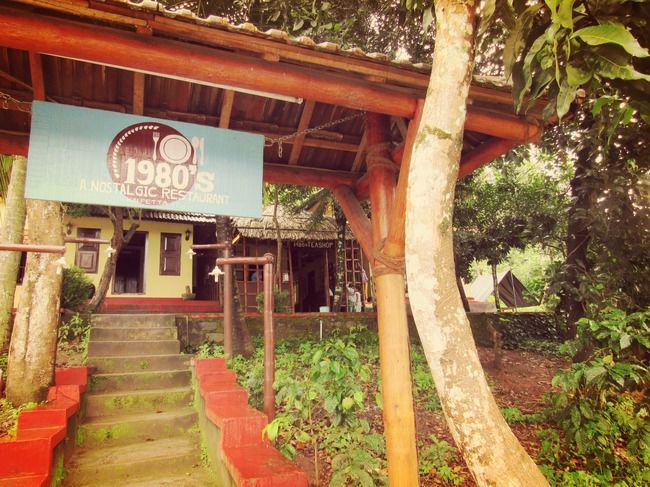 We did not try to do all the sights in Wayanad since we wanted to have a relaxing stay and time was short. But if you have time, then make the most of it :) All I can say is the trip was a soothing break in the lap of Mother Nature and I was back in Bangalore feeling rejuvenated.
Originally posted on Travel with Swagatika