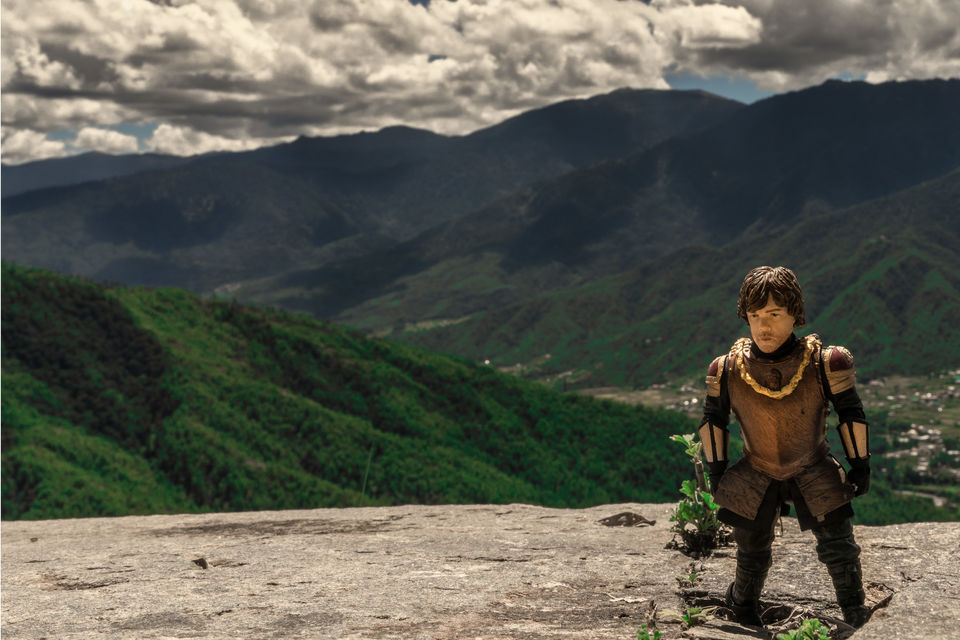 भोटांत, अर्थात भोट का अंत, यानिकी जहाँ तिब्बत का अंत। भोट शब्द में भूतकाल से सुनता आ रहा हूँ, तब से जब से मेरी मम्मी ने मुझे बताया था की उन्हें उनके बचपन में लोग उनके चेहरे की विशेष्ताओँ के कारण भोटली कहा करते थे खैर ये लेख तिब्बत नहीं भोटांत यानी भूटान के बारे में हैं। बचपन में एक पाठ था पुस्तक में जिसमे रूसी बच्चे अपने अपने घर की बेकार लोहे की वस्तुएं इक्कठी करते हैं जिससे की एक ट्रेक्टर बनाया जा सके जिसे भूटान को भेंट किया जायेगा। वो अध्याय मस्तिष्क में आज भी क़ैद हैहमेशा से भूटान की कल्पना जीवित रही और लगभग २० साल बाद मौका मिला कल्पना और हक़ीक़त को रूबरू कराने का। ख्याल आया कि ख़राब आर्थिक हाल को कुछ और ख़राब कर लिया जाये और भूटान से एक भेंट की जाये और हमेशा कि तरह कच्ची पक्की तयारी के साथ हम निकल गए।
What's that with title of post?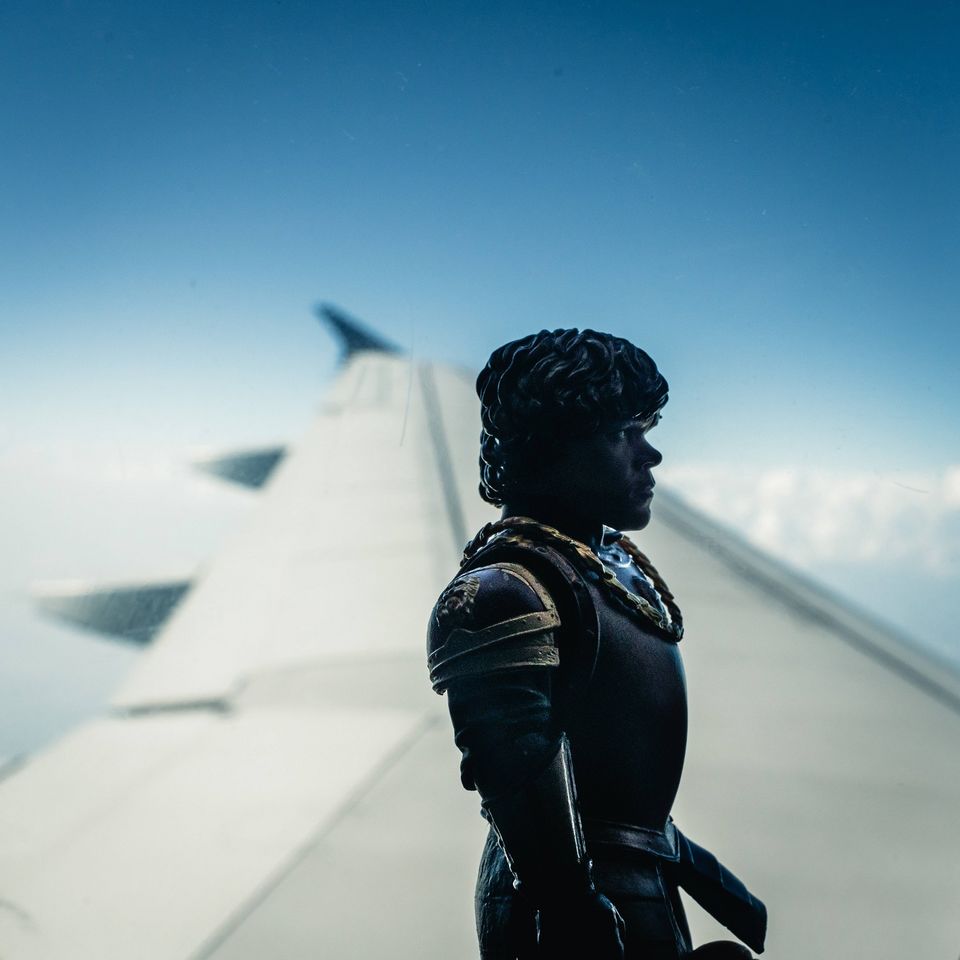 I got this idea a few months back that I should create a series of tales where I can carry a miniature to make the story more interesting. I had thought of carrying Agent Javier Pena(Narcos), as I liked him very much, but it was obvious that I won't get it. So I settled with Little Lannister. Thanks to Hamleys for miraculous discount of 70% as well. Before going I did read and saw about Bhutan a bit, and learned one can get a real wisdom by traveling there, hence the title!
Plane Game Chain Continues...
Gw157 plane to Bagdogra, once again the Airbus, I wonder why Indian airlines are obsessed with only Airbus, maybe the good capacity of 78000 KGs, a giant tube floating over 35000 feet sky. And then once again that same old question to quiver my conscience how can a machine fly so high?
I saw this peak with the ridge, don't know the name, someone can mention the name in comments.
Pujo and North Bengal
The beauty of traveling lies in the journey, not destination, that's what they say.
Now this journey from Siliguri to Hashimara is beautiful, I will call it Junglebook rail, as it crosses through the woods at the speed of 20-30kmh. People were celebrating "Pujo" literally on rails. They celebrate the Vishwakarma Pooja with big hearts. In India life is possible on rails. And yes, देसी देसी ना बोल्या कर छोरी रे in Bengal, yes that's a truth, people were dancing on it.
Every time I watch a foreign documentary about India, it starts with " Loud nation" and now I see it more and more in practical terms.
See the beauty of real North Bengal from an evening train from Siliguri, it's beautiful like you are inside a story book itself, unfortunately, no pictures. Go and experience it yourself.
Now a little gyan about the places which you encounter from Bagdogra to Jaigaon on the border.
Para in Bengali means Neighborhood and you find a dozen places their names ending with Para.
Similarly, Guri is for places.
Let me define landscape here in North Bengal, mountains on one side, lush green tea gardens on the other side, roads sandwiched between two. The Himalayas are leaking everywhere, making the rivers.
The Jungle Incident
The phone was finding itself obnoxious in our Junglebook landscape journey so it ran away from the hand and went into Jungle from the train, now we returned next day to find it. We decided a limit of time and distance to which we will go into the jungle for searching the phone. Unfortunately, we reached in the evening so had to make a half-hearted attempt to search it. We asked permission from a nearby station master and also took information of train timings so that we don't get railed under the train. Just after doing few minutes search operation darkness took over the all over, now this is east of India so expect Sunset to happen earlier because clocks have not been adjusted. So after doing a little adventure of searching, we started returning.
A distant call from woods side, I completely ignored it for the first time, second time it's more decisive that it's from the woods side, third time, we both knew someone is there. Fully perplexed because of no possibility of a human from the jungle side, and then we see a human figure running towards us saying "Ooh Bhaiya"..and then we saw something in his hand also. A wooden plank in his hand, now we were in defensive mode. I saw he was in my rail so I swiftly switched to another.
Who was he? The answer reveals in the second part.
Jaigaon and Phuntsholing
It's so weird that we deal with two currencies here in Jaigaon(India) and Phuntsholing(Bhutan), the sister towns. It's perfectly normal for people to cross-the-border to get fuel 20 rupees cheaper and go back to India, very much like the utopic border, some people still dream for India and Pakistan. You can play a game called country-country here; take a step on the right of Gate and you are in Bhutan, go for a stroll i and come back to India. But it's so weird to know how different are these two places, on one side you will find people honking horns just like any other Indian city and on the other side, red plated Bhutanese vehicles silently roam in neat and clean streets around. A clear answer to our all problems are somewhere connected to population explosion, we are going out of control and culture of happiness and cleanliness that is yet to come. Let's leave politics for newsrooms. Let's give our best for the sake of country.
Slang Check: Mota Moti(Estimate), you will hear that a lot here ????