Darjeeling, as most of you all may know, is internationally renowned as a tourist destination for its spectacular view of Mount Kangchenjunga (or Kanchandzonga), its tea industry and the Darjeeling Himalayan Railway, a UNESCO World Heritage site. Due to bad weather, the inbound flight had got delayed. But now, it's ready for take-off.
As the uphill journey starts, I get a feeling of nausea. I sit in the front. The fresh clean air and wonderful lush greenery is a most sought-after change for me. Nearing Mirik, the beautiful landscape becomes foggy... Numerous tea gardens producing the famous Darjeeling tea are located in and around Mirik.
From the top, one can have an aerial vision of the peaceful village life around the hill area amidst the flourishing green tea estate. bask in the lovely views which are so very relaxing. Some of the Bollywood songs that have been playing in the car are very mushy. We reach a popular place, the Sourene (or Tingling) View Point, named after the nearby Tea estates. The view from here is awesome. After about eight kms, we reach Mirik town located at an altitude of 4,905 feet.
The main attraction here is the Sumendu lake... Krishnanagar, a short distance away from the lake, has a number of hotels and restaurants for tourists. We reach the car park on the right side of the lake. The driver shows me the small road leading above to the Mirik market which has small shops selling all kinds of items including woollens, clothes & souvenirs. From there, the Mirik Monastery is a short distance away, on a hill top. But first, I walk to a nearby place where fish breeding is carried on. Fishing is strictly prohibited and is a punishable offence. Small trout-like fish gather in hordes when visitors throw them food sold at nearby stalls. Wow, what a sight! I have never seen so many hungry fish in my life. I proceed towards the lake. At the entrance there are a few food stalls. I enter the park beyond which lies the lake. It's off-season time so there are no tourists, only locals. The lake has boating facilities. I prefer to walk around the park. There are plenty of school children around. Some of the girls are very modern. One of them even has her hair dyed in blue highlights on side. before!
The other side of the lake is covered with flourishing Dhuppi(Cryptomeria japonica or Japanese cedar) forests. The park and the pine forest are linked together by an arching 80-ft (24-m) long footbridge called Indreni Pool (Rainbow Bridge)...
Earlier, the driver had told me about a Nepali market where imported goods, clothes, shoes, etc. are sold at a very cheap price. Now when I ask him about it, he tells me there's not much to see there. Okay. (Later I will learn that the Nepali market or Pashupati Market is at the India-Nepal border. About 12 km from Mirik, it is the gateway to the Kingdom of Nepal and a must-see for tourists. The road that leads to the market goes all the way to Kathmandu. Only Indians and Nepalese are allowed to cross over the border area.) It's 3:00 PM and I need to reach Darjeeling and find a good place to stay before it gets dark. So we resume the journey to Darjeeling. It's a beautiful hill-side drive through the vast expanse of lush green tea estates. We stop at a place to have tea. I love the Oolong tea the minute I taste it! I buy a small pack of it. After a couple of photographs of the beautiful flowers at the place, we are off on our way. Ecotourism and homestay facilities have made this small town an attractive destination for tourists looking for a quiet and peaceful holiday. It's a lovely scenic drive from Mirik to Darjeeling. We reach Simana, the Indo-Nepal border area where the road acts as a divider between both countries. I'm naturally curious as I haven't seen an open border between two countries before. The Indian side looks similar to the other side because the villagers are mostly from the Nepali community. I want to take a photo but the driver tells me that taking photographs of the border is forbidden and the security forces may object. Okay, whatever...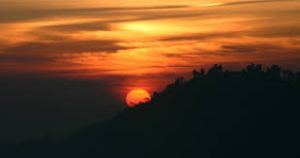 We stop at Simana View Point - a 60 feet by 40 feet plateau and a viewing area - from where one gets a picturesque view of the beautiful Nepalese mountainous landscape including the Kanchenjunga. The viewing area falls in Nepal but one can freely cross over to get the views. It is just lightly raining but in the heavy fog I'm unable to see anything. There are some stalls selling food and refreshments. The cold air makes me start coughing again so I return to the car.
At 5:00 PM we reach Ghoom, a small town neighbouring Darjeeling, which is just 6 km away. The Darjeeling Himalayan Railway, an amazing century-old two feet narrow gauge railway runs through this town. This world-famous steam locomotive, the first of its kind, was introduced in 1881 under the British colonial rule to cut down the enormous time it took to transport passengers from Siliguri to Darjeeling by bullock cart and horse carriages. Fondly called the "Toy Train", it was declared as World Heritage by UNESCOin 1999, the second railway in the world to receive such status. Amazing zigzags and loops on the way help this engineering marvel to overcome steep gradients and curves of the mountains making it a unique ride. It takes about 7 hours to complete the journey passing through picturesque mountain landscapes and villages. In 2010, due to landslides, a section of the track on this route was damaged and since then there is no toy train from Siliguri to Darjeeling. But there are toy trains operating between another town, Kurseong and Darjeeling. At 7407 feet, Ghoom is the highest altitude station on the Darjeeling Himalayan Railway (DHR) track. The Darjeeling Himalayan Railway Museum is located at the station premises. There are daily toy train joy rides available from Darjeeling Railway Station to Ghoom and back. At a place called Batasia Loop, the train makes a 360 degree turn (to lower the gradient of its ascent) around a beautiful garden with a War Memorial. Riding the Toy Train has been a joyous experience to tourists for more than a century. During peak season, tickets have to be booked well in advance for this heritage ride that once provided the first mountain transportation link in the country. The railway track often runs side by side the main road (The National Highway 55 or the Hill Cart Road), intersecting it many times. While we are talking about the train, it chugs by just in time for me to take a photo and a two-second video clip.
The small steam engine pulling three tiny coaches, with about 15 seats each, is a cute sight! But the black exhaust fumes that it exhales leave me coughing incessantly. That's it! I'm not going to take the Toy Train joy ride! At least I was lucky enough to get a quick look at this "pride and joy of Darjeeling". We reach Darjeeling at 5:15 PM. At first sight, I realize that it's not a sleepy hill town but more like a busy city with narrow and crowded streets, congested areas, and above all...fashionable and pretty-looking young women! At 6,710 feet, Darjeeling is blessed with great weather. During the temperate season of spring, summer and autumn, hordes of tourists flock to this town for its main attraction...a 180 degree panoramic view of the sunrise over four out of five highest peaks of the world from Tiger Hill, which is 13 km from the town. Many love to visit this popular town in the winter and some, in the monsoon. And then, there are a few like me, who just want to breathe clean air and feel the hills when there are no tourists and the hill town is at its serene best. I pull out the list of hotels that I have made after browsing through the Internet. I have thought about staying at some place near the Mall which is the town centre. The Mall (or the Chowrasta Mall) is the most preferred area for tourists. Most popular hotels, restaurants and shops are located along the entire stretch of Nehru Road leading up to the Mall and the Mall road itself. We reach the taxi stand from where the Nehru Road leading to the Mall begins. Just opposite the stand is Hotel Dekeling, which features in my list. It's located in an old building and the entrance is through a narrow staircase. I drag my poor little trolley bag through the bustling pedestrian Nehru Road. Due to rain, the narrow road is wet (and puddled at places!) and the uneven surface makes it difficult for me to walk through the crowd while checking on my bag from time to time. To make it worse, there is a slight drizzle. The road is lined with all types of shops (arts, crafts and jewellery, curios, woollen clothes, jackets, shoes, etc.) and restaurants (Indian, Chinese, Continental, etc.). out to check another hotel and have a No doubt this hotel is located in an excellent loc ation but maybe I had mistaken this hotel with another of the same name.Besides my room, only two or three other rooms were occupied.
My cellphone has lost connectivity after passing Simana so I'm unable to call home to tell my folks I have reached Darjeeling. To my surprise, there's not a single shop around providing STD phone service. I check out the STD booth inside Glenary's but there is no phone inside the booth. I'm tired and hungry and I need to eat because I haven't had anything since morning. I set off for a restaurant known for its Tibetan fare on the Mahatma Gandhi Road. Kunga restaurant turns out to be a tiny place located in the same building as Hotel Dekeling. It's been almost nine months since the last time I have had Tibetan momos(dumplings with spicy meat or vegetable fillings that are served either steamed or pan-fried, with a spicy hot sauce). I ask for chicken momos and sweet corn chicken soup. When the food arrives, I'm all ready for it! I taste one of the dozenmomos and I'm totally disappointed. But, hungry as I am, I have 6 or 7 of them. I take a spoonful of the soup and I cringe. The soup is salty! Shucks, I should have dined vegetarian at Glenary's!
A few minutes later, I'm on my way up the long flight of narrow stairs to Hotel Dekeling. The reception is on the fourth floor. It's a charming place owned by a Tibetan family. The room tariff for a standard room is 1600 rupees plus taxes. The room is small but the bed linen and towels look spotlessly clean. The youngster managing the place agrees to give me a discounted rate of 1200 rupees including taxes. I make an advance payment of 500 rupees for booking the next day's stay. The hotel has plenty of guests, mostly foreigners. On my way downstairs, I see a small group of French tourists huffing up the stairs to the hotel. I return to the Nehru Road. It's nearing 7:00 PM so one by one all the shops are starting to pull the shutters down. I reach the Mall, a wide promenade atop a ridge lined with shops and restaurants. A pedestrian-only zone, free of vehicular traffic, it's a place where one can sit and chat, bask in the sunshine, watch the sunrise or sunset over the mountains, or just spend some blissful moments in silence. Looking around, I see the Oxford Book Store, a more than 60-year-old landmark, built in a typical hill-style architecture with pitched roof. I quickly run my eyes over the books on display before moving on to the counter where packaged Darjeeling tea is sold. They have a small variety of teas. I buy a small pack of black tea and green tea. I was under the impression that they also provide a cup of Darjeeling tea. They don't, but just next door are two tea lounges cum retail outlets of packaged teas - Nathmull's Tea and Golden Tips Tea Lounge. I enter the nearest one, Golden Tips Tea Lounge. They have all sorts of teas and tea accessories as well as gift and souvenir items. I take a good look at all the stuff. It being a late hour by Darjeeling standards, there are just 3-4 people in the lounge. The menu card lists different types of teas along with vegetarian snacks. I choose Oolong tea which soon comes to my table steaming hot in a large, green cup. I still haven't got over the lousy dinner which has worsened my cough. After two sips of the tea, I'm coughing again. I pay the bill and leave the place. The next door Nathmull's Tea Lounge is a similar place but it has more variety of tea and goods. Both outlets belong to the same reputed tea merchant family which is strictly vegetarian. So that explains the reason for serving only vegetarian snacks! The manager is busy explaining the fine details of different teas to his customers. It's a well-known fact that the world's best tea comes from Darjeeling. It is the ultimate tea with has its own unique natural aroma and flavour. Commercial tea cultivation in Darjeeling began in 1856. Extensive tea plantations were established in the region, and tea growers developed hybrids of black tea and created new fermentation techniques. The resultant distinctive Darjeeling tea is internationally recognised as the most popular of the black teas. Like Champagne andTequila, Darjeeling Tea can only be produced in the hills of Darjeeling and cannot be replicated anywhere else in the world. Besides numerous lush green tea gardens, the "magnificent sunrise" from Tiger Hill and the Toy Train ride, the other attractions of this popular hill station are the Himalayan Mountaineering Institute (HMI), Himalayan Zoo, Ghoom Monastery, Tenzing Rock Garden, Japanese Temple, Tibetan Handicraft Centre, Ropeway (India's oldest passenger cable car) and the Botanical Garden. On the way to Darjeeling, the taxi driver had told me that most tourists take a private or a shared vehicle for sightseeing tours because some places are very far to be walked out, above all, Tiger Hill. To watch the sunrise from Tiger Hill, which is at an altitude of 8,482 feet, one has to wake at 3:00 AM and drive 13 kms on a rugged, narrow, uphill road. At sunrise, on a clear day, the golden rays of sun brush the Kangchenjunga (at 28,169 feet, it is the third highest mountain peak in the world) and fill the entire eastern Himalayan Mountain range with its golden ambience. Even Mount Everest (the world's highest peak at 29,029 feet) is visible from here as a small triangle speck. I'm not going to do the "tourist" thing. Considering the foggy weather, I don't think that the sky will be clear to see the sunrise the next morning. The last thing I want to do is spend 2000 rupees to travel in the wee hours of the morning, on an uphill road, probably packed with tourist cars, just to see nothing but dense fog. Neither have I made any plans to visit any of the town's attractions. All I want to do is walk around the nearby places and bask in the fresh, clean air. My first day in Darjeeling hasn't worked out so well. Thanks to the bad dinner, I have lost my appetite for non-vegetarian food. My hotel is not what I had expected it to be. I now realize my mistake. It's the Annex of Main Olde Bellevue Hotel which means it's the cheaper or budget wing of the hotel. The one I was looking for is right here on the Mall. And now, I find out I got nothing to see or do except maybe sit on a bench like a few others. The place becomes empty by 8:00 PM! When I had asked the taxi driver if it was fine to stay out till 10:30 - 11:00 PM, he had given me a horrified look. I return to my hotel. It's only 7:30 PM! I haven't yet called up home. I ask the hotel manager if he knows where I can find an STD phone, he tells me it will be at the Telephone Exchange. He tells a hotel attendant to take me there. It's somewhere near the Mahatma Gandhi Road. I follow him in the dim-lit streets. We reach the Telephone Exchange but just as I expected, there's nobody around. The guy climbs up the rest of the floors to look for the security guard. When he returns, there are two guys with him. One is the security guard and another, an employee who looks like a North Indian, from Uttar Pradesh. The latter, when he finds out that I want to call home in Mumbai, immediately offers his cellphone to me. So sweet! It costs less than ten rupees to make the call but I didn't like asking strangers to lend me their cellphone to make a one-minute call to Mumbai. This kind person has just made my day! Within a minute my call is over and I offer to pay for it but he refuses. The call probably cost him five rupees but the value of his kindness cannot be measured. God Bless! The hotel attendant is flustered. "If I had known you wanted to make a call to Mumbai, I would have given you my cellphone." While returning, he repeats the same thing to me more than 5-6 times. Yeah, whatever! I most definitely had told that to you and to the hotel manager. Well, it wasn't their fault. Quick thinking just doesn't come easily to some people! Back in my room, and off for sleep.
A person with a traveler soul. Wanderlust!!
Frequent searches leading to this page:-
darjeeling 7 points sightseeing, darjeeling 7 point name, darjeeling 7 point tour map, 7 days darjeeling tour, darjeeling chapter class 8 summary, darjeeling tour packages 8 days