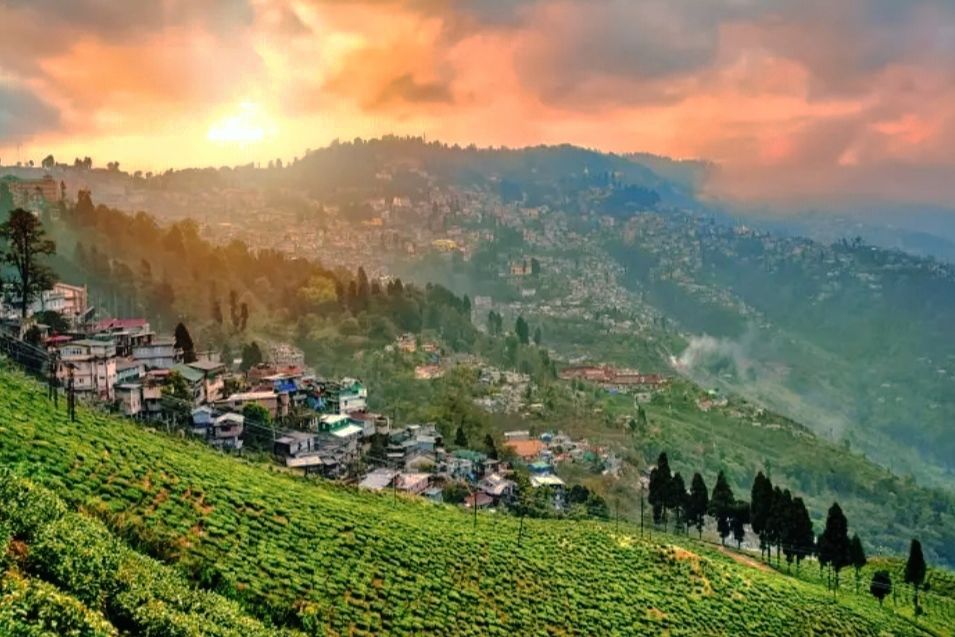 Darjeeling is a beautiful town located in the lesser Himalayas with a wonderful climate and amazing scenic beauty. This place attracts more than 4.5 lakhs tourists every year. The breath-taking beauty of the Himalayan Mountains and the beautiful green tea estates makes this place a heavenly land for travel lovers.
The lovely viewpoints, stunning waterfalls, scenic parks, beautiful gardens, exclusive museum, attractive monasteries, dense forests, and green lush valleys will provide you a relaxing break into the lap of nature away from the chaos of city life
Here are the best attractive tourist destinations of Darjeeling
Tiger Hill
Tiger Hill is one of the popular mountain peaks of Darjeeling which attracts a good number of visitors every year. The place is famous for trekking routes and the scenic beauty of Kanchenjunga and Mt. Everest. The sunrise views with the dazzling first sunrays on Kanchenjunga will give you a bewitching experience. Capturing those magical moments on camera is just a heavenly feeling for photographers
The hill is located just 11 Km away from the Darjeeling town and you can reach there by car in only 40 minutes. Driving through the stunning tea plantations to reach this hill will be a majestically rich experience
Sandakphu Trek
Do you love trekking? If yes, then Sandakphu is the dreamland for you. It is the highest peak in North East at a height of about 11,929 feet. Until you reach that height, you will experience some extremely stunning scenic landscapes.
From the Sandakphu Trek, the amazing views of the grand Himalayan Mountains are enough to make your trip memorable. In a sentence, Sandakphu Trek is a combination of amusement and thrill.
Darjeeling Rangit Valley Ropeway
Through this exclusive Rangit Valley ropeway, tourists can enjoy glorious landscapes, rich green forests, thriving tea estates, exclusive flora and fauna, and beautiful mountain peaks covered with snow
16 cable cars are there which can carry tourists comfortably at a height of about approximately 7,000 feet. The passengers can click some delightful pictures of the amazing town while riding.
Darjeeling Himalayan Railway
One of the most popular attractions of Darjeeling is the Darjeeling Himalayan Railway. The place is mostly popular for its toy train which runs amongst the beautiful hills. The passengers will enjoy an adventurous as well as a relaxing journey.
The glorious views of the green valleys, stunning waterfalls, amazing snow peaks, dense forests, tea gardens provide an amazing experience to the passengers. Darjeeling trip is incomplete without a toy train ride
Batasia Loop
It is an amazing pathway of toy train which was set up amongst the green lush mountainside to decrease the elevation of the Darjeeling Himalayan Railway. The charming views of the valley and the Snowy Mountains will fill your heart with heavenly joy and pleasure.
The place is also famous for the alluring carpet of flowers, hill-locked valley, tunnels, and small local shops which attracts a good number of visitors here. Moreover, the spiral railway track and the enchanting beauty of this place make it a dreamy place for artists and green panthers
Singalila National Park
Another attractive tourist place in Darjeeling is the Singalila National Park. The ecstatic beauty of the valleys from this place is blissful for dreamy travellers. It is the highest national park in the town situated at a height of 7,000 feet above sea level.
There is a Rhododendron forest covering an area of 79 Km and a wide variety of flora and fauna along with misty weather which will leave everyone mesmerized.
Happy Valley Tea Garden
Darjeeling is famous for its enchanting tea gardens. The tea here is famous all across the world for its excellent aroma and taste. Happy Valley Tea Garden is one of the popular tea estates of Darjeeling. British planters set up this garden in the year 1854.
Tea bushes of age more than 100 years are available here. Watching the green expanses of tea gardens on the hill slopes is like a paradise for nature lovers.
Padmaja Naidu Himalayan Zoological Park
Spreading over a sprawling area of 65.56 acres of land, this park is a home for many endangered animal species that include red pandas, snow leopards, Himalayan Salamanders, and many more. More than 200 species of plants like Alder, Birch, Oak, etc. are also found here.
The place, commonly known as Darjeeling Zoo, is widely visited by wildlife enthusiasts and nature lovers. In order to honor the Ex-West Bengal Governor, Indira Gandhi had named this park as Padmaja Naidu Himalayan Zoological Park
Darjeeling Rock Garden
The place is famous as one of the most attractive picnic spots in Darjeeling. The alluring waterfalls, beautiful garden, green hillside, vibrant flowers together make this sport a frequently visited place for nature lovers. Tourists can also enjoy a lot of fun activities here with family, and friends.
The glorious view of the Chunar waterfall here is a blessing on Earth with its divine flow. The best time to visit this garden is during the summer season.
Ghum Monastery
Apart from tea gardens and amazing parks, Darjeeling is also famous for its beautiful monasteries. Ghum Monastery is one of the premier Tibet Monasteries with excellent architectural & creative design. Situated at an elevation of around 8,000 feet, the place is popular for its high statue of Buddha.
Besides these, there is also a wide collection of Buddhist records and manuscripts which are generally hard to find anywhere. Tourists also visit the Ma Kali Temple here located at the hilltop to offer prayers.
Overall, Darjeeling is an amazing place with hills, mountains, snow peaks, tea gardens, forests, lakes, sanctuaries, monuments, etc. suitable for both family trip as well as a romantic trip
You can also visit some offbeat places in the Darjeeling area to experience local culture and village life and enjoy some delicious home-cooked local cuisines