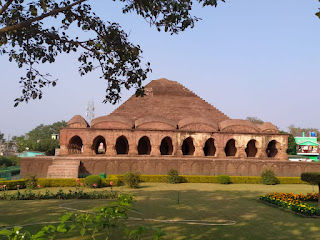 Sometimes, you have travelled everywhere, but left out your own backyard. Bishnupur was something like that for me.
I have visited the forts of Rajasthan, the temples of Gujarat, the monuments of Delhi, but Bishnupur right here in Bengal had somehow slipped from my itinerary.
If you are a history or archaeology buff, do make it a point to make that trip to Bishnupur, a historical, quaint, small town located in Bankura District, West Bengal, India.
Famous for its terracotta temples built by the foregone Malla Dynasty kings of Bengal, Bishnupur is a mere three to four hour journey from Kolkata. There are express and superfast trains from Howrah to this town running at convenient timings on most days of the week.
Terracotta Masterpieces
The weather in January end is cool and crisp. The narrow winding lanes of the town take us to the temple sites in Bishnupur, a must-see for all travelers.
Built with terracotta some four to six hundred years back, these temples are archaeological wonders, having weathered the ravages of time quite jauntily.
A half day-trip would cover the Rasmancha, Shyam Rai Temple, Jor Mandir, Madan Mohan Temple, Krishna Rai Temple, Bara Pathar Durwaza, and Dalmadal Cannon visit, located close to each other.
With their intricately carved panels, arches, pillars and domed exteriors, the temples and the stage/mancha are awe-inspiring. This place of Bengal is famous for its red sandstone and burnt clay structures and artefacts. On the walls of these centuries-old reddish brown temples. are carved various episodes from the epic Ramayana, and the Hindu Puranas.
It was interesting to see some familiar stories from these well known mythological tomes come alive on terracotta in front of us.
Artefacts and Memorablia
Stalls loaded with terracotta goodies, run by local craftsmen, abound near the temples. There are household items, jewellery, idols of gods and goddesses, utility items, and most famous of all- the pair of Bankura horses with their polished bodies and typical long pointy ears. You can get some superbly carved knick-knacks at unbelievably affordable prices.
Dokra or twisted metal artefacts are also available at some stores in Bishnupur. Lovely jewellery, sculptures and statues intricately crafted in Dokra, are available at fairly reasonable rates, to take home as mementos.
Baluchori and Swarnachari- Wonders in Silk
This town is also famous for its superior quality pure silk sarees, woven with finesse and diligence, and embellished with scenes from Indian epics. The Baluchori and Swarnachari sarees are literally works of art on fabric, handwoven painstakingly by master craftsmen.
We visited two workshops where we observed skilled artisans, working away with silk threads on manually operated looms, to create the most awesome sartorial wonders.
Each saree is like poetry woven on colourful fabric. Baluchori and Swarnachari sarees are made from the purest silks, embroidered with silk thread, and are marked with the Silk mark for authenticity. They are the GI tagged treasures of this region of Bengal.
Where to Stay
You can opt for the West Bengal government owned tourist lodge that has decently furnished AC rooms at reasonable rates.
Dining options are limited and the service standards are strictly functional, but the convenient location and comfortable rooms (all with balconies) are worth checking out.
A couple of 3-star hotels are also operational, as well as some hostels and basic lodging facilities.
How to Reach
Take a flight or train to Kolkata/Howrah. From there, take a train or a car to reach Bishnupur. The time taken for the rail or road journey varies from 3 to 4 hours.
Best Time to Visit
Summers are hot and humid here. The best time to visit would be in winter and spring (October to March). A two to three day trip is ideal to cover all the tourist attractions. If you want to soak in the atmosphere, and also check out the handloom and weaving stops, then plan a slightly longer stay.
Get your bags packing and revisit heritage in Bishnupur, West Bengal. You won't regret the visit, I assure you.