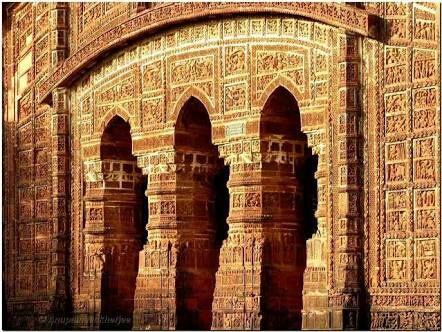 My earliest memory of this historical town happens to be my aunt (bua' s place) & the fun with elder cousins. We used to visit them once a year during any long weekend to catch up with family & also for a relaxing trip. We had different agenda during our trips. For my elder brother it was playing endless hours of fully cricket as roads were empty, for my mom & aunt it was visiting the many temples, for my dad it was long hours of sleep & good food & me, the youngest member is terracotta toys. As I grew up to teenage, it was terracotta jewellery, while I stepped in college, my first saree, baluchari. But what remained constant in all these years was my love for history of the place.
Bishnupur is a town created by the Malla kings that ruled this area during 17th century. These artisans of the Malla kings have showed their craftsmanship in the wide number of terracotta temples that they had constructed. These temples are now under the supervision of archaeological departments. You can see these temples any day in the morning hours, but if you want some extraordinary views, then you must visit them at night on Saturdays and Sundays when the temples are brightly illuminated with lights. Besides, Bishnupur has a beautiful setting with huge waterbodies like Shyambandh, Lalbandh, Yamuna bandh and Kalindi. Bishnupur is mainly famous for two reasons – Terracotta Temples and Baluchari Saris.
The best way to explore the town is by the rickshaw. The rickshaw pullers are locals & know history very well & can double up as guides.
The Jorbangla Temple of Keshta Rai is worth seeing. The beautiful carvings of terracotta are still intact. Pancha Ratna Temple, also known as Shyamrai Temple, was built in 1643 . Walls of this large temple flaunt terracotta carvings depicting Lord Krishna's life.
The famous Dalmadal Kaman (cannon) made of wrought iron was probably the largest cannon manufactured by the Malla Kings. The cannon is 3.8 meters long with a muzzle of 29.2 cms in diameter. This canon is worth a visit.
The Madanmohan Temple of Bishnupur follows ekaratna style that has a square flat roof with carved cornices. The building also has a surmounted pinnacle on top. The walls of this temple depict a few scenes from Ramayana, Mahabharata and the Puranas. Rasmancha is the oldest brick structure here, made in a pyramidal structure. During the Rasa Festival several deities from other temples are brought here, in a procession. Some of the cannons used during the reign of Malla kings are still kept here. Lalji Temple is a laterite eka-ratna temple. The temple stands over a square raised plinth, having ornamental stucco decorations on low relief carvings.
Bishnupur is also famous for Baluchari saris, so look for some shops that sell good baluchari saris. Traditional version of these saris is woven with Ramayana and Mahabharata images. If you are willing to buy some terracotta stuffs then visit the shops or visit Bankura for the famous terracotta horses
Apart from sightseeing of the different places of attraction, you can also visit the Bishnupur fair which takes place from 23rd to 27th December and shop for Baluchari sarees, decorative items made of burnt clay and handmade Dashavtaar Cards. Moreover, you can take a stroll and enjoy the natural beauty of Bishnupur.
There are many trains to Bishnupur. There are luxury buses as well. The best time to visit is the winters as summers are very hot. Government resorts & hotels are also available at reasonable prices.
Photos courtesy - Google images