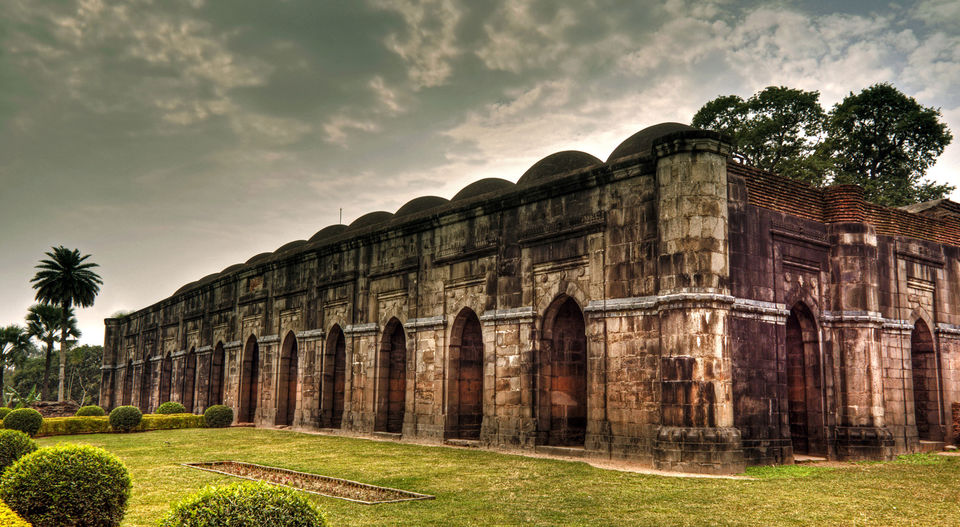 To travel is to explore beyond the ordinary, beyond the obvious, and most certainly to go beyond what we're told. However, often while travelling we tend to visit places that we have heard of the most and overlook ones that we don't know about. For example, most people don't even know about Malda's existence and for the ones who know, they just know it as the place where Fazli mangoes come from. But there's much more to this undiscovered gem that will inspire you to take a trip to this quaint town.
Fun Fact: Unlike most of India, Malda's Independence Day is on 17th August, 1947.
Where is Malda and how do we get there?
Malda is a district of West Bengal that lies 347 km north of Kolkata, the capital city of the state. It takes almost nine hours to reach by road and six hours if you board a train. The nearest airport is Bagdogra airport which is 185 kms away. Most people prefer to travel by train as the Shatabdi Express runs on this route and takes just a few hours.
What to see in Malda?
1) Gour city
Gour is the ancient city of Malda that can be found even in ancient Pauranic texts. Gaur was ruled by several dynasties like Mauryas, Guptas, Pals and Sens before Bakhtiyar Khilji annexed Bengal in 1206. 500 years later when Sirahuddaulah was defeated by Lord Clive in the Battle of Plassey in 1757, the face of Bengal's history started to change. However, Gour has retained much of its historical and cultural past. Things around us are changing so rapidly that it seems pivotal for us to go visit these relics from the past. And if you're in the area, pay a visit to Mahadipur which is the Indo-Bangladesh border. It is reminiscent of Bengal's lost undivided past.
2) Daakhil Darwaaza
Daakhil and Darwaaza are a combination of an Arabic word (daakhil or entrance) and Persian word (darwaaza or gate/door). It was constructed as the entrance to the citadel of Lakhnauti or Gaur and is considered one of the most unique and beautiful architectural elements of Bengal's history. The ornamentation of the gateway is all in terracotta and thus appears to be understated. In itself, the Daakhil Darwaaza is a surviving ruin from the 15th century and even if there might not be an astonishing element to the architecture, there cannot be a pricetag put on how one feels when they're walking amidst history.
3) Adina Masjid
Built by Sikandar Shah, the second ruler of the Ilyas dynasty, in the 14th century, the mosque is told to bear a strong resemblance to the mosque of Damascus. At the time when it was constructed, it was known to be the biggest mosque in all of the subcontinent. Apart from being the royal mosque, it also serves as the mausoleum of the emperor. It is situated in Pandua, which like Gaur was a royal city, and has architectural hypostyles typical of the Ummayyid period. If one looked at the walls, they would notice how it invoked the architectural styles of pre-Islamic Sasanian Persia. These monuments, although in ruins, are a window in the past which says so much about our history and how history itself, rarely offers any of country or people's ownership over it.
4) Jahura Kali Temple
Situated a few kilometers away from the main town of Malda, this Kali temple is one of the most important Hindu relics amongst the otherwise predominant Muslim remnants of Malda. The temple itself is a century old and is situated in a beautiful serene environment covered with mango trees on both sides. Tuesdays and Saturdays are considered to be the busiest days at the temple and devotees believe their wishes coming true once they have worshipped here. They believe the temple to embody the Shakti power, as has long been associated with the cult. The idol is unique; the goddess is represented only by her face and not the rest of the body. Also, it is interesting to know that the temple is barely 2kms away from Bangladesh and as word goes, it used to be frequented heavily by the Bengali cousins across the border before things between the countries took a sour turn.
5) Malda Museum
The most cliched and yet the most obvious thing to do in a place of historical importance: go to the museum. If the place you're visiting has facilitated a museum then you must go and give it a see. What happens is, visiting an archaeological site is important to not just construct the idea of the past through the space and experience it in sync with the surroundings. While museums are important to view an object in a secluded manner. This way you'd be able to understand the object better, you'd be able to notice greater details and I feel, you'll appreciate the artefact better. The impact of the object would not get lost on you. Hence, I always recommend going to museums where there are.
Malda also has plenty of fairs and till date, there exists a harmony between different religions and cultures since the land has seen different rules over time. Also, since it is well connected with both Howrah and Sealdah railway stations of Kolkata, reaching here is of no trouble. There are plenty of hotels and guest houses which can be pre-booked. Also, the weather is pleasant all year round but winters are recommended.
Happy Travels~
Think we missed out on something? Tell us about it in the comments below. Or write about it here on Tripoto and earn Tripoto Credits!

Watch travel stories come to life with Tripoto on Youtube!