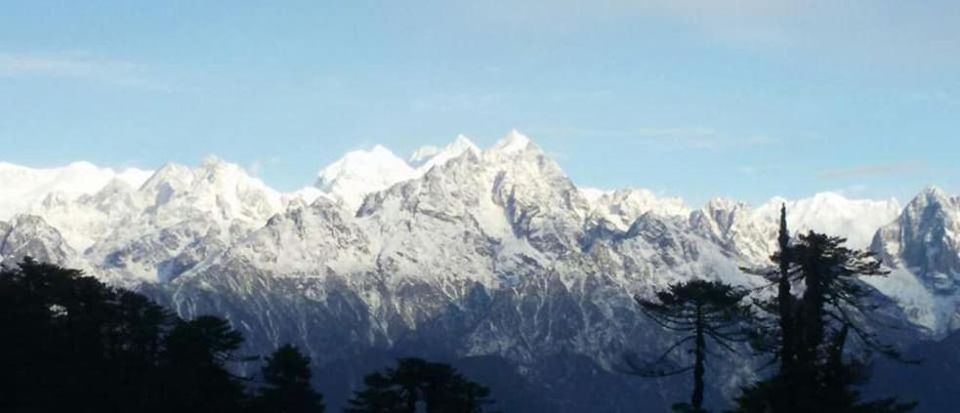 When one thinks of Northeast India, typically the eight states in the easternmost region come to mind and geographically so. However, when one sits to plan their holiday, North-East is not thought about in terms of geography but as what it represents. Both the North-West and the North-East represent a culture that is different from the mainlands and has a certain 'exotic' touch for most. The hills bring with it its bounty and a pleasant weather, making these regions highly sought after.
But here's a thought, considering the Northeast to be made up of the points mentioned above, it is worth considering North-Bengal. And this is where we break the myth that North Bengal comprises only of Darjeeling and Kalimpong. With the help of this article, I want you to introduce you to the beauty of North Bengal, because if you love the hills in the Northeast, I assure you, that you're in for a real treat.
Where does North Bengal begin?
Northern Bengal includes two divisions: the Jalpaiguri Division (with Jalpaiguri, Darjeeling, Kalimpong, Cooch Behar and Alipurduar) and the Malda division (Uttar Dinajpur, Dakshin Dinajpur and Malda). When talking about the hills, its the Jalpaiguri division that we would refer to.
Most places to visit would fall as small towns and localities under the considerably bigger towns mentioned above. You'd be surprised at the number of places that stretch over just a few kilometres and despite lacking distinctive landmarks, striking monuments or historical importance, people that live there are happy and lead, what seems like, peaceful lives. Staying among them is an experience worth having.
How does one get here?
There are three ways of reaching Siliguri: by road, by train and by air. For people who live in Kolkata or are travelling to Kolkata, and are comfortable with an overnight journey in the bus (which to be honest can give you a bad lower back ache), buses are the easiest options available. You can book tickets online and conveniently, most buses leave from Esplanade which is in Central Kolkata.
Trains are comparatively difficult to find as the bookings begin months prior to the journey, and you best believe that the tickets are lapped up as soon as they're open for bookings. So getting a ticket in a train is a rather hard call. One can also take a flight to Bagdogra Airport, if one must. It is the fastest way to get here and requires the least hassle.
How to travel to North Bengal from here?
All roads that lead to North Bengal start from Jalpaiguri-Siliguri, so either ways, this is where you'll find yourself first. Now, there are a few ways to travel once you're here. If you're not a local and are unfamiliar with the region entirely, it might be better to book a car beforehand.
Otherwise, you can book a cab at one of the many stalls cluttered around the bus stop that would take you to your destination. These are private cars with drivers either take you directly to your destination or drop you off at a certain point from where you would be picked up again. Generally, the guest house you would be booking would offer a pick-up service. However, what one must bear in mind is that, these are regions that run on tourism and charges for everything would be rather high. You have to bargain. The other option is to share a car with locals, which is the cheapest out of all options. However, it isn't for everyone, and so if you're on a holiday, you'd rather not opt for this one.
What are the places one should check out?
I would like to specify straight up, that since we're discussing hills, that would be my primary area of focus. If you want, I could write an article around the Malda region but this one would focus on the Jalpaiguri division.
Located on the banks of the Teesta River and the foothills of the Himalayas, Jalpaiguri can be seen as the entry-point to the hills, along with its twin city, Siliguri. It is elevated at a height of 75 meters and is watered through several rivulets but mainly Teesta river and Kerala river. You'll start to notice that the weather here, is quite different than what you get to experience in Kolkata.
But the biggest shock would be returning from the hills where the air, itself, would be of a different kind. And mind you, Jalpaiguri has preserved forests and cantonment areas; so the first realisation would be the kind of pollution we live within the city. People generally use this quaint place as a gateway to the hills but you should stop by to these places when in the region: Gorumara National Park, Mendabari Fort, Buxa National Park, Murti River and Rajbari Dighi.
You can find articles on Chatakpur, Rishyop, Lava and Lolegaon on my list.


Now this is a big division with lots, and I mean, lots to offer. Located on the northern bank of Kaljani river, the region covers most of the Dooars. It is the gateway to Bhutan and other north-eastern states. This area is densely forested and serves as a natural habitat for a wide array of wild animals like rhinoceros, elephants, tigers, deer, bison and a variety of reptiles. There are nine census towns and various grams, so the region has a lot to offer. 
If one wishes to arrive through train, the stations they can avail are Alipurduar Junction and New Alipurduar Junction; hence, travelling from Jalpaiguri unlike the other hill stations, is not necessary. When here, one should check out: Dooars, Jaldapara Wildlife Sanctuary, Chilapata Forest, Buxa Fort, Bhutanghat, Mahakal Shib Mandir and Mahakal Ghumpfa, etc. to name a few. Apart from the abundant natural reserves, one can partake in the festivals of the locals like Lossar (which takes place in February and is the biggest festival of the Buxa Hill), Theugap (another Dukpa festival) and Karann (the main festival in the tea-belt).
Apart from being the only city in North Bengal with royal heritage, it is considered one of the main touristic destinations as well as the home to Maharani Gayatri Devi. Housing the Madan Mohan Temple and the Cooch Behar Palace, this city is considered to be a heritage city offering an insight into the past royalty of the land. 
Located at the foothills of the Eastern Himalayas, this town rests at an elevation of 48 meters above sea level. Apart from the palace and the temple, this town is home to the Ras Mela, which takes place every year during Ras Purnima and is over 200 years old, as a tradition. The region houses various monuments of historical and cultural importance like Bhola Ashram, Moti Mahal, Debi Bari, Circuit House etc. And if one wants to contemplate, the banks of the River Torsha will mellow down that poet's soul in you.
North Bengal is an experience in itself where multiple cultures and multiple people meet. It is that part of the North East which isn't recognised as much as it should be and here's hoping that, you'd come to the beautiful hills for an experience that would leave an imprint on your heart.
Get travel inspiration from us daily! Save our number and send a Whatsapp message on 9599147110 to begin!
Think we missed out on something? Tell us about it in the comments below. Or write about it here on Tripoto and earn Tripoto Credits!