Home to Mozart, Beethoven and Freud; Vienna is one of the world's greatest cultural capitals. With its imperial palaces, vintage vibe, and endless baroque streetscapes, this city has a romantic appeal like nowhere else, and I bet you 3 delicious apple strudels that you will fall in love will fall in love with it just like I did.
Gorgeous at any time of the year, the Austrian capital is at its best during the Christmas season. In spite of the bitingly cold weather and chilly winds zooming into your ears, the holiday spirit in Vienna is at a high. With virgin snow all around, and beautiful fairy lights twinkling overhead; a white Viennese Christmas should be on your travel must dos. The holiday cheer is simply the best feeling, and Vienna doesn't fail to remind you of that.
I had the privilege of experiencing (take a breath) 20 Christmas markets in Vienna with the Vienna Tourism Board, and trust me; it's been a week since I got back but I'm still recovering from all the mulled wine, gingerbread cookies and roasted marshmallows! That's the impact it has on you.
You're probably wondering how I had the time and energy to visit 20 of them in 1 day! Here's how – I got the Vienna City Card that allowed me free entry on all the public transport, which included trains, buses, metros and subways. That was the ONLY way I could get to experience the Viennese Christmas markets at their best without worrying about time, money, effort and energy. With the Vienna City Card, you can also get access to over 210 attractive discounts for sightseeing, shopping, dining, and free entry into a number of museums, galleries and tours! You can get the Card for 24/48/72 hours for just 17/25/29 euros!
For more information, click here.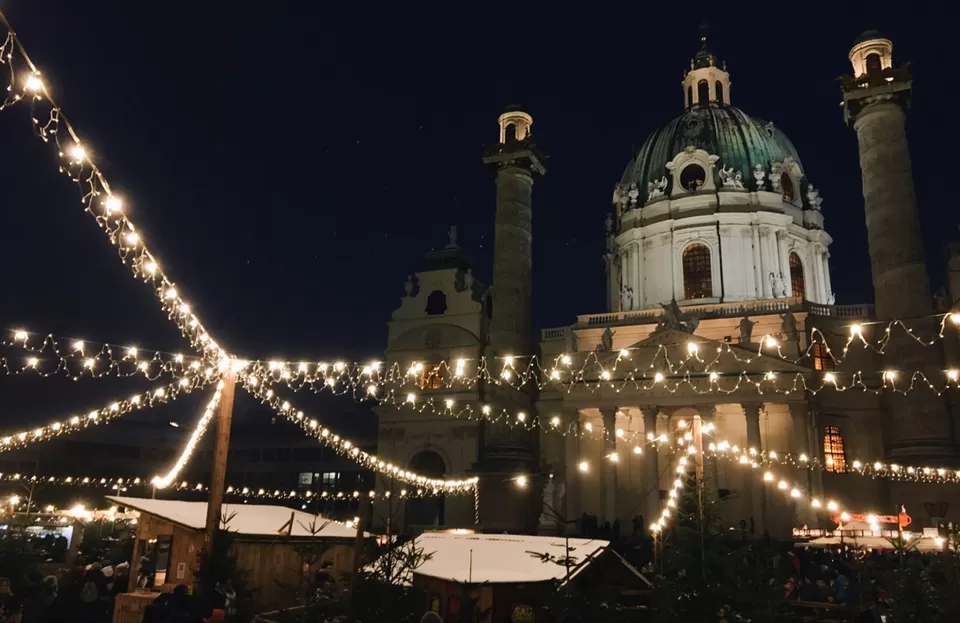 Here's my guide to the 10 Best Christmas Villages in Wien:
1. Vienna Christmas World on Rathausplatz
I have to start with the best one in the city! It is considered to be one of the liveliest Christmas markets in Vienna, and I couldn't agree more! It helped me get into the perfect Christmas-y mood. Quite obviously it's going to be a little more crowded than the rest of them, but it felt so lively and energetic that it hardly mattered. I mean, the whole point of Christmas is to celebrate together, right? From the decorations to the traditional Viennese cuisine, I loved everything about it, and so will you!
2. Cultural Christmas & New Year's Market, Schloss Schöbrunn Palace
If you are looking for an elegant Christmas market, then this one has the perfect setting. With the Schönbrunn Palace as the backdrop, this market makes for the most beautiful and magical scene. In addition to that, there is a spectacular Christmas tree that will completely mesmerize you. The market offers the perfect holiday atmosphere, with handmade Christmas decorations, and gifts that are made using natural materials.
3. Christmas Village on Maria-Theresien-Platz
I would say that this market was one of the most expensive ones, owing to its prime location, and the fact that it draws the most crowds from all over the city with its imperial setting. The Christmas Village sits between two impressive buildings, the Museum of Art and the Museum of Natural History. In the centre of the square is the imposing statue of the former Austrian monarch. This Christmas Village is a splendid market that offers tons of decorated stalls, a variety of foods, warm drinks, and a great deal of fun!
4. Christmas Village at Belvedere Palace
This Christmas market is massive! It's so huge that I couldn't cover all of it, but whatever I did amazed me. It has a unique baroque atmosphere and vibe. I had the best hot alcoholic fruit punch and some yummy hot chestnuts. It was as festive and authentic as could be!
5. Traditional Austrian Christmas Village on the University Campus
I didn't get to spend much time here since it's a little far away from the old town, but I could see a lot of families and groups of relatives eating and drinking the evening away. It's the perfect market for a family outing with children, parents and grandparents!
6. Weihnachtsmarkt Karlplatz (Art Advent – Art & Crafts)
This one's my personal favourite Christmas market! It offers more than seventy booths from local craftsmen and artisans, which are lined up right in front of the baroque Church of Saint Charles Borromeo. So, you can enjoy beautiful ceramics, glass beads, pottery, and Tiffany glass. It features many live concerts on a regular basis so you can enjoy anything from electronic pop music to harp solos. You can also get a glimpse of some crazy fire shows, and other showcases of local talent. I ate the best Erdapfelpuffer (deep fried cakes made of mashed potatoes, zucchini/pumpkin – may sound unappetising, tastes like heaven) and Speck with Kase (bacon & cheese on bread). The market is located at the Karlsplatz in Resselpark. HIGHLY RECOMMENDED.
7. Altwiener Christkindlmarkt - Freyung (Old Viennese Christmas Market)
This market is located in the heart of the city, and maintains a traditional approach to a Christmas market. This way, you can thoroughly enjoy the Christmas atmosphere without being stuck in a commercial web.
8. Christmas Magic in the Heart of Vienna on Stephansplatz – St. Stephen's Square
Also one of the most expensive Christmas markets in Wien since it's right in the center of the city, and at the main station where all the lines meet. It has a gorgeous backdrop of the St. Stephen's Church, and roads lit up with beautiful lights and reflective décor. Oh, and they have the cutest little red mugs in the shape of a shoe for hot drinks. Loved it!
9. Winter Market on Riesenradplatz
Under the motto, "Prater Rocks!" the Winter Market at Riesenradplatz, in the famous Prater gardens, offers an exciting entertainment program throughout the winter season. Hot punch and hotter live acts will keep you nice and toasty at this winter market. Every evening, you can catch live music performances from gospel to pop to soul! Delicious hot drinks and culinary treats make for the perfect winter atmosphere at Prater.
10. Spittelberg Christmas Market
Although a bit commercial, it still remains one of the best markets in Vienna, and offers a variety of local arts and crafts. It is also very kid-friendly, so you can take your kids along and rest assured they will have a ball!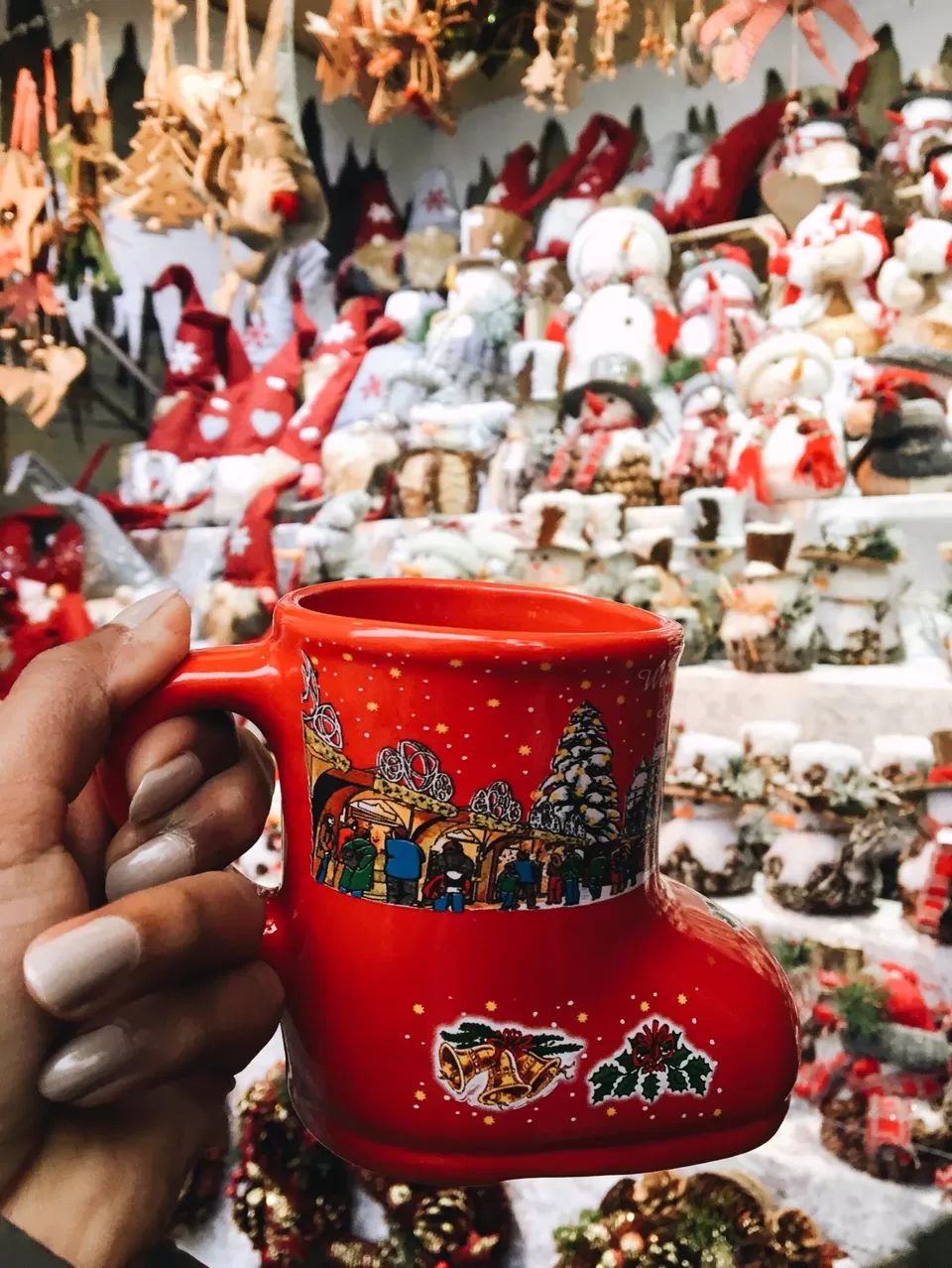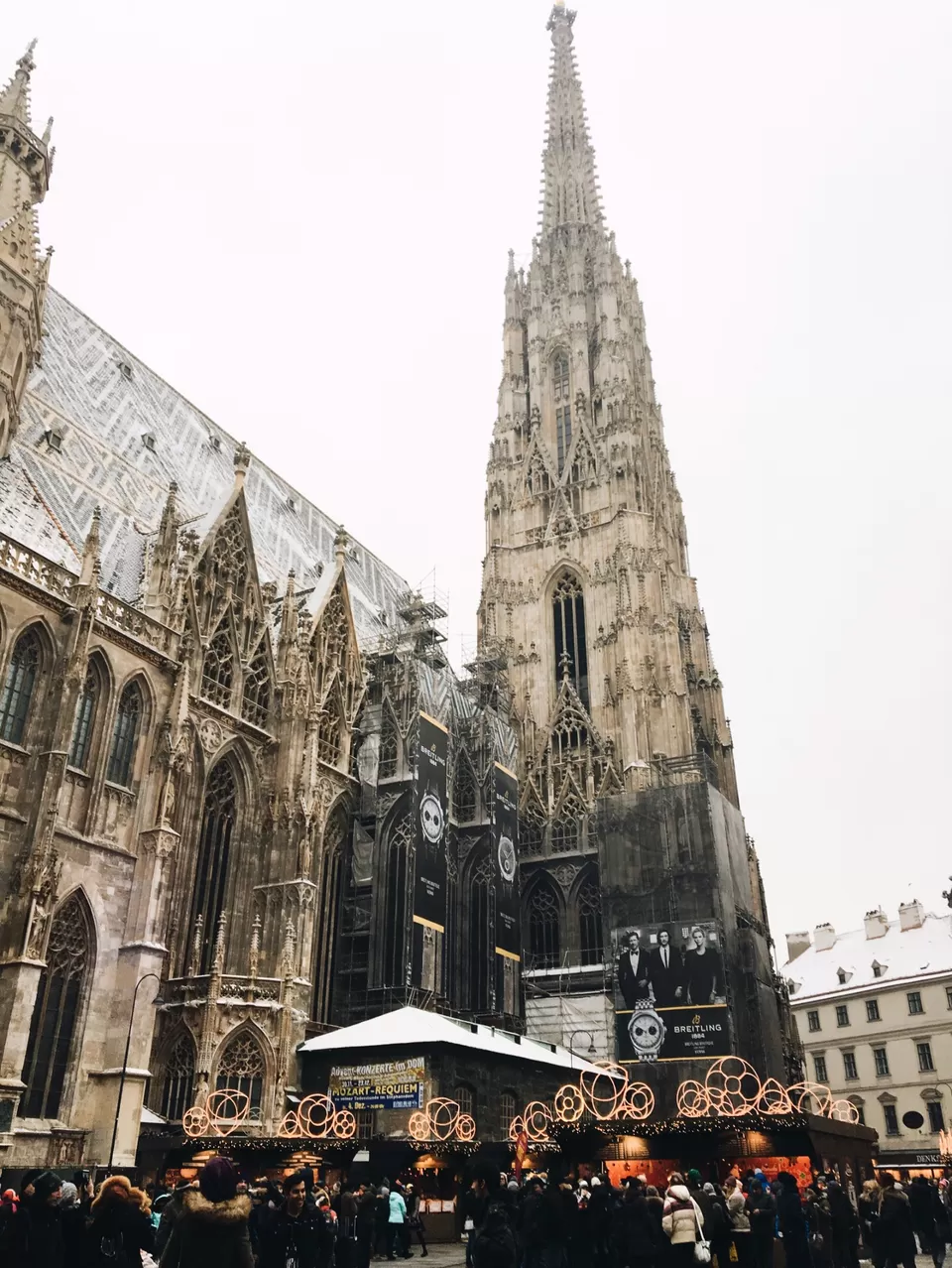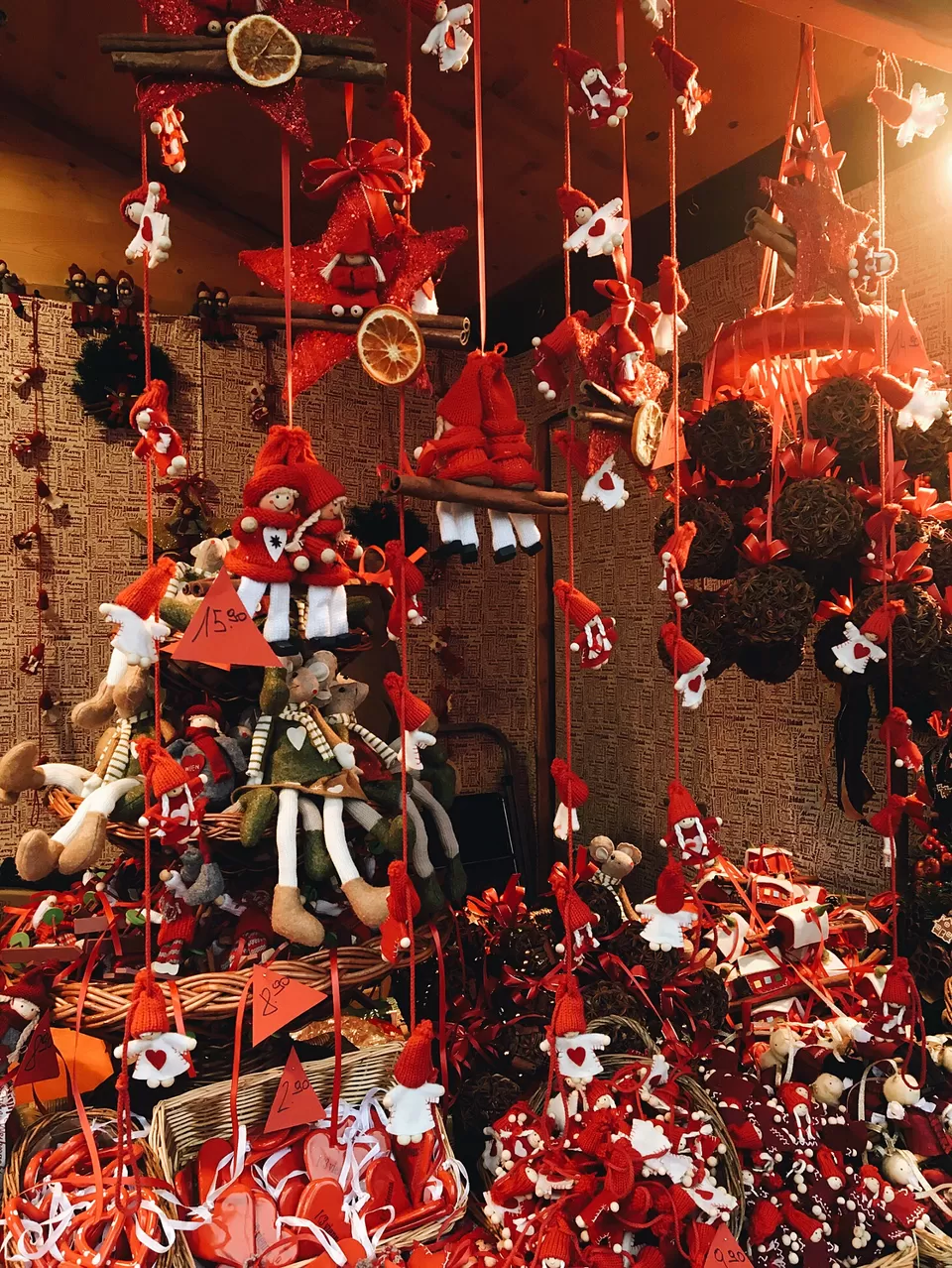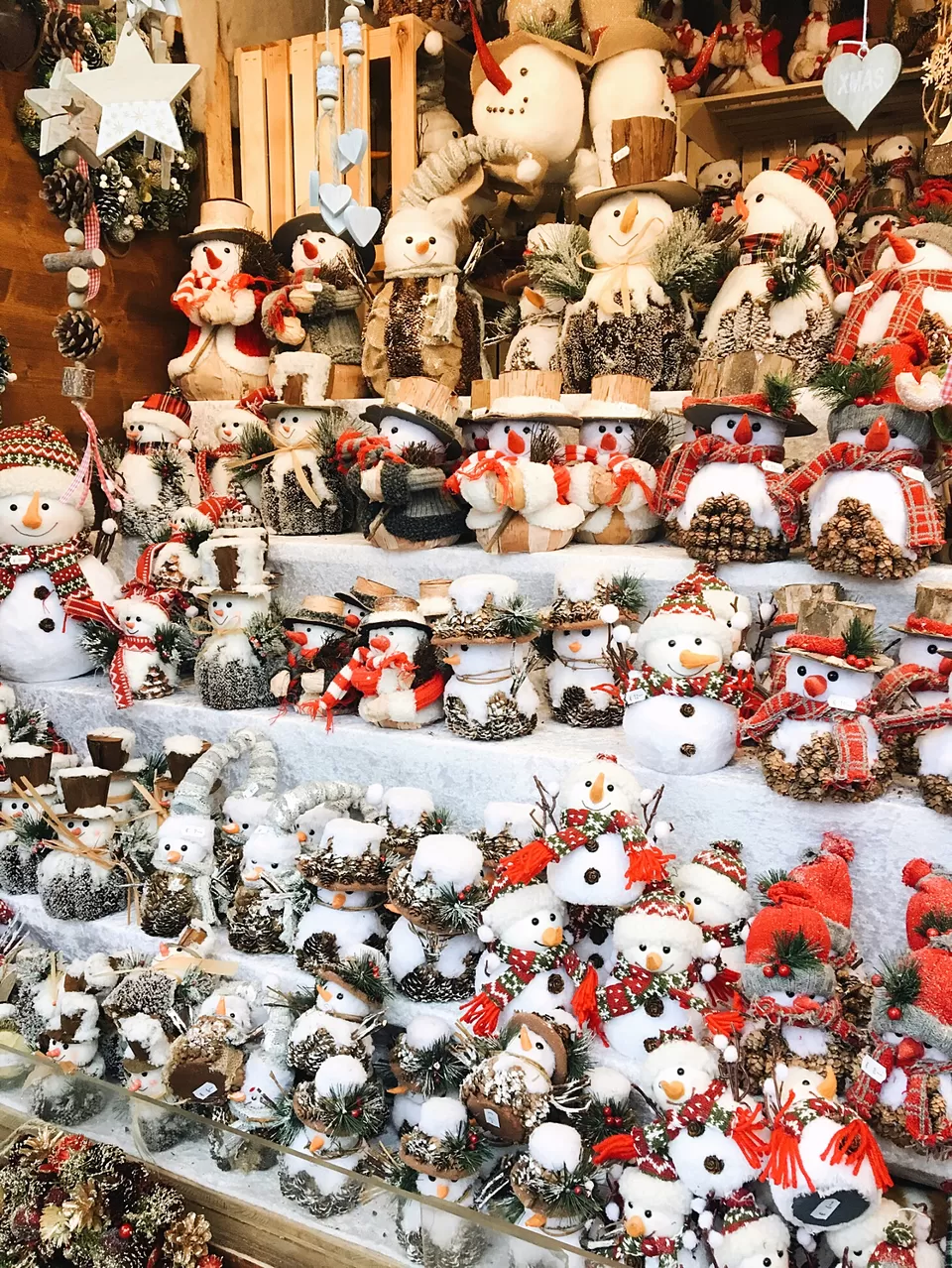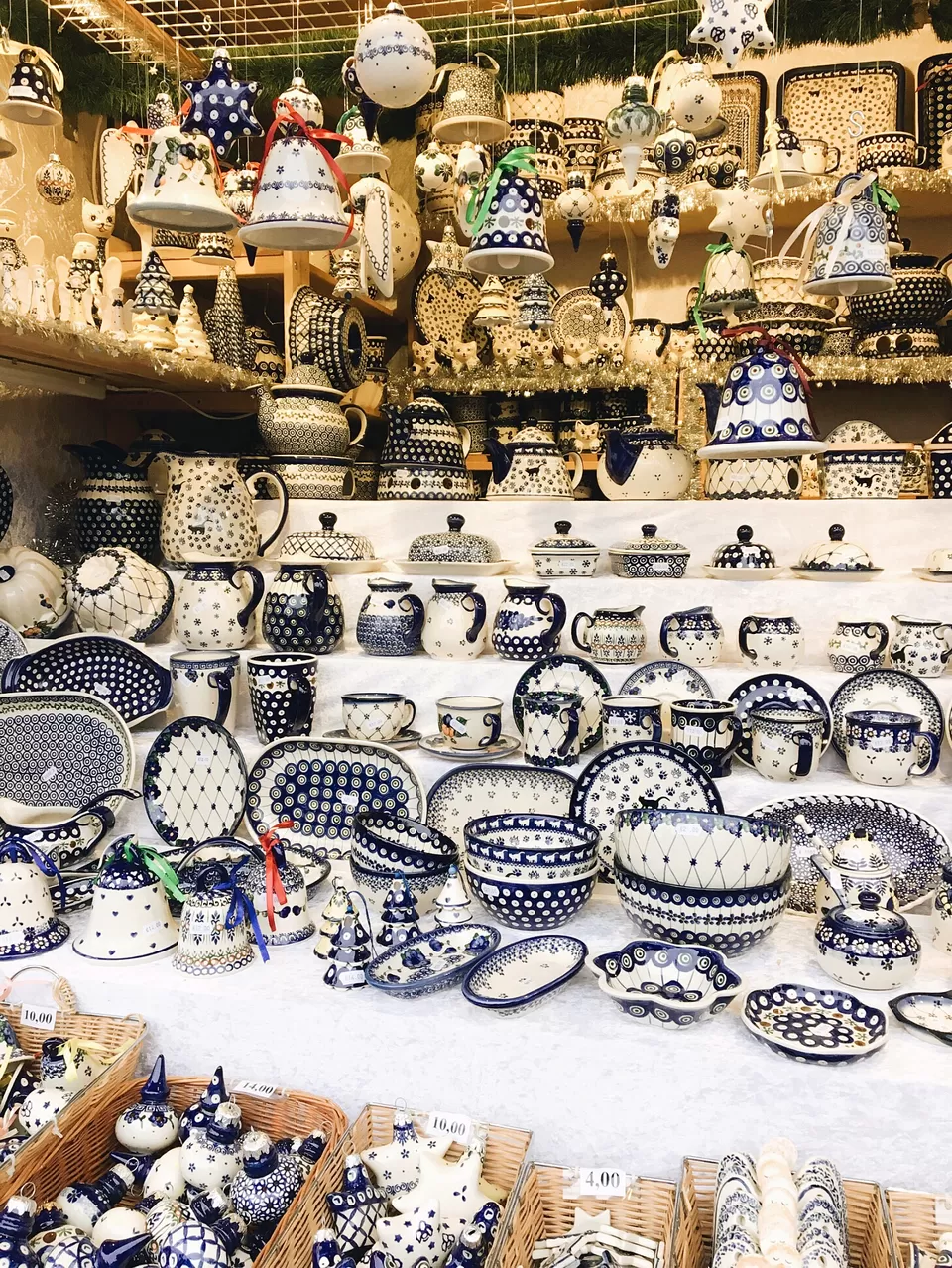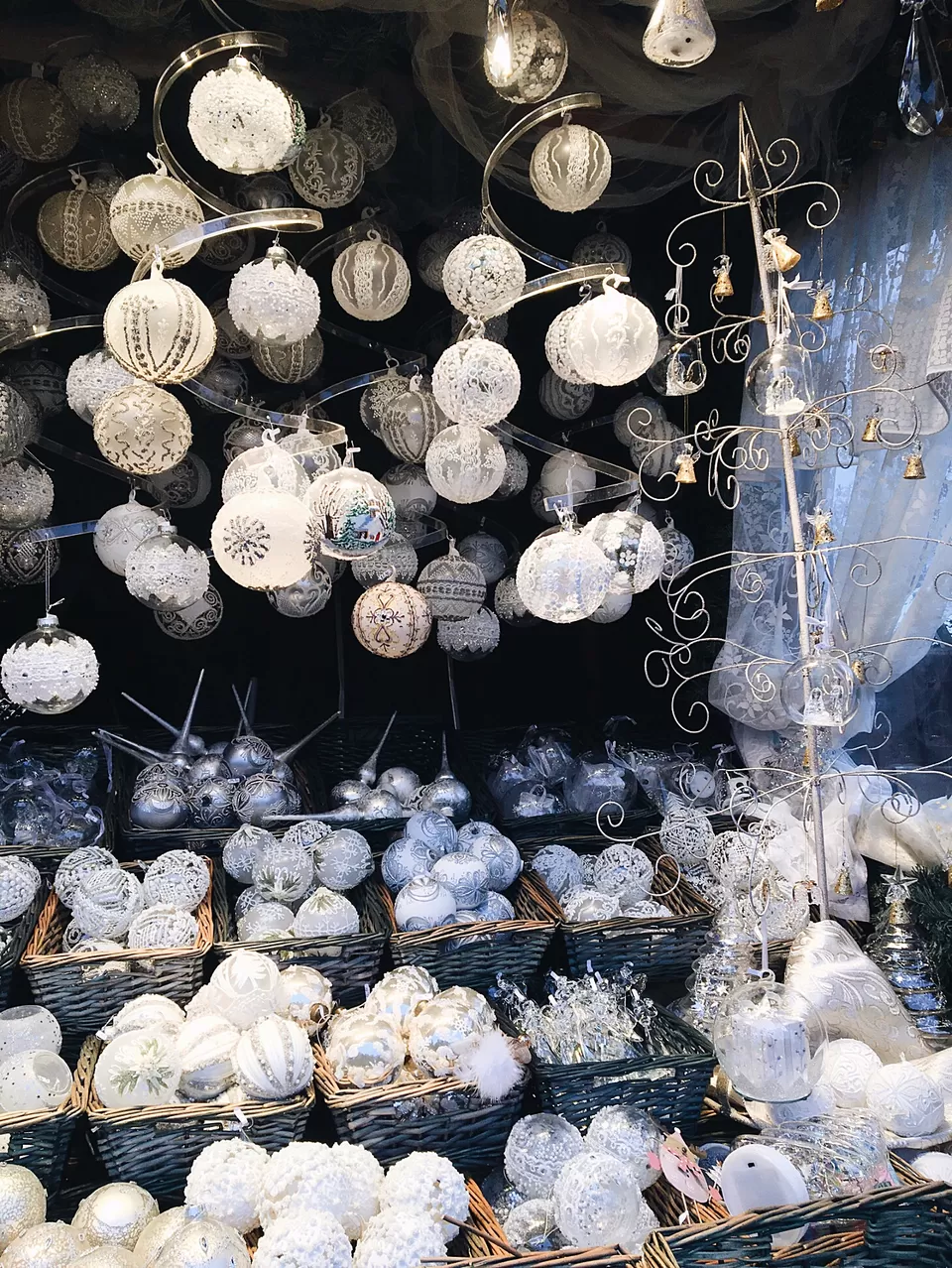 Quick Tips for Visiting Vienna's Christmas Markets:
1. Pick your favourite Market
Do your research, pick the market that has your vibe and interests, and spend most of your time there!
2. Visit at the right time
Do you want to spend a relatively quiet time at the markets? Visit during the day. If you're in for the crowds, lights and liveliness, touch base at night! My suggestion- nights are seriously the best, exceptionally magical!
3. Bring hard cash
Most counters and stands accept ONLY coins/cash notes, no credit/debit cards.
4. Traditional food and drinks
Make sure to try: Maroni (simmered chestnuts), Kaisekrainer (Sausage with cheddar in the center), Bratwurst (broiled hotdogs), Soup in a Bread Bowl, Pretzels, Kaiserschmarrn, Waffeln (waffles), Lebkuchen (gingerbread), Gebrannte Mandeln (toasted almonds), Bratkartoffel (prepared potatoes), Heisse Bauernkrapfen (hot agriculturist's doughnuts), Krapfen (filled doughnuts), Glühwein (mulled wine) and Punsch (or Kinder Punsch without liquor).
5. Mugs as Souvenirs
Glühwein, Punsch and alternate heavenly beverages at the Christmas Markets come in charming mugs. After you are done with your drink, you can either keep the mug as a souvenir or return it and recover your deposit (around €2-4). Each market has its own extraordinary mug, and they come in diverse styles every year.
6. Dress warm
The Christmas markets are primarily outside, and it can get really cold in Vienna during December. Wear loads of layers including warm base layers, beanies, scarves and gloves. If you think you're still cold, no need to fret- warm up with some hot Glühwein or Punsch!
And finally, MERRY CHRISTMAS TO YOU!