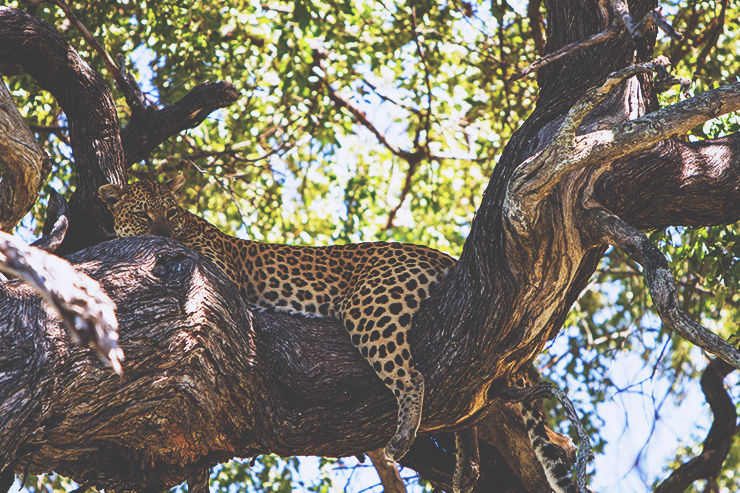 Botswana is one of the world's true premiere safari destinations. With a staunch commitment to conserving the country's unparalleled wildlife, the Botswanan government has pioneered photographic safaris and changed the travel game in southern Africa.

The northern territory of Botswana is a wildlife enthusiast's paradise. Chobe National Park has long been a mecca for elephant, boasting the largest concentration of these charismatic creatures in Africa. The Okavango Delta, slightly west of Chobe, is a wonder of the natural world; this verdant oasis acting as the lifeblood for a plethora of specially adapted species.
There's no doubt that the traditional 4x4 safari is a must-do while touring Botswana, but for those who seek something more, here are 5 unbeatable safari experiences you shouldn't miss:
1) Mokoro ride
As rains from northern Angola press south, the Okavango Delta begins to flood, transforming this otherwise dry and dusty area into a swamp-land that teems with life. Small islands dot the otherwise flooded expanse. As large mammals such as elephant and hippo pass through the tall grasses, they create a network of pathways through the reeds.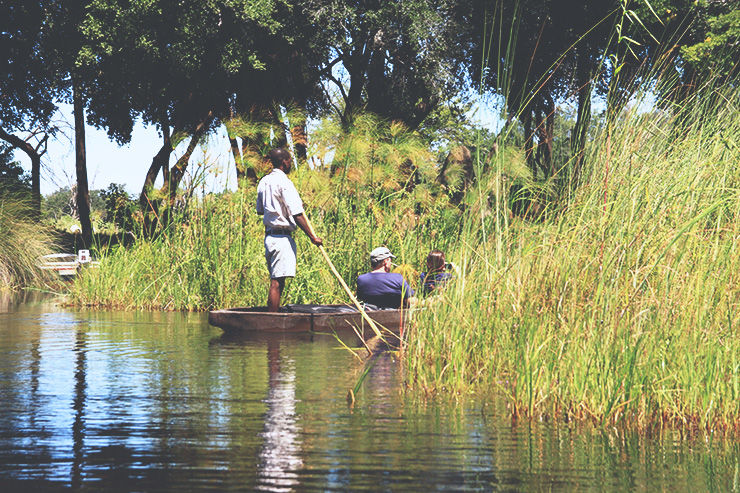 Guests visiting the delta can explore these narrow pathways by traditional dug-out canoes called mokoros. These shallow canoes are powered by a "driver" at the front who propels the boat forward using a long stick, which is dug into the ground below the murky water.
Seeing the Okavango Delta by mokoro is one of the most intimate and authentic ways to experience this unique area while on safari.
It's no secret that the delta can be expensive. If you're all about the luxury, there are plenty of opulent camps that can take you gliding through the delta's natural water highways. Wilderness Safari's Jao camp, is one such establishment. Be warned that high-end camps here can run over $1,000 per person, per night.
For a mokoro experience that is a little lighter on the wallet, check out Maun Backpackers for self-catering adventures through the delta.
2) Sundowner cruise
There is perhaps nothing more quintessentially safari-esque than sundowners. For those who are unfamiliar, a sundowner is a drink or cocktail enjoyed while watching the sunset. Sundowners constitute the perfect ending to any day on safari, and are often enjoying from a strategic high point or open area in the bush while on a game drive.
If this is just a little too traditional for you, ramp it up by enjoying your sundowner on a sunset cruise on the iconic Chobe River.
Chobe National Park is famed for its elephants, who come to bask in river's waters at dusk. A myriad of other species such as rare sable antelope, fantastic birds, and big cats also frequent the river bank for a final drink at sunset as the day cools. Silently gliding along the water allows travelers an entirely new, and minimally disruptive perspective on the wildlife.
Not only the perfect opportunity for a cocktail, this is also the perfect opportunity to take incredible wildlife photographs.
Where to book? Starting at around $500 USD per night, the sumptuous Chobe Game Lodge is the perfect launch-point for a sundowner cruise. They are also a pioneer in eco-tourism!
For those on a budget, or those just looking to pop into the park for a cruise, check out the reasonably priced 3-hour and full-day river cruises offered by Chobe National Park.
3) Walking safari
Ditch the four-wheeled safari vehicle in northern Botswana! Embarking on a walking safari with an expert guide can truly flip the script on your Botswanan safari experience.
From the vehicle, you look down at wildlife and whiz past the smaller narratives of the bush. By foot, you can witness the ingenuity of a termite family constructing a momentous fortress, grain of sand by grain of sand. You can follow and track wildlife that leave subtle spoor, and you can take in the fresh smell of the vegetation.
Make sure you dress appropriately (long sleeves and long pants, good hiking boots, bug spray, etc.), respect nature, and give wildlife a wide berth.
Expert guides and seamless operation can make the difference between a life-changing walking safari and one that is, at worst, dangerous. Booking with reputable safari experts like Ker & Downey Africa can make sure that your experience is unbelievable (in the right way!).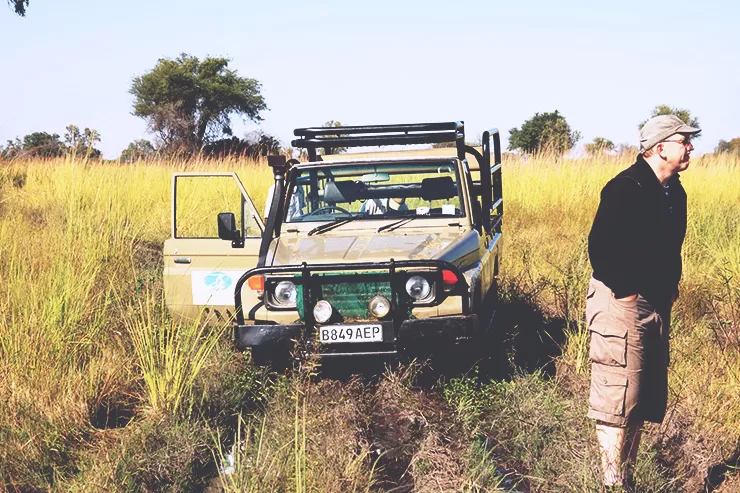 4) Swimming Lions
You read correctly! The Okavango Delta's flooding pattern has led to the specialization of many creatures. Rare water-loving antelope live here, and the predators have had to adapt to stay competitive.
Almost unbelievably, the lions of the Okavango Delta have been known to swim from island to island in search of good feeding spots. Watching these big cats, often pictured overseeing the vast plains and tawny grass of the Serengeti and like environments, swimming is an otherworldly safari experience that few travelers can lay claim to! Put it on your bucket list!
Seeing the delta's swimming lions can come down to sheer luck, but staying at top-notch safari camps with great guides can seriously up your chances of scoring a once-in-a-lifetime safari sighting like this!
Wilderness Safaris and &Beyond are both major players in the Okavango Delta lodge market - each boasting a portfolio of exceptional (albiet, very expensive) properties.
5) "Green Season" Safari
For those not in the travel industry, "Green Season" may be a foreign term. Green Season refers to the rainy season when the vegetation explodes into color. The ample food supply and extra cover from predators means this is also the best time to see baby animals!
In the Okavango Delta, the Green Season runs from December through March when the floods are in full force. The floods, combined with the extreme heat in northern Botswana at this time of year means that many safari camps will close. The increased vegetation can also make game viewing more difficult.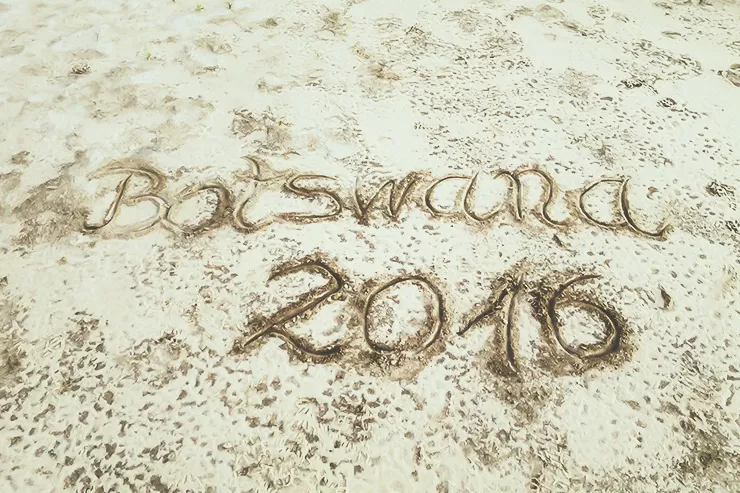 However, for travelers who don't mind the heat, the Green Season can be an amazing time of year to travel! Safari camps that stay open have vastly reduced rates, making the Green Season by far the cheapest time to go on safari in the notoriously expensive northern Botswana safari circuit.
The thick and vibrant vegetation also make for incredible photographic opportunities, and the babies are just too cute to be true.
Many lodges and tour operators in northern Botswana will offer discounted rates during the Green Season. If you are planning to travel to the Okavango Delta, confirm with your touring company that the camps you want to visit are not closed due to flooding!
Learn more about the northern safari circuit and Botswana travel here.