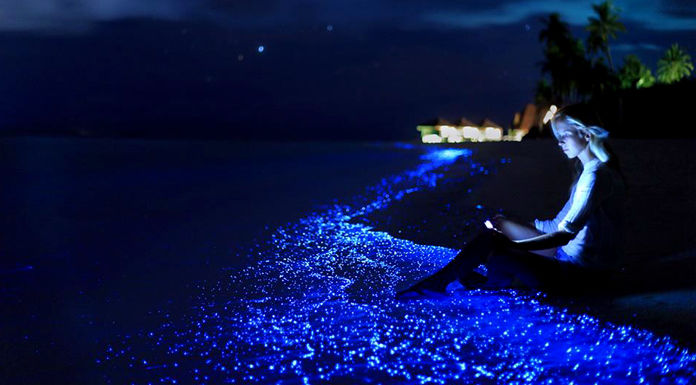 There are times when nature exhibits such spectacular beauty that its takes our breaths away. Beaches are things of incredible beauty on their own and when the water glows it is utterly magical. There are very few beaches in India that exhibit bioluminescence and one of them is the Bangaram in Lakshadweep islands.
Bangaram is a tiny island in the shape of a tear drop that doesn't see too much crowd through the year. Filled with palm trees and stunning coasts, it is one serene beach getaway that everyone inevitably falls in love with.
Why does it glow in the dark
Bioluminescence is caused by phytoplankton and algae that inhabit some beaches on Bangaram. Aquatic animals such as the jellyfish get washed up to the edges of the water during high tide and glow like jewels during the nights. This bluish white glow makes for a spectacular view. It is also known as the milky sea phenomenon.
Other things to do
While having a glimpse of the bioluminescence on the beaches is worth paying a visit to the island, the unperturbed, serene and palm-tree lined beaches of Bangaram islands have a lot more for us to do.
• Snorkeling/Scuba Diving – Being a quieter, non-crowded beach, snorkeling here can be quite an enjoyable experience in these pristine clear waters with a good amount of marine life. A lot of ship wrecks are also found under the waters.
• Kayaking – Sailing, kayaking and boating in the waters of the shore at the Bangaram island is a popular thing to do as well, since the waters are not too wild.
• Turtle watching – There are plenty of turtles at some of the areas in the beach and you can take a boat ride to one and watch them right from the boat.
• Dining by the beach – Tourists love dining by these waters on the beach here and you can actually find many shacks as well as the resorts that allow you do to so on the island.
When to witness the glowing beach
The Southwest monsoons which go on from September through November is when you can the ocean has the most brilliant glow. The other months of the year do exhibit some amount of bioluminescence as well but it may not be that bright.
Cuisine on offer
Bangaram island is a sea food paradise. The fish pakoda, octopus, fish tikka and mus kavaab are the must-try dishes here. But apart from that, the resorts of this island have the regular Indian, Chinese and Italian cuisine and so, something for everyone.
How to get there
By Air : You can get to any of the islands in Lakshadweep from Agatti, the main gateway of the lot of islands here. There are flights from Kochi to Agatti which can get you to the islands. Once you reach Agatti, you should take a helicopter to the Bangaram islands.
By Water : You can take boats to Bangaram island as well. In fact, it only takes you 40 minutes by a boat from Kochi to Bangaram islands but two hours from Agatti.
Where to stay
There are quite a few resorts here in Bangaram island which are a tad-bit expensive but give you a good experience nevertheless. The Bangaram island beach resort and Thinakkar tent houses are two places where you can stay overnight in these islands.
Have you been to the Bangaram islands? Have you witnessed bioluminescence here or elsewhere?
You can share all about the experience here.
Get travel inspiration from us daily! Save and send a message at 9599147110 on Whatsapp to start.
Frequent Searches Leading To This Page:-
lakshadweep luxury packages, Lakshadweep Holidays Tour Packages, Lakshadweep honeymoon Tour Packages, Lakshadweep tour package at best price, lakshadweep honeymoon packages by ship