The stress of the entire week comes crumbling down on me on Fridays. And for this very reason, they have always been dreadful–I'm lazy, unproductive and most importantly, I feel uninspired. But all this changed drastically when I discovered the magic of travelling.
I equate travel with magic because it takes me to new places and shows me worlds beyond the one I comfortably inhabit. It gives me a glimpse into the regal past, rich cultures and a peek into the future that could be. And so, I often take short weekend trips that help drive away the Friday blues. One such weekend saw me taking a trip to Agra, home to the majestic Taj Mahal, the ultimate symbol of love. Believe it or not, even as a Delhiite, I had not taken a trip to the wonder of the world that stood proud in my neighbouring state. But soon, I was going to make a big tick on my wish list.
Going back to the warmth of goStops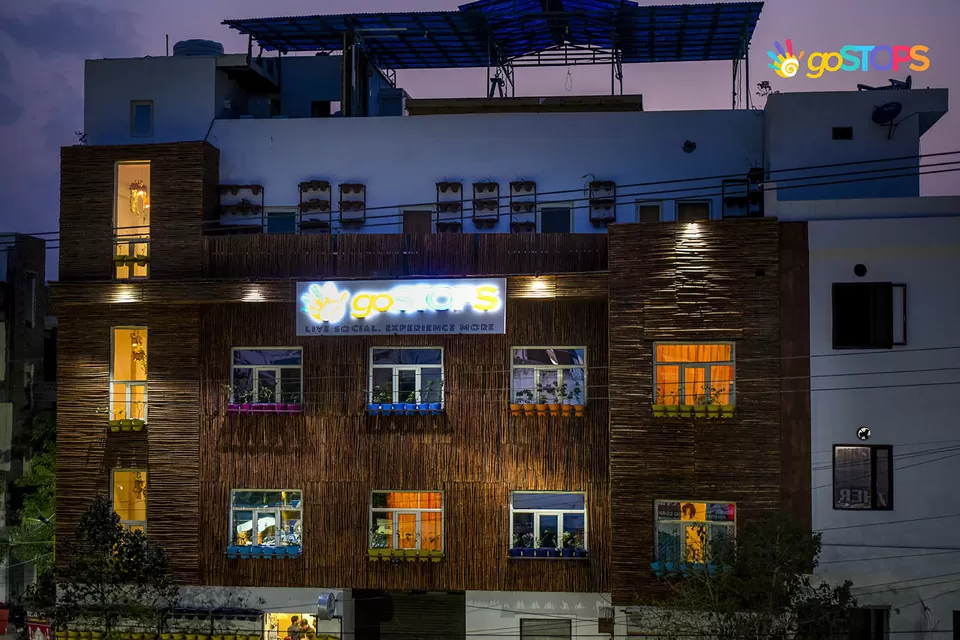 I had stayed in a goStops hostel in Jaipur for a month, by the end of which, it had become my happy place, my home. I knew that they had a beautiful hostel in Agra too, and so, I headed straight there instead of browsing through hotels that were boring, lonely and unnecessarily exorbitant. The fact that goStops was located in Taj Nagri, only a walking distance of 2.5 km from the Taj Mahal, made it an obvious choice.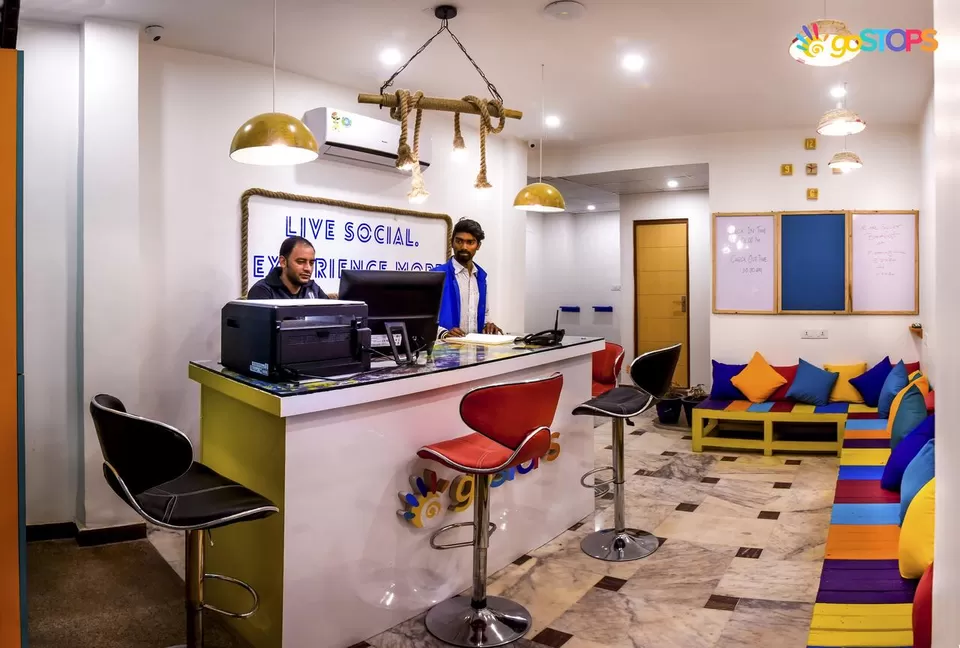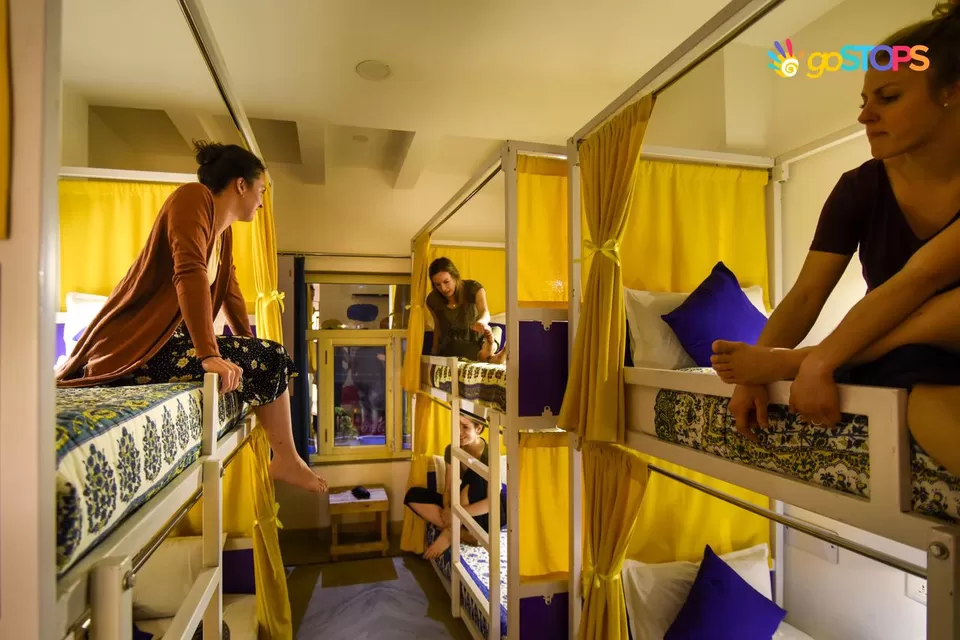 Excitedly, I entered my female-only dormitory that was donned in the hostel's signature blue and yellow decor. There was so much colour splashed everywhere that I could instantly feel my mood and spirits lift. Colourful bed-spreads that smelled of fresh flowers reminded me of why I kept coming back to goStops – their cleanliness standards were impeccable, whether it was the common area, dormitories or the shared washrooms. The sight of a neat hostel instantly comforted the hygiene enthusiast in me. I hopped around happily, exploring the hostel.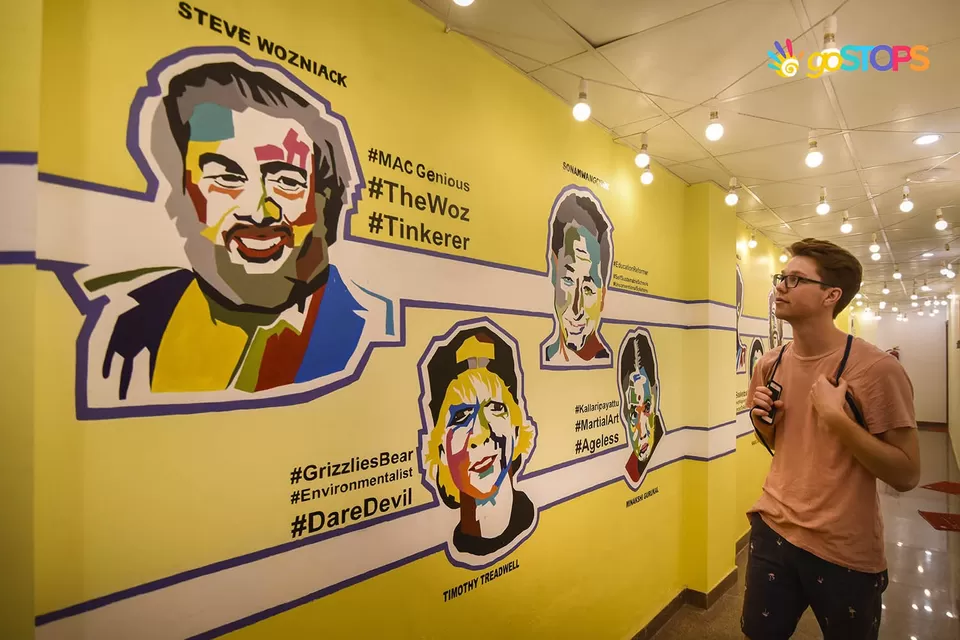 Interactive walls and spacious common areas made goStops even more attractive for a young, solo traveller like me. Then came the home theatre from where I could hear quite a few squeals. I knew that travelers from around the world had gathered to cheer on India for their ongoing match. I loved this about goStops, it was the one place that reminded me of the futility of borders and showed me the utter beauty of humanity and community.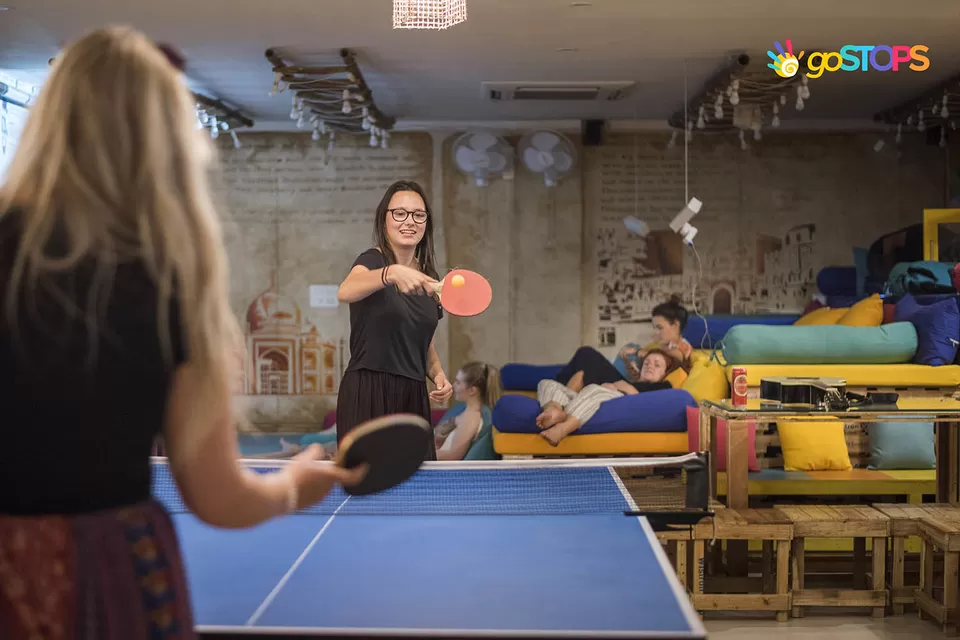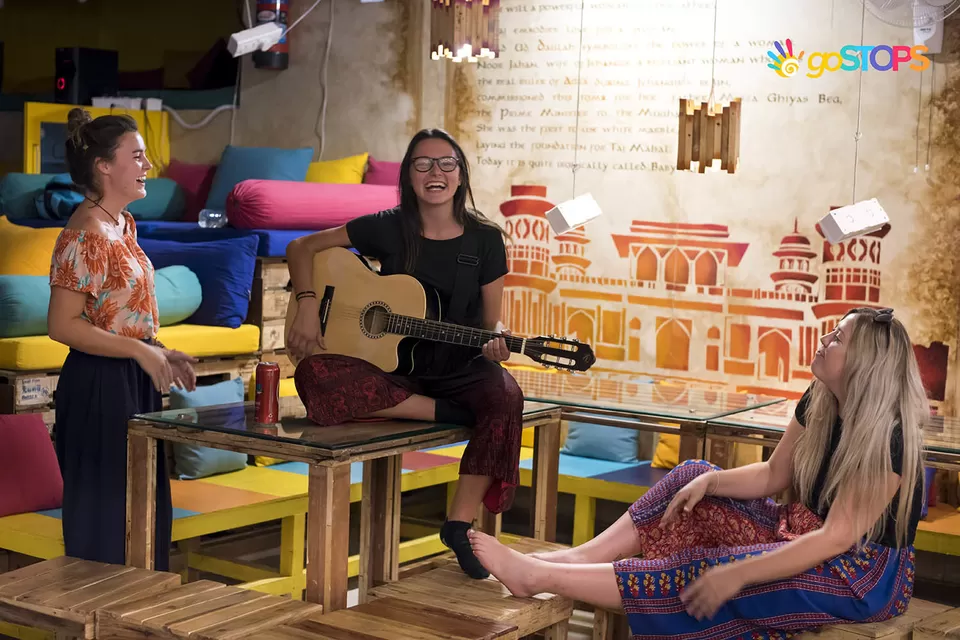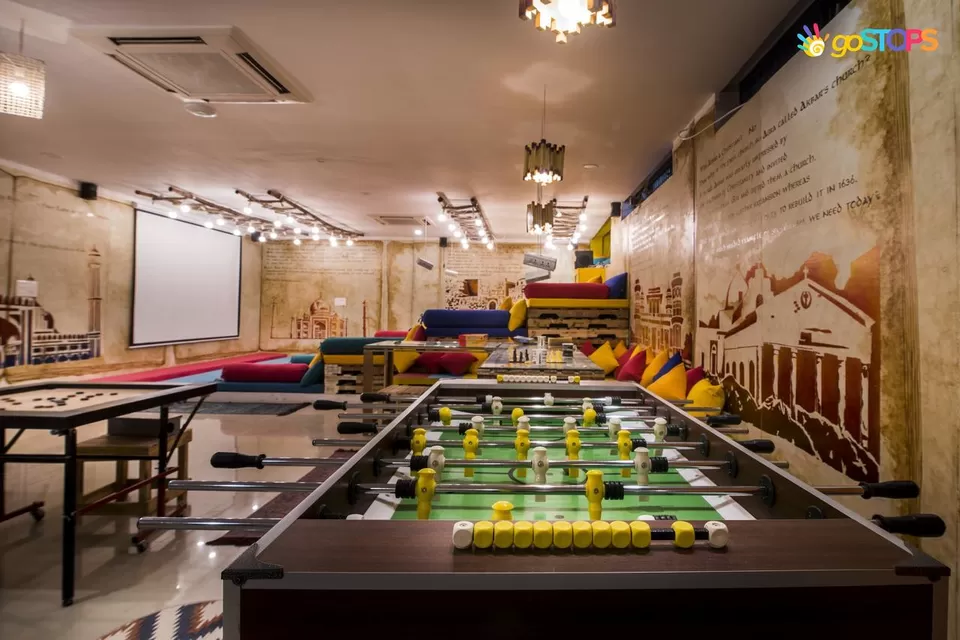 And surely enough, while a few travellers lounged, watching a football match, the common rooms were enlivened by Martha and Jo, who were engrossed in a competitive match of table tennis. Adele was the center of attention as she mesmerised everyone with acoustic versions of famous Spanish songs. In addition, there was a foosball table, carrom-board and a number of books that travellers hovered over. My dorm-mates were clearly a vivacious bunch, and I couldn't wait to get to know them more.
Taj Mahal from the banks of Yamuna
As always, I was welcomed lovingly by everyone. A short round of introductions later, we were making our way to the Taj Mahal in a tuk-tuk. That's when a fellow Indian traveller, Karan from Bangalore, who was also staying at goStops came and sat next to me. Our tuk-tuk tugged towards the Taj, dodging excited tourists and street-sellers trying their best to convince innocent honeymooners to purchase Taj Mahal miniatures. While everyone else was busy capturing these fascinating sights on their smartphones, it was just Karan and I who were watching these incidents unfold. We struck a conversation, and I realised that he, like me, was a writer who was on a sojourn to document North-India for a project.
Soon, we were at the Taj Mahal, when I remembered about the sunset boat-ride that a blogger couple had detailed on their blog. I wanted to watch Taj Mahal under the blazing sky from a distance, a pursuit in which Karan happily joined me. We both wanted to witness the Taj Mahal that remained concealed from the eyes of tourists who had travelled from far and wide to behold its magnificence. I wasn't sure where we were going, but it was exciting to go against the grain and make our way towards the calming waters of Yamuna.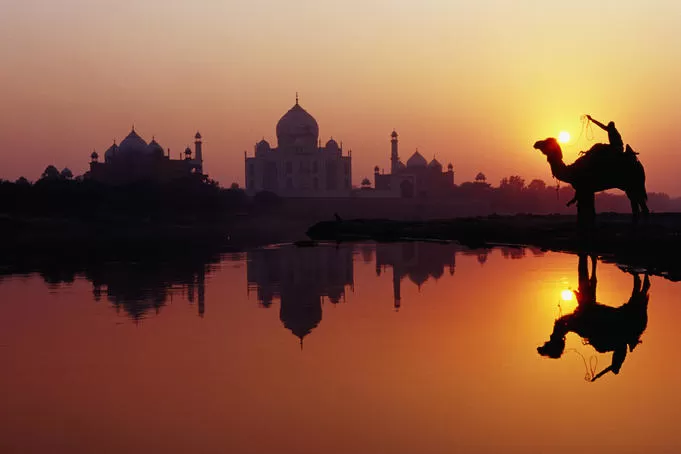 As the sky glistened in the gold of the dying sun, we found a cheerful young man, Manoj, who was the only boatman at the river. In the boat, Karan and I sat in silence as we watched the Taj Mahal getting drenched in dramatic colours of the sky. The only sounds that enveloped us were the slight whispers of the boat cutting through the waters, a song that Manoj Bhaiya hummed, and the faint murmur of tourists in the distance. It was a moment so sublime, we couldn't help but smile at the heavenly sight in front of us.
The Taj Mahal looked extraordinary, and at that moment, I understood why it was hailed as a wonder of the world. I am a hopeless romantic at heart, and I was sure that the sudden connection I felt between Karan and I was just a figment of my overactive imagination. It was only later when we were walking towards goStops that Karan handed out a scrap of paper to me where he'd written me a poem. I was moved and we promised to visit the monument late at night since a full moon graced the night skies.
Along with the rest of the gang, we headed out to lose ourselves to the Mughlai and Awadhi cuisine that Agra is famous for. But Karan and I wanted to talk more – about our shared love for art, culture, travel and architecture. I wanted to learn about the poems he had written and share the verses that I so dearly loved. So we got our food packed, and headed back to the tranquility of goStops. Since the hostel was centrally located, it was easy for us to steal a piece of Agra and savour it amidst peace and quiet of the hostel's rooftop restaurant. Luckily for us, their rooftop restaurant was deserted since our friends were out for a food tour, while the others were on a village walk organised by the hostel.
Under the gleam of the moonlight, we relished Awadhi biryani that was packed with aromatic rice and tender, flavourful meat that was infused with distinctive flavours of spices like cinnamon and star anise. We also gorged on delicious pasanda kebabs and talked about the cultures we had experienced through food. From the Urdu poetry of Amir Khusrao, Ghalib and Kaifi Azmi, to that of modern Indian poets like Jeet Thayil and Vikram Seth, we traversed through time and emotions. In an age governed by practicality, it was beautiful to lose myself in conversations about the philosophical and metaphysical.
Falling in love under the moonlit Taj Mahal
As the clock struck 11, we walked out, hand in hand to witness the Taj Mahal sparkling under moonshine. To our surprise, the crowd was less than half of what we saw during the day. We leisurely entered the compound and walked through The Great Gate or Darwaza-i-Rauza, an imposing structure that showed-off how Mughal architecture could be grand and yet, intricate. Within this gate, the marble mausoleum stood perfectly framed, shimmering under the silver moonlight.
Walking through the gate, into the sprawling Paradise Gardens was like stepping into the regal past. Dotted with waterfalls and a water body that housed the mausoleum's reflection, the true grandeur of the Taj Mahal was in full glory that full-moon night. The tall minarets, the monument's geometric planning, acoustics and symmetry were awe-inspiring. It was amazing to see the lengths to which the Emperor went to honour his wife – it took 20 years, over 20,000 workers and approximately 32 million rupees to build this architectural marvel back in the 17th century! If this isn't the ultimate testimony of love, I don't know what could be.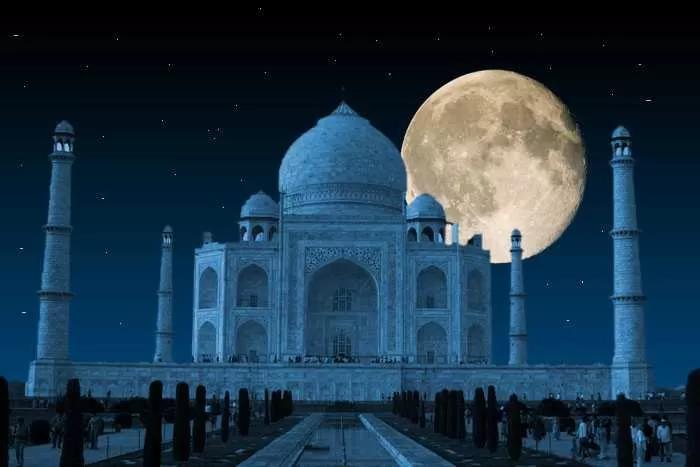 Karan and I strolled through the monument's arena, soaking in the immense beauty of every spot that was carefully crafted and ornate. We couldn't deny that there was a nip of magic in the air. As we stood marvelling at the ultimate symbol of love, we looked at each other and knew that the night had cast a spell on us. The love that the Taj Mahal honoured lay buried in its depths, but that fateful night, it had found life in the unlikeliest of places, in the hearts of two strangers.
And so, Karan and I met as travellers who were in search of an escape but found a home where we could belong, in each other. I was right, goStops did turn around the weekend for me in ways I had never expected.
What are you doing sitting at home? Head out and travel, you never knew you too, like me, might just bump into your next adventure. Book a date with destiny at goStops here.
Have you been to Agra? Tell us all about your favourite discoveries by creating a blog on Tripoto here.
In association with goStops.