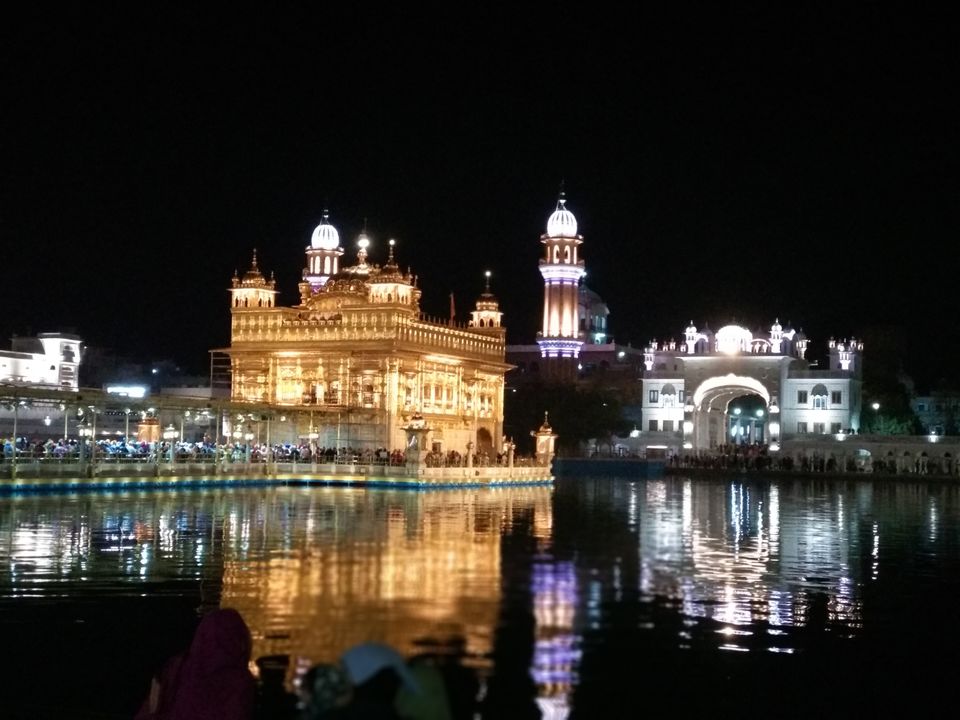 Amritsar has become my second home every since I have got married. Though nothing can beat the beauty and the aura of Golden Temple  but this city is no less than a Foodies Paradise.
Everytime I am in city, I manage to put on not less than 2 kgs of my weight. This time I thought of sharing my views on amazing food joints here in city, visit without which I believe would not complete your trip to Amritsar.
The places I am mentioning may not be too fancy to look at  but the food will for sure be in your memory for decades.
To start with-
1.Guru ka langar- Everyone who has Golden Temple visit in their bucket list has to try langar which is served in the premises of temple.The food will take you to a different world altogether. The love with which they serve and the blessings of God in food can be felt with every bite. Langar is served 24hours and can be enjoyed anytime you visit the temple.Its an experience not to be skipped. Meals served on Guru Purab have a few extra delicacies.
How to reach - Follow this Google map and you would be right there.
https://goo.gl/maps/zBZqBMDDrrR2Q.
How much would it cost- It's absolutely free!!
2.Kesar Da Dhaba- This dhaba is more than 100 years old and has been featured in multiple shows on History Channel, Discovery and others.The food served here is to die for. My all time favorite are mix parantha , dal makhani ( with huge spoon of ghee), baigan ka bhadta, paneer dishes and firni.  Food speaks for itself as it is finger licking and delicious. This dhaba is near Golden Temple and is definitely a must visit place.
How to reach - Follow this Google map for directions https://goo.gl/maps/H4VMQDa1JHU2
How much would it cost- It's approximately ₹200 per person and around 500₹ for two people.
3.Kanha Sweets- Amidst busy and very popular Lawrence Road, is based this small sweet shop which does more justice to Puri Channe than sweets. Nevertheless, this place serves authentic Puri Channe which are mouthwatering and in huge demand for breakfast. This place is packed with people every morning and it actually takes few minutes for each plate to come over the table.They have stand and eat as well as sitting  arrangement inside the shop. The food is bursting with flavour and if sipped with lassi, it is extremely heavenly. This place is amazing if you wish to start your day with heavy delicious breakfast.
How to reach - Follow the directions https://g.co/kgs/zWcBU6
How much would it cost- Rs.70 per plate for Puri Channe
4. All India famous Amritsari Kulcha- The name speaks for itself and yes Amritsar is definitely a Kulcha land. Where every second shop is selling Kulcha, this place definitely has a special place as it serves amazingly crisp, chatpata and tasteful Kulcha.The chole serves alongwith it adds to the perfection. The prices are low and affordable. The decor is nill as it is a no frills dhaba but the hot Kulchas are not to be missed. It is located in Basant Avenue, Maqbool road. Amongst localities it is also known as Chungi ke Kulche.
How much does it cost- Simple kulcha ₹35 each and there are many more variants.
5.Santosh Chinese and Fast food- This is a small restaurant located in Basant Avenue , bear Ajanta Public School. Though it is no decor and frill restaurant, it hot soya chap and noodles served by them is spectacularly good. The portions are generous. Desi style burgers would definitely make you feel nostalgic. For me the winners at this joint are definitely different kinds of Soya Chaps and Noodles.
How to reach - Follow this map
https://g.co/kgs/wi3nbS
How much does it cost - Noodles cost ₹70. and burger is for 40₹.
6. Rajasthani Chat Bhandar- This small food joint is located in narrow lanes of Golden Temple . The chat and dahi bhalle are to swear by. The perfect flavour of dahi bhalle and the softness of the Vada are to be tried at least once. This is a stand and eat eatery and easy on pocket.
How to reach- Follow the map
https://goo.gl/maps/1SLngePCA5w
How much does it cost-Dahi Bhalla ₹.50 per plate and Bhalla Paprika Chat would be ₹.50 per plate too.
7.A one Kulfa-  This is a Kulfi and faluda shop situated near Crystal Chowk.The small plate served by them is a full meal in itself. Its a faluda plate which they serve and contains Kulfi with rabri and  faluda. It is amazingly delicious and a must try dessert. It has all the local flavour which we miss out in the branded ice creams we eat these days. I definitely have at least one plate in my every trip.
How to reach- Follow the map.
https://g.co/kgs/FBkWkh
How much does it cost- ₹100 for two people
8.Ahuja Milk Bhandar- How can a trip come to an end without having lassi specially if you are in Punjab. This  place is very popular for it's sweet lassi.The glass of lassi is huge with a big dallop of butter on top of it. Sweet lassi or Mithi Lassi out here is certainly a must try to fall in love with the Punjabi culture.
How to reach-Follow the map
https://g.co/kgs/atZQC1
How much does it cost- ₹50 approximately per glass of lassi
Besides this there are few more things or places that one can try in Amritsar-
Nutri Kulcha- Food cart selling Nutri Kulcha near Shoe Market Chowk in Katara Ahluwalia market would give you a authentic flavour and can be tried.
Crystal- This is a very popular restaurant in Amritsar and also has a Chowk named after it. Chinese here is also something which can be tried.Though, I prefer getting food packed from here rather having it at restaurant.
Momos - Basant Avenue Market has some amazing carts selling momos. The portions are huge and the prices are reasonable low.
How much does it cost - Rs.30 for good 10 pieces...!!!
Ram ladoo - These are again a dish which can be tried while you are in Amritsar. This is a street food and there is no specific place where you can try.
Bhige Kulche- Kulcha dipped in chole is another authentic dish of Amritsar. There are various places where this is served and can be tried when in city.
How much does it cost- Per plate 30₹
Thanks for reading a long post and do let me know if there is something I missed out on. Any new add on's are most welcome and would definitely try it out next time I am in city.