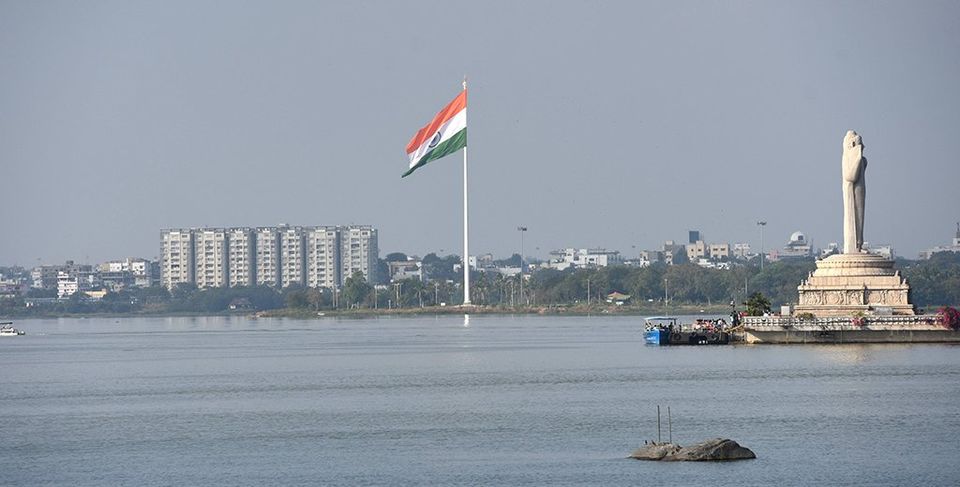 Once upon a time, Hyderabad was known as City of Lakes. Some of these lakes are natural and various are man made bodies per various sources only a few decades back, Hyderabad had a large number of water bodies such as lakes, reservoirs, rivers, streams, aquaculture ponds, tanks etc. (as per some sources between 3000 and 7000 including natural and manmade bodies. Locally known as cheruvu, kunta, tanks ). Most of these lakes have totally disappeared and the surface area of most of the surviving lakes have shrunken and turned to tiny ponds and cesspool.Some of the lakes which have totally disappeared are Tigal Kunta, Somajiguda Tank, Mir Jumla tank, Pahar Tigal Kunta, Kunta Bhawani Das, Nawab Saheb Kunta, Afzalsagar, Nallakunta, Masab Tank etc. Hussainsagar Lake, Kunta Mallaiyapalli have shrunk drastically. Out of thousands of water bodies those were existing in 1970s in various sizes in and around Hyderabad, today only about 70 to 500 of them have survived. Most of them have disappeared due to encroachment or have been illegally drained for real estate projects by private or government agencies. The existing lakes have been used to dump garbage and sewage water. Most of these lakes and tanks were built during the regime of Qutub Shah in 16th and 17th century and later by Nizams as a source of drinking water for the residents of Hyderabad.The area of Hussain Sagar, which is the largest lake in Hyderabad shrunk by more than 40% i.e. from 550 ha to 349 ha in just 30 years. This lake was built in 1575 AD and since 1930 is not being used as a source for drinking water.
1. Hussain Sagar Lake
Hussain Sagar Lake is an undisputed superb lake in the high tech city of Hyderabad. Built in the year 1562 to meet the water and irrigation needs of the lakes, this lake is said to be the most famous and historic lakes over here.
A large monolithic statue of Gautam Buddha is erected in the middle of this lake and was built in 1992. Best time to visit this lake is October to March.
Located at a distance of 20 km from the city of Hyderabad, Osman Sagar Lake was created in 1920 by damming the Musi River. This lake is built to serve the purpose of providing ample water and to prevent the city from the flood.
The wonderful scenic beauty of this lake captivates everyone's heart. This lake is also famous by the name of Gandipet.
This lake is said to be constructed in the Nizam dynasty and is located 24 km to the north of Hyderabad. The beautiful rocky terrain and the grand sunset view are magnificent over here.
The shady grooves around this lake make this place cool and windy which is just the best thing you will ask for on a weekend.
4.Durgam Cheruvu Lake
Also popular by the name of Secret Lake, Durgam Cheruvu Lake in Hyderabad is endowed with a scenic beauty on all its sides.
The Andhra Pradesh Government has developed this place as a major tourist spot with all the amenities and great hospitality. Boating, camping and trekking are famous activities over here.
5.Himayat Sagar Lake
Named after the youngest son of 7th Nizam of Hyderabad, Himayat Sagar Lake was built to preserve the excess monsoon rainfall. All this was done to preserve the water requirements of the region and curb the problem of shortage. Moreover, this is a superb picnic destination in the city of Hyderabad.

6. Saroornagar Lake
It also known as Mini Tank Bund. The park featured sculptures, ornamental landscape, boating facility and an environment education center. Citizens of nearby localities such as L. B. Nagar and Vanasthalipuram welcomed this development.It has last its charm now
Pack up your bag on a weekend and hit out to Ameenpur Lake in Hyderabad. This lake offers the best activities in the form of boating, camping, water sports and so forth. The local vendors provide some delicious dishes and all these aspects promise a happening time with your loved ones.
One of the best lakes to visit near Hyderabad is the Alwal Lake. The nearby area of Hyderabad is known by this lake as a prime landmark. As you will head towards this lake, you will find a great depiction of nature getting out to allure the patrons.
The High- Tech city of India attracts chunks of tourists every year. You must have visited Hyderabad at some time or the other. Do let us know your experience in our comments section below. We would love to hear your feedback and let us know if anything is left in the above list.