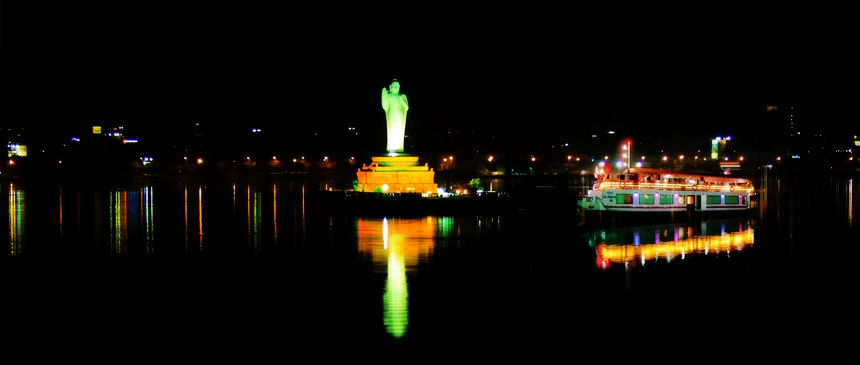 Situated in the heart of Hyderabad city, Hussain Sagar Lake is one of the largest manmade lakes in Asia. Spread across an area of 5.7 square kilometers and with the maximum depth of 32 feet, Hussain Sagar is a heart shaped lake in Hyderabad built by Ibrahim Quli Qutub Shah in 1563, during the rule of Ibrahim Quli Qutub Shah. A large monolithic statue of the Gautama Buddha, erected in 1992, weighing 350 tonnes, which is 16 meters tall was carved by 200 sculptors for two years and later was transported to Hyderabad in November 1988, made of white granite stands on Gibraltar Rock in the middle of the lake which looks alluring when lit up.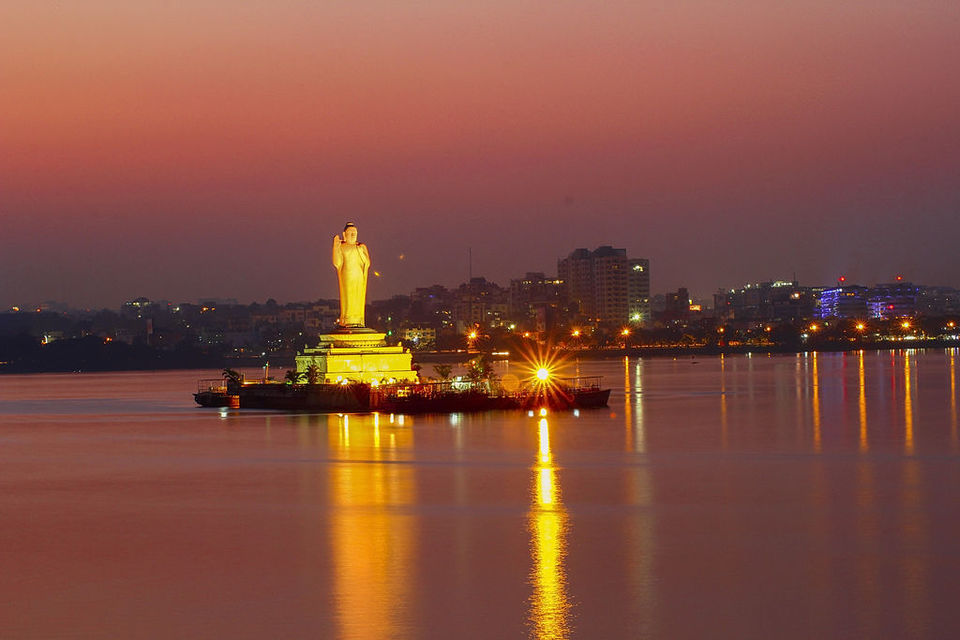 When lit in the evening the road looks like a string of pearls, and therefore is named as Necklace Road, which is Hyderabad's marine drive. Owing to its unique heart - shaped outline, the Hussain Sagar Lake has been declared as the 'Heart of the World' by UNWTO on 27 September 2012.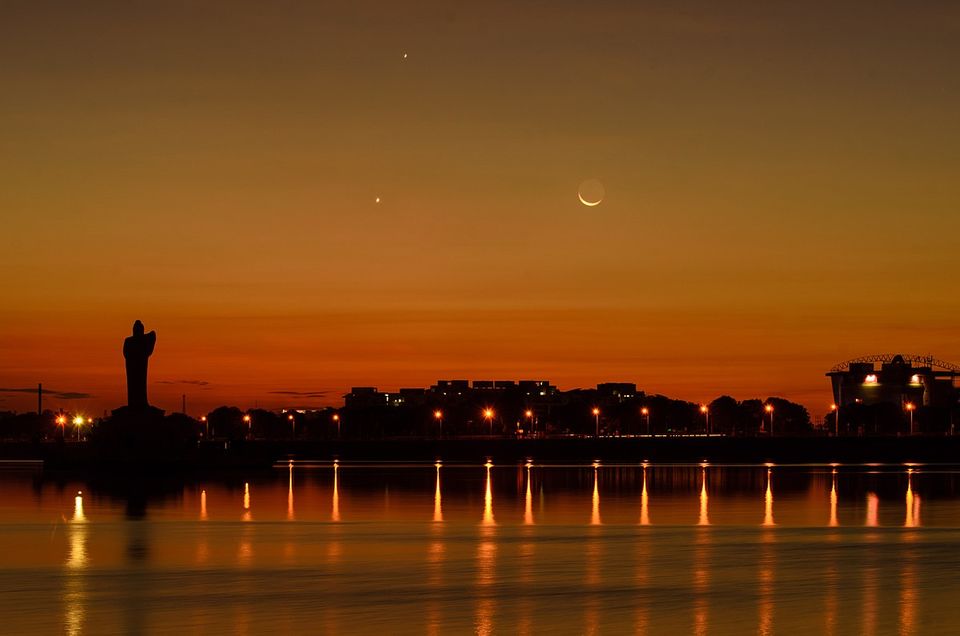 Being a Hyderabadi at heart and having spent 24 years of my life In Hyderabad I am well versed with the importance of Necklace Road in every Hyderabadi's life. Be it your First date or Romantic night drive or Girls catch up zone or Senior citizen's walking zone or the Gyus adda or Late night hanging zone or Early morning cricket sessions or the Post college bunking zone or the Monsoons's paradise or the Mid-night cake cutting ceremonies or The Ganesh Festival or just Whiling away the time to Some serious business discussions to fun or frolic, it has always been here.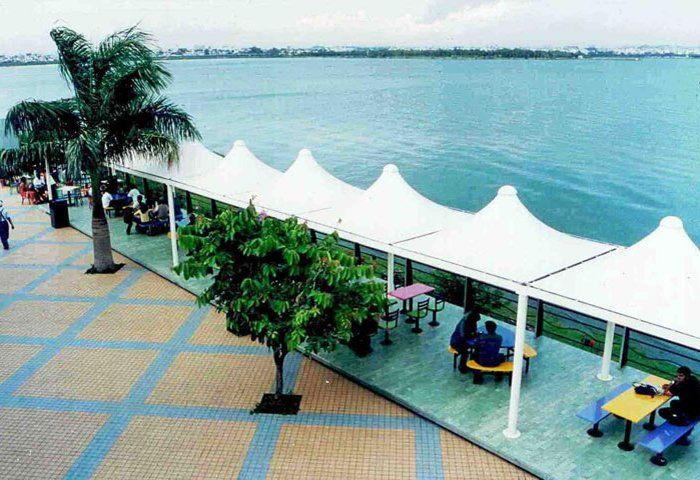 History :
The origin of Hussain Sagar Lake dates back to 1562, when it was built on the tributary of river Musi by Sufi Saint Hussain Shah. Covering a massive area of 5.7 square kilometers, the King built the lake for his people's drinking & irrigation purpose out of his love towards his people. King Ibrahim named the lake after Hazrath Hussain Shawali (Sufi saint, medical practitioner and architect of the lake) as sign of gratitude for Hussain's treatment that was given to the king during his sickness and made him recover from the sickness. Many historical monuments were placed on the bank back then. The lake which is just 1.5 km from the city also has a bund constructed on its banks to control the flow of water on the other side, hence it is called as TANK BUND. This artificial lake Inaugurated in 1993, holds water permanently and is accessible through ferries. The lake also has historical significance that it is on the banks of this lake that the treaty between Mughals and Golconda was settled. There is also a monument of Qutub Shahi which stands 1.5 km east of Hussain Sagar. Hussain sagar lake is the largest heart shaped mark among the marks formed by 78 heart shaped lakes and 9 heart shaped islands on the face of the earth. An 18-meter high monolithic statue of Lord Buddha's idea was a part of the Buddha Poornima project in 1985, the statue was erected on 12 April 1992 on a red lotus pedestal. Source: (Wiki)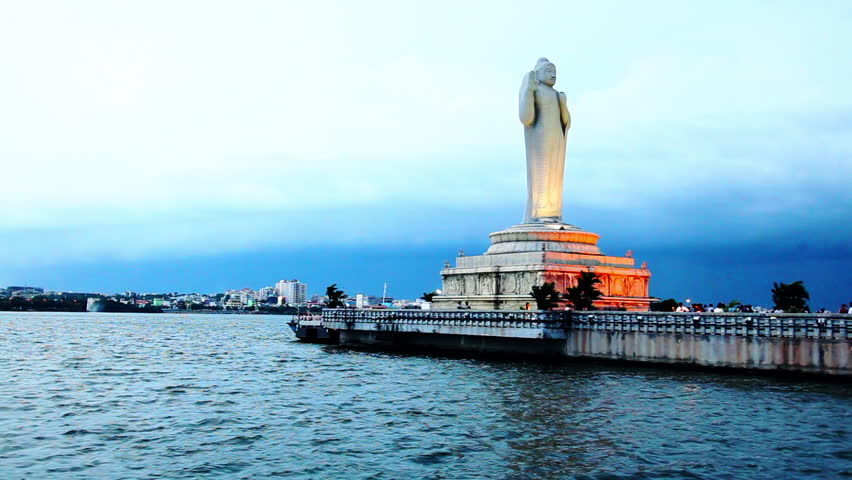 Accessibility :
Being easily accessible from the rest of the city and well connected by local trains as well as buses, taxis and autos, The Hussain Sagar Lake has become a prominent tourist spot visited by almost every Hyderabadi which comes alive in the evening with walkers of all age group, entertainment joints, ice cream carts, several small-big eating joints, hawkers and people enjoying the lake.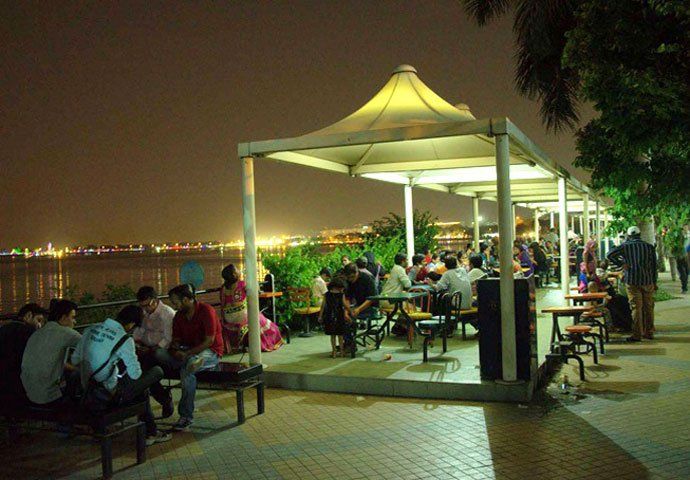 Things to do :
Boating , Water Sports , Parasailing , Cruising, Yatching :
Boating has always been an attraction of Hussain Sagar Lake. Considering the Asia's largest man-made lakes, an avid range of boating facilities are offered here. Be it a Luxury Yacht ride or the regular paddling boats one can enjoy the charming vicinity of Hussain Sagar by choosing among the varied options. It also provides Jetski and speed boating facilities to cater to the tastes of adventure enthusiasts. However, the cruising through a speedboat on Hussain Sagar Lake is an exceptional affair. One can also opt for the diesel operated ones, which takes you on a tour of the lake. Latch onto a boat with your partner for a romantic evening boat ride and be a spectator to the splendid sunset view.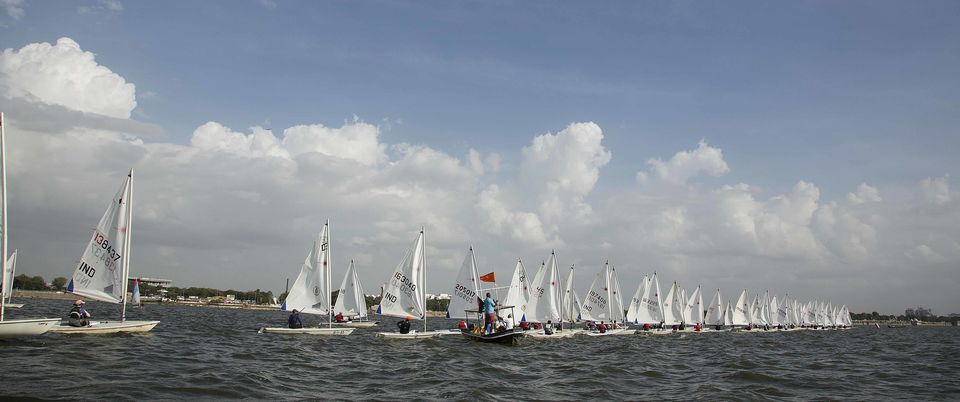 Timings : 10 am - 5 pm, Everyday !
Price Range : Pedal-Boat (per head) 50-/
Pantoon Boat (per head) 100-/
Parasailing (Per head) 300-/
Speed-Boat (Per head) 100-/
Mechanized Boat (Per head) 60-/
Jetski (Per head) 300-/
Pleasure Cruiser (Per head) 100-/
Luxury Yacht rides (Per head) 100-/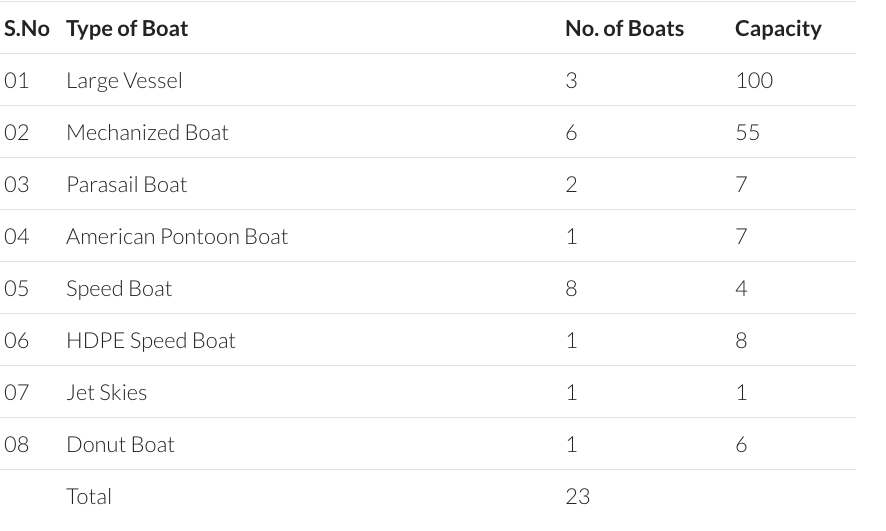 Light & Sound Show :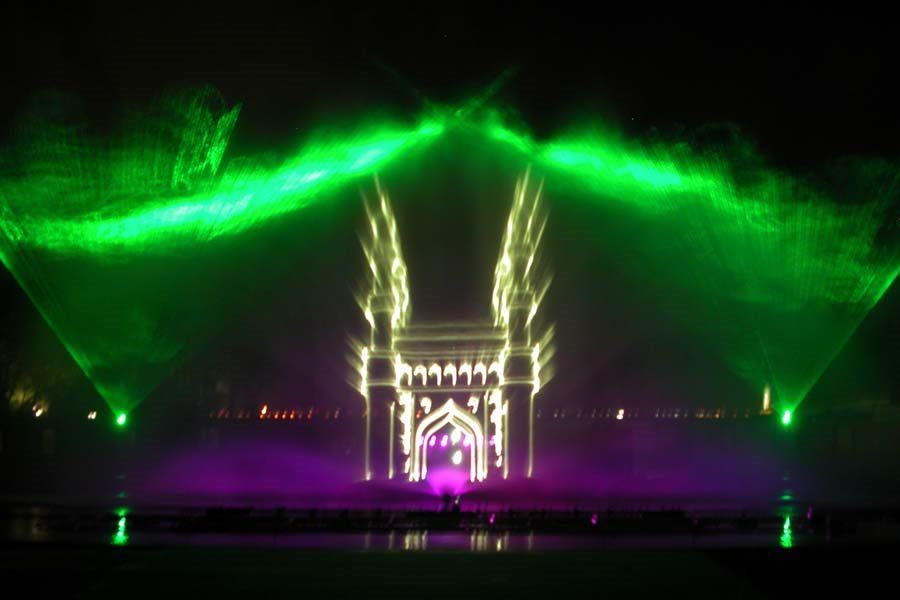 Lumbhini Park located on the banks of Hussainisagar lake hosts Musical fountain and the laser which is something not to be missed. The Musical fountain and water cascades is an experience in itself. A projector is used on the water jet background which forms a water screen upon which the Laser show is shown, depicting the history of the city (Hyderabad) in a 3D form.
Timings : 2 shows daily - 7:15 pm & 8:30 pm.
Show tickets : INR 50-/ per head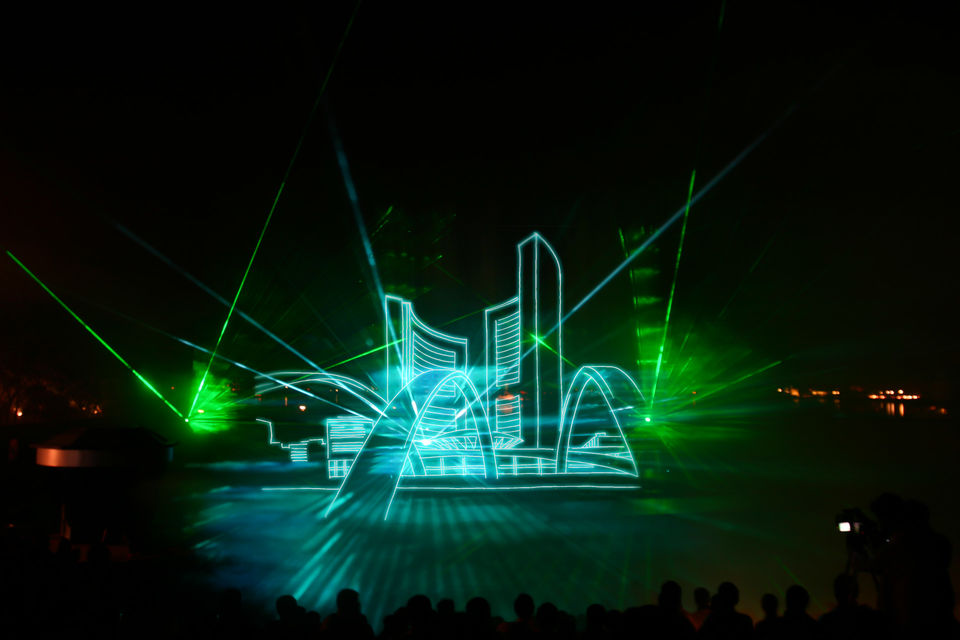 Dinner at the launch :
A 48 seater launch, which looks hypnotizing when lit up in the evening, offers its guests with dinner at Hussain Sagar Lake. However, booking has to be made in advance.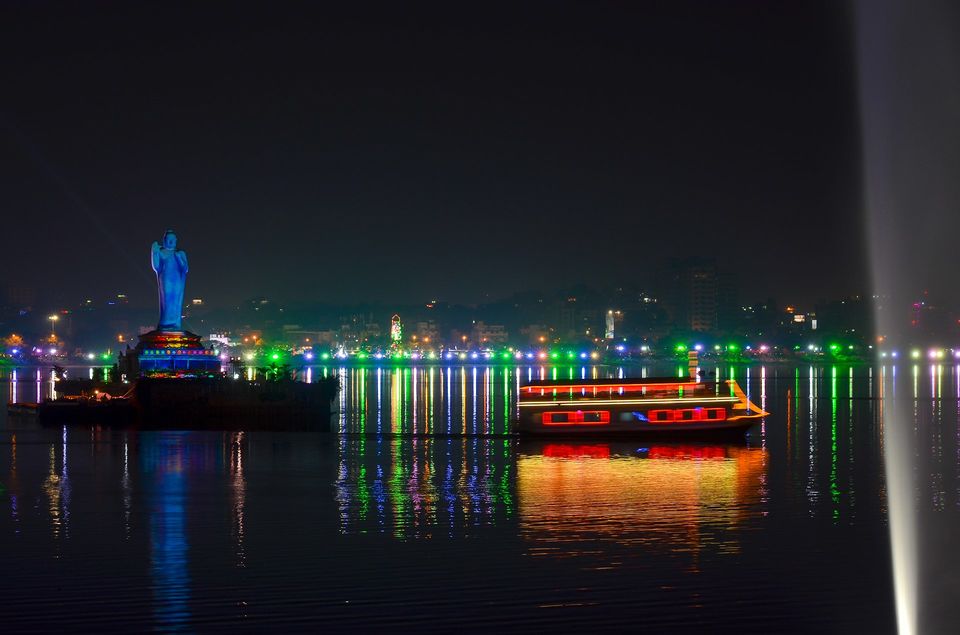 Long Drive :

In a city full of techies this place has got some space to unwind yourself. A long drive and some music is always the best way to clear the mind. And If you are a long drive person then this has to be in your bucket list. The Necklace Road curves around the Hussain sagar lake resembling a beautiful necklace like structure when seen from the sky, hence named as Necklace road. Necklace road, the marine drive of Hyderabad has always been popular among the college goers and the youngsters who usually prefer to take this road during early in the morning or late at night for long drives.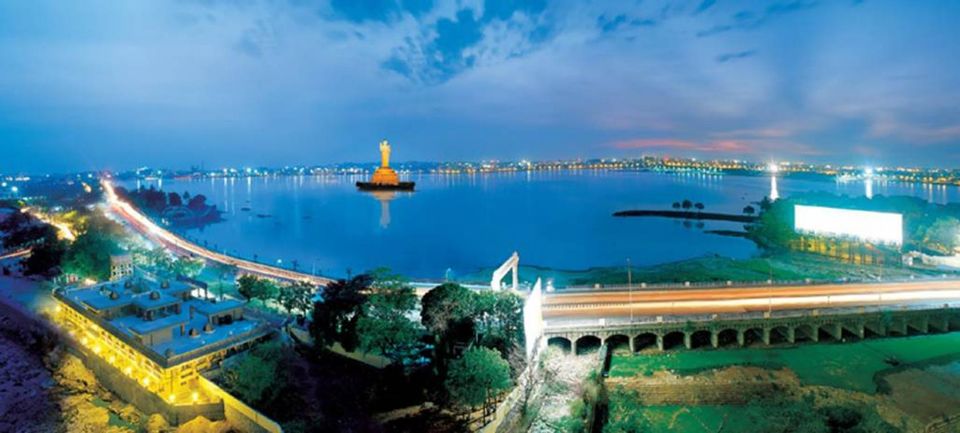 Chill at Eat Street :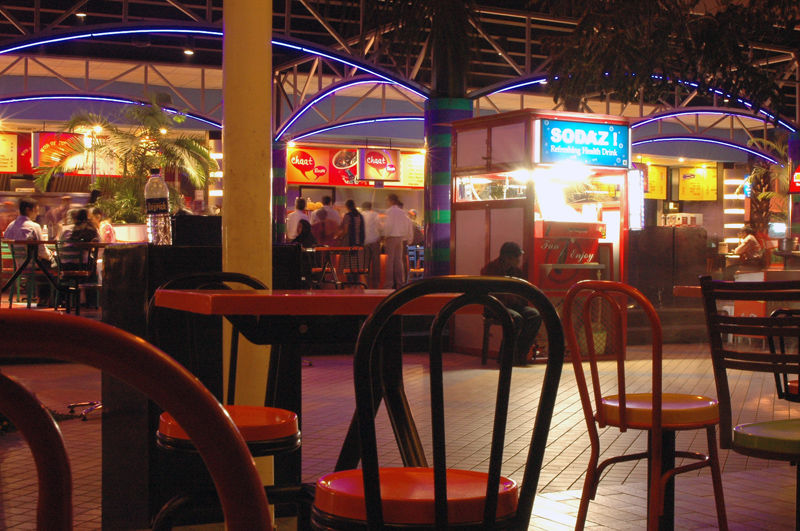 And now that you are done with the lake, the drives and the laser show how about sitting by the lake, watching the sunset and some food ?? Eat street to the lake is like the Jewel in the crown, incomplete otherwise. Quite popular among the Hyderabadi's NR is also a perfect destination to hang around with your squad or a romantic gateway with your partner or just to be all by yourself. Every evening is like a festival here. This place does total justification to its name and has an avid range of food joints from Pizza Hut to Dominos to Minerva Coffee Shop to Baskin Robbins to CCD to SubWay to Various Ice cream parlours to McDonald's to Ohri's. Think of anything and its here, be it the desi chaat, Papdi chaat Dahi Puri, Golgappas, Chola Bhatura, Dahi Papdi, Pav Bhaji, Aaloo Chat, Raj Kachori and Pani Puri, Frankies, Rolls, Momos, Kababs, Hyderabadi Biryani, Vegetarian, Chicken and Mutton Biryani, Rajma Rice, Naan, Roti, coffee, Dosas, Idli, Vada, Samosas, Uttapams etc.
Timings : 9 am - 10.30 pm, Everyday !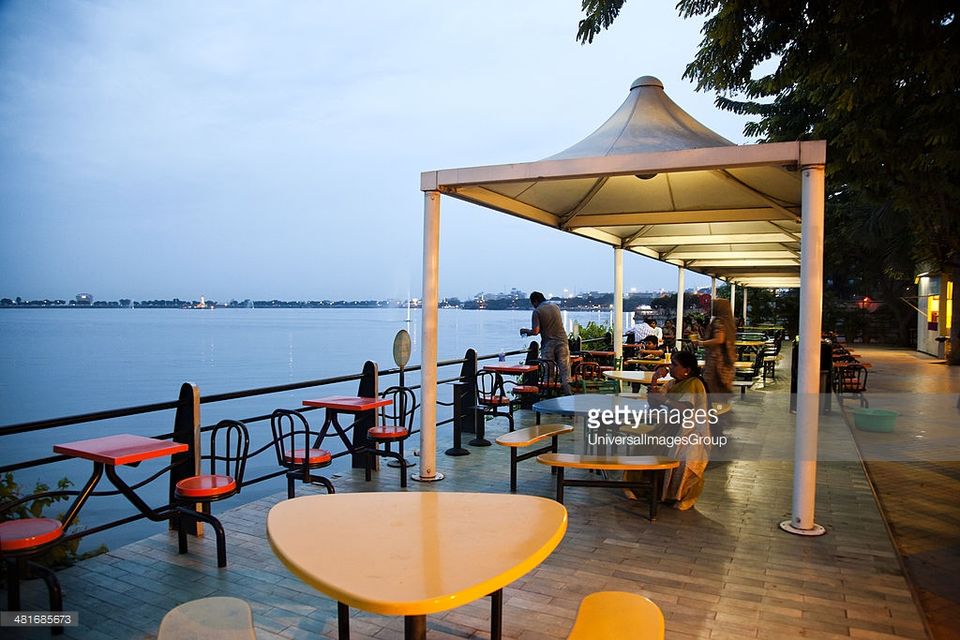 Tags :
#familyfriendly #Squadideal #naturelovers #photofanatics #loners
Good time to visit :
September - March (preferable to avoid afternoon visit)

Getaways :
Lumbini Park, Birla Mandir, Sanjeevaiah Park, NTR Gardens!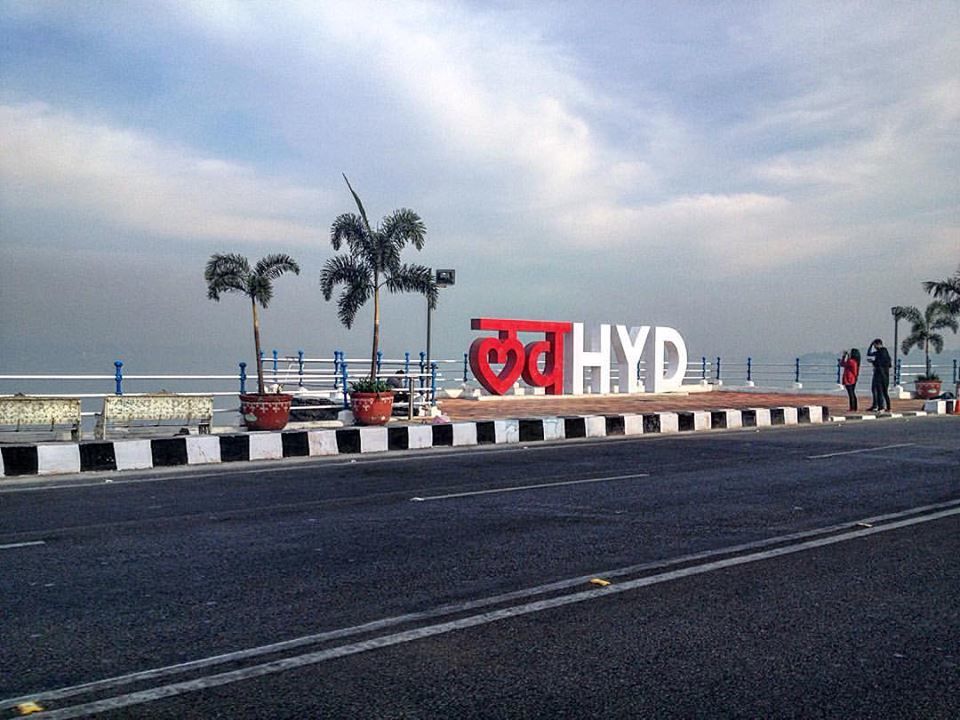 Come fall in love with India !