After hibernating in our respective work spaces for about 2 months, our family came up with a travel plan for Deepavali. In between, we made a couple of trips to our hometown, we enjoy the quiet holidays in the comfort of home as much as the fun of travelling to new places.
A trip to Ahobilam was long pending for our family, since most of them had not been to the holy place. The two days holidays for Deepavali seemed to be a good time to visit Ahobilam.
For the two of us from Hyderabad, this was a trip to Ahobilam after 5 years. We started on Narakachaturdasi Day at 6.30 AM. We were taking the Bangalore highway after nearly 3 years. Not much had changed except some new food joints along the highway starting from Jadcherla. We stopped for breakfast at Food Pyramid near Pebbair, a good place for a break.
Gone are the days when Kurnool could be reached in 2 hours, with the increased traffic, it takes close to 3 hours to reach Kurnool. Here is the Thungabhadra river, signalling your arrival at Kurnool.
Surprisingly, the Thungabhadra river had water, while the Krishna, only 50 kms away was dry. Both these rivers meet near Alampur, 32 kms from Kurnool.
Welcome to Rayalaseema !
Just after Kurnool, we deviated towards Ahobilam and we were taken aback, actually, to see the super smooth 4 lane road, the last time we drove on this road, 5 years ago, it was still a 2 lane road. It is now called the Rayalaseema Expressway, connecting Hyderabad with Tirupati !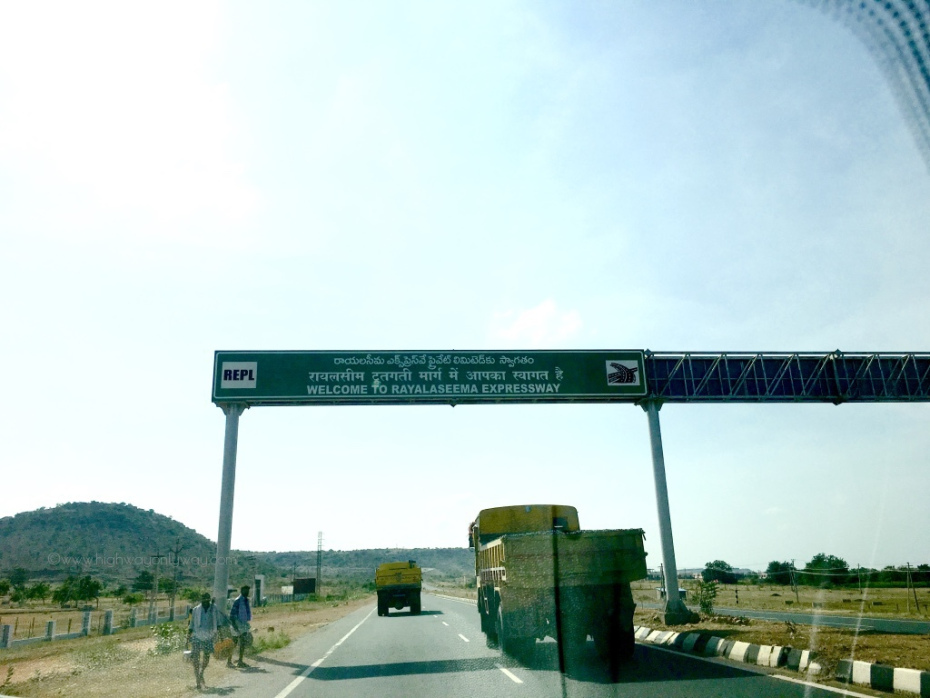 The drive is very scenic, near Orvakal, one can see the ancient rock formations beside the highway.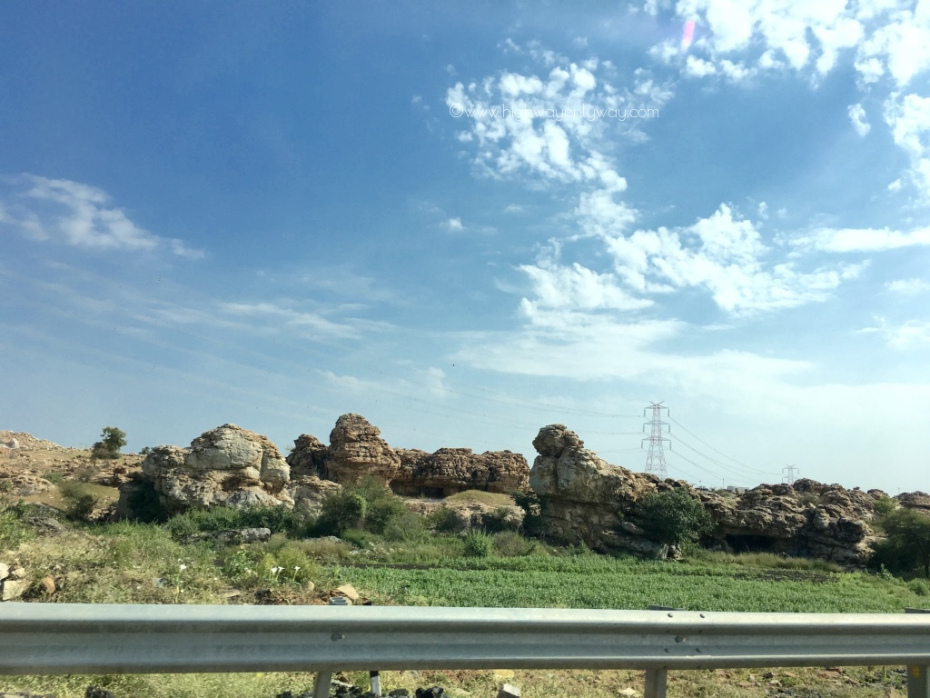 This is a beautiful place, the millions of years old unique rock formations are a must visit. AP Tourism has built a resort here in recent times.
We drove on musing over how the road was 5 years ago and our earlier trips to Ahobilam. Except for a small portion of the highway near Nandyal, the rest of the route is a delight.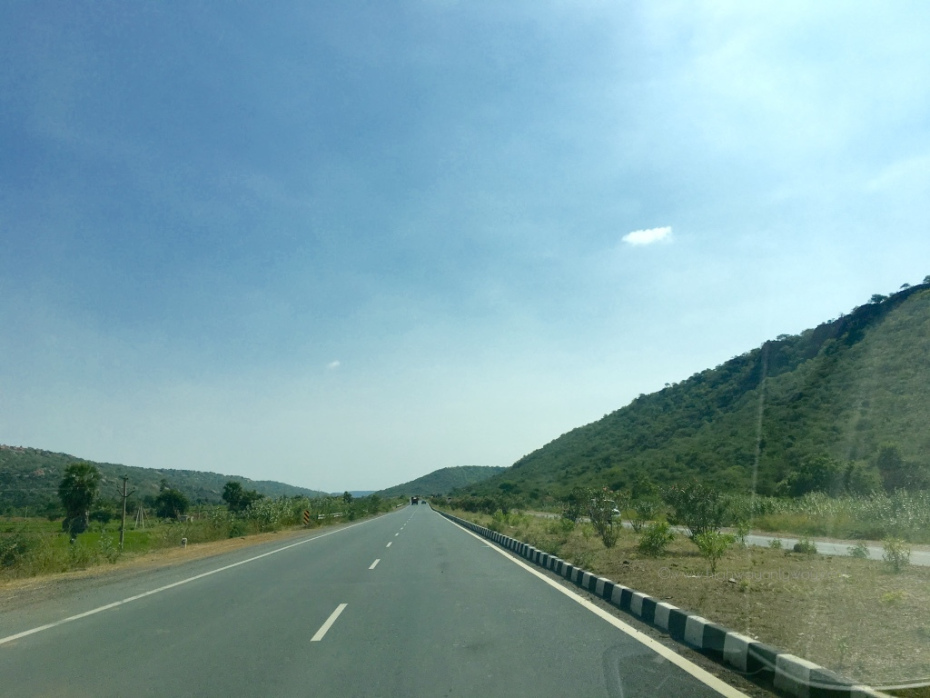 Another change we noted was that, we have reduced our camera usage, in fact, we haven't carried our camera in any of our trips this year, we have only used our mobile phones. Somehow, of late, we seem to be actually relishing the moment, than clicking good pictures. Some people call it growing old !
By 10.30 AM, we crossed Allagadda and took the village roads to Ahobilam, some pretty sights like these greeted us.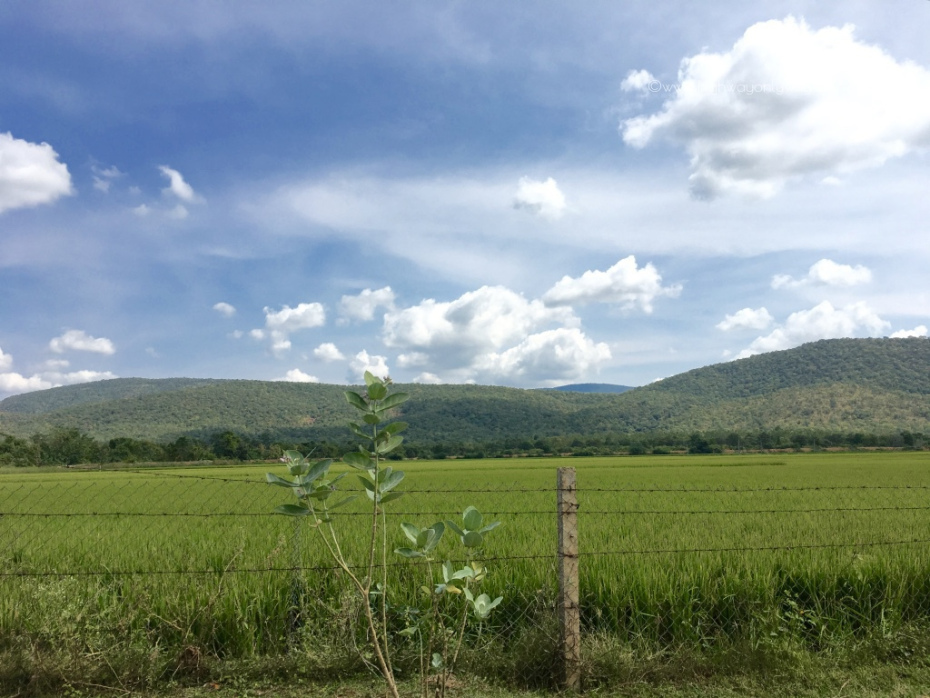 We reached Ahobilam around 11 AM, being the off season and a weekday, coupled with Deepavali, Ahobilam was quiet. Not much seemed to have changed, except the area around the main temple.
One major change was Swathi Complex, a hotel that seems to have come up in the last couple of years. You could call it a hotel or a resort or a homestay. We had booked our rooms here in advance, we were pleased with the hotel and its surroundings. Located at the edge of Ahobilam village, Swathi Complex looks like a twin duplex house, the rooms are good, we loved the view from the rooms.
Lush green fields and the hills beyond ! From the balcony, we had this pretty view.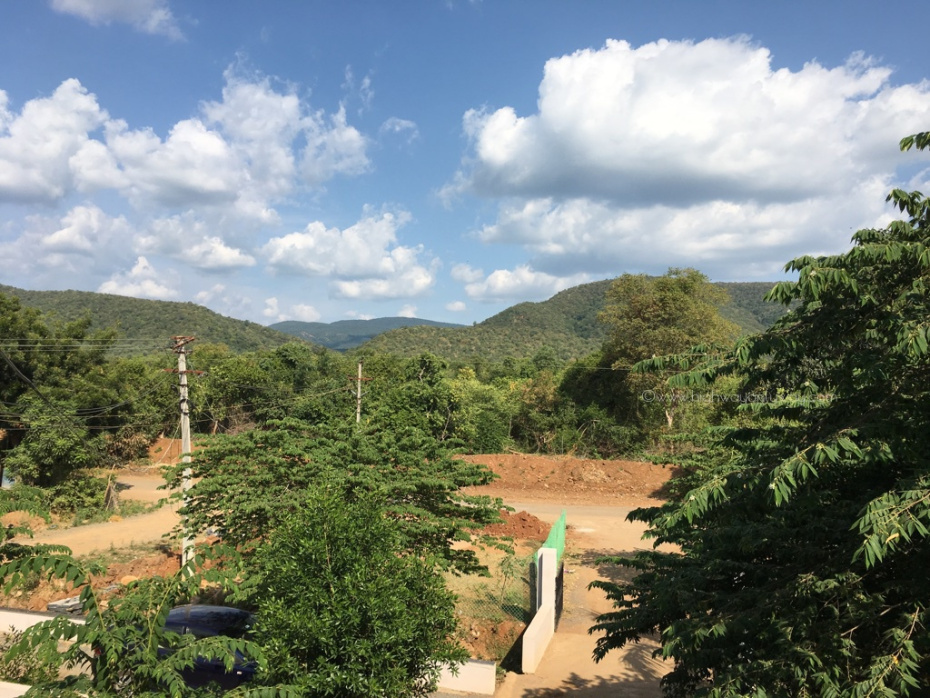 One can sit here and enjoy the cool breeze and have a nice long chat.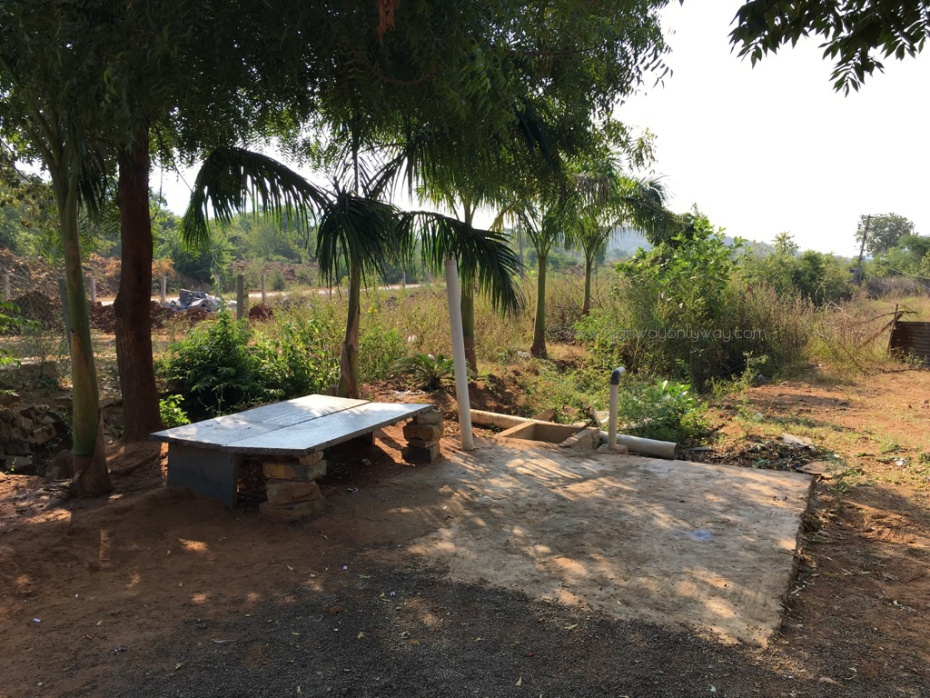 There are a few birds, cats, dogs and a Turkey to keep you company, the Turkey scared a few of us with its sudden cackling every now and then.
By the time we settled in, it was lunch time. A few new hotels have come up at Ahobilam, we were told the best one was Guru Raghavendra Hotel. When we went there, we realised it was the same hotel that we ate at during our earlier trips, only its location from near the temple had changed. Run by a Kannada family, the hotel serves you a simple, delicious and piping hot meal. The taste was exactly the same as it was 5 years ago.
Another thing that hasn't changed in Ahobilam is the population of monkeys and pigs ! Enough to terrify this Pithecophobic (fear of monkeys) writer !
Eguva and Diguva Ahobilam
After a brief siesta, we headed to Eguva Ahobilam for darsanam of Lord Narasimha ! In our previous blogs on Ahobilam, we have written in detail about the Nava Narasimha Temples and the treks. We missed visiting the Bhargava Narasimha Temple in our previous trips, we planned to cover it this time. For our family, it was their first time at Ahobilam, so, we started with the Ahobila Narasimha temple.
Our darsanam was very quick because the temple had just opened for the afternoon, we then walked into the forest area to visit the other temples like the Krodha Narasimha Swamy, Malola Narasimha Swamy, Prahalada Badi. A trek in the forest of Ahobilam is one of the best serene experiences on can ever have ! For some like this writer, it could be a scary experience as well - one, because of the monkeys and two, at places one has to cross such dilapidated bridges like this one !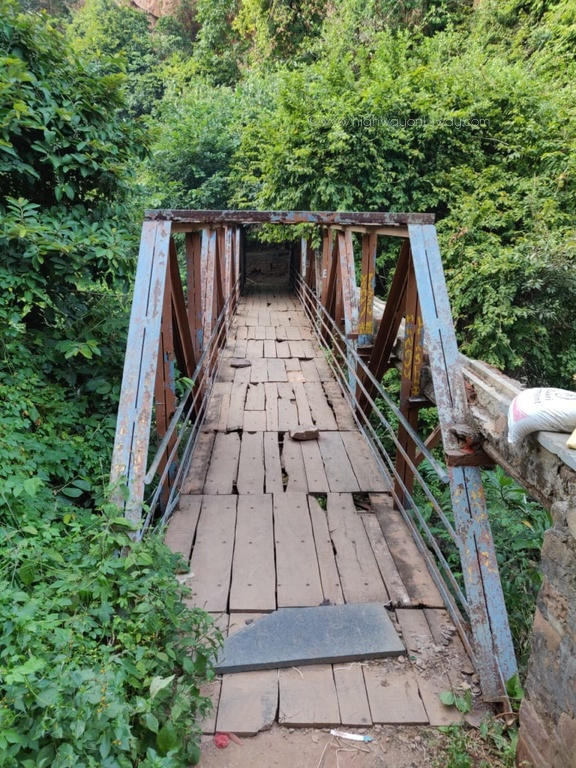 The wood is on the verge of breaking and creaky, from the broken gaps, one can see the plunge into the forest floor below, enough to give you some shivers and feel every step is going to break the wood planks !
By the time we returned from the trek, it was 5 PM and tea time. We headed back to Diguva Ahobilam for coffee at Guru Raghavendra Hotel. After a brief rest, we went to visit the main temple at Diguva Ahobilam, here, Lord Narasimha is called Prahalada Varada Narasimha Swamy.
The temple was not crowded at all and we could directly walk in for a darsanam. The environs were very quiet and peaceful. We took time to go around the temple and look at the sculpture, like most temples in this region, this one too was expanded during the Vijayanagar reign, the architecture and wonderful sculpture has the Vijayanagar stamp everywhere.
While we were leaving, the Utsava idols were being brought out in a procession around the village. The bedecked idols were a sight to behold !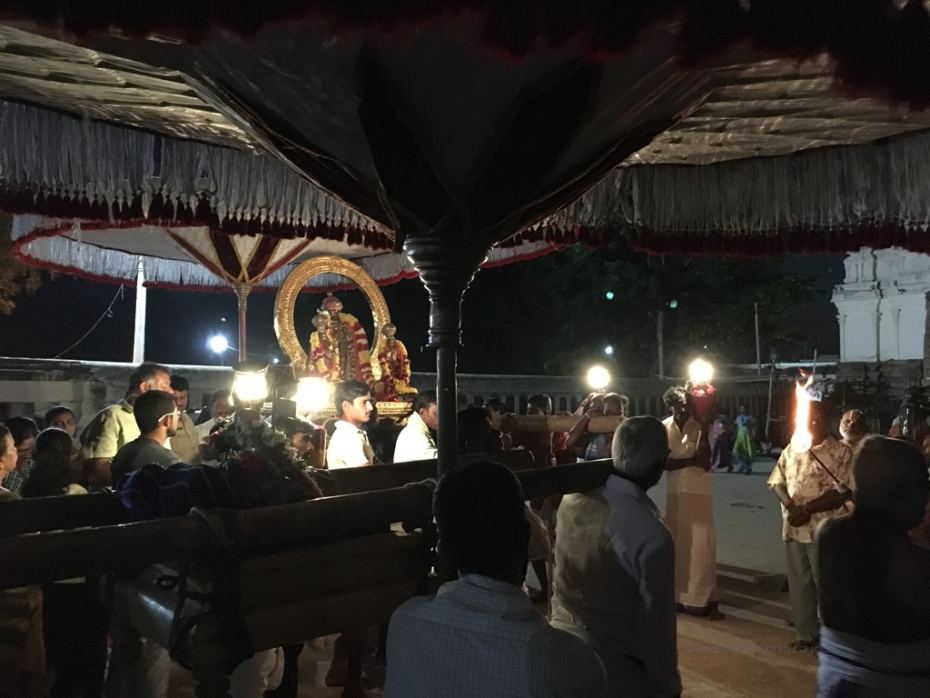 We were so lost in watching the procession that we did not think of clicking pictures, just this one for the record. One can understand how the sight of the deities had inspired poets and saints of yore like the Alwars to write such devotional songs which even after 1200 years continue to be sung and celebrated.
Our visit to the temple was followed by some shopping for the kids and then we headed for dinner to Guru Raghavendra Hotel again. Steaming hot Upma, Tomato rice, Chapati and so on, we tasted every thing on the menu, the dinner was as divine as Ahobilam itself.
After a dinner like that, there was only one thing we could do, retire for the night !
Thrilling jeep ride to Pavana Narasimha Temple
We were up early in the morning, taking in the fresh hill breeze and the blissful environs of Ahobilam. We had scheduled a jeep ride to Pavana Narasimha Temple, located deep inside the jungles. In our first trip to Ahobilam, we trekked to the temple on foot, the 7 kms trek (one way, the total trek is 14 kms, to and fro) was like taking a walk in heaven ! This time, since we had senior citizens and kids, we decided to take a jeep ride. The jeep was supposed to pick us up at 8.30 AM and we had enough time for an elaborate breakfast of Idly, Pongal, Vada, Dosa at the same hotel one more time !
Our jeep arrived on time and we started on one of the most exciting jeep rides of our lives. The route to Pavana Narasimha Swamy temple goes through some of the very dense parts of the Ahobilam hills. Technically, there is a no route, the path has been formed by jeeps plying to and fro over the years.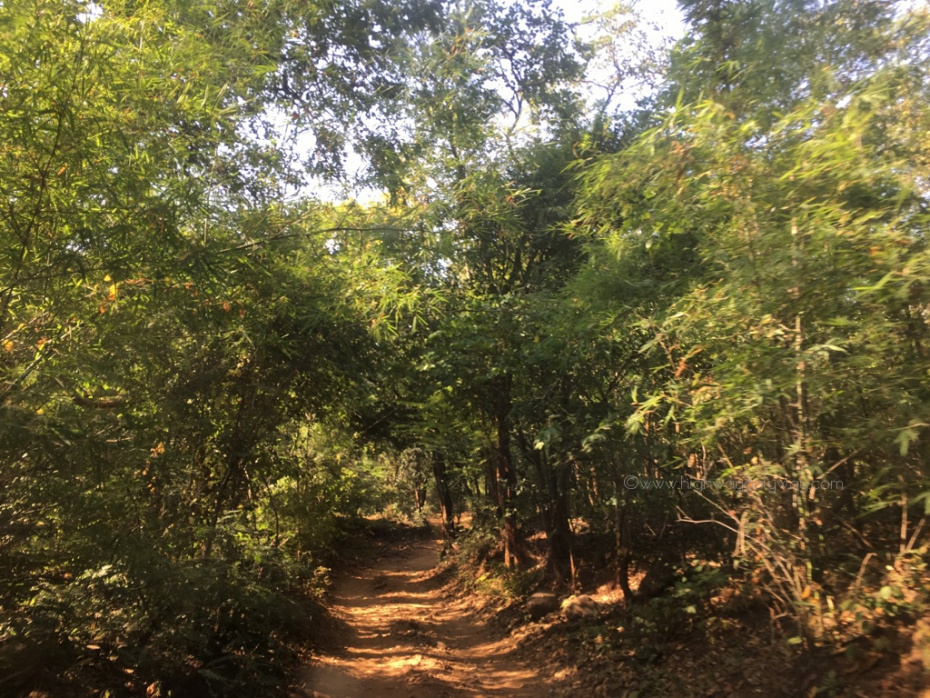 Basically, the ride is a roller-coaster, the jeep will toss you around like vegetables in a pan ! We had lot of fun, laughing and screaming every time the jeep gave us a jolt. Amidst all the fun, we took time to admire the untouched, frighteningly beautifuly jungle.
At some places, the jeep would almost have one wheel in the air or squeeze between trees and branches !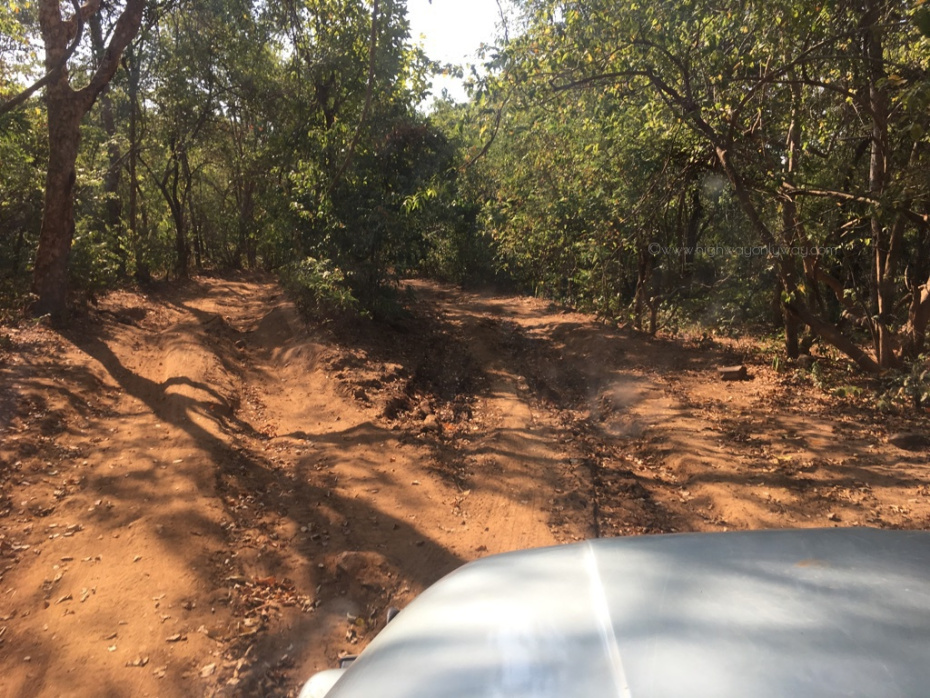 Here and there, it got more exciting as the jeep rode through slush and water, spraying the mud around.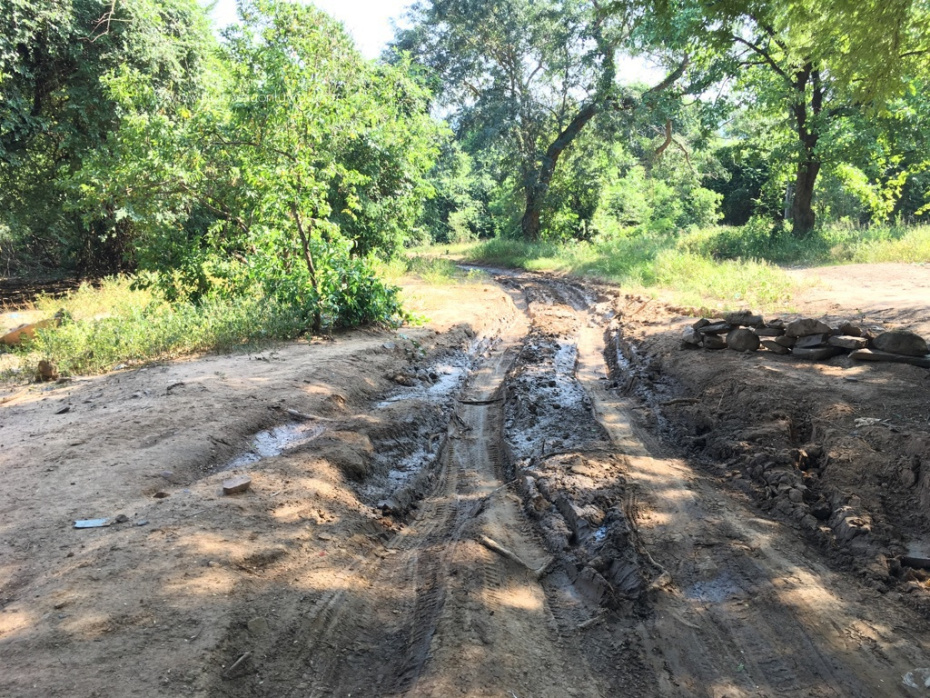 However, there was one thing behind our mind, the noise from the jeeps was sure to drive birds and animals away, from an ethical point of view, we were disturbing the wildlife.
One thing that surprised us was, back in the village, there were hordes of monkeys everywhere but we hadn't seen a single monkey in the dense forest cover.
The ride is about 20 kms, the last leg of the ride is the most thrilling and slightly scary as well ! The jeeps have to literally slide down solid rocks, we were in awe of the driving skills of the jeep driver ! We didn't know how our jeep was swaying but we could see the jeeps in front of us, each one looked like it would topple. We tried take a video of it, only to have our phone tossed out of our hand when the jeep almost leaned to one side. We only have a recording of our screaming voices !
Finally, after about 1.5 hours, we reached the Pavana Narasimha Swamy temple, nestled in a picturesque valley. We had our darsanam and relaxed for sometime, savouring the tranquility of Ahobilam forests.
We began our return journey around 11.00 AM, then it struck us that we had another 1.5 hours to ride back, the excitement of the onward journey had waned a little but we were looking forward to our visit to the next temple, the Bhargava Narasimha Swamy temple. On the return journey, we were accompanied by another jeep that had some issues with its braking, imagine having to drive in such conditions with faulty brakes. Our driver shared a trade secret and told us that they usually did not apply brakes and managed the jeep with the clutch action. Some skill, these drivers have !
On the return journey, the route was slightly different because we were going to the Bhargava Narasimha Temple, we knew that we were taking a different because the cluster of trees on this side of the forest looked different. When you are in a place like Ahobilam, even urban animals like humans seem to be in sync with nature !
After an hour's drive in the dense forests, we suddenly arrived at an open land with a very picturesque lake surrounded by hills, we knew we had arrived closer to human civilisation.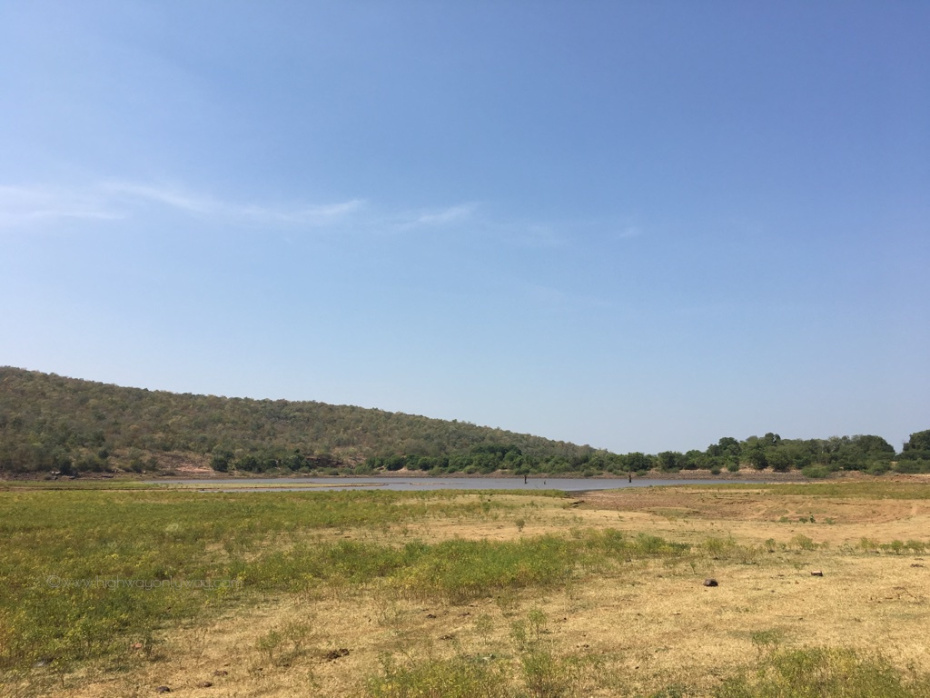 From there it took us another half an hour to reach the Bhargava Narasimha Swamy temple. A short walk in the woods led us to the temple.
A flight of 100 steps takes you to the temple. The deity here gets the name Bhargava Narasimha Swamy because it is believed that Bhargava Rama or Parasurama meditated upon Lord Narasimha who appeared before him at this location. With this, our visit to all nine temples of Lord Narasimha in Ahobilam was complete, though, our visits were in instalments starting from January 2012 ! What else can one expect from people whose lives revolve around EMIs !
We wound up our visit to the temple, headed back to our hotel room, freshened up and went for lunch at our regular Raghavendra Hotel, a simple meal later, we were back for some rest.
Around this time, we realised that our Ecosport was running out of fuel and we had enough fuel to only make a trip to nearest fuel station, 15 kms away ! Not wanting to take any risk and much to the anxiety of this writer who has a phobia of vehicles running out of fuel, we first drove to the fuel station, filled enough Diesel to survive till we reached a decent town the following day. While driving back, someone spotted a scenic stream and we wasted about 11 kms searching for the stream, which ultimately was inaccessible as there were hordes of wild monkeys !
When evening set in, we made another round of temple visits, this time the Chatravata Narasimha Swamy and Yogananda Narasimha Swamy Temple. The Yogananda Swamy Temple has a shrine where idols of all the Nava Narasimha Temples and the Navagrahas associated with them are installed, if you happen to miss any of the nine temples, you could pray at this shrine like our family missed visiting the Jwala Narasimha Swamy temple but they got a chance to pray to the deity at this shrine.
Time for some festivity
The evening marked the celebration of Deepavali and not wanting the kids to miss out on the fun, we shopped for a few simple fire crackers. While we were at the market, we also witnessed the procession of temple deities through the village in celebration of Deepavali.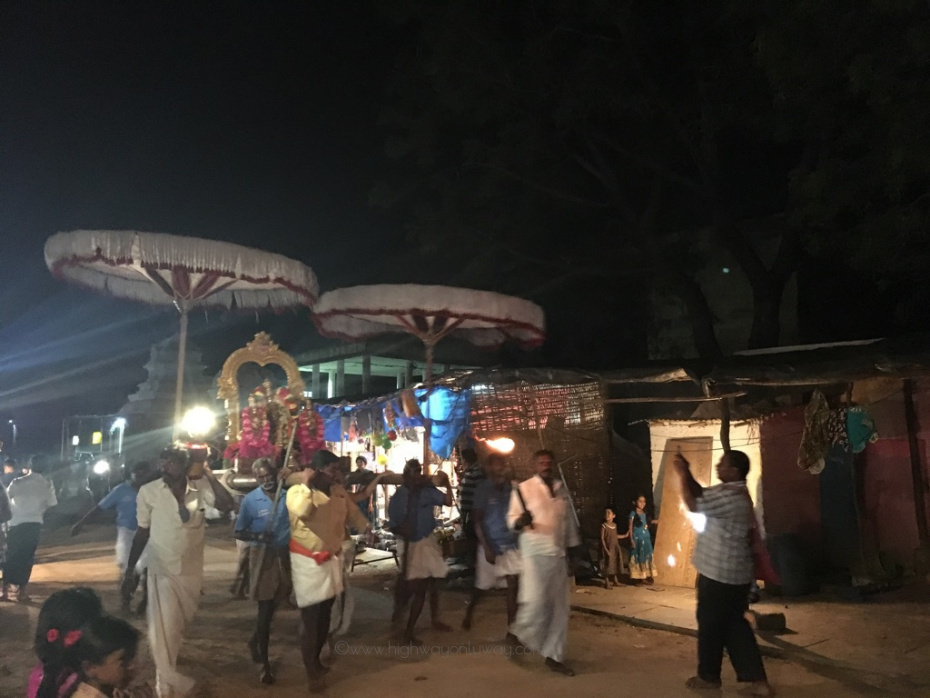 It felt surreal to stand by and watch the entire street pay their respects to the idols, whether you are a believer or not, one cannot but stop and rejoice in such sights and cultural practices.
We picked up our fire works and returned to our hotel. We joined the hotel staff in celebrating Deepavali. We were fascinated by the sky lanterns that the hotel staff lighted at the end of the celebrations, we watched it till it floated away into the darkness beyond the Nallamala Hills.
An unforgettable dinner !
For dinner, we decided to check out the other eateries nearby as Guru Raghavendra Hotel was closed for the rest of the day for Deepavali. They had informed us that when we went for lunch and so, we had checked with a nearby eatery who would be open that evening. At Ahobilam, except on weekends, most eateries cook on orders placed in advance because the footfall is very less.
By 6.30 PM, the hotel guy kept calling us to check if we our dinner plans were on, finally at 8 PM, we gave in to his calls and headed for dinner. We were served a regular Rayalaseema meal but the food was beyond delicious, it felt like we were all sitting at home and having dinner made by our family. The people were extremely nice and welcoming, we were the only people there and everybody was standing beside and chatting with us. It didn't feel like we were in a eatery, it felt like we were visiting someone's house. The steaming hot rice, chutney, the Potato curry, pappu (lentils) and Rasam, it was the best meal we had outside home in a long time. We have been trying to make that style of Rasam at home ever since !
It was just a humble eatery, nothing fancy about it, run by a local family but they gave us an experience that even the best fine dining restaurant cannot match. It is usually not about the taste or the place, it is always about the people and the warmth with which they serve you food ! Honestly, we did not even check the name of the hotel properly, but any time someone asks us to suggest a place for good food, we would direct you to the hotel beside Sudheer Hotel that has "Lakshmi" as part of its name.
Star studded night !
Following the sumptuous dinner, we were not yet ready to call it a night. We wanted to take a ride to Eguva Ahobilam and watch the night sky. The ghat road was pitch dark, except for our headlights !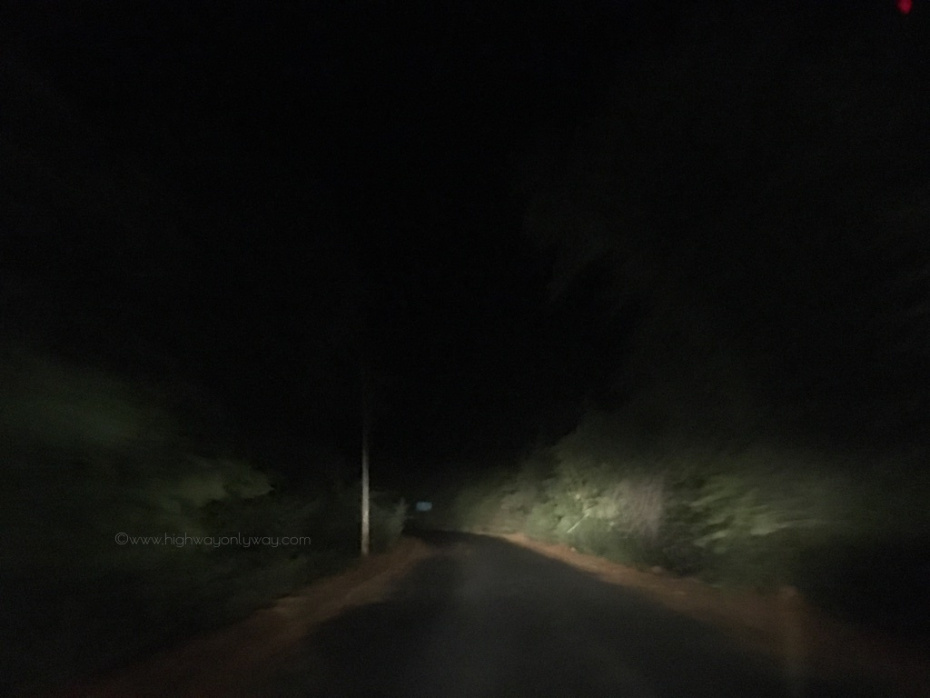 The road was deserted and we switched off the headlights for a few seconds, the darlness was eerie ! A short distance away, there was someone on a bike, who thought we had lost our way and they stopped by to ask us if we needed any help. We were touched by the kindness of the people, who didn't think twice to stop by and see if someone needed a hand.
Enroute Eguva Ahobilam, there is an ancient mandapam with an idol of Lord Hanuman, we had spotted it earlier when we visited the hill temple. This time, in the pitch darkness, we saw a lamp lit before the idol and it was a stunning visual. Absolute darkness, an ancient structure, idol of the all powerful deity and a lamp burning before it - the aura of the place was something to experience ! We tried clicking a picture but for some inexplicable reason, it didn't feel like it was the right thing to do.
We drove on till the check post before the Eguva Ahobilam temple and then turned back, we stopped at the Karanja Narasimha Swamy temple, one of the Nava Narasimha Temples. The temple was closed, we just made a quick prayer. We then, switched off the car headlights and looked up at the night sky. We were almost speechless by the sight ! Being a new moon night, the sky was dazzling with billions of stars, we had not seen such a sight in many years !
When we were younger, sleeping on the terrace of our sleepy village, we could see the sky packed with stars. In today's times, given the lights and pollution in our cities, the night sky is no longer black, there is always a tinge of pink in the sky even at midnight and one can hardly see a few stars. At Upper Ahobilam, one cannot see village lights for miles, there is no pollution and the star lit sky is at its beautiful best !
We could have sat there just staring at the sky the whole night but the family was sleepy. The entire area is controlled by the Forest Department and we did not know if we were allowed to stay there for too long. It was only for a few minutes that we looked up at the sky but even now, a month later, we are still able to recall the visual !
Returning to our hotel, we turned in for the night by 10 PM, still in a state of daze.
Lord Shiva beckons !
We were up early in the morning on the last day of our Ahobilam trip. We drove to the nearby coffee shop for a cup of morning coffee, a ritual we religiously follow on every trip ! Ready by 8 AM, we headed for breakfast at Sudheer Hotel and binged on every item available - Idli, Kaaram Dosa, Uggani, Poori and so on.
After breakfast, we wound up our trip with a visit to the main temple at Lower Ahobilam, thanked the guys at Swathi Complex for their hospitality and started our return journey. On the way, we made a stop at Allagadda, this important town near Ahobilam is also famous for stone sculptors. A few years ago, we had ordered an idol of Lord Hanuman to be sculpted for our village temple and the idol was made by a sculptor from Allagadda. Since we were anyway passing through Allagadda, we stopped by to meet the sculptor. It was interesting to see how idols are sculpted, the art work of the sculptors will leave you in awe, such talent deserves more respect than any of our corporate jobs.
From Allagadda, our routes split up, we headed to Hyderabad while the rest of the family took the route to Nellore.
We cruised till we reached Nandyal and then we casually happened to check the route and realised that Mahanandi, the famous pilgrim place was only 16 kms away, so we took a detour.
Mahanandi is a sacred place dedicated to Lord Shiva. This temple's history goes back to the times of the Chalukyas who built the famous temples at Alampur near Kurnool, which means the temple is atleast 1200 years old. Similar to the Nava Narasimha temples in Ahobilam, there are 9 temples around Mahanandi dedicated to Lord Shiva. Most pilgrims visit all the 9 temples to complete a trip to Mahanandi.
It being the first day of Karthika Masam (auspicious month dedicated to Lord Shiva), we were a little skeptical about the crowd and the darshan timings but when we reached Mahanandi, we were pleasantly surprised that there was no crowd at all ! Our darshan was complete in 15 minutes !
An interesting feature of the temple is the Pushkarini or the temple tank which has crystal clear water throughout the year. One can see the all way to the bottom of the tank ! In earlier times, people were allowed to take a holy dip in the tank but now it has been prohibited. The enclosure around the tank was closed, we managed to catch a glimpse of the clear water and the stones at the bottom.
You are not allowed to carry cameras or mobile phones inside the temple premises, so we could only click this picture.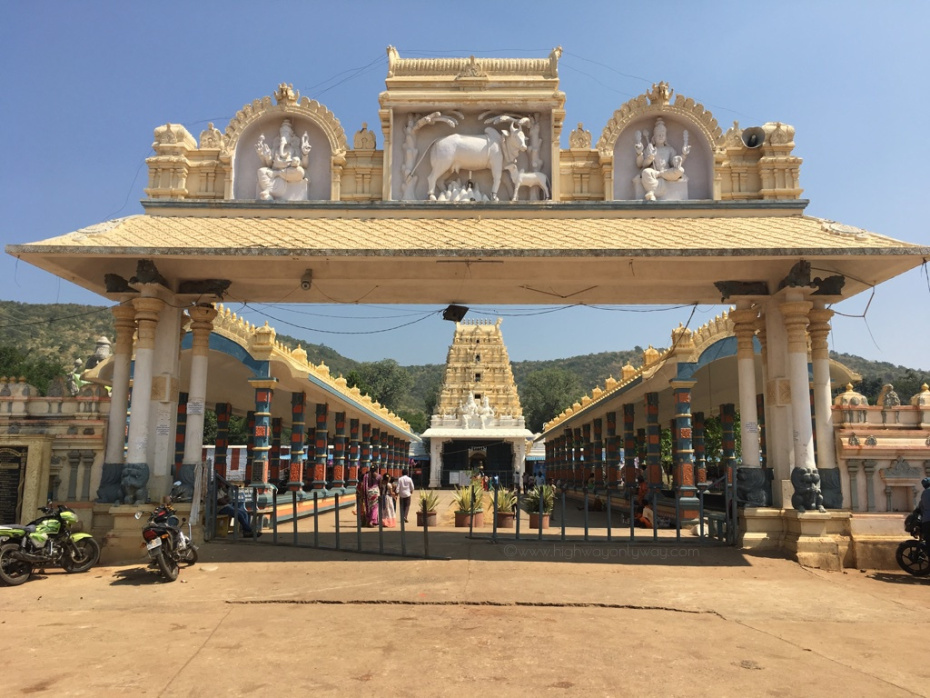 For a brief while, we considered the possibility of visiting all the Nava Nandi temples but realised it would take us atleast half a day, we had to get back to Hyderabad by evening. So, we dropped the idea thinking we could make a dedicated trip to Mahanandi sometime in the future.
It was an unexpected, short trip to Mahanandi, as they say without Lord Shiva's consent, even an ant wouldn't bite, was it His will that we made a visit to Mahanandi on the very first day of Karthika masam?
From Mahanandi, we were back on the Rayalaseema Expressway and then onto the Banglaore-Hyderabad highway NH44. We drove till Kurnool and stopped for lunch at a eatery called Mr.Idli on the highway, the food was decent enough but the washrooms were not too great. Quite a few hotels have come up near Kurnool, which is usually a strategic break while driving towards Bangalore.
We reached home by 6 PM, our family had reached Nellore atleast 5 hours before us and were chilling by then. We usually end every family trip with a rough plan for the next trip. Next one coming up in January 2019 !
Info tidbits
You could read our trip reports from our previous visits to Ahobilam here, here, here and here If you are driving from Hyderabad, take a break at Kurnool or AP Tourism hotel at Orvakal. There are no good eateries or washrooms till Allagadda, a 2 hour drive from Kurnool. Swathi Complex is a good place to stay at Ahobilam, one can find their contact information at their website http://www.ahobilamrooms.com Ahobilam Mutt has a few rooms and the other option is Haritha Resort, all information can be found on their respective websites. You will need 2 full days to cover all the Nava Narasimha Swamy Temples. Keep atleast 4 hours for a jeep ride to Pavana Narasimha Swamy Temple and back. If you hire the entire jeep, the cost comes to around Rs.2500/-. If you are few in number, one can find jeeps near the main temple at Lower Ahobilam. Mahanandi is about 15 kms from Nandyal, we suggest planning a dedicated trip to Mahanandi as a weekend trip from Hyderabad. Our visit was very short, so we do not have much information about Mahanandi."The content and pictures on this blog are owned by the authors of http://www.highwayonlyway.com and are not available for copying or reproducing elsewhere without any written consent from us."