Seems Tricky and OHHH! a charming place too. it was unexpected, I would encounter such a nice panoramic view, when I woke up in the morning (6 AM). As i remember "Just after sunset, beautiful clouds scattered on the bosoms of hills, the whole trekking tiredness disappeared, it seems as if one might climb into the heavenly region!, totally gave me an angelic experience." Especially looking at the stars, sharing smiles, being there in tents with our friends, an amazingly, night disappeared like a fairy! and there suddenly welcome to the next day fresh morning :). Wanna know about such wonder, I share you my beautiful moments over here. I am pretty sure that you would do backpacking after reading this post.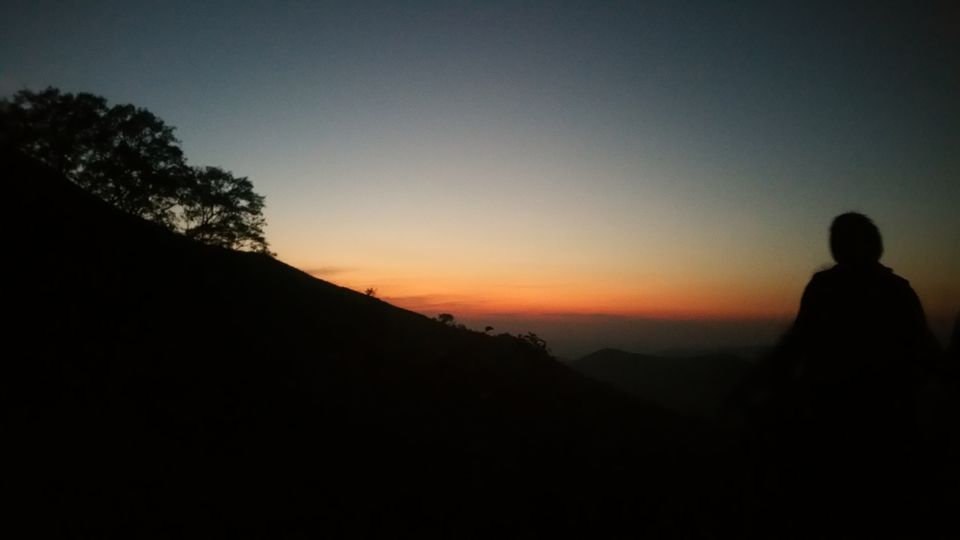 About place:
Zindaghad is a hill station in Araku, Andrapradesh. I think, many people may not aware of this place and not heard about name of the place. but I am sure, its an awesome place I ever seen near by. This place has got something that I have no words to explain, that unique landscapes and views make you feel rejuvenate and relax.
How to reach:
Our journey starts from Hyderabad to Vizag, Vizag to Araku, Araku to that trek point (Base camp), we were the third group to reach the summit and it was pretty fascinating. We took train from Hyderabad around 5 AM, reached Vizag at 6.30 AM, local trains at 7.30 AM from Vizag to Araku, from Araku station we hired an auto to reach the base camp.
The route, we actually missed and got into a different way. It was little adventurous, by the time we reach 1st rest point, the day had turned into dusk. We never know, which moment and how it will be, once you are there, you feel enrichment of it with lovely imagination and peace coming through your heart and mind. We had a very nice view of sunset (there will no sunset in southern part, I mean that color shades of the sky), was really fantastic. Interestingly, it was a full moon day, around 7 PM in the evening, we turned off our torch lights, that moon light guiding us, enough to walk : Splendidly luminous and spectacularly joyful time. It was such a nice experience, walking in the full moon with freezing temperature at that altitude, made more crazy time with our group. That lovely landscapes and clouds, feels like that I was walking in heaven guarded by full moon.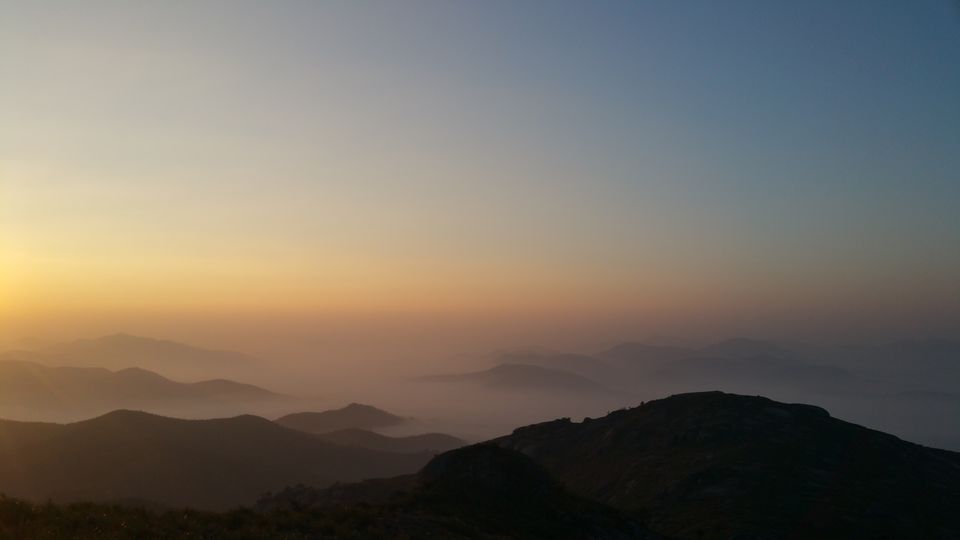 we all were mesmerized by moon, laying on that hill and lost our self in watching the moon and stars. This made us realize,what we are missing by staying in the city.
We had been to this trek in the month of January, in winter, Araku valley temperatures would go around 15 to 22º C. We reached our camp site by 8.30 PM. We kept our tarps on, had dinner.
started campfire with karoke, I enjoyed that environment with all our friends. We ran out of wood, it was 1.30 AM around, was too cold and we fell asleep. Our sleeping bags were not enough to hold the cold. But our night went with lot of memories to remember for life time.
Morning sunrise with all shattered colors of sun and in yellow color was really fantastic view and pleasant atmosphere. You could get that by seeing these pictures, we started capturing the scenic views of the nature, got freshen up, had breakfast, packed our bags, signed on that summit flag and started our way back to base point.
Do try bamboo chicken.
If you have more time, there are many places to visit.