We are gifted with so much natural beauty in the world that sometimes I wonder God must be so talented and creative to have created such wonders that leave us mesmerized. We cannot imagine our world without these beautiful creations. A few aspects of this beauty can only be captured by your eyes and stored in our mind but its very difficult to explain it in words. It was summer, we can visit this place only in summer before the rains start. The path to reach these natural pools will be covered with water during rains. So, the best time to visit these natural pool are, march to July.
Have you ever heard of this place called NAGALA, Nagalapuram- nested in between hills, near Tirupathi? I must say one of the nature's best wonders in south India. Crystal clear water coming from nowhere at top of the mountains deep in the forest where you can hear only your heartbeat. The path that will be leading you to the beautiful natural pools is a rocky path, taking a route in between long tree, seeing monkeys do gymnastics from one tree to another, listening to songs sung by the best singers of the word "birds", mesmerizing sound of water falling from the top of the hills, leaving my eyes and ears to the forest thinking that I am never gonna get this opportunity again. Indeed it's very difficult to turn feelings into words.
We were a group of 20 members who decided to visit this place to beat summer with natural pools. We started from Hyderabad by train, reached by 6 am in the morning to place called Thirupathi We had breakfast until our transit came. Around 8 am we started our journey to nagalapuram. We reached a small village called Arai had lunch and reached the base point. We parked our vehicle and took our 1st step towards these beautiful pools. Generally there is a saying 'There will be 7 people who look like you'. I found it true at Nagalapuram, one guy in my group his name( sorry forgot name, it was an year ego) we found a guy who looks exactly like him. We didn't wanna miss this kinda moment so we captured it in our camera!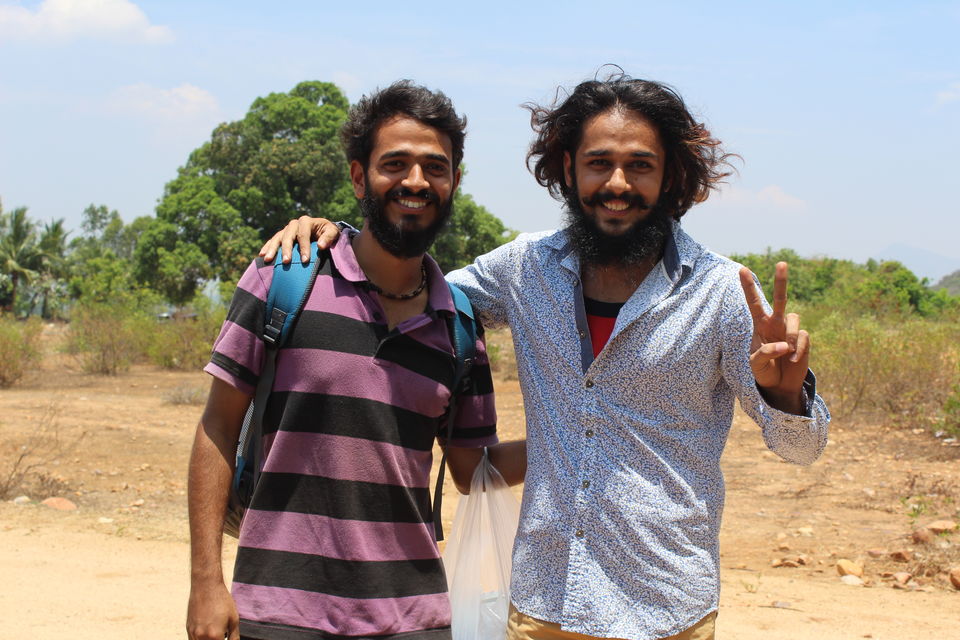 We started walking. It was sunny. We had a long way to walk to reach the 1st pool. Finding the path through small trees, taking breaks in between to hydrate, cracking jokes, exchanging vessels one to another to show unity, capturing moments where ever required, I must say my travels are always filled with beautiful memories. After 40 mins walk we found one pond which was flowing. Time to refresh yourself with natural mineral water! We took halt and spent some time just to enjoy nature. After an hour and half we reached our 1st pool. Can you take a wild guess what we did? You guessed it right, swimming!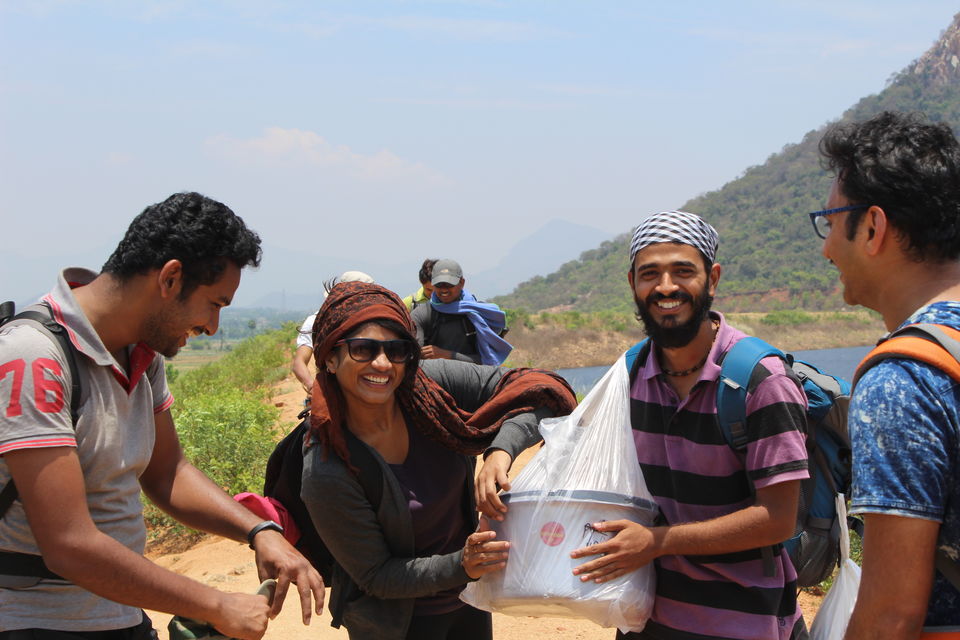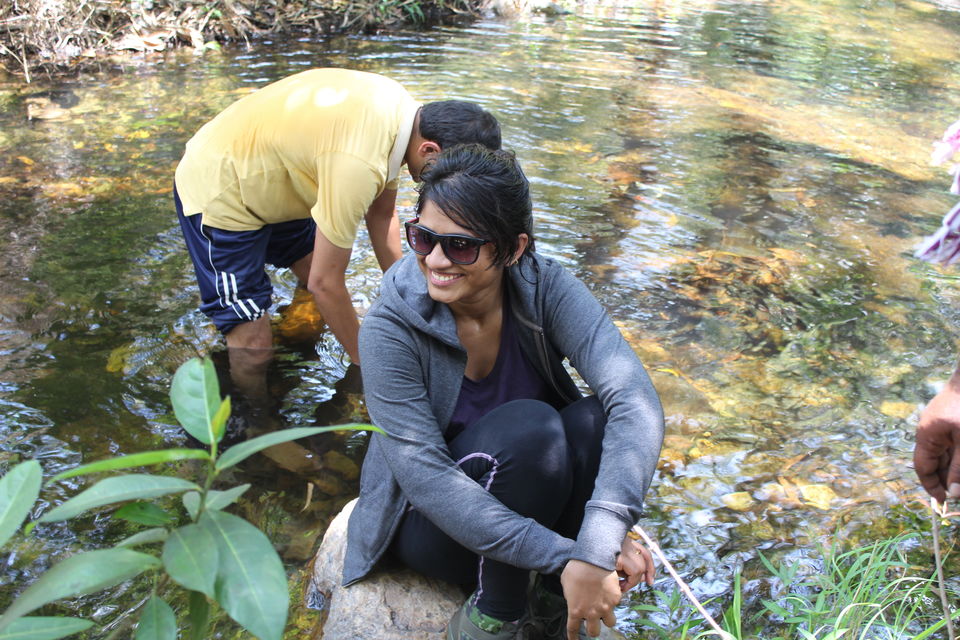 We spent 2 to 3 hours in the pool and again started trekking to reach the 3rd pool before it gets dark. We reached the 3rd pool by 5 pm. Few people were already swimming while a few were lying back on the rocks and enjoying the view. Whoever knew cooking were making arrangements like collecting wood, washing rice, cutting veggies, cleaning the area to sleep for the night.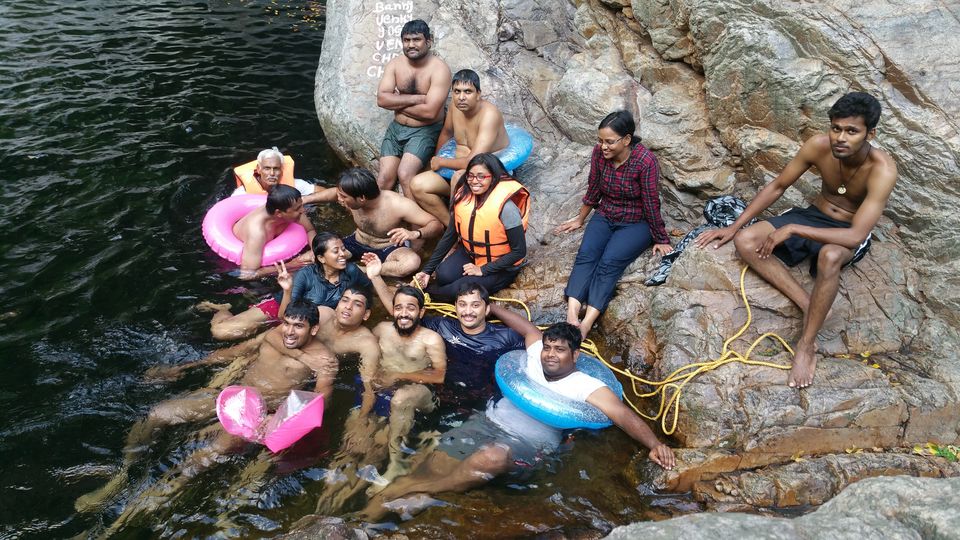 Best experience one can ever dream of. Around 7 stars began to sparkle in the sky. Lying back on the rocks and staring at stars and sharing memories with friends and listening to devil stories in the pitch dark deep in the forest. That moment when you feel the fear inside your heart but still you cannot hold yourself from listening to the stories. Laughing at silly things your team did while travelling. This may be the reason I love camping and trekking with the group. Around 8 pm our dinner has served.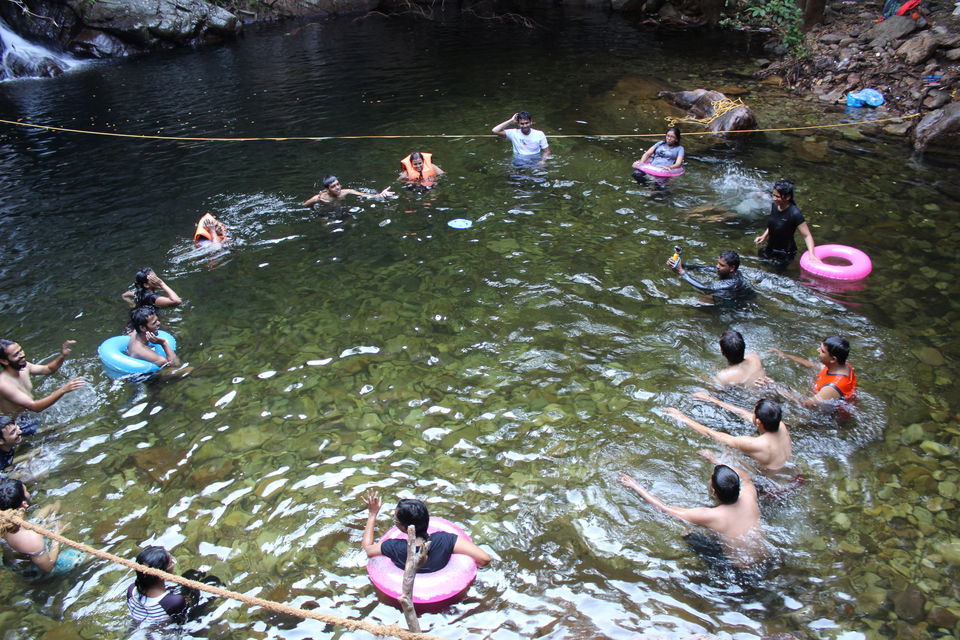 Vegetable rice flavored with Indian spices along with mango and tomato pickles and obviously a lemon to fulfill the taste. Our tarps were laid. I was listening to the stories and I did not know when I fell asleep. Morning around 5 am woke up because the moneys around were making noise. We wondered whether they took our vessels and food packets, fortunately nothing happened.
Everyone got up and started packing things to reach the 2nd pool which we left behind. By 7 am we are at the 2nd pool. Our chefs started preparing breakfast for us. We are at the pool playing water games and swimming. Around 9 am they served yum yum Maggie. Again got into the pool, played lot of games and clicked as many picture as possible.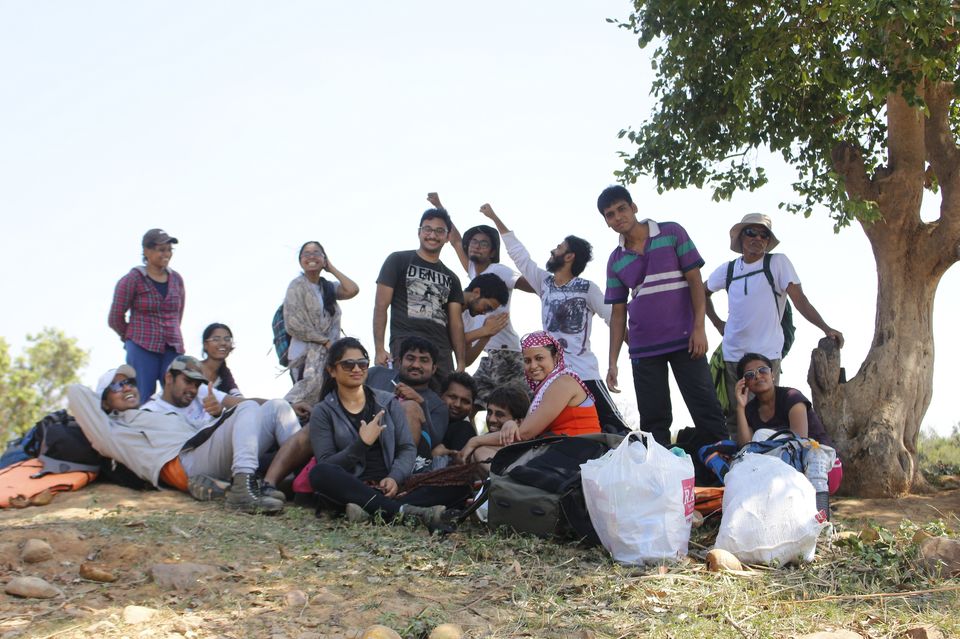 One should be happy with memories and without stress! So make sure you have got sometime for being happy. See you with soon with a new story. Stay happy and blessed.