Ever thought of owning an island personally for yourself ? Atleast for 24hrs ? Yes, you read it right..  This quaint home-stay in Kerala lets you do just that. You can own this island all to yourself for a day.
Vini's Farm in Munroe island, is a charming stay on a tiny island on the convergence of the Kallada River and the Ashtamudi Lake. The breathtaking villa has wooden cottages on stilts equipped with mod cons and lush rain-fed greenery. The two rooms with attached bathrooms have stunning views of the lake. You can book the whole villa and have the island to yourself.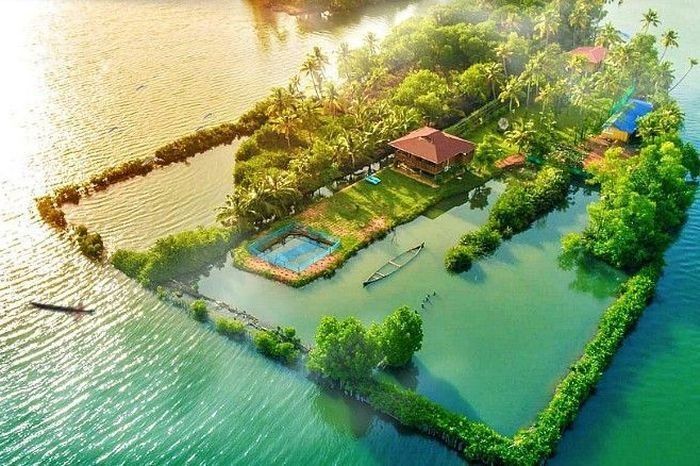 There's a lot to do, actually. Explore the backwaters on a sunset cruise on a vallam (country boats) or take a cruise through the narrow and winding canals with backwater villages all through the route. You can also go fishing. The backwaters offer good opportunities for birdwatchers--kingfishers, egrets, herons and many other species of birds can be seen here. You can also ask for a cooking class from their chef and pick up rudiments of local cuisine. But, if you want to jut let your hair down then there's nothing better than lounging on the verandah or under the coconut trees with a book. You could also star gaze thanks to a clear pollution-free night sky. The quiet offers an ideal setting for writers and artists.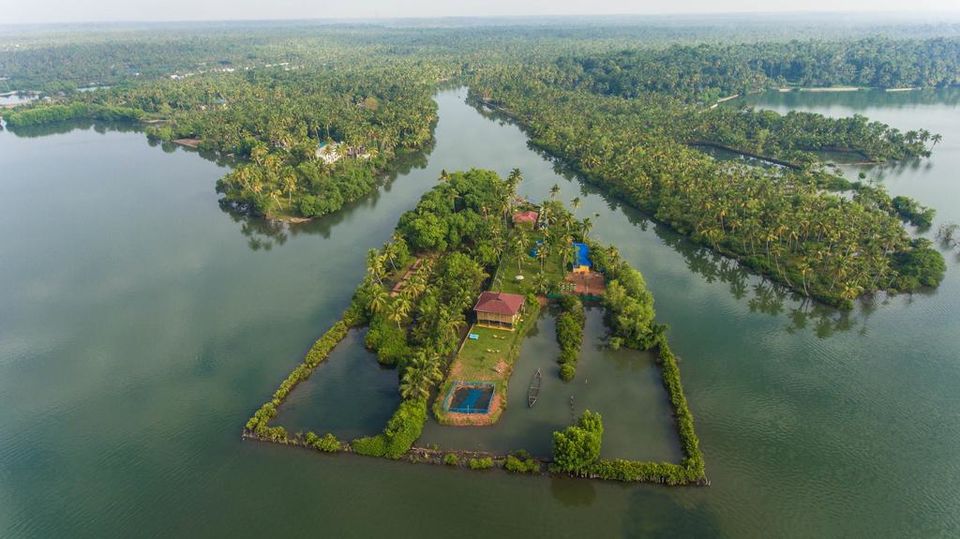 What makes your stay unique ?
- A Whole island to yourself.
- Private Chef.
- Organic by nature, they grow vegetables on the farm, source their food from in and around the island and get fresh catch from their local fishermen.
- Perhaps one of the only islands in the world where the river meets the lake and is given to a couple / family.
- The Island is neither too small nor too big; you can see water from anywhere.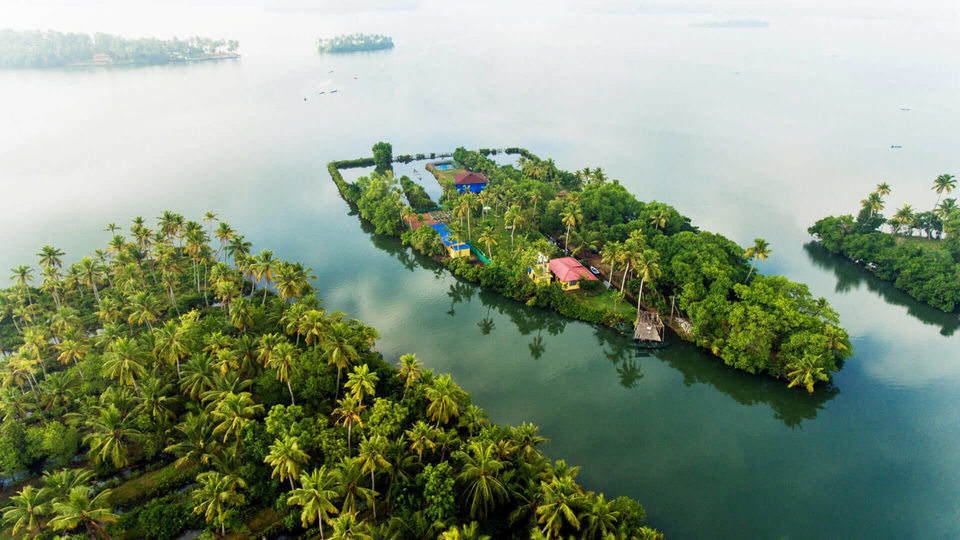 Interesting activities you can do around here

- Enjoy a sunset cruise every evening on a vallam (country boat) out in the open backwaters. The sights, breeze, sounds and smell of the late evenings are indeed very soothing. If you are lucky you can also catch the moon rise.
- Take a farm walk with any of their staff and learn about farming below lake level as well as the different crops cultivated. Do check out toddy tapping.
- For bird watchers the backwaters and the farm offer ample opportunities for sighting kingfishers, woodpeckers, egrets, cormorants, herons, crows, pheasants, snake birds, teals, etc.
- Ask for a cooking class from our Chef and learn the nuances of the local cuisine.
- Try fishing (rods available), or, if you are lucky, check out if you can spike scampi at night.
- Take a canal cruise through the narrow and winding canals on a vallam and catch a glimpse of the unique backwater villages.
- The property also offers an ideal setting and is inspiring for serious writers and artists.But, if you are the kind who wants to just relax and cool off, sit on the verandah or under the trees and dream or observe the passing backwater life or catch up with your reading. You could also star gaze into the clear pollution free night sky.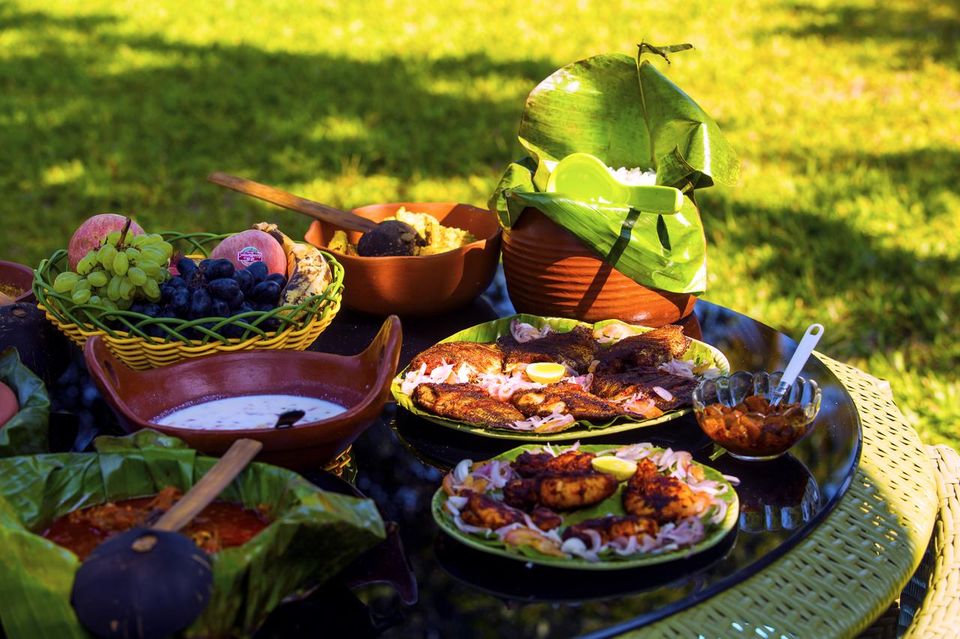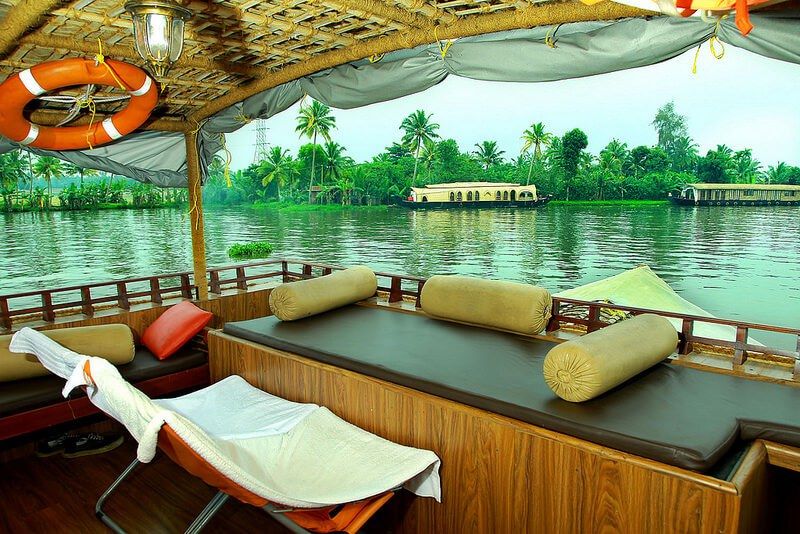 How to reach Munroe Island
The Island is about 25 kms from Kollam town. Road travel is the usual way to travel, although you will have to take a ferry to get to the island. Trivandrum International Airport, about 84 km There is also a train station called Mundrothruthu but only very few trains stops.
Best Time to visit
With October to May being the best time to visit here, this one makes for an awesome winter vacay, far away from the hustle bustle of the touristy crowd. 
Prices start from INR 14,900.
Pack your bags & head to this beautiful island to surprise your bae by owning an island !!