Suspended along Asia's cultural confluence, Penang is one of the most exciting and progressive realisations of multiculturalisms in Asia, if not the world. This bite-sized island in the Strait of Malacca is a delicious melange of its multi-ethnic heritage: Chinese, Indian, Malay and a buffet of flavours from much of the rest of Asia. I spent just over a week exploring it all in Penang, Malaysia and can't wait to go back.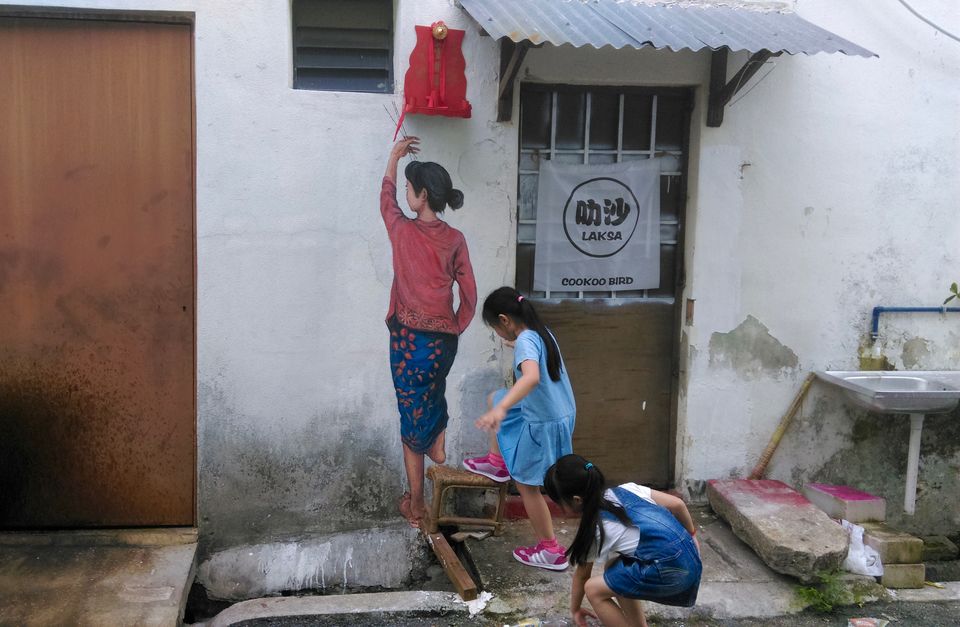 Indians in Penang, Malaysia
Authentic Indian street food, sari shops, Hindu temples, mosques, marigold garlands and A.R Rahman; a walk through Little India can seem quite reminiscent. Indians first arrived in Penang in the late 19th century, as migrants and merchants. Many returned to their home-country, while others stayed behind. Today, Indians are one of the largest minorities on the island and lend to the diversity of Penang in all aspects of contemporary life.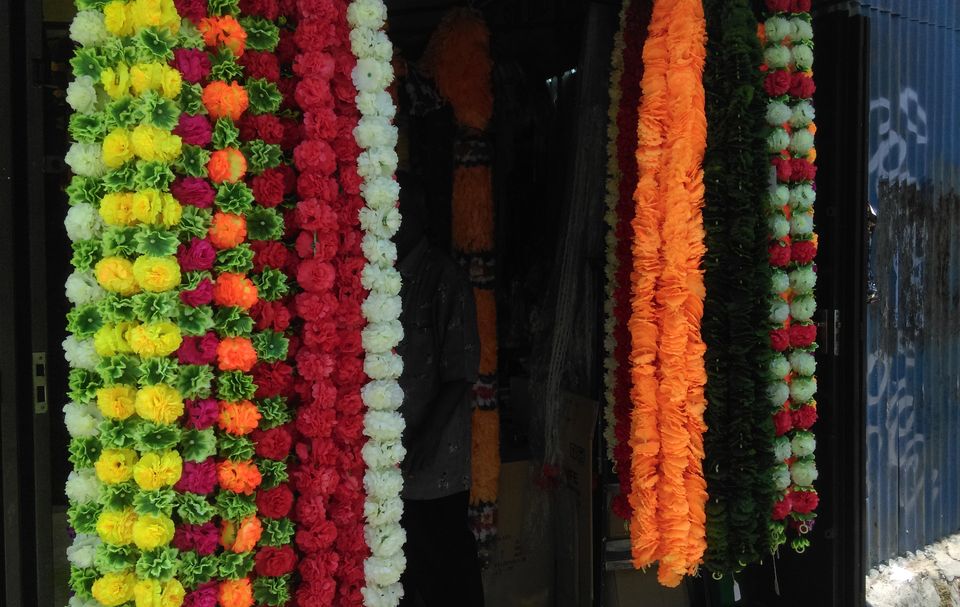 Especially when it comes to food, which is one of the biggest draws of Penang, diversity reins. Halal, "pure-veg", Chinese businesses – all co-exist, often side-by-side. If there is any dietary censorship in Penang, I definitely couldn't find it.
Tamil is the most widely spoken Indian language in Malaysia, although Hindi and Telugu are also understood by a fair number of Indians. Like in much of Southeast Asia, Bollywood is quite popular and is a common conversation starter with locals.
As an Indian, it's always great to see strong Indian communities in foreign countries. In fact, it wouldn't be a stretch to say that I had some of the best Indian food I've ever had in Penang, Malaysia. Was the Indian food in Penang better than the food in India? You'd have to visit to find out, and you definitely should.
Following is a detailed guide with everything you need to know about visiting Penang. I have listed prices in both the local currency (Malaysian Ringitt, RM) and also in Indian Rupees.
The exchange rate as of 6th Feb 2016 was 1RM=Rs.15.
How To Reach Penang
Penang is located off Malaysia's eastern coast and connected to the mainland by a bridge and a ferry. The nearest rail head is in Butterworth, which also doubles as the ferry terminal and bus station.
Bus: Plenty of buses ply to Butterworth from all Malaysian cities, some of which continue on to George Town across the bridge. The most accessible route is Butterworth to Kuala lumpur: RM 40/Rs 530, 6hrs.
Train: Butterworth connects Penang to Malaysia's national railway network via Kuala Lumpur. There are five trains everyday from KL Sentral (9:00, 11:30, 16:18, 19:53, 21:30). The journey time from KL to Butterworth is 4hrs and costs RM59/Rs.900.
All bus and train bookings can be made here.
Ferry: Up until 1985, the passenger ferry from Butterworth was the only way to reach Penang. The ferry runs back and forth between the terminal at Butterworth and the island, from 5.20am t0 midnight. The journey takes about 15 mins, each way. Fare: RM 1.20, return.
Butterworth is also connected via daily high-speed ferries to Langkawi, Kedah and Medan (Indonesia).
Flight: Penang International Airport (PEN) is located in Bayan Lepasin in southern Penang. There are direct flights from most Malaysian airports, and to many Asian countries, including China and Vietnam. From India, the best connection is via Kuala Lumpur. Malaysian Airlines and Air Asia offer the best rates from Delhi, Bengaluru, Chennai and Kochi. Check here for the cheapest flights to Kuala Lumpur.
Malaysian Visa
Travellers of most nationalities, including Indians, need to apply for a tourist visa in advance. Here's the complete list of countries and their visa requirements. In India, the processing takes 5 working days and costs Rs. 6000 for a multiple entry visa with a 6-month validity.
Indians can also apply for a E-visa (single entry) online for about Rs.2710. The processing time for a E-visa is 24-48 hours.
Getting Around In Penang
Penang, Malaysia can be broadly divided across two main tourist hubs – George Town (eastern Penang) and Batu Ferringhi (northern Penang). Georgetown is easily explored on foot, or on bicycles, which are available on rent (RM20/Rs.300). Trishaws and self-pedalled multi-cycles (seat up to 5) are popular with groups for sightseeing.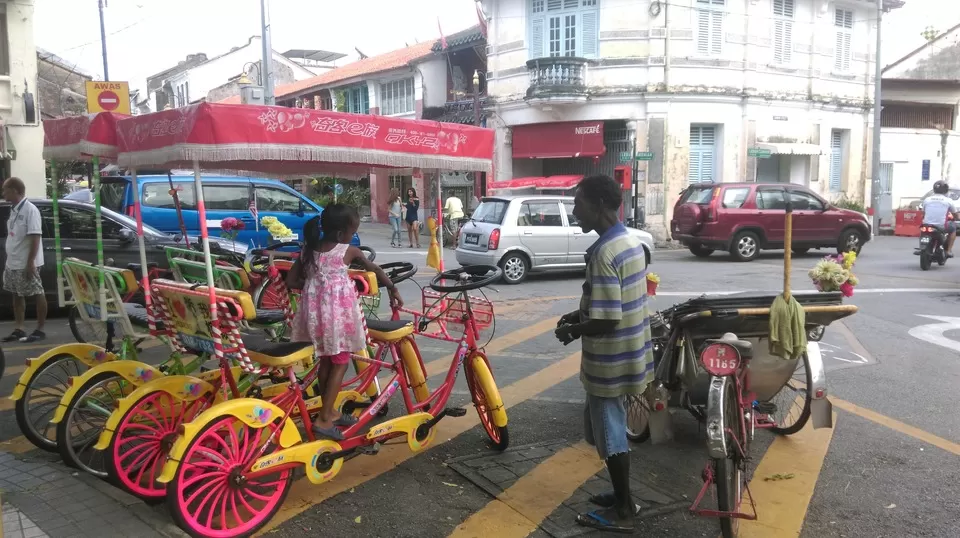 Within Batu Ferringhi, walking is the best way of getting around. Bus101 connects George Town and Batu Ferringhi, and continues all the way to the entrance of Penang National Park in Teluk Bahang.
Where To Stay
George Town is home to hundreds of guesthouses, hotels and hostels. The backpacker game on the island is strong; the going rate for a budget room (fan only, shared bathroom, above a restaurant, possibly noisy) is RM 20/Rs 300, less if you are staying longer. Dorms go for RM 10/ 150 and upwards, and mid-range hotels can cost you anywhere between RM 70/Rs. 1000 to RM 250/Rs. 3800.
George Town is also famous for a number of exciting boutique hotels (RM 150 upwards) and hostels (RM 25 upwards). They fill up quick, so book at least a couple of days in advance. Online and offline rates are usually the same. Stay in and around Lebuh Chulia for easy access to all major attractions and great after-hours street food.
Click here to book hotels in George Town.
Batu Ferringhi is a bit more tricky when it comes to budget accommodation. The beaches are dominated by luxury hotels (RM 300/Rs. 5000 and upwards). Most backpackers tend to stick to George Town, but there are a couple of options in Batu Ferringhi as well. Baba's Guest House by the beach is a backpacker favourite, and there are a couple of cheap motels in the market area that sometimes have great deals running. Click here to see current rates.
For mid-range accommodation, Batu Ferringhi is full of options. Plenty of cool Airbnbs and holiday rentals, anywhere from RM 100/Rs. 1500 to RM 250/Rs. 4000.
Amazing Things To Do In Penang
You could spend a month in Penang, Malaysia and still not have seen or eaten it all. Museums, temples, mosques, restaurants and a whole lot of street art in George Town, will keep you occupied for days, if not weeks; whereas the beaches of Batu Ferringhi will make you want to never leave. Just walking about Penang will probably be the best thing to do while you are there, but make sure you don't miss any of the following:
1. The unmissable street art in George Town
Less than four years ago, historic George Town's beautiful buildings were strangers to street art. Today, Ernest Zacharevic's murals have transformed the streets of the city and have inspired other artists to work their magic into the public space.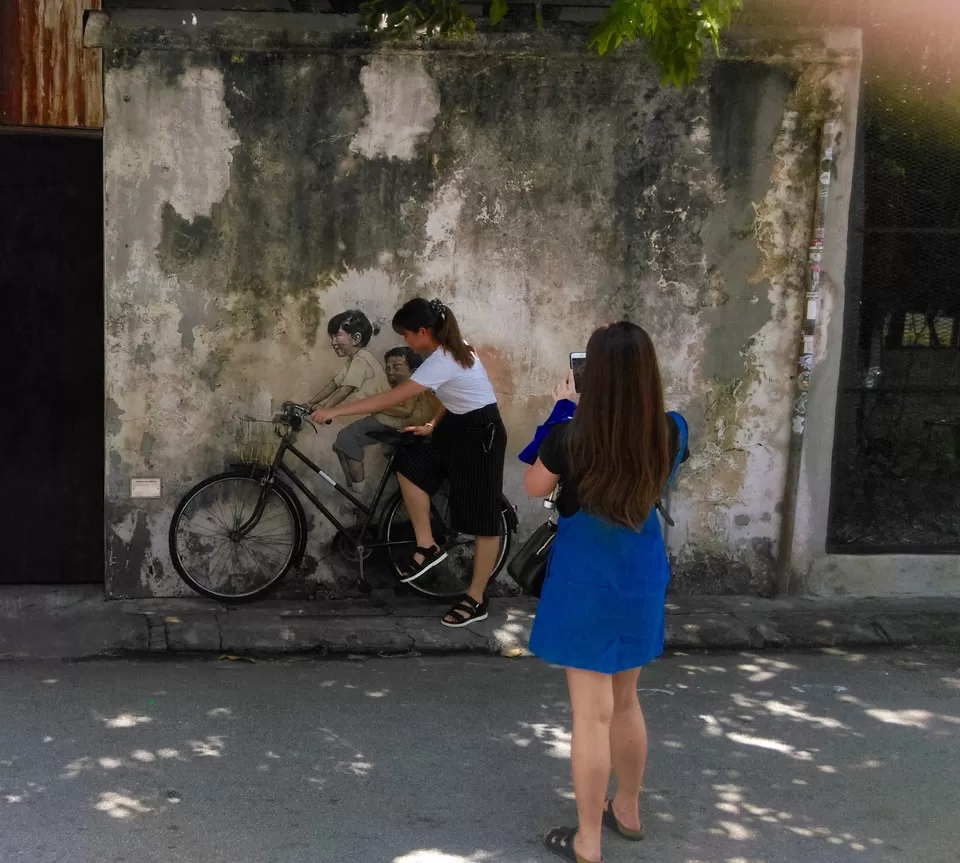 This is 'Children on bicycle'. Ernest Zacharevic's (a public artist) murals tend to be interactive installations, inviting the passersby to engage and mingle with the piece. This particular mural is possibly the most photographed in all of George Town.
There are dozens of murals in George Town, including the eight by Zacharevic), so if you want to see all of them in a day, expect to spend over 4 hours (longer if you are walking). Besides murals, George Town is also famous for its cheeky metal-sculpted street signage. You are sure to cross quite a few of them, out and about in Penang.
Street art brochures, which include a street map of George Town, are available for free in souvenir shops, cafes and hotels.
2. Sunset at Batu Ferringhi
The long sandy northern beach in Batu Ferringhi is Penang's hub for watersports, although due to a rampant case of unlicensed vendors, the scene can be a bit of a gamble. But the beach makes for a spectacular vista for an old-fashioned sunset experience. Get here at around 4pm (bus 101 from George Town) for a quick dip and dry-off as you watch the sun go down. Sunsets on the island are long and drawn-out, perfect for a shoreside stroll under an orange sky. Stroll on to the night market at Batu Ferringhi, which gets going straight after sunset. The street-food vendors start serving soon after, right on time for dinner.
3. Hike to the lighthouse in Penang National Park
Penang National Park is a massive forest on the northwestern section of the island. The park is lined with miles and miles of well-marked trails that lead to some of the most beautiful beaches on the island. The best of these trails takes you on a 2-hour long hike to the Muka Head Lighthouse, which goes through one of the best beaches on the island (Monkey Beach). The National Park closes at 5pm, so visit the lighthouse earlier in the day to make it back on time.
Take an entire day out to thoroughly explore the park, which is home to some beautiful marine life and has some great birding spots. There are several other trails in the national park. Worth mentioning is an-hour long hike to Meromictic Lake.
4. Enjoy the island's unique coffee culture
Penang's coffee is as diverse as its coffee-drinkers. Kopi O is for the black-coffee connoisseurs (it's delicious) while Penang's White Coffee, locally made instant mix, is a movement in itself. Served hot or over ice, with or without condensed milk, in street-stalls or in cafes, coffee is a strong part of Penang's daily life and there is something for everyone.
If you are looking to indulge, Kopi Loewak on Armenian street brews up some handmade Kopi Luwak or civet coffee, which is considered to be one of the best and most expensive coffees in the world – RM 80/Rs. 1200 for a cup.
5. Stroll on to the Clan Jetties
Propped up entirely on six wooden-jetties along Penang's eastern waterfront, is a fascinating old Chinese village, which dates back over a hundred years. Each jetty is dominated by an old Chinese clan, hence the name Clan Jetties. The longest one belongs to the Chew clan, and is the one most frequented by visitors. There's a sprinkling of shops and small cafes on the Jetty, and a Zacharevic mural of a boy in a sampan (Malay for boat). Expect to spend over an hour exploring life on the jetties.
6. Make it to the top of Penang Hill (Bukit Bendera)
You can either get here on a funicular train in 15 mins (RM 30/Rs. 455), or walk (5km, uphill). The view from here is fantastic, especially after sunset.
The trail starts near the Penang Botanical Garden in George Town. If you prefer to take the train instead, there's one every few minutes from Air Itam, 7km from George Town.
7. Indulge in the food of Penang
The street food in Penang is unparalleled. Even as a vegan, though my experience of the scene excluded many of the local favourites such as Assam Laksa and Oh Chien, I ate some of the best food I've ever had. Here's a more detailed guide to Penang's local cuisine.
Cafes and sit-down restaurants are prevalent. Nasi kandar (rice and curry) restaurants in Penang are something of a legend, so make sure you sample as many as you can. For veggies/vegans, stop by Lilly's Kitchen, Luk Yea Yan and several other vegetarian places in Little India.
Other mentions: You will inevitably walk by Khoo Kongsi, Camera Museum and several temples of Georgetown. Here's a great overview to help you pick. Also, if the weather and tides permit, a sampan boat ride to Monkey Beach in Penang National Park can be a great addition to your Penang itinerary. The boats leave from the jetty at the entrance of Penang National Park in Teluk Bahang.
Have you visited Penang, Malaysia yet? Upload your photos and share your insights about exploring the island on Tripoto.
All images belong to @trisha.sngh
Frequent Searches Leading To This Page:-
malaysia trip packages from india, Malaysia trip package from delhi, penang Malaysia tourism, penang Malaysia things to do, what is there to do in penang Malaysia, top things to do in penang Malaysia