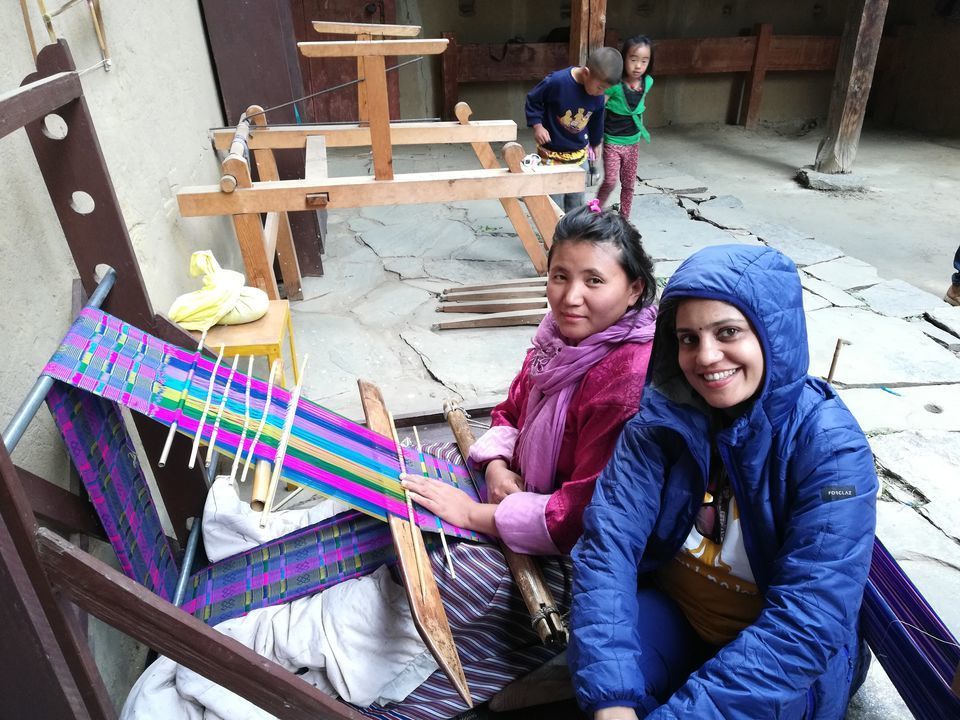 Mountains are where I find solace. My connect with the enigmatic mountains which wows everyone goes a long way back. From being born into the foothills of Himalayas to having grown up amidst the mighty Kangchendzonga in Kalimpong, there is a constant eagerness to go back to my childhood days and relive those days. So, with this thought, I decided to head to Kalimpong and spend time with some of my childhood buddies. Thanks to social media and instant connectivity these days, another childhood friend from within our Whatsapp group invited me to visit Phuentsholing in Bhutan. It is the gateway to Bhutan and the first city after you cross the border from India.
I was hesitant because I didn't plan to go to Bhutan. Typically for us from the bigger cities with our busy lives, a holiday means planning everything in advance: number of days, stay, hotels, food that we could relish, sightseeing etc. Being on a solo trip, invited by my friend with no plans, I gave it a second thought and eventually decided to accept the invitation. I didn't want to miss the opportunity. I had childhood memories of Bhutan where we once lived.
I didn't want to burn a hole in my pocket to get there yet I didn't want to miss the opportunity. My friends jumped in to help me and use their local connect. One of them called and told me that he had managed to book a seat in a local jeep (widely used as the public transport in the hills) going to Jaigaon. (Border Indian town)
I braved the situation and got into the jeep and for that moment I was transposed to "Swades" like travel (blame it on my love for Bollywood). It was my eagerness to visit Bhutan which made me take this journey. Finally I set off a slightly bumpy and more squishy journey.The lady seated on my right was leaning on me to feed her child. With a backpack and a handbag on my lap, I could hardly breathe or move. My lungs were crying out. On the other side was a girl who was jostling for space and in the process, I was being pushed. I smiled but no response. I turned to my right and smiled and got a bigger smile in return and voila, the conversation started. Probably the experience of happiness had already begun.
Full of life, she was content with what she had despite making some hard choices. Her husband was a primary school teacher and she was "happily a housewife". It is rare to meet someone who takes pride in her decision rather than regretting it. She took pride in becoming and being a mother. She chose not to work after her second child, not because she considered it as a duty or sacrifice towards her children, but because she wanted to enjoy her time being a mother. Once they grow, they will have their own lives and she can always resume work. She was excited about visiting her parents' home for Dashain. For once, I didn't want to speak but just hear her speak. We shared so much in the next few hours. About our lives and our apprehensions.
We had crossed Hasimara (An Air Force station located in Alipurduar district in West Bengal) and in another 30 minutes I would be in Jaigaon. She and her family got down at Hasimara. We exchanged numbers and parted ways. Yet another journey and another number I thought. But to my surprise she remembered the date when I was returning home and called me to wish me a happy journey. A four -hour friend became a friend for lifetime.
I was starting to realise the magic wand that people in the hills had. Conversation was the key. Contentment follows next with firm belief in the decisions they take just like the mountains. I was starting to realise that they "live" and "value" life more than us. They are not mechanical. I was getting close to knowing how to be happy without reason.
I finally reached Jaigaon and through the Phuentsholing gate, I was in Bhutan. This was the same gate which I may have crossed numerous times as a teenager. My friend Sonam received me with a warm hug. I was meeting him after 25 years. "Welcome to Bhutan", he said.
I never imagined back then that three decades would pass by so quickly. The moment I stepped into the Phuentsholing gate my eyes brimmed with tears. It seemed like yesterday.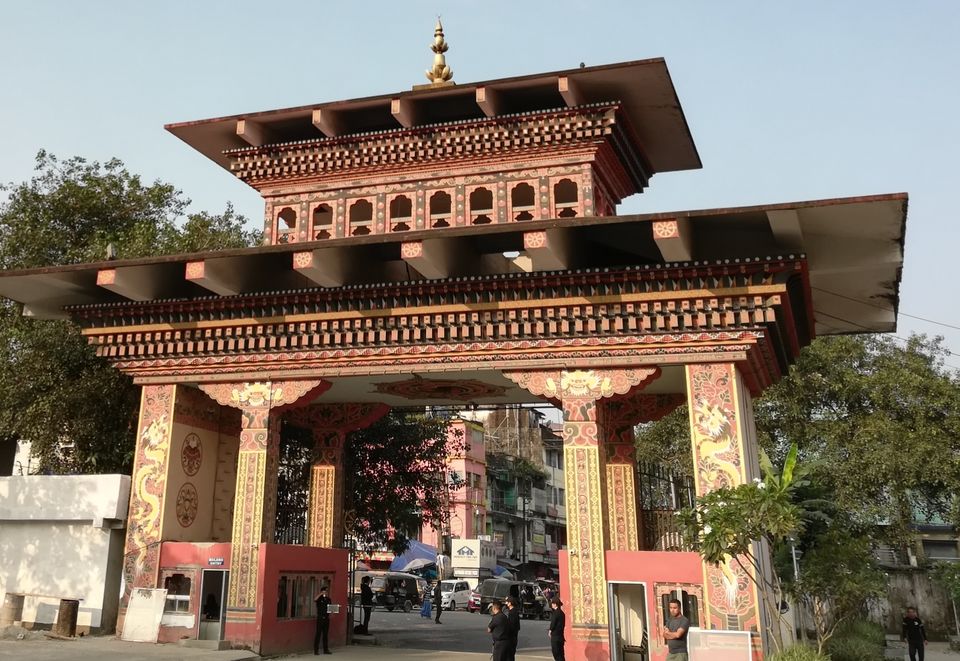 I was waiving at my father in my neatly ironed pinafore, He was gung-ho about his new found career looked much younger and dapper in neat formals. My younger brother holded my fingers, not letting me go. Endless movies that I saw with my mother, and all those evenings which I would spend browsing through comics and books.
Sonam's voice interrupted my thoughts. I shuddered. He was asking me about my choice of dinner. He suddenly remembered I was a vegetarian. "You still are? Don't tell me!" I laughed at his expression.
While walking down the lane, I realised that a lot had changed. The town was cleaner, neatly planned without any encroachments. What instantly grabbed my attention were clean roads: no litter, no garbage. Sonam's instruction brought me out of my thought bubble. "Just two things, please use the zebra crossing on the road. Honking is a strict no-no here. The vehicles will stop when they see someone crossing the road." We adhere to rules and regulations, asserted Sonam. I smiled, probably another reason for less stress. To be happy.
While walking towards the restaurant, I saw the mall where my father had started his career. I stood there looking at the huge structure. It was abuzz with life then. When mall culture was a distant dream, there was the Tashi Commercial Complex, thriving in Phuentsholing. From a book store, to a gaming zone, an ice cream parlour to an electronic shop, the complex had 32 shops. Celebrities and bureaucrats alike, everyone visited the complex. My father was the Managing Director. Today it serves as a storehouse. But the park opposite was still as lively as it was then.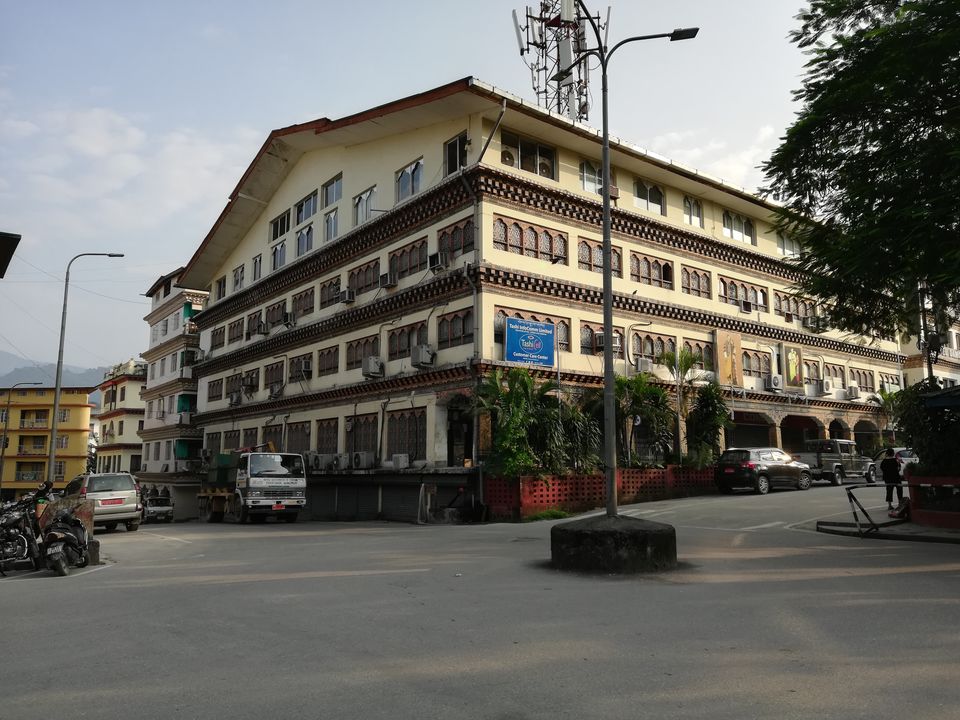 When I entered the restaurant, it was unlike any other restaurant in India. I could hear someone singing. When I asked Sonam if it was a live performance, he laughed and said that this is how people in Bhutan spend their evenings.
"See for yourself."
People were sitting in groups, chatting with each other and enjoying their evening. What grabbed my attention was that everyone sat at a comfortable distance from their mobiles. There was another group of people tucked away in a corner strumming the guitar to Bob Dylan tunes. Soon, everyone joined them.
Happiness Decoded : More conversation, more bonhomie, more group activities and, no to mobiles.
That first night in Bhutan was full of nostalgia and happiness. While walking around the lanes, I felt as if I was transported to someplace wonderful. I had a smile on my face. And for the first time in so many years, I had an uninterrupted sleep.
The next day I got a permit to travel to Thimphu, the capital of Bhutan.
Before I set out, Sonam took me to all those places which had memories for me. A lot had changed but much remained the same. Sonam spoke to me about how the country has turned organic. The government had taken initiatives to protect the environemt and make the country carbon free.
Happiness Decoded: Happiness is measured with the wellbeing the people. The government has an important role to play in ensuring every person in their country is happy.
This time consciously I chose to take a public transport. When I started my journey from Phuentsholing to Thimphu, I was marred with thoughts. The same questions, the same feeling repeating over and over again. How will this journey be? Will it be comfortable? What will I eat? Being a vegetarian it is always a struggle to find something. How will the driver be? The co passengers?
But all my thoughts vanished the moment the driver dressed in the national attire (a knee-length robe that is tied at the waist by a traditional belt known as Kera) came and greeted me with a smile. Smile does work wonders.
Happiness decoded: Smile eases out a lot of stress and makes one happy.
After getting my passport stamped at the checkpost which was a few kilometre away, the journey started on the long, winding mountain road. Fluttering prayer flags, clear blue sky and enigmatic mountains was all that my eyes could see. The breeze felt fresh on my face. I wanted to inhale it as much as I could I wished there was a technology where I could carry this air with me back to Delhi.
A series of signboards dotted the side of the road. No instructions, no command. What awaited were some quotes that were relatable and fun to read. "Life is a journey! Complete it!" said one. Another one read, "Let nature be your guide".
This was my first instance of how human life is valued, their emotions is valued. I smiled again.
Happiness Decode: Value human life and emotions. It will perhaps give you happiness without a reason.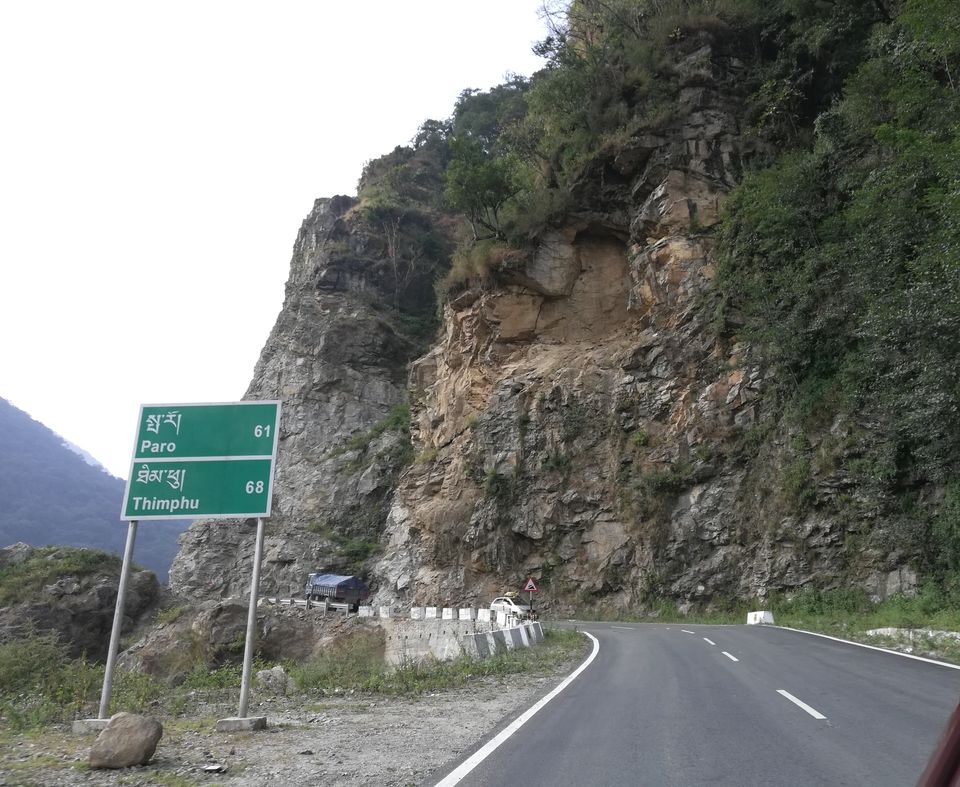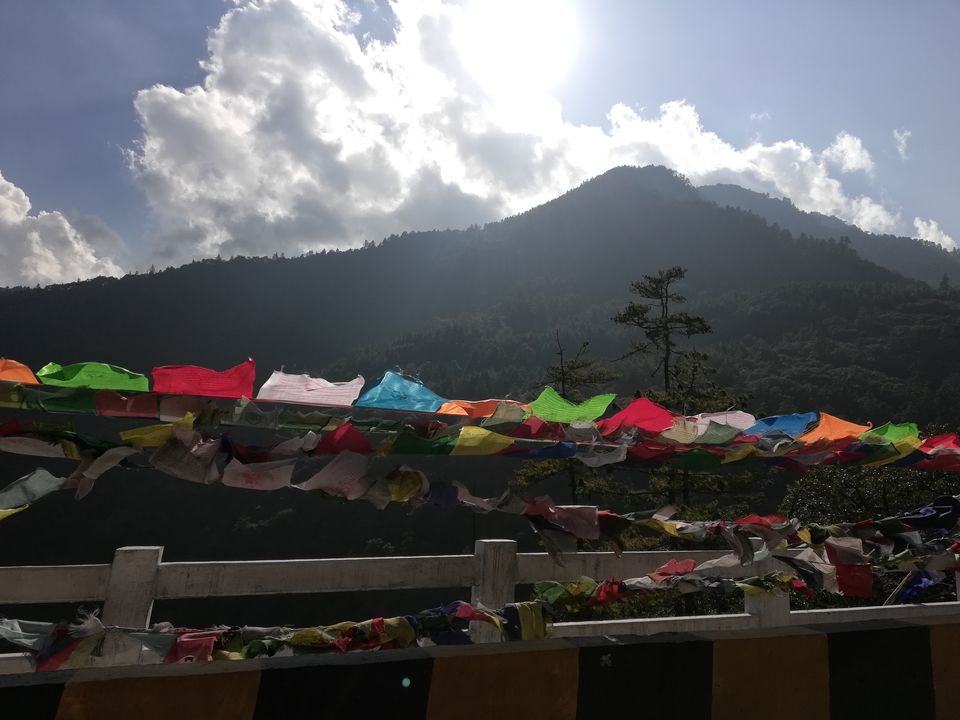 It took hardly any time for me to befriend the driver and the other passengers. I realised how happy they were while talking about their country. They took pride in being Bhutanese, On our way the driver stopped at a roadside shop where farm produce was being sold. Amidst other things, he bought a packet of apples. He offered me one but I refused. After sometime he offered me again. This time he emphasised that it was organic produce and grown in Bhutan. The word organic rang a thousand bells. I thought I should try one. The first bite was enough for me to have two more apples. Those were the best apples I have had in my life. Sweet, juicy and crunchy. No wax coating, it was pure and indigenously grown.
Probably another reason why there is happiness without a reason. Naturally grown organic produce. Unadulterated and pure. Enough to keep your body healthy and mind happy.
Happiness Decoded: A healthy body leads to a healthy mind which keeps you happy and glee.
There was another school friend of mine waiting to pick me up from the taxi stand. My trip was an unplanned one, and during the high tourist influx week I could get hotel bookings, she offered to host me at her home for the next few days.
I had no written plan and only four days in Thimphu. By this time, my other friends there came to know that I was visiting. I started getting calls from everyone welcoming me to Thimphu. "What are your plans?" "Hope you are comfortable." "Let's catch up soon." Every friend of mine who called had the same questions. I felt special. My friends took it upon themselves to show me around the city. One of them especially took a leave from work promising to put in extra hours at work later so that she could spend time with me. I was touched.
The day was bright and sunny. The sky was blue and the air fresh. My friend came to pick me up from where I was staying. Dressed in her national costume, she looked beautiful. The next day I hopped into her car and she became my guide.
DAY ONE:
We visited many places in Thimphu that day, but one place deserves a mention: the Buddha point or the Kuensel Phodrang. Atop a hill in the city, the Buddha statue stands tall, emanating an aura of peace. The 51.5 metre statue is the largest statue of Buddha in the world and is visible from anywhere in the city. I looked like a dwarf in front it. The statue is made of bronze and is gilded in gold, and 125,000 smaller Buddha statues have been placed within it.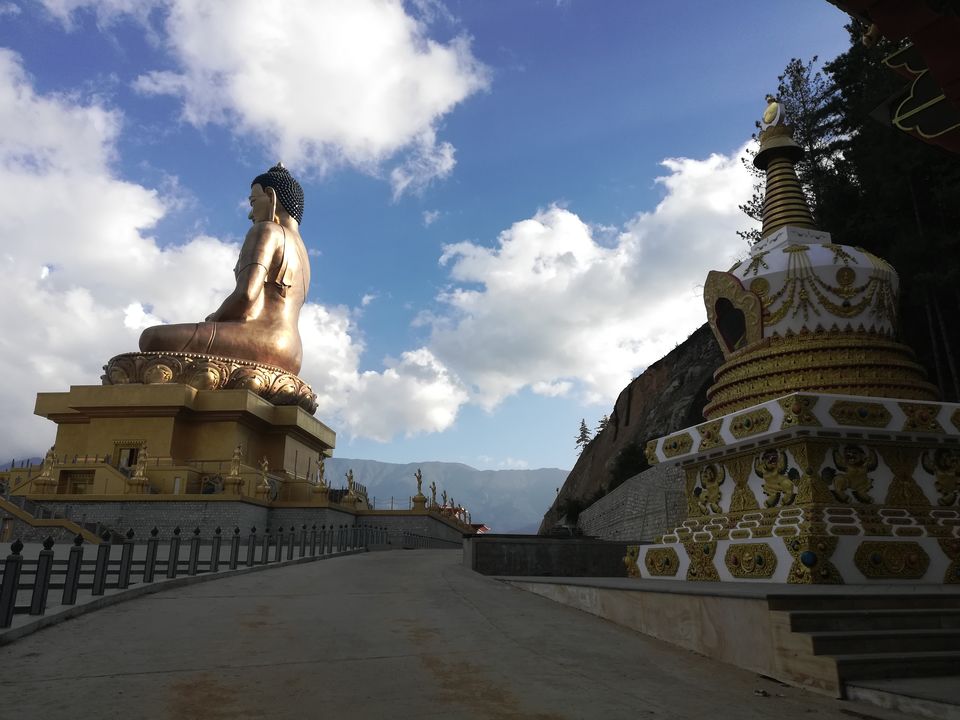 The next stopover was the National Memorial Chorten. Chorten literally means 'Seat of Faith' and Buddhists often call such monuments, the 'Mind of Buddha'.
As soon as I stepped out of the Chorten, I saw white fluffy clouds playing hide and seek with pristine clear blue sky. I couldn't understand which shade of blue the sky resembled. I was mesmerised. Even the clouds were happy and playful. All I could do is take out my phone and click a picture.
Happiness decoded: Go out, soak in the sun, take a walk in the garden, chase a butterfly, watch the clouds, gaze at the stars. It will make you happy without a reason.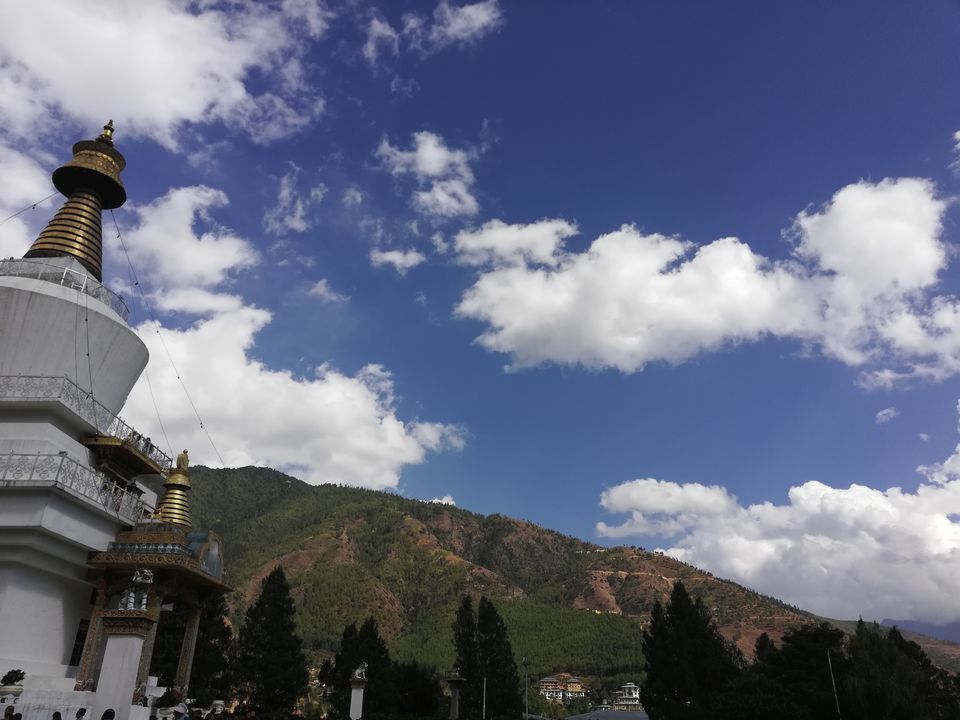 My friend then drove me to the Folk Heritage Museum. I was awed by the fact that there were no traffic lights on the way. The traffic on the road is smoothly manned by neatly dressed traffic policemen in black with white gloves. I was once again taken aback.
She told me that consumption as well as sale of tobacco is banned in Bhutan. Being happy is more to do with the overall well being of the citizen.
Interesting facts about Bhutan:
• In 1999 plastic was banned to protect the environment.
• In 2004 sale and consumption of tobacco was banned.
• The country's largest export and source of revenue is renewable energy.
We realised it was almost lunch time after we took the tour. Both of us were hungry. We stopped over at the restaurant located near the museum to have Bhutanese food.
I was treated to red rice and "Ema Datshi" with some vegetables. Red rice forms the staple part of most Bhutanese meals. It is extremely nutritious and filling. When cooked it is pale pink, soft, and slightly sticky. The rice is accompanied by one or two side dishes consisting of some form of meat or vegetables.
Ema Datshi is the National Dish of Bhutan. Bhutanese swear by their home-grown chillies. Bhutanese curries are always spicy. Ema Datshi is a spicy mix of chillies and the .delicious local cheese known as Datshi. Vegetables like potato, beans, mushroom are used to add variation in the dish. I chose to have a potato Ema Datshi. In the next four days I tried all variations of this amazing dish.
Having this meal where every item in it was organically grown, I felt that my body was undergoing detoxification in the most natural way.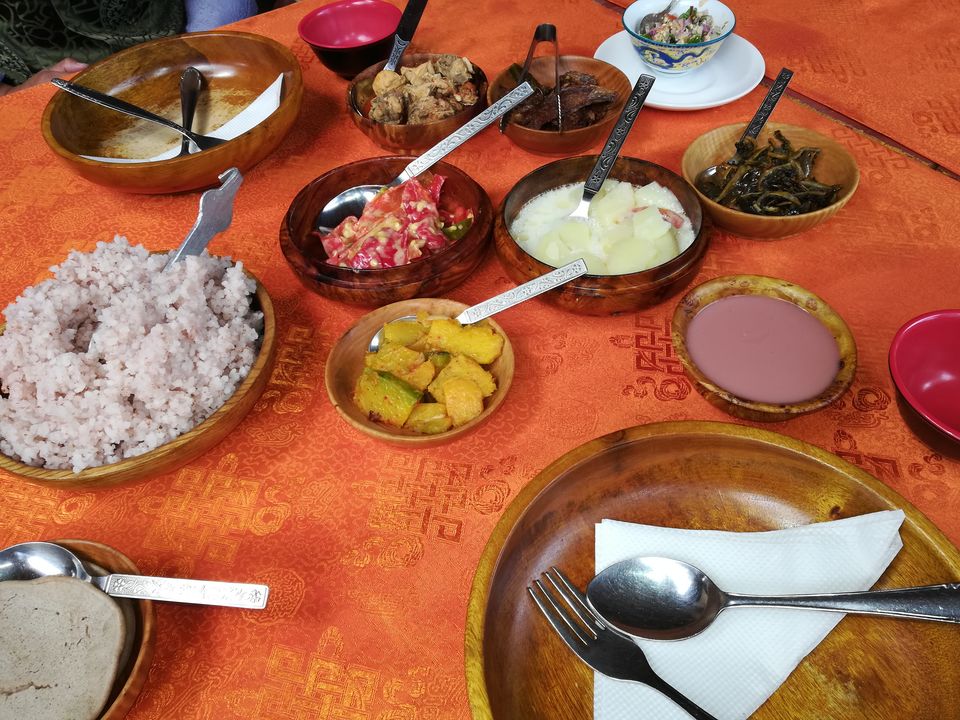 After the scrumptious meal, my friend took me to her beautiful house. In her house I saw a painting, the same one I had seen at many places in the last few days in Bhutan. I had found the depiction interesting but couldn't decipher the meaning correctly. My friend explained that the painting depicts friendship.
I realised that if the motto of the country was friendship, how could there be animosity? Happiness is also about attitude. And every citizen of Bhutan takes pride in their culture and tradition. They wear their national costume with pride.
Happiness decoded: Change of attitude will make you happy .
Her daughter served us a hot cup of ginger tea. It was refreshing. My friend asked me if I would want to wear a "kira", a long, ankle-length dress accompanied by a light outer jacket known as a Tego with an inner layer known as a Wonju. I readily agreed. Before I could realise what was happening, she opened her cupboard and took out the best kira for me and made me try at least five of them before she decided what was looking good on me. Perhaps this is what friendship mean.
Happiness Decoded: Sharing and caring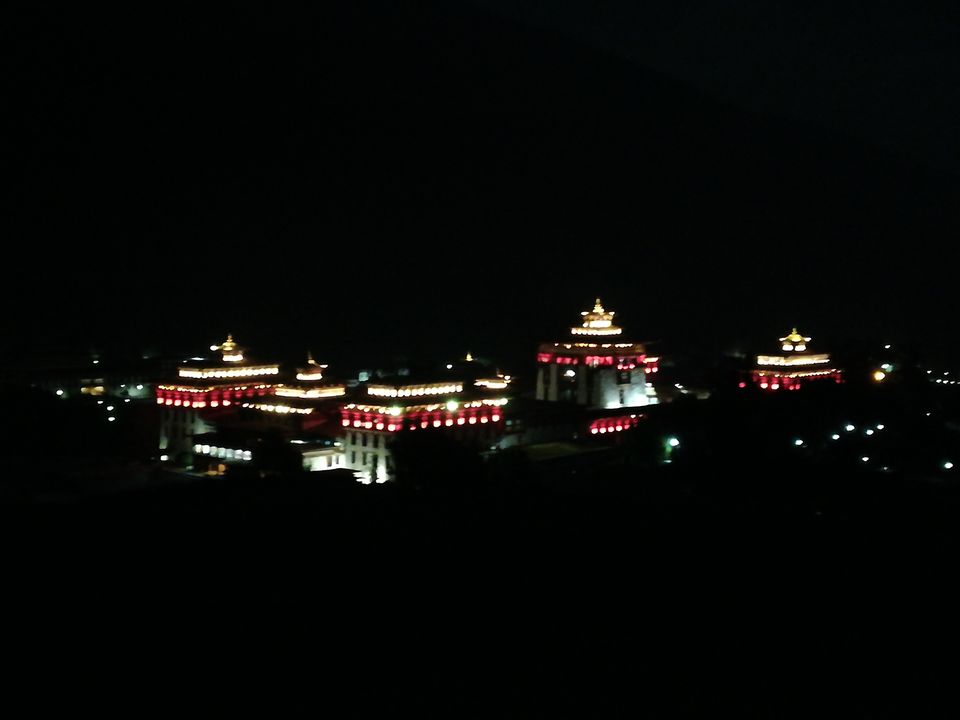 After visting the the Tashichho Dzong, we hung out in town for sometime visiting the local shops. In every shop we were greeted with a smile. Most of them could converse in English to my surprise. I picked up organic home grown haldi and some red rice to take back home.
And finally it was dinner time. This time my friend chose a cafe that serves organic and healthy food. The city has lot of interesting cafes which serves healthy food in combination with a variety of green tea, coffee and tea. I chose to have momos made of buckwheat flower and asparagus soup. Light and healthy.
Over our conversation about tourism in Bhutan, I came to know about the "organised tourism" which the state practises.
Though tourism is a major contributing factor to the state's economy, but the government emphasises a "high value, low impact' tourism policy. Only those tourists who can spend 250 US dollars a day (which includes stay at a three star hotel, meals and tourist guides) are permitted in the state. Indians, Bangladeshis and people from Maldives are exempted. I was shocked because 250 dollars is quite steep, but then I understood that it was for the betterment of the state and its people.
My friend camera click shook me of my thought bubble and suggested we should try the fruit tart. The best is always saved for the last. While I am writing this, my mouth is watering. The taste of the fruit tart still lingers on in my mouth. It was the best dessert I have had in years.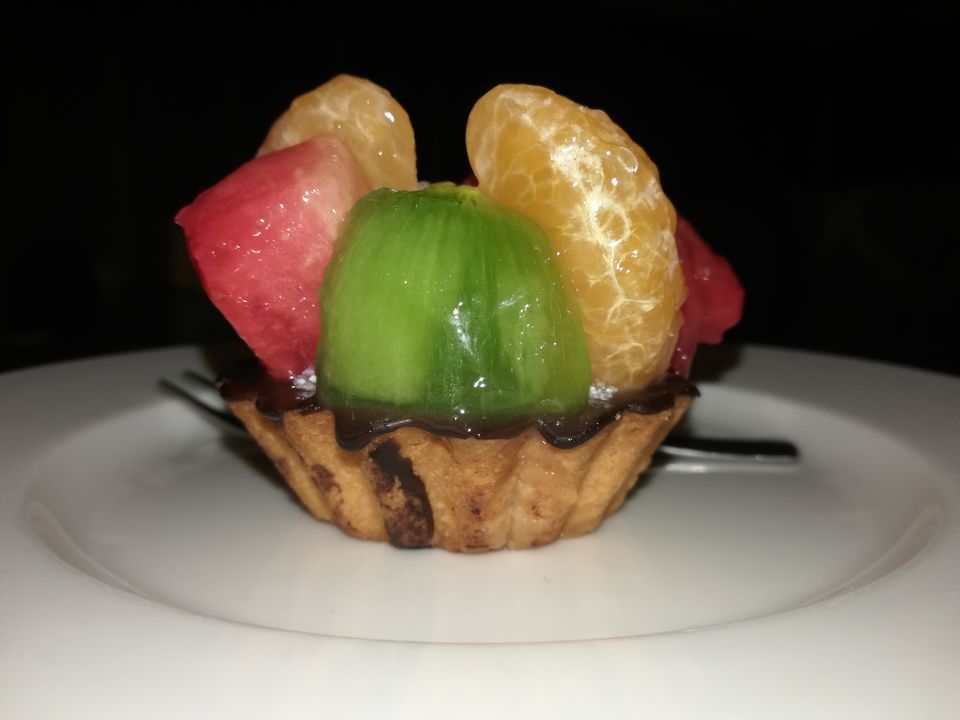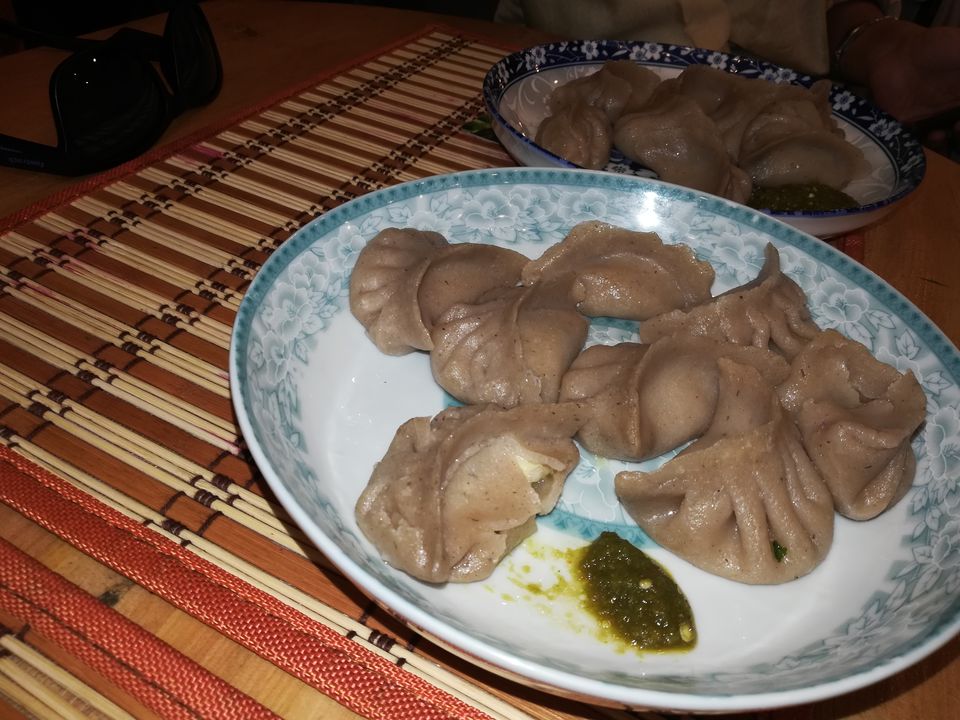 DAY TWO:
My friend who I was staying with is a mother of two children, one of whom has cerebral palsy. I was initially reluctant to stay with her when she invited me thinking it would be cumbersome for her to host me. But I gave into her persuasion. When I reached home, an adorable kid with a big smile awaited me. My friend had informed him that I was coming home. He welcomed me to his home like my friend did. Soon we became buddies.
My friend was calmness personified. Despite managing her work and home with the responsibility of a special needs child, nothing irked her. Was it to do with Buddhism? I have heard that it is a way of life. Does it teach you to be calm in the midst of adversities of life?
Over our late night chatter, I discovered one more aspect of the state. Health care facility and education was free for every citizen. This time I was speechless.
Happiness decoded: Accept the adversities in life with a smile and work towards finding a solution.
The next day my friend who was hosting me was comparatively free. She volunteered to take me to Dochula Pass. The drive to the pass was breathtaking. When we reached I was awed by the silence. For the first time, I could hear my heart beat loud and clear.
Dochula Pass is located on the way to Punakha from Thimphu. Marked by an array of prayer flags and 108 chortens, the Pass is at an altitude of 3,050 meters above sea-level . From there, a visitor can get a 360 degree panoramic view of the Himalayan mountain range. The view is especially scenic on clear, winter days with snow-capped peaks in the distance. But I was a little unlucky that day. God wants me to visit the happy state once again.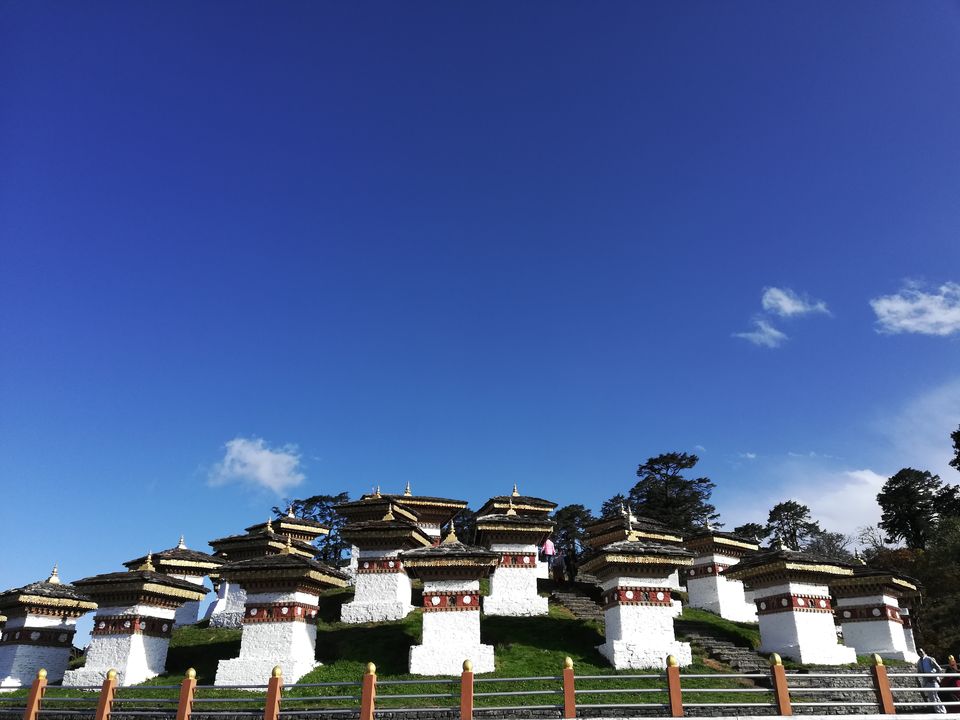 While we were there, my other friends had already organised a get together over dinner.
The evening was spent amidst reminiscing about our school days. Laughter accompanied the four course meal. It was an evening which will remain clearly etched in my mind for years to come.
DAY THREE:
The Bhutan Postal Museum was the next stop. Today I took the sojourn on my own.
The museum is one of its kind. The main objective is to tell the role replica story of Bhutan's progress and development through the evolution of communication and postal system in the country. The story is told through anecdotes, artifacts, and the rich assortment of stamps the country has produced over the years. A must visit.
I chose to have momos again for lunch accompanied by some green tea. While sitting in the restaurant I felt a sense of gratitude. The gratitude towards my friends, the experience which was so endearing and enriching. It had changed my perspective towards life.
When I returned home, my special friend was waiting for me to give me a gift. It was a peck on my cheek, a goodbye peck. I was touched.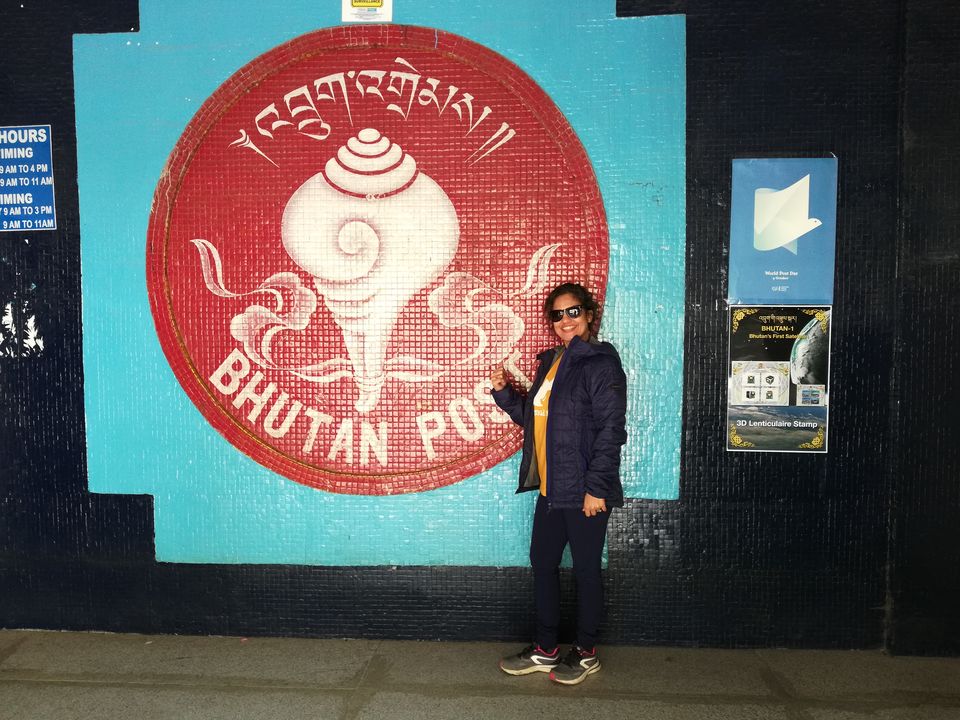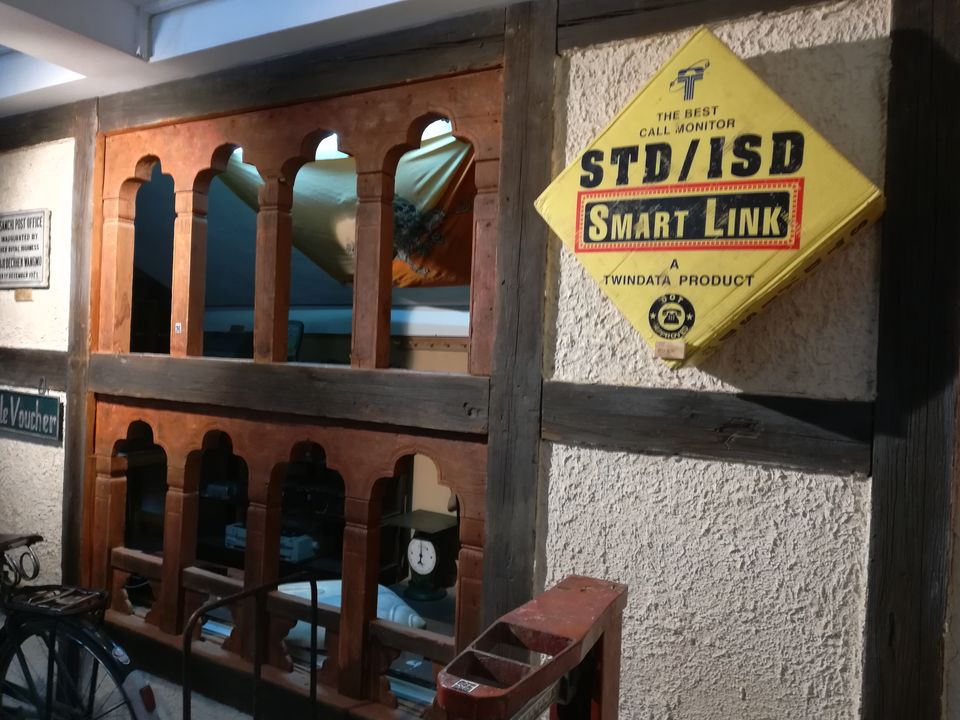 DAY FOUR:
Finally the day arrived. It was time for me to leave. My friend had booked a seat in a bus this time. After bidding goodbye with a heavy heart, I boarded the bus.
I was carrying a bag full of happiness and smiles with me. This is what it means to be happy without a reason.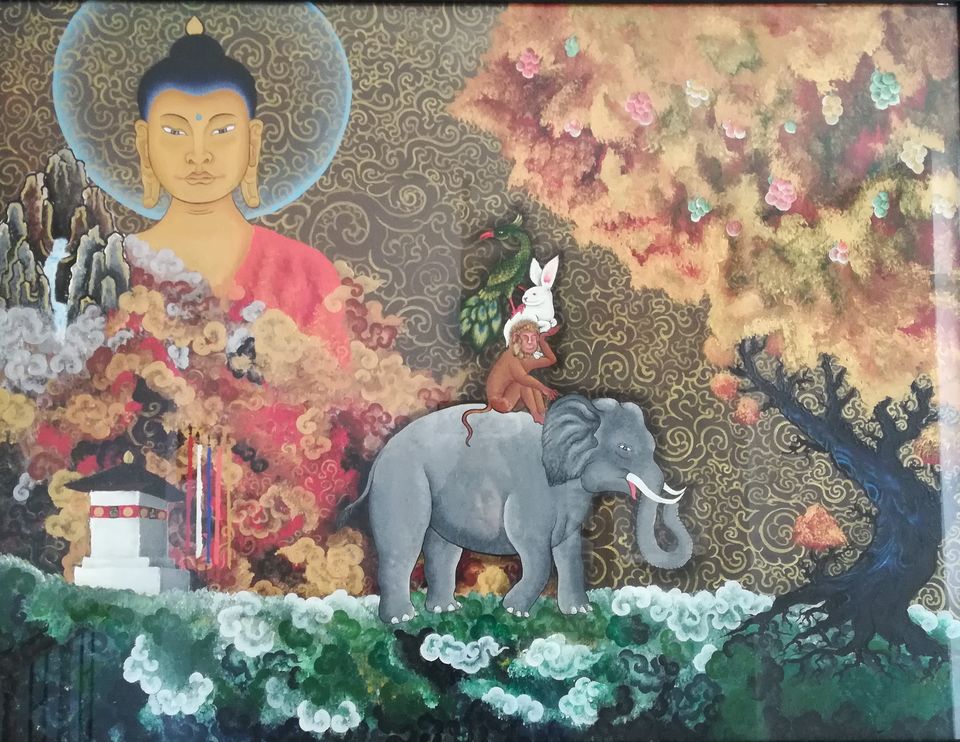 The hospitality, love and care which I was treated to cannot be expressed in words. An experience which can only be felt. I have woven so many memories from this trip into my heart which will help me smile through adversities.
Frequent searches leading to this page:-
Best Bhutan honeymoon packages, Top Bhutan tour package with price, Bhutan road trip with friends, Best things to do in Bhutan, Best places to visit in Bhutan in march