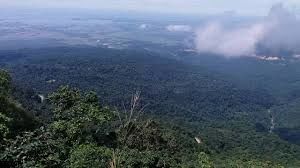 Early in the morning, the boatman came, who had left us here yesterday. Today he will boat us in Umgot river. We did not have any interest in boating, but the river has become so famous that it began to feel boating. Whenever you see such a photo on the Internet, in which there is so much transparent water that the boat looks moving in the air, then it is very likely that it will be the river. But there is also a technique for taking such a photo. It is that the sun rises and the shores of the boat are completely separated from the boat and are visible in the bottom of the river. At the same time the wind is calm and the waves are not being formed on the water.
"Would you like to go to Bangladesh?" Suddenly, Navwale said such a thing, which was unexpected.
"what? Bangladesh? "
"Yes, they will come here and eat it."
It was natural to think about the turmoil in my mind. This river goes a little further and enters Bangladesh. That is, the border of Bangladesh crosses this river across the border. But water does not accept any limit. Nor can water be sealed. It may not be that two to four meters in front of that boundary, they will come back to India. But it is also saying that the hoarse-moody is also coming and eating. I.e. to the edge.
"And if the police of Bangladesh hold it?"
"No, no, nothing happens."
I could not understand what to say. The boatman is going to be here, will he let something go wrong with us?
But if it went wrong then? In Bangladesh, it will also be called a foreigner.
"Yes, will run." After a lot of thinking, I agreed.
Opening the Google map and taking a look at the distance between you and the limit was reduced. A place will come when we will cross the black line appearing in the map.
This side of the river was a crowd of tourists. Went to BSF The youths of standing were also standing. It means that India is only. Naavwale also put the boat on the shore here. Coming from the boat, the map was telling that only twenty meters further cross the border of Bangladesh, that river enters Bangladesh and this border becomes the Bangladeshi border. It means that the people standing after twenty meters are standing in Bangladesh.
By the boatman asking us to stop, BSF He went to the man and started doing some things. The gesture seemed to be that of BSF She refused. Boogie returned home - "Today these people are refusing. No sir is coming. "
But we did not make any difference to this point. A few steps away from BGB That is, the Bangladeshi guards were standing. No hurry No cloak I looked at the riverbank stones, so that some boundary line could be realized, but nothing like this was found.
Then I am BSF Went to a young man - "Ram Ram Saab."
"RAM Ram."
"Well, tell where the real limit is?"
"Look, he is a tree there. Then it is a big stone and crossing the river there is a rock, this is the limit. "
"So what happens there going around here? The boatman was saying that he could eat jhalmud and go there. "
"Yes, Normal goes away and comes back after eating and drinking. Friendly border is it But today the DIG If the sahab is coming, then it is a bit rigid. "
"There is a large crowd there and we have only one or two passengers. Wow?"
"Today is Jumma. Their vacation is today, so they come to see the hill station. While we have a crowd on Sunday. "
Wonderful view was Only the values ​​are kept that the limit is. Due to being in the river area, there is no 'Border pillar'. There is only one big stone, which is assumed to be the boundary. Bangladeshi passengers are taking photographs of that rock carriage. B S f. And B.G.B. Those who are interacting with each other are rubbing Tamakha. Bangla there too, Bangla here and also. Work is done by the people of Amar-Tamar of Hindi. There are many shops that are related to eating and drinking. There we could go.
On the other hand, the crowd of passengers is growing. Due to lack of information and clear borderline, some passengers start coming to India. B S f. Gonna send them back - "Oye, stay right there."
"I am Indian, Saab ji." A local Khasia man came to India and said, "Come to India."
"So what is he doing here? Come here. "
Then I started another conversation - "There will not be much headache here?"
"Everywhere there is your headache. But the open border has its own different headaches. There are no stone in Bangladesh and they need stones to make cement. So those people smug from here. In the darkness of the night, they bring boats and bring great stones to the stones. Due to the deep valley they do not even know. There the stone sells up to eighteen rupees. "
"So here's the billboards?"
"The work is going on, but there will be no ceasefire in the plains of the river. If you do, then the river will take away all the rain. "
I was looking at the Bangladeshi border for the first time today. There was very interesting experience. I could sit here all day. Two-three goats are coming to India from Bangladesh. Keep roaming What do they know of any limit! This is what we have made of humans, only made of goats? Then their owner would come to India to call them The young man either let the boss take the goat to come to India and himself escaped to Bangladesh.
One or two mule was decorated in Bangladesh. Their boss was waiting for a passenger to ride them and two to four blocks would be arranged.
There was a great plush chair inside Bangladesh at the very border. The passengers sat on it, and photographed the mountains of Meghalaya and the docky swing bridge in the background. Pushing