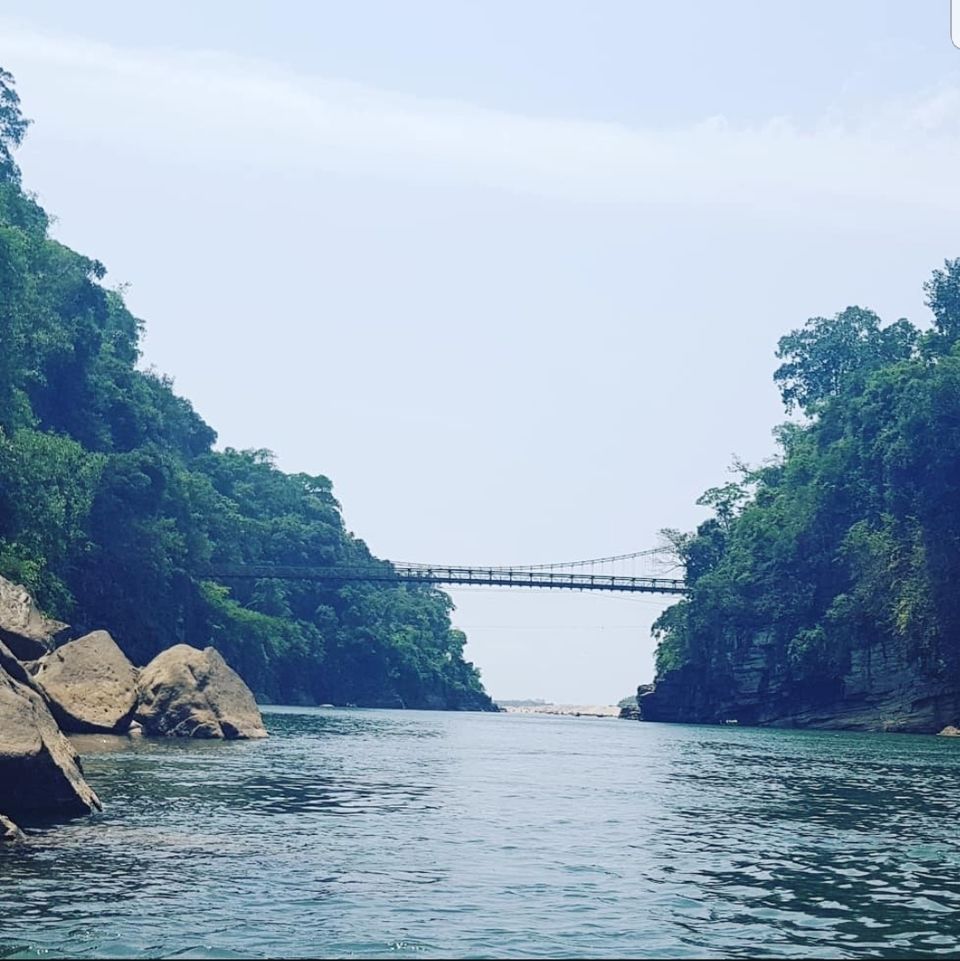 I went in a cab to a certain distance from Shillong to Dawki. Throughout the ride I could see mountains after mountains and the view was mesmerizing.
Once I reached Dawki, I had to walk a bit to get to the river below. There were a lot of boatmen waiting and I hopped on to one, after quite a bargain. One end of the river had water gushing over rocks, and that's were he took me first.
The boat actually dint go till the rocks as it could possibly toss over so he stopped a little further for me to see the view. I asked him if he could wait for me to walk till the rocks and return. He was fine with it. So I walked over till there and sat a while enjoying the view.
Once done, I hopped back on the boat. Now was when we were heading to the Bangladeshi side! On the way we could see small streams of waterfall dripping from the rocks to the waters and also the Suspension bridge which was built by the British in 1932. The view was breath taking.
Surprisingly, the other end of the river is nothing like what we have been experiencing in Meghalaya. The Bangladeshi side looks very dry, hot and humid! As I reached closer and closer my boat took a hault. Even though we were looking at the International borders it was nothing like how I imagined it would be! There were the Indian Border Security Force (BSF) in camouflage uniform and the Bangladeshi army in black both walking around at ease, some eating from the snack vendors who were expecting us -the tourists. I was not allowed to get down at Bangladesh (obviously) but the vendors did pass a Jhalmuri (similar to the Indian Bhelpuri).
The experience was wonderful and most of all different. How often would I be able to encounter this is something that makes it more valuable for me. As I always feel, travel is not just about the destination, it's about the experience. And even if two people went to the same place, they need not have the same experience.