I would honestly like to start by saying that Taiwan is an absolute surprise. Check out my previous blog for a very abridged version of the experience in Taiwan. I would like to list the things to do, places to see and how to bring in your New Year in Taiwan.
We had to cancel our Bali tickets due to Mt Agung eruption so we got a round trip for around $1500 from Seattle to Taiwan Non-stop flight on Eva Air. It was a 13hr long flight from Seattle. After clearing immigration, getting currency exchanged etc I was actually thinking about which mode of transportation to choose from the variety available to get to the hostel in Taipei city which is an hour drive away from Taiwan International Airport.
So few things to take care of before flying!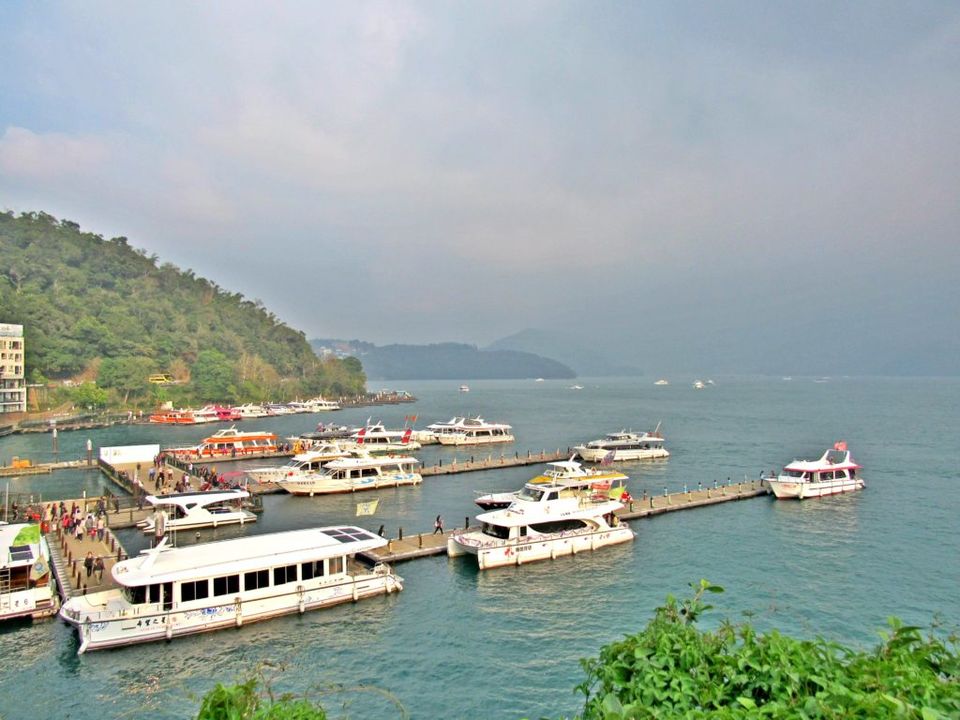 I booked the car from Rentalcars.com, the name of the local auto rental is Chailease Auto Rental and they are pretty awesome. They are very particular about the time you pick your car up and drop off. So try not to be late for drop off or early for pick up. They open at 8:30 am and are near Toh Shanshong airport which is 10 mins drive away in Xinyi district from Zhongzheng district. The rental cost me around $402.95 USD + $99USD insurance. By the end of the trip, we had toll cost up to about 612 NTD. We spent around 1000 NTD on parking. Fuel is cheap too, we spend around 3000 NTD on it.
You need an IDP to drive in Taiwan. Getting an IDP is easy, go to your nearest AAA with your valid driver's license, passport size photo (2 copies) and the online application form. It takes only 5 mins if you have these documents with you, to get it on the spot if you go in person. If you are not interested in renting a car, then public transportation is an awesome and convenient option. I found most of my information on klook since I was going to explore the city on foot for the first two days.
We decided our stay according to the places we wanted to explore in Taiwan. This included North for the most part and South. So we booked a hostel in Taipei City and Kenting, and a hotel in Ximending for New years.
In Taipei, we were staying in Space-inn hostel. I loved the location of this hostel. It was at a walkable distance from Ximen Station, Ximending Night market, 228 Peace Memorial Park and bus stop. Extremely clean, safe, fun hostel. It cost us around $70 for 3 nights.
In Kenting, we were staying at Kenting Dajian Mountain Leisure Cottage. Another good location right next to Dajian Mountain, Kenting Beach, Kenting National Park, Kenting Night market. It cost us around $100 for 2 nights.
For New years we stayed at Roaders Hotel. Taipei 101 is 15 min drive away from here. But it's definitely a must try hotel right in the heart of Ximending and close to local bars and pubs. This was the only most expensive stay at such a last minute and cost us around $600 for 2 nights.
After you Land.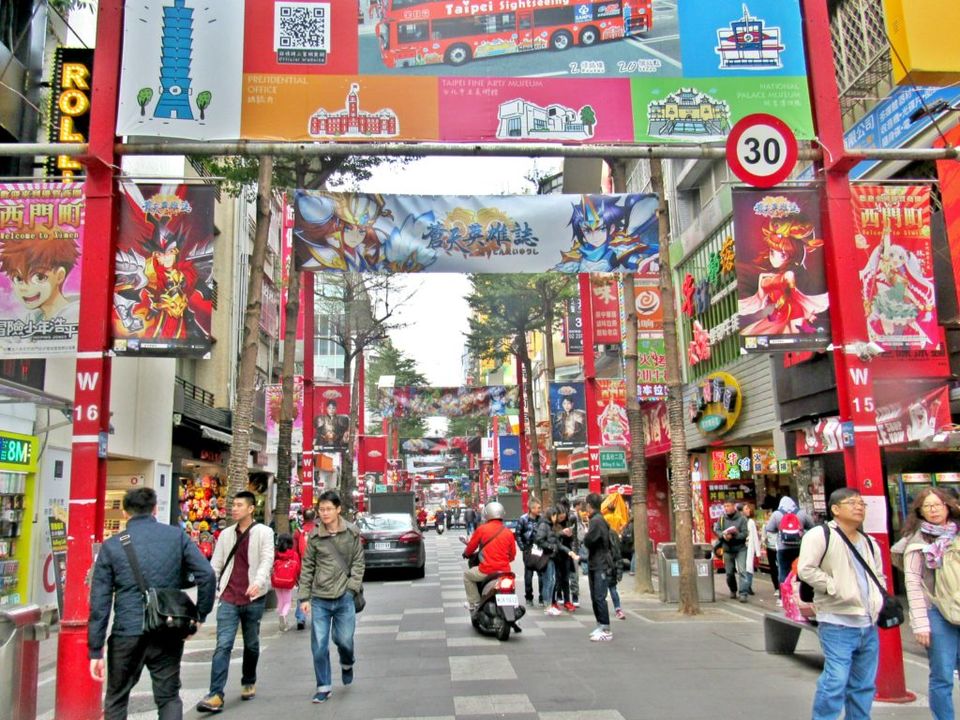 Head towards immigration to avoid the long line Get your luggage from baggage claim Money exchange Sim card/ router pick up Get a cab/any other transportation you choose
SIM/Internet/Staying Connected
Taiwan has a plethora of Internet options at the airport. You can get a 3,5,7 or 10-day pass SIM for 500 NTD, 1000NTD with unlimited data. I was impressed with their internet speed and the connection. We were at the remotest areas and always had network no matter what.
You can also get a portable Wi-Fi for 3000 NTD and split among your group. 800 NTD is the deposit of the total 3000 NTD which you get back after you have returned the modem.
You will find Wi-Fi almost everywhere in the city, at the airport, malls, coffee shops, MRT etc. So we were always connected and had no complaints with respect to the internet during our stay.
Now let's start the fun part!
Day 1,2: Exploring Taipei
It was a cloudy day when I landed in Taiwan, it didn't rain thankfully. I was staying in Zhongzheng district in Taipei city which is very close to Ximending. The airport is about an hour away from Taipei City.
Things to explore in and around Taipei!
Ximending Night Market is right next to Ximen station and at a walkable distance from Space-inn hostel (Zhongzheng district). During the day you can enjoy a variety of food stalls here but at night more food stalls open and there are interesting streets shows that you can enjoy. I would suggest following places in the market for sure:
- Mo-mo's Paradise for some hotpot. They are delicious and unlimited.
- Modern Toilet if you have an appetite for food served in a pot, you would love this place. Because the food is actually delicious.
- Fried garlic chicken stalls everywhere
- Ice Monster (Green tea and beans shaved ice)
- Nakhla Hookah lounge for some hookah, drinks, music, and food.
Shilling Night Market, You won't find lots of restaurants here but only street food, shopping, game stalls. There is a stall in the market where you catch your own meal in a tank full of prawns and fish. They give you a small stick with a hook and you can take as much time as you want to catch one for yourself. I had no patience to put myself through that. Jiufen Old street has the view of Keelung outer sea and is stunning. The town is filled with Japanese style cafe's, tea and shops. The street that has a variety of stalls and seems endless, goes all the way to the bottom of the building. This place will give you an impression of old Taiwan that was built by the Japanese and hence still reflects the influence through architecture. Yehliu Geopark is on the north coast of Taiwan. It's a famous landscape of honeycomb and mushroom rocks eroded by the sea and also a point to view the coastline from! Beitou Hotsprings is around half an hour away from Taipei and you can take red line MRT to Beitou station and from here you can catch a train bound to Xinbeitou. Its pretty close from the station around 5 mins walk away. We spend a couple of hours here before getting ready for the New years! Shifen Old street is a landmark that I felt like it still reflects old Taiwan. You will see souvenir shops here and light the lanterns here. This place is very famous for lantern lighting on the railway track which is fully functional. Shifen waterfall is around 10 mins walk away from the old street. I really liked the recreational area more which has a very old rustic bridge that you cross and there are a couple of stalls for food and drinks here. These waterfalls are called mini-Niagara (I don't think so, but oh well) and they are beautiful. 228 Peace Memorial Park is around 5 mins walk from Space-inn hostel and is a beautiful park to take a morning walk with breakfast. Top of the Elephant Mountain is around 20-30 mins hike with what felt like 10,000's of steps. But the view of the city is totally worth it.
Day 3: Taroko Gorge, Hualien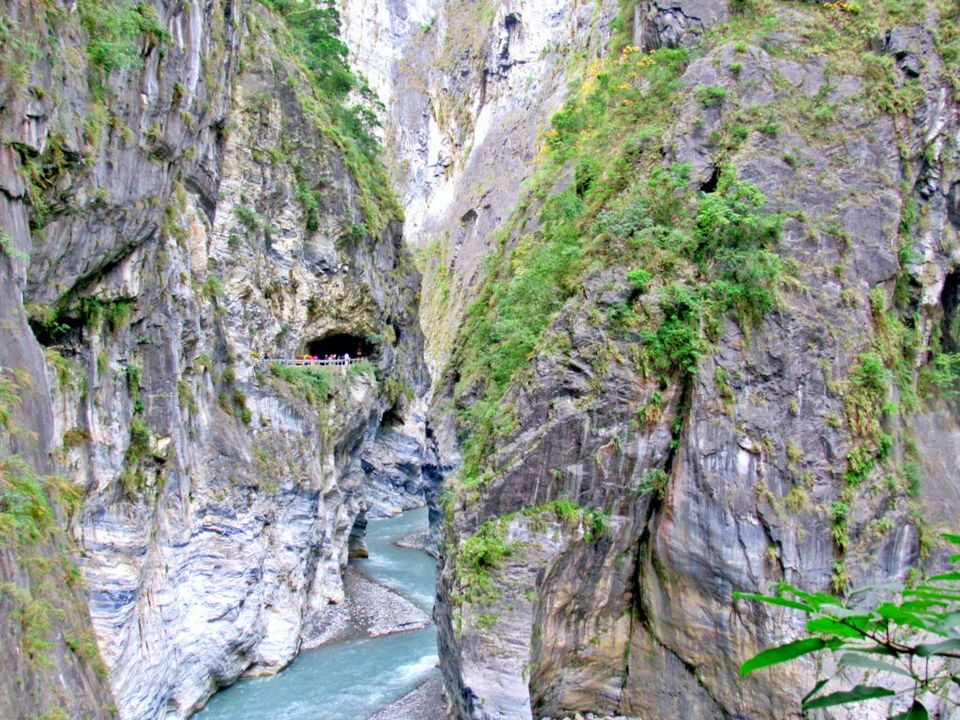 Hualien County is around 3 hrs drive away from Taipei on the East coast. You can either drive to get here or catch a train from Songshan Station. It takes around 2 and a half hour by train. Hualien is a good get away from the city life. This city is laid-back, slow but very beautiful surrounded by the scenic view of Coastline. It's gifted with one of the biggest National Park in Taiwan i.e. Taroko Gorge and endless view of Pacific Ocean.
The Gorge is 1 and a half hour drive from Hualien. You will see Quingshi Cliff on your way to the gorge that has an uninterrupted view of the Pacific Ocean. Taroko Gorge is a 19-km long canyon.The whole gorge is accessible via car. It's a very busy tourist spot and is always crowded. Once you enter the gorge, you will see The Eternal shrine on your left.
If you keep driving straight you will see the Marble bridge and Swallow Grotto trail. The park does not have a dedicated parking and you will see cars, buses, taxi's parked on the side of the street. I parked my car near swallow grotto trail and walked past the suspension bridge towards grotto.
, Baiyang trail are some other attractions in the Gorge.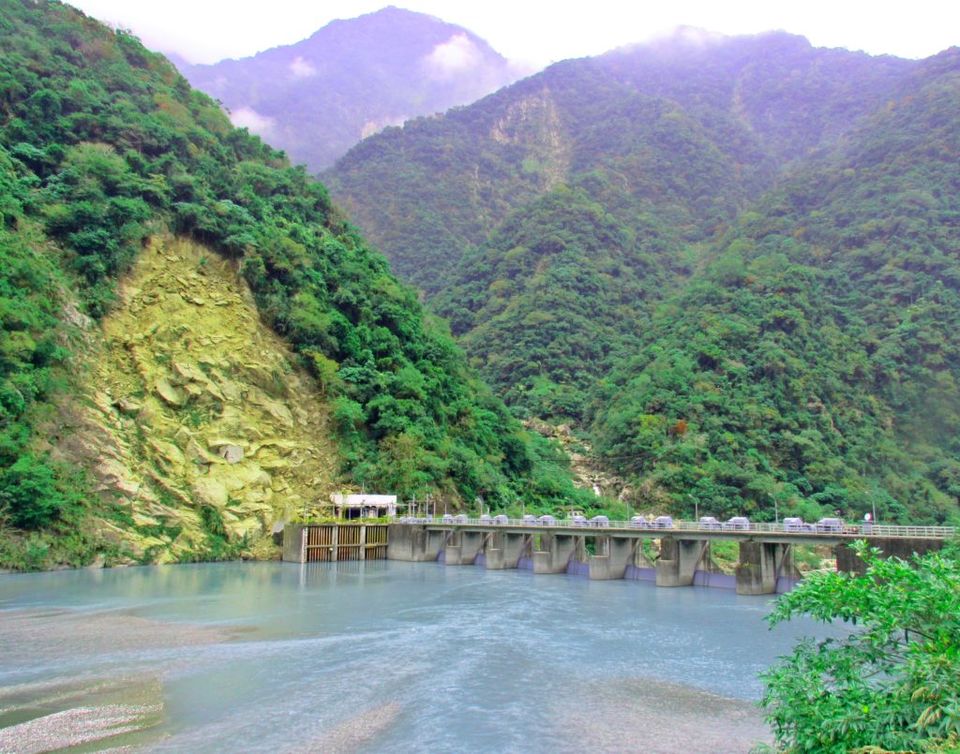 Day 4,5: Exploring Kenting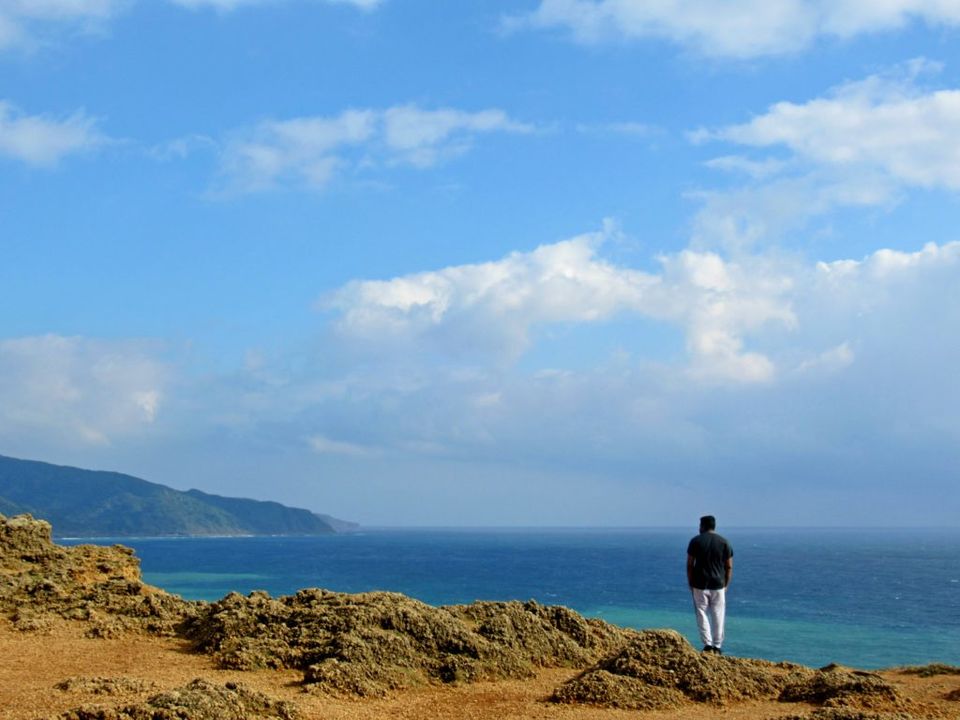 Drive to Kenting from Taipei is 8 hrs. We left around noon after getting some lunch in Mo-Mo Paradise. Amazing food and a must try! We reached around 11:00PM. We immediately stepped out to get some food and see Kenting's nightlife. I would say this felt like Goa. Some of the bars/pubs keep the place open until the customers wish to leave, which was pretty cool. We found people in Kenting/Heng-Chung absolutely hospitable. There is just one club on Kenting street called the Kings Club. Some other restaurants like Smokey Joe's, Reggae Bar are good places to try.
Things to do in Kenting!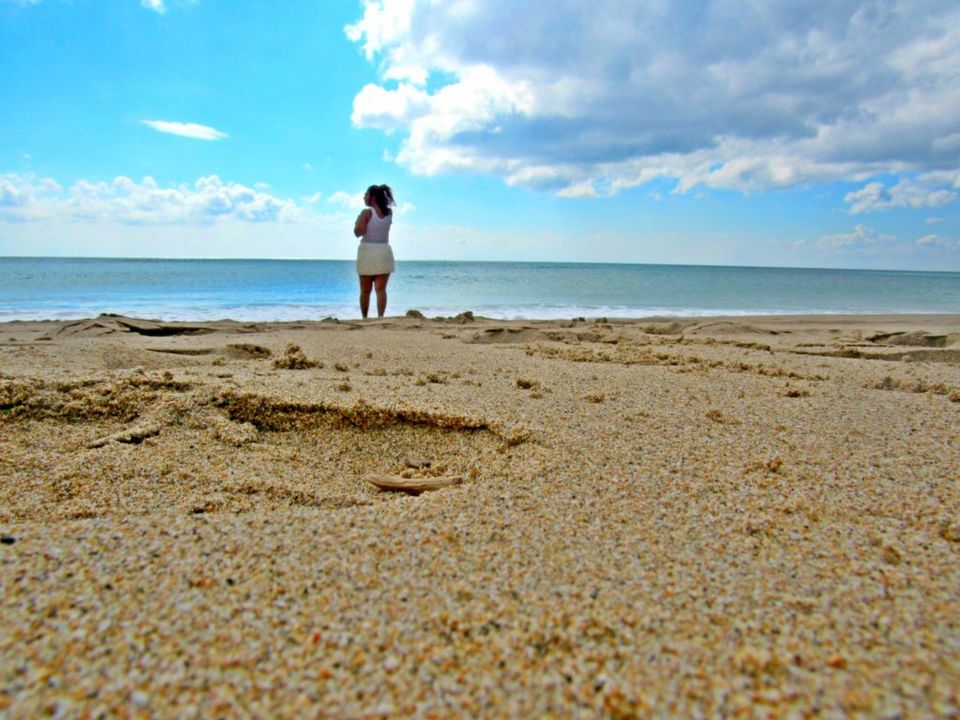 Take a morning stroll on Kenting beach. Try some great coffee and small bites in Migu Village in Heng Chung township. This was a find. The shop is in a location difficult to find in Heng-Chung township. The Heng-Chung township has some really amazing coffee shops hidden in the nook. We also tried Cafe1918, they have really good coffee and pizza. Some good lunch in South Bay area, here you will see 4 shacks with food and drinks on the beach. Luckily it was a sunny day and we could enjoy the sun and the beach. Watch Sunset at the of Taiwan. Fengchuisha is a spot for yet another gorgeous view of the coastline.
Day 6: Drive back to Taipei while exploring Taitung, Nantou County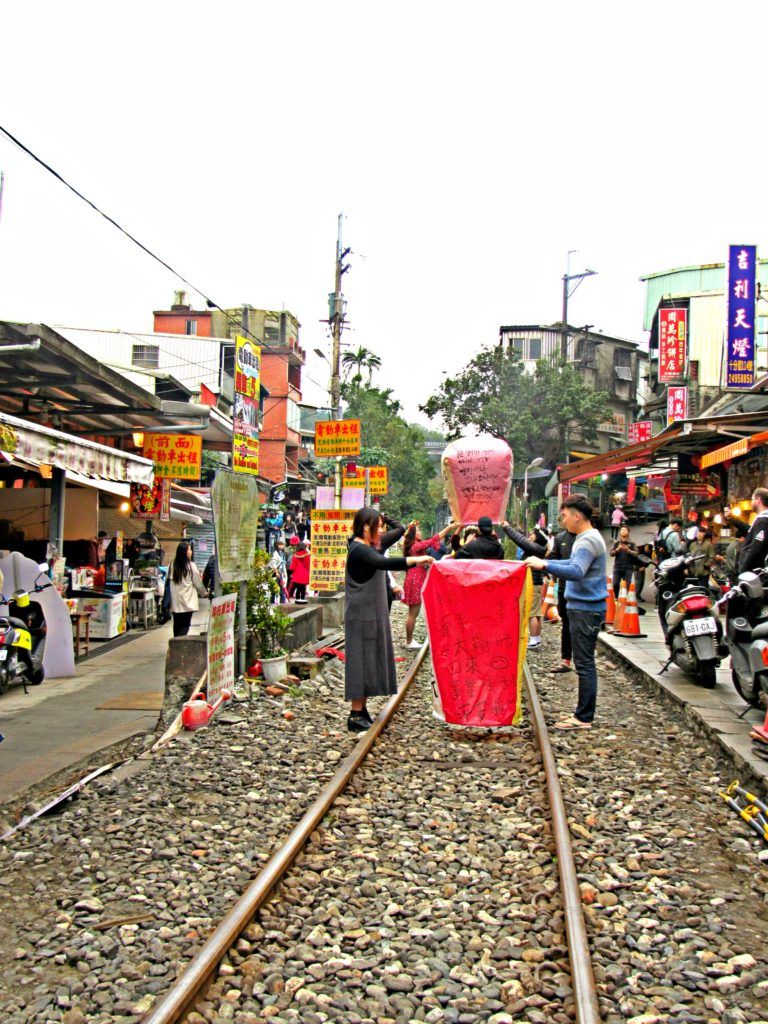 Drive to Taitung is around 3 hrs from Kenting.We saw a lot of coffee and orange fields on our way to Taitung. We stopped at Sun-moon lake which is a pretty touristy area but its very different from Kenting. Near the Sun-moon lake, you will find a lot of places to eat and drink coffee. I can't stress enough on the fact that the coffee houses in Taiwan were an amazing surprise.
We then stopped at Rainbow village. The drive to this village was scary I would say. The roads were pretty narrow and making sharp turns on this road was a challenge. My friend had to get out of the car to guide me. Drive to the rainbow village was another 45 mins from Taitung. We tried Misha Federer restaurant after rainbow village which is a small modern American restaurant and is a must try if you are in Taitung.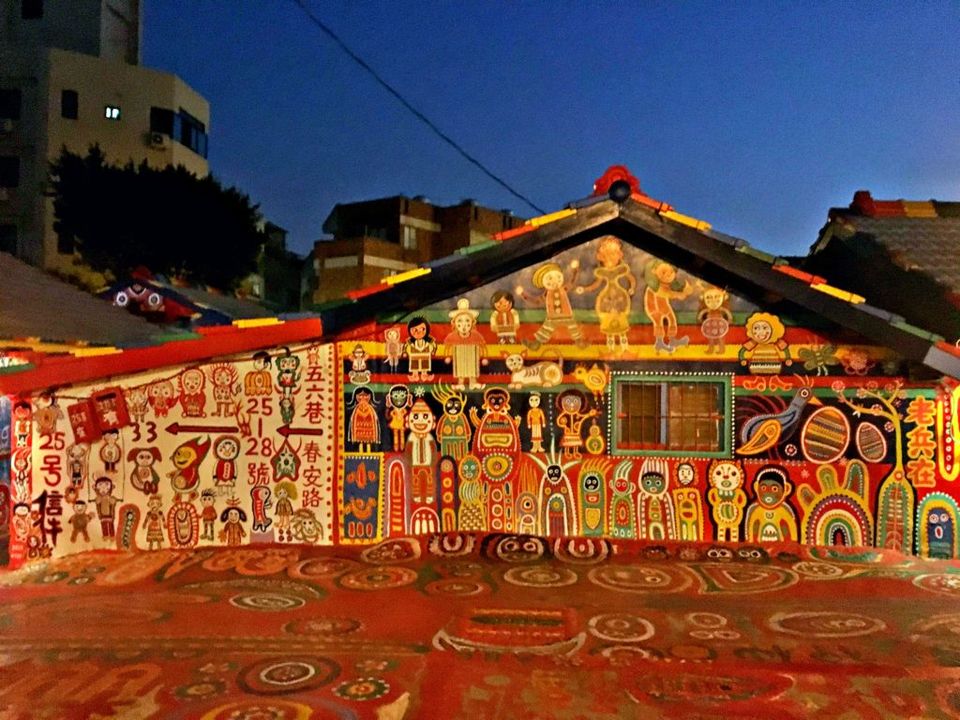 Drive back to Taipei from Taitung was around 2hrs. After we got back to Taipei, we hit places like Commander D in Ximending which is actually a gay bar and after that to Tabboo which looked like it was a lesbian bar. Completely unaware, but it was fun! That's the night we found out how the party scene in Taiwan is which was yet another surprise.
Day 7: Welcoming New year in Taipei!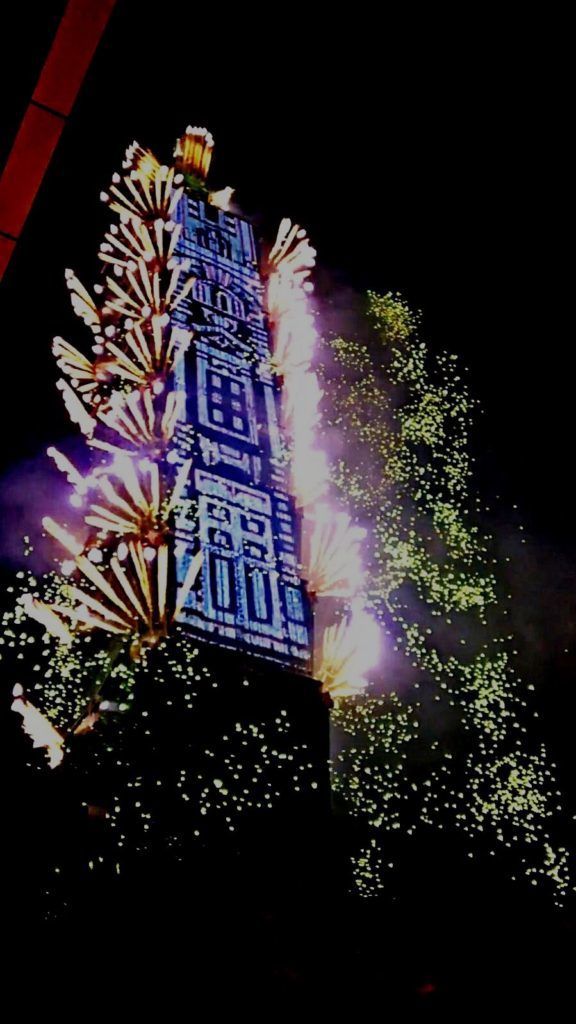 We wanted to chill the whole day so we could be prepared to celebrate the new year. We were looking to find places close to Taipei 101 so we could step out and watch the fireworks. ATT4fun and Neo are the two buildings where all the clubs are at. Taipei 101 is right in between these two buildings. So we decided to check out Elektro which is one of the best clubs in Taiwan other than Omni. If you are planning on watching Taipei 101 fireworks start from ATT4fun building around 9:00 PM. I know that's too early but trust me once you pass 10:30 PM, the lines at every other club is as long as you can imagine and getting inside is more difficult. We were in Elektro around 9:00 PM and the crowd picked up at 10-10:30 PM. When we went down to check out fireworks we saw how long and crazy the line was to get into the building.
We got out of the club around half an hour before fireworks, got something to eat from the street stalls and found a spot right in front of Taipei 101 for the countdown.
New years in Taiwan was a surprise and an experience I would recommend everyone to have. It was totally worth it and we were actually happy to have chosen Taiwan or else we would have never known how underrated it is and NYE in Taiwan should definitely be on your bucket list!