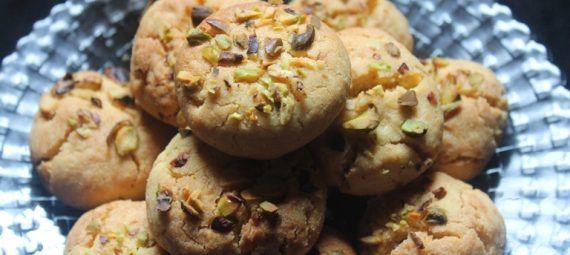 Like every other day, I stepped out to drink Rameez Chacha's freshly brewed Masala Tea, which came with a plentiful whip of fresh cream. But the most tantalizing part of the morning treat were the Nankhatais. I always dipped them in the creamy masala tea. It was indeed a match made in heaven!
It was Chacha's secret recipe that was passed onto him from his grandfather. The pistachios, almonds, saffron and jeera created a scrumptious blend of sweet and a tinge of spice in the cookie. When I first visited his place, Chacha offered me the Nankhatais with a thick layer of butter on them. It was the best Nankhatai I ever ate in my life!
I reached at the shop at 7 AM, but unlike every day, the shop was quite empty. While Chacha was busy in every day's chores, his right hand Kulpreet sat across me to have a chat. He was an easy going lad who knew his way around managing Chacha's business.
"Aaj bahut hun din baad is samay humme baithne ki fursat hua. Warna toh subhe ki rehel-chehel mein, dawat ka samay kab ho jata hai pata hi nahi chalta". "Sardarji, aise din roz nahi ate! Aao tum bhi mere saath chai pilo" "Nahi beta, aisi khali dukaan us din bhi thi...jab batwara hua."
My eyes fell on the plate full of Nankhatais in Chacha's hands, as he walked towards my table. Maybe he saw the kid in me gorging on the delicious cookies.
"Mere dadaji ne mujhe bataya tha. Batware ke baad in khursiyon pe sab naye chehre dikhne lage. Woh kahaniyan, woh baatein, woh mehfil, sare band baxo mein hamesha ke liye sarhad ke uss par chale gaye. Aisa laga jaise kisi bageecheke saare phool jad se nikal ke phenk diye gaye!"
I watched his teary eyes as he dipped the Nankhatai in the butter.
"Aaj pehli baar mujhe uss waqt ki ehmiyat samajh rahi hai. Kabhi nahi socha tha ki mein yaha baithe in baton ko unke asli roop mein sununga."
The silence brought back the horrors of the darkest day in the Indian Independence history. However, it was cut short by a group of kids that ran past the store, cheering & whistling.
"Kabhi socha nahi tha ki mein aise koi din ko apni ankhon se dekhunga aur khud apne aap mehsus karunga. Kal he mein apne Papa ke sath baat kar raha tha. Kuch saal pehle agar mein yaha hota toh shayad unki awaz mein bechaini hoti. Par kal kuch zyada hi khush lag rahe the. Aaj hum sab ek naya itihas racha ne jaa rahe hai. Aur mein chahunga woh mein apke sath dekhu. Aak apki vajese mujhe yaha ghar mila. Aapki vajese Kuljeet jaise acche insaan se mulakat hui. Toh chalo, ab humme nikalna chahiye. Prime Minister sahab kuch hi samay mein haazir honge."
Kulpreet closed the shop's shutter while I tried to kickstart the scooter that I hired for a few days.
"Mujhe aaj in galiyon mein se chalke guzar ne ka man kar raha ha. Kya tum chalna chahoge?"
Without thinking I accepted Chacha's offer. It was the first time that I got a chance to walk with this man.
And as we walked through the streets, the ghosts of partition appeared in front of me through Chacha's stories. He narrated his grandfather's stories in his deep and captivating voice.
The cries of children, the weeping of women, the moans of men, the splash of blood, the blaze of the monstrous fire that dusted the houses & the spine chilling sirens, I experienced all of it through his stories.
I was petrified to be there, at this very moment. His voice now felt like whispers of the dead. Kulpreet's shadow on the walls of the eerie houses felt as if death was following me. I lived through this horrifying experience until chants and cheers at a distance wiped off the ordeal.
Everything appeared to be normal again. The early sun rays fell upon us through the canyons of the old city of Lahore. The world seemed to be a colorful place. Every man, woman, and child were carrying a flag in their hand. People were smiling and greeting one another. It was after a long time that the country had seen such a gathering of its citizens.
And as we moved towards the Lahore Fort to witness the speech by the first Prime Minister of United India, I felt the cheers and the chants coming from behind us, of the departed souls. They were relieved of all the misery that they faced. Their dream of a United India was fulfilled.
The Nankhatai of my dreams
For more travel stories, read - www.wingstowander.com