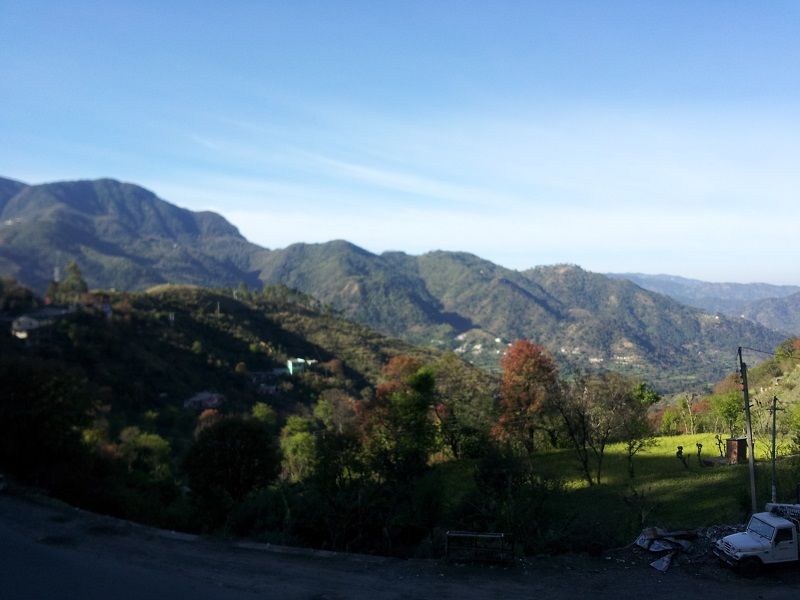 Very warm Welcome and Thanks for stopping by my blog and yeah i'm a traveler not a writer please ignore grammar and Spelling mistakes :P
This is the first long Distance and self drive trip to manali from udaipur. we are 5 people my 2 sisters 2 Cousins and me. Before we planned to go in train n already we books tickets to delhi from udaipur later we realize its better to take our own car and I told our parents about our plan, they were like Haaaiin!!!. They didn't agree at first place but we managed to convince them after explaining Situation.
Here is Full Itineraries

Udaipur-Delhi-Shimla-Manali-Amritsar-Jodhpur-Bikaner-Udaipur
Car: maruti suzuki wagon r (Petrol)
Total Kilo meter: Around 2000 km
Fuel Expense (Including Toll tax) : 25000 thousand
Useful Tips before u Drive through this route
1)Know Your Vehicle Well: Checkup ur vehicle like engine oil, break pad and tire condition keep spare tire and Break Oil for Backup. 2) keep all necessary papers with u like Driving license, Car paper, Car Insurance paper and PUC because u will cross many check post and Borders. 3)Do Not Drink & Drive
Udaipur-Day 1 Udaipur is famous for its lakes, palaces, forts, temples and gardens Its my birth place too :) The climate of Udaipur is tropical, with the mercury staying between a maximum of 45.0°C and a minimum of 28.8°C during summers. Winters are mild with the maximum temperature rising to 28.8°C and the minimum dipping to 2.5°C. The best time to visit is during September to March. Fateh Sagar Lake is my Favorite place in udaipur An artificial lake constructed by Maharana there is lots of activity to Boating, speed boat,motor boat,speed scooter also u can enjoy walk there with nice cool breeze.Even the fast food centres there have pav Bhaji and chinese joints. You can walk around this lake and spend your evening exploring it. Its best known for sun set view too. There are many budget hotels and hostel are available i will recommended to http://www.zostel.com/ and http://bit.ly/2quy64s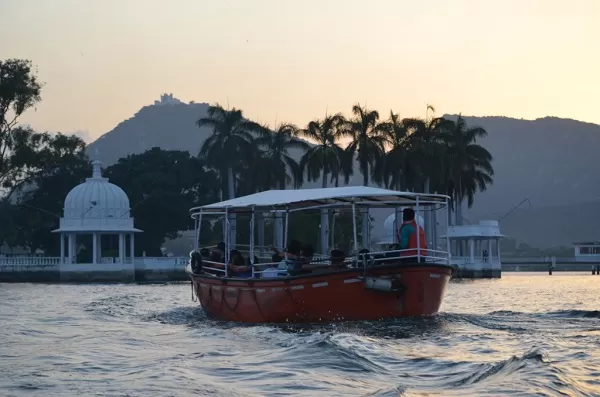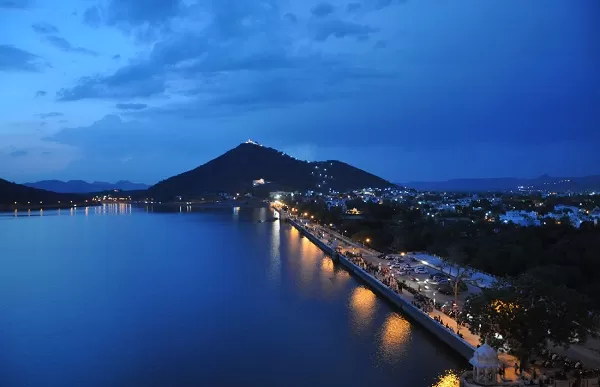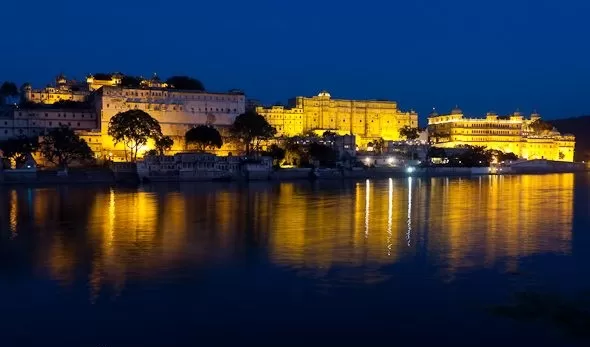 Day 2 - Udaipur-Delhi via NH58 and NH48
We relax the whole night. A day before i already checked the route map to delhi and find the best route which was NH58 and NH 48 its around 700km 12 Hours journey from udaipur to delhi we decide to leave early in morning around 4am. If you're with family especially on road trip i suggest you to travel in the morning time because driving on National Highway is a pleasure, and the picturesque route has several Hotels, Dhabas and Villages with different architectural style. Road condition well maintained. From ajmer to delhi there is six lane road but ofcourse u have to pay for it there is many toll tax on the road total toll tax amount maybe 800rs till delhi. At 12pm we crossed the rajasthan border and enter to Haryana border there is lots of dhabas (Note there is few Non-veg Hotel and dhaba on this route) We were already hungry so we decided to have lunch one dish is very common in haryana that is Dum Aloo with Tandoori roti. We grabbed the famous Dum Aloo it was very delicious and cheap. After this we took 1 hour rest and then start driving around 3pm we reached the gurgaon. gurgaon It's known as a financial and technology hub there many manufacturing industries like Hero, maruti Suzuki and Tata. gurgaon to delhi is around 40km but there is huge traffic on road its took 2 hours to reach delhi from gurgoan and finally on 5:30 pm we reached karol bagh delhi were we booked the hotel.
Delhi is India's capital city. The traffic is crazy after rest for 3 hours we headed out. we visited India gate the India Gate, is a war memorial located astride the Rajpath, on the eastern edge of the 'ceremonial axis' of New Delhi, India, formerly called Kingsway. During night, India Gate is dramatically floodlit while the fountains nearby make a lovely display with colored light Surrounding the imposing structure is a large expanse of lush green lawns, which is a popular picnic spot. After dinner we went back to hotel. we were too tired to go anywhere.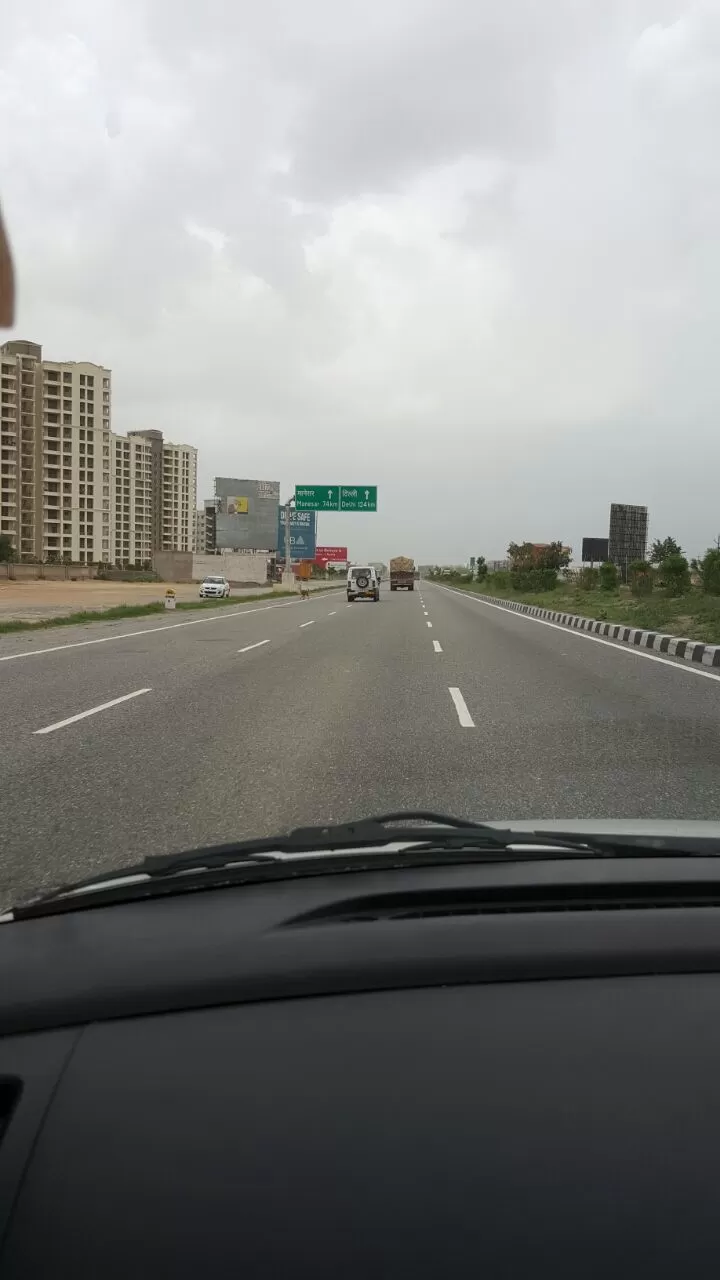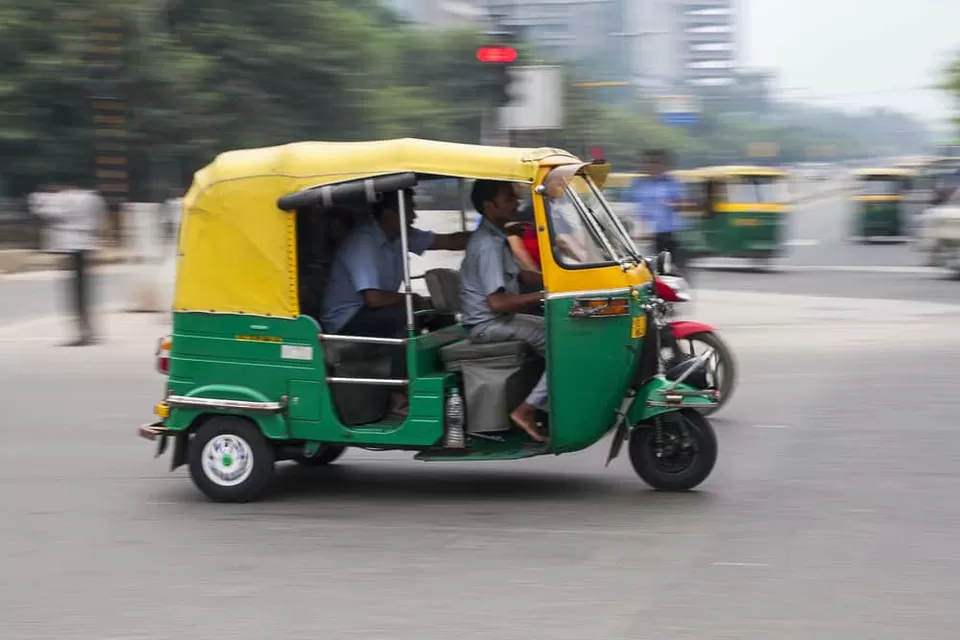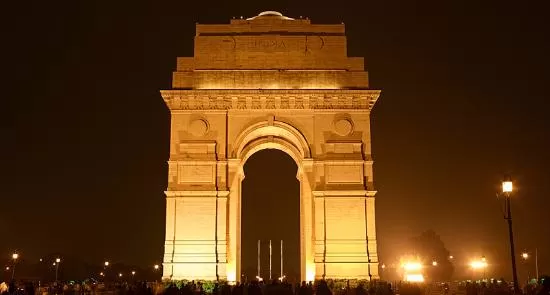 Day 3 - Delhi - Chandigarh- Shimla
Delhi to Chandigarh Distance: 260km
After having long sleep we woke up around 8am because we have to leave delhi. I checked the car oil and water level than open the google map and start search for the chandigarh route. ( I recommended to leave delhi in Early morning if u get late u have to face crazy traffic it will consume lots of ur time). The lots of construction going on at delhi chandigarh highway every 10 or 20 km there is diversion but still the road is good and the picturesque route. on the roadside there is many stalls serving fresh Orange and Sugarcane juice, there is many hotel and dhabbas. Around 3pm we reached chandigarh. Chandigarh is a Union Territory and the capital of two India states – Punjab and Haryana. This is one of the most beautiful and cleanest city of India The broad roads adjoining the service roads keeps the traffic flow well in control. The avenue plantation gives this city the Green look as we drive on these roads.we plan to stay 1 day in chandigarh and Visit the whole city but for same reason we have to change the plan and leave for simla. I start the searching for simla route thanks to google map there is lots of sectors in chandigarh its took 1 hour to leave the city.
Chandigarh to Shimla Distance: 120Km
The Shimla Chandigarh Expressway is a proposed 120 kilometres (75 mi) its 2 lane road but its very good and clear limited traffic.Soon they are starting to build 4 Lane road btw shimla and chandigarh. The stretch, which seems to get cooler with every kilometer you clock, is ideal for all those who love serene valleys and snowcapped mountains. i suggest to drive morning time specially on this route there many thing to see on highway serene is very fine were u can click same photos around 8pm we reached to simla we start feeling cold we make mistake and forgot to take same winter cloth (I recommended to take same winters cloth). we headed to the hotel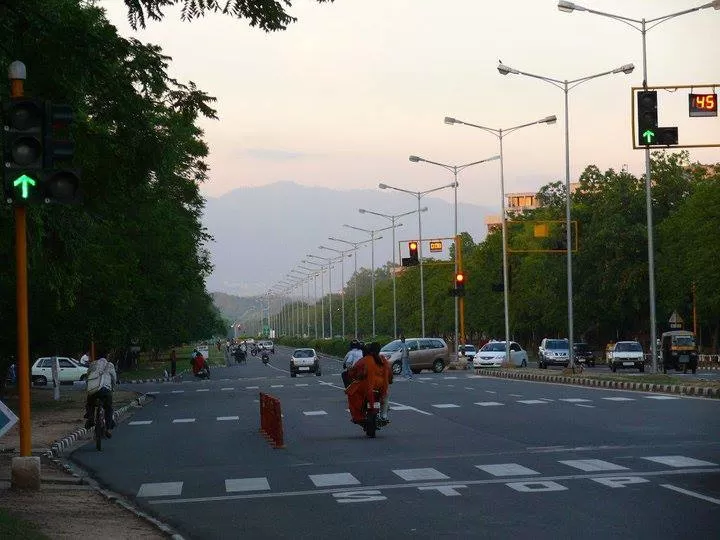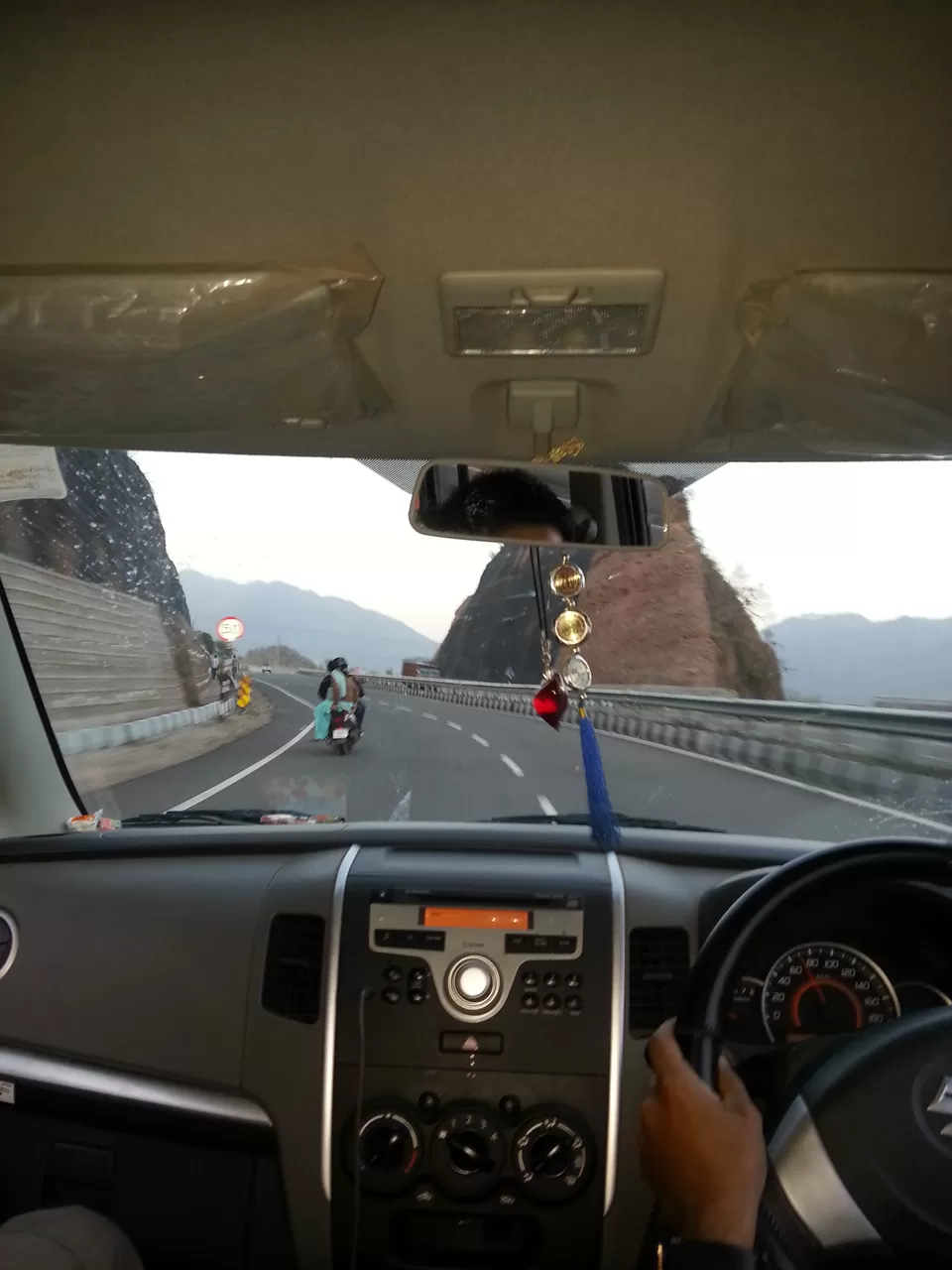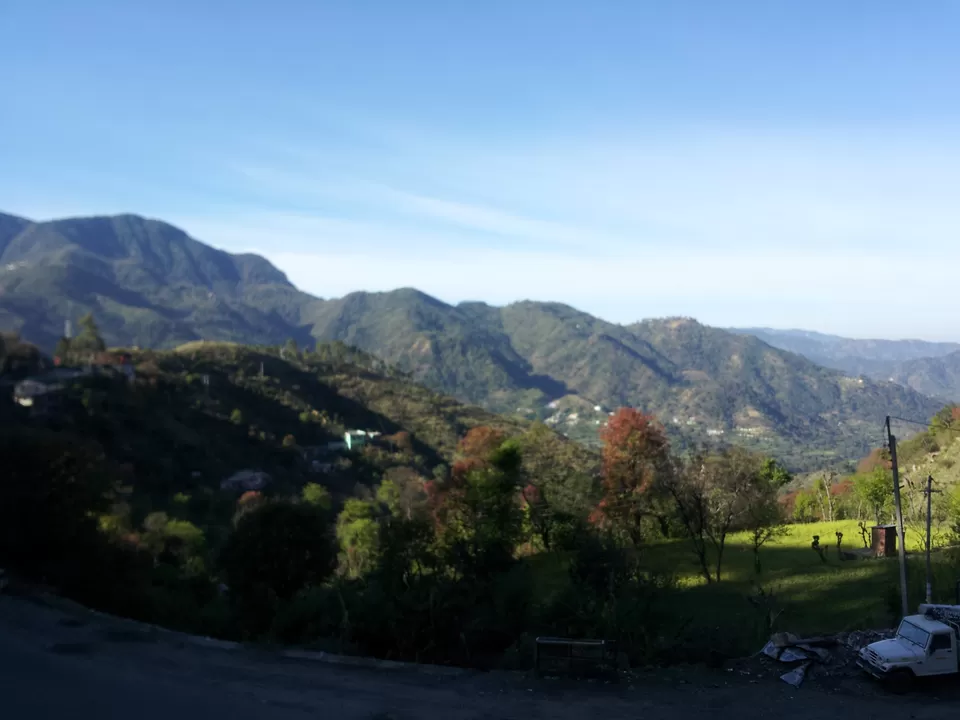 Day 4-Shimla is the capital of Himachal Pradesh Shimla is one of India's most popular hill resorts, buzzing with a happy flow of Indian vacationers. After good sleep we headed to go Kufri. Kufri is a small hill station in Shimla district 1 hour drive from shimla and The highest point in the surrounding region a peace full place in lashes of trees covered the hills .Horse ride is a must while visiting and you can also go cart on highest go carting circuit available in Kufri park. And you can also take your picture while seating on top of a yak. place is not very crowded.(I recommended to hire a guide from shimla for Kufri) we enjoyed the whole day at kufri after kufri we headed to Mall road. Mall Road is the main street in Shimla is a perfect for evening walk experience. Beautiful view of Shimla hills and valleys , historical buildings, shopping and eateries satisfy diverse kinds of people. also u can enjoy different eating joints including street food that sell local fare, chaats, indian cuisine, pizza places such as Pizza Hut and Dominos, bakeries that sell some amazing cakes and momos and ice cream and burgers, patties, etc we enjoyed our dinner and went back hotel tired and happy.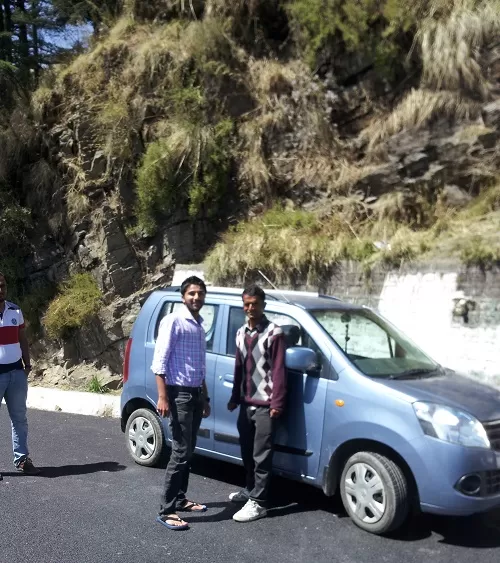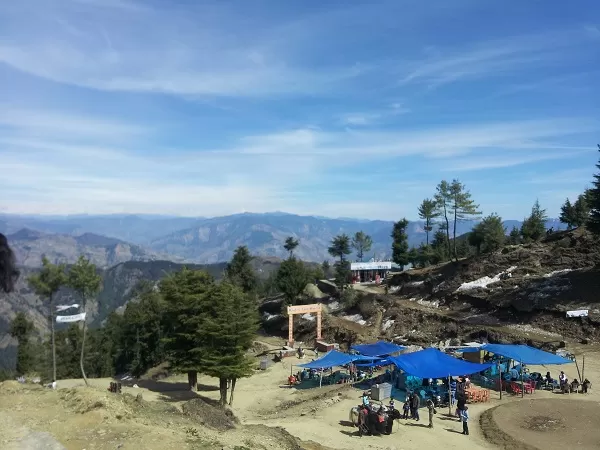 Day 5 - Shimla - Manali
Shimla to Manali distance: 247km
Caution: Always checked the Break Oil, engine Oil and water level of your car
Shimla to Manali is one of the popular tourist routes in Himachal Pradesh. we started early 6am in the morning so we can spend more time on the way towards Manali and reach before dark. shimla to manali is one of the tough road i see in my life These roads are dangerous and tough due to their extreme locations in the mountains and remote terrains or forests. Road too has twisty turns and high slopes there is to lots of curvy mountains with sharp turn. sometimes mountain takes you UP & DOWN Steep Hills (Travel on an empty stomach or a full stomach. while travelling in the mountains to avoid vomiting. Carry lemonade/jaljeera with you, along with plain drinking water.). But Trust me feeling of being in heaven, when you ride through the passes, makes this ride a truly once a lifetime experience. After 3 hours into the drive we stopped at a road side stall order 1 aloo (potato) paratha for me only because they all are afraid of Vomiting. These road passes through the mountain tunnels,valley and majestic hills. Around 6pm we reached manali its more colder than simla we headed to hotel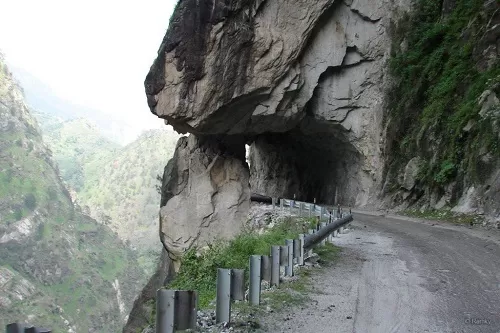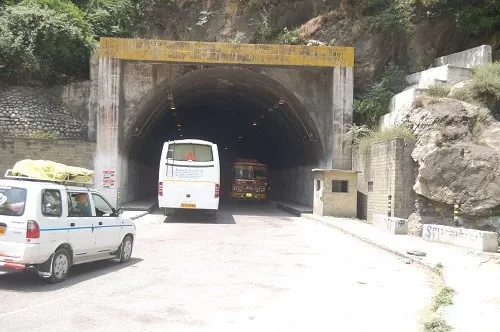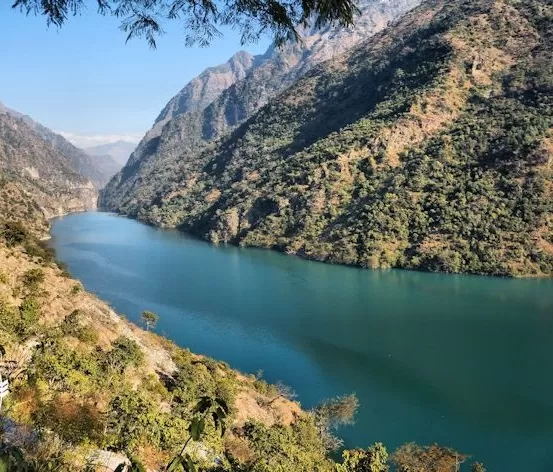 Day 6 - Manali is a Valley nestled in the mountains of the Himachal Pradesh near the northern end of the Kullu Valley Surrounded by majestic hills and woody forests, the quaint charm of Manali has captured the world's attention and has become one of the most visited tourist destinations in India. Manali is a popular hill station with attractions such as the Rohtang Pass and Solang Valley nearby.This is the ideal place for tourists looking to unwind and rejuvenate in the lap of nature, for there is no place in the country more vibrant and charming as Manali. This Town also has a adventurous activities like trekking, paragliding, skiing, zorbing, white water rafting etc. Manali also has a lot of temples which all tourists and devotees love to visit including the Raghunath temple and Jagannathi Devith Temple being one of the important ones. Hadimba Temple, a 14th-century temple is famous for its wooden architecture and for its religious values. Manali is also used as the base town for the Manali-Leh highway and Leh is around 479 km from here (which was Closed in March). we planned to stay 2 days in manali. Next day is holi festival day 7 we celebrate the holi with localite people the Manali people are some of the most incredible, kind and genuine people I have ever met. Just like human beings, a city gets more real when there are less eyes watching it. If you really wish to understand a place and its culture, off-season is the time to go. Off season in Manali generally lasts from 7th Jan to 31st March and from August to November. Almost all hotels and resorts in Manali offer Off-Season Discounts. These rates are anywhere between 10-50% cheaper than peak season rates for hotels and resorts in Manali. Apart from lower prices, you get lesser crowd at tourist spots, pool and sports club as well.
Day 8 we wake up early in the morning had breakfast in hotel and headed to solang valley. (Note: Private vehicle is not Allowed you have to Hire Vehicle). A day before we already hired cab for solang valley cab driver is very nice and friendly his Name is Amit is localite. You can also hire him he's mobile no +919817186330. we Leave the manali in early morning for Solang valley. It is a side valley at the top of the Kullu Valley in Himachal Pradesh, India 14 km northwest of the resort town Manali . its favorite for adventure enthusiasts, Parachuting to paragliding, horse riding, fancy photography are the other attractions that keeps a tourist engaged and maintains a fair like atmosphere in the valley throughout the day. The best part about Solang Valley is that it is an all season place. Visiting Solang, hence depends on your purpose. (I Recommended when u go to solang valley u can rent Gears like Jackets, gloves and Ice skating Shoes) There is many shops on the route between Manali and Solang valley after lots of enjoyment we back to the town. After 2 hours of rest we headed Manu temple This magnificent temple is dedicated to the sage Manu, who is said to be the creator of the world and the writer of Manusmriti. The Manu Temple is located in old Manali, at a distance of three kilometers from the main market. Though this area is quite congested, the presence of the River Beas adds to its attraction. The temple is one of the prime attractions in Manali and is believed to be the same place where sage Manu meditated after stepping on earth. Than we are back to mall road and had a dinner after that back to hotel because next day we have to leave.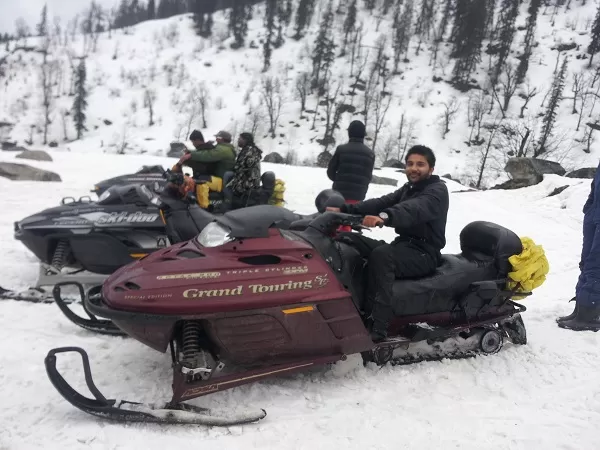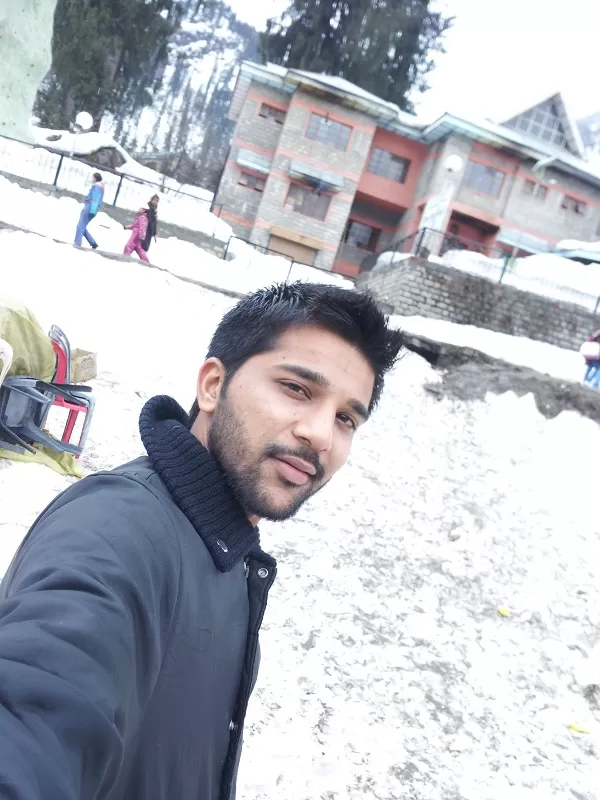 Day 9 Manali - Amritsar (Punjab)
Manali to amritsar distance: 400km
we are well prepared for the long Journey from manali to amritsar i checked the best route and i collect the all information about the roads from your guide mr amit around 5am I start the Car engine to Move our next destination (I suggest to Full your fuel tank in Manali because on this route mostly petrol station is closed at early morning time). Again we have to face the same road condition like shimla to manali.Road too has twisty turns and high slopes there is to lots of curvy mountains with sharp turn. sometimes mountain takes you UP & DOWN Steep Hills. we gonna know we will miss the beauty and Awesome climate still we have no choice. You can also visit the Dharamshala its only 145Km from mandi. we dont have much time so we skip this plan and continues drive on this route there is no big hotels u can only find is dhabas and small stalls selling samoosa chai. time by time temp start getting high and Finally we enter to punjab border its was amazing feeling lots of greenery offers some amazing countryside view of Punjab. The nice tarmac lane is laid amidst the famous Punjab Sugarcane farms and wheat fields. People selling fresh juice it was amazing. finally around 8pm we reached to amritsar and its took 1 hour to find a good hotel (I recommended to book your hotels in advance)
Day 10 Amritsar we took long sleep because we were very tried after the long journey. Than around 10am we had breakfast at Bade Bhai Ka Brothers Dhaba tried the Amritsari Kulcha & Alu Paratha. Than we headed to Golden temple. The Golden Temple Amritsar India (Sri Harimandir Sahib Amritsar) is not only a central religious place of the Sikhs, but also a symbol of human brotherhood and equality. Everybody, irrespective of cast, creed or race can seek spiritual solace and religious fulfillment without any hindrance. It also represents the distinct identity, glory and heritage of the Sikhs. trust me you will feel that you are in heaven. The visual treat is awaiting for you here, The peaceful atmosphere calm your nerves You may have to park your vehicle around 200m away and walk to the shrine. The path to the shrine is made so good m even the shops are well arranged. The Kitchen at the Golden Temple feeds up to 100,000 people a day for free! It is truly amazing. The night scene completely changes the view into gold with the abundance of Lights. After golden temple we went to visit Jallianwala Bagh Situated close to Golden temple, this is also a must visit attraction for all. Is the site where a large number of innocent, unarmed and peaceful civilians including women and children were brutally murdered. The garden also houses a memorial built in honour of the massacre victims. The portion of the wall with bullet marks along with the well is preserved as a memorial. A light and sound show is hosted here every evening. Later we back to the hotel rest for the 1 hour than we left for wagah Border. The only road border crossing between India and Pakistan, Wagah lies between Amritsar in India and Lahore in Pakistan, and is located approximately 29 kilometres away from the city. The illustrious lowering of the flags ceremony takes place here at the Wagah Border; a daily military practice followed by the Border Security Force (BSF) and the Pakistan Rangers, since 1959. (Note Opening Closing Time 4 pm onwards, every evening)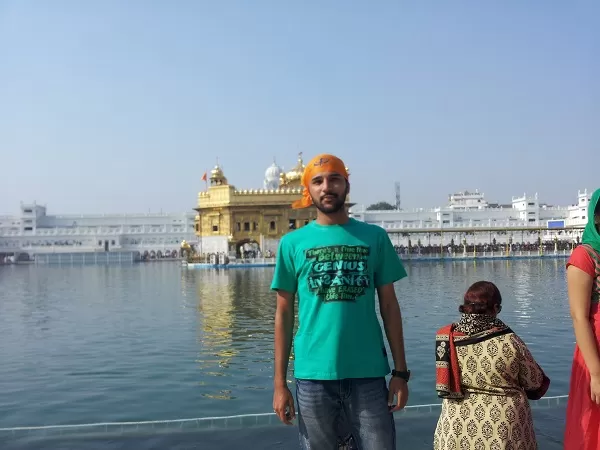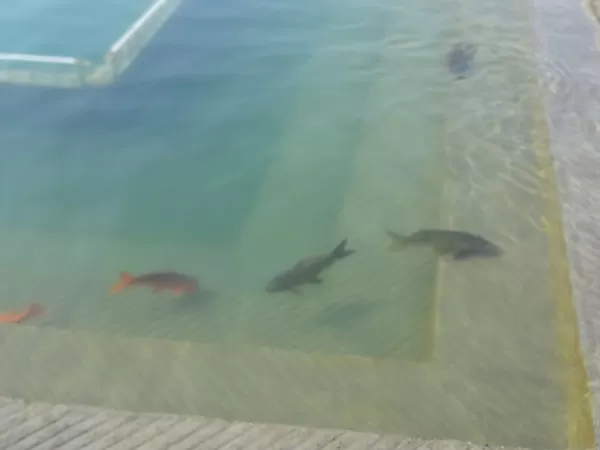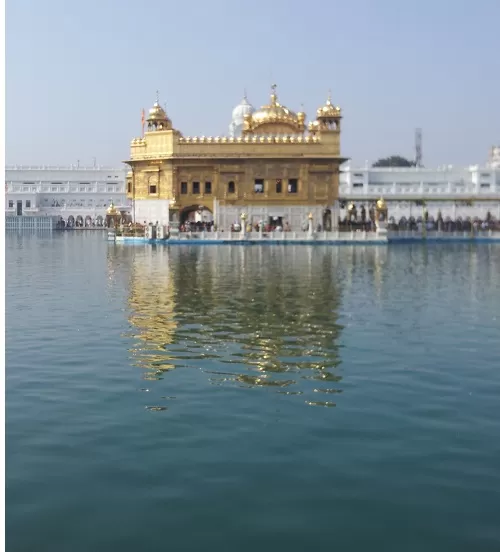 Day 11 Amritsar-Jodhpur
Amritsar to jodhpur Distance: 770km
Now its time to leave amritsar around 9am we left the city. its was my longest drive because any how we have to reached jodhpur by next day i have appointment at passport office in jodhpur. Road condition is not well maintained and its 2 lane road this route directly connect to rajasthan border from punjab border by passing same kilometers we enter in Rajasthan Border Now its desert time no greenery on the road. The whole area is cover by India army base. On other hand of the road u can see the pakistan border clearly. we reached hanumangarh its very near by Pakistan border entry to Border. place is strictly prohibited. there is limited traffic on the road almost trucks and army vehicle. No hotels only veg Dhabbas Around 3pm we stopped and decide to take rest we find good dhabas but there is mostly truck driver but no choice after 2 hour of rest. I clean the both lamp and front Glass because now its night time and we start the journey now the full road is covered by desert area there is no vehicle on the road its very scary moment in the whole trip (Recommended NOT to drive at the night when u are with your family. for me i had the appointment i had no choice thats y i took the risk to drive at night). 9pm we reached to Bikaner and we had dinner decide to take rest for 1 hour after that we keep moving all are sleeping except me and around 2am right side of Tire got punctured every one get shocked there is no vehicle on road, road looks dark scary no lights. i start the car slowly drive for 1km we find 1 shop and that was tire shop Thanks to god the guy was sleeping near the shop i woke him up told him to change the tire within a 15 min he changed the tire i gave him 100rs and told him to keep the change but he refused he returned me 70rs he was great guy. we start keep moving and finally around 4am we reached to jodhpur we find the hotel That night we were too tired, we had the most comfortable sleep
Day 12 jodhpur After good sleep we woke up around 10am checkout from the hotel and headed to passport office. Jodhpur is a City and district in the Indian state of Rajasthan there is many place to visit in jodhpur the temp was very hot in the month of march Mehrangarh the Fort of Jodhpur crowns a rocky hill that rises 400 feet above the surrounding plain, and appears both to command and to meld with the landscape. One of the largest forts in Rajasthan, it contains some of the finest palaces and preserves in its museum many priceless relics of Indian courtly life. I suggest you to hire the guide. Umaid Bhawan Palace is King's palace build few km away from old city. Construction is huge and spread over a large area. Only some part of Bhawan is allowed to visit by tourist. You can view the history of King, palace information and Kings belongings. They also have small but good vintage car collection. Good to visit in morning and visit Fort during sunset. Around 3pm after lunch we left from jodhpur to udaipur the place from where we star our journey.