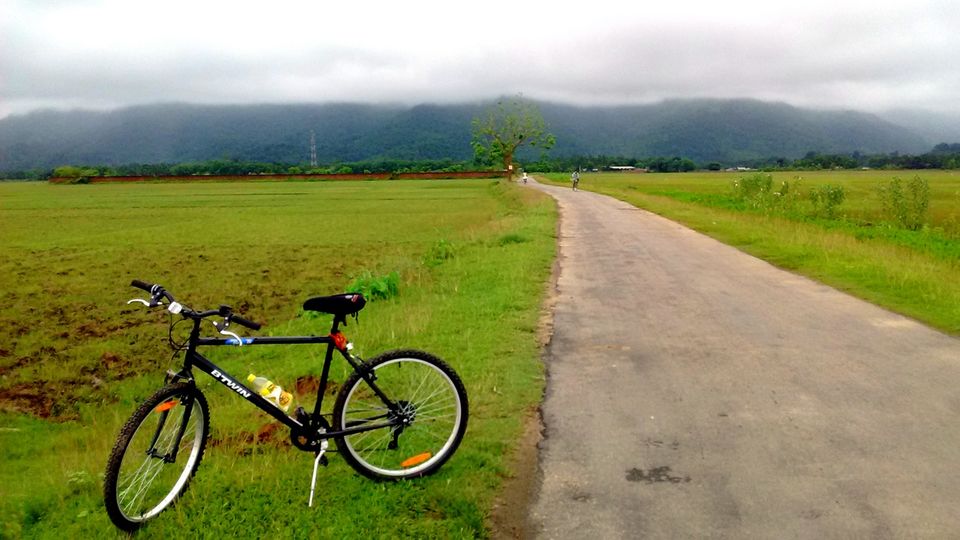 Ah yes, the tea.'
'Oh, Northeast India? How do you travel from so far?'
'Must be very unsafe, no? It floods a lot there, right?'
This is how some people react when I tell them I am from Assam. But just think about it - armed conflicts, distant interior areas and cash-rich plantations apply to Kashmir as well. Yet the preconceived image of the northern state is of snow-capped mountains, boat houses and pashmina shawls.
The ugly truth is Assam and the Northeast has been bearing the stains of cash crop glory and bloody terror attacks for quite a while now. In fact, you will meet some of the friendliest people here, marvel at the diversity in food and be surprised by the spectacular greenery.
I admit I have not done my part to correct people. I have been a reluctant resident in my hometown, often cursing the underdeveloped infrastructure in the area or the unwillingness of its inhabitants to enforce a change. I found a false sense of pride in my Darjeeling schooling and higher education in Delhi and Pune, which I clung on to very dearly.
Recently I cycled to some rural parts in the district. I found roads abandoned for miles at a stretch, hills topped with foamy clouds and the greenest grass that I ever saw. It has been three months since the rains touched the Northeast this year and with the onset of the monsoons, the wet weather is likely to last at least another three.
Nibira to Bherakuchi – 3.6 kms
This place is off the map, in every sense and truly speaking, it deserves to remain hidden. The route begins from Nibira, a tiny village on the highway and connects Bherakuchi, also on the highway. The road snakes through rural farmlands and small houses as it completes a roundabout through the hills.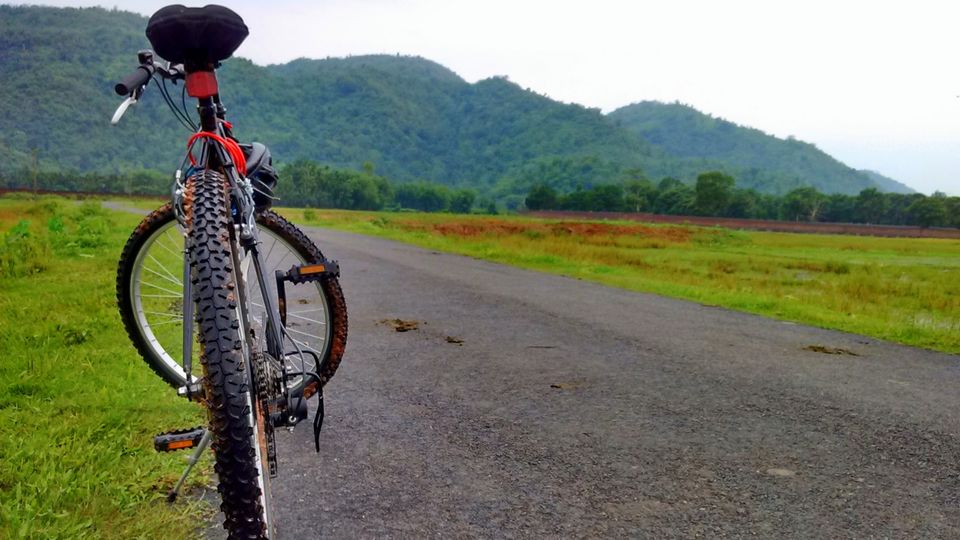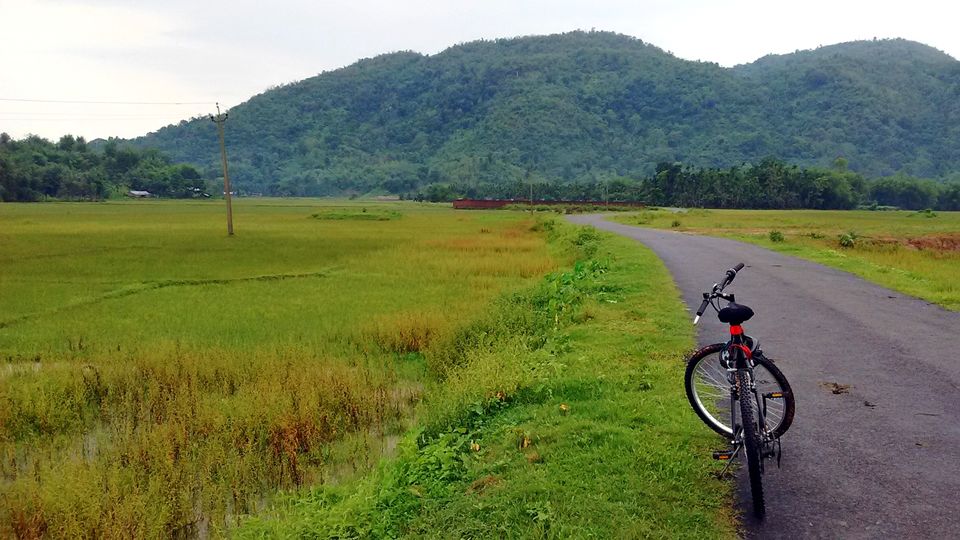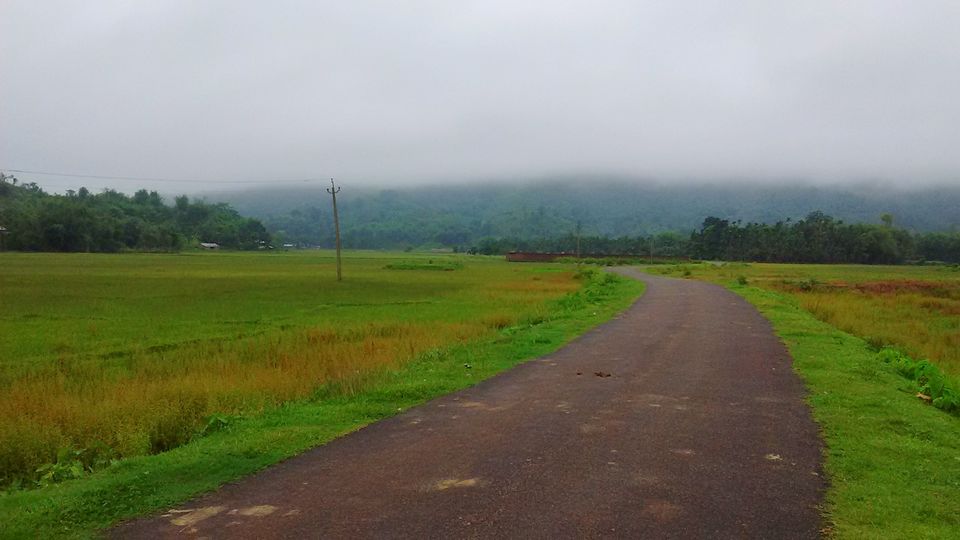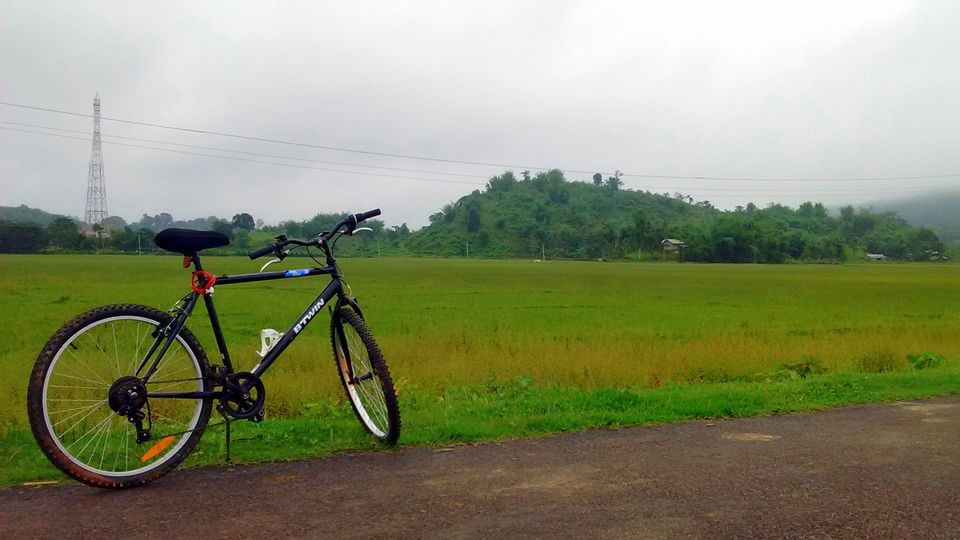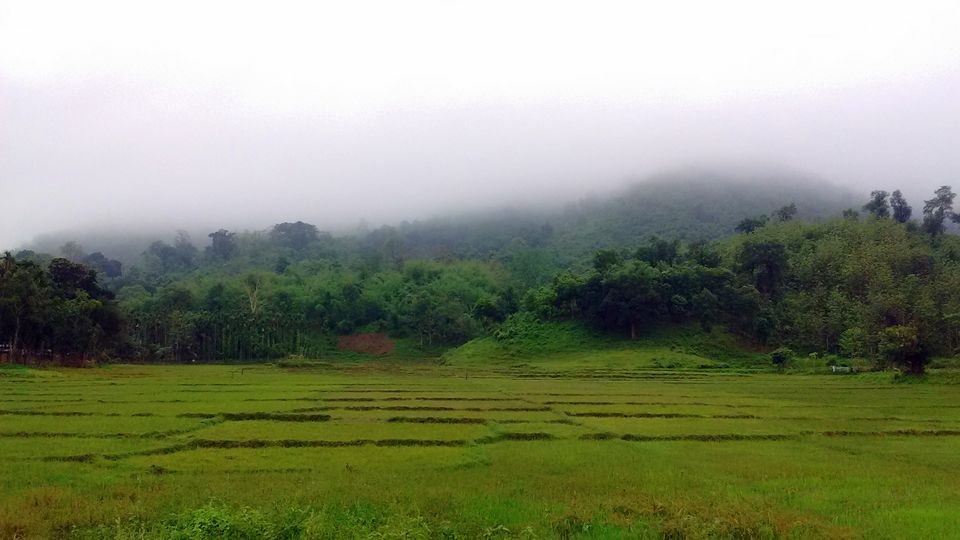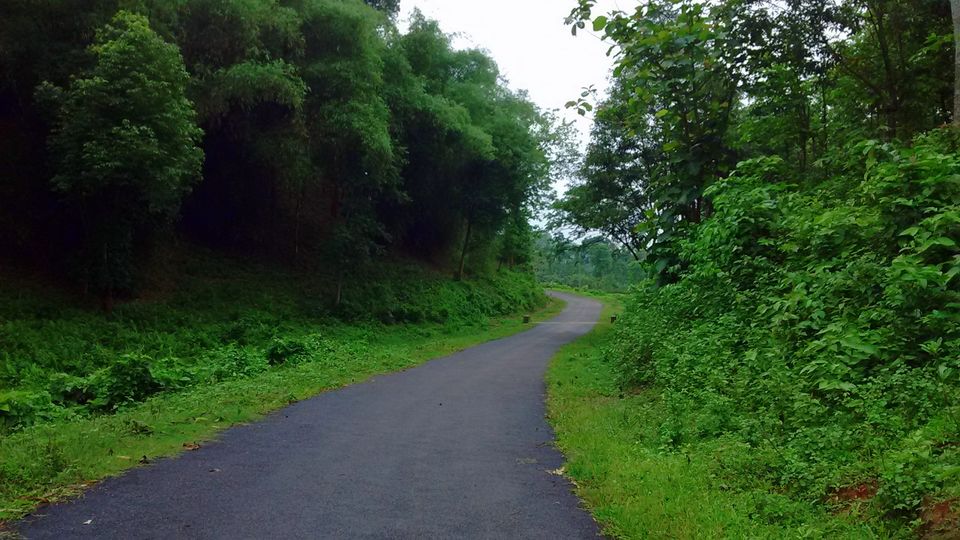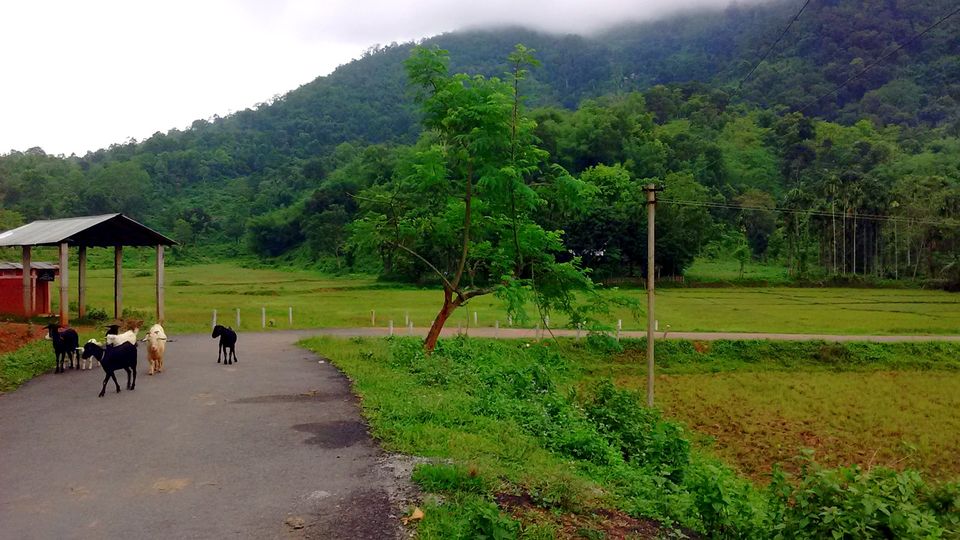 Aujuri No. 3 towards Khandajan and Maloibari – 7.7 kms
If you are a lover of vast empty spaces, this is your place. Pedal your way through green paddy fields with the Nibira hills as your background. The ridge's grandeur seems to grow as you move further away from the highway towards Khandajan – a spectacular optical illusion you will not mind falling prey to. The road curves around two small hillocks at one stretch flanked by huts on either side. There are small markets at cross sections where farmers are selling local vegetables and fresh fish. Carry some cash if you like to get a fresh early catch. Some of the pictures of the trip are below.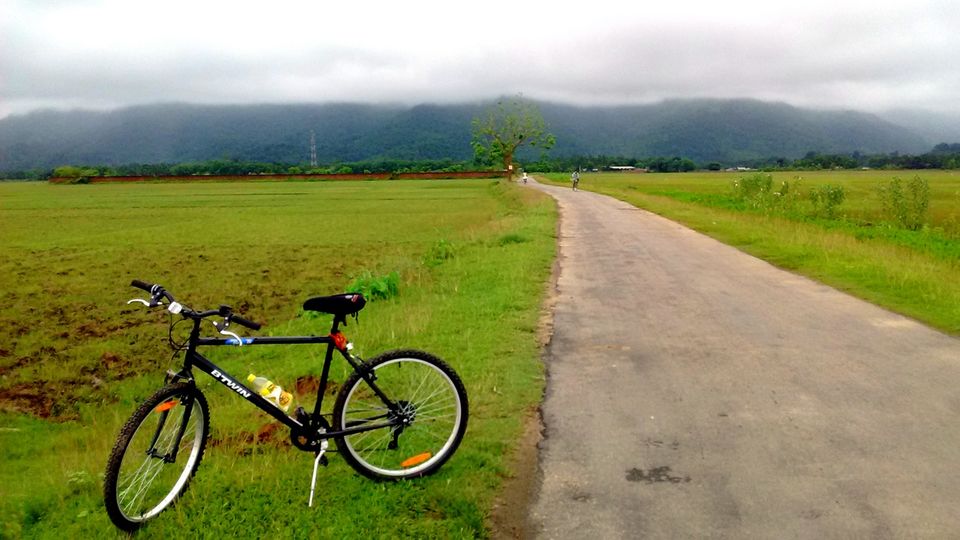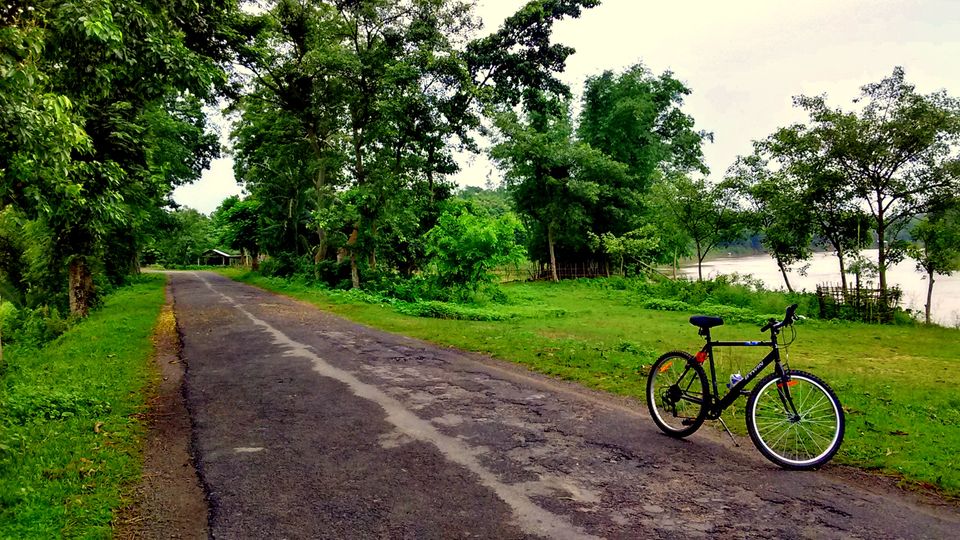 This is the best time to cycle through the rural areas between Guwahati and Jagiroad and there are a few reasons and pointers to back my claim.
The weather – The monsoons have just begun in Assam. Unlike the thunder showers during April, the monsoon rains are gentle but relentless. However, the rains are a boon at times when it gets usually hot due to the high humidity. The maximum temperature hovers around 33 degrees Celsius with the minimum settling at around 22 degrees.
The greenery – The pre-season showers in Assam were very heavy this year. This ensured the ponds were filled till their brims and rivers carried sufficient water. The grass bloomed early this year and the leaves refused to shed in the hot months. Farmers have just begun sowing their rice paddies for the season and in a few days the area will be flourishing with greenery all through the monsoons.
The connectivity – All these areas are just off the main highway in Assam and barely an hour's drive from Guwahati. If you are not up for cycling, then take a small car or a two-wheeler. However, it is best to avoid large four-wheelers. They would not only be difficult to motor in the tight corners but also be a menace to the local residents.
Good cellular coverage – The government and private mobile network operators have extended their reach to all corners of the state. This ensures you stay connected to 3G/4G internet throughout your trip. I navigated my way using Google Maps and GPS on all the routes.
People mind their own business – The unusually fast bicycles aside, the area is unlikely to pose any hazard to travellers. People go about their own business here. Everyone has work and no one will bother you. They will definitely help you if you require any assistance.
There are a few things to keep in mind ahead of your trips to these parts.
Plan you trips for the mornings – The sun rises at 4.15 am in the summers here. You might as well utilise the extra daylight. Plan your trips for at early as 5 am if you are determined to cycle. That way you will avoid the heavy highway traffic and benefit from the cooler weather.
Take a local with you if you do not know the area or language – This applies more on the Maloibari route than with Nibira. There might be instances where you may be stuck at a fork and need guidance. It's better to know the local languages of Assamese or Bengali. Hindi will do fine as well.
Keep your phone charged – These areas do not have a rest stop or hotels where you can plug your iPhone or Android smartphones. Power cuts are rampant as well.
Carry your own water – The locals have developed stomachs of iron and can consume water from the ponds and well. You cannot; it's basic science. Our bodies do not have the necessary antibodies to handle the germs.
Hold your pee – Fair warning, do not urinate in the open. It will definitely be someone's farm or backyard you are peeing on. The locals may allow you to use their toilets or you can use the restroom in the restaurants on the highway.
Take a rain-suit or an umbrella – Unless you do not mind the rain like me. It will rain in all probability. Better safe than sorry.
Things you should know before your trip:
Jagiroad is the biggest town nearby with restaurants, lodges and travel help. Buses ply in hoards to and from Guwahati. There is an Assam State Transport Corporation counter at the main town centre just opposite the petrol pump.
There are frequent trains to Jagiroad daily and quite a few express trains stop at the town. Check this list to see all trains to Jagiroad from Guwahati.
Choudhury Nursery and Residency on the highway has a clean washroom and a restaurant, if you require one enroute Nibira or Maloibari. It provides lodging options as well.
The Decathlon store in Azara, Guwahati has a great selection of bicycles to choose from. You can pick any bike from budget pieces to higher end ones. Cycles are available on rent in Guwahati as well.
If you are planning a cycling trip from Guwahati towards Jagiroad, please do give these routes a visit!
Frequent searches leading to this page:-
Assam packages | assam tour package price, Assam Tour Packages with Price, Find Best Tour Packages in India from Assam Holidays,Assam Meghalaya Tour Packages