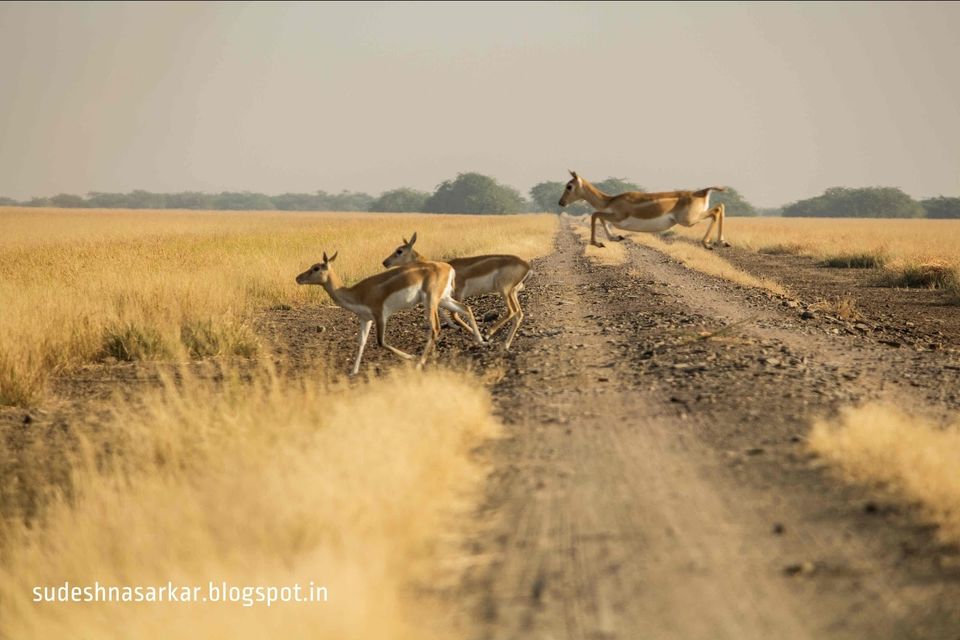 Our very first Gujarat Wildlife tour started with our visit to Blackbuck sanctuary in Nov 2016.
The park was established in the year 1976 in the region of Saurastra.It is 52km from bhavnagar .The National park has been classified as 4B Gujarat -Rajwada biotic province of semi arid and bio geographical zone. The sanctuary's prime attraction is Blackbuck .But apart from that you can spot wild cats, wolves, hyenas foxes and nilgai. Also the wetlands attract many birds species like pelicans, flamingos, common crane, ducks and henceforth.
We travelled from Jamnagar to bhavnagar by bus and it took around 5hours.At bhavnagar bus stop our privately booked car was waiting for our further journey. A journey of 52 km from Bhavnagar to Velavadar. Since our bus arrived early in the morning therefore by 7am we reached the sanctuary gate.
The demonetization of black-bucks made Kaliyar Bhavan easily available for us to actually enjoy the real dainty blackbucks in the grassland!
we checked into the forest rest house after our morning safari . Our safari guide was Amit. First thing we asked was about hyenas.But he informed that since past 2 years people couldn't spot them, they probably have moved away due to disturbance.
The park has been divided in to 2 section -Marshes and Wetlands.You can spot winter birds and mammals in the wetlands while harrier in the other parts including mammals. This area in local language is known as Bhal meaning forehead because of its vastness.The region has thousands of blackbuck living happily without any fear of big predators like tiger /lion or leopard. These antelope runs at a speed of 80km per hour the only mammals on earth who can compete with them is cheetah which is not found in India. So they are safe!
We didnt spend much time in the wetlands as there weren't many birds this year. We spotted common crane and shovler and a happy single pelican.Most of the wetlands have dried up.
On the grassland we spotted Harriers. Velavadar is the world's largest communal roosting area of Harrier. They are the only raptor which roost on ground . They are superb hunter and helps in pest controlling. They hunt for locust, lizard, snakes birds etc. We spotted few on ground and some on trees. If you dont have a powerful camera (high zoom) it won't be possible to take pictures.
Harrier includes montague and marsh harrier. By 10.30-11 our safari ended and we returned to our rest house.
Rooms are given only after 9am so if you reach early to velavadar you need to do the morning safari as there is no other option. we were the only tourist there staying in the wolves cottage. All the other 3 rooms were empty.The entire area was enclosed with fence. I was pretty tired and sleepy after the bus journey and felt the morning safari quiet tedious.The rest house was inside the park and hoped that at night I would hear some kind of sound from the wolves and hyenas. There is only one ac room and rest non ac. The room was basic. The water heater worked perfectly. The small balcony gave a magnificent view of the vast grassland.
At 12.30 we were called for lunch. They prepare only Gujarati meal . The price is given at the end of the blog. Food was ok but I felt the price was high.
Prior to every meal you need to inform the cook about it or else they won't cook. So we informed about our dinner also.After lunch we took rest and skipped evening safari. The reasons are -the sanctuary gate close by 6 pm as its winter the sun sets early. The light gets dim by 5pm and photography becomes difficult. So we planned for the next early morning safari.
We didnt expect anything to see in the evening as in our morning safari we spotted harrier, wild boars, nilgai, thousands and thousand of blackbucks crossing roads,jumping around in the grassland, jungle cat and various birds. Only thing we hoped for was to spot wolves .
At night ,sitting in the balcony we spotted a jungle hare near the front porch. we didnt bring any mosquito coil with us and therefore sitting in the balcony became impossible. At 8pm we went for dinner. We wished to hear some wolves or some kind of noise from the animals but it was pin drop silent except for few dogs barking outside the sanctuary. We went to sleep early for our morning safari at 7am.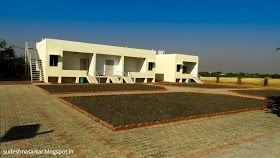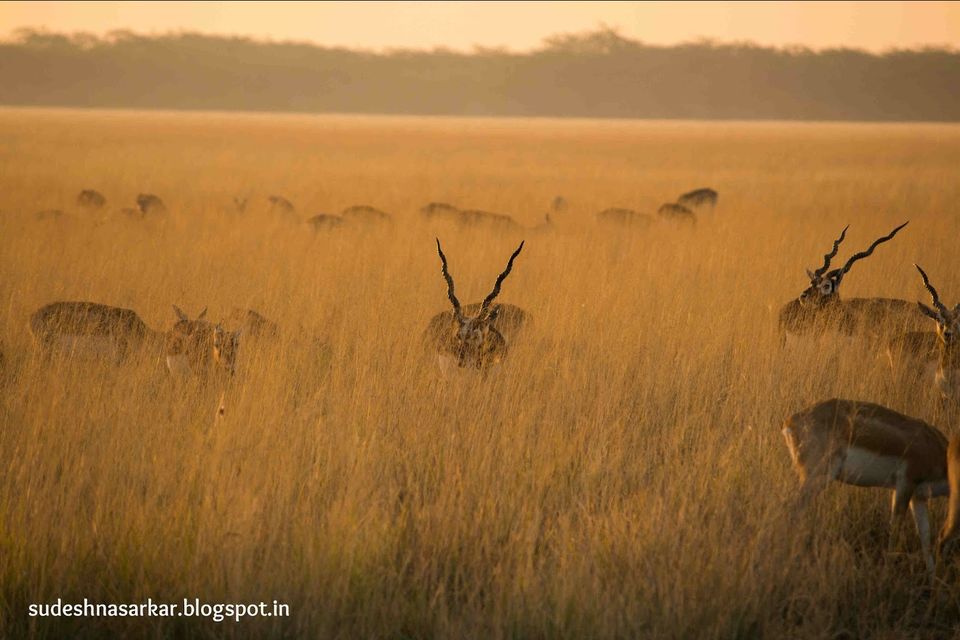 The park gate opened late, we saw few blackbuck close to our forest lodge.They might have came near the balcony at night. Our guide amit was on time. A very enthusiastic lad. First thing he informed that dogs from the nearby village have entered the sanctuary and changed the trail of the blackbuck.They were all scared and went in the middle of the grassland.
This safari we spotted harriers, eurasian larks, hoopoe, bee eater, common cranes,stonechat , shovelar and lastly the predator wolves near the wetland. It was pack of 5 roaming separately and this made the blackbuck conscious. We saw thousands of blackbuck in one corner of the grassland all together staring at the predator. With a nasty stare at us the wolves went inside. We scanned the entire wetland and grassland in search of hyenas but with no such luck we decided to return. While returning we were greeted by an albino antelope and a baby krait snake surrounded by larks.
Though this park is of Blackbuck ,tourist are not permitted to get down fro the vehicle while they are on safari.
The park opens at sunrise till sunset.
The park closes in the Monsoon. The yellow grassland turns green and it becomes home of some dangerous reptiles like saw scaled viper, common cobra, common Krait, monitor lizard and hence forth.
Also from mid august till mid october the magnificent bird Lesser Florican visit the park for courtship.
We left the place next day after morning safari and lunch. At 4pm we had our bus from Bhavnagar. By 9/9.30 we reach Jamnagar
Where to Stay at Blackbuck Sanctuary
There is a beautiful forest department guesthouse Kaliyar Bhavan were only 4 rooms are available . Due to rush its very tough to get its availability.
Also BlackBuck Lodge -(a luxurious stay) is also located outside the park gate .But its extremely costly.
How to book the forest rest house at Velavedar?
You cannot book it via internet or phone call
you need to send Demand Draft by the name of RFO velavedar ( DD only from State Bank of India)
You need to send the DD to
Assistant Conservator of Forests
Blackbuck National Park,
Bahumali Bhavan,
Block S-10 Annexe Building
Bhavnagar-364001
Phone 02782426425
Email : fo-n-bav@gujarat.gov.in
Forest Range officer: Phone: 0278-2920222
Important Info:
At Kaliyar Bhavan Rest House
Vegetarian Gujarati Lunch /Dinner Cost 140 rs for Indian and Foreigner-10$
Tea /coffee -14 rs Indian and 2$-foreigner - (right outside the gate of the sanctuary there is a tea stall where you can get tea at 5 Rs)
Breakfast 80rs Indian and 4 $ foreigner
Tariff
Individual entry fee to the park : 40 Rs India and 10$ foreigner - Per Day
Entry fee of the vehicle ( up to 6 people) 400 Rs and 40$ for foreigner
Photography (still) 200Rs per camera ( Indian) Perday 20 $ (foreigner)
Documentary -10,000 Rs for Indian and 1000$ for foreigner
Guide fees Rs 100 for the first four hour per vehicle /per group
Additional per hour -40 Rs
Foreigners need to pay 100$ for first four hours and the 40$ for additional .
Payment needs to be paid directly to the guide.
Our Guide name was Amit Velavadar.He was knowledgeable about birds.